It is hard to find affordable travel gear that every adventurer needs. The key is finding items that actually work well and hold up to the abuse that travel has on them. Everything we have listed here is a useful travel item that we have used and abused throughout our travels.
These items have been truly tested and you have probably even seen some of them on us in our photos and videos from time to time. Our recommendations are not only at a great price but also have a quality that holds up.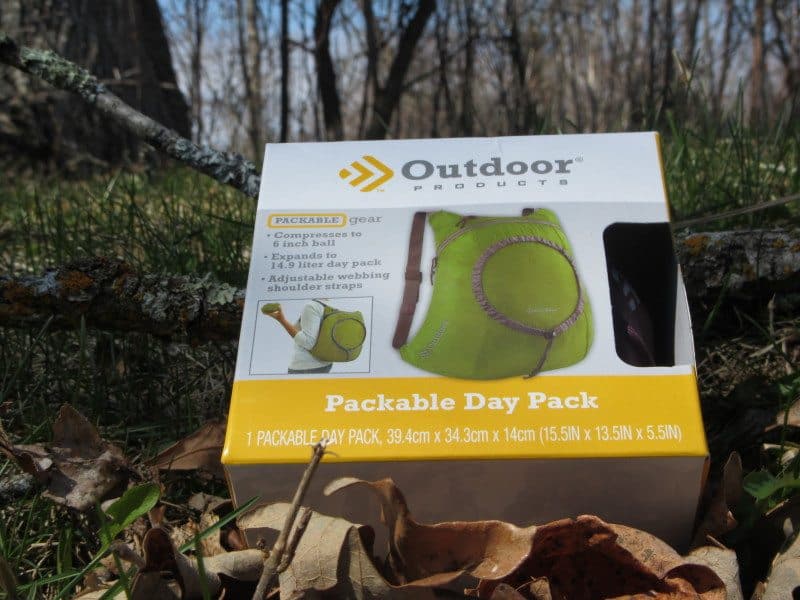 Outdoor Products Packable Day Pack
This is a backpack that folds up into an item that is no bigger than a baseball. We have used this little backpack everywhere. It was our go-to bag for carrying our wallet in Africa and our city bag in Spain when we were carrying city maps.
This little backpack is small yet big enough to carry a DSLR camera or even two rain jackets.
It is lightweight and something we like using when we don't want to carry a larger day pack. The fabric is low-grade waterproof, so your items will not get wet if it rains either.
The two-pocket design allows you to put smaller items in the top and larger items in the bottom. Its tent-like fabric is lightweight but also strong to carry heavy items.
Buy your own Packable Day Pack.
Basic Facts:
• Ultra-lightweight fabric
• Compresses to 6″ ball
• Expands to 14.9-liter day pack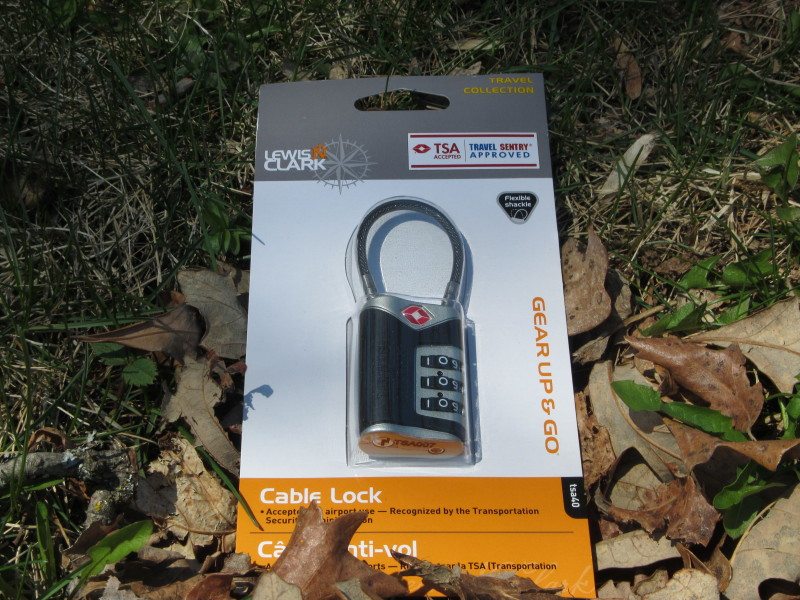 Lewis N Clark Cable Combination Lock
Have you ever been to your hotel room burying your computer deep in your backpack or suitcase before heading out to see the city? Or perhaps attempting to hide important documents or your money stash?
Nobody wants to worry about important and valuable items when you leave your room during the day.
We travel with ease and peace of mind knowing whatever we need to keep safe is can be locked up. We use Lewis N Clark cable combination locks to secure our backpacks while we are out.
These locks are also TSA approved so we can lock your bags during transport and not worry that the airport will cut it off.
The three oversized dials make it easy to use and a comfortable rubber coating provides a secure grip. You can never really trust anyone when you leave your stuff unattended, the one time you don't is when something will go walking.
The best part about this little lock is that it fits on almost anything from small zippers to large door locks. It has replaced our heavy padlocks that didn't fit on our zippers without a cable.
Buy your own Cable Combination Lock.
Basic Facts:
• Durable cast zinc construction
• 70mm flexible, coated steel cable
• Programmable 3-dial combination
• Thermoplastic rubber material provides a comfortable grip
• 3.5in x 1.5in x 0.5in
Cablz
One sunny day we had just finished hiking in the jungles of Sumatra, looking for Orangutans. Instead of hiking back through the rough terrain, we opted to return to the village by rafting down the river. Lina jumped on the raft and without thinking, leaned back to adjust her position in the raft.
In the blink of an eye her expensive, polarized sunglasses fell from her head into the rushing river waters, never to be seen again. The first words out of my mouth were 'Where are your Cablz?'
I do not wear sunglasses without my Cablz attached. I cannot even tell you the many times my sunglasses were saved by having this item in place.
Made out of surgical grade steel cable, this is not that chintzy shoelace sunglasses strap that your mom and dad had. This item will not give when pulled on and keeps your sunglasses securely attached to you.
Buy your own Cablz.
Basic Facts:
• Made with surgical grade stainless steel cable coated in black and clear
• Available in lengths of 12″, 14″ and 16″
• Available in Regular or XL rubber ends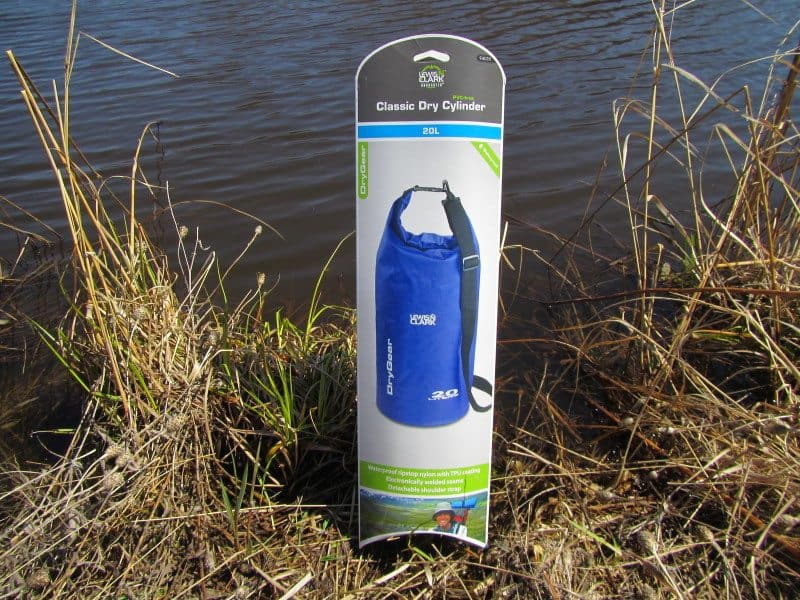 Lewis N Clark Classic Dry Bag
It never fails that even the sunniest of days can turn into a rainy day. Not caught in the rain? Maybe you need something to keep your stuff dry on the dive boat or catamaran trip. We use our dry bag for just about everything.
It's nice to just throw your camera in it and not worry. It never fails when you're on a dive boat and all the divers get out of the water soaking the boat deck. No matter what adventure your on, the classic dry bag will keep your items dry.
One thing that really stands out to me about this particular dry bag is the quality. You can feel it in the fabric, this dry bag is not thin like other bags on the market. The straps are solid and the clasp is not cheap.
Buy your own Classic Dry Bag.
Basic Facts:
• Electronically-welded seams
• D-ring for easy attachment
• Adjustable shoulder/carry strap
• 70D rip-stop nylon with TPU coating – PVC-free
• Easy roll-top closure forms a watertight seal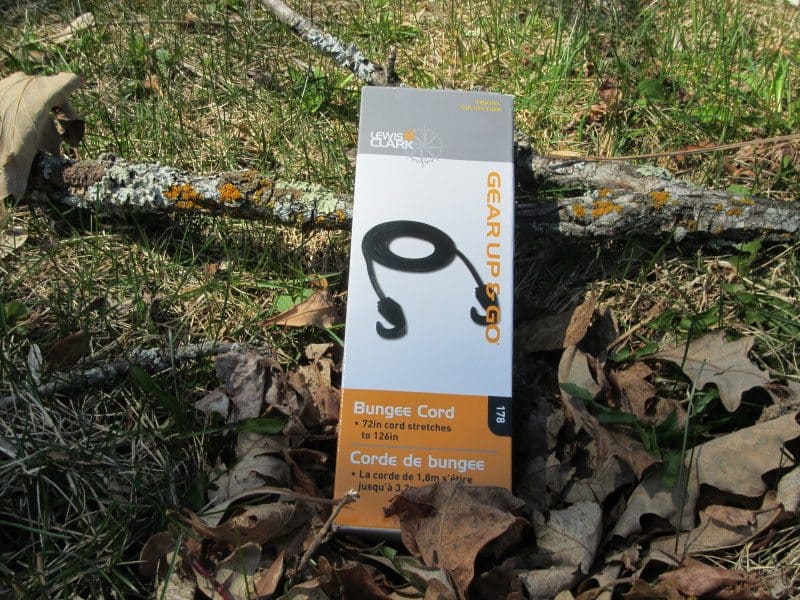 Lewis N Clark Bungee Cord
This item is surprisingly handy. Probably not something that short term travelers would carry but it is an incredibly useful item for a long-term traveler.
We have used this bungee cord for many things; strapping down the gear to our backpacks, holding gear down on our motorbikes and more importantly as a clothesline.
It has a lot of stretch in it so in Africa we even used it as a close line hooked between our tent and a tree. The plastic hooks are solid and large, meaning it can hook easily to things and stay secure.
The bungee material is a strong woven material that has not dried out. We have met many other travelers on the road that have been envious of this seemingly small and hardly noticed item.
Buy your own Bungee Cord.
Basic Facts:
• 72in cord stretches to 126in
• Plastic hooks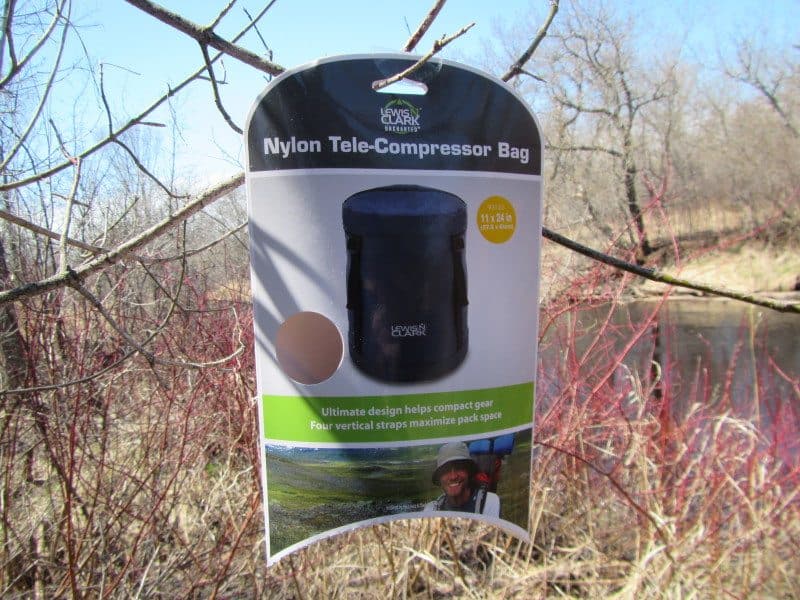 Lewis N Clark Nylon Tele-Compressor Bag
I wish I had found this item before we set off traveling in 2014. In Africa, we used the Nylon Tele-Compressor bag to hold one queen size blanket and two twin blanks together. It worked great to compress those large items into a no bigger than a football-size bag.
The bag has loops where you can fasten it to your backpack even, making it easy to transport items with your other gear. There have been many times I've just strapped it to my backpack while I'm in transit. This has saved us when we find ourselves sleeping in an airport and are in need of blankets.
The fabric of this bag is lightly waterproofed so when it is strapped to your backpack or even your kayak you do not have to worry. We used the bag for just that when we spent two nights bush camping in the Okavango Delta in Africa.
Buy your own Nylon Tele-Compressor Bag.
Basic Facts:
• Impact-resistant hardware
• Adjustable cord lock
• Round bottom with webbed grab handle
• Weatherproof 210D oxford nylon
• 24in x 11in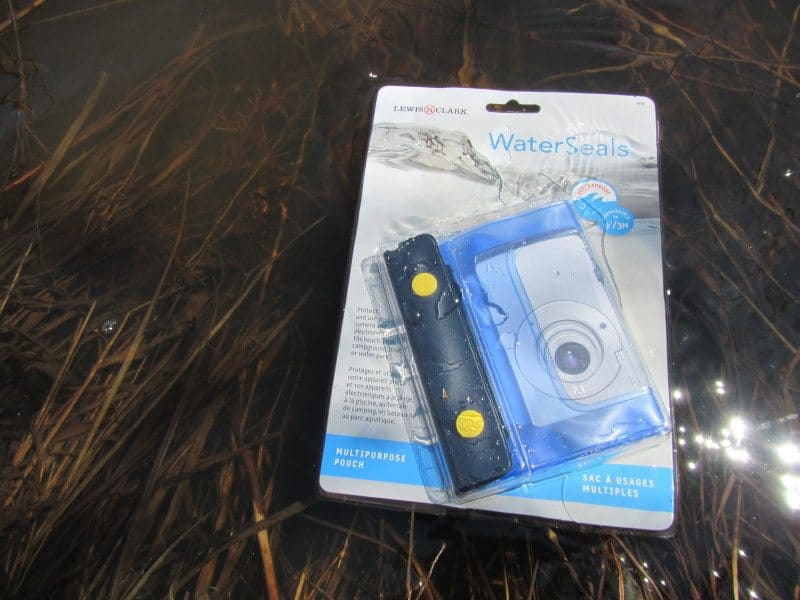 Lewis N Clark Multipurpose Pouch
When we first got this item we really did not know if we would use it but it has ended up being quite useful. We take our phone with us everywhere because we use it to take photos and videos.
There are many times we're off on an adventure that involves water or dust, so we found ourselves always packing this item in our day packs.
The Multipurpose Pouch keeps our phone protected from the elements. Just slip your phone or iPod in and don't worry about it getting wet. Great for use if you're planning a day on the beach, swimming, snorkeling, kayaking and more.
Buy your own Multipurpose Pouch.
Basic Facts:
• Submersible and waterproof up to 9 feet/3 meters
• Built-in UV Protection with anti-frost, anti-dust, and sand-proof material
• Protects camera, phone/PDA, MP3 player, credit cards, money, ID and other accessories
• Use as PDA or take photos through the clear window
• Great at the pool, water park, beach, campground, and on cruises
• Ideal for traditional boating, canoeing, kayaking, windsurfing, and snorkeling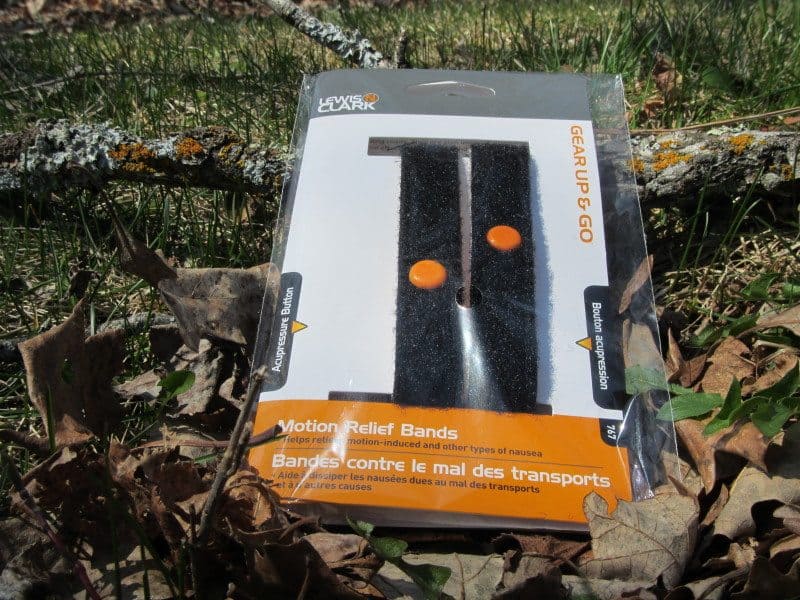 Lewis N Clark Adjustable Motion Relief Bands
Lina's best friend can tell you a horror story about the time they were traveling in China, en route to spend a day hiking on the Great Wall of China, when Lina got motion sick.
I'll spare you the details, but it wasn't pretty. She gets motion sickness pretty easy when confined in buses or small vehicles so having these little armbands for easy access is a must for us.
Motion sickness can occur in a number of situations like riding in a car, boat, train and even on an airplane. This little armband can help. Just place them around your wrist, adjust and relax. These bands are one size fits all, which is convenient for sharing if someone becomes sick out of nowhere.
Buy your own Adjustable Motion Relief Bands.
Basic Facts:
• Helps relieve motion-induced nausea due to sea, road, or air sickness
• Applies gentle acupressure to wrists
• Soft cotton lining provides extra comfort
• Drug-free – suitable for adults and children
• No drowsiness or other side effects
• Easily adjusts from 5in to 7in
What Affordable Travel Gear Do You Carry?
Every item we have talked about in this post has been tried, tested and approved by us during our travels. These items are all at an affordable price point where you do not compromise quality. We are always looking for gear that can hold up to the adventure and taxation from a life of travel.
More on Travel Gear:
Did you like this story? Share it!