With years of travel done and dusted, it is time to look back on all the adventures we had in our travels and help you find your next adventure. Neither of us realized how many great adventures we had gotten ourselves into so it was fun to look back and pull out our favorites to share with you.
We visited 100 countries on 7 continents with a multitude of adventures along the way. It wasn't easy to select such a small number for this list. Regardless, we hope you have enjoyed following along on our adventure and more importantly, we hope that we have helped to inspire your own adventures.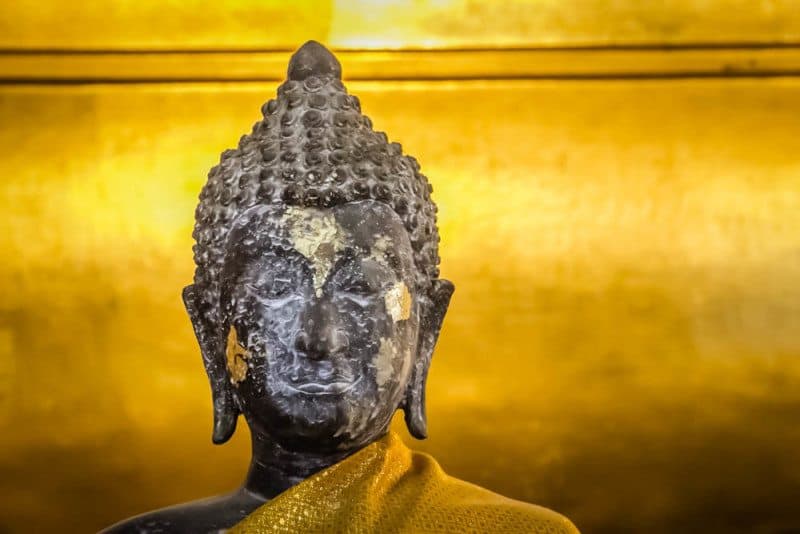 1. Celebrate New Year's Eve on Khao San Road
Fresh out of the gate from 2014 we partied ourselves silly on the infamous backpacker street, Khao San Road in Thailand. This party was of epic proportions and I can't believe some of the stuff we saw! Would we do it again? Hell yeah, we would.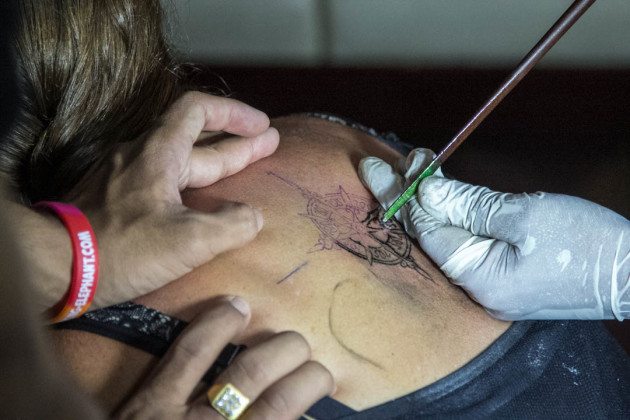 2. Getting A Bamboo Tattoo in Thailand
We both got bamboo tattoos in Thailand! This was one of the coolest things we have done together and we both love our new tattoos. The tattoo artist that gave me the compass sucked on a sucker the whole time and made loud sucking sounds every time I moved. Sorry, that tat hurt.
3. Trekking for 3 Days in Myanmar and Sleeping with Rats
Heading to Myanmar, we decided to spend 3 days trekking from Kalaw to Inle Lake in Northern Myanmar. This area is very remote and we spent our nights in small villages with limited provisions. One night we laid awake while rats ran all over and around us.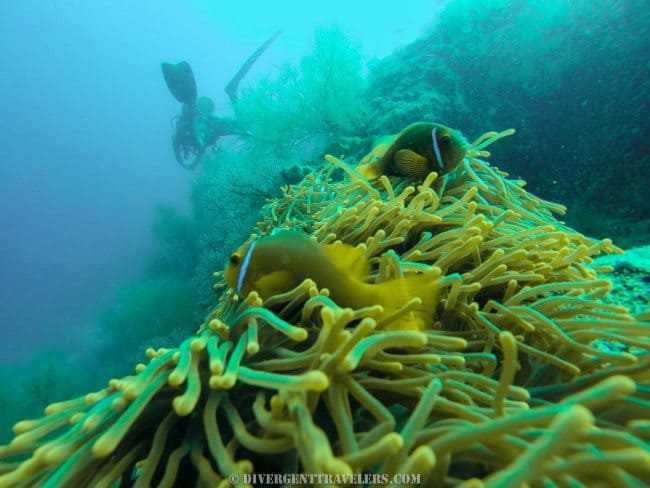 4. Scuba Diving in the Maldives
Two tickets to paradise found us in the Maldives where we spent 7 days cruising around the island nation. This meant we got to go scuba diving in some of the best diving locations in the World. We also saw our first Manta Rays while diving here. The conditions were extreme though, with very strong currents.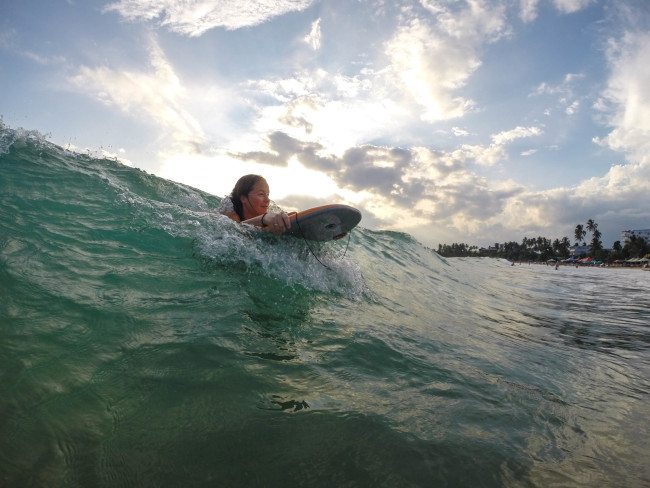 5. Boogie Boarding in Sri Lanka
Our last stop during our trip around Sri Lanka was Mirissa Beach. We spent an entire day playing in the giant waves (think 10 feet!) that crashed on the beach. It was addicting and just when we would agree that we'd catch 'just one more' we were headed out for a few more runs.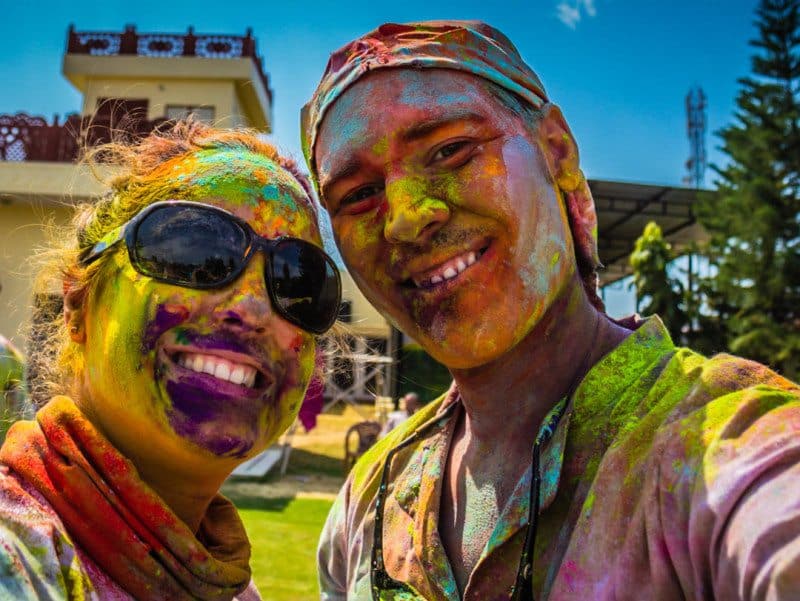 6. Celebrating Holi in India
One of the most coveted festival celebrations in the World is the Holi color festival in India. We planned our travels in India around this festival and do not regret it. We chose Jaipur as the city to celebrate in and spent an entire day playing in the streets with the locals, covered in color from head to toe.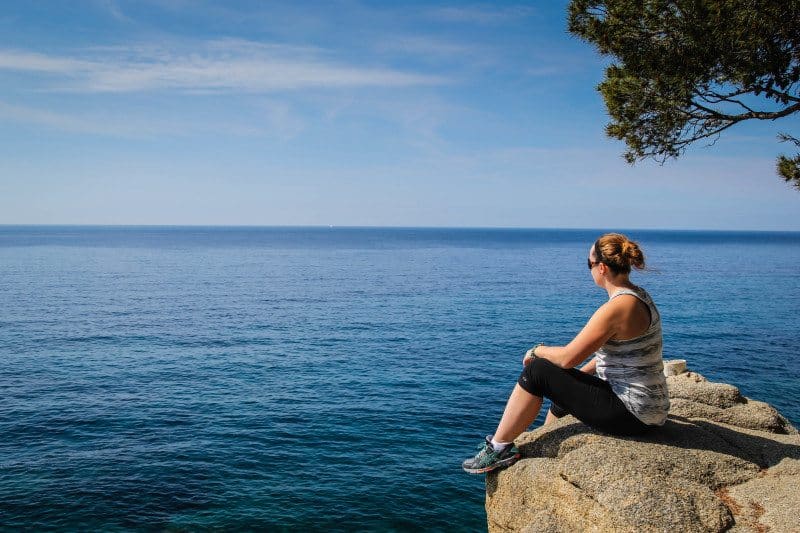 7. Hiking the GR Trails in Spain
Spain has some of the best hiking in the World and a whole set of groomed paths to go with it. We couldn't resist the trails during our time in Catalonia and completed 3-day hikes during our time there. Our favorite? The GR92 from Lloret de Mar to Tossa de Mar along the Mediterranean Coast.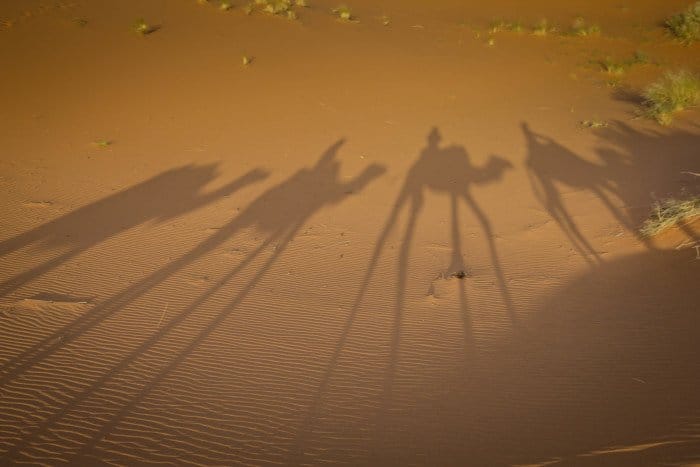 8. Camel Safari in the Sahara Desert
When in Morocco, so the saying goes. We hopped onto some camels and headed into the Sahara Desert for a night of camping with Bedouins, sand boarding and star gazing. Our camel safari last 2 hours each way as we traveled over massive sand dunes to and from our camp.
Check out: 16 Amazing Photos of the Sahara Desert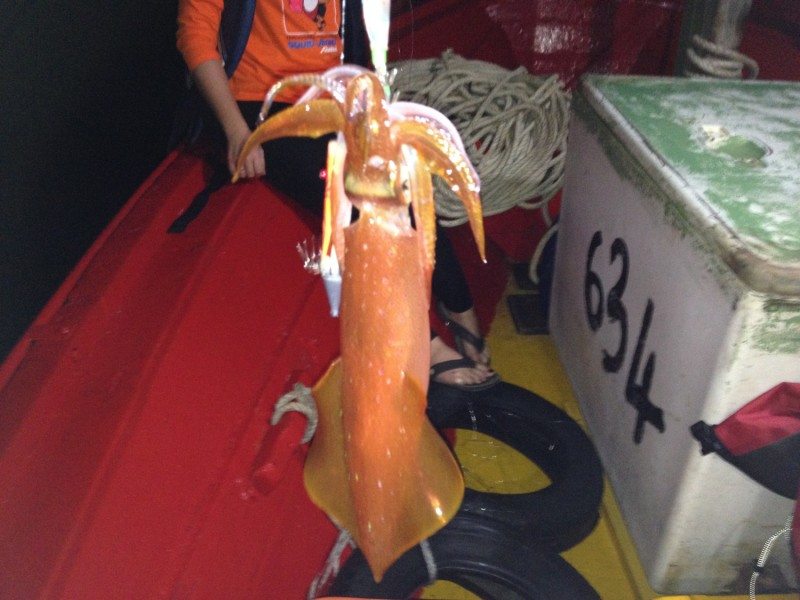 9. Squid Jigging in Malaysia
Malaysia was not on the plan for 2015, but an opportunity came up to cover the International Squid Jigging Festival and we couldn't pass it up. We floated around in the ocean fishing for squid with a circular reel and long lines. I even caught two.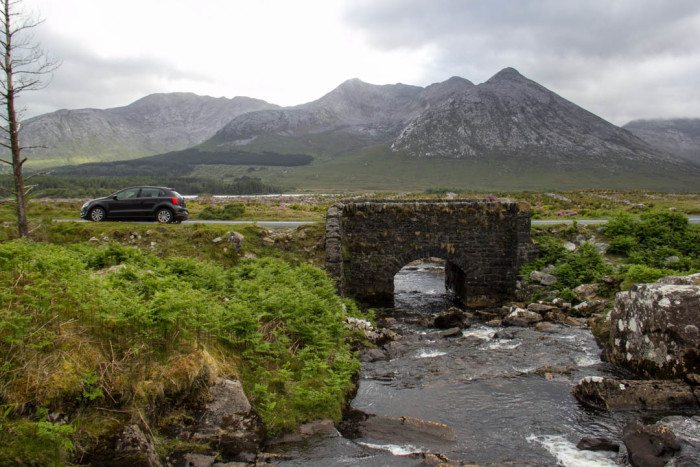 10. Road Tripping across Ireland via the Wild Atlantic Way
One of our highlights was visiting Ireland, renting a car and spending 2 weeks driving the Wild Atlantic Way. My god, Ireland is a stunning place to visit and it felt like we had the place all to ourselves. Nothing quite beats cruising around a beautiful place, windows down and stopping wherever you want to find adventure.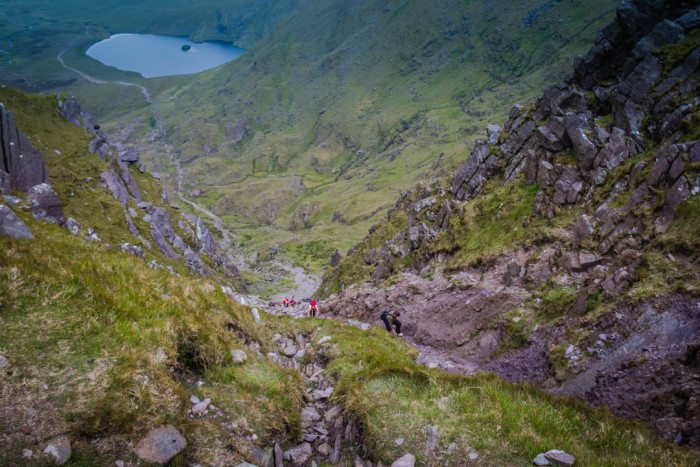 11. Climbing the Tallest Mountain in Ireland
That's right, we climbed the tallest mountain in Ireland. I know, not like it was Everest or anything but it was a challenge regardless. The peak is 1038m (3046ft) tall and not an easy hike. Climbing up and down took us 9 hours and one hell of a leg burn.
Read about our climb: Climbing Carrauntoohill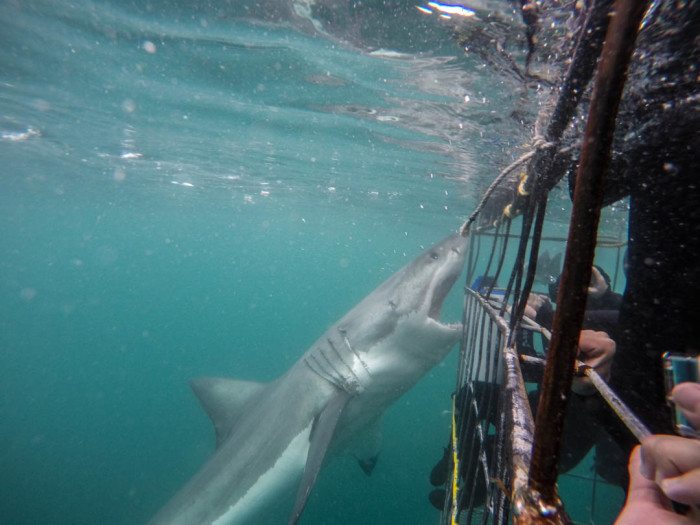 12. Cage Diving with Great White Sharks in South Africa
It finally happened, we went cage diving with Great White Sharks in South Africa. This was the first of many adventures we got up to in Africa and probably one of the most exciting we have ever had. Despite fending off the seasickness, the waves are serious out there, we each got 3 dives in the cage and saw some massive sharks at our cage.
The full story with video here.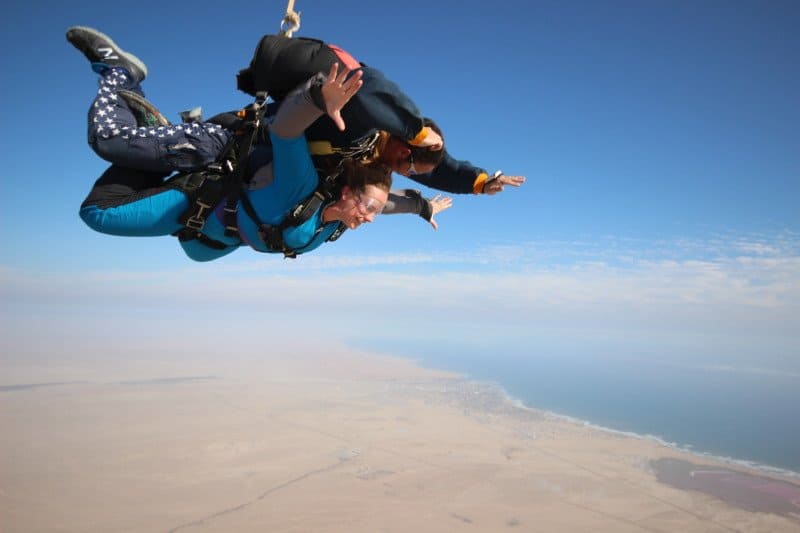 13. Skydiving in Namibia
Oops, we did it again! We couldn't resist when the opportunity arose in Namibia to jump out of another airplane. So we did it and loved it. I think we are both hooked and will be looking for more cool places to jump out of planes in 2016.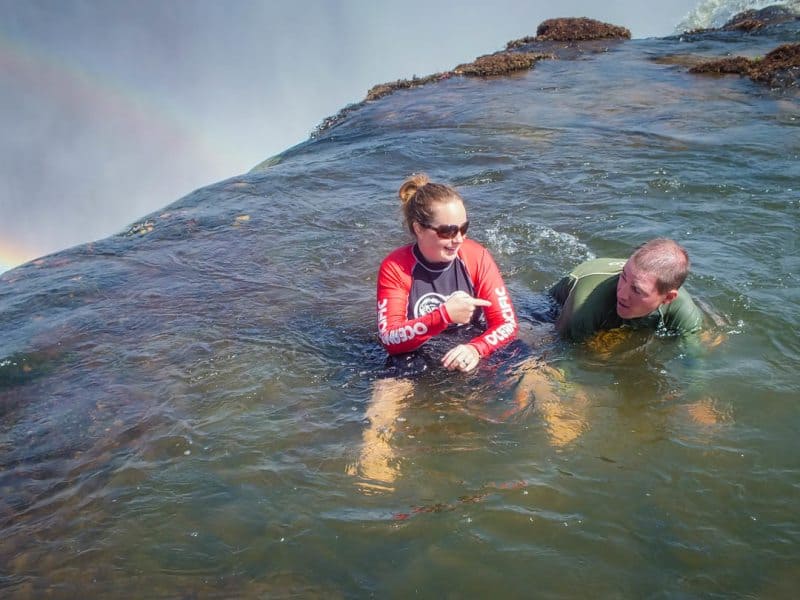 14. Sitting on the edge of Victoria Falls
It wasn't quite enough for us to just marvel at the force and beauty of the largest waterfall in the World, no, we had to go sit on the edge of it too. Angels Armchair was freshly opened on the edge of the falls the day before we arrived in town. We signed up, took a boat to Livingstone Island then went for a dip on the edge of a massive water force.
Check this out: Best Adventures in Victoria Falls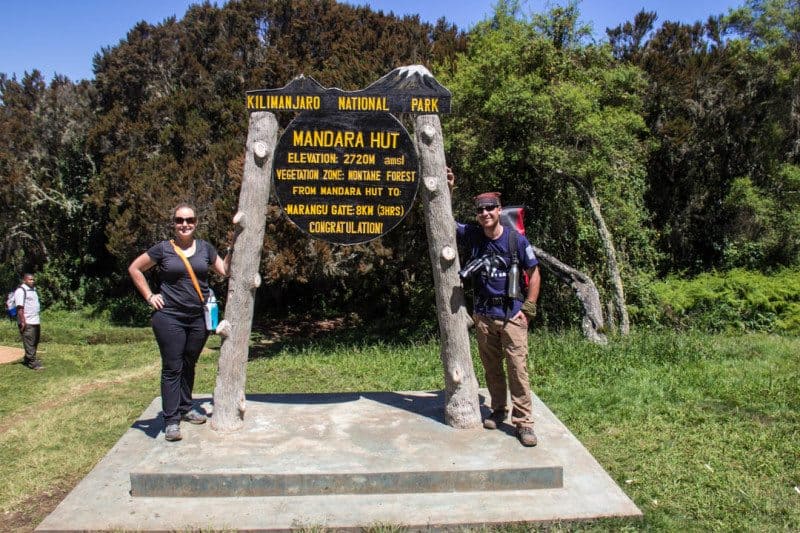 15. Hiking to Base Camp on Mount Kilimanjaro
We really wanted to climb Mount Kilimanjaro while we were in Africa, but due to the schedule of our overland trip, there wasn't enough time. So we opted for the short option of a day climb to Kilimanjaro base camp.
This gave us a taste for the mood of the climb and some pretty great scenery. It was a good primer for us and we still intend to climb Kilimanjaro someday.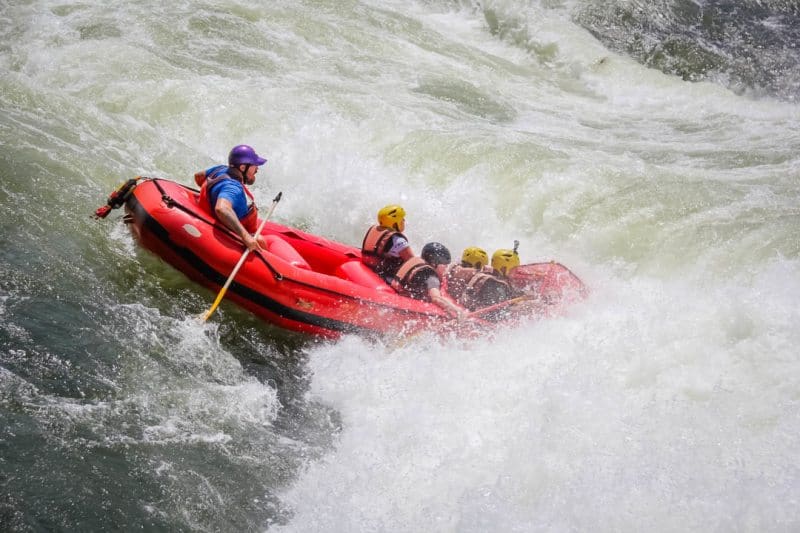 16. Whitewater Rafting on the Nile River
The Nile River is a fickle mistress and boy is she cranky sometimes. That river chewed us up, spit us out and took us for some wild rides as we white-water rafted through her class 5 rapids. It's the first time we have spent more time in the water while rafting than in the raft. I even went through a class 5 rapid outside of the boat, which was not a fun thing but a great story. Oh, and David lost another wedding band. Sigh.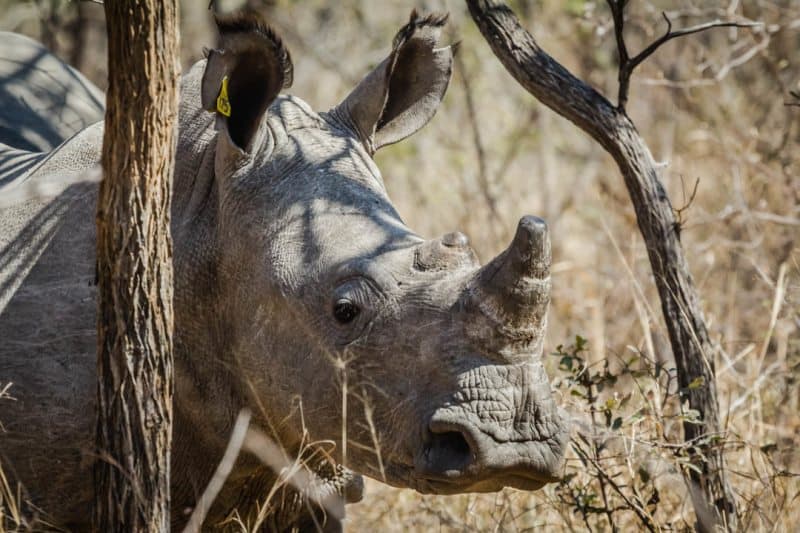 17. Tracking Rhinos on Foot in Zimbabwe
Probably one of the most rewarding wildlife experiences we had in Africa was tracking Rhinos on foot in Zimbabwe. We were within meters of these gentle giants and got a first hand look at the conservation of these animals.
We even shook hands with the guards that spend 24 hours a day protecting the Rhinos. It was a great adventure and a very moving experience.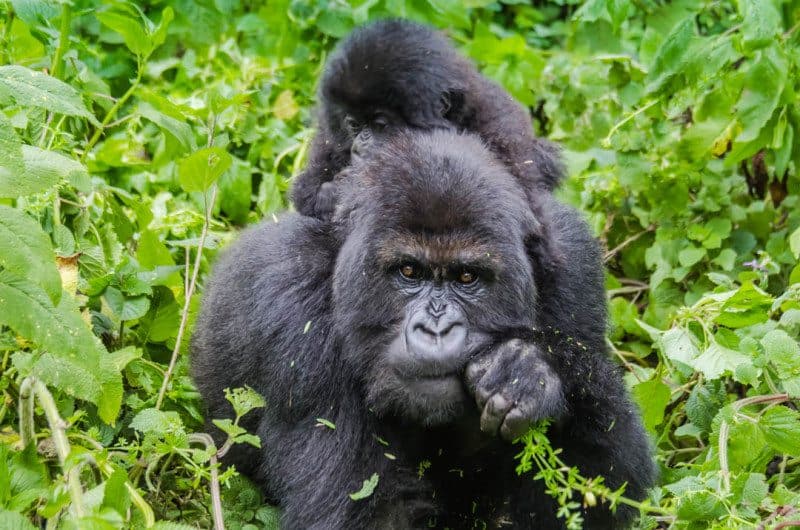 18. Gorilla Trekking in Rwanda
This particular activity can easily be touted as an adventure of a lifetime. We trekked for hours into the dense jungles of Rwanda to spend an hour with a family of Mountain Gorillas.
The trek was challenging and we literally blazed a trail to the location of the gorillas with porters using machetes to clear the way. Our hour with the gorillas felt like minutes and its an adventure I would sign up for again tenfold.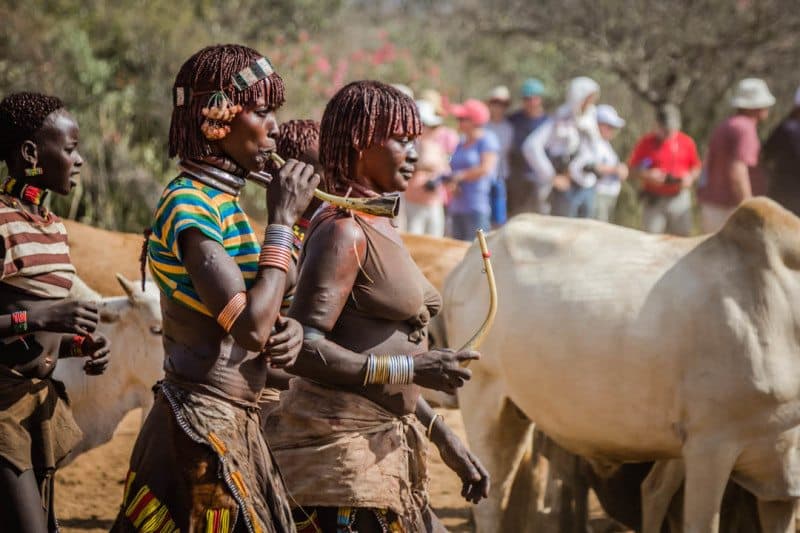 19. Visiting Tribes in Ethiopia
The Omr Valley in Ethiopia is the home to some of the most remote tribes in Africa, including the famous Mursi tribe. They have huge lip plates.
Our overland truck rolled into the tiny town of Jinka where we based ourselves for 3 days so we could visit the tribes. They took hours to reach on bumpy roads and our experiences were eye-opening. We even attended a Hamer tribe bull-jumping ceremony.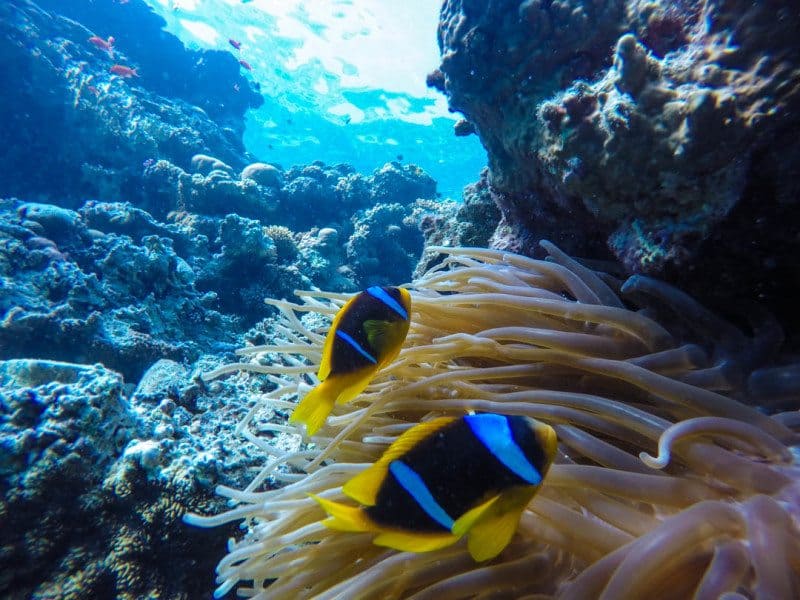 20. Scuba Diving in Dahab Egypt
While we were resting and recovering from our overland trip to Egypt, we headed to Dahab for some beach time and scuba diving. Our diving took us through some extreme and beautiful dive locations in the Red Sea.
Starting with the Bells to Blue Hole dive and then a couple of subsequent dives on the Blue Hole.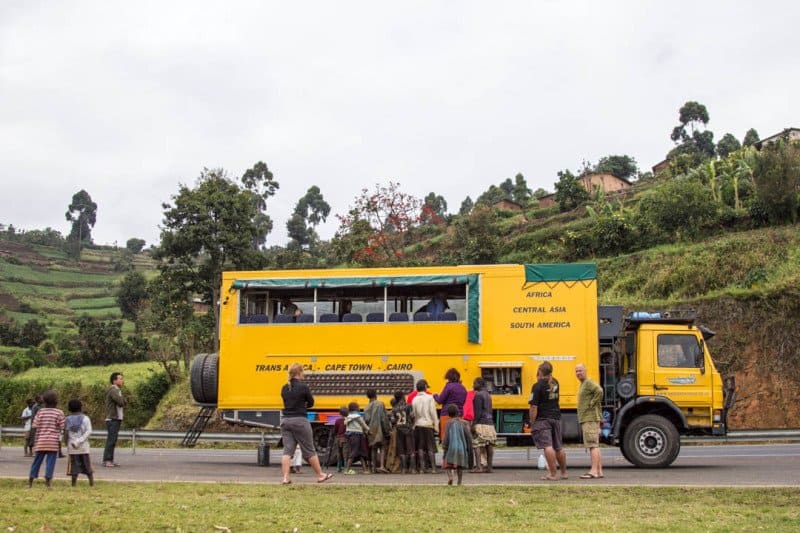 21. Overlanding through Africa for 17 Weeks
The main adventure of 2015 was our 17-week overland trip through Africa with Oasis Overland. We lived off an overland truck, camping and bush camping our way through Africa through 14 countries.
It was an amazing way to see Africa and offered a new adventure every day as we made our way across the continent.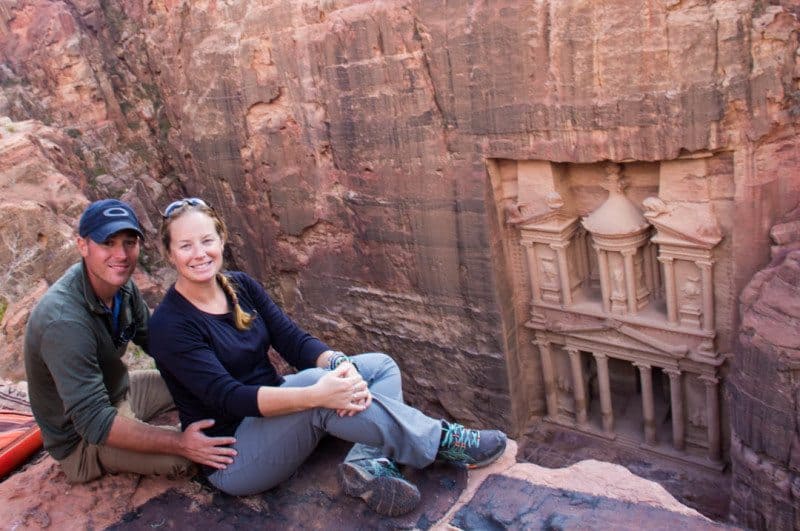 BONUS 22. Finding secret places in the Lost City of Petra Jordan
It was a struggle to squeeze our favorite adventures into 21, and we couldn't leave out Jordan. We not only did the classic tourist visit to Petra in Jordan, but we also found some crazy kids, hopped on a pair of donkeys and scaled the side of a mountain for some secret views.
This is one of our favorite travel adventures.
More on Adventure Travel:
Did you like this story? Share it!