So the bag search is continuing for me. I searched all over the internet for additional options of travel backpacks. Ultimately in search of something a little smaller than the Deuter Traveller 55+10L. I really like that bag and although I can adjust the harness to fit me perfectly, overall it seems to be about 4 inches too long for me height wise. My searching for something a little smaller came up almost empty handed, as I only found one other bag in the travel genre to try that came in smaller.
This bag is really unique, in that it was made by travelers for travelers. As a result, the Tortuga is packed full or useful features to make the travelers life easier. It has pockets everywhere, including mesh interior pockets, a laptop sleeve built into the bag and zip pockets on the hip belt. It also has two of my favorite features, a stow away harness area and a full zip front load entry with locking zippers. The Tortuga opens all the way up and as a result, there is loads of room in the bag. It is also fully padded making it comfortable to have on when packed.
Something I was looking forward to the most on the bag is the built in laptop sleeve that includes zip access on the top of the bag, so you don't have to go through the bag to stow your laptop. This seems invaluable to me as a person that can't go anywhere without a computer. What's nice is you can still access it from the inside if you ever needed or wanted to. Overall, this bag is awesome and they put a lot of thought into the use of it for the traveler.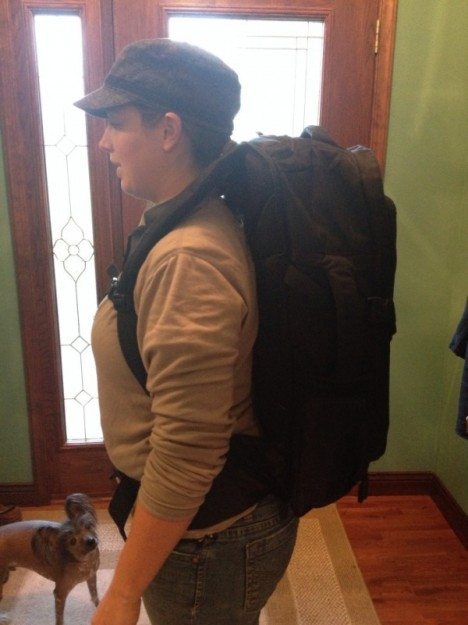 Now comes the only piece of bad news that I could find to share with you. It doesn't fit me. The only thing this bag lacks is an adjustable harness. Now, in the bags defense, I am only 5'2 and I have a short torso. So I really do need a women specific harness that is adjustable to get it just right for me. I found that when I put this bag on that the hip belt rested about 4 inches below my hips. When I lifted the bag to fit properly in the hips, there was about 4 inches of space between my shoulders and the shoulder straps. Even with the small load that the bag would carry, an improper fit just won't work for me.
Sadly, I will be returning the Tortuga and continuing my search. Our departure date is rapidly approaching so the bag search is getting intense. I am not sure if there is much left out there to try by way of a travel specific backpack, so I may be looking to alter my Kelty Lakota into a non-drawstring bag…. stay tuned!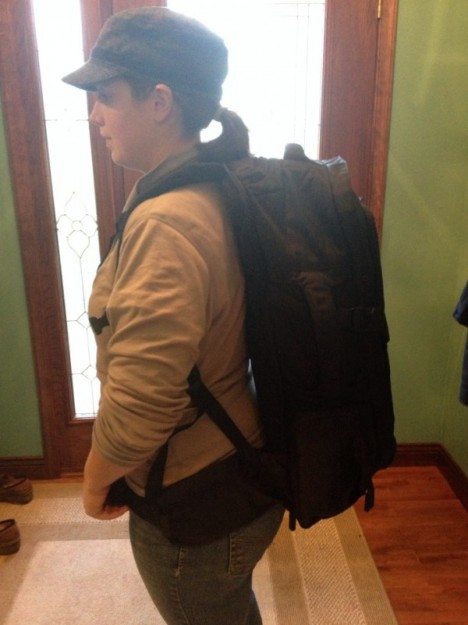 Although the Tortuga wasn't a good fit for me , this bag should definitely be considered by every traveler. It is designed with us in mind, so at least try it out.
RETURNED.
Buy Your Tortuga Backpack Here!