Tibet is a place of mystery and wonder, it is one of the last places in the World where you can witness timeless religion, people and landscapes. Most trips to Tibet start in the capital city of Lhasa, home to some of the World's most incredible monasteries.
It goes without saying that you should give yourself time to explore Lhasa and take in all that it has to offer. Plus, staying in Lhasa helps you acclimatize to the elevation, despite that Lhasa is already quite high at 3600m, it is one of the lower elevated locations on most visits to Tibet.
The best monasteries in Lhasa are easy to locate and visit during your time in the city. If you only have time for a few, these are 4 monasteries you should not miss on your visit. Bear in mind that you cannot just book a ticket to Lhasa, Tibet and start sightseeing.
Due to strict regulations, these monasteries can only be visited with a tour group. We spent our time in Tibet with Tibet Vista and got a beautifully up close look at the best monasteries in Lhasa.
Drepung Monastery
Our second day in Lhasa was started with a visit to the largest monastery in Tibet, Drepung. It is located on the Gambo Utse mountain just outside the city center, which makes it a convenient stop while touring in Lhasa.
During its busiest times in the early 1930's, the Drepung Monastery housed up to 10,000 monks at one time. Today, there are only approximately 3oo monks that live within the walls of Drepung.
Visiting Drepung first was a great way to set the mood for the rest of our time in Lhasa. The monastery is beautiful, with bright colored window dressings set against off white walls that reach for the bright blur sky.
The monks wander the halls within the complex in deep red robes that set off an attractive contrast in color that you can't take your eyes off. Add in the Tibetan pilgrims in traditional dress that follow their routes while spinning gold prayer sticks and you will find yourself caught in the trance of Tibet's wonders.
Don't leave home without: Lonely Planet Tibet (Travel Guide).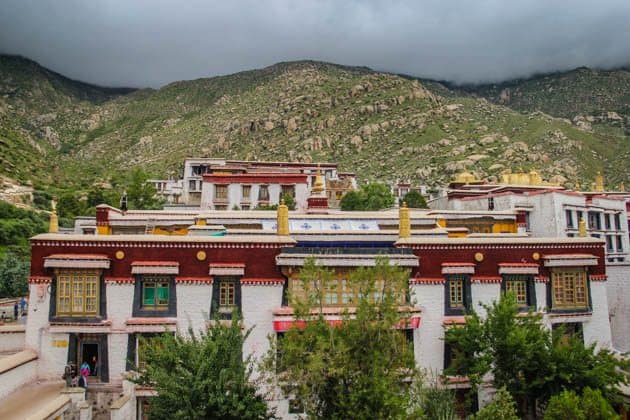 ~ Drepung Monastery ~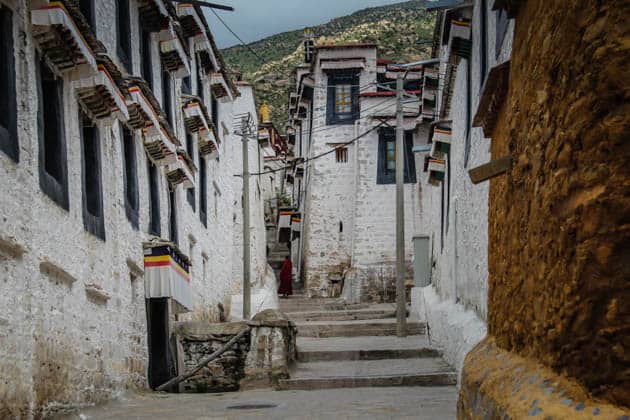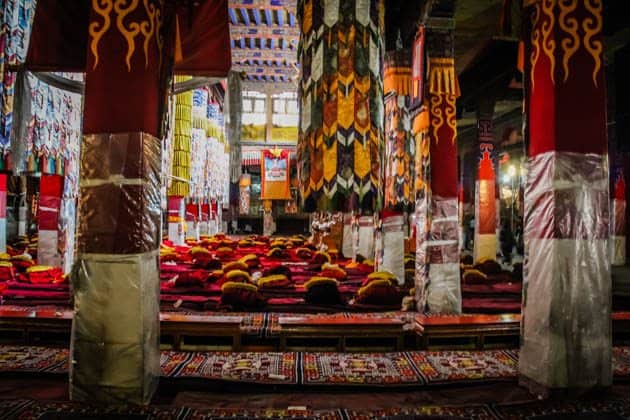 ~*~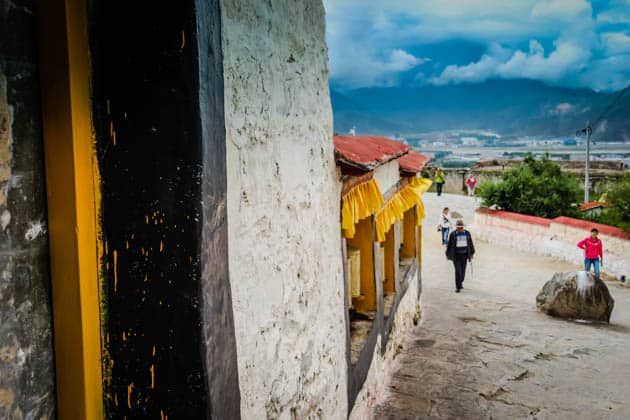 Sera Monastery
After our visit to the Drepung Monastery and a hearty lunch in a local restaurant, we moved on to the Sera Monastery. This monastery is also located just slightly outside the city but is another that is worth the visit.
An afternoon visit will allow you the opportunity to witness the resident monks displaying a debate of philosophy in the courtyard.
However, don't let your exploration stop there. Be sure to check out the back alleys for a look into the life of the locals and the resident monks. Much like the Drepung, the Sera Monastery offers that same brilliant contrast of colors and locals.
The entire complex sits on 28 acres and it is easy to spend an entire afternoon there exploring with your group.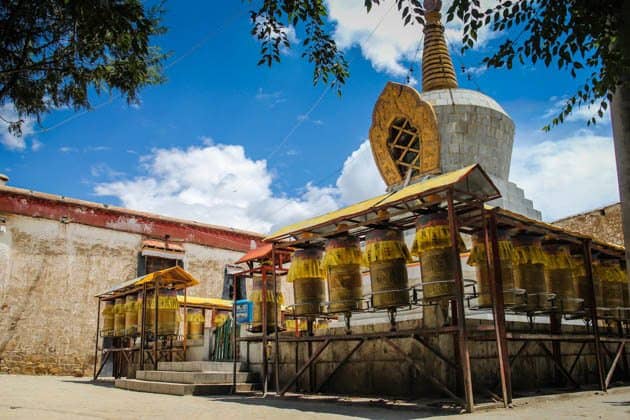 ~Sera Monastery~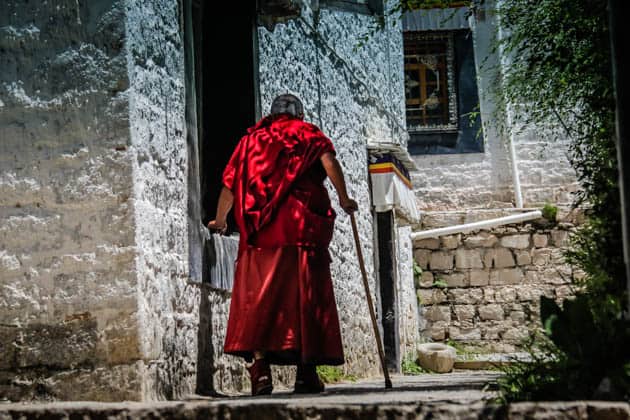 ~*~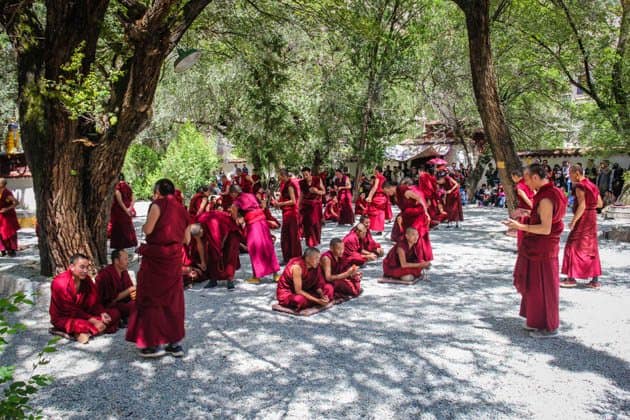 ~ Monks debating philosophy in courtyard ~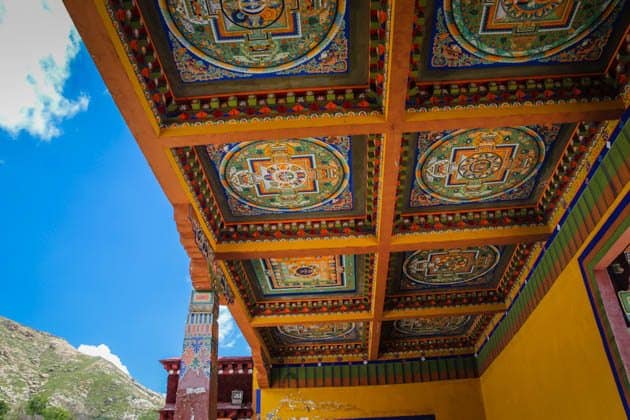 Jokhang Temple
Our second day started with a visit to the Jokhang Temple. This temple is considered the most sacred place in Tibet by the local Tibetans and is part of the UNESCO World Heritage ensemble that includes the Potala Palace.
It is located smack dab in the center of Lhasa and is surrounded by the famous Barkhor Street, where hundreds of Tibetans spend their day walking and praying.
This temple was first constructed in 642 and it embodies the very essence of Tibetan culture. The interior is dark and mysterious but beautiful all the same. The hallways and rooms inside the temple are very small and on any given day are so crowded it can be hard to enjoy your visit.
Despite that, this is a place that shouldn't be missed.
~Jokhang Temple ~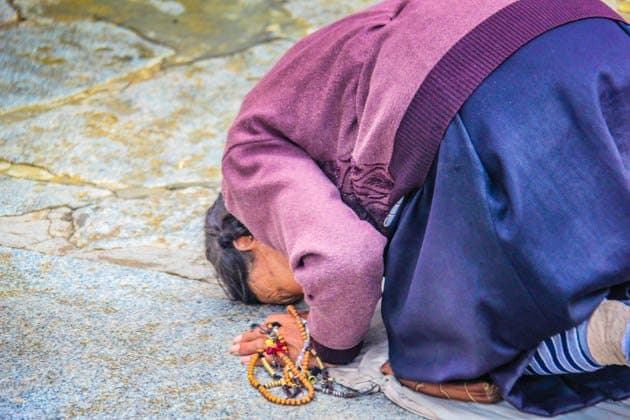 ~Tibetan pilgrim praying ~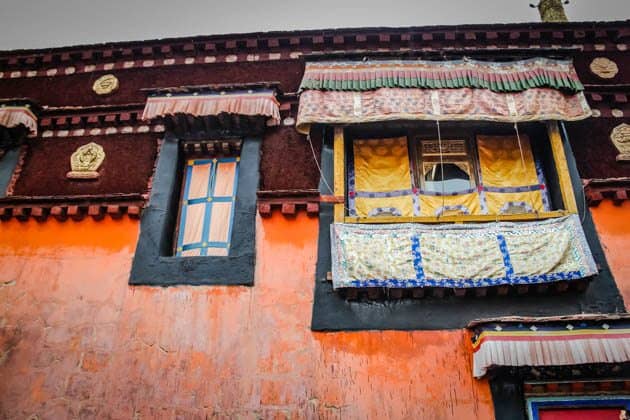 Don't leave home without: Lonely Planet Tibet (Travel Guide).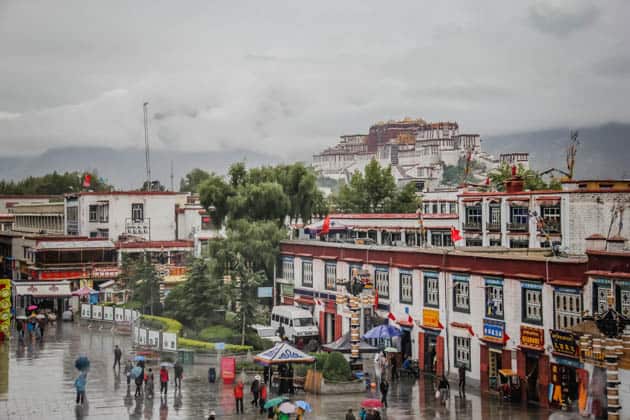 ~View from Jokhang Temple overlooking Barkhor Street ~
Potala Palace
No visit to Lhasa, or Tibet for that matter, would be complete without a visit to the Potala Palace. Of all the sites in Tibet, this one is the most famous and the one that most people will recognize from the travel magazines.
It is a huge, gorgeous palace that sits on top of the highest peak within Lhasa. The palace was the residence of the Dalai Lama until the 14th Dalai Lama fled to India during the 1959 uprising.
The building is a contrast of off white, red, yellow and blue colors that sit against the clear blue skies at 3600m. The palace is an UNESCO World Heritage site and great efforts have been made to preserve the integrity of this beautiful structure.
As part of the preservation efforts, only 2300 people are allowed within the palace each day which is usually met by mid-morning. Reservations are essential and you must not be late. Like the other monasteries in Lhasa, you may not visit without being part of an organized group.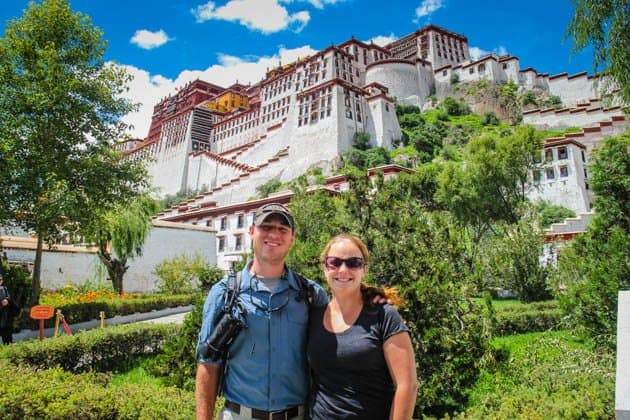 ~All smiles at the Potala Palace in Tibet~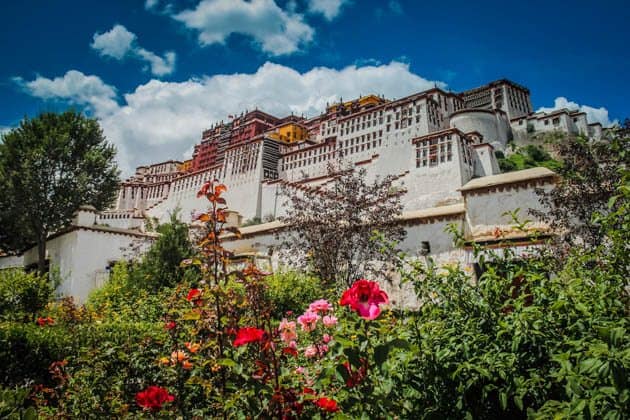 Our Travels in Tibet
If you're interested in reading more about our time in Tibet, check out our other articles including great photography of the people and landscapes.
We made all of our arrangements for travel to Tibet after we landed in Beijing and in order to maximize our time and money spent, booked a tour that was 8 days in duration. At the time, this was the longest available tour that involved travel to Mount Everest.
I can't say enough good things about Tibet Vista, the company that arranged our travel to Tibet. They have taken the lead in setting the standard for Tibet travel and we highly recommend them.
They are based in Chengdu and their website is a wealth of information for all the regions that you can visit while in Tibet. If you book with them, tell them we sent you.
Top Tours we Recommend to Tibet
We have put together a list of top tours we recommend for Tibet. These are tour ran by top tour companies in the world like G Adventures, National Geographic Journeys and TourRadar. Discover amazing tours through Tibet visiting places like Lhasa and Gyantse. Most travelers enjoy exploring our Tibet trips in April, making it the most popular time of the year.
Explore China & Tibet 15 days, Beijing to Shanghai. Get over the wall for a life-changing adventure through China's awe-inspiring interior. Explore the unforgettable city of Beijing and meet pandas at a breeding center in Sichuan. Discover daily life in Tibet and cruise the incredible Yangtze River on a riverboat. Cycle atop the city walls of Xi'an, and face its standing army of terracotta warriors before eating lunch with a local family. Get into China's very heart and it will most certainly get into yours.
Lhasa Highlights. Start and end in Lhasa! With the in-depth cultural tour Lhasa Highlights, you have a 4 day tour package taking you through Lhasa, China. Lhasa Highlights includes more.
Tibet Adventure 15 days, Beijing to Kathmandu. Take part in rituals and haggle for a bargain in the markets. From modern Beijing, travel back in time across scenic countryside to Tibet on this well-packed overland adventure. Witness the splendor of the Potala Palace and the majesty of remote monasteries and then celebrate the journey to Kathmandu. Wake up to views of Everest and enjoy a window into the heart of this remote land. A local guide and CEO will show you the region's hidden gems and make sure your trip burns brightly in your memory long after you've climbed down from the roof of the world.
More on Tibet:
Did you like this story? Share it!