Of course any list of the Best Place in the World for beaches will be subjective to whomever is writing it. For me, this list is compiled only from places that we have actually visited on our travels. We realize there are many other places in the World to find a great beach and we welcome you to share that with us in the comments below.
Our qualifications for a great beach are simple. The weather needs to be sunny and warm, the beaches clean and pure and the water clear and blue. Local culture is a great plus and a fantastic way to complete a vacation to one of these fabulous beach locations around the globe.
Caribbean
When someone says beaches, one of the first places that comes to mind for me is the Caribbean. The Caribbean is sought after as a beach destination by people from all continents. One of the reasons we really love the Caribbean is the diversity it offers. You can be budget conscious, spending less money and staying in modest places or you can splurge on something like Luxury Holidays Distinction Collection for the ultimate in luxury. The choice is yours.
There is nowhere else you can find white sand beaches that run straight into the clearest, brightest blue water on the earth. Most of the islands in this part of the World will afford you a perfect beach. The ones that do not have white sand will offer you a contrasting black sand beach against the same beautiful water. Some of the best beaches can be found on the islands we highlighted in our Guide to 11 Caribbean Islands.
Mexico
Our favorite place to visit in Mexico is the Riviera Maya in the Yucatan. The beaches in this region are so good that many people consider it as part of the Caribbean with its white sand and same teal waters. We believe this area is the highlight of Mexico's coastlines and a must visit for anyone that loves a good beach.
Alternatively, Mexico offers darker sand beaches against the bright blue Pacific ocean on it's west coast. Cities to hit these beaches include Acapulco, Mazatlan, Puerto Vallarta and Cabo San Lucas. All offer great beaches, nightlife, resorts and activities for any type of traveler.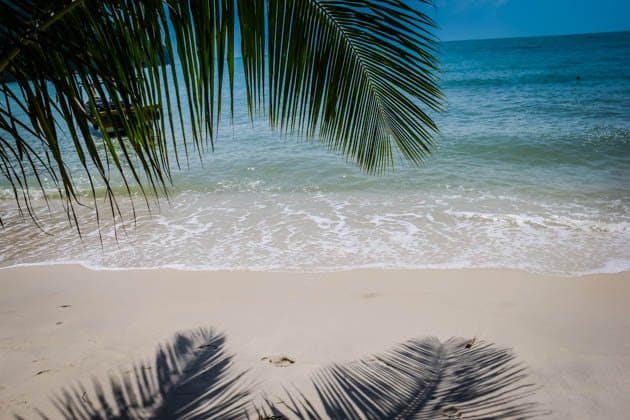 Southeast Asia
Raising the bar a level is the beaches in Southeast Asia. With countries like Indonesia, Thailand, Philippines, Cambodia and Malaysia you will be hard pressed to miss out on beaches. This part of the World gives the Caribbean a huge run for their money in the beach department. The best part about it being that accommodation can be really affordable leaving more money for partying and scuba diving.
Some of our favorite beaches can be found on the west coast of Thailand on several of the islands that litter the Andaman Sea including Phi Phi Don, Phi Phi Leh and Koh Rang Yai. A close second for beach greatness can be found in many of the eastern Indonesia islands including Gili Trawangan, Flores, Lombok and the Komodo Islands.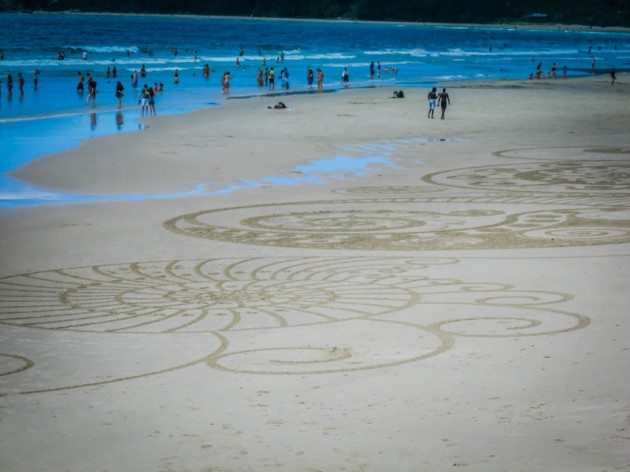 Australia
If you seek beaches with a good surf, then drop everything and head straight to Australia's gold coast. We recently spent 5 weeks road tripping up Australia's eastern coast line and we found more beaches then we could even visit during our trip. You can find remote beaches, natural beaches, crowded beaches and hidden beaches all along the way.
The best ones for swimming and sunbathing are located South of Brisbane where the sands are golden against the dark blue Pacific ocean. Two of our favorite places include Byron Bay and Noosa to lay on the beach reading a book or just watch the many surfers as they try their skills on the waves. If you are into diving, head straight for the Great Barrier Reef in the North Territory or cruise out the Whitsundays for Australia's beast beaches.
New Zealand
This is not the first destination that comes to mind when someone mentions beaches. It was the same for me, all I thought about was mountains, but let me tell you, this country is chalk full with some of the most beautiful beaches we have ever seen. Whether you fancy surfing, swimming, snorkeling, diving or sunbathing, there is a beach for you in New Zealand.
Some of our favorites on the North Island include Piha Beach, which is known for its black sand and great surfing. Hot Water beach, where at low tide you can dig pools and soak in the volcanic bubbles that come to the surface and Cathedral Cove, where the water is teal and the beaches are bright white.
As we continue our travels we will continue to seek out beautiful beaches in far off places. This list will be ever growing but it's nice to know that no matter where you may travel, it is likely you can find a fantastic beach that isn't too far away.
Where are YOUR best places in the World for beaches?