Caution: Cassowary Crossing. I know what you are thinking, what in the hell is a Cassowary? I thought the same thing the first time I read about them in the Lonely Planet book for Australia. Apparently, they are a huge, prehistoric-looking bird that resembles an ostrich and has a long toe that is sharp enough to sever off your limbs or disembowel you in one stroke.
So, naturally, I was fascinated by this animal and made it my mission to search for one. This would involve spending a day hiking through the various walking trails in the Daintree Rainforest about 2 hours North of Cairns. We knew that going on a tour would limit our chances of seeing this elusive creature so we made up our minds to rent a car and make our own adventure for the day.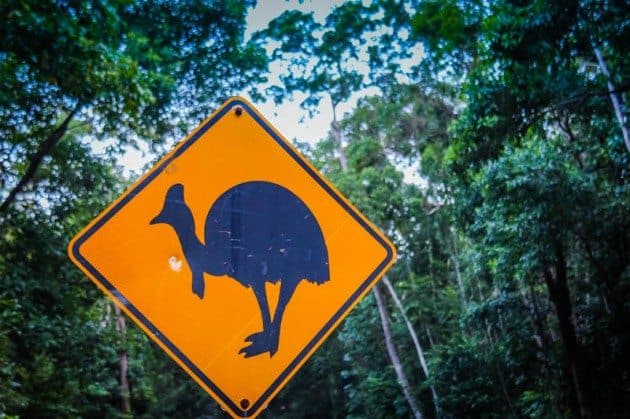 By some chance meeting, we bumped into a friend of ours, that we had met on Fraser Island, the day before our self-planned excursion and before we knew it we had 2 tag-a-longs for our pending adventure. We all had one thing in mind, finding the Cassowary.
I'll preface this by saying we all knew the reality of finding a Cassowary was slim, but we scouted the best areas to see them and asked the locals each time we stopped if there had been any sightings recently. Occasionally they cross the roads and they are easy to spot in the surrounding woods for the next few days. The information wasn't looking promising but we pressed on and spent a fabulous day taking a crocodile cruise, crossing the river on a ferry into the Daintree National Park and walking many of the hiking trails.
Click to read: Daintree River Cruises: Crocodile Spotting in TNQ
Cyclone Ita had hit the area a few weeks before we arrived leaving most of the Daintree Rainforest underwater. This made for some interesting hikes that day as we would start down the trails only to come to roadblocks. Instead of turning around, the boys decided to make detours that sent us off into the rainforest. I tend to be quite nervous about stuff like this, I don't like snakes and I really don't want to end up lost.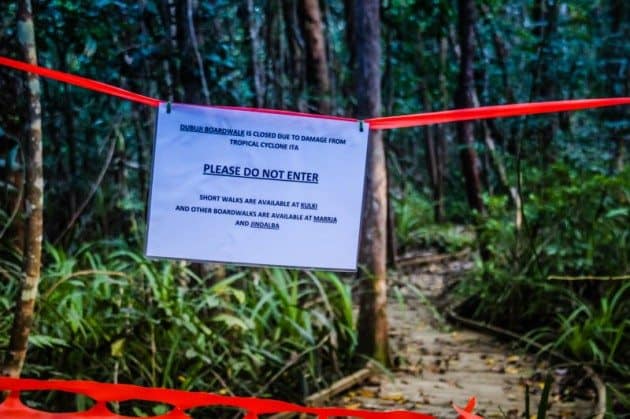 So wandering off the path, in the middle of a rainforest, wasn't my idea of a good time. On the second hiking path we stopped at, there was an option to take a longer hike so we followed the boardwalk towards that path. Part of the way on the trail, the boardwalk just ended. We knew we had read the map correctly, but the boardwalk literally just disappeared leaving nothing but thick rainforest to walk through.
I may have felt differently had there been a path, but it was pretty questionable. The only thing to mark the 'trail' was fluorescent ribbons tied to trees every 20m. I stood there, questioning my sanity, as the boys walked forward following the ribbons. I could turn back and go sit in the car, praying they didn't get lost, or join them and pray we all didn't get lost. After an internal struggle, I pushed on after the boys.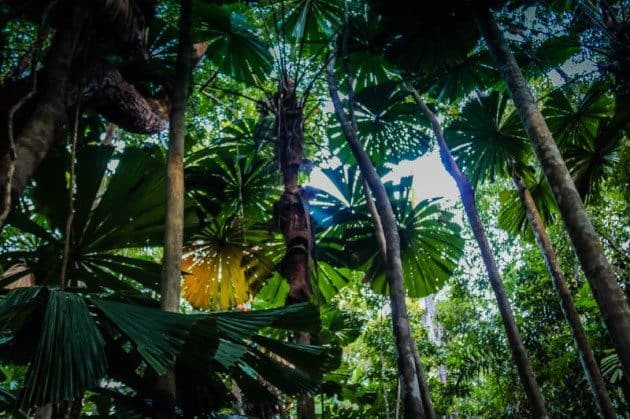 ~*~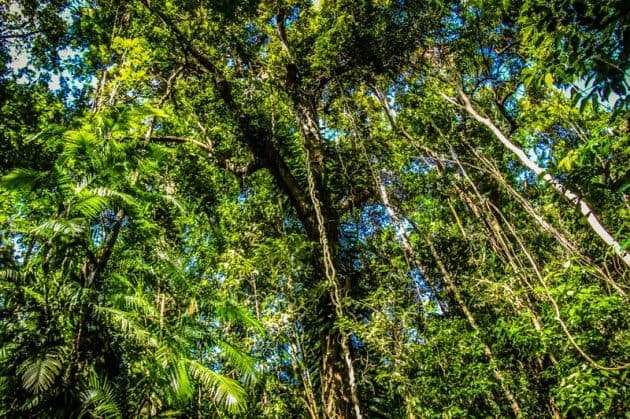 ~*~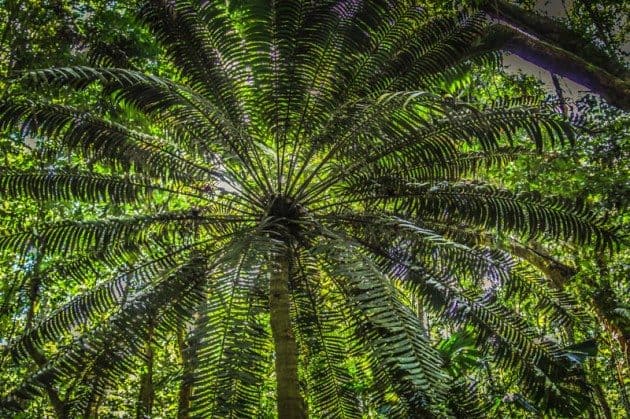 Our decision turned into quite an adventure for us. We were pretty successful in following the markers but at one point they ceased to exist. If I had feathers, they'd be ruffled AND inside out at this discovery. This sent us on a bit of a goose chase to find the path again.
We found ourselves attempting to cross a creek, which involved climbing over a log and leaping if you didn't want to get wet. Well, as graceful as I am sometimes, I cleared the log but missed the jump and sunk straight up to my knee in muddy creek water before falling backward.
The only thing going through my mind at that moment was… CROCODILE. I realize now that this thought was beyond ridiculous as the creek was maybe 3 feet wide and maybe a foot deep, but in the heat of the moment, man, I thought I was a goner. Picking myself back up and brushing my momentary freak out aside we pushed on, still in search of the markers.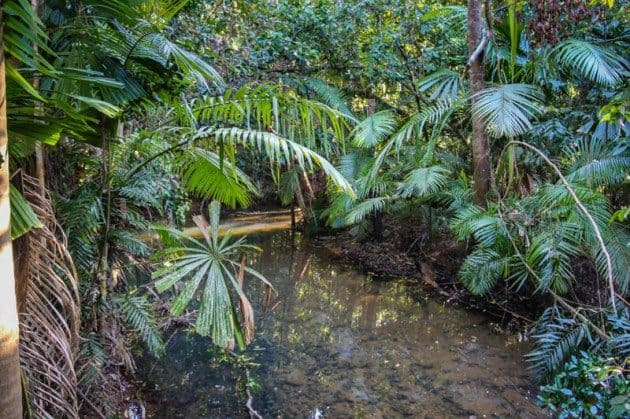 Walking through a rainforest, slightly lost, makes you start thinking in weird ways. I started thinking about what would happen, exactly, if we were to come across a Cassowary at that very moment. We wouldn't be able to defend ourselves. We would just have to hope we didn't piss it off and back away slowly as not to provoke it. I couldn't imagine bearing witness to it slicing off people's arms.
Shortly after those thoughts, we spotted another tree marker. By this point I was getting ready to turn back, we had been walking for a while and hadn't come back to any real path. But before I could open my mouth to express my thoughts on the matter, we entered a clearing that was the end of a vehicle road that cut clear through the rainforest.
This was a relief for me, at least we could follow the road back to civilization. As we walked through the open land towards the road, I caught something out of the corner of my eye.
I turned my head and was quite surprised to see a large cage sitting there. Yes, a cage, big enough for people. This instantly reminded me of the TV show, Lost, and the huge cages used by the Dharma Initiative people. One word, creepy.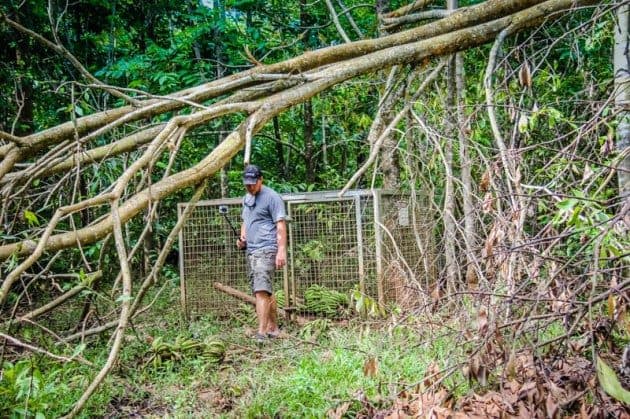 ~*~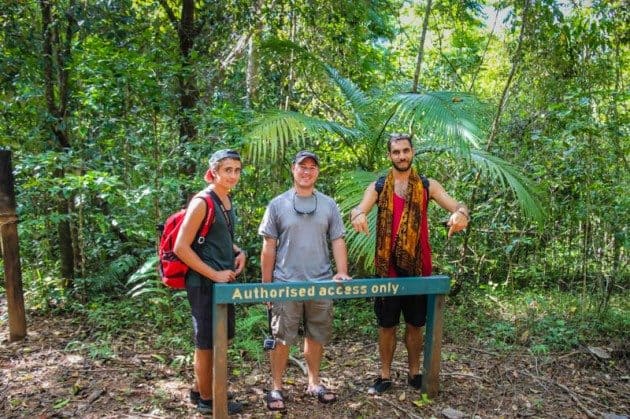 Boys will be boys, and they trotted over to have a closer look. The case was fairly new and filled with large bunches of green bananas. The park service, or maybe some Bogans (slang Aussie term for hillbillies) were obviously trying to catch something and I don't think it was the Cassowaries. After mulling it over and trying not to set the trap, we came to the conclusion that it was wild boars they were targeting.
Our theory was proven stronger by the discovery of boar tracks on the road while we walked, hoping it would lead us back to the car park. 10 minutes later, we met a paved road and noticed we had exited the forest well beyond where the car park was.
This was strange, we had covered a huge amount of ground and very clearly, went the wrong way. The path surely wasn't the extended hike but good thing for us, the park service had it marked for their use and we were able to navigate our way out of the Daintree Rainforest that day.
We completed 2 other hiking paths as we made our way North and never did get a sighting of the elusive Cassowary. We did drive the road until we couldn't anymore, ending at Cape Tribulation. We had made an adventure for ourselves, got out of our comfort zones (well at least I did) and had the experience to remember. This is what travel is all about.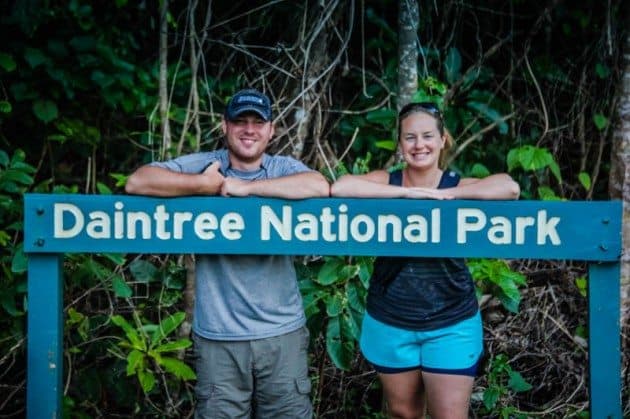 Have you ever wandered off the path while hiking?
Did you like this story? Share it!