It's cold out in most of the United States right now. People are seeking destinations for some much-needed sand and sun. Due to its incredible ease of access from most major cities in the United States, the Caribbean is a frequently visited area. I've visited many times myself and if you are someone in need of sand and sun or just seeking a getaway from work, I've got a list of places for you to check out.
There are many islands in the Caribbean that can offer you a large variety of getaways. From beaches, to rainforest, history and underwater adventure. There is an island for you. I want to take a look at some of your options as you plan your next visit to the Caribbean Islands and show you what you can expect from each unique island. There are many islands to choose from but these are some of our favorites.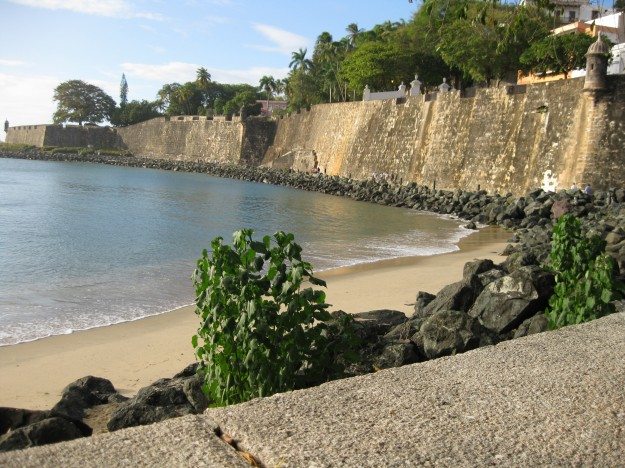 Puerto Rico
It's not all beaches in Puerto Rico, and although you can find some pretty great ones, there are so many other draws to this United States Territory. Old town San Juan offers you a chance to step back in time as you explore the Spanish colonial forts that loom over the city. Your time spent will likely be entertained by a variety of local vendors and street music while you spend your days visiting each for and walking the cobblestone streets that make up the are of Old Town.
Once you've had your fill of the city, head out to the United States only registered National Rain Forest, El Yunque. Spend your day hiking to waterfalls, viewing the local flora and swimming in the fresh water pools. The best part is that if you are a US citizen, you are not required to have a passport to visit this tropical island.
Related Article: 35 Bucketlist Things to do in Puerto Rico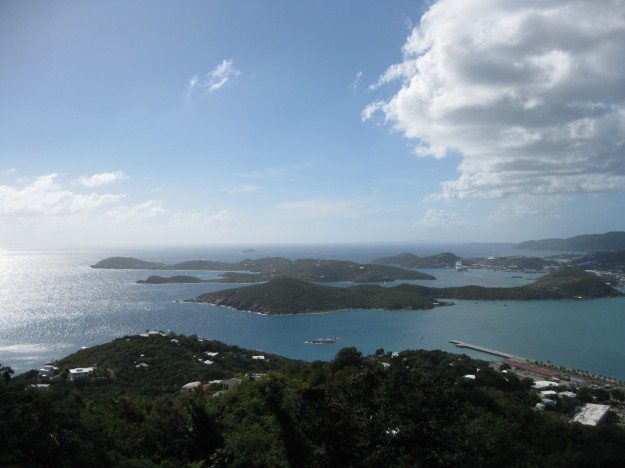 St Thomas
St Thomas is the busiest of the United States Virgin Islands. Charlotte Amalie, the capital of the island, is busy and modern but in an area with scenery so beautiful it makes forgetting the bustle pretty easy. We recommend taking the gondola to Paradise Point for a view that is unrivaled in the Caribbean. The unique landscape of islands jutting up through the water that surround St Thomas make it a treat.
If you're looking for a big, beautiful, perfect Caribbean beach then head straight for Magens Bay. This beach is located on the North side of the island and is guaranteed to offer you a classic Caribbean beach experience with sparkling turquoise water and white sand beaches. Insider tip: use the local buses to get around instead of paying for expensive taxis. They will get you to all the major areas for a fraction of the cost to take a taxi.
Related Article: 21 Cool Things to do in St Thomas USVI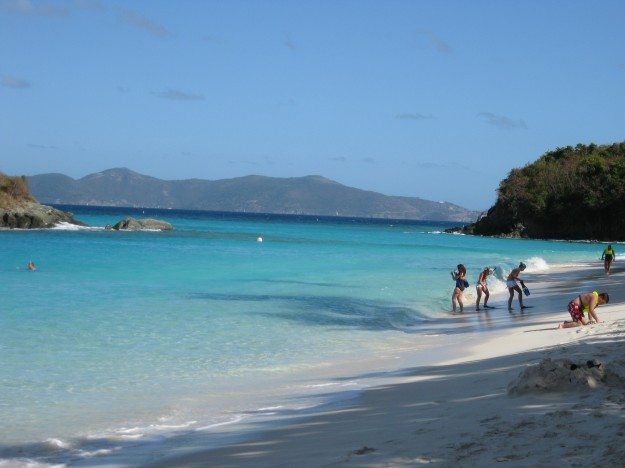 St John
Caribbean paradise to me is St John. The second largest island in the US Virgin Islands, most of the island is a National Park. It is, for the most part, serene and unspoilt. You come here for the beaches and natural tropical beauty. Getting here is simple, from Charlotte Amalie on St Thomas take a local bus to the Red Hook ferry station on the East side of the island. For a small price it will take you straight to Cruz Bay on St John.
There is a small variety of non-commercial accommodation on St John if you want to stay a few days, but on a day trip from St Thomas, hop on a bus and head straight for Trunk Bay. I have yet to find a beach as beautiful as this one. It is part of a protected park, so you will have to pay admission to get to it, but you will be rewarded with a natural, peaceful beach. You will see no vendors or beach chairs. Just raw natural beauty.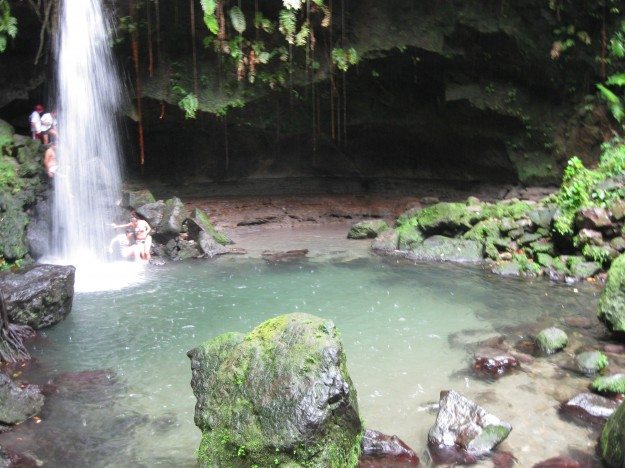 Dominica
I'll start by telling you that this isn't an island known for its beaches. There are very few on this island that are worth even a visit. You come here for nature, hiking and waterfalls. Additionally, even though it doesn't boast beaches, it offers some really great diving and snorkeling sites just off the shoreline. But the magic is in exploring the inland wonders.
Morne Trois Pitons National Park, UNESCO World Heritage Site, is a good place to start with a visit to Trafalgar Falls, the Emerald Pool and the natural hot springs. The park has 5 volcanoes which produce many sulfur smelling hot springs throughout the hiking trails. The pools are clean with moving water, so take a moment to relax and soak. A dip in the Emerald Pool is said to take 10 years off your life for a longer enjoyment of youth. Whether it's true or not, well that's up to you to decide. For me, I took the chilly dip, why chance it?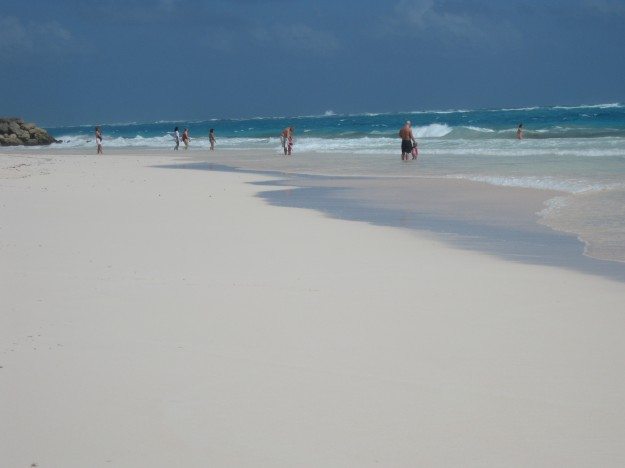 Barbados
One big draw to Barbados is the beaches. The island has many spectacular beaches to experience, so by all means, spend some time there. However, due to its location on the Caribbean and Atlantic, the waters can be rough. Most of the beaches are not ideal for swimming or snorkeling and you can expect high winds and strong currents. Although this can be a deterrent for some, it doesn't take away from the beautiful views, sand and sun to be had on most of the island. And if you don't mind the crowds, there are a few beaches where swimming is possible.
Away from the beaches, don't miss a visit to the Barbados capital, Bridgetown. The town is vibrant in history with colonial architecture and bright colors. Set on the shoreline, the contrasts of colors with the sea and culture offers a vivid shopping and dining experience. If you're up for some adventure, many parasailing and boating excursions leave from Bridgetown.
Related Article: 40 Bucketlist Things to do in Barbados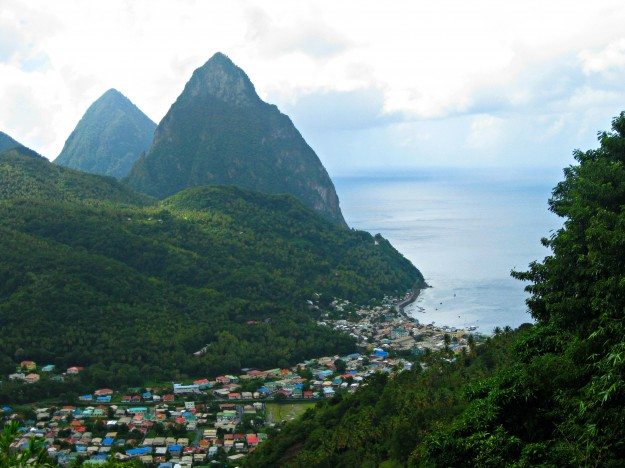 St Lucia
If it is a variety of nature and sand you seek, St Lucia might be the perfect match for you. It is known for some beautiful beaches, stunning natural landscapes, colorful snorkeling and diving. It is the only island with an active drive in volcano, La Soufriere, where you can get up close and personal with the stinky lava and steam. Combine this with sleepy fishing villages along the coast and stunning coastlines and there isn't much that you would miss on a visit to St Lucia.
My personal favorite is riding the bus to Anse La Raye then taking a boat to the beach between the mighty Pitons. The icon of St Lucia and the mountains you will see on every brochure that solicits the island. It isn't easy to get access to by land, so it is not crowded and is extremely quiet. The snorkeling off the beach is fantastic as the coral has grown up on the base of the pitons. There is a lot of sea life to view from snorkeling in this location.
Related Article: 23 Epic Things to do in St Lucia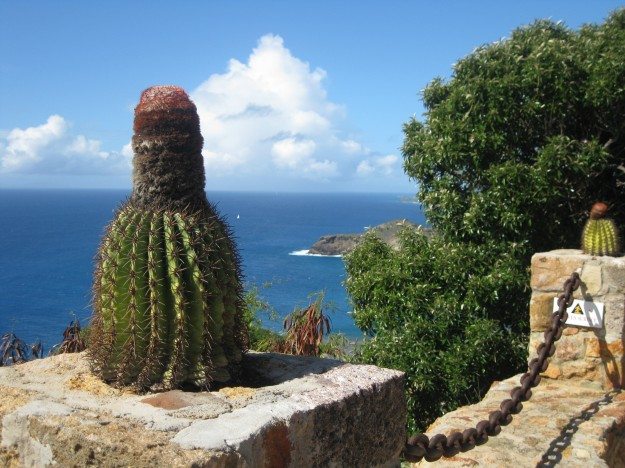 Antigua
Antigua is known for its beaches. All 365 of them. You will be hard pressed to not find a perfect beach on this island with some of the favorites being Turners, Pigeon Point, Half Moon Bay, Deep Bay, Dickenson Bay, Jabberwock, Jolly, Prickly Pear and Long Bay to name a few. Finding a beach resort is easy and you can spend your days sipping fruity drink, listening to waves and watching the sunset.
If you have the urge to do more than sit at the beach, the second best thing to do is visit English Harbor. You get a spectacular view of the harbor and coastline of Antigua from Shirley Heights. If you want to get up close and personal, pay a visit to Nelson's Dockyard and learn about the rich English history that established Antigua in the 1700's.
Related Article: 21 Bucketlist Things to do in Antigua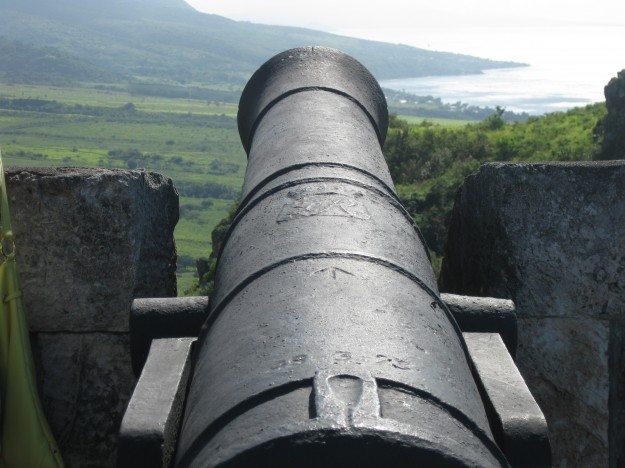 St Kitts
Brimstone Hill Fortress National Park, UNESCO World Heritage Site, is the main draw to this island. The fortress was first established in 1690 with canons and was completed over the following 100 years. The fort saw its biggest battle and takeover by the French in 1782 but was later retaken by the British after a treaty was signed. The walls were refortified and the fort was never taken again. It was abandoned by the British in 1853 and after restoration efforts in the 1970's was declared a UNESCO site in 1999.
A visit to the fort will provide engaging historical insight and breathtaking views of the surrounding area. The island is rich with culture, so don't miss a visit to the Caribelle Batik factory before heading out to soak up some sun and sand on the beach. Lastly, keep you eyes open for monkeys. There is a population of Green Vervet Monkey's that were introduced during the African slave trade. They can be seen on the sides of roads and in the trees.
Related Article: 26 Awesome Things to do in St Kitts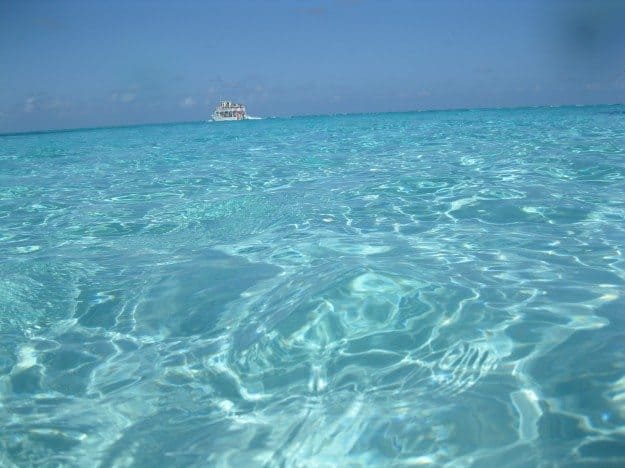 Grand Cayman
For a place that has a city named Hell, it must be sunny and hot, right? Well, this is exactly true. The Grand Cayman islands offer you a text-book tropical vacation with turquoise water, white sand, palm trees and plenty of sun. What sets it apart from every other island? The underwater activities. The water here is so clear you can see everything under the water, for miles. The island is surrounded by a sand bar and reef shelf providing really great snorkeling and diving for water lovers.
A visit wouldn't be complete without a trip to Stingray City, a large sand bar just off the coast where large sting rays have gathered for years to feed on fisherman's chum as they cleaned their fishing boats. These days, they are accustomed to visitors and are very friendly. Tours will take you right out to them where you can get in the water with them, feed them and even get a kiss for 7 years good luck.
Related Article: 30 Epic Things to do in Grand Cayman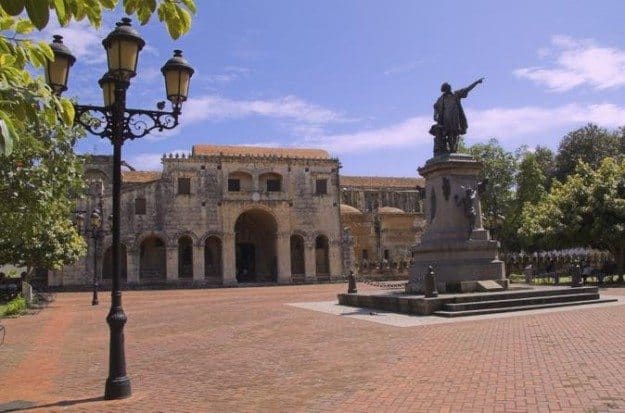 Dominican Republic
This island is certainly known as a hot vacation spot. Most people come here for the stunning beaches of Punta Cana on the East side or the bright blue waters of Puerta Plata on the North side. All inclusive resorts line the shoreline and offer a variety of package deals to suit every traveler. You can take part in snorkeling, swimming, diving and even some Latin dance lessons. Resorts are also offered in places like La Ramona for a more local feel.
A not miss in the Dominican Republic is the bustling capital city of Santo Domingo. Although not as commonly visited as the beach areas, this city is rich in Spanish history and the landing spot of Christopher Columbus. You can tour his casa, visit the local botanical gardens, aquarium and local parks on a visit to the city. The downtown historical district holds architecture that rivals some places in South America and Europe.

Bahamas
The islands that make up the Bahamas are the closest to the United States and consist of 700 islands and cays. They are so close you can even take a day cruise from Fort Lauderdale, Florida to the Grand Bahama island. This alone makes them a popular place to visit for many visitors. You can't really go wrong with a visit to the Bahamas, the sand is white and the water shallow.
It is a classic beach experience and many of the places you can visit will jump out at you as places you have seen many times before in movies and magazines. You can enjoy the typical activities in the Bahamas, snorkeling, swimming, sunbathing, hiking, kayaking, parasailing and the list goes on. My favorite activity involves a Strawberry Daiquiri, sunscreen and a lounger while visiting these islands.
Do you have a favorite Caribbean Island?