Despite our best intentions to get to bed early, we got little to no sleep that night. The accommodation was comfortable and the temperature perfect but we had the misfortune of a large Chinese family that thought it was appropriate to stomp, parade, scream, shout, laugh and slam doors into the wee hours of the night. The result, a couple of restless travelers.
Dragging ourselves out of bed the next morning came early, we had a solid 5 hours of hiking through the countryside to Ping'an followed by a 3 hour drive back into Guilin and then for our plans, a ride to Yangshuo. So the day was going to be long. The advantages to rising early is beating the sun.
We were lucky with a cloudless sky, but knew it meant a hot sun. So we ate breakfast quickly, gathered our things and set off on the trail out of the village. Our first stop was a high overlook that afforded us a great view of the valley and village below. Our night had been spent in one of the most beautiful places in China.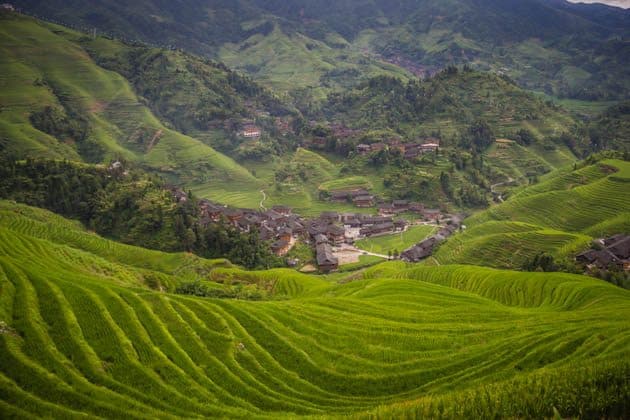 ~ Village we spent the night at ~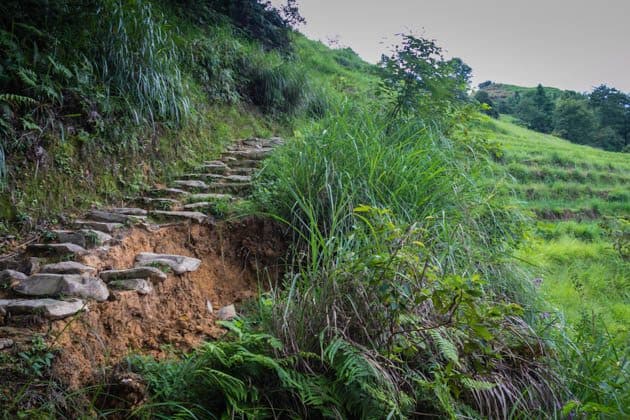 ~*~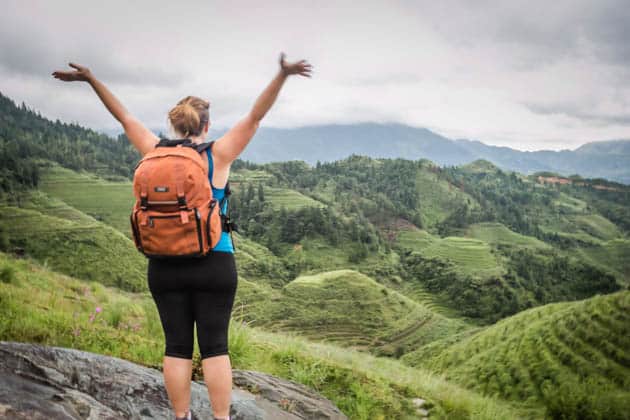 The hike was a nice combination of challenging inclines and steady plateaus and weaved it's way through hills of sparkling green rice fields. They were perfectly tailored to move with the land, creating the perfect vision of texture and color. Many people would say that seeing the rice fields when they are green is not the best time to visit. For me though, the views of the bright green, full fields crawling over the hills against a blue sky was breathtaking.
The second day of hiking would bring us the same great views from our first day of hiking and in addition, many more encounters with the Yao minority people along the way. The first women we saw working in the fields was delighted at the site of us. She came straight up onto the path to meet us and then promptly gave us a demonstration of how she works in the rice fields. It sounds comical, and in a way it was, but she was genuinely excited to show us.
She encouraged us to take photos and never once asked for money. This wasn't a tourist display, she was interested in us and wanted to show us more about her way of life. I didn't hesitate to take a couple photos, which I then showed her, before moving on and climbing up another hill on a narrow, wet, winding path.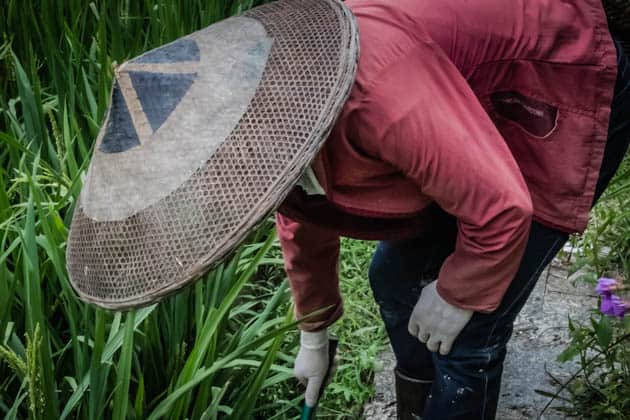 ~*~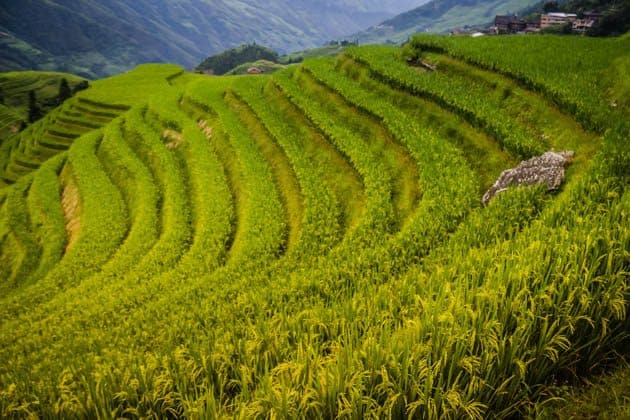 ~*~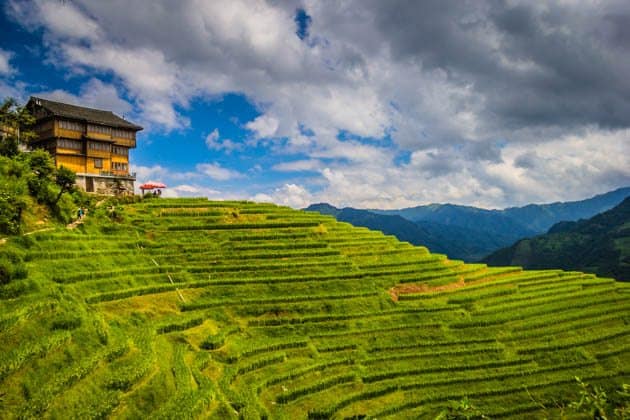 After reaching the top, we descended down the backside of the hill and into a thick patch of trees that resembled a jungle. The descent was not straight, but down, then flat and winding, then down again. About half way down we came across a large building owned by a local farmer.
He was standing on the trail and greeted us as we passed him. As we got closer to the buildings we encountered many women with displays of things on tables, that they attempted to sell to us. Most of it was nothing special but we looked and mingled with the ladies regardless. When the farmer joined us, he quickly took to the far table with a beaming smile and waved us over.
There, sitting on the table, was three large glass jugs. Inside them, some of the biggest snakes I have ever seen. There in the middle of nowhere, this farmer was marinating his own snake whiskey and offering it to hikers as they passed through his terraces. Of course, I am not a fan of snakes and was immediately alarmed at the site of them and slowly backed away.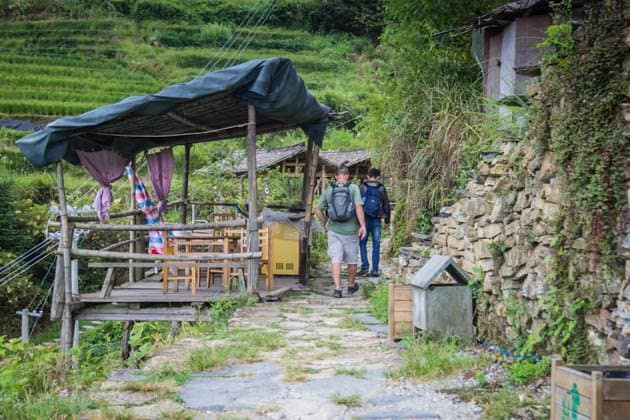 ~*~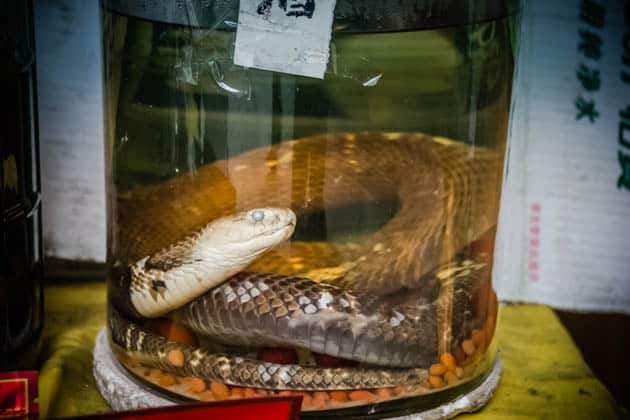 ~*~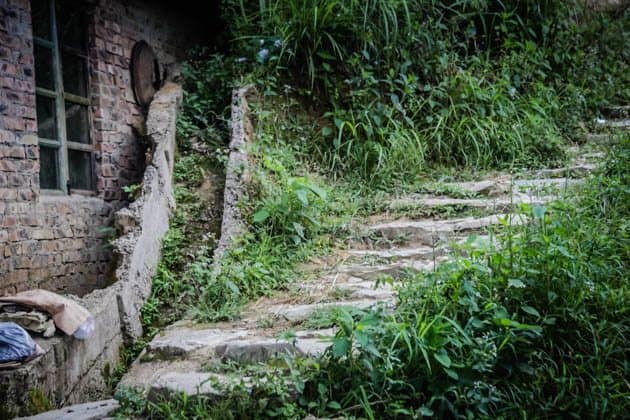 However, I couldn't resist asking him about them. He had captured the snakes while working in the rice fields and made a point to tell us that they were dangerous. Which he followed up with, 'the dangerous ones make the best Whiskey' in his broken English through his gaped tooth smile. I have seen the cobra whiskey in Laos before, but these snakes were just eery for me, simply because I was hiking where they were found. I remained on my toes for the rest of the hike after that stop.
In addition to the stops with the local farmers, we passed through one other village before arriving in Ping'an. We knew were were close when we started to see other hikers. It may be hard to believe we were the only hikers for most of time, but that is true. Most people pay their visits to the villages and make short trips outside of the village for one view of the rice terraces. The rest of the time we were in complete solitude and it was magical.
If you want to see this beautiful part of the World in a personal, up close manner then book with a private company like Hike Guilin. Our days hiking with just the nature of the area will be remembered for many years to come. the rice terraces in Guilin are World famous and with good reason, do not miss a visit to Guilin and beyond on your next trip to China.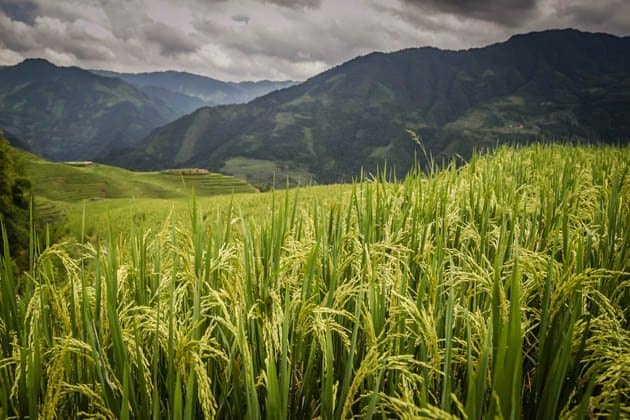 ~*~
~*~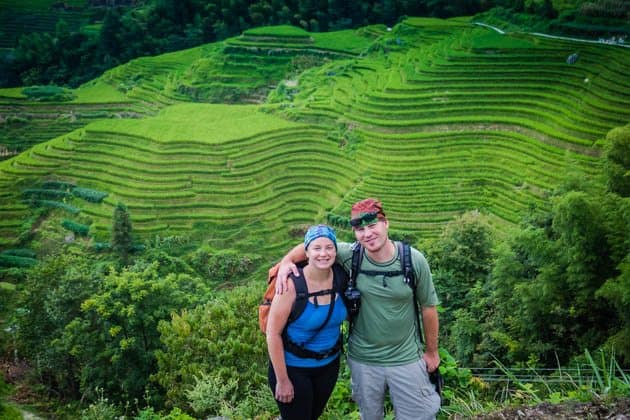 More on China:
Did you like this story? Share it!