One of the great parts of the adventure is always the ride to the MSP airport. There are a number of ways to keep yourself entertained and the tag alongs always prove useful for this. My Mom is always the person that volunteers to take me to the airport. This particualr adventure includes my little sister and my Mom's invited friend Jaime. Neither my Mom nor Jaime have ever left the country. I think the number of times they have been on a plane is less than they can count on one person's hand, combined! But, they know about Amsterdam. Growing up in the 70's should give you a small idea of why they know about Amsterdam. With this said, the entire trip to the cities was a menagire of discussions regarding pot, prostitutes and chocolate. Cant forget Chocolate, we figured it should be on the list of all guilty pleasures. HA! Coming from a couple of mid 40's Mom's… LOVE IT! I won't excite you by telling you we went to Amsterdam to partake in the pot, prostitutes and chocolate. Although, we did buy an ash tray with a pot leaf on it at the Amsterdam airport for my Dad as we figured we couldn't leave the country without a 'little' reference to the car conversation prior to our departure.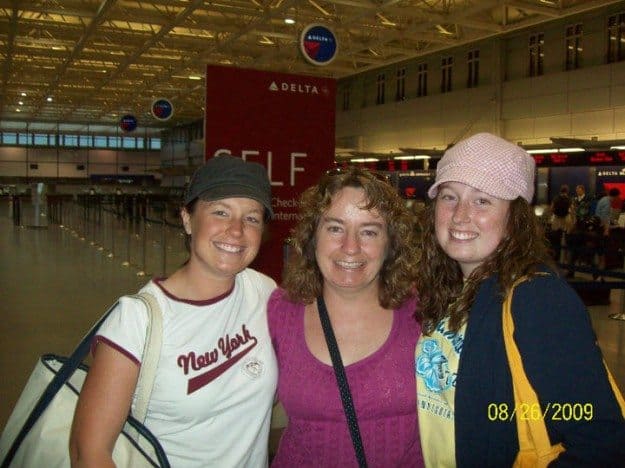 As usual, Mom follows us into the airport for the goodbyes. This is always the fun part, wandering into the airport from the parking ramp through the less used entrances finding yourself in the middle of nowhere with no idea where to go. Dragging our backpacks through the airport in search of a bathroom, in the unknown areas mind you, is always interesting. You often have to wonder if you are actually in the airport, or if people actually know that these areas exist. But nonetheless, we find the bathroom, wrestle with our backpacks (it's going to be a long trip) then head for check in. Paperwork goes off without a hitch, a nosy older couple next to us in the check in line overhears that we are headed to Venice and proceeds to 50 question us about the adventure and what a great opportunity, wishing they would have done that when they were young, oh your sisters, that is so wonderful, etc,etc,etc…. We finally manage to slip away, say our goodbyes to Mom and Jaime and breeze through security.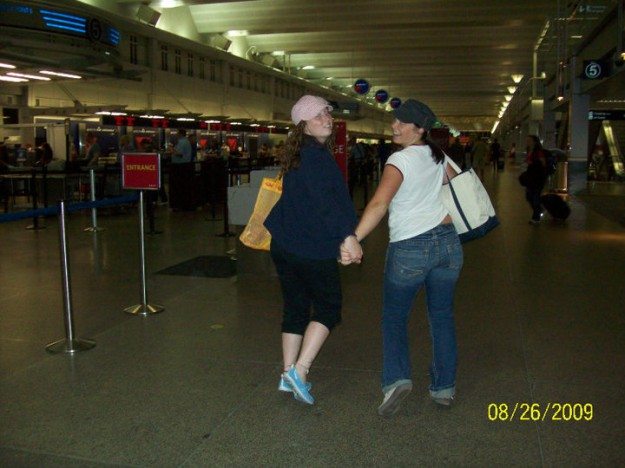 One of my favorite things about travel is the people that you meet along the way. No matter how old or young, or what is on your itinerary, we all find ourselves sitting in places, like the gate terminal, with something in common. We are able to strike up a converstaion with even the most random of people. Take for example a nice middle aged man that happened to be standing next to us in line for boarding. The airline had called that we would be boarding shortly, so everyone takes this as their signal to get up from their chairs and form a long, long,
long, line to the gate. Little did we know, she was kidding! They had mistakingly made the announcement before finding out that there would be a 'slight' delay in boarding. (slight delay translated in airport terminology to 1+ hours, have a seat! NOW!) At what point did they think they were going to get x amount of cranky passangers to reseat themselves? So there we were, at the front of the line mind you, us pesky American chicks, probably the only ones who could endure the pointed stares from the flight staff, next to this man. He wasn't shy, he struck up a conversation with us wondering if it was our first time to Holland and what we were planning to do. When we informed him about or itinerary he divulged lots of information about Italy, how it was the best country in all of Europe, yada yada, yada…… we get it, that's why we're going! HA! Another announcement that the delay would be at least another 30 minutes and that we should find our way to the seats rang over the speaker, followed by more glares from the staff.

Once the man was done probing us for information, we took it upon ourselves to return the favor. We learned that he worked for a Dutch company and travels 3 weeks of every month to the USA for business deals. This conversation led to his thoughts on Delta buying Northwest… boy did we light the fire….. We learned that he had started in LA and was supposed to have a 1 stop flight to AMS. The story went on to tell us how he had ended up in MSP… flight was cancelled, but they had agreed to book him on another 'series' of flights. He ended up in Las Vegas, Salt Lake City, Phoenix, Denver and then Minneapolis, where the poor guy was finally getting on a non-stop to Amsterdam. WOW. In the midst of it all he had misplaced his Delta Elite card. So he was unable to get upgrades for the millions of miles he has accumulated for his globetrotting. Ironically enough, they couldn't retrieve this information for him either.
As if that wasn't enough, when he went through security in LA, he was subject to a random search. In his bag they found a bleach pen. You know, the kind you take with you to meetings or the office, so when the inevitable happens and that little drop of coffee escapes through your lips and magically is drawn to your white shirt, you are able to rectify it and go about your business. They informed him was not allowed to have it. After a long conversation, and I am sure he talked their ears off, he was given back his bleach pen, which we feel very privileged to have seen, and exclaimed to us, "Really? What am I going to do, bleach pen you to death?" Of course this was the prelude to another 15 minutes discussion on security and what it is actually doing for us. Taking up just enough time before we boarded our delayed plane. In flight movies and scary airplane food be welcomed!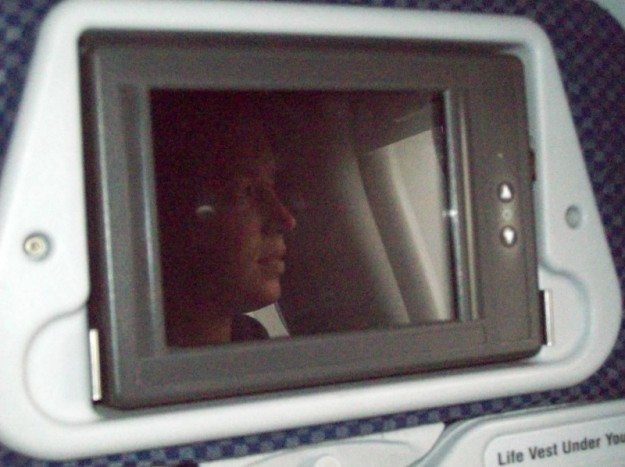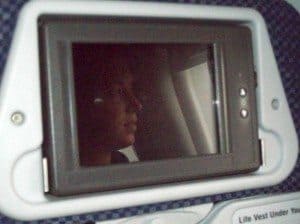 After a pretty non eventful hop across the pond, we arrived in Amsterdam. Exhausted and wandering, we made our way through customs. Probably one of the things that irritates me most is when the customs agents stamp your passport on a page that has no other stamps on it, SERIOUSLY! What are they thinking? Completely disgruntled with customs we made our way into the commercial area of the airport and decided to find our gate. This went off easy and we found ourselves at the gate, ready to go with nowhere to go. Does that make sense? Schipol airport has an odd layout, in that you have to take an escalator down to your gate and then go through another layer of xray machines and security. Weird! So they don't let you actually sit at your gate until 45 minutes before your flight.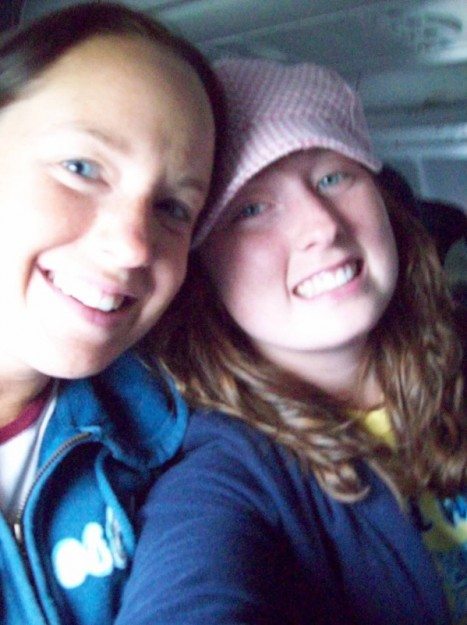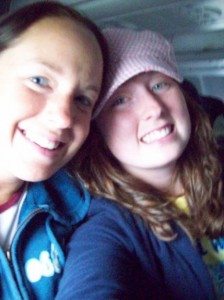 We found ourselves camped out in the middle of the hallway against some telephone booths, sloughing down with our bags as I prepared to dig for some munchies. In that moment my sister whips out one of those on-the-go toothbrushes and proceeds to 'brush' her teeth right there, in the hallway, in front of God and everybody. The looks, oh the looks, it was priceless. Completely oblivious to what was happening around her she just brushes away. So I politely nudged her and pointed out that people were staring at her and she stared at me and blatantly said, simple "Who cares! I am sure they are thinking only an American would brush their teeth in public." We ended up having a delay here as well, which only made the trip worse considering Melissa was already at the Venice airport, had been for 6 hours, and now we are delayed again. Wonderful.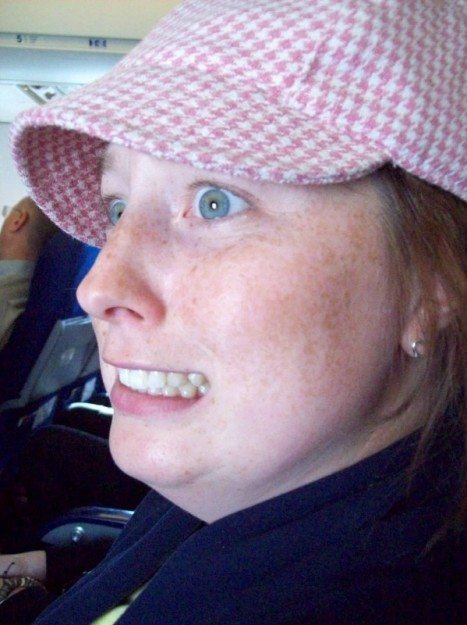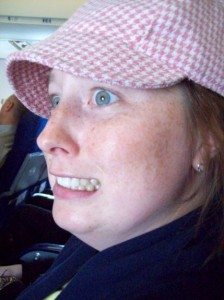 Do you ever wonder if you should be boarding a plane that was just delayed due to mechanical issues?