One of the biggest questions you face when planning a RTW trip is
Where will I stay while I travel the World?
You may think the options are limited, but the truth is that you can be quite creative in where you rest your head.
Everyone has a different travel style and there is no right or wrong way to travel. In saying that, I want to take a look at the multitude of options you have available to you during your travels. From the ultra-luxurious to the couch of a stranger, there is an option for everyone.
Resort
This is the most luxurious option you have available to you. Resorts like Club Med can offer you some serious bang for your buck, with all the most up-to-date amenities and properties. They give you the opportunity to relax and unwind while their attentive staff caters to your every wish.
Living like this is a real treat and the properties are usually located in the best locations, often with prime real estate on the beach or the best locations in any city. This makes them a perfect base for exploring the popular areas. When we splurge, this is what we splurge for.
Hotels
There are hundreds of hotel chains located throughout the World. If you fancy staying in this type of accommodation, you can sign up for points programs with the various chains and earn yourself some free nights along the way.
Many of them are located in decent locations, trying to be centered around the main areas of the place you are staying. They offer basic to luxury accommodation based on your needs. Depending on the chain, you will find some offer amenities as a standard that other do not, like free breakfast.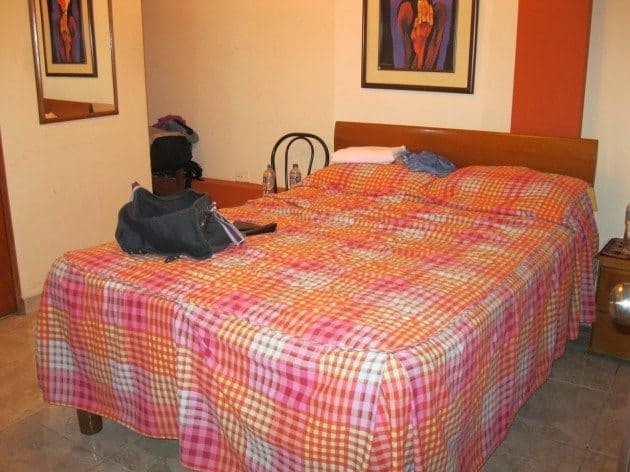 Guesthouses
Guesthouses can be a good way to meet locals and have a more traditional stay while you travel. Many of them are family owned and they tend to offer competitive prices and clean accommodation.
They tend to be located a little out of the way though, on the outskirts of town or in a location that requires a little bit more walking to the center of things. This can be a decent consolation for a cozy atmosphere and a more personal touch.
Hostel
It is assumed that if you go traveling the World that you will live out of a hostel. Now that assumption can be partly true, most of the time it is the cheapest option and if you can swallow having to stay in a dorm room, you can save some serious money.
We tend to opt for the private room option when using hostels but will on occasion stay in a dorm to save money. But when researching, sometimes find that we can get rooms at guesthouses, hotels and even resorts for the same price as some of the hostels. As far as location, research is key because hostels are located everywhere, the good parts of the city and the bad.
Campervan
Another alternative is to rent a campervan. This is a 2 for 1 deal in that you have your own transport and place to lay your head. You can sometimes come across some great deals on your rental and depending on the size you rent, you can have basic to luxurious in these as well.
Location is irrelevant, because you have the freedom to access anything you want with you own wheels. Gas will become an expense if you do a lot of moving around and in some places you will find yourself paying campsite fees. Although often less than renting a hotel room, with the cost of the campervan and gas averaged out, sometimes it chalks up the same.
House Sitting
If you know you are traveling to a certain country and are flexible with your time than house sitting can be a great option. It offers you the chance to settle down with your own base and often times allows you to spend time with the owners pets.
If you have the time and are traveling long term this form of accommodation can save your pocketbook a lot of money through just a little legwork. We plan to take advantage of this option on some of our longer stays in our upcoming travels.
Couch Surfing
Lastly, we look at couch surfing. This is your free option. If you can put your faith in the hands of a stranger, you will be able to find a couch in many corners of the World to lay your head for free.
Although this option isn't for our style of travel, it is a great option for meeting locals and making friends. The platform for matching surfers and couches is put together well and will have you matched with a couch in your desired destination in no time.
So there you have it, a look at the most popular accommodation options for the traveler. What is your favorite way to stay while you travel?