Our plans for Bohol were to dive and enjoy the beach life of Panglao. That quickly changed after spending two days with on and off power in our guesthouse. Plans always change and there's nothing you can do about it, and after spending a few days sitting out a class one typhoon, we were in need of a true adventure.
So we decided to hit the road on the only nice day we would get in Bohol. Our scooter adventure took us down through the back-country of Bohol, exploring Tarsier Sanctuaries, a man made forest and climbing The Chocolate Hills of the Philippines.
[fusion_builder_container hundred_percent="yes" overflow="visible"][fusion_builder_row][fusion_builder_column type="1_1″ background_position="left top" background_color="" border_size="" border_color="" border_style="solid" spacing="yes" background_image="" background_repeat="no-repeat" padding="" margin_top="0px" margin_bottom="0px" class="" id="" animation_type="" animation_speed="0.3″ animation_direction="left" hide_on_mobile="no" center_content="no" min_height="none"]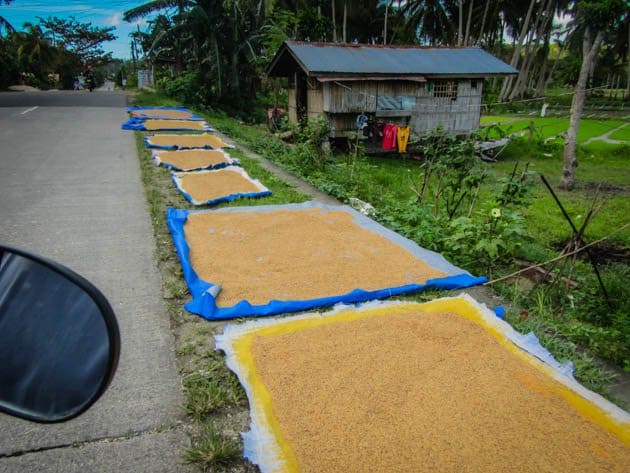 We started off on our motorbike around 8:00 A.M. Not knowing what we would really get into or if we would even make it to The Chocolate Hills. The roads were covered with debris from the past few days of non-stop storming. As we reached the main roads into the city of Tagbilaran we found one of the bridges was out due to the storm.
So, we followed the other bikes to the other access point, over the second bridge and onto the main island of Bohol. This was not our plan but it worked out in the long run, as we ended up on a different road as we traveled up through the island. This back road took us through farmers villages were they dried items on the side of the road. We quickly found ourselves stopping for photos while the farmers worked in the fields and the kids played in the road.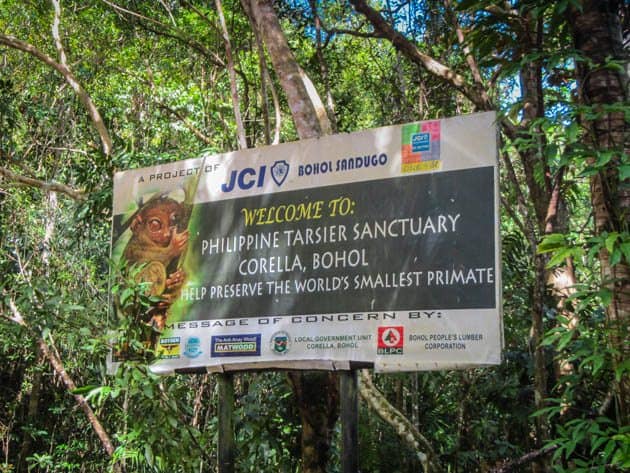 Tarsier Sanctuary
As we made our way up the road we came upon a Tarsier Sanctuary. This was marked clearly on the side of the road with a large billboard. What is a Tarsier? Tarsier's are the world's smallest primates with huge eyes and they can turn their head 360 degrees. They are nocturnal and no larger then a humans fist. This can make spotting one in the wild very hard.
To our luck our park guide spotted one before sunrise so she knew right where one little guy was hiding. The Tarsier was tucked up in a tree hidden by branches and leaves. This little guy just sat there trying to sleep. Our guide quickly grabbed a branch to move back some of the bush that was covering him and he quickly came to life. Showing us his large eyes and rotating his head back a forth.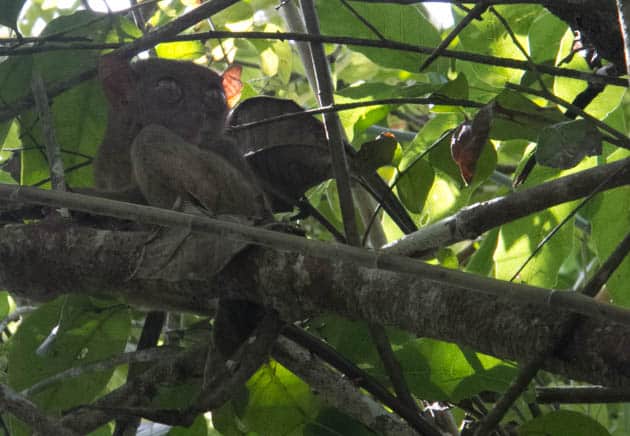 Due to the little size of these guys we were extremely lucky to see one, many visitors may not see them. After a few minutes of shooting photos of this little guy we decided to leave him in peace and hit the road again to get back on with our scooter adventure.
The Man Made Forest Outside Bilar and Loboc
The scenery changed a lot on this ride. We went from island beaches, to city, country, rice paddies, then to a man made forest. Yes, a man-made forest. The Bohol man-made forest is the first and only man-made forest in the Philippines.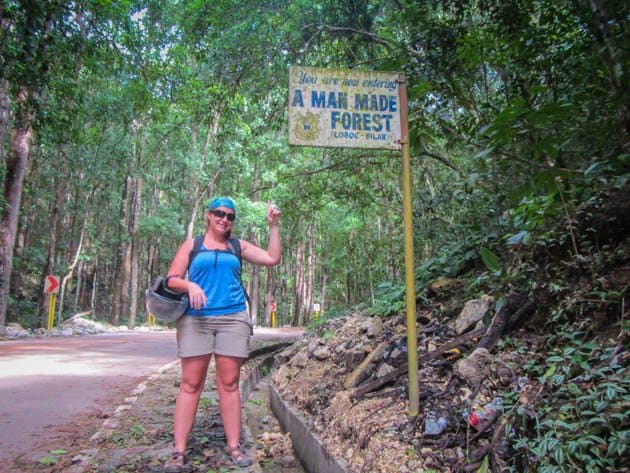 As we entered the start of the forest we felt the abrupt changes in temperature. It was hot outside the forested area especially on the black top but once under the overhanging trees, we were refreshed by the cool breeze and shade it provided. The forest is incredibly lush and full of life. We pulled over twice each time we passed through it to just listen and enjoy the shade.
The Chocolate Hills
Our main goal was to reach the Chocolate Hills and everything else on this adventure was just an extra bonus. We eventually reached the Chocolate Hills complex around noon and started up the winding road that reaches the top of the hill where we enjoyed a bite to eat.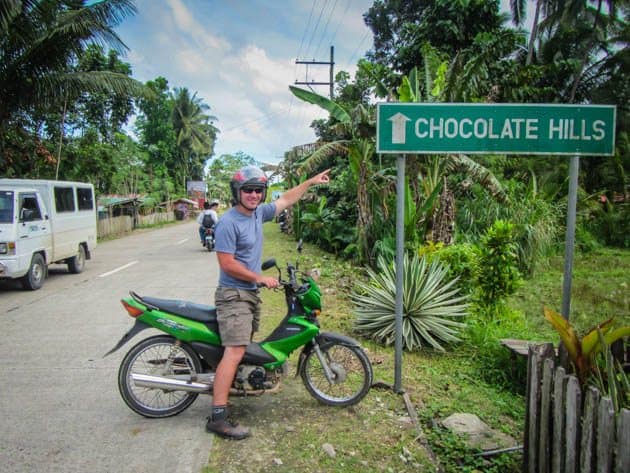 ~*~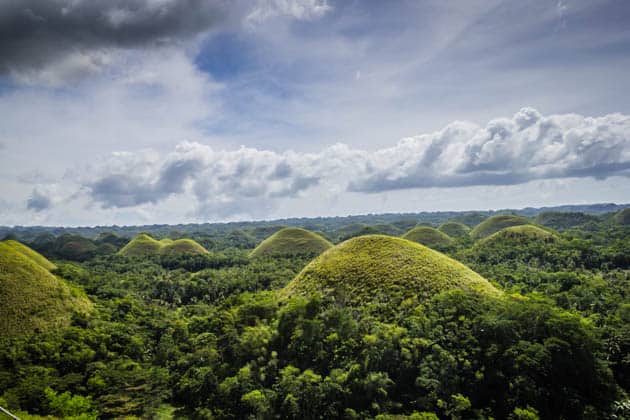 Following lunch, which was not too overpriced, surprisingly, we climbed the short pathway that lead to an overlook to take some photos. From here you can see the grass covered hills which have brought fame to the small island of Bohol. The Chocolate Hills look like giant molehills. These are not man made artifacts. The chocolate hills consist of around 1268 hills.
They are very uniformed in shape, looking like they were placed there by someone. Here we quickly ran into lots of tourist, which was funny because on our way there we did not see many. There isn't much to do here besides climb to the scenic overlook, take some photos and eat. Many people just spend a few minutes enjoying the sights then they continue on their way. We did the same.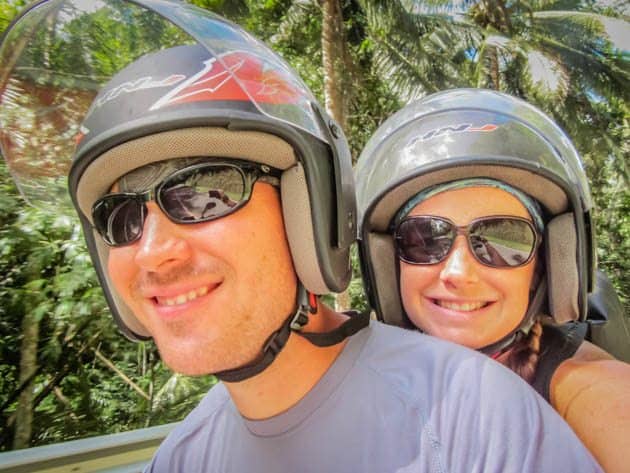 Our Bumpy Ride Back
After viewing the Chocolate Hills, we thought we would check out a zip line company. We turned down a long bumpy dirt road, that took some time to navigate due to the massive size of the pot holes. We reached an intersection where we could turn to go to reach the business but there was a guard standing there.
He gave us a quick look and then asked us to pay a toll to use the road. No kidding, he was going to charge us to take the road to the zip line business. So much for wanting to zip line. We told him no way, since he was trying to charge us as much as zip lining, and turned around.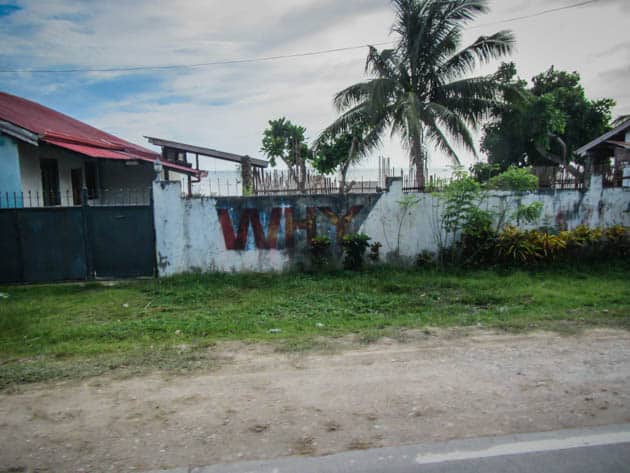 Once we made it down the bumpy dirt road, we turned back on to the highway to continue our ride back. We were cruising down the highway when a large truck passed us in the other lane and the bike quickly started to shudder. Lina told me to slow down to see if it would continue, and it did, so I pulled over to see what the issue was.
We had a blown a tire. No joke, in the middle of freaking Bohol, we had a flat tire. The prospect of walking the bike all the way back to Alona Beach was daunting. We dismounted the bike and began pushing it to the nearest village. By some stroke of luck, there was a man standing on the main highway who happened to notice us pushing the bike.
He took one look at us and promptly said two words, 'flat tire?', as if it happens every day. He directed us off the highway down a side road to a small shop filled with younger guys sitting around playing cards. They looked up from their card game in perfect union as the guy shouted to them and pointed to us.
Two young boys jumped up and quickly went to work on our bike without saying too much. In a matter of minutes they had the interior of the tire extracted and were performing diagnosis on it to find the leak and repair it.
~*~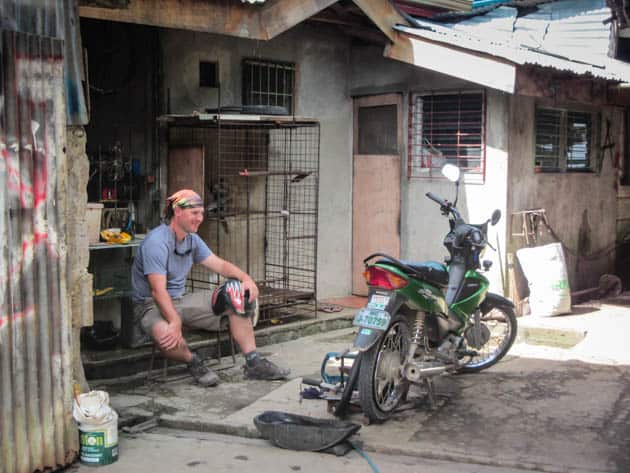 The boy working on the tire quickly found the hole and started to patch it. The whole repair took no more then 30 minutes. Once done the boys were happy to get us back on our way. The main boy who worked on our bike was not going to charge us but we would not allow that, one of the other boys said 100 so we gave them 200 for helping us out. This would equal $8USD. They quickly took their money and ran to the little shop along the road to buy cigarettes, smiling and thanking us.
After the day we had, our ride back the rest of the way was pretty uneventful. We took the main highway back and the traffic was a little heavier due to this being the way everyone takes but it was simple and fast moving. There were many spots along this road where the road quickly turned to one lane without notice. They were cutting out parts of the highway so if you did not notice that your lane ended you could literally end up falling into a 5 foot deep hole.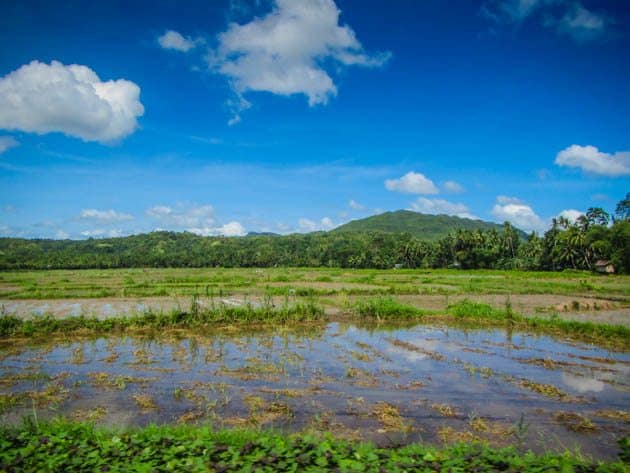 ~*~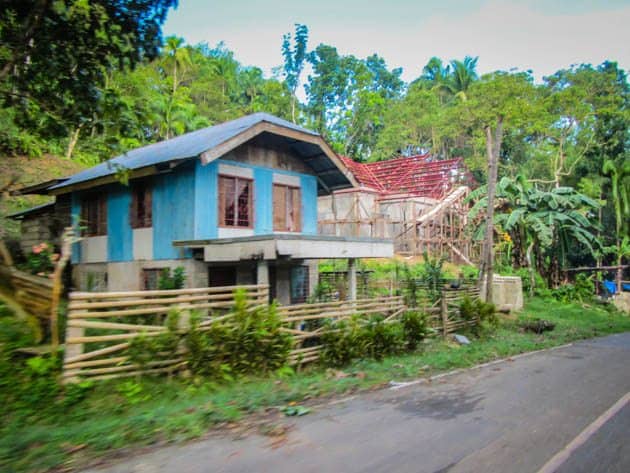 ~*~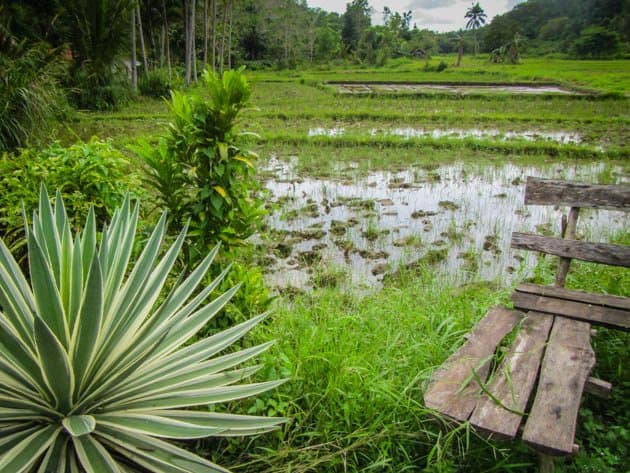 For our scooter adventure we only used one tank of gas and it took just over 7 hours with all of our stops. You can take different routes and you could certainly move faster if you wanted to. However, our route was basically a circle route that put us though country back roads for a close up look at local life. Which in my opinion is the only way to have a real adventure on Bohol.
Have you had a similar adventure in Bohol?
[/fusion_builder_column][/fusion_builder_row][/fusion_builder_container]