We tend to be the techie types when it comes to travel. There are so many gadgets going in our bags that they deserved their own post. So what kind of electronics do a couple of travelers take with them for a RTW trip? Here is our breakdown from computers, to cameras, to gadgets and what we will use to carry it all.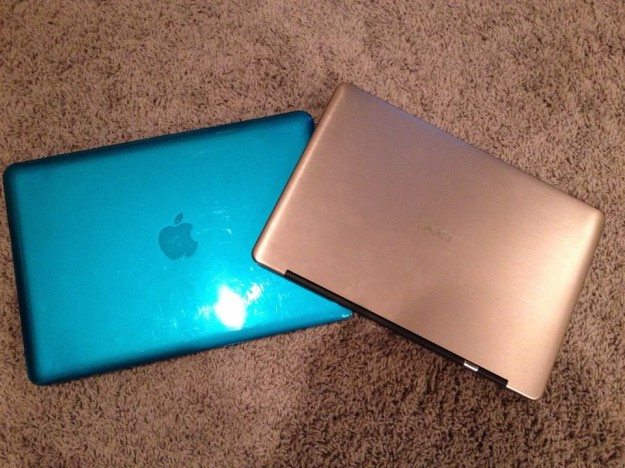 MacBook Pro 13″– This is my computer. I have a 1TB hard drive so I don't compromise speed while working on photo projects and running my editing programs.
Acer Ultrabook 13″– We decided that having 2 computers would be easier for us to process our photos/videos and keep up with our blog while traveling. This computer is really thin, not even a 1/2 inch and super light.
DSLR Camera- I will be carrying my Canon 60D for our travels to bring you amazing visuals of all that we experience.
DSLR Lenses- I am only taking 2 lenses, Canon 18-200mm and Canon 100-400mm L lens. If I find the need for more reach than 400mm, I plan to rent it.
Video Camera- David will be carrying a Canon Vixia M31 for everyday videos.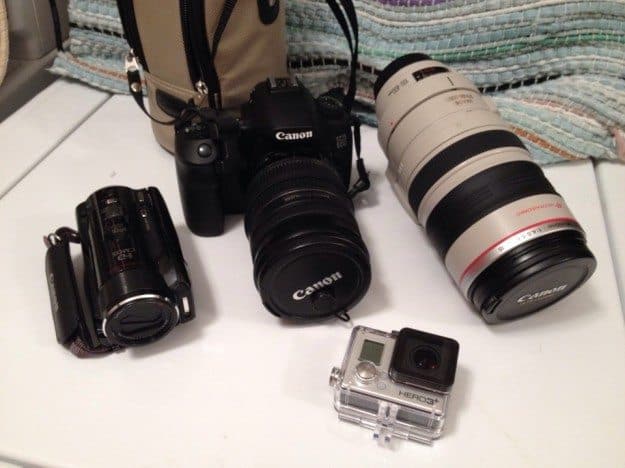 GoPro- After being on the fence about whether we should purchase one of these, we decided to just go for it. We bought the GoPro Hero Black 3+ and it doesn't take up much space and hardly weighs anything. It will be nice to have a camera to take underwater and into situations where we would worry about the other one.
Fit Bit– This is a fitness tracking pedometer that will measure our distance traveled, steps taken and calories burned while we circle the Globe.
Smart phone- We will be taking an unlocked iPhone 4s 16GB with us for ease of keeping in touch with people and staying up to date on our social media accounts. It will also double as a camera and will be my personal mp3.
Tablet- We have always traveled with an iPad 2. There have been numerous rounds of Angry Birds and Fruit ninja played on this device. Originally, we had planned to leave it behind but after some thought, decided it should come with. We probably don't need it, but it will come in handy during long bus rides and airport layovers. It will also work as David's personal mp3.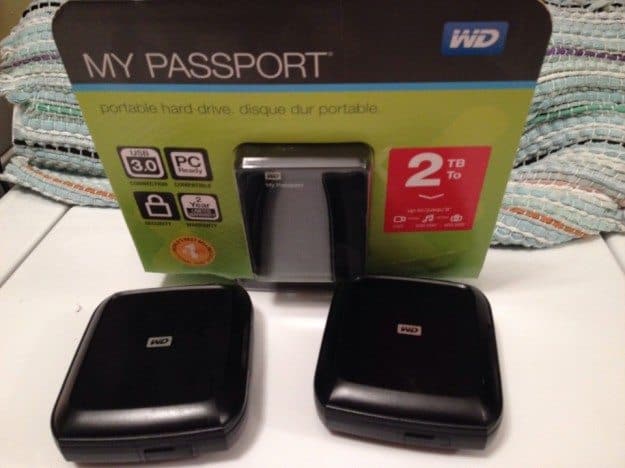 External Hard Drive- We'll actually have 2 of these. Both are Western Digital Passport 1TB & Passport 2TB. Because we have two different OS on our laptops we have one formatted to PC and the other to Mac. We chose this method for backup due to inconsistent internet connections while traveling and the time it can take to upload to internet clouds. Each drive will also be stored in a WD Rugged Nomad case to avoid unnecessary damage.
Misc- In addition to the above, count in a plethora of power cords, battery chargers, spare batteries, memory cards, filters and cases.
This all seems like a lot of stuff but we simply cannot live the lifestyle of digital nomads without it.
How will we charge all of this around the Globe?
We wanted to carry as little stuff as we could for charging since we already have a lot of electronics to carry. This is the solution we came up with to not only be efficient in the pack, but in charging our stuff too.
Belkin SurgePlus 6 Outlet Plug with 2 USB Ports– This should meet all of our charging needs at one time. We will be able to charge 3 standard things on one side while plugging in 2 battery docks for our camera on the other side. We can also use the USB to charge the GoPro, tablet and phone.
Skross World Travel Adaptor 3 – We will plug the Belkin Surge Protector into this handy unit. It provides adaption to outlets in over 150 countries. I sent with this adapter for a number of reasons, but the main one being it's ability to accept a grounded plug on the receiving end. There will still likely be a couple places that we will have to buy adapters on the road, but it should be pretty minimal having this gadget with us.
As a secondary adapter set and backup, we will also be carrying just a basic adapter set. Like this one. It is small and packs easily and is worth the peace of mind.
NOTE: These are all ADAPTERS and not CONVERTERS. If you have something that needs to convert voltage (like some hair dryers and razors) you will need to add a voltage converter to your kit. All of our electronics are dual voltage, so a converter is not needed by us.
What will we carry all of this in?
We will each have a carry-on bag for our camera equipment. I think it is a touch excessive, but David insists on having one for each of us and I guess, who am I to argue? We both agree that we need to be able to keep our electronics close to us during transport and at times that we will be separated from our main packs. This arrangement will likely be just fine for us.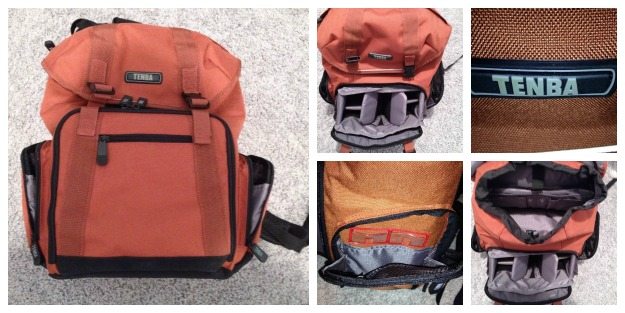 Tenba Messenger Day Pack– I looked at a lot of camera/laptop bags. I absolutely needed one that would carry my camera, both lenses and my laptop at an absolute minimum. There are loads of options out there, but I ran into issues finding the right bag when I decided I wanted something that didn't look like a camera bag. I want to avoid being targeted at all costs, so an inconspicuous bag was important to me.
Tenba Messenger Mini– David wanted a sling bag and something small he could carry around during the day if he wanted to. This bag is perfect with a built in camera area and a place for a laptop and tablet. It also has a little extra space for other goodies.
Disclosure: The links in this post are affiliate links. If you click on them and purchase something, we receive a small commission. This helps to keep our website up and running so we can continue to share our adventures with you. We only endorse and recommend products that we use and love.