After spending over 20 hours in a van traveling from Bali, hiking Mount Bromo and across Java, we finally arrived in Yogyakarta intent on one thing. To visit the world's largest Buddhist temple, Borobudur. any of us who travel have seen the photos of the looming cylinders and stone spires and are easily able to identify it with the famous temple in Indonesia.
Due to our previous few days being very long, we opted to sleep in that morning and take an afternoon tour of the temple. Some people were worried about us not having enough time, but we spent just over 2 hours there and it was plenty. There were so many groups of locals and tourists that you wouldn't be able to just sit there or stay longer anyways.
Our time was spent wandering through the levels while observing the intricate art and designs in the temple walls while making our way to the top for the iconic views that you see in the magazines.
This was all pretty uneventful until we arrived at the top and a full on photo mania started. It seemed every single school group and local tour group was intent on being photographed with us that afternoon. At first it was no big deal but it turned into a circus and we weren't even able to make a half lap without being stopped.
I seized this as an opportunity to teach them some English words, many of which revolved around how to politely ask people for photos with them and decided to lighten up.
It is a strange feeling to be treated like a celebrity and after visiting a few Asian countries over the years and dealing with an overwhelming amount of photo assaults, I can honestly say I am so glad I am not famous.
Despite the large crowds we were able to enjoy Borobudur Temple for what it is, capture some great photos and then make our way down the temple, through the hawkers and back to our transport. The opportunity and experience to visit this grand temple was a special moment in our travels through Indonesia.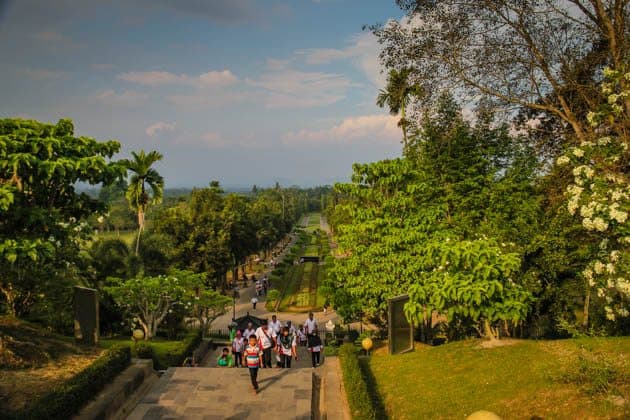 ~Looking back over the entrance to Borobudur Temple~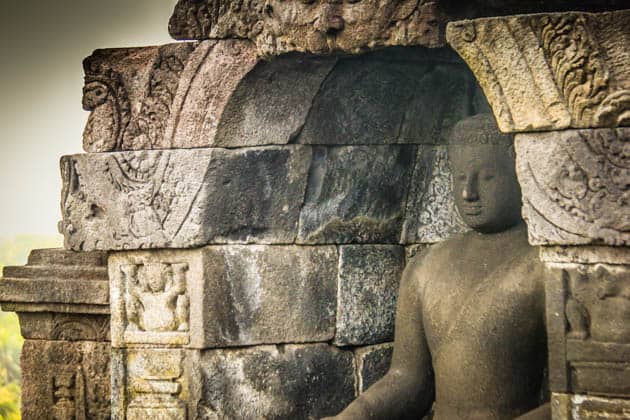 ~*~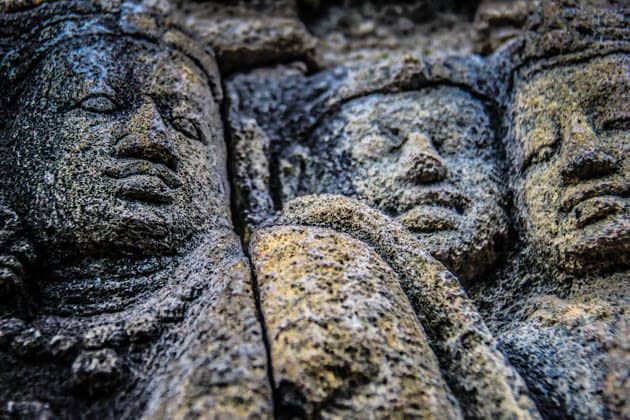 ~*~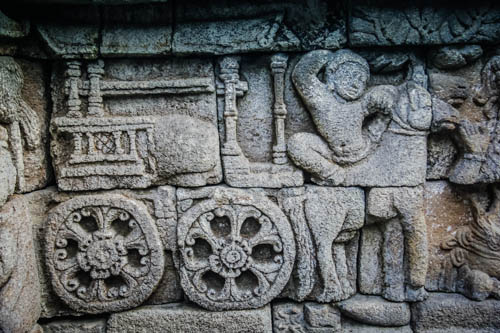 ~*~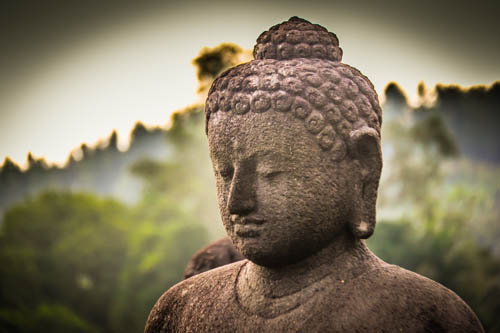 ~*~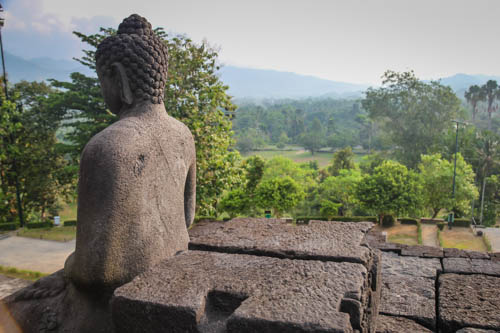 ~*~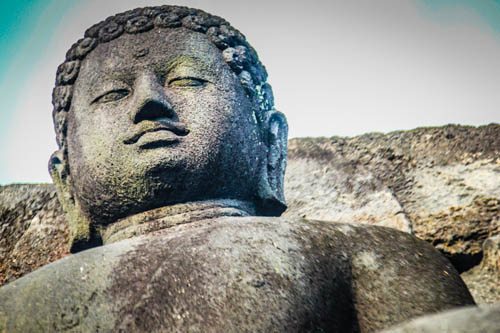 ~*~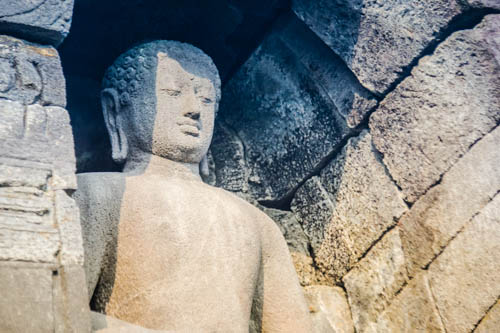 ~*~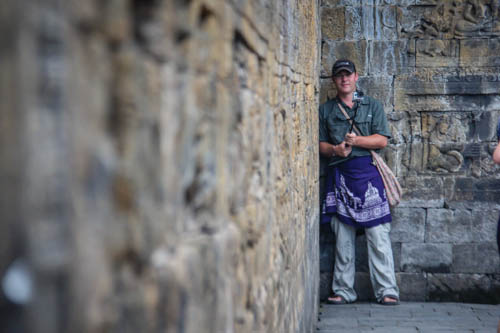 ~Spying on David from one of the lower levels~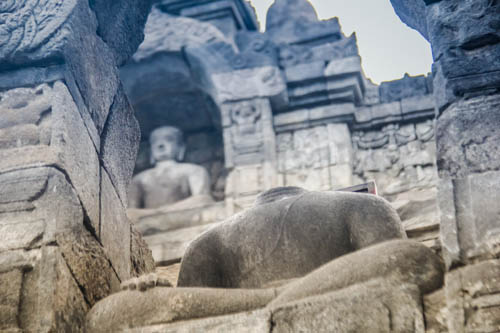 ~Headless Buddha with intact Buddha behind~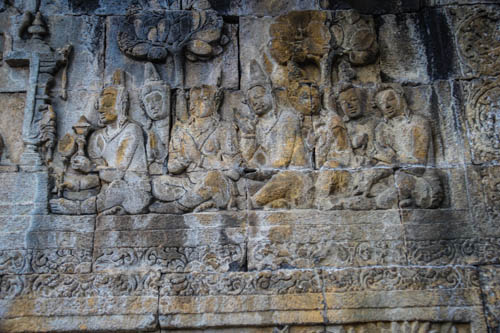 ~*~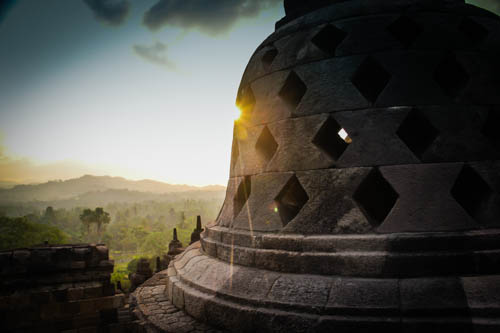 ~*~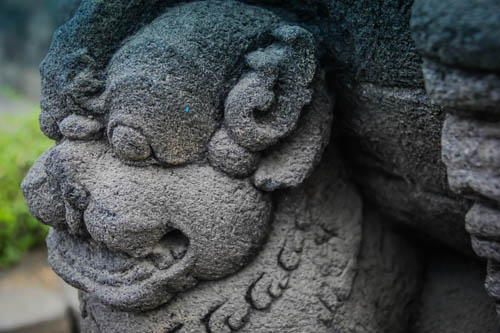 ~*~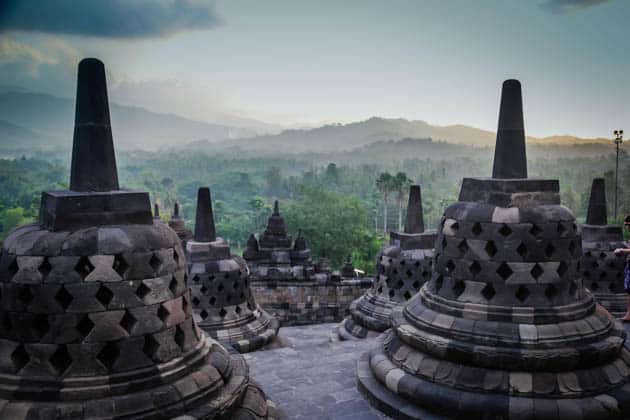 ~*~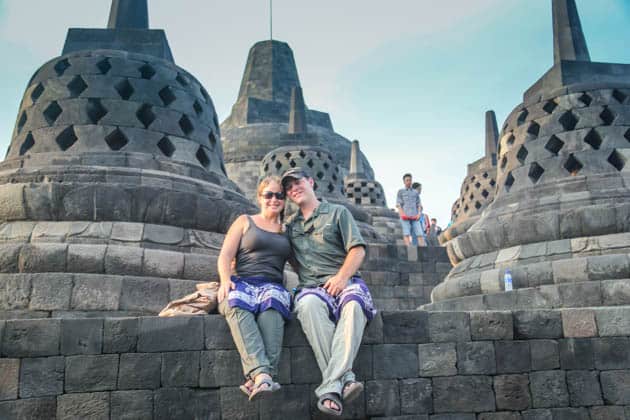 ~*~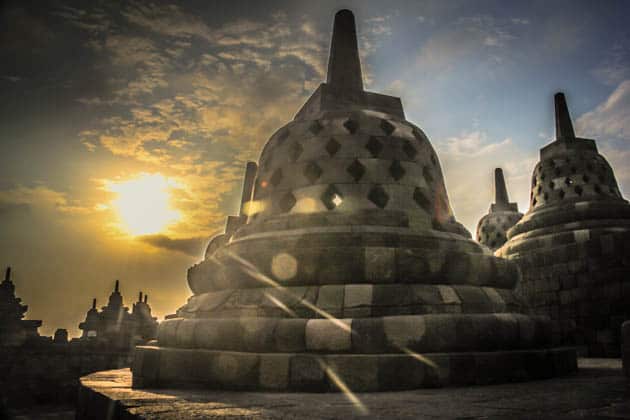 Facts About Visiting Borobudur Temple
Borobudur Temple is the world's largest Buddhist Temples and it is listed as an UNESCO Heritage site. The temple is located 40km (25 miles) outside the city of Yogyakarta in Java, Indonesia and it takes around 2 hours to get here from the city center with private transport.
Transport: private transport from the city will cost you from 75,000IDR ($7USD) to 200,000IDR($20USD) depending on how you choose to visit the temple and if you want to include any other stops. We booked an afternoon tour and ended up being the only people, so our group of 3 essentially had a private van transport to the temple.
Respect: Be sure to wear bottoms that cover your knees. Regardless, you will be issued a sarong and belt when you purchase your ticket to wear inside the temple complex. We saw many locals wearing much less clothing then we were, but as a foreigner it is always better to er on the side of respect.
Admission: You will pay a higher price for admission as a foreigner, 200,000IDR ($20USD), but it includes refreshments upon entering the park.
More on Indonesia:
Did you like this story? Share it!