The island of Penang in Malaysia is better known for it's beaches, food, nightlife, street art and jungles. However, one thing you shouldn't miss on your next visit is the Penang Butterfly Farm. Here you can get up close and personal with many species of butterfly, all of which are bred, born and live their lives at this beautiful sanctuary.
This butterfly farm was opened in 1986 and was the tropical regions very first butterfly farm. Their farm not only serves as a tourist attraction, but an educational center for butterflies and other insect life that is native to the tropical areas of the world. When you step through the doors you are stepping directly into the home of the butterflies.
Our two hours at the center was spent with one of their butterfly experts that took us through the farm and showed us the evolution of the butterfly from the egg, caterpillar, pupa and to the beautiful butterfly. As this is a breeding farm, you will bear witness to the butterfly in all these stages.
Additionally, we were shown many other insects that live harmoniously with the butterflies in this sanctuary. Some of them we wouldn't have been able to spot without the attentive observation of our expert. If you are looking for a perfect morning activity on Penang, look no further, the butterfly farm is not only beautiful but extremely fragrant with amazing flower smells and swarming with colorful butterflies to observe for a few hours.
To give you the best idea of our experience I have selected my 20 favorite photos from our visit to the butterfly farm. As a firm believer in showing people our travels through photos, I hope this will encourage you to visit a butterfly sanctuary in the future.
~The beginning of our butterfly adventure~
~Yellow Bird Wing Butterfly, Native to Malaysia~
~Is that a butterfly or a leaf?~
~This is what he looks like on the inside! Same butterfly as the leaf above~
~This little guy was well hidden in the leaves, we barely found him~
~ Look at that face!~
~The Clipper Butterfly with a hibiscus flower~
~Butterfly feeding station within the farm~
~Can you spot the gold pupa?~
~Collected pupa and freshly emerged butterflies~
~Caterpillar that will becomes a butterfly in the future~
~Stunning Paper Kite Butterfly on some of those fragrant flowers I was talking about~
~New Lacewing Butterfly~
~Just emerged Paper Kite Butterfly~
~ Yellow Glassy Tiger Butterfly~
~Another beautiful Paper Kite~
~Bench in the garden~
~Caterpillars in the sanctuary~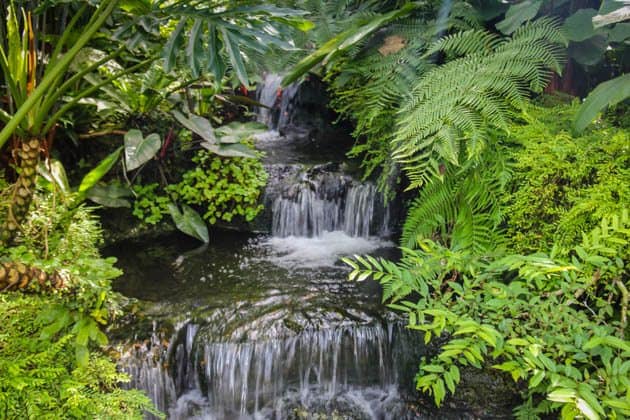 ~The landscaping is serene and beautiful~
~David enjoying his time at the Penang Butterfly Farm~
Which photo is your favorite? Tell us below.
[wysija_form id="2″]
Disclosure: We were guests of the Penang Butterfly Farm. However, our opinions are 100% ours. All photos were created and are owned by Divergent Travelers.