Gorilla trekking in Rwanda is one of the Top 100 Travel Adventures in the world. View the list and follow our mission to complete them.
It goes without saying that almost any adventurer you meet will have a dream to take on the mountains of Africa in search of the Mountain Gorillas. It's a dream trip and a thrilling endeavor for any traveler. Of course with great adventure, comes great responsibility.
You need to be prepared and this guide to preparation will ensure you are ready for this magical experience. We want you thinking about the gorillas, not wishing you had been better prepared for it all!
Preparation includes thinking about the different terrains ranging from tall bamboo forests with soggy clay footing to green vine covered jungles with unforgiving stinging nettles. Add to that the moving weather conditions where it can be rainy one moment and sunny the next.
Having trekked to the Susa group, the hardest group to reach in Volcano National Park Rwanda, we are prepared to help you get the best out of your gorilla trekking adventure in Africa.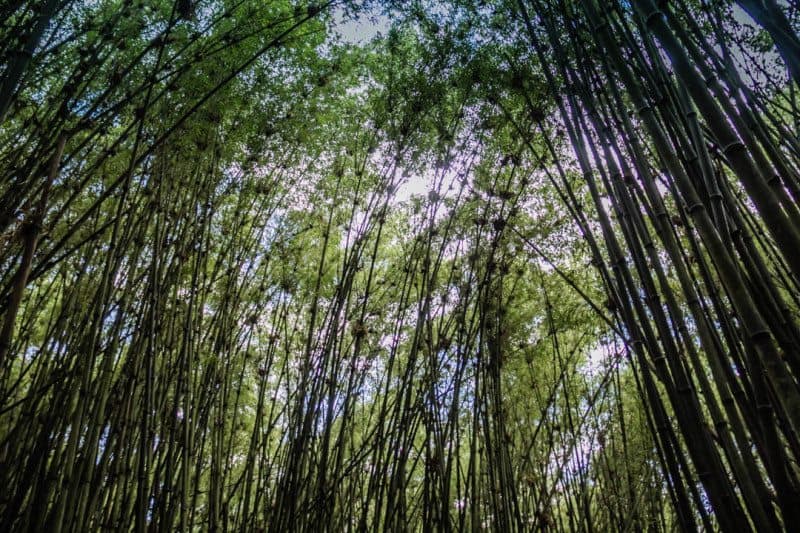 Bring a Day Pack
You will need to carry your lunch for the day and all the water you need for the trek. Once you are on the mountain, you will not have a chance to access water. I recommend a water pouch if you have one for maximizing your space and weight distribution in your backpack.
Regardless of how you pack your bag, you must bring a minimum of 2L of water per person. Pack snacks that have a little sugar and high protein in them to keep you going on the trek. You'll also need space to pack layers, camera gear and other things you need for the experience.
Recommended product: Outdoor Products Shasta 30L Waterproof Bag We LOVE this bag! We've carried it for the past 8 months of our travels and can't believe we went so long without it. You can read a review that we wrote about the Shasta backpack here.
Worried About Carrying A Pack?
Porters can be found at the start of any hike. These men are locals who live in the villages next to the entry point of every hike. These porters are registered and authorized to assist you on the gorilla trek.
Before you start the trek, your guide will ask about porters and you can then decide if you would like to pay the small extra fee to have someone not only carry your stuff, but accompany you and help you if needed. All the porters speak English.
I've always used the rule, I pack only what I can carry but for those who do not want to carry their day bag you can hire a porter for about $10.00USD for the whole trek. They do this hike daily so they also know where to go and how to maneuver though the terrain.
We found the porters that our fellow group members hired to be great assistance to everyone in our group by helping us over large logs and reaching out to help when the ground was wet.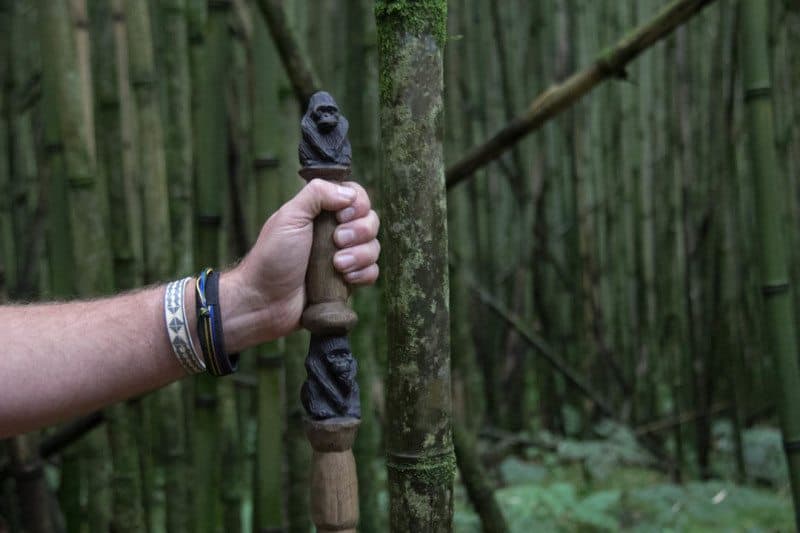 Walking Stick or Hiking Pole
You should be prepared to walk over uneven terrain, slippery rocks and streams, stepping over thick vines and branches. I would not take on this type of trekking without a hiking pole.
You can bring your own if you are picky about design and comfort, or the trekking guides will have a big selection of hang made hiking poles with gorillas carved out of the top.
This is what we used and I can't tell you enough how thankful I was that I took one when it was offered. We were both saved many a time from falling when we slipped on wet bamboo or grass.
Bring Gloves
You will be pushing your way through large bushes of stinging nettles, fallen trees and thorny branches. The ground is often slippery or unstable so you will find yourself reaching out often to support your steps or hold yourself up.
While a thicker glove will offer more protection, just basic hiking gloves or magic gloves will do to prevent your hand from landing on something you don't want to touch.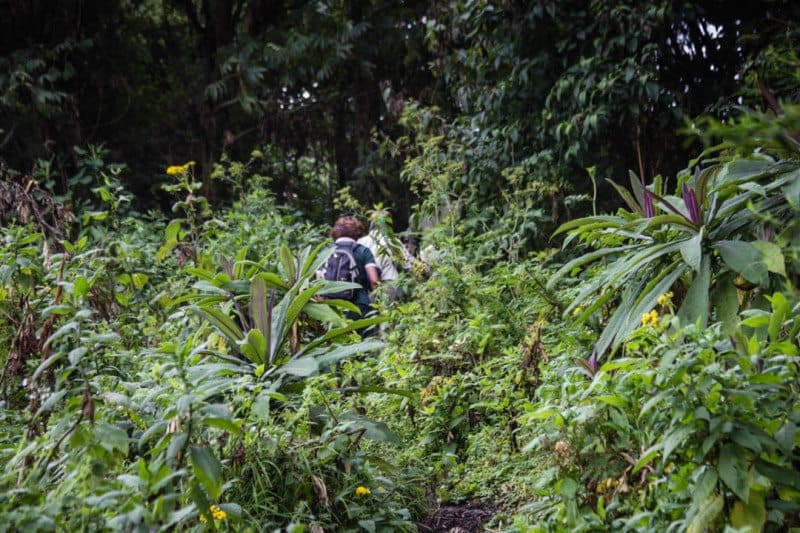 Wear Long Sleeve Shirt and Long Pants
Again, the terrain varies wildly but a lot of your time will be spent forging a trail through dense jungle just like in the photo above. This isn't a walk in the park and there is no true trail.
Each group blazes their own to the area the gorilla group has moved to for the day of your trek. You will be following rangers as they hack the jungle around you and make narrow openings.
You will be stung, repeatedly, by stinging nettles during this process. They are impossible to avoid, however wearing the proper clothing can reduce the impact this has on your trek.
I wore a light, tunic style travel shirt and this was perfect for the climate and protecting my arms. Outdoor shirts that are designed for hiking, like those made by Columbia and North Face, are the best.
Pants are another story. Despite wearing long hiking pants, the nettles stung right through both of our lightweight outdoor pants. As odd as it sounds, jeans are the best type of material for this type of trek.
However, they do not breath well, hold moisture and give no stretch for the rough terrain so we can't personally recommend them for you. The best option would be to get a pair of those old fashioned type travel pants that are thicker but cut well for hiking. Otherwise, just be prepared for the stings.
Think About Bringing Hiking Gaiters
One way to keep the stinging nettles at bay is to add gaiters to your outfit. Even a cheap pair of nylon gaiters will stop the nettles from stinging from the knee down. They also offer protection against branches, rocks, mud, moisture and moss during your gorilla trek.
Rain Jacket & Rain Pants
Even if your day starts off sunny, bring a rain jacket. They don't call it Gorillas in the Mist for nothing! Your journey will start at the park office and you will then be shuttled to the base of the mountain for your trek.
The climate can change quickly and be temperamental. We experienced intense heat, humidity, sun, soft rain and one bout of heavy rain all in one trek. You can always take them off, plus the stinging nettles cannot penetrate a rain jacket or rain pants.
Do not bring or wear bright colors on your gorilla trek. You want dark, natural colors so you blend in with the terrain. Bright colors will disturb the animals.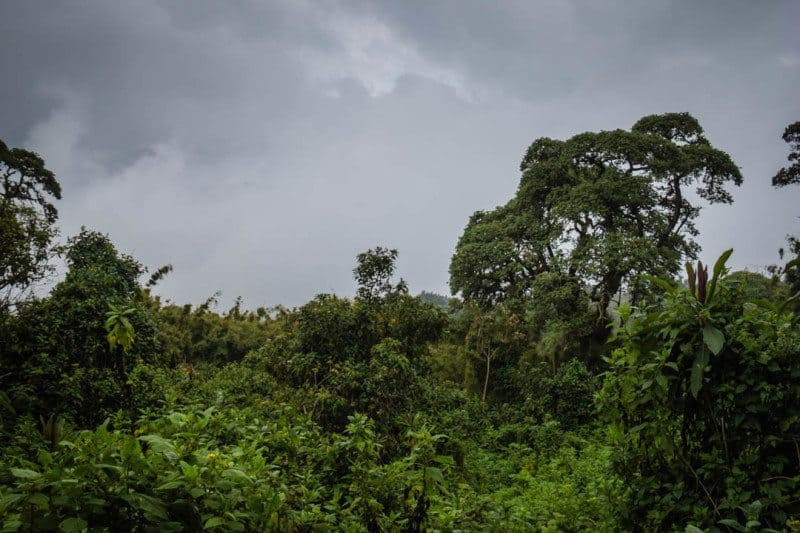 Hiking Boots or Shoes
Even though we experienced a small amount of rain, we didn't end up needing major boots or waterproof boots to make the hike. I think that drawing the Susa group, that tends to hang out in higher areas, worked in our favor and the ground was not as wet.
I hiked in my Asics trainers and David hiked in his Merrell hiking shoes. Our shoes got muddy and our socks got wet, but it wasn't torturous.
If we would have had the option, we would have rather hiked in proper hiking boots. Due to the rough, uneven terrain, some support would have been great and a gortex type boot or shoe would have made a difference.
If you are not worried about luggage space, I would definitely recommend you bring a solid pair of hiking boots.
Long Socks
I don't particularly remember having any problems with leeches, but some of the areas can have leeches during the wet season. Regardless, it is good practice to wear tall, comfy socks when hiking in the jungle to prevent plants and critters from making their way up your pant legs.
I would recommend a pair of Merino wool socks to wick away moisture.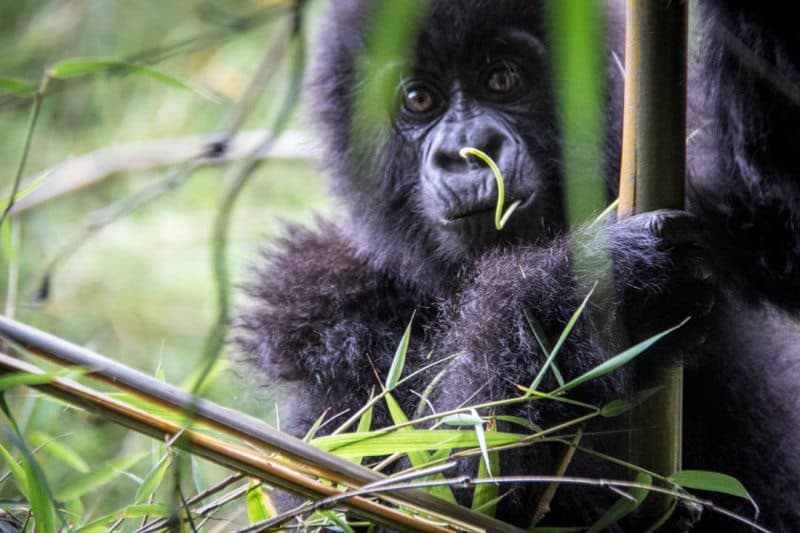 Pack Extra Socks
Since the Gorillas live on the side of mountains, the ground is always damp. It is very likely that the pair of socks you are wearing when you start the trek will become wet, either from the conditions or from sweating.
After you visit the gorillas for an hour and sit down to eat lunch, this is a good time swap into a fresh pair of socks for the hike back to headquarters. It will feel amazing and your feet will thank you.
Headband & Hat
Anyone that does a fair bit of hiking will know that you should have some sort of headband or bandana to wick sweat, provide head warmth and use for variety of other things during your adventure.
A hat can be useful also to block the sun or rain from your face and neck. We both carry Buff Headwear with us whenever we go hiking. They work well as head scarves, bandannas, headbands or neck gaiters.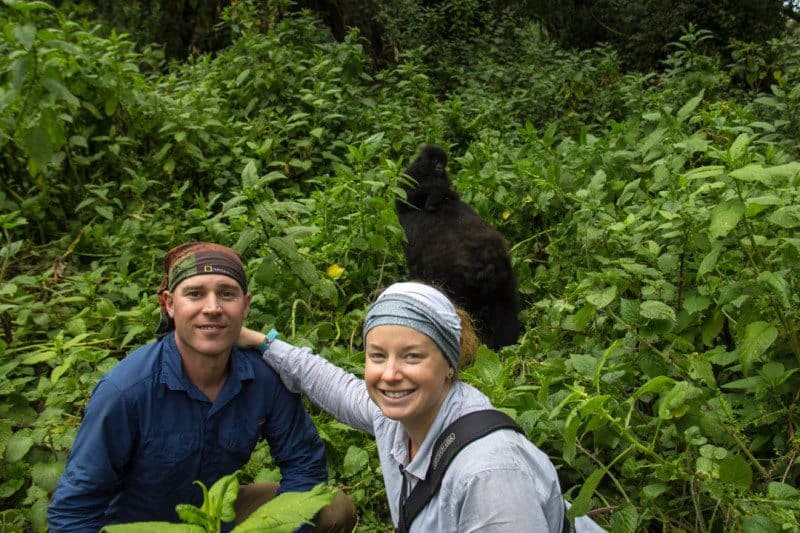 Fitness Preparation
Preparing for an adventure like gorilla trekking has many elements. Gear is fun to think about and shop for and it will make your life a lot easier on the side of that mountain if you are prepared and have the right equipment.
However, there is an even bigger thing you should not overlook when preparing for a trek of this nature, your fitness. You will be trekking in climates that you are not used to and across terrain that can put strain on parts of your body you are not used to working.
Do your part to prepare your body for this trek so you can enjoy it.
From the time you book your gorilla trekking permits, start preparing. Start walking daily and increasing your exercise. Take the stairs, park in the far end of the parking lot, watch your diet and start drinking lots of water.
Think about your overall health and fitness. The last thing you want is to have a health problem on the side of a mountain in Rwanda, you will be in the middle of nowhere and it is not unheard of for people who are not physically prepared to have problems.
Gorilla Trekking- Are You Prepared?
You are paying a lot of money to travel to Africa, obtain a permit and hike to the gorillas. If you prepare ahead of time, the hike will be an enjoyable experience for you and your fellow trekkers.
You may get stung by nettles, slip on the slopes and sometimes wish you could be airlifted off the mountain but I guarantee you that the minute you lay eyes on our closest primate relatives, all of that will slip away.
More on Rwanda:
Did you like this story? Share it!