The first time I visited Brussels I fell in love with it; the sights, the sounds, the smells, and the city's uncanny ability to reignite those feelings around every corner.
From the minute I stepped out of the Central Station all those years ago, I knew I would be back. Without surprise, Brussels was added to our itinerary as a last-minute inclusion during our summer travels in Europe.
When I first found out that we could squeeze it into our schedule I phoned my best friend, whom I traveled with the Brussels the first time, and exclaimed my excitement that I would be returning.
I could taste the Kriek on my tongue and exhausted David with my excitement. Is it really possible to grow attached to the places that you visit? I mean, in a way that is different from the way you attach to all the others?
We travel a lot and it's hard to point a finger at just a few of our favorite places. Yet, I'm tied to the good memories that I've made in Brussels.
Most people look at me with surprise when I admit this, wondering out loud how I could possibly choose a city like Brussels over the likes of Paris or Amsterdam.
Don't get me wrong, I have good memories from those cities too, but Brussels has that perfect mix of ingredients that keeps it near to my heart.
Without further ado, I want to share with you the reasons I love Brussels and will always take the time to return.
Don't leave home without Lonely Planet Belgium & Luxembourg (Travel Guide)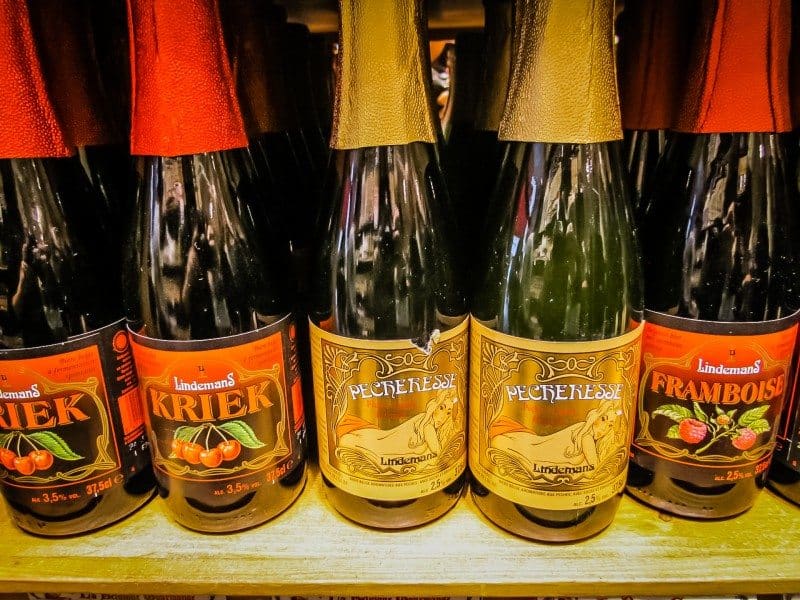 Lindeman's Kriek
The core of my love for Brussels comes from the succulent cherry beer, Kriek. The first time I visited Brussels, I wasn't much of a drinker, let alone a beer drinker.
Yet, the when in Rome syndrome hit me and I struggled to find something I liked on the menu. After several taste samples, I realized fruit beer was a great way for me to have a beer without the 'beer taste' I disliked so much.
It worked and I dreamed of the days I could return to Belgium for some real Cherry beer. A close second is Lindeman's Peachtree. This peach beer is often my go-to if I am looking for something sweeter and with more body than the Kriek.
Just the smell of the peach aroma as the bartender sets it on the table is enough to have my mouth watering.
Related Article: Best Belgian Beer Experiences in Brussels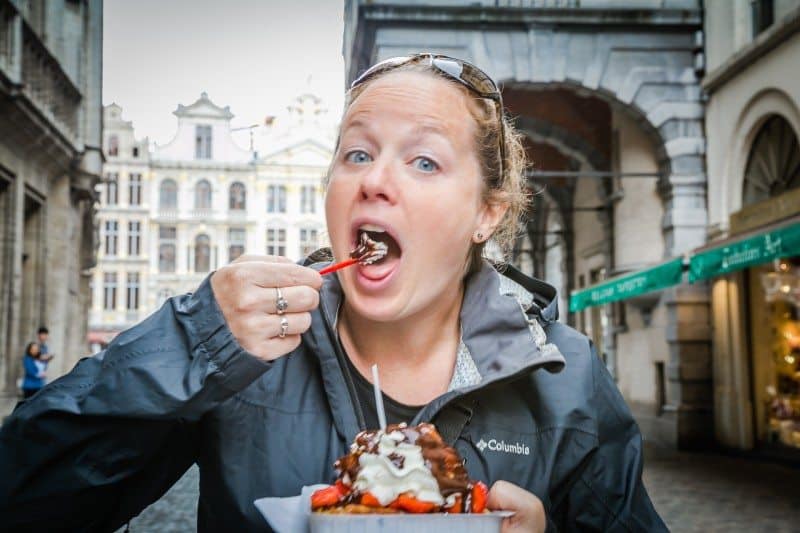 Belgian Waffles
The banner icon of Brussels that you'll be hard-pressed to ignore as you wander the streets of the city is the waffle. Simply put, Belgian's love their waffles and they serve them in the craziest, sweetest, strangest varieties you can imagine.
Do you want fresh kiwi, strawberry, blueberry, raspberry or all of the above? No problem. Want peanut butter, Nutella, chocolate, caramel or all of the above? No problem. Perhaps you want some apple ice cream with that.
Make it your own and then make sure you top it off with some tasty, freshly whipped cream.
Related Article: Guide to the best waffles in Brussels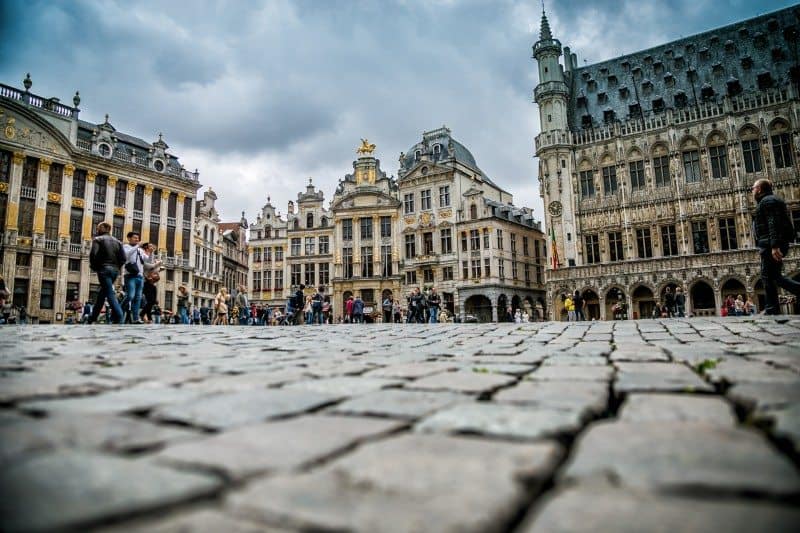 Grand Place
The heartbeat of Brussels, it's central calling place and one of the nicer squares in Europe that you'll come across, the Grand Place is a great place to hand out and enjoy those items I mentioned above.
It is not uncommon to see entertainers in the square singing or dancing and of course plenty of tourists gathering to take selfies. Every year the city creates a huge carpet of tulips and displays it as the centerpiece of the Grand Place.
People come from all over the world to marvel at the pattern, which is unique each year and enjoy the city of Brussels. Other than the cheesy Hard Rock Café on the one corner (it wasn't there last time I visited) the place is great to relax and just take in Brussels.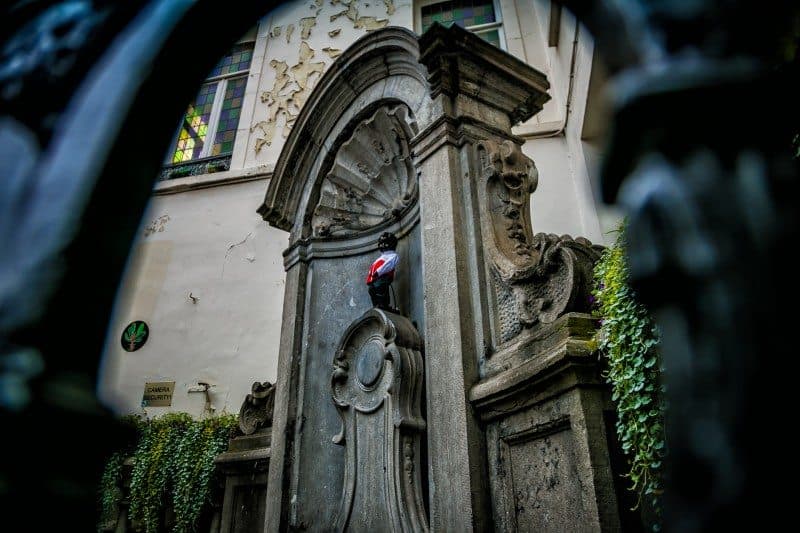 Mannekin Pis
This little guy cracks me up. Imagine hearing about a statue of a man taking a piss and then being told it's one of the most iconic places to visit in Brussels.
I didn't quite get it the first time. Imagine my surprise when I walked around the corner to a huge group of tourists gathered around a small corner fountain.
Standing on my tippy toes I struggled to catch a glimpse of the statue that everyone talks about. Pushing to the front I was in shock to find an 18-inch statue of a small boy, holding his peewee and pissing into the fountain.
I laughed out loud, took a couple of pictures and learned the story of the statue by eavesdropping on a guided tour opposite of me. Turns out this little guy thought he'd put out a palace fire by peeing on it and was idolized forever because of it.
Our top recommended tours including Mannekin Pis: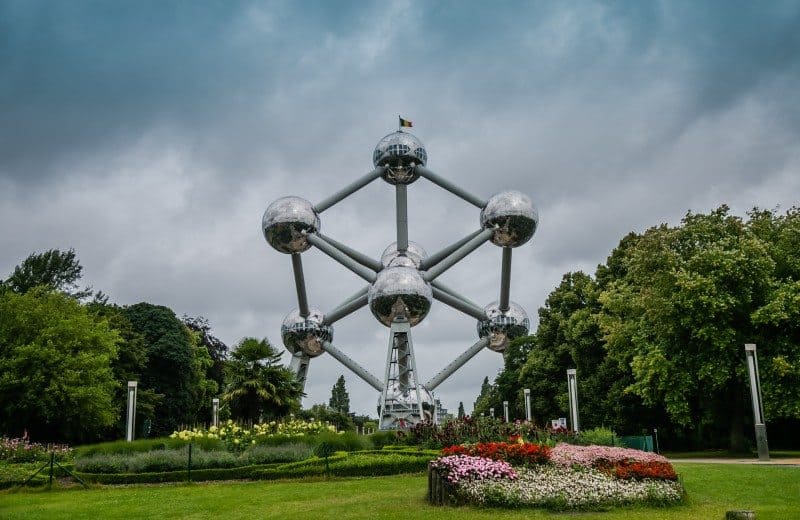 Atomium
This structure looks otherworldly and is a testament to the creativity of the people that created it. Constructed in 1958 for the World's Fair, the Atomium is a silver beacon near Bruxelles Park outside of the city center.
CNN even named it Europe's most bizarre building and I think that title is justifiably earned. I've been told you can buy a ticket to visit the top bubble for a great view of the surrounding area.
There's even a restaurant up there that I think would be great for dinner over the lit city, but I haven't been up there. I prefer to appreciate the Atomium from the ground.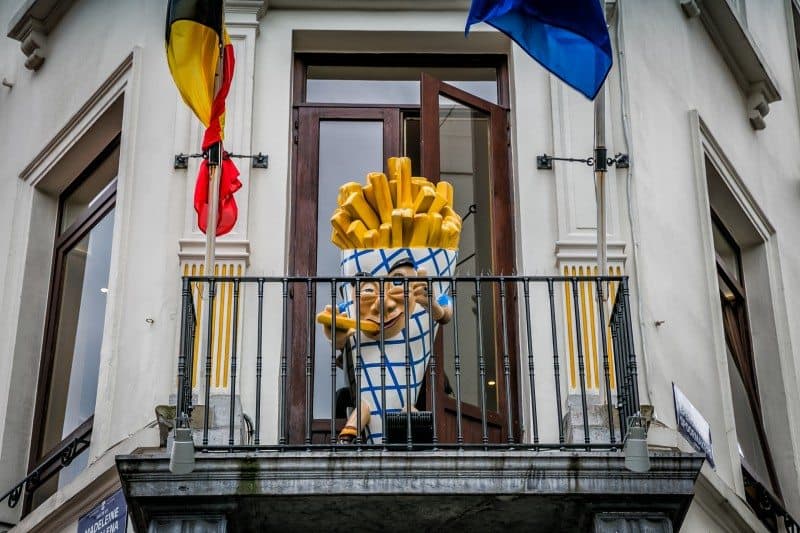 Belgian Frites
One glorious word, fries or fries to us Americans. Crispy, crunchy, golden brown and deep-fried to perfection, fries.
The Belgian's eat fries like American's eat ice cream and you would be remiss if you walked the streets of Brussels without seeing a Frites stand on every corner.
Fries are my weakness, I love them and can barely resist them when they've been cooked to Belgian perfection.
Want to know how it's really done? Observe long strips of Bintje potato that is sliced to the perfect thickness, pre-fried in beef tallow and then fried again when you order.
Then served in overflowing cardboard cones wrapped in paper and topped with mayonnaise or aioli. It's frites perfection to a T.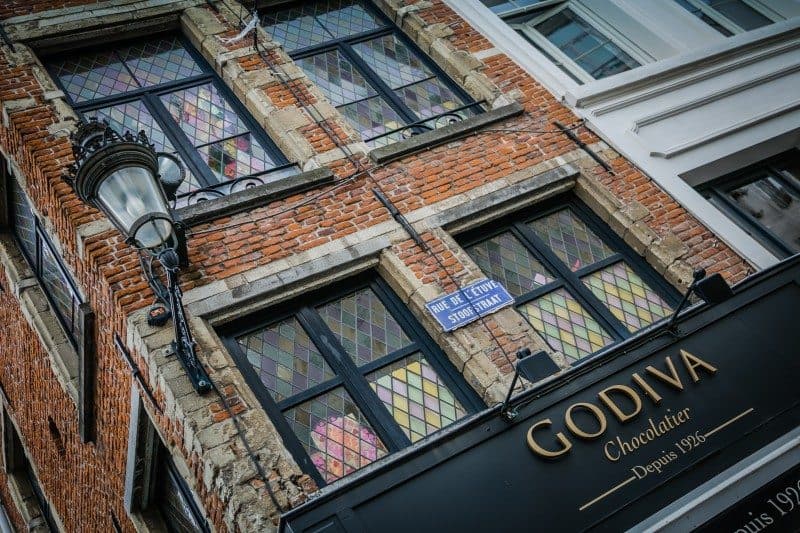 Chocolate
I know I'm overwhelming your senses at this point, but just one more delectable wonder of Brussels is the chocolate.
If you were overwhelmed by the beer, waffles, and fries then just go ahead and add one more corner shop that sells chocolate to the mix. You can't make this kind of stuff up.
Belgium has been known for its chocolate for centuries and today houses one of the World's finest chocolate shops, Godiva among others.
The chocolate shops are welcoming with several kinds of chocolate on display. They even do free tastings each day so don't hesitate to pop your head in while you're strolling around the city.
Our top recommended Chocolate tours: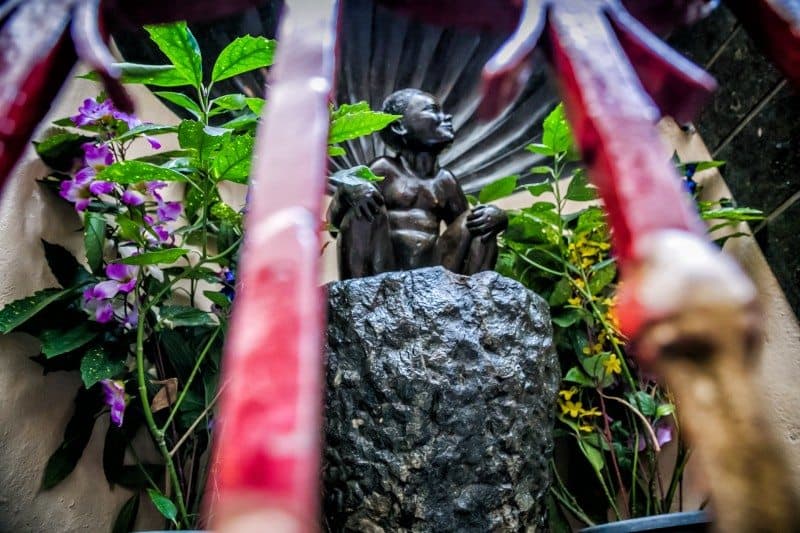 Janneke Pis
Just when I thought I couldn't raise my eyebrow more, enter Janneke Pis. I actually didn't even know she existed and certainly didn't visit her on my first trip to Brussels.
However, this second time around we were led into the backstreets of Brussels, which I have deemed the restaurant alleys, for a little surprise.
When I first saw her I had a mirror reaction to that of my first viewing of Mannekin Pis.
Here, squatting in a fountain, was a little girl with pigtails taking a piss. I guess with all the attention that Mannekin Pis gets, it's only fair that a girl is added to the mix.
She's hidden down a dead-end alley next to one of the most popular bars in Brussels. Let us know if you've found her.
Read reviews and check prices with our Hotel Search Engine, which gives you the best hotel deals found on the web. Our search engine pulls results from all of the major booking places, including Expedia, Hotels, Booking and more. All the options, all the deals, all in one place and just for you.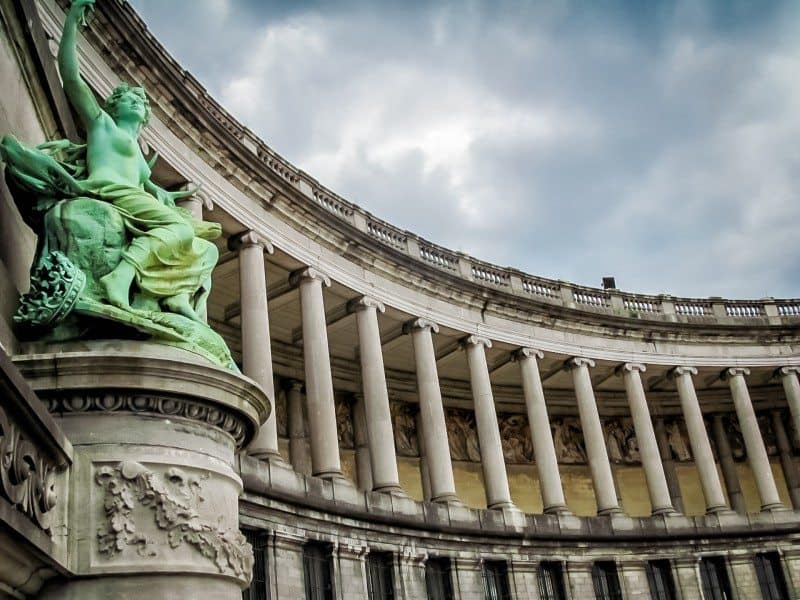 Cinquantenaire
This site makes the top things to see in Brussels list on every single occasion and I totally get it. The structure is gorgeous and overlooks the most serene and green park in Brussels.
Not only is it a great spot for photography but its an oasis away from the city with huge trees and large lawns.
On my first visit, my friend and I were doing the waffle dance through the grass after making our purchase at a waffle stand.
She asked me where we wanted to sit and I said, hmm, how about right… there. She looked at me and asked, 'right here?' I said yes and she slumped onto the grass right into a patch of hundreds of 4 leaf clovers.
Buy your Cinquantenaire entrance ticket in advance with Viator.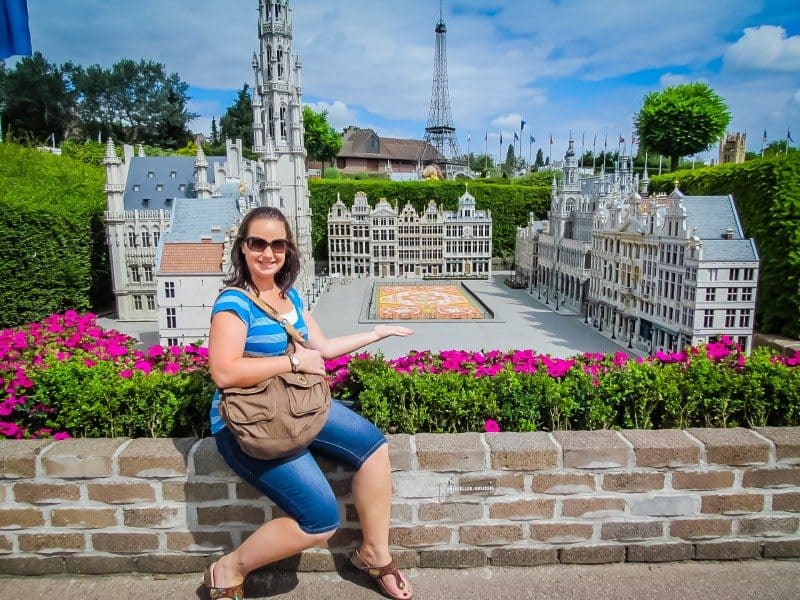 Mini Europe
Ever felt the urge to feel like Godzilla and trip through a city just to see what it feels like?
Look no further, your Godzilla dreams can come true at Mini Europe. This park holds replicas of Europe's icons on a small scale, meaning you can take a tour through the whole of Europe and see every famous site in only a couple hours.
The displays are complete with the history of each place you visit and the famous site you are seeing. When you've had your Godzilla fix you can wander into the main buildings where they serve national dishes from around Europe in various food stands.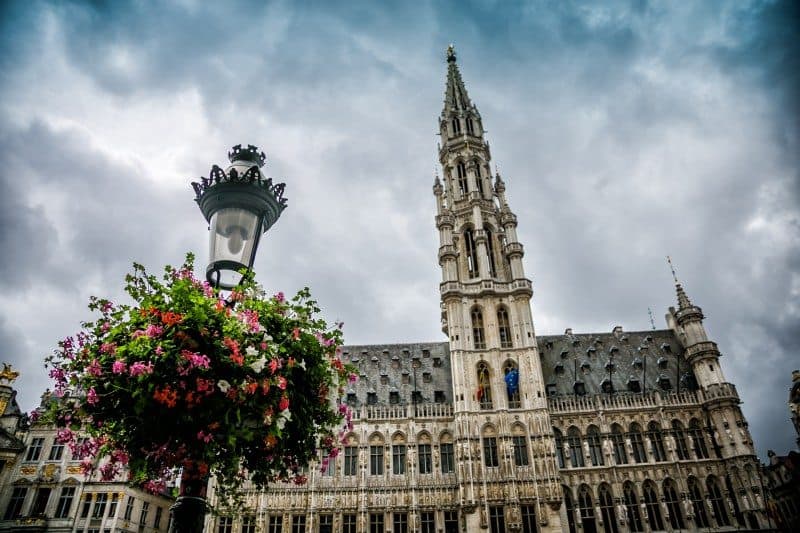 It's No Secret, I Love Brussels
So there you have it, a little insight into an unexpected love. Brussels may not be on everyone's list of places to visit when you've got the likes of Paris to compete with but just do me a favor.
Leave one or two days for a train ride and pop over to Brussels on your next trip to Europe. I promise you'll be extending those couple days to 4 or more.
More on Belgium:
Did you like this story? Share it!