We completed our PADI Advanced Open Water Scuba Diving in Puerto Galera, Philippines!
Ever since our first dive on the Great Barrier Reef, we have been hooked on scuba diving. What a true adventure it is to gear up and jump into the dark blue depths of the ocean, not knowing what lurks or awaits you below.
We had been told that the Philippines have some of the best dive sites in the world and there's no wonder why. The beauty in the Philippines is not only on its Islands with white sand beaches buts it's also deep below the ocean waters.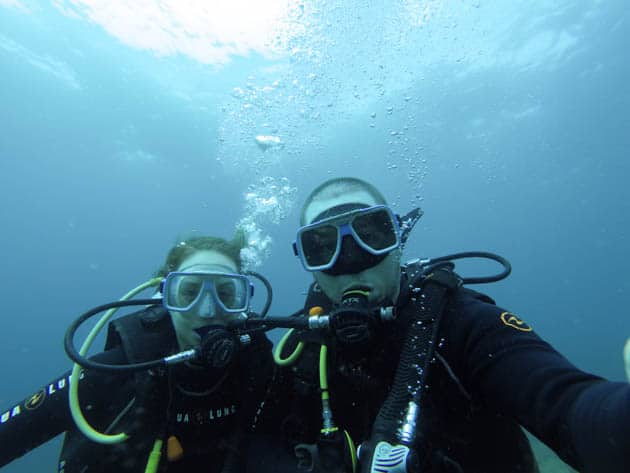 We decided to complete our PADI Advanced Open Water dive certification in Puerto Galera, Philippines. The 40+ dive sites in Puerto Galera offer a variety of dives for whatever you are seeking. If you're looking for fish, this is your place to see them.
If you're looking to wreck dive, there are all types of wrecks from fishing boats to warships sunken just off the bay. It's colorful corals and clear waters will keep you from ever wanting to return to the surface.
We chose to work on our Advanced Open Water with Dive Vip and our diving base camp was out of a dive resort called Capt'n Greggs, where we stayed and dove out of every day. Capt'n Greggs was located on and overlooked Sabang Beach.
Here we could easily go over our plans with our divemaster instructor over breakfast and head out at 9:00 for our first dive. Once completing our first dive and back at dive camp, we had downtime until our second dive at 11:00 AM.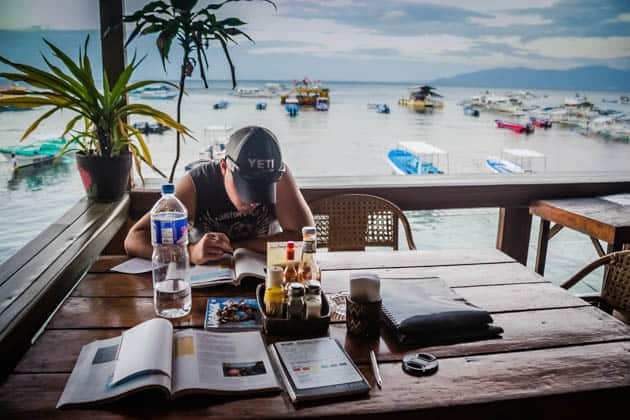 After our second dive, we had lunch where we would review our last dive of the day and head out at 2 or 3 PM. For us, this location was nice because everything was in one spot and it was not on the party side of town. We were only there to enjoy the dive sites, not the local bars or nightclubs, which we found there were tons of on our last day of being on the island.
We spent a good part of a day getting to Puerto Galera from Manila, once we arrived and checked in our divemaster asked us if we were up for an afternoon dive, we weren't going to start until the next day but we thought, it's a nice sunny day lets see what the Philippines have to offer. So we quickly geared up and headed out from shore.
This worried me a little because the dives and snorkeling we have done from shore in the past have not always been good. To our surprise this was not the case, the bay quickly drops off revealing a large wall of different colors of coral and large amounts of fish life swimming everywhere.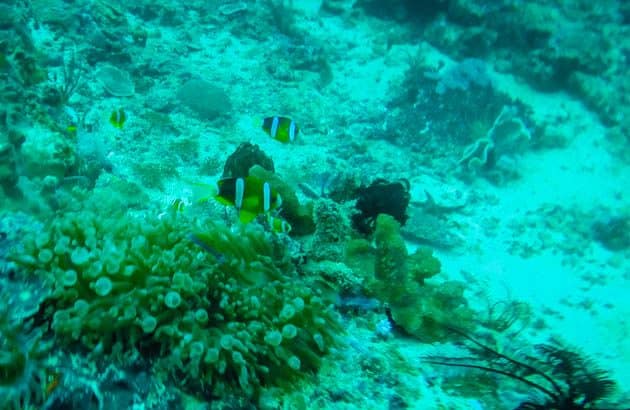 ~*~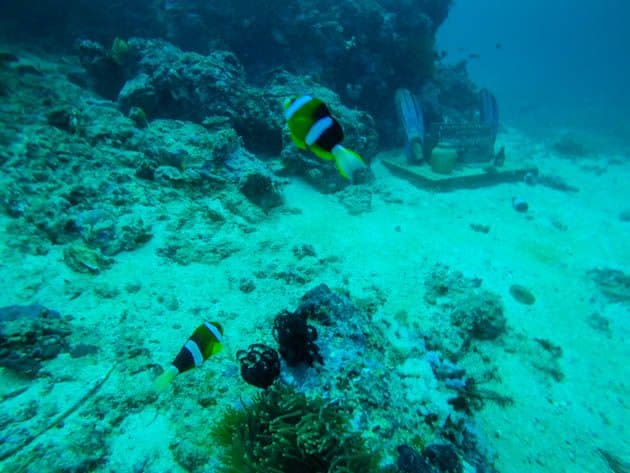 Lina was quickly excited after finding a clownfish family (She found Nemo, again) hiding out in an anemone. If you wiggled your fingers, they would quickly swim out trying to grab your fingers. Sitting at the bottom of the wall was a wild-looking creature called a frogfish.
Throughout this whole dive, the water shimmered off dragon fish hitting the light in the water. This dive excited us for the rest of our dives and it became better and better with each different dive site.
Wreck Dives
On one of our dives involved a wreck dive that took us up close with three sunken boats. This dive was a beach dive where we walked in from Sabang Beach and floated out just to the outside of where the boats parked for the night. Once we reached our dive spot that was marked by a large floating buoy, we let the air out of our BCDs and started to submerge.
Following the rope from the buoy down to the bottom, we found ourselves already at one of the wrecks. The first wreck was just bones of what looked to be a 25ft fishing boat. The ship was turned to dark rusted color with lots of sharp edges. We had to navigate around the wrecks making sure we did not interfere with the wrecks themselves.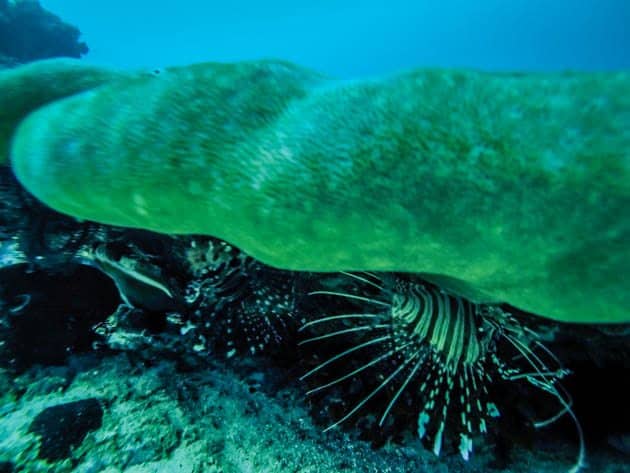 We took a few laps around this wreck seeing what we could of the fish life. The second wreck was another fishing boat about the same size as the first wreck. This boat was solid with a top on it and was turned on the left side. You could see thousands of little fish hiding out inside the boat. We did three complete laps around this wreck. While we were taking our time viewing the fish, a few other divers came scooting in with the Power Scooters, skimming through the water effortlessly.
This looked cool; throughout our stay, they were testing new scooters on dive sights. What was crazy about them was that they could do multiple dive sights in just one dive, covering more ground in less time. It would be nice to try but I like taking my time and enjoying the marine life.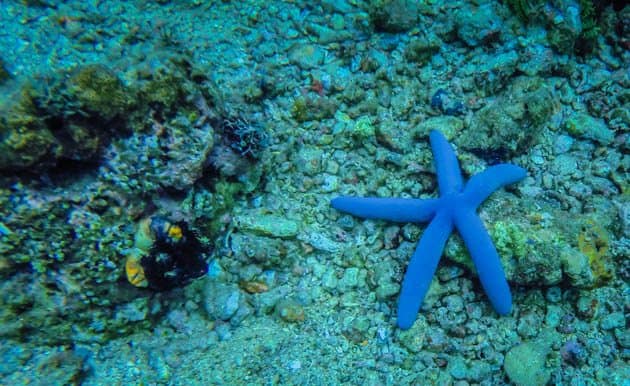 ~*~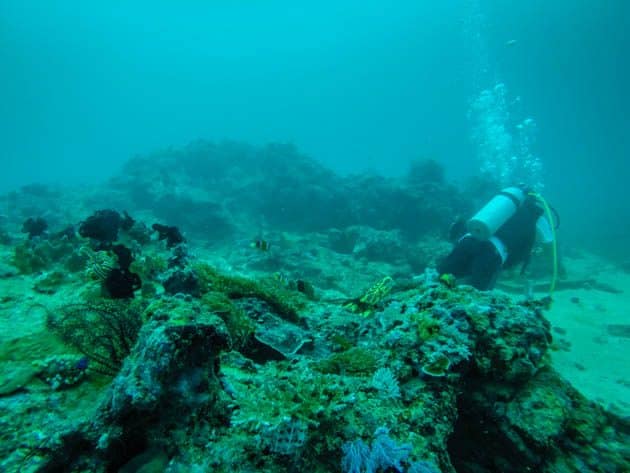 Our last wreck dive was another boat that was basically bones, just like the first dive it was a rusted frame of a wrecked boat colored in rust. This wreck still had the large engine blocks showing.
On our first pass, we quickly spotted a large lamprey that was hidden under the side of the engine block where the exhaust manifold would mount to it. This large guy just gazed at us as we observed him. He looked to be a well-aged fish.
We made two more rounds of the wreck, watching fish zoom in and out of the rusted bones. It's always crazy how much little fish stick to the wrecks. Overall, this was a good dive for the first time wreck diver. It was good to practice basic maneuvers around the wrecks and also to see what to expect with other wrecks.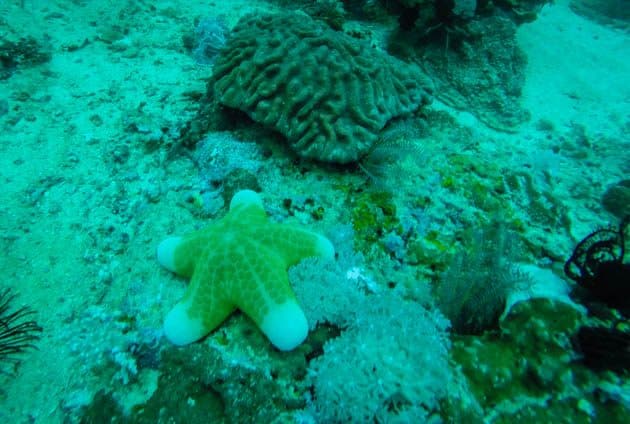 Our Dive Locations in Puerto Galera
Puerto Galera has some of the most relaxing dive sites we've been to and the corals and aquatic life are worth exploring. The easy conditions and a beautiful environment make Puerto Galera popular for scuba divers and with many dive sites, it never becomes overcrowded. Many of the dive sites are right off of the beach or close to shore, which means you are not spending time riding around in a boat.
Here's an up-close look at the sites we visited while earning our Advanced Open Water PADI certification with Dive VIP in Puerto Galera.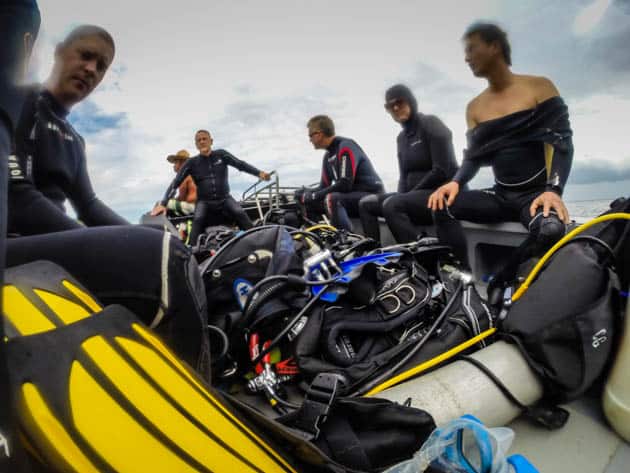 Wreck Point
Maximum Depth:27m Skill Level: Advanced
2-5 min. sailing time in a speedboat from Sabang Beach. Water temperature in February 20°C at the bottom, 24°C at the surface. Air temperature 28°C. 3 wrecks on a row, lots of dragonfish, shoals of fish, flatfish and a sea snake. Good site for night dives
La Laguna Point
Maximum Depth:20m Skill Level: Novice
6-8 minutes sailing time in a speedboat from Sabang Beach. Some current in the morning and afternoon. Lots of corals, fish, clownfish and a frogfish, dragonfish and sea urchin.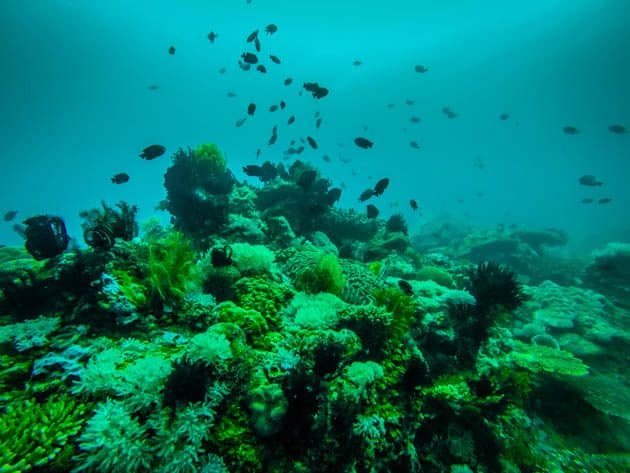 Sinandigan Wall
Maximum Depth:35m Skill Level: Advanced
10-12 minutes sailing time in a speedboat from Sabang Beach. Some current in the morning and afternoon. Many corals, fish, nudibranchs and frogfish.
Sabang Point/Bay
Maximum Depth:18m Skill Level: Novice
Dive just off the Sabang Beach. It offers a large wall starting at Sabang Point nurtures a riot of soft and hard corals bursting with Colors. Sea snakes, octopus and eels, sea turtles and electric cuttlefish and blue-spotted stingrays that sit on the sandy bottom.
Monkey Beach
Maximum Depth:22m Skill Level Novice
6-10 minutes sailing time in a speedboat from Sabang Beach. Monkey Beach has a gentle slope with many different kinds of corals, there is also a small wreck of a sailboat in this area.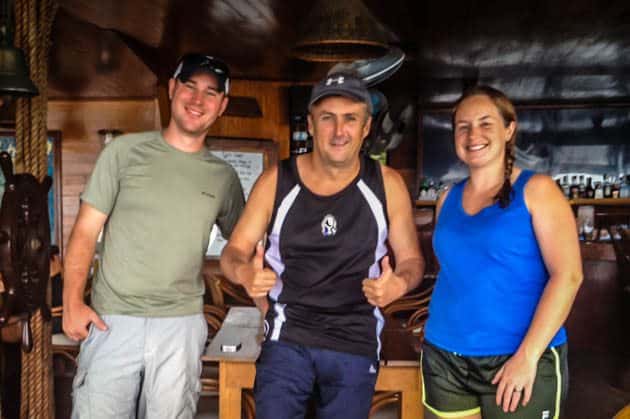 Have you every been diving at Puerto Galera?
Tell us where you go your PADI certification.
More on the Philippines:
Did you like this story? Share it!