If you are considering wearing your diamonds or fancy jewelry while traveling abroad, there are a few things that should be taken into consideration before making your decision. The question is should I travel with a diamond wedding ring?
LOSS– How would you feel if your ring was lost or stolen? Is it worth the risk?
UNWANTED ATTENTION– Are you comfortable attracting attention to yourself? Flashy jewelry will turn heads in the quietest of places. Remember, some countries people make in a year equal to what you are wearing on your finger or neck.
SECURITY– There is no guarantee that you will be able to find a safe, secure place to keep your diamonds when you do not want to wear them. Not all hotel safes are secure.
INCONVENIENCE– Are you doing adventure activities or spending lots of time at the beach or in the water? You don't want to miss out on things because you have no where safe to put your diamonds or jewelry.
SAFETY– Wearing nice jewelry makes you an easy target for robbery and crime- even in the nicest of cities. The wealthier you look, the more at risk you are for incidents.
Our Advice? Leave the Diamond Wedding Ring at Home!
We have been traveling for many years now and our visits include some countries that would make you think twice about whether you should bring your nice jewelry with you. Prior to being married, this wasn't too much of a concern for me. I don't tend to wear a lot of jewelry and when I do it doesn't normally contain gemstones. However, after I got married, this was a true concern that surfaced.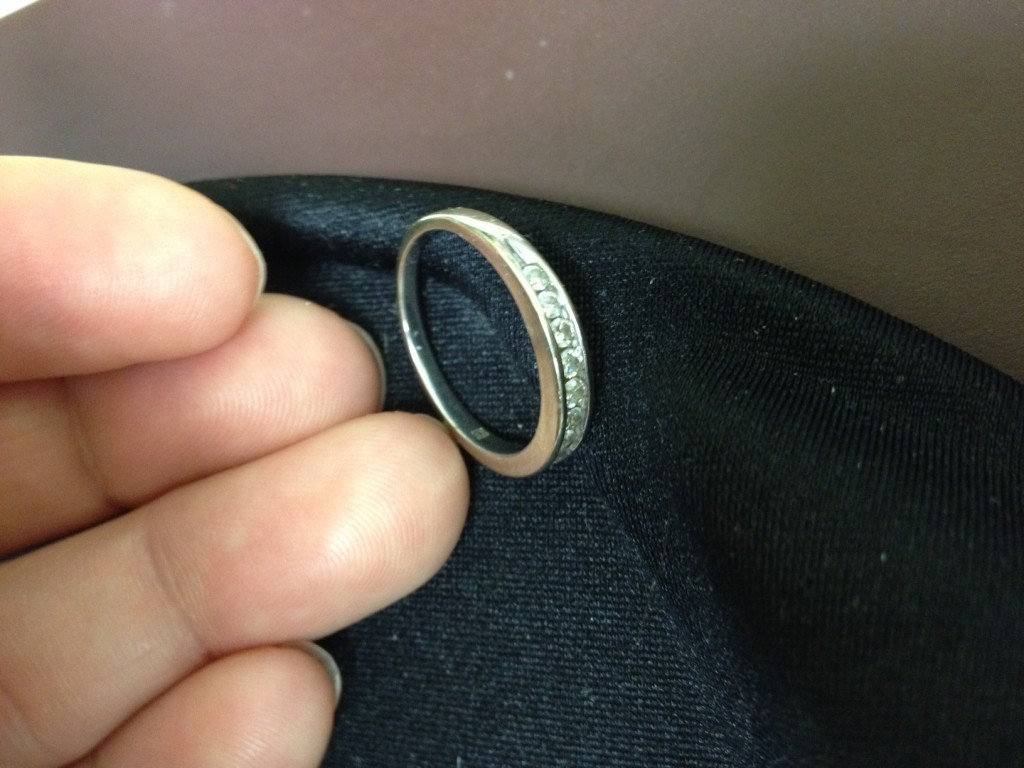 My original travel band (pictured above) was just a simple white gold band with channel set diamonds. It was simple but it did have some flash to it. Right after we got married, we honeymooned in Thailand and I wore this ring. I never felt uncomfortable wearing it but there were many times I felt that it was a bit much to be wearing on a trip like that. I wore it a few more times to other countries, again leaving my engagement ring at home, with similar experiences. There were a couple of times I turned it around so that the diamonds were not visible.
When I got my new band (black and white diamond bands with engagement ring below) I knew there wasn't any chance I would be wearing that when I travel. So when it came time to start planning our upcoming RTW, I knew I wanted something really simple that wouldn't draw attention. It wasn't easy to track down something that matched David's AND something I liked for the budget I wanted to stick with. Eventually I found the one pictured below with my wedding ring, a Celtic tungsten carbide band that was feminine, at overstock.com. Cute AND in budget.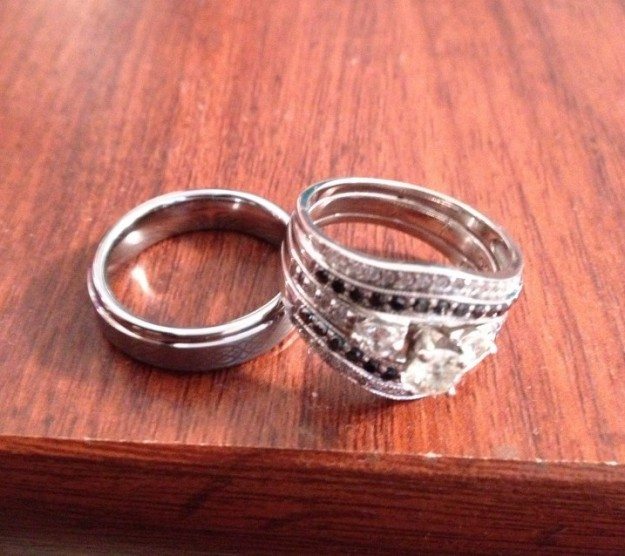 This ring will accompany me around the World on our upcoming adventure. It is super comfy and much less flashy. My adored wedding ring with band will stay at home, in its box, safely with my parents.