Swakopmund is a small piece of Germany transplanted onto the arid coastline of Namibia. The city is located 240 miles west of the capital Windhoek and as far as Namibian cities go, Swakopmund is considered large. It's the premier beach destination in the country and caters to tourists looking for either a relaxing getaway or an adventure filled holiday. The beaches are stunning and inland can be found the endless Namib desert, where the opportunities for adrenaline filled activities are equally endless.
The city was founded by German colonists in the late 19th century and the German atmosphere is still very pronounced in Swakopmund. The architecture is distinctly Germanic, while many residents still speak a German dialect or indulge in German cuisines and customs. Swakopmund is where Germany meets Africa in a strange yet always intriguing desert location.
This guide to Swakopmund Namibia will help you to plan your trip to this old German city on the sparse yet beautiful coastline of West Africa, from the best time to go to the best places to stay and everything else in between, we've got it all covered for you here.
Don't leave home without: Lonely Planet Africa (Travel Guide)

Best Time to Visit Swakopmund in Namibia
Namibia experiences very little rainfall throughout the year. The country is the driest in Africa, and Swakopmund is no exception. That means that throughout the year you can expect to keep dry, with what little rain there is falling at the end of summer, generally in March. Swakopmund, therefore, is an all year round destination for travelers.
Summer can be hot but still pleasant enough, and winters can be drastically cooler but not freezing except for colder mornings and evenings. Swakopmund experiences some bizarre weather in the form of heavy fog which descends upon the coast throughout the year. Historically, this fog has caused numerous shipwrecks along the coast, giving the coastline the nickname Skeleton Coast.
G Adventures offers 99 trips throughout Africa: Simply use this link to book today!
---
Things to do in Swakopmund Namibia
Swakopmund is fast becoming the adrenaline junkie and adventure center of Africa. The city's location between the ocean and the desert gives visitors plenty of opportunities to explore spectacular landscapes and if they desire to do it in an adventurous fashion. But those who would rather relax on a sandy beach can do just that, and if you are interested in history then Swakopmund has an incredible array of colonial architecture waiting to be discovered on the streets.
Here are the best things to do in Swakopmund during your visit:

Skydiving 10,000 Feet
Swakopmund is known as the adventure capital of Nimbia so naturally, we could not miss this opportunity to take it to the skies and go skydiving over the Namib desert. Enjoy amazing views of the Skeleton Coast to one side and the bright yellow Namib desert that goes on for as far as the eye can see on the other side as you climb up to 10,000 feet.
This scenic flight lasts around 30 minutes and it provides some of the best views of Swakopmund. Once the airplane reaches 10,000 feet the door opens and you will be hit with a warm gust of air. With your heart pumping like crazy its time to jump. The free fall only lasts 10 seconds and once the parachute opens up you will be in Aww, with the amazing views as you slowly reach the ground.
Related Article: Skydiving 10,000 Feet in Namibia
Visit the Beaches
Swakopmund is known primarily as a beach resort, although it is much, much more than this. The beaches though are spectacular and they are the reason that many people choose to visit the city. The long coastline extends for miles and there is so much surf and sand to explore. You don't need to go far though, there are beautiful stretches of beach right off the city center, just be careful of the strong Atlantic currents and waves if choosing to swim.
Adventure and Adrenaline in the Desert
Inland, is the vast Namib desert and just 30 kilometers away is Dune 7, the largest sand dune in the country. The opportunities for exploring the desert are as endless as the sands. Rent a four by four, go on a guided tour, or even hike out from the city to certain areas. Adrenaline lovers can rent quad bikes, go sand boarding or take to the skies in hot air balloons to truly experience the incredible remoteness that the desert offers.
Our top recommended tours:
The Jetty
The long jetty stretches far out into the sea and was constructed way back in 1905 by the original German colonists of the city. The jetty is in a beautiful setting, surrounded by splashing Atlantic waves and battered by breezy winds.
Museums and Architecture
The city's German heritage is very much apparent in the buildings and architecture of Swakopmund, but head to the museum to learn more about the history. It's right by the beach too, so combine a history trip with a few beachside beers if you fancy.
Our top recommended tours:
Wildlife at Walvis Bay
Just down the road from Swakopmund is the Walvis Bay, and here you can find a beautiful lagoon that's constantly surrounded and engulfed by colorful flamingos. Aside from the flamingos though, the area is renowned for the number of species of wildlife that congregate here, including pelicans and many rare birds. Head even further afield to Seal Cove and at the right time of year, you can witness the extraordinary sight of thousands upon thousands of seals descending upon the land from the ocean.
Related Article: African Safari Animals and Where to Find Them

Where to Eat and Drink
Being a beach resort style city, Swakopmund has plenty of good restaurants and great bars catering to tourists. There are many located in the city center and of course plenty along the beach, offering the perfect locations for sunset cocktails and breezy seaside dinners with a German influence.
Tiger Reef Beach Bar 'n' Grill
The best yet most rustic beach bar in Swakopmund is the Tiger Reef, serving up cold beers and barbecued meat all day long and long into the evening. The prices are cheap for the excellent location and the atmosphere is always excitable.
Village Cafe
This is real home cooked food prepared by local Swakopmund residents. It's as authentic as you can get in the city and the best eating place for those who love to try local cuisines and drink a great coffee amongst lively and interesting people.
The Jetty 1905
At the end of Swakopmund's famous pier is The Jetty 1905, a fine dining restaurant serving up excellent seafood. The real attraction though, is of course the spectacular and unique location.
Related Article: Namibia Travel Guide

Where to Stay
Swakopmund has a diverse array of accommodation available for every traveler's needs. There are budget backpacker options as well as high-end beach resorts with all the facilities you'd want for a holiday resort. Swakopmund is fairly small, and most of the accommodation is found around the city center, with a few places strung out along the beaches. Being Namibia's premier beach destination, Swakopmund can get fully booked up during school holidays, so plan ahead if you don't want to be disappointed.
Luxury hotels we recommend:
Mid-range hotels:
Budget hotels:
Hostels we recommend:

How to Travel to Swakopmund Namibia
Namibia is a vast and empty country. Almost 900,000 square kilometers of arid land, desert and dry landscapes are populated by a mere 2 and a half million people. Distances between cities and towns are long and empty, but as long as you have the time then Swakopmund is still well connected to the rest of the country. The city lies on the Atlantic coast, and there are a few ways to get there.
Flights
Swakopmund has a small domestic airport, however, most flights are likely to depart from and arrive in nearby Walvis Bay which is just 35 kilometers down the road. There are regular flights to Windhoek with Air Namibia, who along with South African Airways also fly to Cape Town in South Africa internationally, allowing visitors to connect onto longer international flights.
Search for Flights: Priceline and Skyscanner offer great deals to Africa.
Trains
There are overnight trains several times a week running between Windhoek and Swakopmund. The journey is quite slow and generally takes around 9 hours to complete. There are train links between Windhoek and South Africa too, making it possible to travel entirely by train between these two countries to get to Swakopmund.
Bus and Minibus
Large coaches run between Windhoek and Swakopmund on a fixed schedule several times a week, with the journey taking around 5 or 6 hours. There are more regular but unpredictable local minibusses making the journey too. They are cheaper but not quite as comfortable as the coach.
More on Namibia:
Did you like this story? Share it!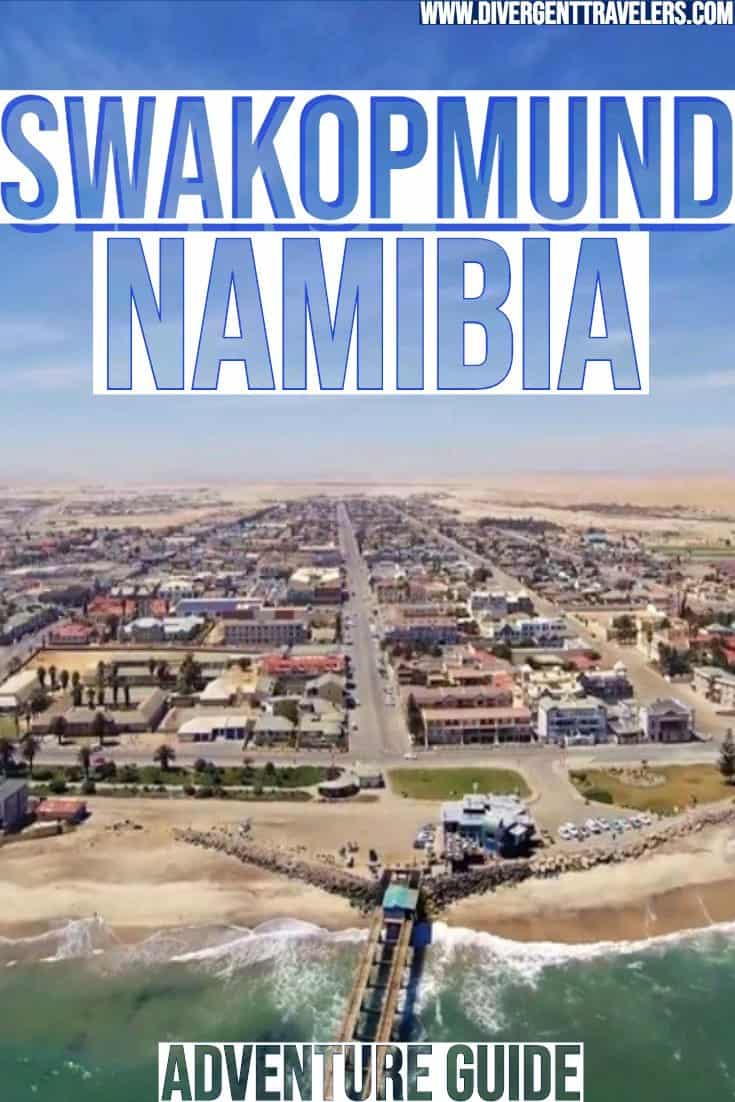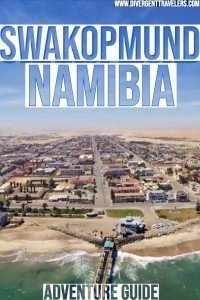 ---
Resources for Planning Your Trip to Africa
Recommended Guide Books For Africa:
Africa Travel Map:
Search for Flights: Priceline or Skyscanner offers great deals to Africa.
Find Accommodation in – Read reviews and check prices for hotels in Africa at Our Site or AirBnB. (Book today at AirBnB and get $40 off!)
G Adventures offers 99 trips throughout Africa. Simply use this link to book today!
TourRadar offers 250+ multi-day trips through Africa with 7146 reviews. Check out ==>Africa Tours and Trips
Travel Insurance: We use Allianz travel insurance and have since our first trip to Mexico in 2003. They've been there for us on our adventures – and many friends and readers – multiple times over! If you want to book with Allianz Travel Insurance, simply use this link to get their travel insurance!
Search for Tours and Trips in Africa we recommend: