Having done a bit of travel already, we do currently have backpacks. However, after some research and much discussion we have decided that the bags we currently have aren't going to work for us on our long trip. First off, we don't LOVE the bags we currently own (at least not enough to live out of them). So that was our first indicator that we needed to switch it up for something else. Second, we came to the conclusion that the size and function ability of both bags were just plain wrong for what we were trying to have in a bag. These bags are going to carry our whole life while we travel the globe! So the search has began. To catch you up to speed, this what we are currently using.
Currently used: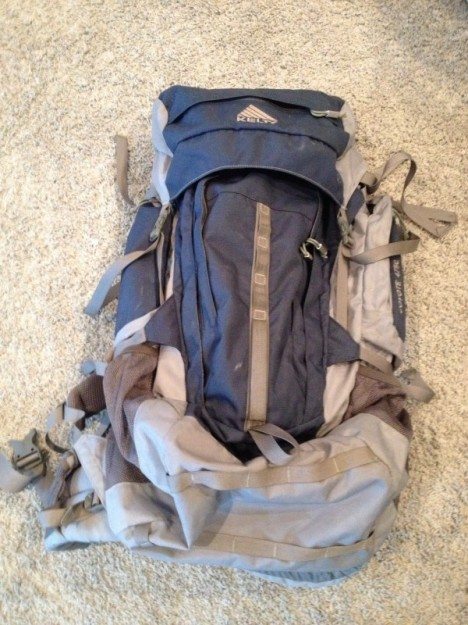 DAVID – KELTY COYOTE 4750 (just shy of 80L)
This pack has served us well on many a trip. David seems to enjoy carrying it. He says it is comfortable, the weight distributes evenly and holds most everything he needs. Lots of places to tie shoes, snorkel gear, etc to the outside of the bag.
Why he is leaving it behind: this bag is HUGE and when it's full, it's HEAVY. It also has one (count them) ONE access point. The top- which is a traditional hiking backpack entry with the drawstring a detachable top. There have been MANY times we have had to unpack this bag at the most inopportune times to get something out of it. Not cool.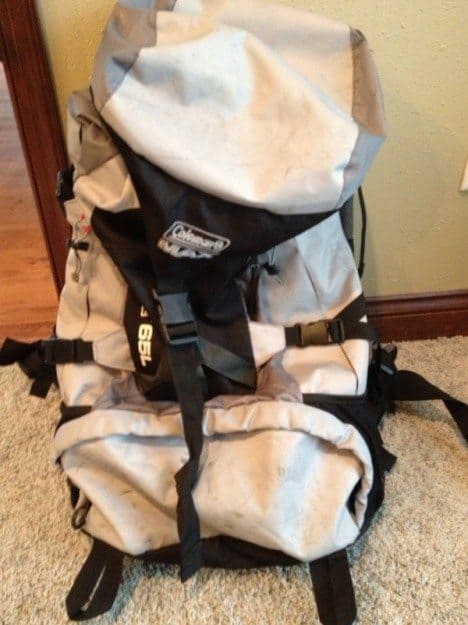 LINA- COLEMAN ELATE 65L
This was my very first pack. I bought it on a whim at Wal-Mart. Hey, it was cheap! I didn't know much about packs. I tried it on & stuffed it full of things to 'test' it and thought, this is pretty comfy! I trotted myself up to the counter and bought my first pack. It actually proved to be a pretty nice little pack. It WAS comfy- even fully loaded. I carried this to many a destination and it served me well. It is a little beat up, but it functioned as needed. Now as I travelled more with this pack there were things that came to REALLY annoy me…..
Why I traded it in for something else: One access point on the top. The traditional drawstring top, and this one has TWO- one that is the normal size and one that allows you to expand the bag another 10L. This is great and all except it was the direct cause of my second and biggest annoyance, the detachable lid. Because the lid was designed to accommodate the bag at it's max (when opened the extra 10L) you couldn't adjust the top down enough to stop it from moving. The fact that it only fastened in one spot- dead center front- wasn't helping the matter. So the top would bounce and sway from side to side- even when empty! We have enough to worry about as travelers and a swaying out of balance backpack while running to catch a train is not something you want to worry about!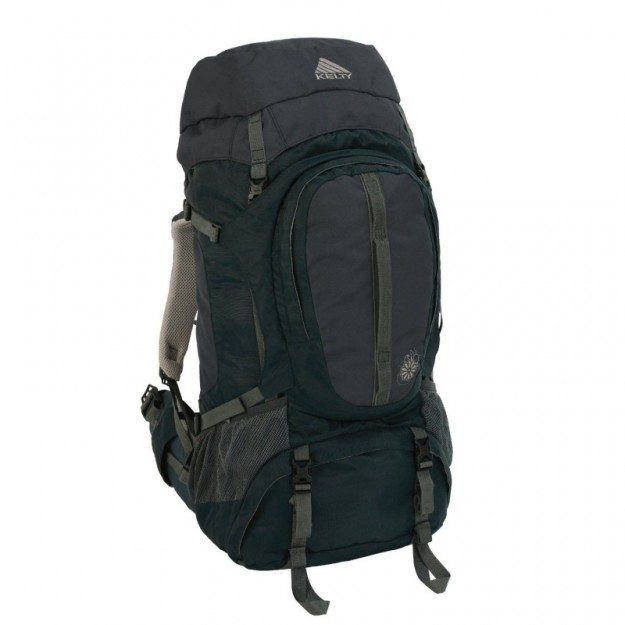 LINA- KELTY LAKOTA 65Lw
This is what replaced my Coleman Elate. It has been out a few times and I can say I LOVE this bag! Why? It is super comfy and that goes far for a pack. It also fits in the overhead bin (at least on Delta flights!) and I have NEVER been denied boarding using it as a carry-on. (seriously) It has bottom access and a luggage panel for front load access. Also lots of points on the front to attach shoes, snorkel gear, etc.
Why am I leaving this behind? Mainly because of the top load-drawstring access and detachable lid. I want to be able to secure my bag- and these features just don't allow that without carrying something like a Pac-Safe. It's a sad day and a tough decision- but I will be replacing this bag for something else.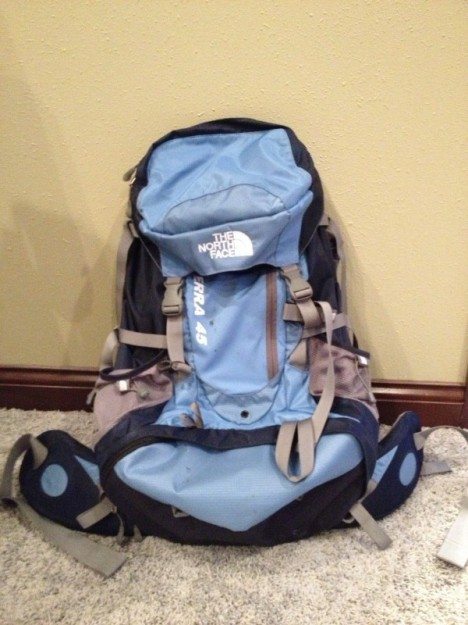 LINA- NORTH FACE TERRA 45Lw
Lastly! I bought this bag for shorter trips and long weekends. This bag has also only been used as a carry-on (on Delta flights) for several trips overseas and domestic. This is another REALLY COMFY bag. It has more than enough space for what I used it for.
Why I am not using this bag: Again, the top load drawstring lacks the ability to be secured. There is also no front panel luggage access on this bag- not something I am willing to sacrifice on a RTW trip. Lastly, I am not entirely sure it is QUITE big enough for me. It seems true to size- and I don't intend to take a lot of gear, but I do plan on carrying a laptop- and being an avid photographer I will have camera equipment. So I need something a touch bigger.
So with all that said, we are currently in search of the packs that will accompany us on our RTW adventure. Stay tuned- as we try bags we will be posting reviews and letting you know what we keep and what doesn't quite work for us.