Visiting the Potala Palace is one of the highlights from our trip to Tibet. Any book you can get your hands on that includes Tibet will mention, if not feature, the Potala Palace in the capital city of Lhasa. It stands on the top of the Marpori hill and is the iconic center point of the city.
In 1994 the Potala Palace was made an official UNESCO World Heritage site and it's easy to see why. The palace itself is a beautiful site as it stands against one of the brightest blue skies I have ever seen. The contrast of the white and red facades against the surrounding mountains is enough to take your breath away.
Prior to our visit, neither of us had done much research on Tibet so when we arrived we were pleasantly surprised by all that this region has to offer. The monasteries in Lhasa were no exception and the Potala Palace was a place so beautiful that you really couldn't fail to take great photographs.
I continue to go through my photos and am just blown away by the beauty of the palace and all of Tibet. Picking only 15 photos for this post was a challenge, I have several more, but these are the ones that I think really reflect the visual splendor of this palace.
Don't leave home without: Lonely Planet Tibet (Travel Guide).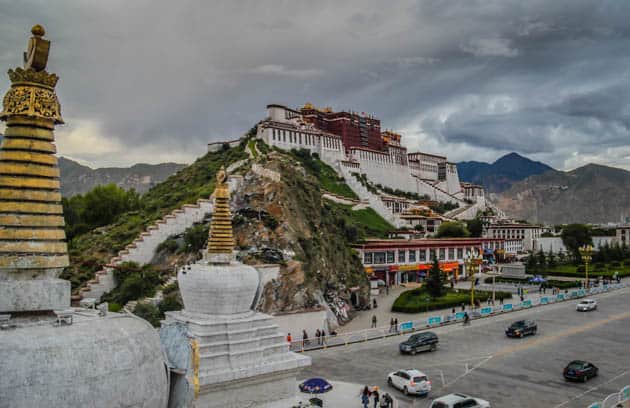 ~*~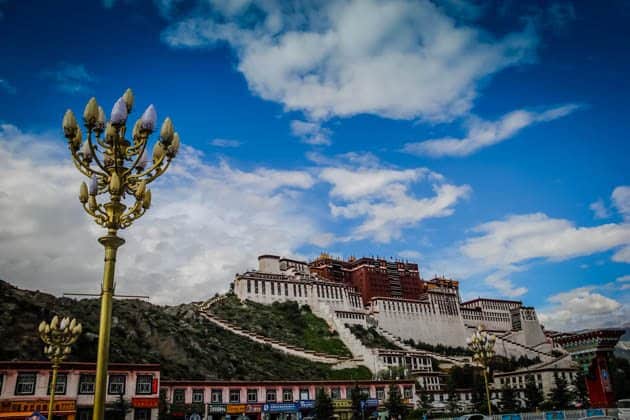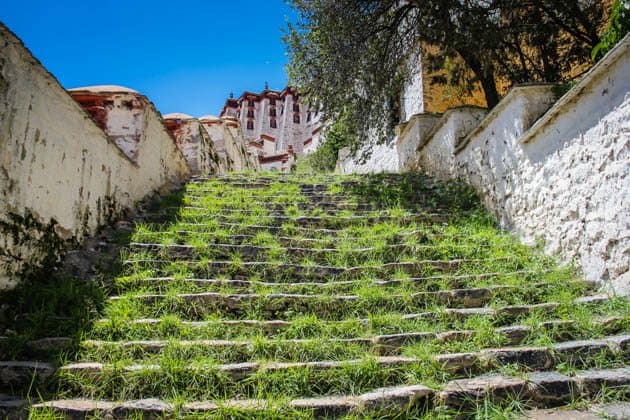 ~ Stairs to the top of the Potala Palace ~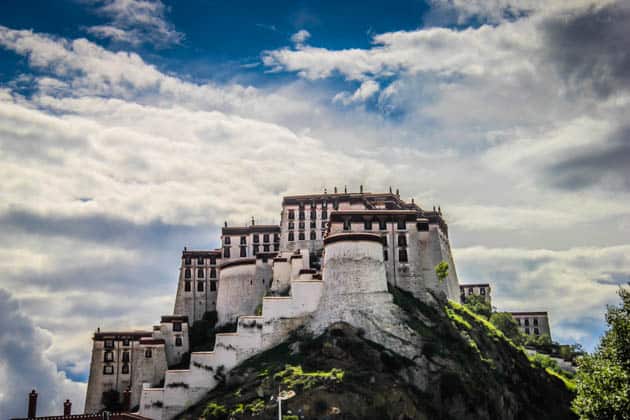 ~ Side view ~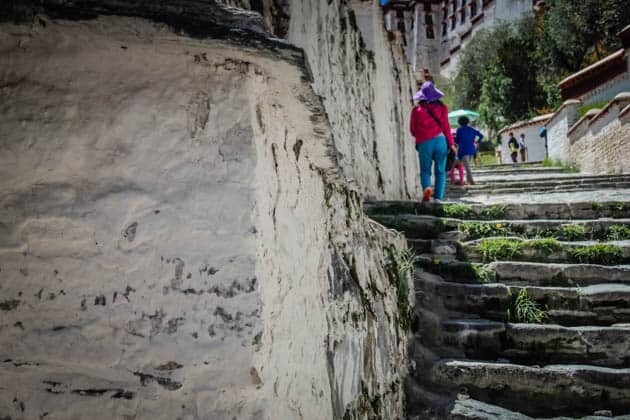 ~ More stairs to the top ~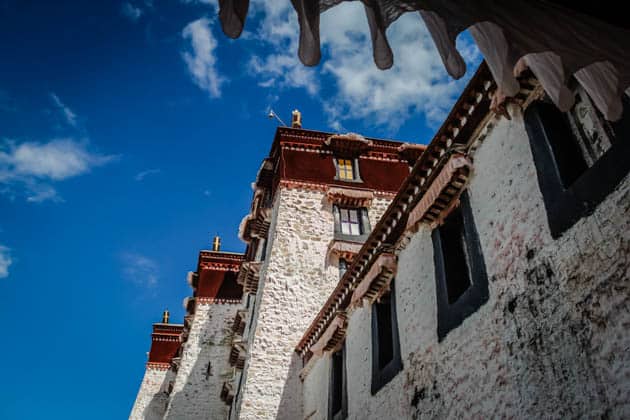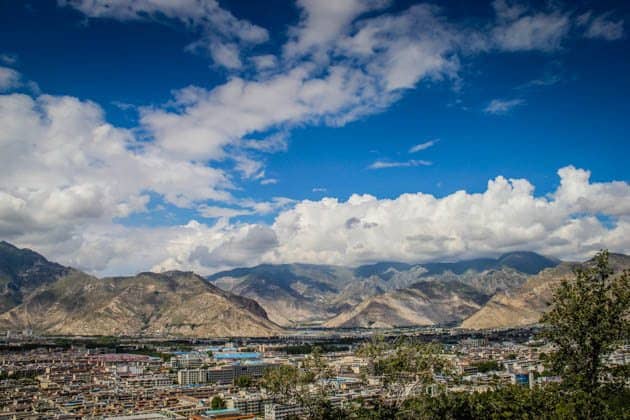 ~View over Lhasa from the Potala Palace ~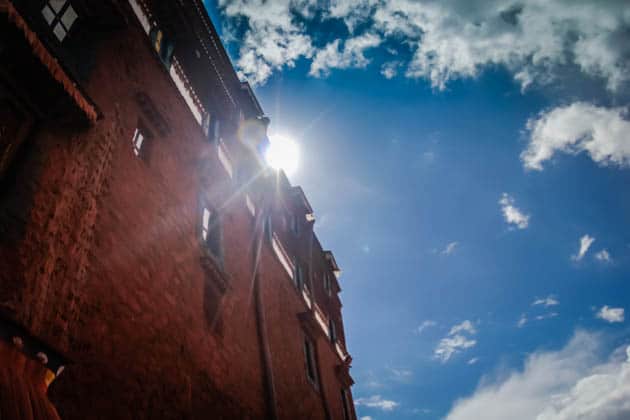 ~ High sun over the Red Palace ~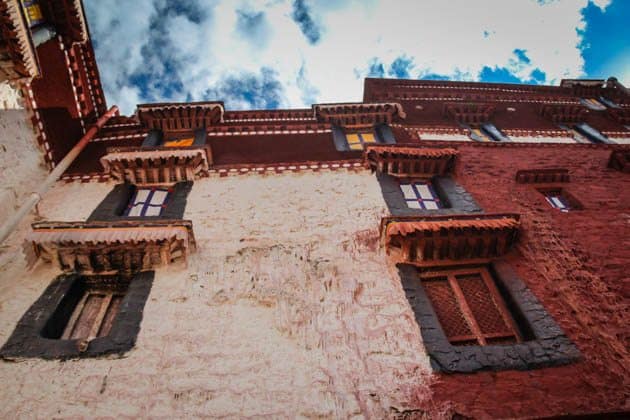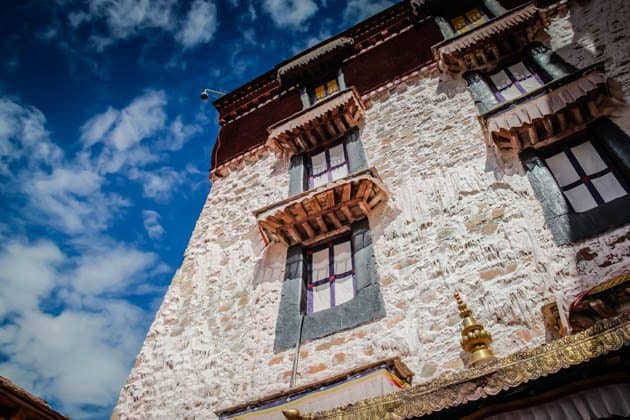 ~The sky really is THAT blue ~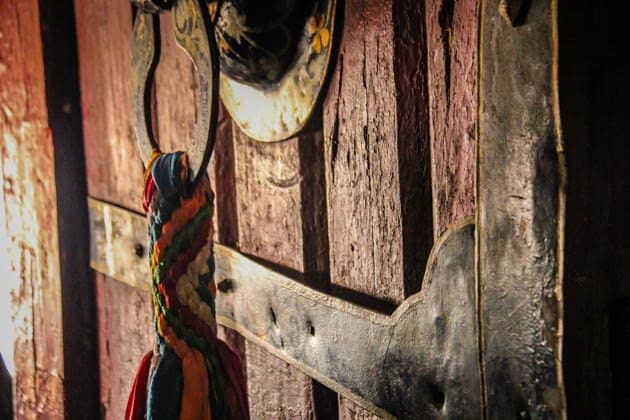 ~Monastery door ~
Like our photos? Check out our Ultimate Travel Photography Gear List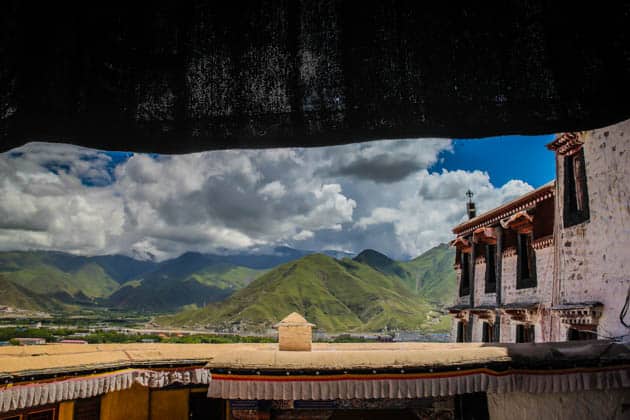 ~View from the top ~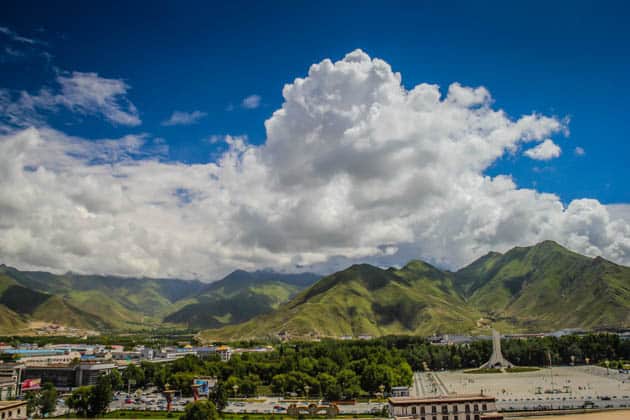 ~Another view over Lhasa from the Potala Palace ~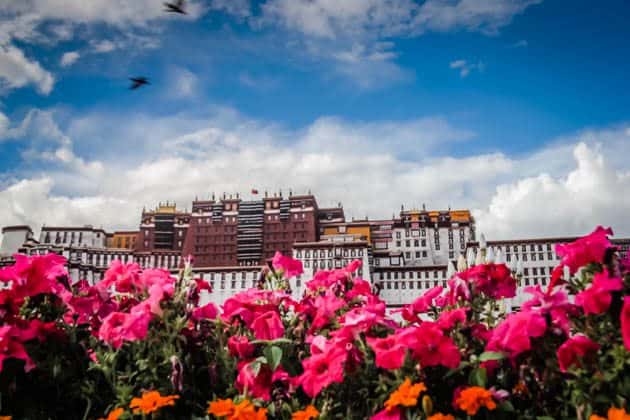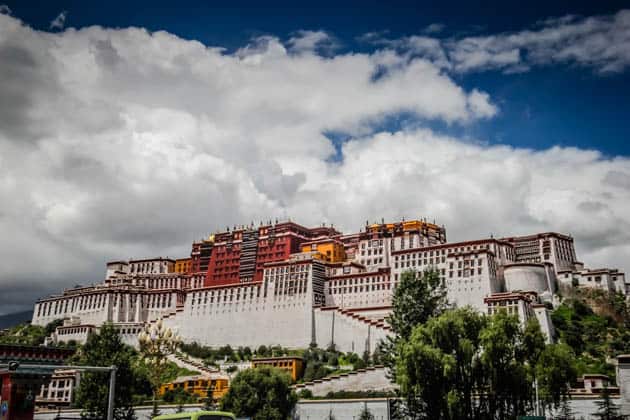 Our Travels in Tibet
If you're interested in reading more about our time in Tibet, check out our other articles including great photography of the people and landscapes.
We made all of our arrangements for travel to Tibet after we landed in Beijing and in order to maximize our time and money spent, booked a tour that was 8 days in duration. At the time, this was the longest available tour that involved travel to Mount Everest.
I can't say enough good things about Tibet Vista, the company that arranged our travel to Tibet. They have taken the lead in setting the standard for Tibet travel and we highly recommend them.
They are based in Chengdu and their website is a wealth of information for all the regions that you can visit while in Tibet. If you book with them, tell them we sent you.
---
Top Tours we Recommend to Tibet
We have put together a list of top tours we recommend for Tibet. These are tour ran by top tour companies in the world like G Adventures, National Geographic Journeys and TourRadar. Discover amazing tours through Tibet visiting places like Lhasa and Gyantse. Most travelers enjoy exploring our Tibet trips in April, making it the most popular time of the year.
Explore China & Tibet 15 days, Beijing to Shanghai. Get over the wall for a life-changing adventure through China's awe-inspiring interior. Explore the unforgettable city of Beijing and meet pandas at a breeding center in Sichuan. Discover daily life in Tibet and cruise the incredible Yangtze River on a riverboat. Cycle atop the city walls of Xi'an, and face its standing army of terracotta warriors before eating lunch with a local family. Get into China's very heart and it will most certainly get into yours.
Lhasa Highlights. Start and end in Lhasa! With the in-depth cultural tour Lhasa Highlights, you have a 4 day tour package taking you through Lhasa, China. Lhasa Highlights includes more.
Tibet Adventure 15 days, Beijing to Kathmandu. Take part in rituals and haggle for a bargain in the markets. From modern Beijing, travel back in time across scenic countryside to Tibet on this well-packed overland adventure. Witness the splendor of the Potala Palace and the majesty of remote monasteries and then celebrate the journey to Kathmandu. Wake up to views of Everest and enjoy a window into the heart of this remote land. A local guide and CEO will show you the region's hidden gems and make sure your trip burns brightly in your memory long after you've climbed down from the roof of the world.
More on Tibet:
Did you like this story? Share it!