The year 2014 is coming to an end and we can't help but be reflective on what this amazing year has brought for us. At the beginning of January, we weren't even sure if we would be setting off on our travels as we had planned, but by some act of fate things came together.
Our adventures began in January and continued the entire year as we explored 14 countries on 3 continents and more cities then I have time to count right now. We put an emphasis on not only touching down in new countries, but taking the time to explore them in depth. Getting to places off the beaten track and taking our time.
We could easily have buzzed through and doubled that country count, but we're glad we didn't as we had some amazing experiences along the way. If you're looking for inspiration for your 2015 travels wehave experienced each one of these in 2014 and if you dig adventure, well, you've come to the right place.
Our Top 20 Travel Adventures from 2014:
1. Leaving home to travel the World
This was, I think, the biggest adventure of the year. We sold everything we owned, including our house, quit our jobs, kissed our families, said goodbye to our old lives and set off to explore the World. We decided to live life on our own terms and it has been amazing. 2015 holds a lot of new adventures as we continue this lifestyle so stay tuned.
~*~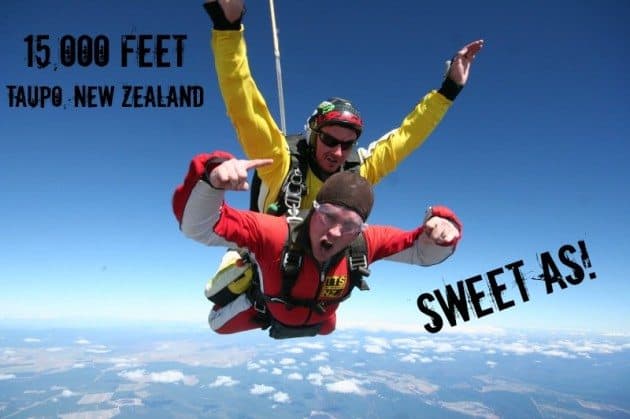 2. Skydiving in New Zealand
I jumped out of a plane. Hell, we both jumped out of a plane and we loved it. Weird? I don't know, but we can't wait to do it again. This was the first real adventure we had on our trip as we flew into the sky over Lake Taupo in New Zealand and each jumped out of said plane from 15,000 feet in the air. Simply, insane.
~*~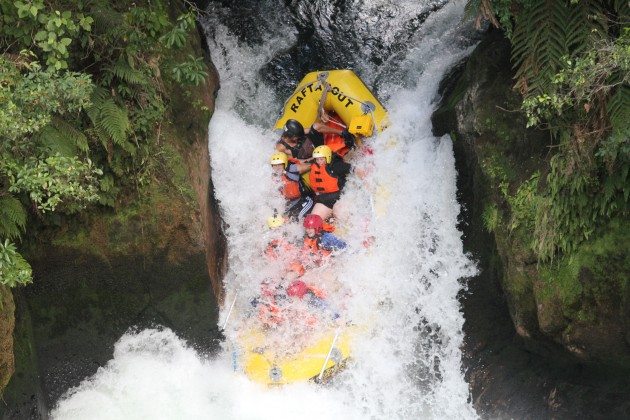 3. White Water Rafting off a 20m Waterfall in Rotorua
You read that right, we rode a raft over a 20m (60 foot) waterfall on the Kaituna River in Rotorua, New Zealand. This waterfall is the largest commercially rafted waterfall in the business and it is an absolute adrenaline rush to take on this river and then culminate your trip by letting the waterfall take you over the edge. We even sat in the front and we didn't crash the raft. Want to see the video? Click here!
~*~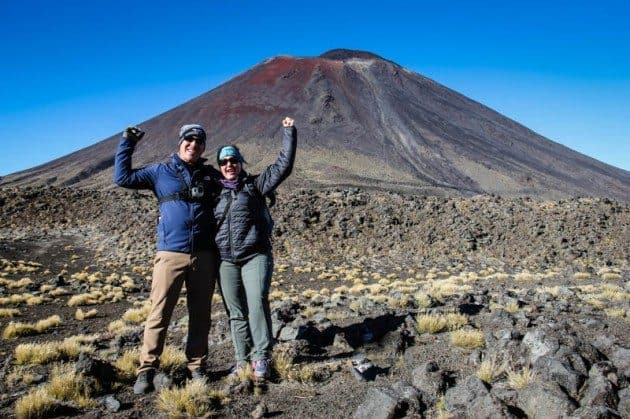 4. Hiking the Tongariro Crossing
When we decided to do this hike, we didn't even know if we liked hiking. We had spent 5 weeks traveling around New Zealand, doing many shorter hikes and for the most part loving them but then we signed up for the Tongariro Crossing. Arguably the World's best one day hike and it was 9 hours and 26.6km of awe-inspiring scenery, aching legs and challenges that we will never forget. Long story short, we found out we love to hike and we don't mind dramatic landscapes either.
~*~
5. Driving a Campervan Across Australia
After a storybook start to our travels in New Zealand, we touched down in Australia and took to living out of a camper van as we drove more than 5,000km, over 6 weeks, up the East coast of Australia from Melbourne to Cairns. It was challenging at times, but oh the things we saw and oh the things we did. Someday, after we win the lottery, we plan to return to Australia and explore it more in depth. Our highlight photo tour video from Australia can be found here.
~*~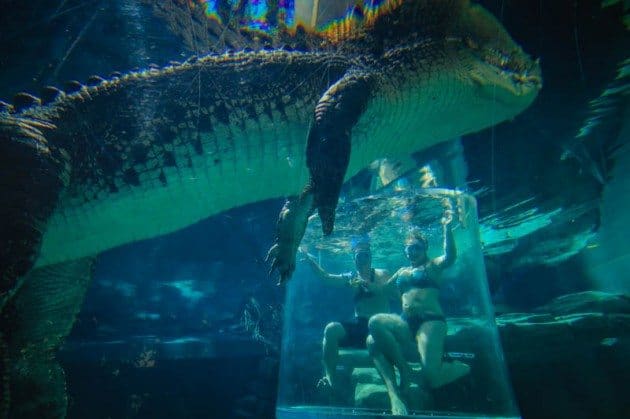 6. Cage Diving with Crocodiles
Yes, we got into the water with one of nature's fiercest predators, the Saltwater Crocodile. Lucky for us, we were separated from the jaws of death by a poly cage. That didn't stop it from being a heart racing and hair raising experience as the crocodiles circled the cage and sized us up for their next meal. Did I mention that these guys measure up to 5.5 meters (16.5 feet)! Check out the rest of our photos and read the whole story of our experience.
~*~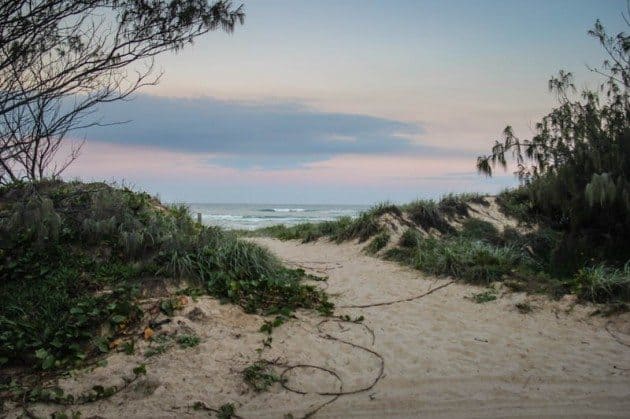 7. Bush Camping on Fraser Island
Fraser Island was an afterthought for us, we had never heard of it until we met a British girl that shared a hostel dorm with us in Wellington, New Zealand. She raved it and we decided we needed to check it out. Our 4 day bush camping and off-roading trip on Fraser Island is one of our best memories from Australia. It's amazing, it's beautiful, it's unique and it's raw; everything that makes a good start for an adventure. We slept in tents on a sand dune and fended off wild dingoes while drinking goon and playing card games.
~*~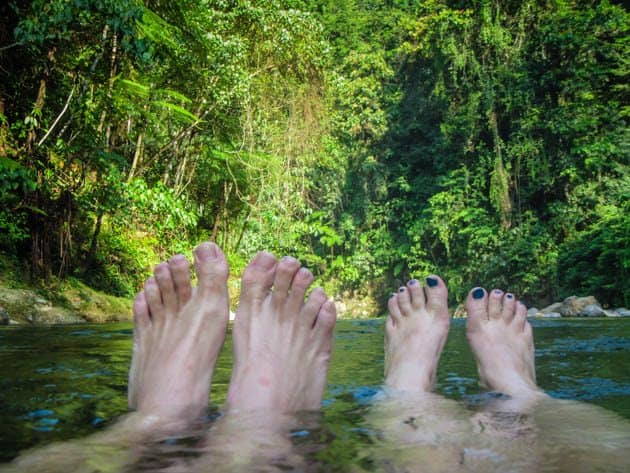 8. Jungle Trekking in Sumatra, Indonesia
Just saying this conjures up images of wild Orangutans, local porters, intense sweating and jungle camps. Indonesia has so many amazing things to experience, but our time in Bukit Lawang was unmatched by the others. The jungle here is thick and one of only 2 places in the World you have a chance to encounter the endangered Orangutan in it's natural habitat. We trekked for over 8 hours the first day, up 3 mountains before making camp next to a river where we were greeted by the curious primates.
~*~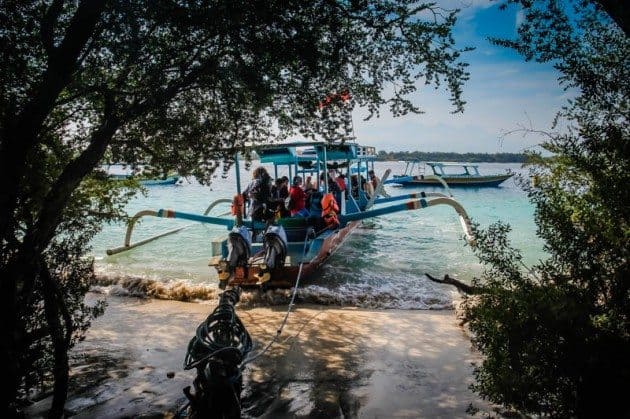 9. Getting PADI Certified on Gili Trawangan, Indonesia
After going under the water for the first time on the Great Barrier Reef in Australia, we fell in love with scuba diving and completed our PADI open water certification when arriving in Gili Trawangan. The diving here was fantastic with clear visibility and loads of marine life. The island vibe here is so far unmatched by any other island destination we have found in our 15 years of travel. Take a look at our Top Photos from Gili Trawangan.
~*~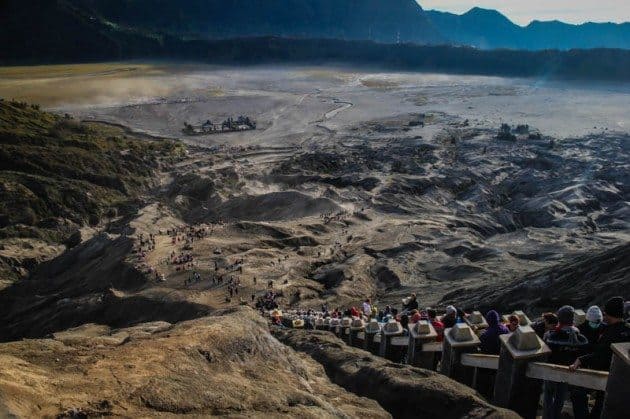 10. Over Landing through Java and Climbing Mount Bromo
In my opinion, Indonesia is best explored by land and sea, so we opted to travel from Kuta, Bali all the way to Yogyakarta, Java. This was a 3 day trip with a stop in Cemoro Lawang to check out Mount Bromo. The adventure started when we arrived at 11pm into Cemoro Lawang and knocked on several doors searching for a bed before we found one, got 3 hours of sleep, then headed to Bromo to watch the sunrise and then climb the side of the volcano to the lip of the crater. Challenging and at times crowded, it is still one of our fondest adventures.
~*~
11. Crossing the Border into North Korea
Yup, in 2014 we went to North Korea… well, sort of. While visiting South Korea we did the common visit to the DMZ but then took our tour one step farther with an intense extension to visit the Joint Security Area. This area shows the actual demarcation line between the two countries and we were able to offer the negotiations room and officially set foot into North Korea.
~*~
12. 3 Day Hike on the Great Wall of China
Most people just visit one small section of the Great Wall of China on a day trip from Beijing. We took it a few steps further and spent 3 full days hiking 4 different sections of the Great Wall. The hiking was intense and challenging but incredibly rewarding. We visited old, unrestored sections of the wall all the way to the restored sections. It was an incredible look at the history and marvel of the wall. Between days we stayed in local farmers villages off the Great Wall and enjoyed some of the best food we ate in China. You can read our detailed reports on this experience as follows: Hiking the Great Wall from Jiankou to Mutianyu- Day 1
~*~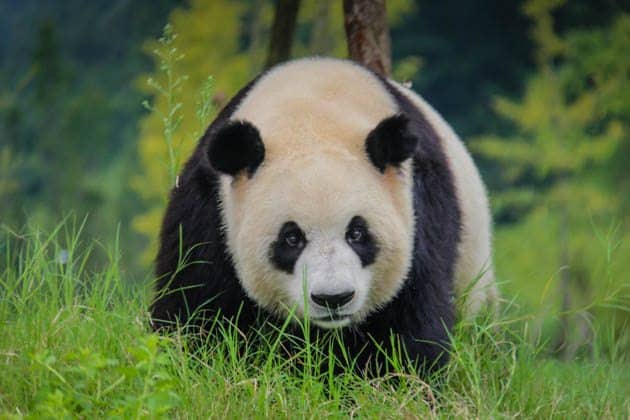 13. Volunteering at a Panda Research Center in Chengdu
Giant Pandas are the anthem child of the Peoples Republic of China, yet they are endangered and very few exist in the wild today. Great efforts are put forth by the research and support groups that reside in China to preserve this species and aid in population growth, breeding and relocation of the Giant Panda. We spent a day volunteering at the Dujiangyan Panda Center where we helped care for the pandas and learned all about the efforts to preserve this unique species.
~*~
14. Exploring Tibet
This was another trip we himmed and hawed about, we booked tickets to China and then made up our itinerary as we went, so the decision to visit Tibet was random. Let me tell you, most. amazing. destination. to date. Not kidding. We both can't believe we ever had second thoughts about visiting as Tibet is the kind of place that changes you as a traveler and shows you things you have only seen in National Geographic magazines. The history, religion, people and landscapes, everything will blow your mind.
~*~
[fusion_builder_container hundred_percent="yes" overflow="visible"][fusion_builder_row][fusion_builder_column type="1_1″ background_position="left top" background_color="" border_size="" border_color="" border_style="solid" spacing="yes" background_image="" background_repeat="no-repeat" padding="" margin_top="0px" margin_bottom="0px" class="" id="" animation_type="" animation_speed="0.3″ animation_direction="left" hide_on_mobile="no" center_content="no" min_height="none"]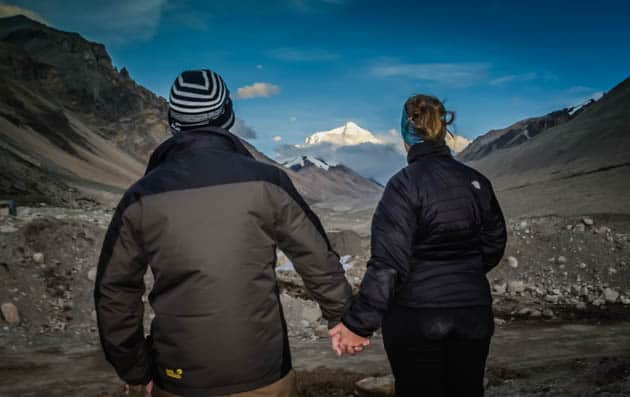 15. Sleeping at Everest Base Camp
Part of our trip to Tibet involved a trip to North Everest Base camp and it was incredible yet challenging. The elevation is a real issue here, even flying into Lhasa at 3600m puts you down for a few days. Traveling between Lhasa and Everest takes you through three 5000m plus passes and gives you a look at what real elevation feels like. Sometimes it isn't very pretty. We overnighted at base camp at 5200m and some of things I experienced will stay with me for life. however, the next day our trek up to base camp view point was one of the most amazing moments of our lives. Fair trade I think.
~*~
[/fusion_builder_column][fusion_builder_column type="1_1″ background_position="left top" background_color="" border_size="" border_color="" border_style="solid" spacing="yes" background_image="" background_repeat="no-repeat" padding="" margin_top="0px" margin_bottom="0px" class="" id="" animation_type="" animation_speed="0.3″ animation_direction="left" hide_on_mobile="no" center_content="no" min_height="none"]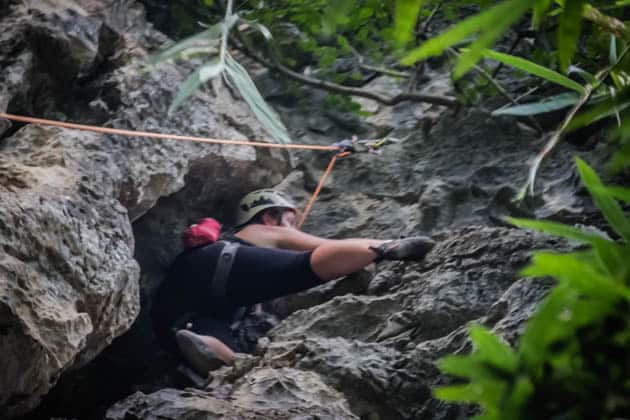 16. Rock Climbing on the Karst Mountains in Yangshuo
Having never tried rock climbing before, we decided to give it a try on our arrival in Yangshuo. Touted as the best destination in Asia for rock climbing, we weren't disappointed. We both took to the sport naturally, making our way skillfully up each climb. It came with it's challenges, but the views from the top spots above the tree line were out of this world and rock climbing is a sport we hope to do more of in 2015.
~*~
[/fusion_builder_column][fusion_builder_column type="1_1″ background_position="left top" background_color="" border_size="" border_color="" border_style="solid" spacing="yes" background_image="" background_repeat="no-repeat" padding="" margin_top="0px" margin_bottom="0px" class="" id="" animation_type="" animation_speed="0.3″ animation_direction="left" hide_on_mobile="no" center_content="no" min_height="none"]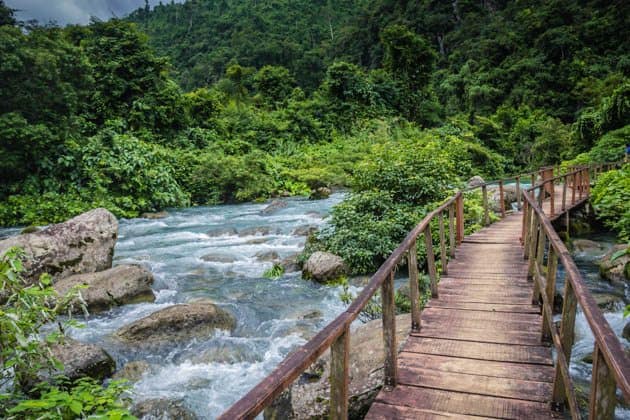 17. Taking a Buffalo Run in Vietnam
This was another thing we decided to do last minute and as with the other stuff we've planned late, it was amazing. We hopped in a van from Hanoi and made our way through some remote, off the beaten track places in North Vietnam as we made our way to Hoi An. We spent time camping in a remote national park, fending off leaches, sipping beers while watching a sunset in a remote farming village, climbed around in some of the World's biggest caves, experienced the DMZ and war sites, celebrated Halloween in Hue, motorbiked one of the most beautiful routes in SE Asia, avoided a deadly snake attack and ate weight in Banh Mi is Hoi An. This trip has inspired us to plan a return to Vietnam and rent motorbikes to cruise between Ho Chi Minh City and Hanoi on our next visit. The Buffalo Run is a do not miss in Vietnam.
~*~
18. Finding Remote Places in the Philippines
We had one mission in the Philippines, get away from the crowds and the busy beaches and we succeeded. Busuanga is one of the last frontiers on the planet and we had a chance to explore the island by 4×4 before taking to the sea on a 7-day sea safari. We spent our 7 days kayaking between uninhabited islands, snorkeling, camping on remote beaches and seeing some pretty amazing scenery. We even explored what was once the World's largest Leper Colony. The Philippines is about to explode with tourism, I suggest you get there soon.
~*~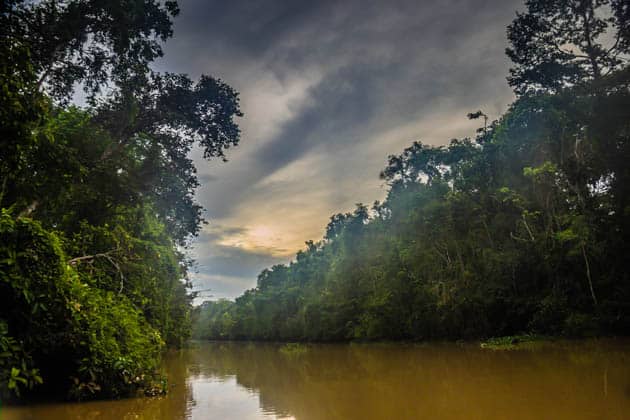 19. Nothing but Primary Rainforest in Borneo
A life time dream to visit Borneo was fulfilled in 2014 for me and it didn't disappoint. The primary rainforest in Sabah is the second best rainforest we have ever set foot into, losing only to the Amazon Rainforest. It is lush, dense and crawling with wildlife. We explored from the Kinabatagan region and every time we set off hiking or boating down the river we saw more animals then we can tell you about. I have a thing for jungles and nature, so this place holds a special adventure to me. If you seek rare, unique wildlife, head over to Sabah, pack some leech repellent and head into the rainforest with an informative guide.
~*~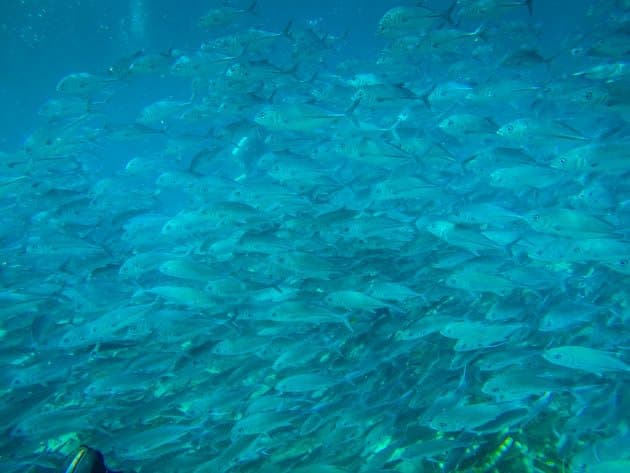 20. Scuba Diving at Sipadan Island, Sabah, Borneo
Sipadan Island is arguably the best scuba diving location in the World. It is incredible unique in that it lies close to the mainland, but in the middle of the ocean. The island is a volcano that has pushed though the surface and all around it is a 600m plus drop into the deep ocean. All along the sides are lush corals and an abundance of marine life, making this place a top place to see just about anything you can think of. It is best known for seeing many varieties of sharks, including hammerheads, huge schools of jack fish and barracudas, parrot fish the size of your own body and the healthiest coral systems you will ever encounter. It is also a trippy experience to dive in dark blue water, without being able to see what is around you. If you are into diving, put this on your list for 2015, while pricey to get here it's worth every single penny.
Where will adventure take you in 2015?
[/fusion_builder_column][/fusion_builder_row][/fusion_builder_container]