This week's travel blog interview:
Caz from yTravel Blog
1. Who are you and where are you from? Caz and Craig Makepeace from Woy Woy, (about an hour north of Sydney) Australia
2. Favorite thing about your hometown? We are on a peninsula so surrounded by water. It is scenically very beautiful.
3. #1 Reason you travel? to discover more about myself and the world and through that connect more deeply to myself, other people and the planet. (oh and to have fun)
4. Job you left behind? Primary school teacher (Caz) and carpenter (Craig)
5. What did you give up to save money for travel? Luxury items like stylish wardrobes and fancy cars. And having to live with Craig's parents. That's a tough one!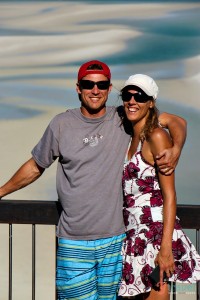 6. What kind of backpack do you carry and why? No allegiance to any particular brand, but it has to be a front opening one. I can't stand top opening backpacks, it is a pain to organize and get things out of when you are in a hurry.
7. Funniest Travel/WTF moment? One funny moment was when my (Caz) best friend was beat up by a monkey in an Indonesian Zoo. She got too close to the bars and it reached out yanked her hair and starting whacking her on the head. She was okay, which meant we had permission to laugh hysterically.
8. Favorite 'Off-the-beaten-Path' place: Uganda
9. Your MUST HAVE(s) while on the road: open mind, water, passport, camera, notepad, children, sense of humour, patience
10. Laundry: Send it out or use the sink? SEND it!
11. Favorite book: The Power of One by Bryce Courtenay
12. Stay out late or get up early? Get up early by choice, but at the moment both by necessity.
13. DSLR or Point & Shoot? DSLR; We use a Canon 700D and take a 50ml lens, a standard kit lens 18-55ml and a zoom 75-300ml
14. Favorite kind of Pizza: vegetarian with anchovies
15. What is your average daily budget? Now with kids at least $100, depending on where we are travelling. Before kids $25-30
16. How many countries have you visited? 51
Website: http://ytravelblog.com
Facebook: http://facebook.com/ytravelblog
Twitter: http://twitter.com/ytravelblog