This Week's Travel Blog Interview:
Syd of Nomadically Inclined
1.Who are you and where are you from? My name is Syd Schulz and I run the travel blog Nomadically Inclined. I'm originally from Athens. Ohio not Greece. But I went to college in Vermont and California and now I don't really live anywhere in particular.
2. Favorite thing about your hometown? The colors during fall or maybe the fact that we can grown pawpaws in Southern Ohio and no one else knows what a pawpaw is. (Google it.)
3. #1 Reason you travel? I hate routine and I get antsy whenever I stay somewhere for longer than two months. Plus, the world is full of so many awesome and totally different places. If you stay in one place you only see one tiny sliver of that awesomeness.
4. Job you left behind? I've done a pretty good job of avoiding that job thing so far. I'll keep you posted.
5. What thing(s) did you give up to save money for travel? Drinking lattes, eating out, owning a car, buying organic produce, going to grad school, partying, financial stability in general. But you know what I didn't give up? My freedom, happiness and sanity. So I think I know which way my scale tips.
6. What kind of backpack do you carry and why? I'm not really a "backpacker," but I'm absolutely in love with my Osprey Packs Shuttle rolling suitcase. It's light, has industrial strength wheels AND fits as a carry-on. I also have a backpack that I carry for my computer, books, camera, etc. It's also made by Osprey–I think it's called the Portal and I'm really into it because it's super compact and has a padded computer case. Big improvement over my old North Face backpack that just kept getting bigger and bigger the more stuff you shoved in it until you looked like the Hunchback of Notre Dame. (Sorry, I'm a bit of a gearhead.)
7. Funniest Travel/WTF moment? Probably the time my boyfriend Macky and I ran out of gas in our rental car three kilometers away from a gas station in Southern Argentina. Three kilometers! This after driving 300 kilometers through the middle of nowhere. Obviously we were lucky, but it was still really annoying because we were SO CLOSE. Or, also car related, the time our transmission blew in the middle of Missouri on a cross-US road trip. We junked the car for $500, rented a Jeep and kept going. I mean, seriously, WTF.
8. Favorite 'Off-the-beaten-Path' place: Siete Tazas in Chile. A beautiful park with the most amazing blue-green marble rock swimming holes. It was a recommendation from friends in Santiago and we thought they were crazy, because after driving two hours on this teeny-tiny dirt road, we still hadn't found it. I'm pretty sure the "road" turned into a cow path before we go to the campground. But it was totally worth it.
9. Your MUST HAVE(s) while on the road: Warm socks. Bathing suit. A positive attitude.
10. Laundry: Send it out or use the sink? Sink it, for sure. Until things get really desperate, that is.
11. Favorite book: Tracks by Robyn Davidson. And anything by David Sedaris or Ernest Hemingway (yes, I'm aware that that's an odd combination).
12. Stay out late or get up early? Early. I stop functioning at 10pm which explains my very complicated relationship with Argentina. What's the deal with an entire country eating dinner at midnight? Seriously…
13. DSLR or Point & Shoot? What brand(s) and lenses do you carry? I have Canon 60D DSLR but I still don't know what ISO means. Shameful, I know. As for lenses, I have a big one and a medium sized one. (When I said gear head, I meant non-technological gear). One of my New Years resolutions is to learn how to use my fancy-pants camera on something other than auto mode…
14. Favorite kind of Pizza: Green chile, green peppers and spinach at Pizaños in Taos, New Mexico. Or, if I'm really feeling indulgent, the steak, potato and cheddar pie from Avalanche Pizza in Athens, Ohio.
15. What is your average daily budget? Depends on the country, but we usually shoot for $15/day. Easy if we are renting a place long term and can cook. Otherwise, not as easy, especially in the US. We do a lot of camping on highway pull-offs and sleeping on friends couches.
16. How many countries have you visited? Seven. I'm not really a country-counter. I think the mindset of travel is more important than the countries visited or even the time spent traveling. As long as you're always exploring, wherever you are, it counts.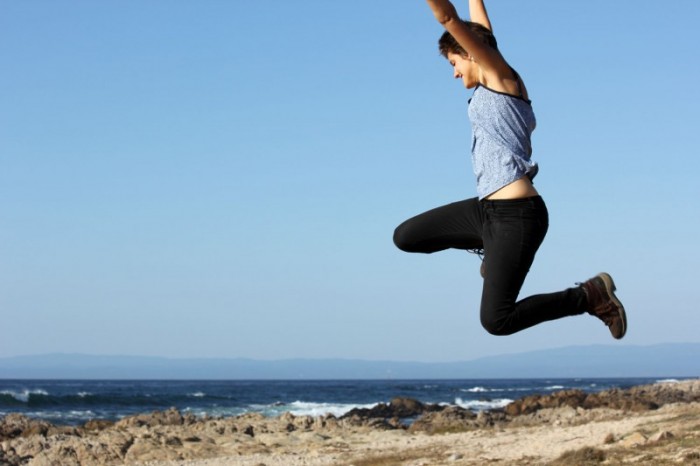 Website: www.nomadicallyinclined.com