There is something about soaring through the jungle wearing nothing but a harness while attached to a line that connects between two trees. When we first started traveling, we weren't sure what kind of travelers we were. We just knew that we wanted to explore far off places that weren't home. After a pretty tame first trip to Mexico we found ourselves seeking a bit more adventure on our return trip the following year.
Who doesn't love a little adventure?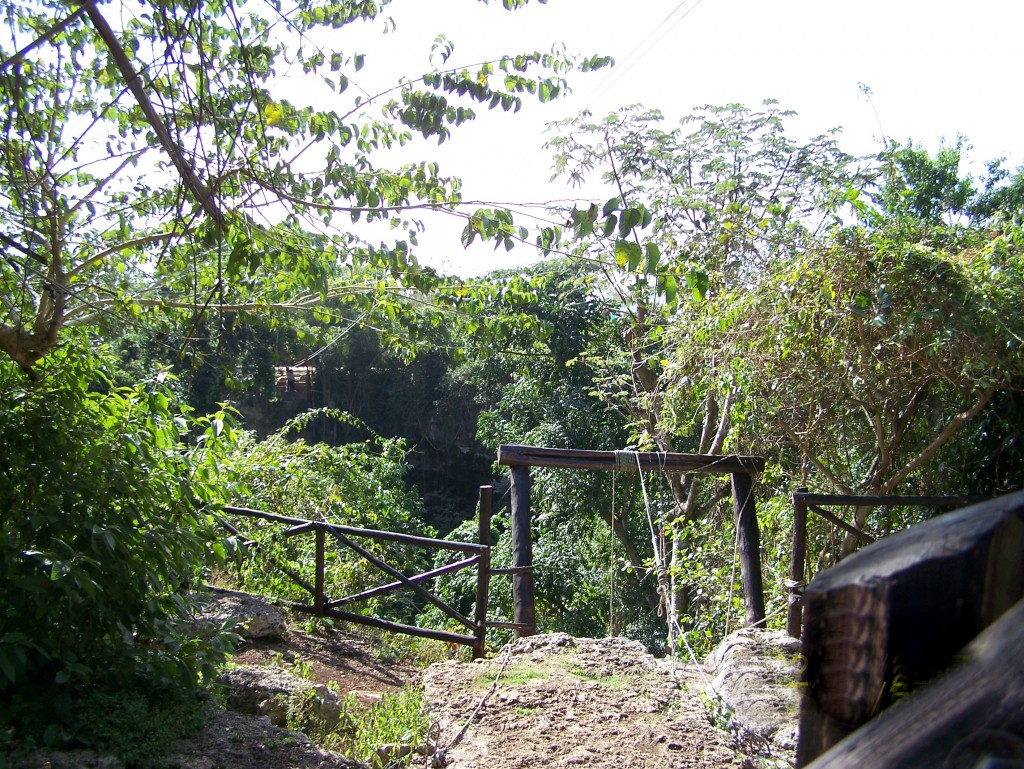 We signed ourselves up for zip lining and we weren't really sure what to expect. Neither of us had ever done anything like this, especially in a foreign country. I will admit, I was a little scared, but there was something in the curiosity of it all that made me show up that day. What I wasn't prepared for was how much we would both enjoy it and how that days activities would morph us into adventure junkies.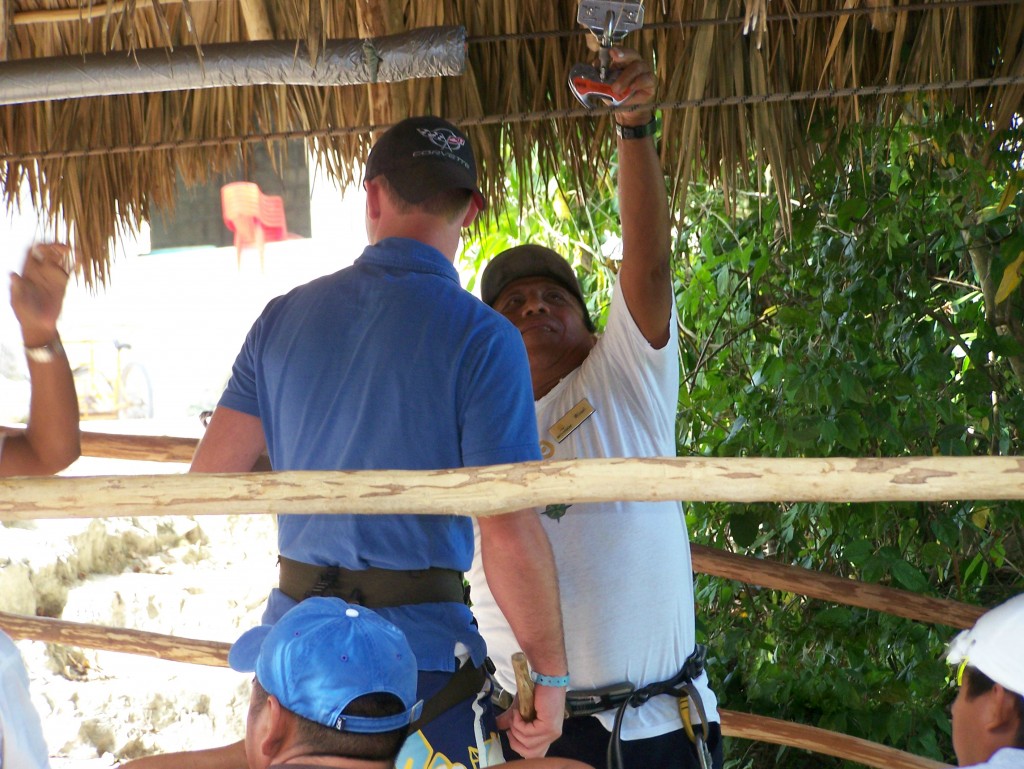 The drive into the jungle from the resort area was a long one, about an hour. The anticipation just about killed me. Having never done anything like this, I really didn't know what I was in for. When we arrived, I searched the area seeking a glimpse at the towers and lines but I wasn't able to see anything. We were shown into a building where we were fitted for our harnesses, helmets and given a briefing on what was involved for the activity that day.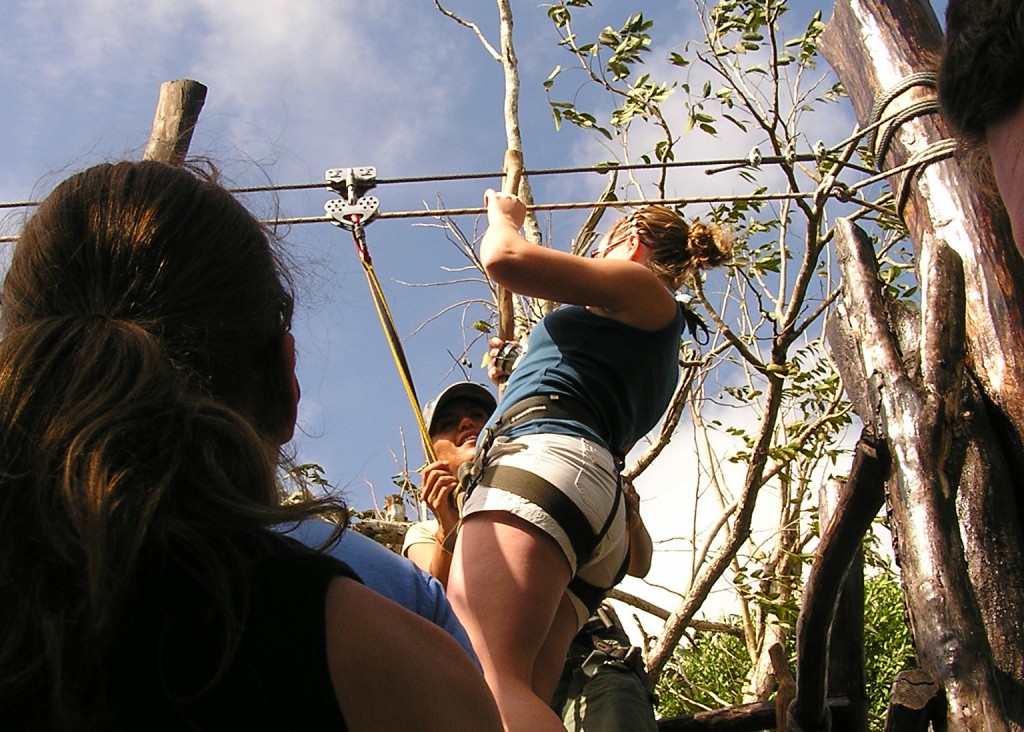 After our briefing, we headed out towards the towers where we would climb to the top and start on our first line. The whole course was made up of about 10 lines that strung their way through the jungle canopy to various platforms. At each platform was an employee of the adventure company. They were there to help if needed and rescue you if you used too much brake on your line and happened to get stuck.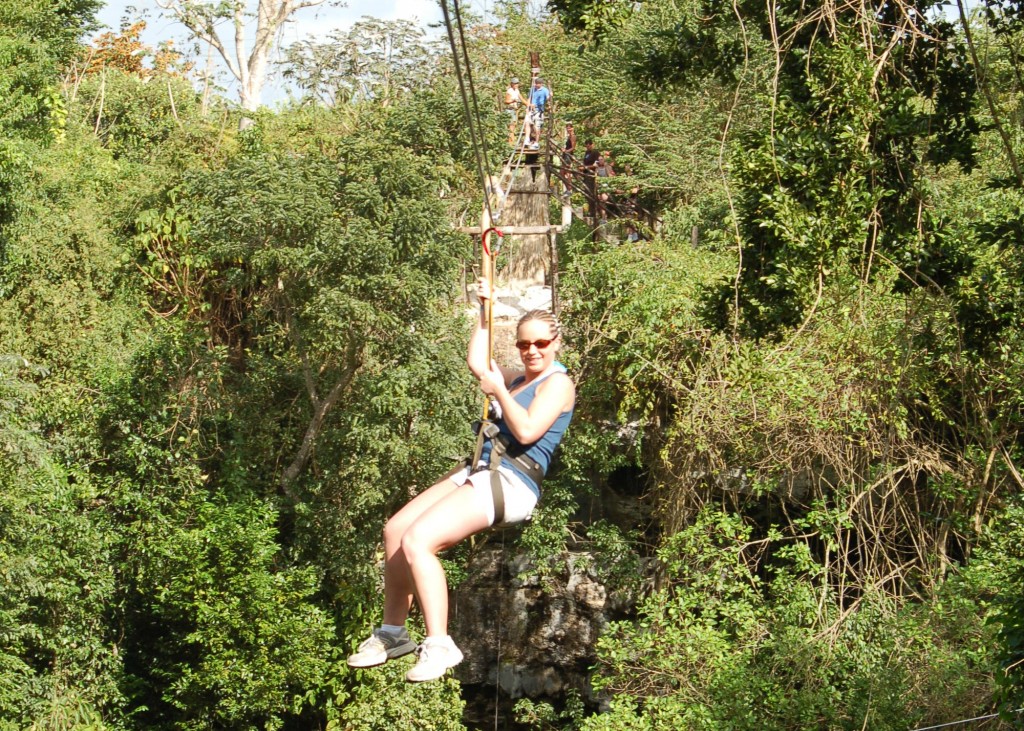 Approaching the tower I realized I had gotten myself into something much different than I had imagined. The tower was HUGE. I stood at the bottom questioning my insanity. Apparently, so was everyone else because no one climbed ahead of me. The guide gave us some encouragement, we all laughed and up I decided to climb. My legs shaking the whole way up the ladder to the top.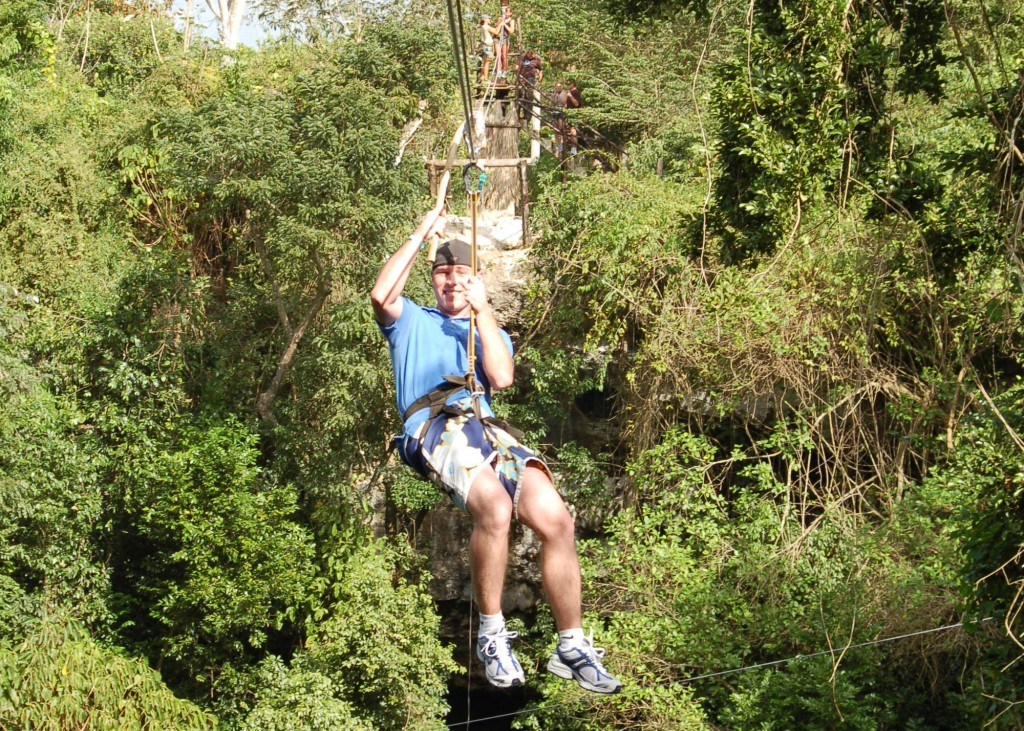 WOW. I was up really high. You know that moment when you are too far in to turn back but not in far enough to just do it? That is where I was at that moment. They proceeded to hook me up to the line, handed me the 'brake' (a wood stick with notching in it that you are supposed to put on the line behind you to slow down), told us not to use the brake too much or we will get stuck and then told me to jump off the tower. Yes, JUMP off the huge, high tower praying you are hooked up correctly. Oh man. I nervously laughed, looked at David and promptly jumped off the edge of the tower.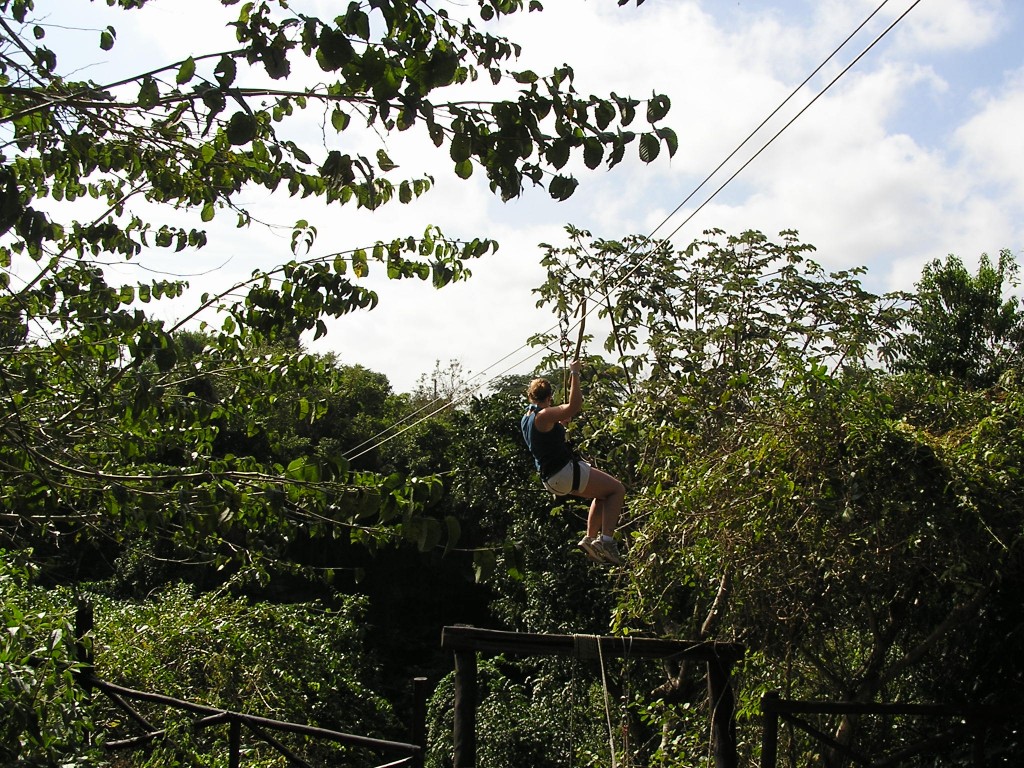 The next 30 minutes was probably one of the most exciting moments of my life to that date. It is hard to express the feeling that you get when you are soaring that far above the jungle, going quite fast. It is a freeing and liberating experience. Of course after I survived the first line I was pretty excited and went flying between all the towers. I WAS slightly paranoid about being stuck half way between them. So I always came in too fast with the employees laughing and cheering. I hardly used that brake.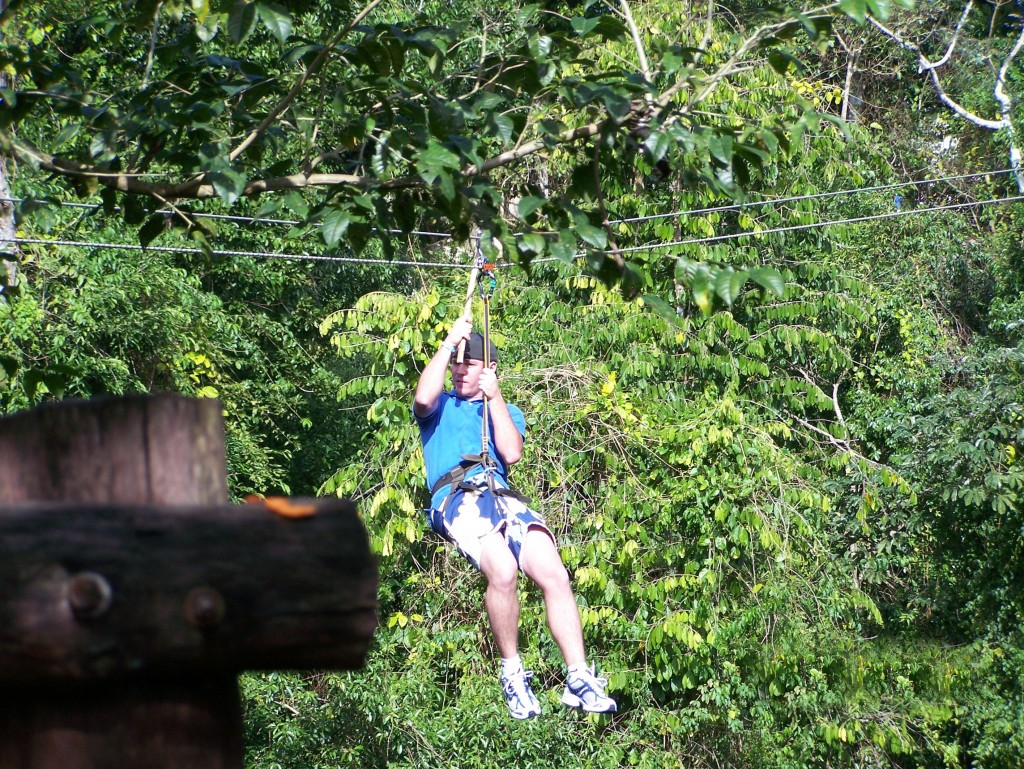 The adrenaline rush that came from jumping off 10 of those towers was incredible. It became obvious to me that I had some adventure in me. That I was going to want more of these experiences. People think I'm crazy sometimes when I tell them about all the adventures we've had and the things we have planned. But I don't think we are. We decided that day in Mexico that we were going to make the most out of life and have fun doing it. This experience was the open door into much more adventure on our travels.
Have you tried Zip Lining?