Paris is one of the most visited cities in Europe and has a surplus of iconic things to do and see. This is what makes a long weekend in Paris the perfect getaway with your loved one or even your girlfriends.
I would recommend a bare minimum of 3 days to hit the highlights of Paris but also be able to take some time to enjoy a glass of wine and people watch. With that said, be prepared for a fairly packed 3 days in Paris itinerary in this guide of the best things to do in Paris.
Before you start your long weekend in Paris, I highly recommend purchasing the Paris Pass. This little gem is going to give you access to pretty much everything listed in this guide, free access to the entire public transportation system including the metro and a 48 hour Hop on Hop off bus ticket.
Get the Paris Pass online to save time and money on your trip.
---
Your Ultimate Itinerary of Paris Planner
---
Day 1 – Itinerary for Paris
If you're flying from the USA, most flights leave in the evening and arrive in Paris in the morning. While you'll have jetlag, this is going to give you a whole day to relax and start seeing the city at a slow pace.
Try to sleep on the plane so that once you land in Paris, collect your luggage and make your way to your hotel, you have the energy to go for a walk and start seeing the city.
This will likely be your first solid day in the city, so try not to waste it if you're limited to a long weekend or only a couple of days.
Don't leave home without: Lonely Planet Discover Paris.
Latin Quarter
The Latin Quarter of Paris is located in the 5th and the 6th arrondissements of Paris. It is situated on the left bank of the Seine and arguably the best location to be based on a visit to Paris.
If you're not able to snag a good deal in this area, head to the Latin Quarter via Metro and get off at Cluny, La Sorbonne (Line 10 – yellow line).
Get off the main road and wind your way down one of the smaller alleys to find a small cafe to have breakfast – they're literally everywhere.
A Parisian breakfast is usually light, just a croissant or pain au chocolat or maybe tartine and jam and coffee. I was lucky enough to stay in this district on my last visit to Paris and every single morning I'd follow my nose down the street for a coffee and croissant.
My incredible base at the Hotel de Seine made the rest of Paris very accessible.
Notre Dame
Notre Dame is the most visited site in Paris. A 12th-century gothic church with beautiful architecture and stain glass windows, one could easily spend a couple of hours here exploring. Climb the nearly 400 steps to the top for a fantastic view of Paris.
There is an English guided tour around 2PM which is why I put this site in the middle of the day, but you could easily make this your first stop if you want to self-guide and miss the crowds.
Also, don't forget to check out the Saint-Chapelle Church nearby which also has beautiful narrow stain glass windows reaching up toward the ceiling. Notre Dame is accessible via the Saint-Michel Stop on Line 4 (Purple).
General Admission: Free, Ascend: €8.50, Crypt: €4
Opening Hours: Daily 7:45 AM-6:45 PM
Seine River Cruise
Your next few days will be pretty busy so today is a great time to take advantage of a Seine River Cruise. You can put your feet up and get a unique perspective of Paris with a beautiful cruise down the Seine.
A fabulous introduction to Paris is to do a Champagne Tasting on a Seine River Cruise tour.
Ile Saint-Louis
A peaceful island in the Seine River behind the Notre Dame gardens, Ile Saint-Louis is beloved for its bustling streets, small boutique shops, and historical buildings. Visit the Brasserie de l'Isle Saint-Louis to sample one of the 90 flavors of handmade ice creams.
Louvre Museum
If you have the energy and are lucky enough to arrive on a Friday, the Louvre is open until 10pm and on these days, the crowds are thinner after 6pm.
The Louvre is the largest and one of the best art museums in the world with over 400,000 pieces of art so make sure you grab your coffee and have your good walking shoes on.
Take the Metro to Palais-Royal–Musée du Louvre (Line 1, yellow) and enjoy both the inside and outside of this enormous and beautiful museum.
It opens at 9AM but do note that the Museum is closed on Tuesdays. Plan to spend at least 3 or 4 hours here.
If you happen to visit the Louvre Museum during the day, after you've tired yourself out looking at so much wonderful art, take a breather in the Jardin de Tuileries right next door.
Grab some food and have a picnic lunch outside on the grass. It is a truly beautiful garden that you could walk for several hours.
If you're going it on your own, I recommend a good guide book and a Louvre Museum Skip the Line Ticket so you don't waste hours standing in line.
Related Article: Facts about the Louvre Museum
Admission: €15 Adults, Children Free
Opening Hours: Mon, Thurs, Sat,Sun (9AM-6PM), Tues (CLOSED), Wed,Fri (9AM-10PM)
Covered under the Paris Museum Pass.
---
Day 2 – Paris in 3 Days
---
After a successful landing in Paris, an exciting introduction to the city on your first day and some successful sleep, it's time to really hit the streets of Paris and explore.
Don't leave home without: Lonely Planet Discover Paris.
Buy a Hop On – Hop Off Bus Ticket
First things first, I highly recommend you buy a 48 hour Hop on Hop Off bus ticket to see the city. Yes, they are cheesy, yes they are an iconic tourist thing but let me tell you, they get you to the best parts of the city and you get to see everything in between the sights.
Don't get me wrong, I am all for the use of public transport and usually end up combining the two of these to tour a new city, but I love taking the HOHO bus around.
It lets you hop off where you want and this lets you explore at your own pace. They typically run audio for you to listen to during the ride that tells you interesting facts and history about the things you are seeing and the city itself.
Hot Tip: Book your HOHO bus ticket in advance and save yourself the time and frustration of trying to find a place to buy tickets!
Once you have your bus tickets, make your way to the closest pickup point and get ready to explore Paris. At this point, your options are endless and completely up to your interests.
However, I recommend breaking up your 48-hour pass in the ways described for the next 2 days. There are so many options for things to do in Paris, but we'll make sure you see the best.
You can experience a Hop on Hop off bus tour with two companies in Paris, L'Open and Big Bus. I used the L'Open bus because it has 4 routes that get you into the nooks and crannies of Paris.
The Big Bus has 2 routes and while it hits all the major sights, I like having the option to get off the beaten path a bit. Save time and money, book your bus tickets before you arrive in Paris: L'Open | Big Bus
Get the best city map of Paris: Lonely Planet Paris City Map (Travel Guide)

Place de la Concorde
Honestly, I truly believe this is one of the prettiest plazas in Paris. This site not only showcases great architecture and a huge fountain but is also rich in history.
Measuring 21 acres, it is the largest square in Paris and the official historical site where Marie Antoinette and King Louis XVI were beheaded during the French Revolution.
Be sure to spend some time wandering here and contemplating French history. Marvel at the fountains and take in the views as you'll see the Eiffel Tower poking over the tree line in the distance.
You have two options once you've finished here, you can get back on the bus or you can start walking down the Champs Elysees towards the Arc de Triomphe.
Champs-Élysées
No matter how you arrive here, be sure to take some time to walk about 15 minutes down the famous boulevard and do some window shopping. Paris's most famous street, you'll find high-end designer stores here and enjoy the hype.
Something else to note is that some of the top end macaroon shops reside here, you'll pay a pretty penny but you'll be in for a treat. Grab a coffee, a macaroon and do some people watching. If you're lucky, you'll catch a glimpse of a celebrity.
Arc de Triomphe
Easily one of the most visited sites of Paris behind the Eiffel Tower is the Arc de Triomphe. Sitting at the head of the Champs Elysees, it's a sight to behold.
Whether you arrive by bus or by foot, prepared to be wowed by this large structure adorned with intricate sculptures and sculpted reliefs. You shouldn't miss a climb to the top of the arch, stopping halfway at the history museum, and get a beautiful panoramic view from the top.
When gawking at the structure from street level, be very careful of traffic. Don't stand in the middle of the road. If you set up a tripod, be aware of your surroundings as this is a popular place for diversion snatch and grabs. Always make sure you have a hand on your tripod.
Admission: €12
Opening Hours: Daily 10 AM – 11 PM
Covered under the Paris Museum Pass
Rue Cler
Walkabout 10 minutes along the Rue de Grenelle and discover Paris's famous market street. Full of bakeries, cafes, and specialty stores, this is where locals come to do their daily shopping.
Trocadero
Personally, I feel you get some of the best views of the Eiffel Tower from the Trocadero Gardens. It is by far the best place to capture night photos of the tower if you're into photography.
Not only does it afford you great views but it has beautiful architecture and huge fountains that run down the hill, leading to the Eiffel Tower. Take some time weaving through the fountains and gardens.
Eiffel Tower
Gather your strength and explore the Eiffel Tower. There are three levels you can choose to ascend to depending on how energetic you feel. You have the option of taking an elevator or the stairs.
To take the stairs to the very top platform is about 1700 steps but you will be able to get a view of every angle of this most famous structure and get a spectacular night view at the top. Admission prices vary based on age and how high you want to go.
Admittedly, I was very drawn to this iconic landmark on my last visit to Paris. I couldn't get enough of it so I ended up visiting it several times during my long weekend in Paris to capture it in a different light with my camera and just take in the changing atmosphere with the time of day.
Visiting the Eiffel Tower is one of the best things to do in Paris, hands down.
Another great option is to visit the Eiffel Tower by Night. See the 'City of Lights' sparkle on a guided night tour of the Eiffel Tower.
Skip the ticket desk line and rise straight up to the second-floor observation deck of Paris' most recognizable landmark.
Take in spectacular panoramic views of the cityscape, and admire illuminated monuments like Notre-Dame Cathedral, Sacré Coeur Basilica, the Arc de Triomphe, and the Louvre.
Admission: €4-€11
Opening Hours: Daily 9 AM-12 AM
Accessible independently via the Trocadéro – Line 6 (green-blue) or line 9 (yellow)
Champ de Mars
Head to the end of the Champ de Mars, a long green park leading to the Eiffel Tower, and take a load off. Bring a picnic blanket and a bottle of wine, and enjoy people watching as the sun sets and the Eiffel Tower lights up.
This is a great place to come with friends and just take some time to soak in the Parisian atmosphere.
Also note, there always seems to be some type of art exhibition going on. When I was there, the Champ de Mars was lined with bear statues, each one painted differently to represent a different country in the world.
Seine River Night Stroll
If you still have some energy after descending the great tower, take a peaceful stroll along the Seine River and enjoy seeing the City of Lights lit up. Poke your head into one of the many cafes for a bite to eat and if you're lucky, some live music.
Get the best city map of Paris: Lonely Planet Paris City Map (Travel Guide)
---
Day 3 – Paris Itinerary
---
Set that alarm for another early start, freshen up, grab a coffee and croissant in the street and head for the bus pickup for a second day of seeing the city with your HOHO bus ticket.
Don't leave home without: Lonely Planet Discover Paris.
Les Invalides
First stop, head for Les Invalides to visit the military museum, see Napoleon's Tomb and wander the Alice in Wonderland type garden.
This wasn't a stop that was originally on my radar but it was beautiful and I can't imagine visiting Paris and not seeing it.
The museum is captivating with an intense history of the military of France. On top of it, the tombs of several famous French war generals can be seen here and you can also take a visit to the crypt.
The surrounding grounds are worth at least 30 minutes before hopping back on the bus and continuing to the other things to do in Paris.
Admission: Full price: €11; Reduced price: €9
Opening Hours: 10 AM to 6 PM. Closed every first Monday in the month, 1 January, 1 May, 1 September and 25 December.
Pantheon
The Pantheon is an impressive 18th-century mausoleum with columns in the front and a large dome dominating the rest of the building.
The edifice is truly a stunning piece of architecture and it is definitely worth at least a 30 minute wander inside to appreciate the size of the dome and the paintings within.
Also not to be missed are the crypts below which act as the final resting place for some of France's greatest heroes.
Admission: 9€/ Free under 18
Opening Hours: 10 AM-6:30 PM
Luxembourg Gardens

Leave the Pantheon, grab a gelato from Amorino and walk just 5 minutes to the west to feel like you're entering a French painting at the Luxembourg Gardens.
Hopefully, your day is a sunny and warm one- when I visited it was October and the forecast was 50 and sunny…. we froze. So pack accordingly.
Families having picnics, children floating sailboats in the lagoon or riding ponies, audiences watching puppet shows, people sunbathing or playing chess in the shade – you will certainly feel like you've entered an enchanting another world here.
If you want to head indoors you can also check out the Luxembourg Museum that displays collections of 19th-century art or of course, the Luxembourg Palace.
Admission: Free (Gardens), 11€ (Museum)
Opening Hours: Daily 7am-4pm (Gardens), Sat-Thurs 10:30 AM-7:00 PM, Fri 10:30 AM-10 PM (Museum)
Le Marais & Rue Des Martyrs
Part of visiting Paris is also discovering the many districts within the city. Don't limit yourself to just one area as they are all different and all have their own flare.
Wander along with this historic district's 60 shops and tour through Paris's charming Jewish Quarter. This is also a great, central place to stay that will make you feel like you're in medieval Paris.
If the Marais gets too crowded for you, explore the Rue Des Martyrs, a more bourgeois neighborhood of friendly vendors and residents. Located in the Montmartre district, this street is a hill leading to the highest point in Paris.
Have a coffee at Café des Deux Moulins, the cafe made famous by the movie Amelie. Enjoy the old fashioned charm of one of the busiest streets in Pigalle.
Basilique du Sacré-Cœur
Explore Montmartre, Paris's most famous hill, fully by summiting the highest point of Paris at the Sacred Heart Basilica.
The completely white Roman Catholic Church has a beautiful exterior with a nice interior as well. The entrance is free but you can climb the 300 steps to the top for a spectacular panoramic view for €6.
Be very wary of pickpockets and scammers here and keep a tight hold on your belongings. It is not uncommon for snatch and grabs to take place here, as well as pickpocketing.
The vendors will also be overpriced, so save your souvenir shopping for a different area. If you've paid the money to climb the stairs be sure to take some time and enjoy the inevitable musicians performing at the top while you soak in the views of Paris below. Easily one of the best things to do in Paris.
General Admission: Free, Balcony Admission: €6
Opening Hours: Daily 8.30 AM to 8 PM (May to September), 9 AM to 5 PM (October to April)
Place du Tertre
Just five minutes away from the Basilica is the Place du Tertre, a square where outdoor art vendors sell their fare. I, for one, always like to visit the art scene if there is one and in Paris, it's not to be missed.
Get a memorable souvenir and have one of the artists paint you in this classic cobblestone square or just take in the artistic atmosphere.
Moulin Rouge
End your day in style with Paris's most popular show. This famous Cabaret is the birthplace of the Can-Can. And if you can, you really should buy a ticket in advance for the cabaret theater show. Enjoy the vibrant colors and compelling choreography of this spectacular performance.
This is not a cheap option for dinner but I guarantee you'll have a memorable night out in Paris's risque district. Like many things in Paris though, you've got options. If you don't fancy waiting in line or showing up only to find out that all the tickets are gone, book ahead of time.
Immerse yourself in the extravagance of the Moulin Rouge, the most popular show in Paris, during an unforgettable evening that includes a gourmet 3-course meal. See talented troupes of colorful showgirls and expert dancers strut their stuff on the historical stage of the Moulin Rouge.
Cabaret Show Tickets: €100-€200 per person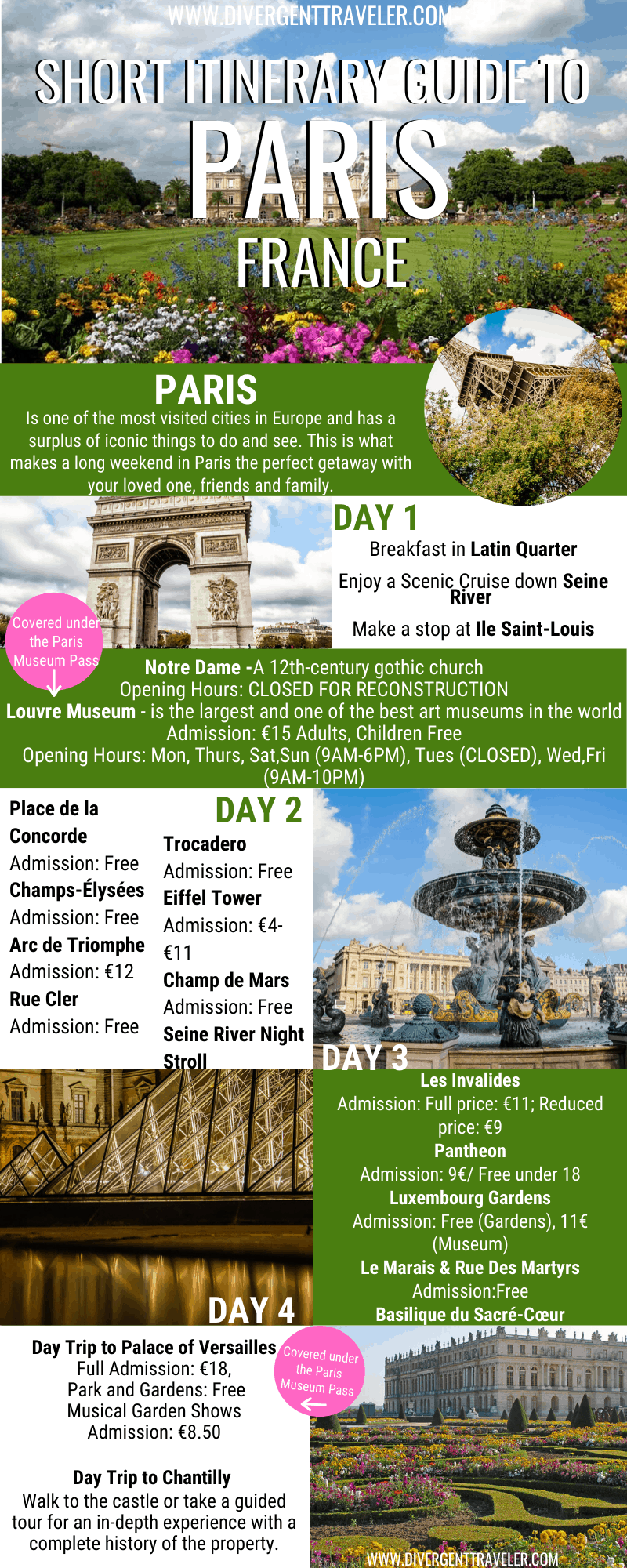 ---
Optional Itinerary for 4 Days in Paris
Now that you've spent 3 days taking in some of Paris's best sights, I highly recommend heading outside the city for a day trip. There are, of course, many on offer and it's really hard to choose so I've compiled the very best for you to choose from.
Learn about the Best Day Trips from Paris
Day Trip to Palace of Versailles
Located about 45 minutes outside the city, you can take the RER C (leaving from central Metro stations in Paris including Tour Eiffel, Notre Dame, and Musee d'Orsay) and walk a few minutes to the castle or you can book a tour if you're not comfortable taking the train a long distance. However you get there, plan to do so early.
The palace opens at 9 AM and if you arrive too late you could be waiting for an hour to enter. Purchase your ticket online in advance to avoid the lines.
If you bought the Museum pass, admission to the Palace is included but the entrance to the Musical Gardens is not so if you want access to the Garden shows, buy a ticket in advance for about €9.
As for the palace itself, it is beautiful and full of history. Go through the interior in the morning (audio guides available), find a place on the grounds for lunch (great place for a picnic!), and then explore the breath-taking gardens in the afternoon.
Don't miss the famed Hall of Mirrors, the table where the Treaty of Versailles was signed, and Marie Antoinette's apartment.
You can choose to see Versailles in a number of ways. Popular options include a dedicated trip, combining with visits to other places and on your own.
Full Admission: €18, Park and Gardens: Free
Musical Garden Shows Admission: €8.50
Palace Entry covered under the Paris Museum Pass
Opening Hours: Mon (CLOSED), Tues-Sun (9 AM-5:30 PM)
Transport: Book a round trip Paris – Versailles Rive Gauche ticket
Day Trip to Chantilly
Admittedly, I was drawn to Chantilly for the horses but wow, this proved to be a fantastic and not very exercised day trip from Paris.
There were no crowds and we enjoyed the castle, stables, and grounds with very few other people. Not to mention the village of Chantilly is very charming to explore with garden walkways from the main part of town to the castle.
Each day there are performances in the stables with the royal horses that demonstrate upper-level dressage and talk about the riding program at the property.
There are also international horse shows held on these grounds at certain times of the year. The castle is extremely photogenic and a beautiful way to spend a day away from Paris.
Go on your own by taking the train from central Paris to the village of Chantilly and then walk to the castle or take a guided tour for an in-depth experience with a complete history of the property.
Get the best city map of Paris: Lonely Planet Paris City Map (Travel Guide)

Related Article: Amazing castles to visit in France's fairytale Loire Valley
Other Popular Day Trips from Paris:
---
Filling your Itinerary in Paris
---
Museums in Paris You Shouldn't Miss
Determining what museums to visit is a very personal thing. Besides the Louvre Museum, which everyone that visits Paris should see, there is a museum to suit every interest imaginable.
With that in mind, I've curated some of the best museums to take in on a visit to Paris. Museums, after all, are one of the best thins to do in Paris.
All of the museums listed below are covered by the Paris Museum Pass unless noted. Don't forget to purchase this pass if you want to see several museums during your long weekend in Paris.
Paris Museum Pass – Choose 2, 4 or 6 Days with Hotel Delivery in Paris
Musee Rodin
You could either walk 25-30 minutes or take the metro to Varenne (métro line 13) the next part of the day.
Unlike other Parisian museums, this hidden gem of a museum housing Rodin's works is actually rather peaceful and once done touring the interior, you can stroll the English style rose garden outside where you can find such famous works as The Thinker and The Gates of Hell.
Admission: €10
Opening Hours: Mon (Closed), Tues (10 AM-5:45 PM), Wed (10 AM-8:45 PM), Thurs-Sun (10 AM-5:45 PM)
Musée d'Orsay
The Louvre isn't the only remarkable museum in Paris. If you walk through the Tuileries garden and across the river you'll find the Musée d'Orsay to the left.
Some even claim to enjoy the Musée d'Orsay better than the Louvre because it is less overwhelming and focused on just impressionist and post-Impressionist works.
If you climb to the balcony you will get a stunning view of the Sacré-Cœur Basilica. The Musée d'Orsay is closed on Mondays.
Admission: €12 Adults, 18-25 y.o. €9, Children Free
Opening Hours: Mon (CLOSED), Tues-Wed, Fri-Sun (9:30 AM-6 PM), Thurs (9:30 AM-9:45 PM)
Musée de l'Orangerie
Head back across the river and walk through the gardens to the left and in the end, you will find our final museum of the day, the Musée de l'Orangerie.
The Musée de l'Orangerie houses 8 famous Monet paintings known as The Water Lilies as well as other impressionist works. Though small, this museum is well worth a visit, especially if you are a Monet fan!
Admission: €9 Adults, 18-25 y.o. €6.50, Children Free
Opening Hours: Tues (CLOSED), Wed-Mon (9 AM-6 PM)
Picasso Museum
If you're a fan of Picasso, take a quick tour of the Picasso Museum which gives a comprehensive overview of Picasso's life. Take the Metro to Saint-Paul on 1 line.
Admission: €12.50
Opening Hours: Mon (CLOSED), Tues-Fri (10:30 AM-6 PM), Sat-Sun (9:30 AM-6 PM)
Opera Garnier
If you've still got some time left in the day, exit the gardens and walk about 20 minutes to the opulent Opera Garnier. One of the world's most renowned opera houses, take a guided tour to appreciate the beautiful architecture and decor or even try to book an evening performance for around €30.
Admission: €8-12
Opening Hours: 10 AM-5 PM (Last tour starts 4:30 PM)
Galeries Lafayette
And if Opéra really isn't your thing, walk just 2 minutes and go shopping at the Galeries Lafayette, another decadent building with beautiful inner decor.
You can find all the designer brands for jewelry, perfume, cosmetics, and clothing and even visit the terrace on the top floor for a beautiful nighttime view of Paris.
Opening Hours: Mon-Wed, Fri, Sat 9.30 AM-8 PM, 9.30 AM-9 PM Thur
Want to get out of the city? Rent a car and take a road trip
---
General Information for Visiting Paris
---
Pro tip: Bring your student ID with you and get in for free or for reduced admission to several main attractions.
Caution: Beware of clever pickpockets everywhere in this city. Don't carry all your valuables in your purse (keep some locked in your hotel or safe in a money pouch). Guys, don't leave wallets loosely in your back pocket, and girls, wear a small crossbody bag to avoid being an easy target.
Tipping: Customers do not usually tip in France. Service is almost always included in the bill. But if you feel you had a good experience, you could round the bill up or leave 5%; or if you felt the service was outstanding, you could leave up to 10%. Leave the change on the table rather than adding it to your credit card bill.
Time of Year: Paris will have the best weather in the summer but the trade-off is that the city will be absolutely packed. It's worth considering a visit to Paris during the off-season for both your wallet and sanity. Consider winter in Paris as a festive and beautiful alternative to summer.
Buy a Museum Pass: If you're over 25, I advise investing in the Paris museum pass. For most students and children, a lot of the attractions are going to be free of charge or reduced admission but if you're not a youngin' anymore, the four-day pass is €62. With access to permanent exhibitions at the Palace of Versailles, the Louvre, and many other top attractions, it saves you money and lets you skip all the ticket lines so you won't have to waste time. (Do note that the pass does not give you access to temporary exhibitions)
Buy a Paris Pass: I am a huge fan of city passes if I plan to see a lot of attractions in a big city. The Paris Pass is hefty and allows you to choose a 4-day pass that not only includes admission to most of the popular sites but also includes a 48-hour HOHO bus pass and free access to the metro and public transport options for the duration of the pass. It will make your life so easy during your long weekend in Paris, don't contemplate, just get it. Trust me. Buy your Paris Pass, thank me later!
Top Hotels in Paris We Recommend
Looking for a great hotel for your long weekend in Paris? We have put together the top hotels we recommend for your Paris vacation.
These hotels have some of the best locations in Paris and are rated well be other travelers: Hotel de Seine (This is where I stayed and LOVED the location), La Reserve Paris – Hotel and Spa, Maison Souquet, Hotel Monge.
Also check out: Best Area to Stay in Paris – Best Hotels & Travel Tips
Brush Up on your French
Why not learn to speak like the locals? You are strolling down the street in Paris when you find this amazing food stall at a local market.
The employees are chatting away together in their native language. You order something, in English, interrupting their conversation.
Meanwhile a local comes by while you are waiting, orders some food in the local language, and starts talking up a storm with the cook about something.
A few minutes later, the cook stops talking and hand you your food with a simple "Thank you, bye!" You just missed out on an authentic cultural experience because you couldn't join in.
Why not learn to speak French? Learn French quick and easy with Rosetta Stone
More on France:
Did you like this story? Share it!