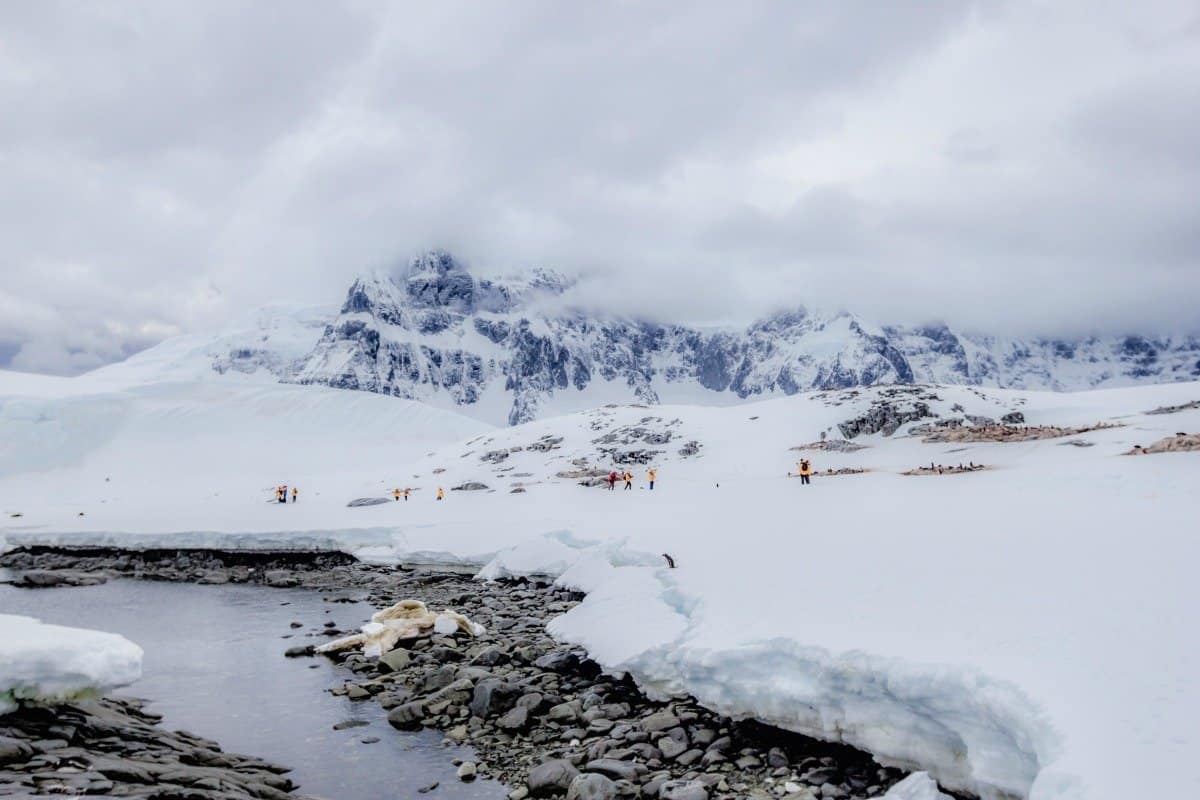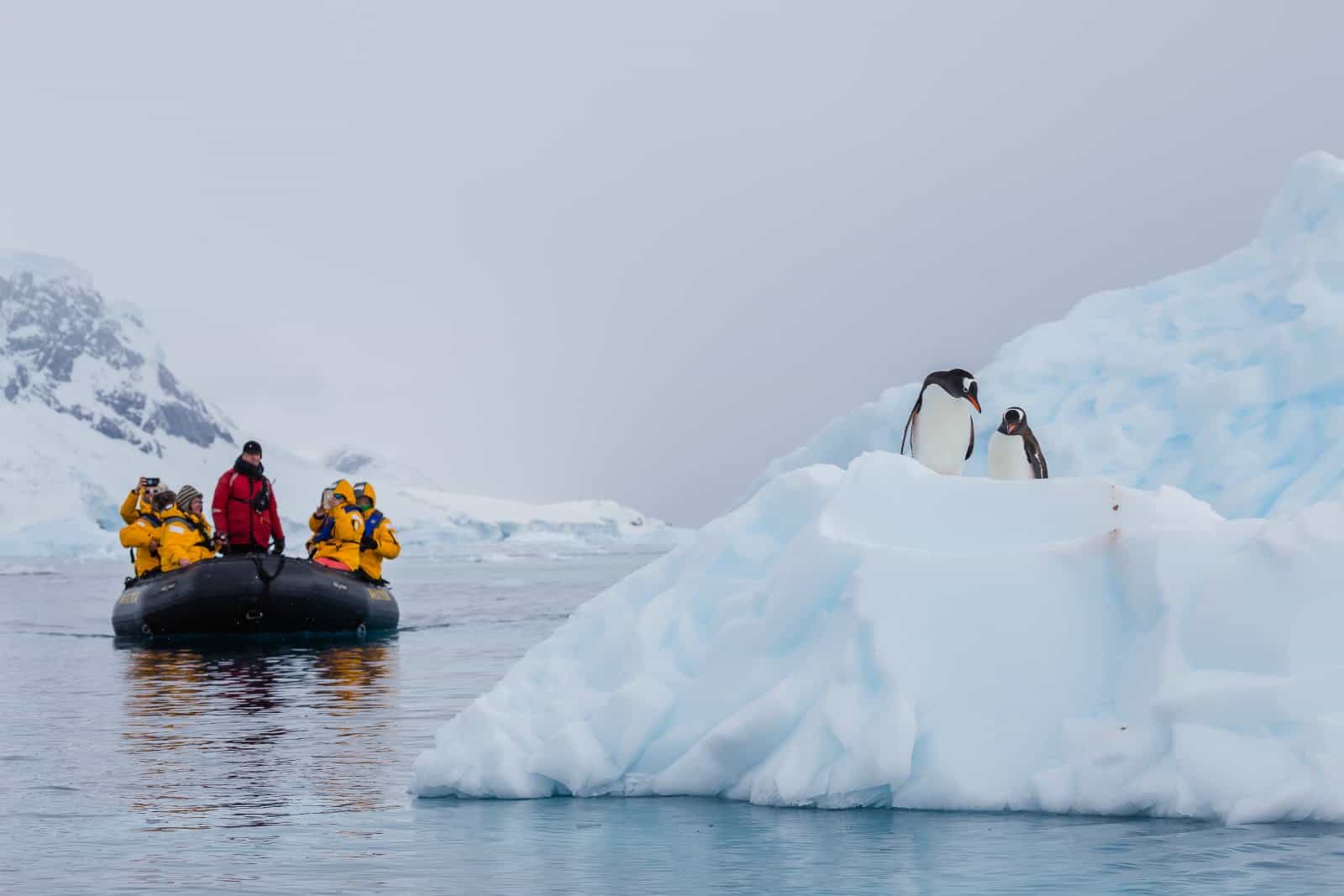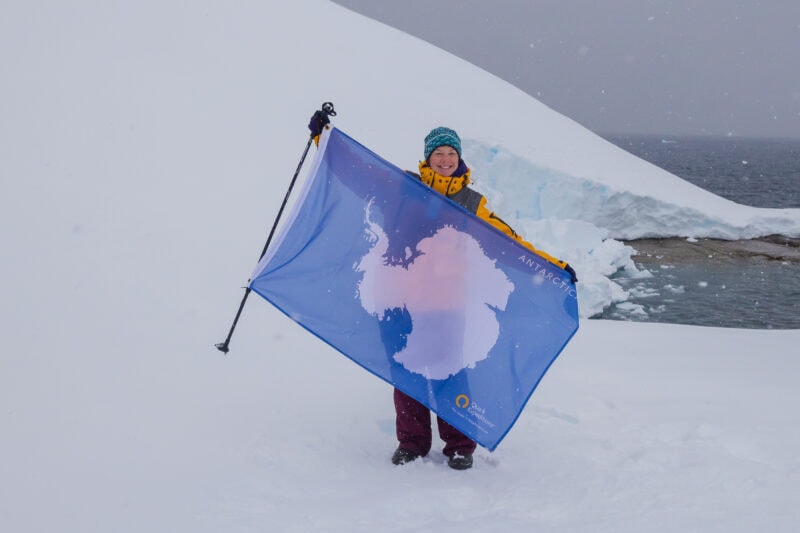 Ultimate ANTARCTICA Travel Guide
Antarctica is officially the 7th continent and southernmost located destination on earth. Travel to Antarctica is a true adventure and not for the weary. Sailing to the continent is done through rough waters and takes days.
The two most visited areas are the Antarctic Peninsula that can be accessed Ushuaia, Argentina in South America by ship or flight, and the Ross Sea ice cap that can be accessed from New Zealand by ship.
The most popular place to visit in Antarctica is the Antarctic Peninsula though, as sailing from South America is easier.
Itineraries to the Antarctic Peninsula start at 11 days and up to 25 days depending on whether you choose an itinerary that visits some of the surrounding islands, such as the Falkland or South Georgia islands.
Hands down, Antarctica travel is one of the most unique experiences you will ever have in your life. You'll visit massive penguin rookeries, experience ice in a way you didn't know was possible, and enjoy whales from every angle.
ANTARCTICA TRAVEL: QUICK TIPS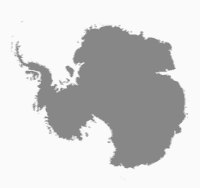 Don't Visit ANTARCTICA Without: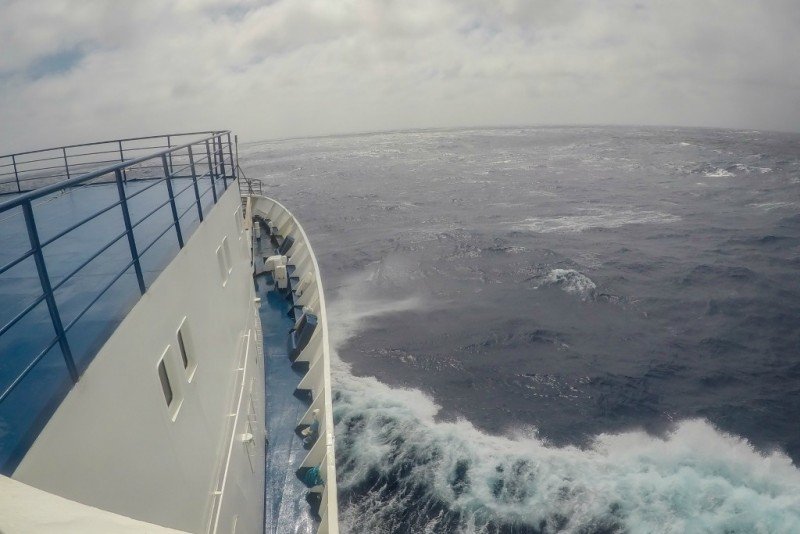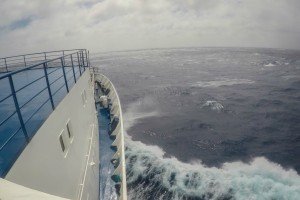 CROSS THE DRAKE PASSAGE
Sailing the notorious seas between South America and Antarctica is one the greatest adventures you can ever embark on. Enjoy wildlife watching, iceberg spotting, and the open ocean.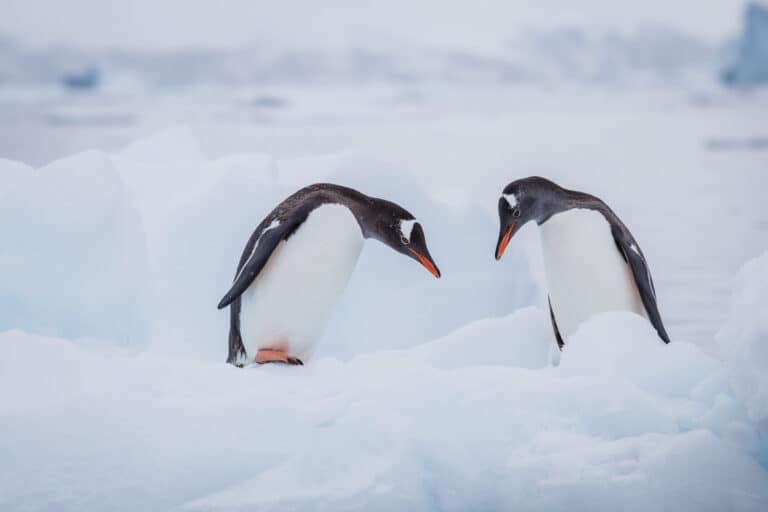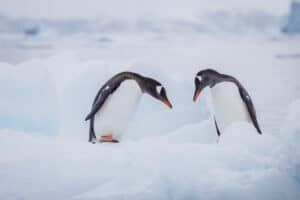 OBSERVE PENGUINS
Antarctica is the best place in the world to observe penguins. Expeditions will get you up close and personal with Chinstrap and Gentoo penguins. It is also possible to see Adelie, Emperor, and King penguins depending on your itinerary.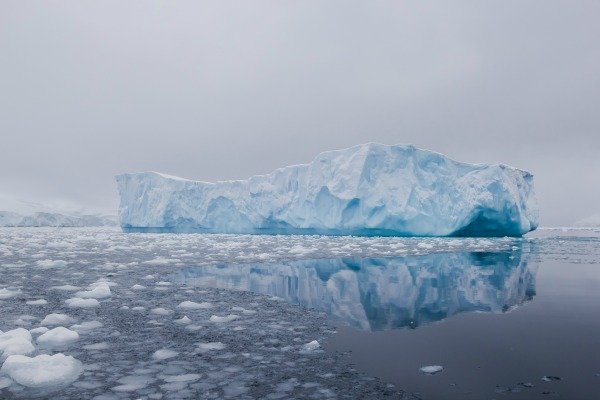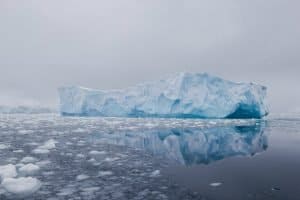 MARVEL AT BIG ICE
The ice in Antarctica is no joke and you'll find yourself standing in awe as you get up close to massive icebergs. You'll learn about ice formation, types of bergs and have the chance to identify them on your excursions away from the ship.
MORE THINGS TO TRY IN ANTARCTICA
While a trip to this part of the world may seem redundant at first glance, there is a surprising amount of things to do in Antarctica when you get there.
The trick will be getting to actually do them because weather and wild animal patterns mean nothing is ever guaranteed.
POLAR PLUNGE: A trip to Antarctica would not be complete without participating in a chilly polar plunge. This can be done wither from the shore of the ship but regardless of how you get in the water, we guarantee it will be a cold dip!
VISIT PORT LOCKROY: The remains of an old British research station is now operating as a small gift shop, post office and museum for visitors to Antarctica. The penguins have also moved in, meaning it's a good place to watch nesting behavior.
WHALERS BAY: The remains of an old whaling station haunt the shores of the volcanic Deception Island. Visiting here is a surreal experience that is paired with tall snow-capped mountains and steaming black sand beaches.
WHALE WATCHING: Antarctica is one of the best places in the world for whale watching. Hundreds of whales across many species migrate into polar waters to feed on krill during the southern summer. This means your chances of seeing whales up close, especially humpbacks, is high.
SNOW HIKING: One of our favorite things was to hike on the continent. After landing by zodiac we were allowed to explore the landing area, sometimes leading up onto high lookouts. We encountered penguins, birds and could often see whales feeding in the waters just off the coast.
KAYAKING: There are fewer ways to get intimate with the natural beauty of Antarctica. Most ships offer an onboard kayak program that will allow you to paddle in the Antarctic waters during your trip, weather allowing.
CAMPING: I know, this sounds crazy but you can absolutely camp out in Antarctica. Some of the expedition companies that frequent Antarctica offer the option to spend a night away from the ship. It's an unreal experience and if you're interested, be sure to book in advance of your trip to ensure you get a spot.
Pack like a pro on your trip to ANTARCTICA!
POPULAR REGIONS IN ANTARCTICA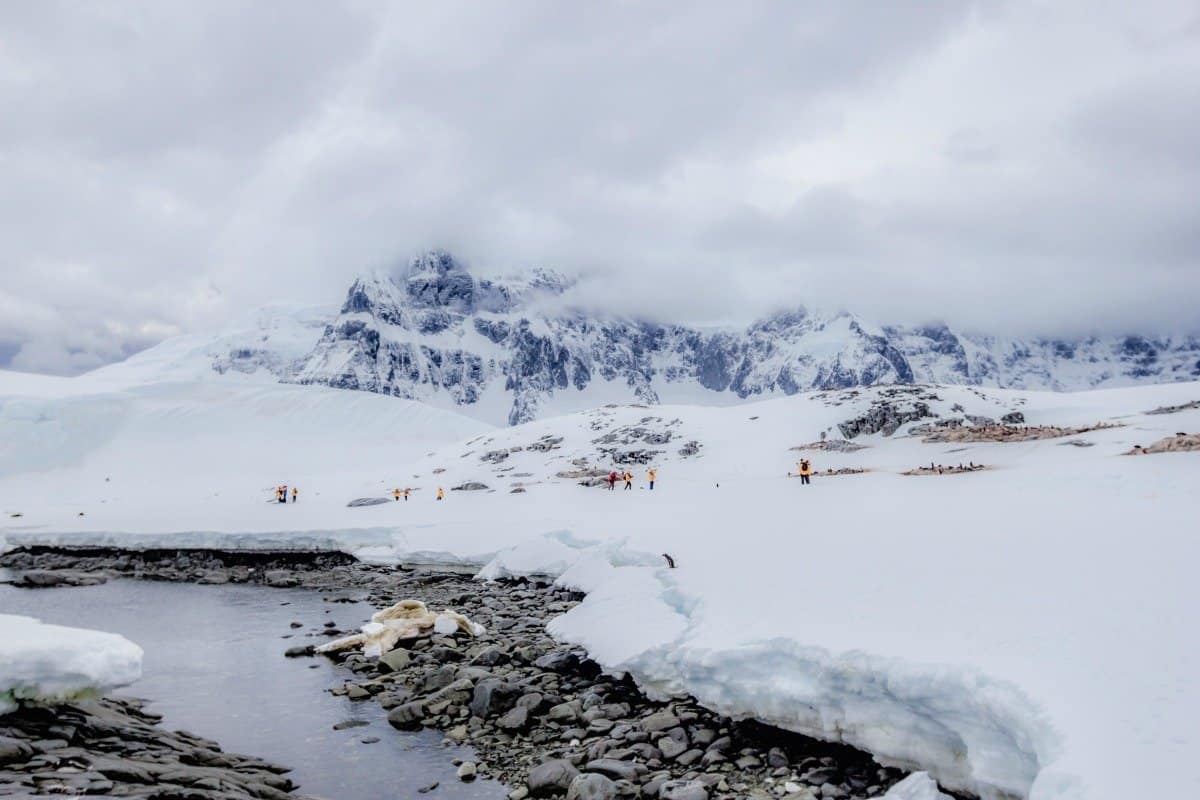 ANTARCTIC PENINSULA
The Antarctic Peninsula is the most northerly part of the Antarctic continent and the most southerly area that's generally visited by cruises when it comes to Antarctica travel. The peninsula is separated from Tierra del Fuego, the most southerly point in South America, by the infamously rough and stormy Drake Passage. 

It's a dramatic and seemingly inhospitable place. Huge icebergs and vast ice sheets can be found in the surrounding waters, even in summer, and high, ice-topped mountain peaks rise above the peninsula. It's the last frontier in the world for tourists, but it's surprisingly busy with wildlife. 

Across the peninsula you can find colonies of penguins, you can watch seals hunting from afar, and watch albatrosses flying through the air. Visitors can kayak through icy fjords, you can call into the Antarctic research centers found on the peninsula, and you can even camp out under the stars.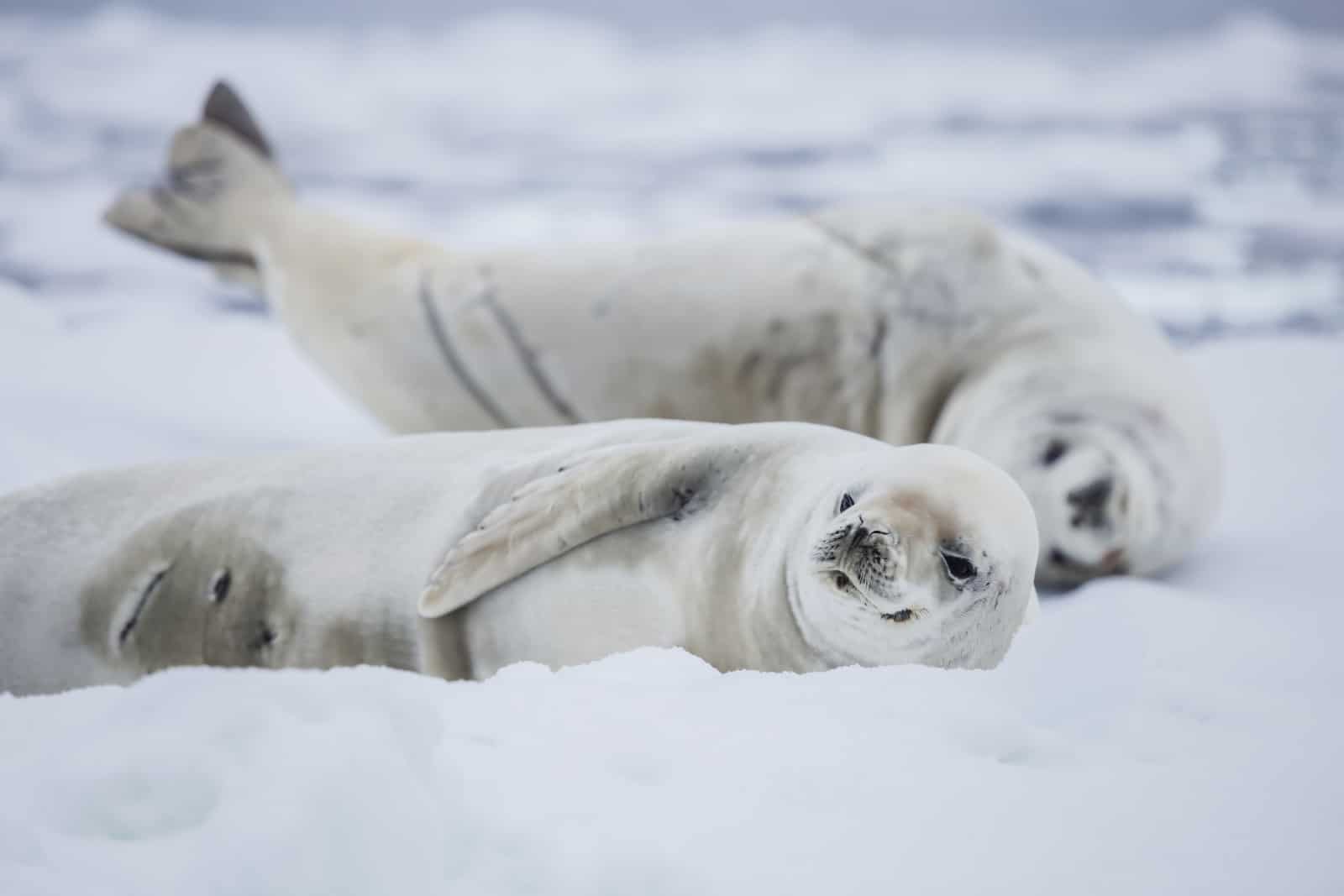 ROSS SEA
Visiting Antarctica from New Zealand is an option that is commonly overlooked. This for a couple of reasons but mainly due to the lack of operators that offer this route.
 
That said, this makes visiting this part of Antarctica really elusive and special. 
Itineraries to the Ross Sea leave from Invercargill, New Zealand, and visit a series of sub-Antarctic islands like Macquarie Island, Auckland Islands, and the Snares before heading further south. 

They then reach the Ross Sea region where several days are spent exploring Antarctica the same as you would along the Antarctic Peninsula.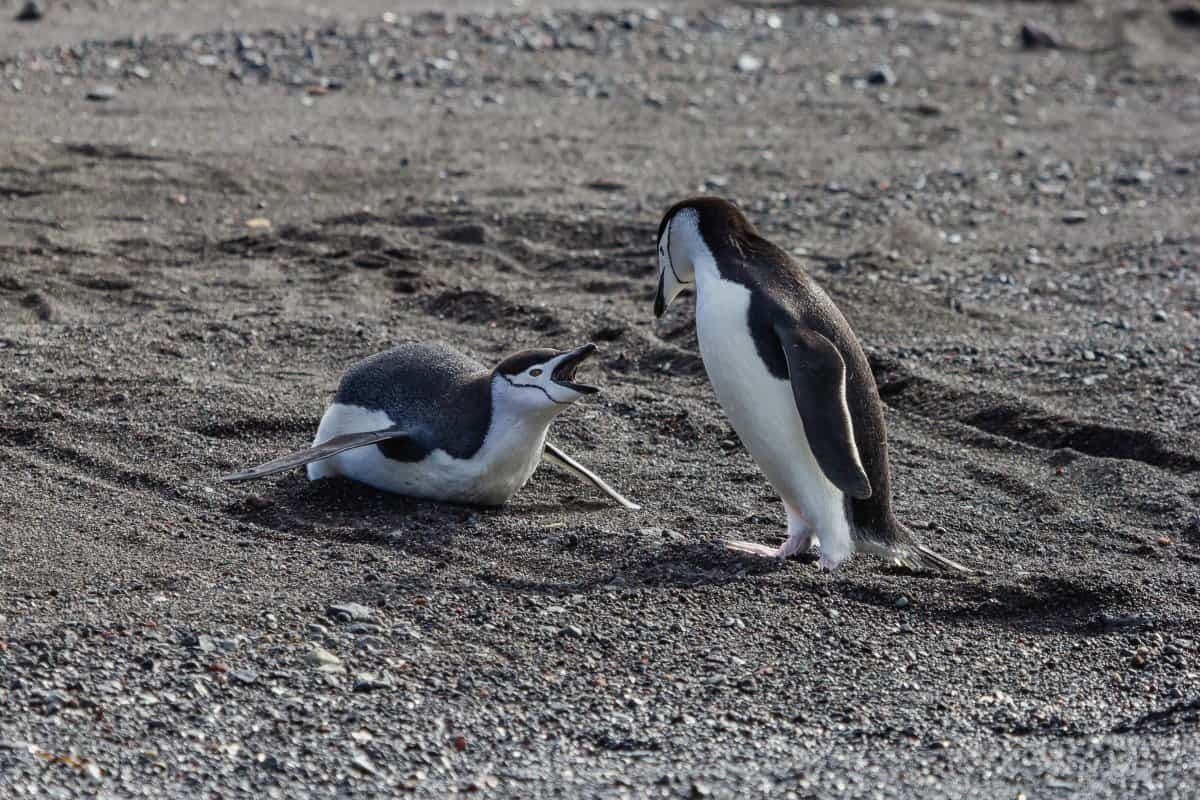 FALKLAND ISLANDS
The Falkland Islands are found far north of the Antarctic continent and are on the boundary of the sub-Antarctic region. They are a popular stop on many Antarctica travel cruises, as itineraries will include the islands before continuing further south. 

Off the coast of Argentina, the Falklands are perhaps most infamous for the ongoing dispute that's pitted Argentina against the United Kingdom, as the islands are a British Overseas Territory.

You can experience life on the edge of the world when you visit the small capital of Stanley, explore the history of this remote destination, and the many conflicts that have rocked it, and even drink a few beers in a British pub.

The Falklands are wild and windswept, and you can find large colonies of penguins across the islands. Bird lovers will be able to spot Albatrosses, while there are a surprisingly large number of introduced species of animals too, including thousands of sheep.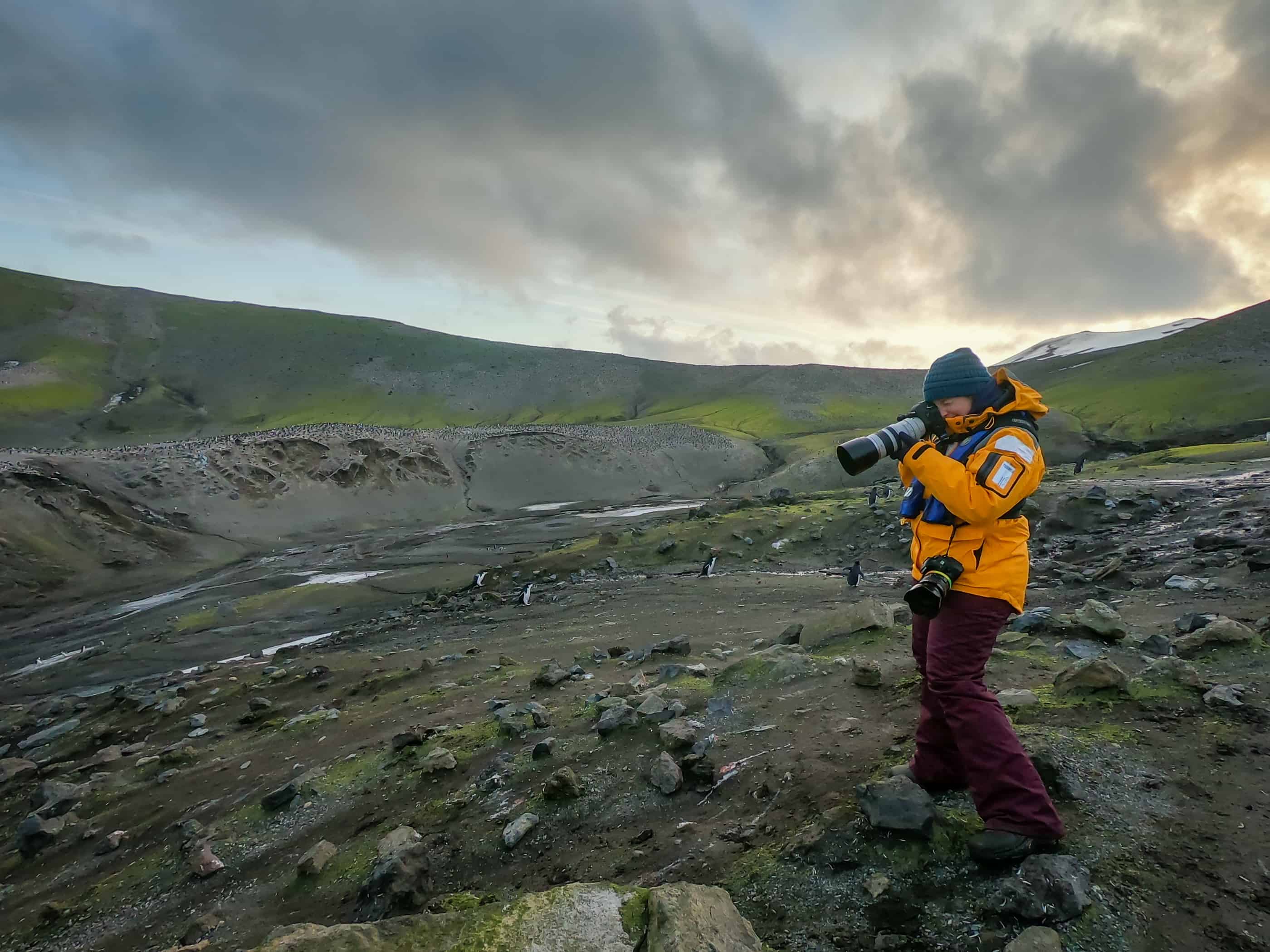 SOUTH SHETLAND ISLANDS
The South Shetland Islands are an archipelago that's found to the north of the Antarctic Peninsula. They are a popular stop for many cruises taking visitors to enjoy their Antarctica travel experience because the islands are a haven for wildlife in an otherwise icy world.

This is one of the most-visited parts of Antarctica, because the islands lie closer to South America, and have a warmer climate than the Antarctic Peninsula. One of the best places to visit is Deception Island, a barren, semi-submerged island that's actually the caldera of an active volcano. It's home to thousands of penguins, black sand beaches, and the abandoned remnants of whaling stations. 

The largest island is King George Island, where you'll find a large number of permanent research stations and even an airport. Penguin Island is another volcanic island that, as the name would suggest, is popular for those looking to see large numbers of penguins in the wild.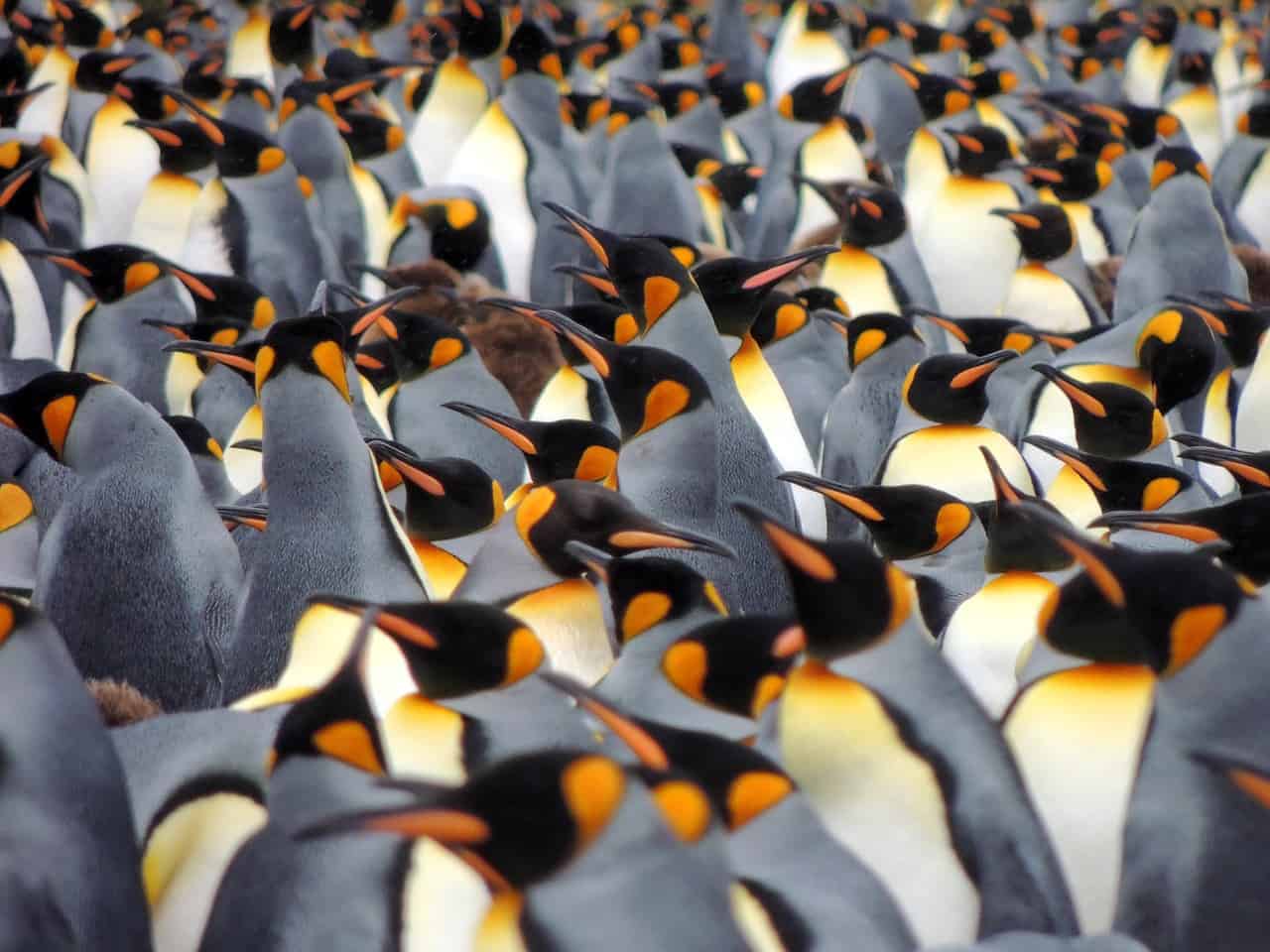 SOUTH GEORGIA
South Georgia is even more remote and isolated than the Falkland Islands, and along with the South Sandwich Islands, it's another British Overseas Territory.

South Georgia is the largest island in the archipelago, but no one really lives here permanently.

It's an inhospitable land on the edge of Antarctica, and it's the perfect place for anyone looking to escape the rest of the world.

You can find King Penguins, seals, and plenty of whales around the island, while there's also a surprisingly large number of historical sights.

You can pay your respects to an Antarctic explorer at Ernest Shackleton's grave, you can visit the tiny 'capital' at King Edward Point, where a few hardy individuals brave the winters, and you can visit old whaling stations strung around the island. 

ANTARCTICA TRAVEL BUDGET
Antarctica travel has a reputation for being expensive, but considering what you are experiencing and what's generally included in the cruise packages, they can be surprisingly good value.
Independent travel to the region is virtually impossible, so the only way that you're getting here is on a cruise, or on a fly-cruise.
Packages vary in cost depending on the length of the trip, your standard of onboard accommodation and the destinations and activities included. Accommodation and food will be included in the total cost, but optional activities such as sea kayaking will cost more.
Flights to the departure point will not be included in most cases. You can get discounts by booking up last-minute spots that have yet to be filled, or by traveling on cruises scheduled to depart at the beginning and end of the summer season.
More expensive cruises may include guest speakers and onboard scientific researchers who will be able to enlighten you along the way. Always check what's included before booking any Antarctica travel package.
BUDGET
---
STARTING AT $6,000 USD
While extreme budget travel is never possible when it comes to Antarctica travel, there are ways to get around high costs. The cheapest cruises start from around USD 6000 for a classic 10-day voyage from Argentina, to the South Shetland Islands and the Antarctic Peninsula. You'll have a basic, shared cabin.
MID-RANGE
---
STARTING AT $10,000 USD
Mid-range cruises generally cost upwards of USD 10,000 for a longer voyage taking in more destinations, such as the Falklands and South Georgia, as well as the classic routes along the Antarctic Peninsula and the South Shetland Islands.
LUXURY
---
STARTING AT $20,000 USD
When it comes to luxury cruises in the Antarctica travel sphere, the costs can be endless. If you have the money and time you can easily spend upwards of USD 20,000 for a comprehensive multi-week itinerary with excellent food and onboard guest speakers.
ETHICAL ANTARCTICA TRAVEL
While comparatively few tourists visit Antarctica compared to other destinations across the world, this area of wilderness in the south is unused to human activity.
In the past, animal populations have come to the brink of extinction because of unethical human practices such as whaling or seal hunting.
While this does not happen anymore, the new challenge for Antarctica is increasing tourism, and ethical tourism practices need to be followed to protect the area, as per the IAATO Code.
As a tourist, you need to be aware of your impact on the environment, and that means leaving it as you found it.
Do not litter or discard any trash, either in the ocean or on land. Don't leave anything behind, but equally don't take anything you shouldn't with you, be it as simple as a rock or pebble.
Many travelers visit Antarctica for the wildlife, and the animals need to be respected. Follow the guidelines at all times, and stay within designated distances from the wildlife. As cute as those penguins might look, don't get too close.
IAATO CODE IN ANTARCTICA
The IAATO is the International Association of Antarctica Tour Operators, an organization that was founded in 1991 by a group of private tour companies dedicated to the development of sustainable tourism in the region.
Their focus has always been on safe and environmentally friendly tourism practices within Antarctica, and their code of conduct is a manifesto that's followed by private companies operating in the area.
The IAATO Code's objectives compel visitors to Protect Antarctica Wildlife, Respect Protected Areas, Respect Scientific Research, Be Safe, and Keep Antarctica Pristine.
They set comprehensive guidelines that should be adhered to by all private tour companies looking to operate in Antarctica. These rules must be followed by all travelers looking to experience this untouched natural world, so it can be kept pristine for future generations.
HOW TO GET AROUND IN ANTARCTICA
Trips to Antarctica are always predominantly cruise based, however, there are options for you to fly from Argentina to King George Island in the South Shetlands, where you can join a cruise.
You can also fly into the Falklands from Santiago, in Chile, or you can even catch a Royal Air Force transport from the United Kingdom if you are a British citizen.
For most of your trip though, you'll be on an expedition ship, but offshore excursions to many islands will see you transferring to small Zodiac boats. It is also possible to explore Antarctica by sea kayaking or hiking during landings.
WHEN TO VISIT ANTARCTICA
Being located at the far southern pole, Antarctica has a harsh climate that can only be experienced by tourists in the summer months. The summer, tourist season runs from October through to March, and all Antarctica travel is undertaken within this window.
Your travel experience may vary though, within the summer months, and deciding when to go will depend on what you want to actually see.
If it's penguins you're after, then the colonies are at their most active between December and February, when it's hatching season. Whales can be seen through much of the summer, with the most sightings occurring between January and March.
At the start of the season, from October to November, you can experience the vast ice sheets as they break up when the weather begins to warm up.
The start and end of the season are generally quieter times, as fewer ships make voyages, due to rougher seas, colder weather, and fewer wildlife sightings.
For more information, check out the Antarctica By Month: Best Time To Go To Antarctica
LEARN ABOUT ANTARCTICA BEFORE YOU GO
SAFETY IN ANTARCTICA
While the Antarctic is an inhospitable place, joining a cruise will see you in safe hands. The potential for danger though, is much higher than your standard cruise anywhere else in the world, due to the harsh climate and conditions that you'll encounter.
You may experience rough weather onboard, even in summer, so you will want to take precautions if you get seasick easily. Most cruises have an onboard doctor who can help in case of sickness. In rough weather, you will not want to move around too much either, as accidents can easily occur.
It is extremely important that you abide by all rules and warnings that are issued by the onboard expedition staff. If they tell you to keep one hand free for the boat when moving around, do it.
If they tell you to wait before exiting a zodiac, listen. Simple instructions can save you from serious injury and they are not to be taken lightly.
As with any destination, we recommend learning and adhering to certain safety practices when you travel. Be sure to read our personal travel safety tips, compiled from our travels across 7 continents.
ANTARCTICA TRAVEL: BOOKING RESOURCES
ANTARCTICA TRAVEL GUIDE: RELATED ARTICLES
Looking for more info? Check out all the articles we've written on travel to Antarctica and start planning your dream trip.