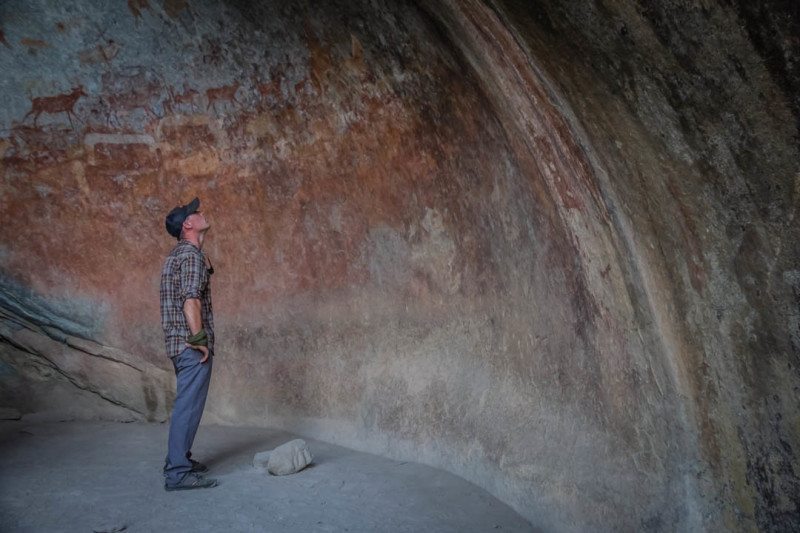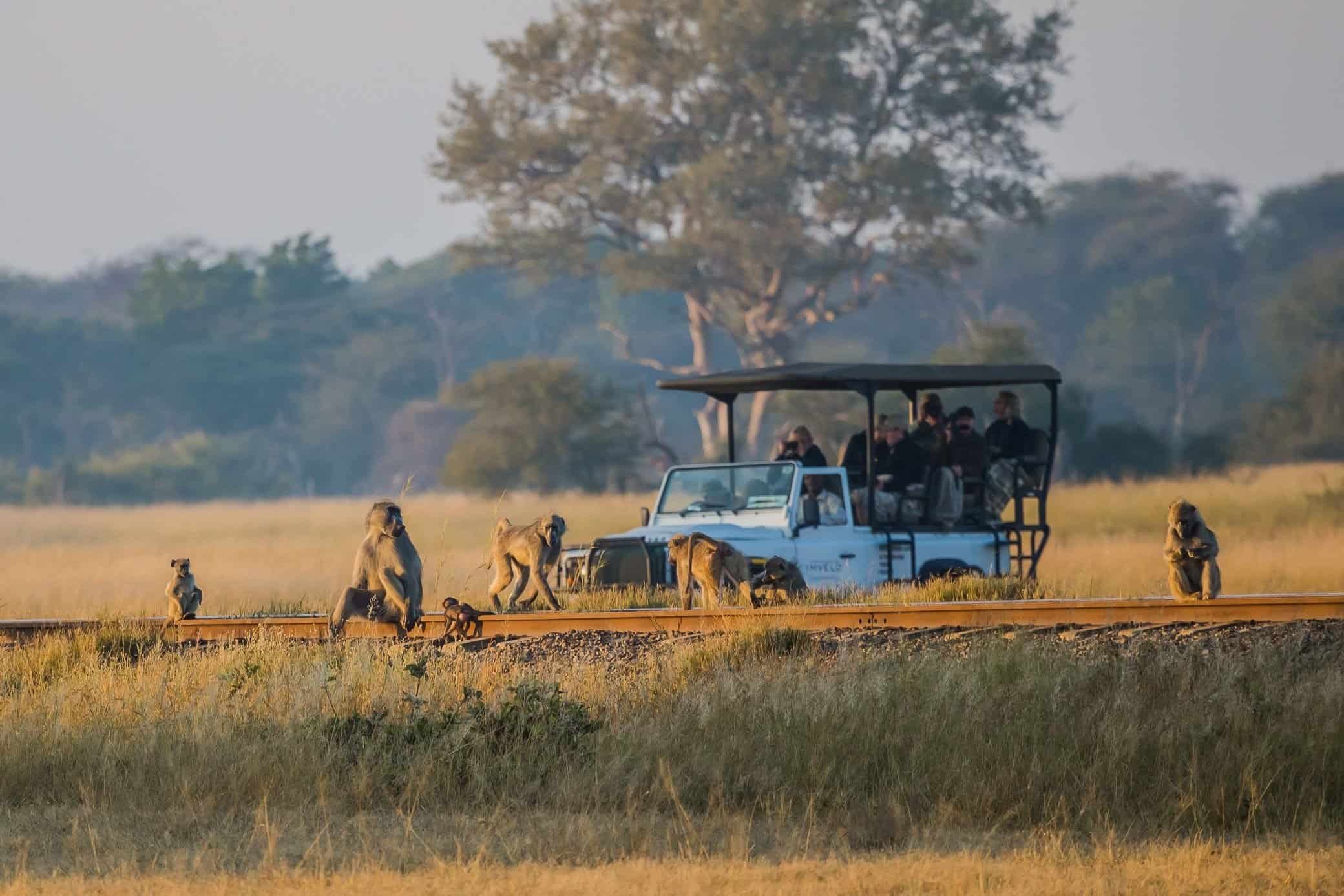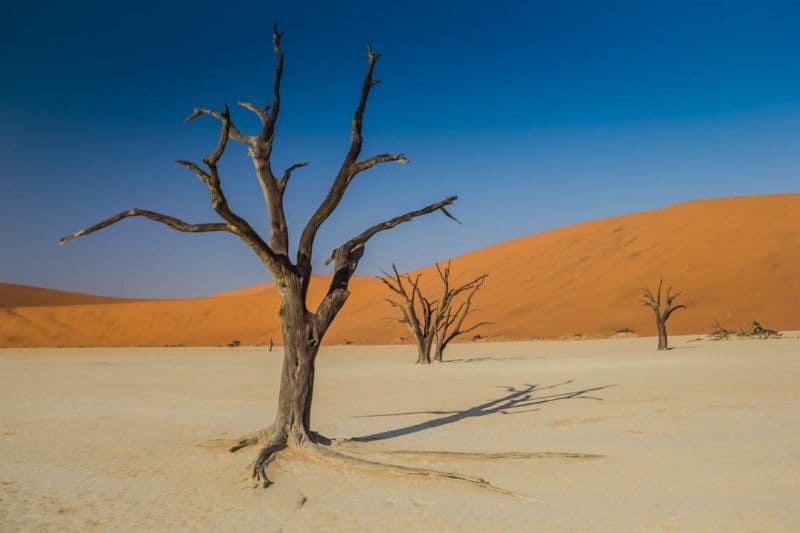 Ultimate AFRICA Travel Guide
The African continent is the second-largest in the world, featuring 54 countries and 12 territories. To truly explore all it has to offer would take you a lifetime and man, would that be a wild ride. Our Africa Travel guide is here to serve you advice and insight on the most popular areas of the continent and places we have personally visited.
We have an insatiable love for the African continent and have returned four times since our first trip. You'll be hard-pressed to find the sheer diversity and wonders that it offers on any other continent in this world.
The continent is generally divided into regions, which you'll find references to throughout this guide and our other Africa content on this site.
Southern Africa generally refers to the countries of South Africa, Lesotho, Eswatini (Swaziland), Namibia, Botswana, Zimbabwe, Zambia and Madagascar.
Eastern Africa generally refers to the countries of Malawi, Mozambique, Tanzania, Kenya, Uganda, Rwanda, Burundi, Ethiopia, South Sudan, Djibouti, Somalia, Eritrea, Comoros, Seychelles and Mauritius.
Central Africa generally refers to the countries of Angola, Cameroon, Central African Republic, Chad, the Democratic Republic of the Congo, the Republic of the Congo, Equatorial Guinea, Gabon and Sao Tome & Principe.
West Africa generally refers to the countries of Benin, Burkina Faso, Cape Verde, The Gambia, Ghana, Guinea, Guinea-Bissau, Ivory Coast, Liberia, Mali, Mauritania, Niger, Nigeria, Senegal, Sierra Leone and Togo.
North Africa generally refers to the countries of Morocco, Western Sahara, Algeria, Tunisia, Libya, Egypt, and Sudan. Some of these countries are often grouped together with the Middle East region.
AFRICA COUNTRY GUIDES
AFRICA TRAVEL: QUICK TIPS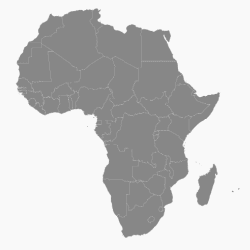 Don't Visit AFRICA Without: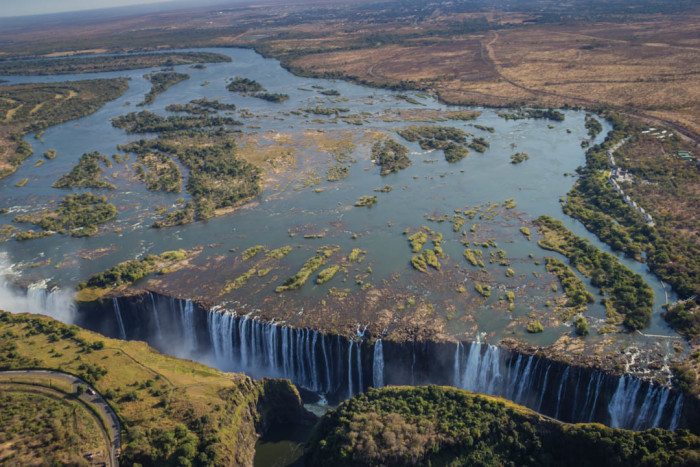 HELICOPTER OVER VICTORIA FALLS
Spanning 1078 meters, Victoria Falls is one of the world's largest waterfalls and it's a sight to behold. One of the best ways to experience its glory is by taking a helicopter flight over Victoria Falls and the surrounding area. We've done it twice, it's that good!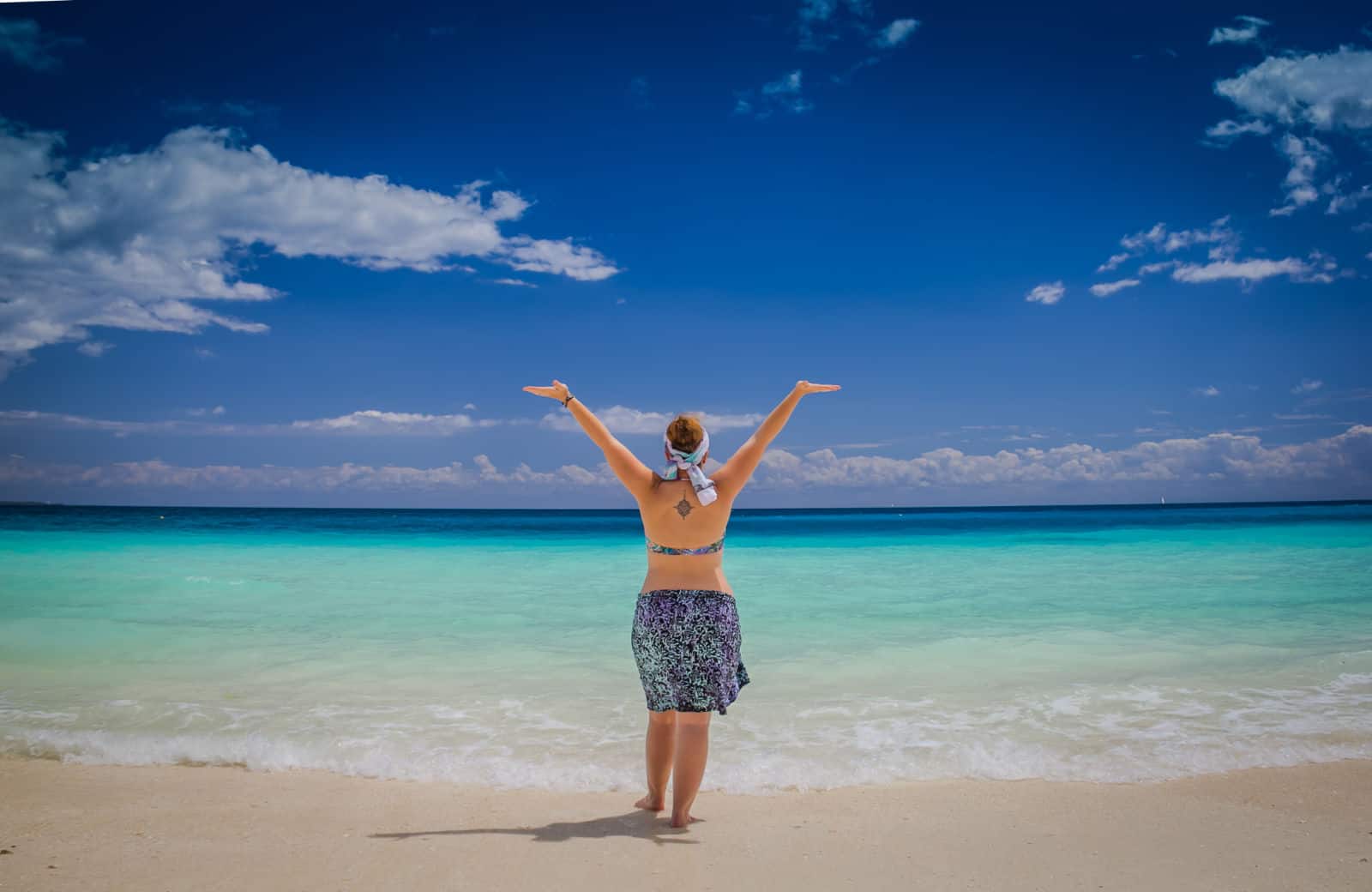 TAKE THE FERRY TO ZANZIBAR
If you're planning to visit Tanzania, then Zanzibar should be on your list. This island features not only dreamy beaches on the Indian Ocean but rich history. Leave time to soak up the sun, scuba dive, and explore Stone Town during your visit.
MORE THINGS TO TRY IN AFRICA
There is no shortage of great things to do in Africa during your visit and the biggest problem you'll face is fitting them all into your itinerary.
Each country has its own offering and unique things to check out during a visit, so be sure to look at our city guides once you decide where you're itinerary will take you.
SEE PENGUINS IN CAPE TOWN: One of the highlights of visiting South Africa is visiting the famed Boulder Beach in Cape Town to view a lively population of Jackass Penguins that live there. The beach, as its name suggests, features massive boulders set on white sands against a bright blue seascape.
GO CAGE DIVING WITH GREAT WHITE SHARKS: One of the best places in the world to view and cage dive with Great White Sharks is off the coast of Gansbaai, South Africa. With the presence of a permanent seal colony, this area is like a giant buffet for hungry sharks. While the sightings are never guaranteed, if you have an encounter here, you'll likely not forget it anytime soon.
SKYDIVING IN SWAKOPMUND: One of the best ways to see the stretch of the mighty Namib Desert is by heading to the sky. For us, we chose to increase the adrenaline by jumping out of the plane too. Skydiving in Namibia gives you a perspective and appreciation of this part of the world in a way that few other can.
VISIT THE NAMIB DESERT: Behind the mighty Sahara Desert to the North, the Namib Desert is one of the greatest in Africa. Located in Namibia, it features special places like Sossusvlei, Dune 45 and Deadvlei, featuring large salt pans with massive dune backdrops.
VISIT THE GRAND CANYON OF AFRICA: Located just over the border of South Africa, in Namibia, is Fish River Canyon. This massive natural landmark rivals the scenery of the Grand Canyon in the USA and offers not only incredible views but great hiking too.
CANOE SAFARI IN BOTSWANA: If you're looking for something a little different and more exclusive than a traditional safari, then you'll want to head to the Okavango Delta in Botswana. Here, you will navigate the vast wetlands by traditional Mokoro (dugout) canoe in search of hippos and the Big Five.
CAMP WITH ELEPHANTS IN BOTSWANA: I know, it sounds crazy but trust us when we say it's an incredible experience. The Elephant Sands Camp in Botswana is set up near a massive watering hole that provides refreshment for a huge herd of elephants. The camp features traditional campsites and cabins, along with a nice central lodge where you can enjoy the pool and watch the elephants in the water hole. It's not unheard of for the elephants to walk right through camp, either.
VISIT MATOPOS NP IN ZIMBABWE: Get off the beaten track and visit one of our favorite places in Africa, Matopos National Park in Zimbabwe. Here you can do two very special things, take a walking safari with Rhinos and see cave paintings from the dawn of humanity.
SCUBA DIVE IN LAKE MALAWI: Get some freshwater diving under your belt and head underwater in the 4th largest freshwater lake in the world. Lake Malawi is home to more species of fish than any other lake in the world and offers up more than 700 species of cichlids. This makes scuba diving Lake Malawai a unique experience to add to both your diving resume and Africa bucket list.
CLIMB MOUNT KILIMANJARO: Take on the tallest mountain on the African continent and one of the seven world summits, Mount Kilimanjaro during your visit to Africa. With a 66% success rate, it won't be an easy climb but it will certainly be an adventure you won't soon forget.
TOUR AROUND WEST KENYA: If you are seeking a more off the beaten path experience, head to west Kenya. Here you'll find some incredible national parks such as Nakuru, Hells Gate and Aberdere. You'll also get an inside look at the major tea plantations of Kenya in Kericho.
RAFT THE NILE RIVER IN UGANDA: Jinja, Uganda is the gateway to adventure on the Nile River. From here, you have the opportunity to white water raft and kayak on the might Nile River. This is a gnarly experience and you should expect big water, meaning you'll spend more time in the water than you will sitting on the raft. If you're okay with this, you'll find few white water experiences to rival this one.
VISIT THE KIGALI GENOCIDE MUSEUM IN RWANDA: Take a haunting look at Rwanda's past by visiting the Genocide Memorial Museum in Kigali. This is often combined with gorilla safaris in Volcano National Park and shouldn't be missed. You'll get an insight into the history of the country and humanity as a whole.
STRADDLE THE EQUATOR IN UGANDA: With the equator splitting the African continent in half, you simply cannot miss the opportunity to stand in both the Northern and Southern hemispheres, at the same time, if you find yourself traveling overland through Uganda.
VISIT TRIBES IN THE OMO VALLEY: The Omo Valley in Ethiopia is one of the last truly wild spaces in Africa. Home to eight Ethiopian Tribes totaling more than 200,000 inhabitants, you'll have the privilege of witnessing what life is like in the heart of Africa.
HIKE THE SIMIEN MOUNTAINS IN ETHIOPIA: The Simien Mountains in Ethiopia offer some of the most beautiful hiking we have ever done in our world travels. Sitting at the very top of the Rift Valley, this is the last stand of the lush landscape before it drops off into the Nubian Desert and into Sudan. Not only does the park offer spectacular hiking, but you'll have the change to see the endemic Gelada Baboons, also known as Bleeding Heart Baboons, that inhabit and thrive in the mountain hillsides.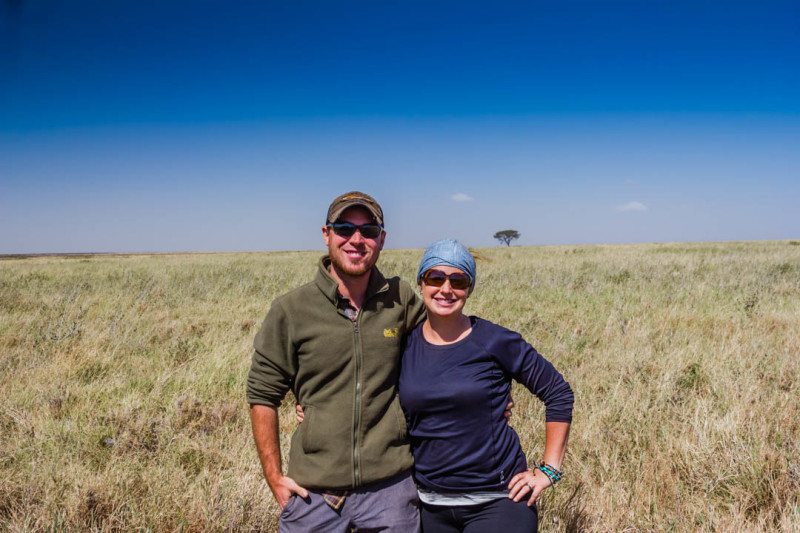 NOTABLE AFRICA EVENTS
GREAT MIGRATION: The Great Wildebeest River Crossing of the Mara River is one of nature's greatest spectacles. Thousands of wildebeest and other migrating animals follow the lush land across the crocodile-infested waters. To witness the event is both heartbreaking and thrilling as plenty will not survive to cross again next year. The migration begins around late June, hitting its peak in July, although predicting an exact date is not possible.
KWITA IZINA: Taking place at the entrance to Volcanoes National Park in Rwanda, Kwita Izina is an annual event that takes place in September to name all of the gorillas that were born in the previous year. It is attended by more than 30,000 people from around the world, including the President of Rwanda (who we met when we attended in 2015!). It is a proud celebration of conservation.
START PLANNING YOUR ITINERARY!
POPULAR AFRICA TRAVEL DESTINATIONS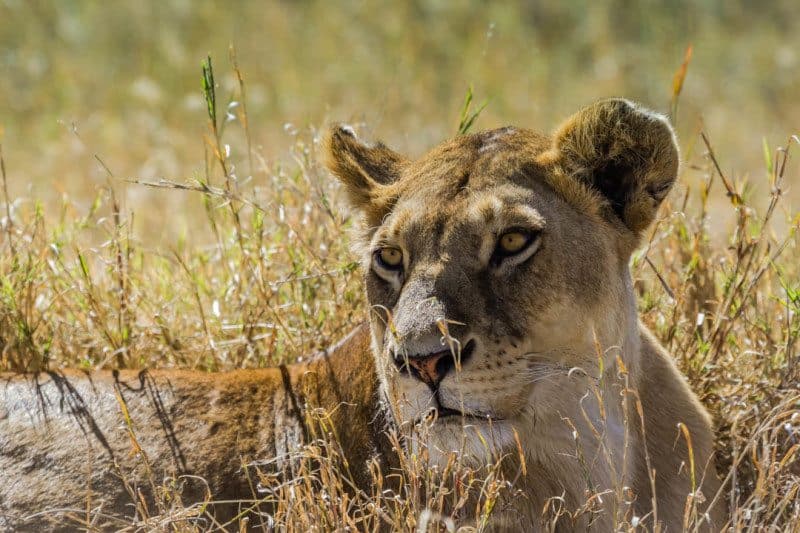 SOUTH AFRICA
South Africa is a classic African safari destination, as the country offers a range of safari parks, landscapes, and importantly, the chance to see all the Big Five animals – the lion, leopard, rhino, buffalo, and elephant.

Across South Africa, you can visit a range of different reserves and national parks, while you can find accommodation and tours to suit many different budgets, be it camping out under stars or enjoying a luxury getaway in the wilderness. Kruger National Park, close to the city of Johannesburg, is the country's most famous safari destination.

The Addo Elephant National Park is the place to see elephants, while the nearby Shamwari Game Reserve is a popular place for safari too.

South Africa is also one of the best places in the world to observe and dive with Great White Sharks off the coast in Gansbaai.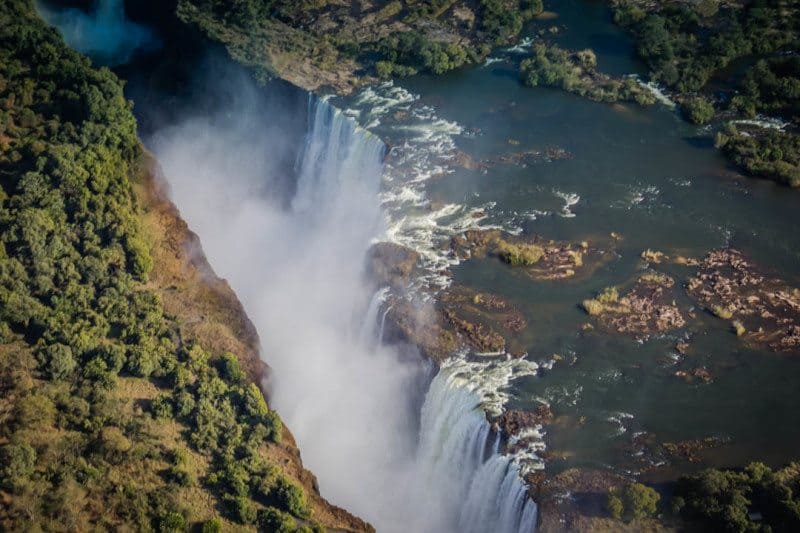 ZIMBABWE
Although politically, Zimbabwe is never in the news for good reasons, for safari-goers, it's always been, and always will be a top spot on the continent. The country's most famous game preserve is the Hwange National Park, which actually borders Botswana's northern national parks, to form one huge area of cross-border wilderness.

Hwange National Park protects hundreds of species of animals, including elephants, leopards, cheetahs, lions, and even the rare wild dog, which survives in few other locations in Africa.

Additionally, Zimbabwe is home to the famed Victoria Falls, rich colonial history from its time as Rhodesia, insane Rhino viewing opportunities, accessible early humanity cave paintings, and the ruins of Great Zimbabwe. It's a beautiful and diverse country that deserves your time spent.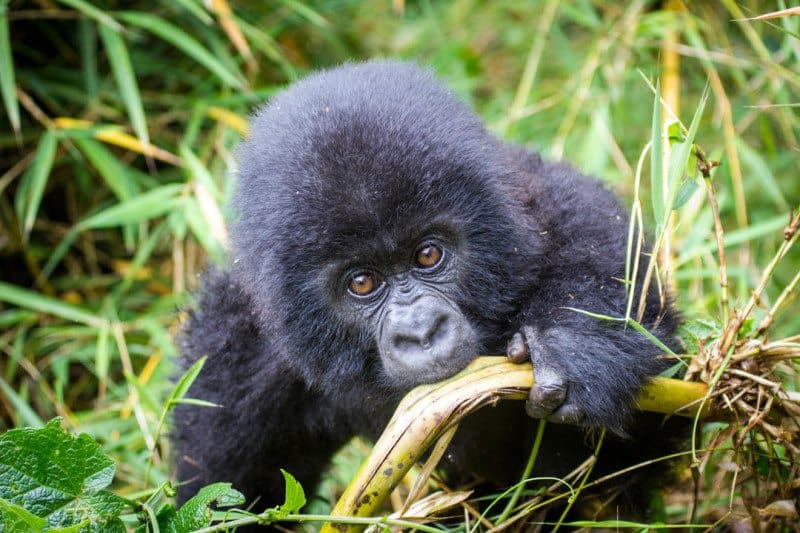 UGANDA & RWANDA
Uganda & Rwanda can be two of the most fascinating Africa travel destinations. If it's gorillas you're looking for, then head to Bwindi Impenetrable National Park. In other parts of Uganda, you can visit the Queen Elizabeth National Park for a classic safari.

Like neighboring Uganda, Rwanda is a fantastic place to see gorillas in their natural habitat. The best place for gorilla trekking in Rwanda is the remote Volcanoes National Park. In a way, this experience is more iconic than Uganda, as you are able to visit the area that Dian Fossey conducted her research. Additionally, Rwanda has a rich history and a visit to Kigali is worth a stop too.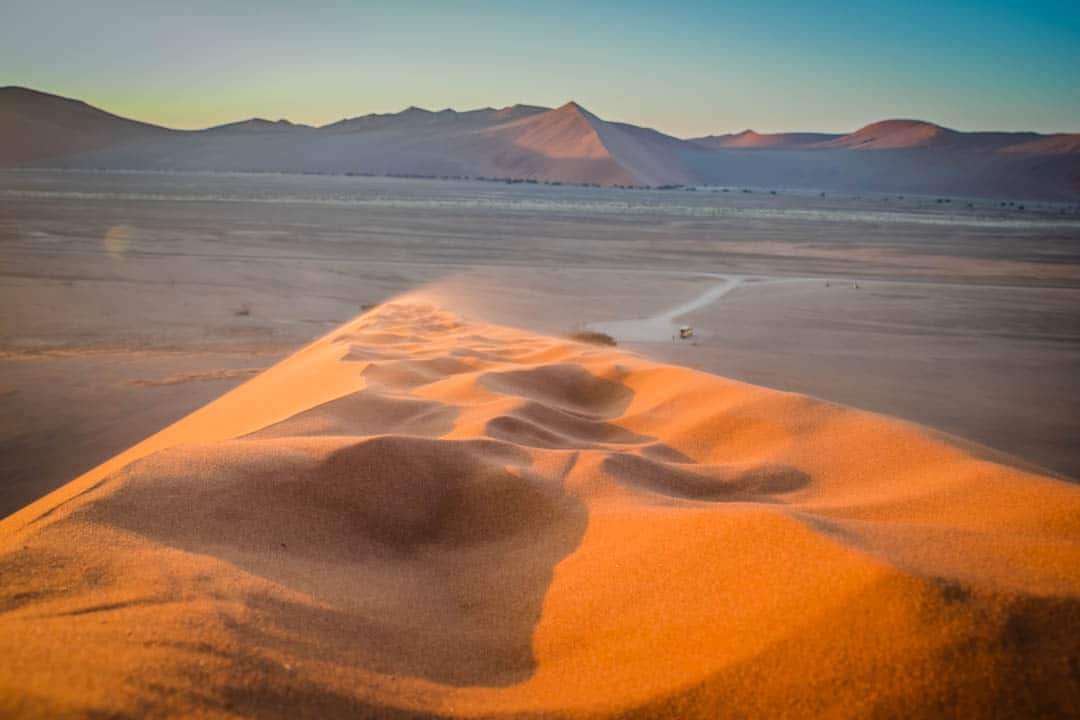 NAMIBIA
Found along the southwest coast of the continent, Namibia has a staggering diversity of climates and landscapes, making this a fascinating safari destination.

The country is known for its dry and dusty deserts, like the famed Sossusvlei and Deadvlei,  and windswept coastline near Swakopmund, and if you want to experience the best safari, head to the excellent Etosha National Park where you can find salt pans, grasslands, and even forests, not to mention elephants, rhinos, springboks, giraffes, and many more African animals.

In Namibia, you can also visit the Kgalagadi Transfrontier Park, which borders both Botswana and South Africa.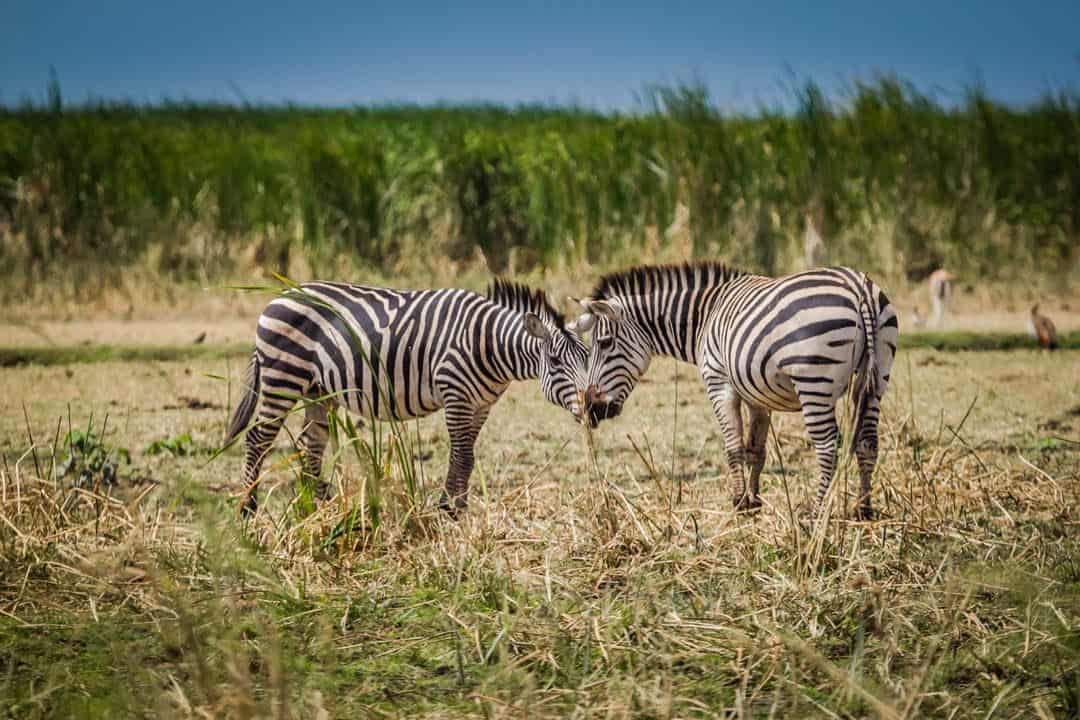 TANZANIA
Tanzania is an excellent African safari destination on the east coast of the continent because as well as being able to enjoy classic game reserves, you can also spend time at the country's beautiful beaches, like in Zanzibar, – you might even see an elephant strolling along the white sands by the Indian Ocean.

It's possible to take a Tanzania safari across 16 national parks in total, with the most iconic being the Serengeti National Park and the Ngorongoro Crater. These great savannahs are classic safari territory, with sweeping plains and huge herds. You can even see the Great Migration here, as millions of animals move across the region in time with the changing seasons.

Other great destinations include Selous Game Reserve, while along the coast, Saadani National Park might be the smallest national park in the country, but it's here that you can enjoy both the beach and a classic African safari.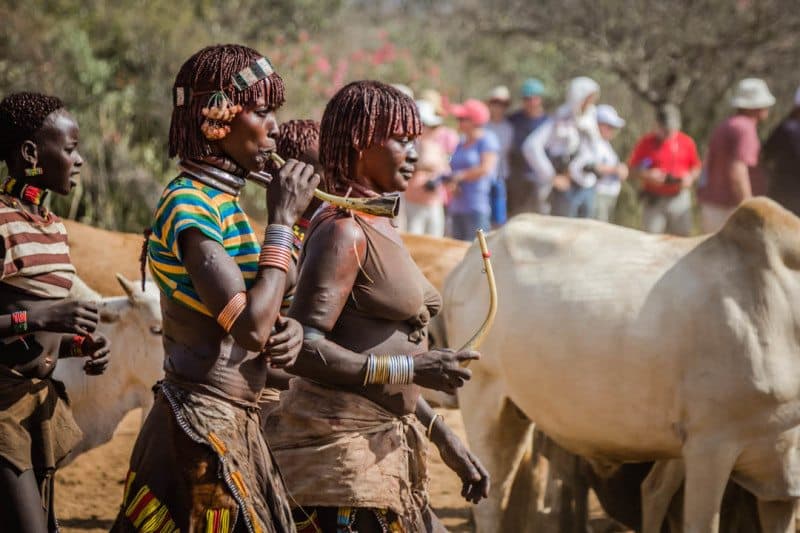 ETHIOPIA
While not your typical safari destination in Africa, per se, you do have the chance to trek deep into the Simien Mountains to see the endemic and endangered Gelada Baboons.

Ethiopia, on the other hand, is a fascinating country of culture, and uncovering the history in places like Addis Ababa, Bahir Dar, Lalibela, Axum, and Gondar will leave you in wonder.

The adventurous should also head into the Omo Valley to interact with a handful of unique Ethiopian tribes.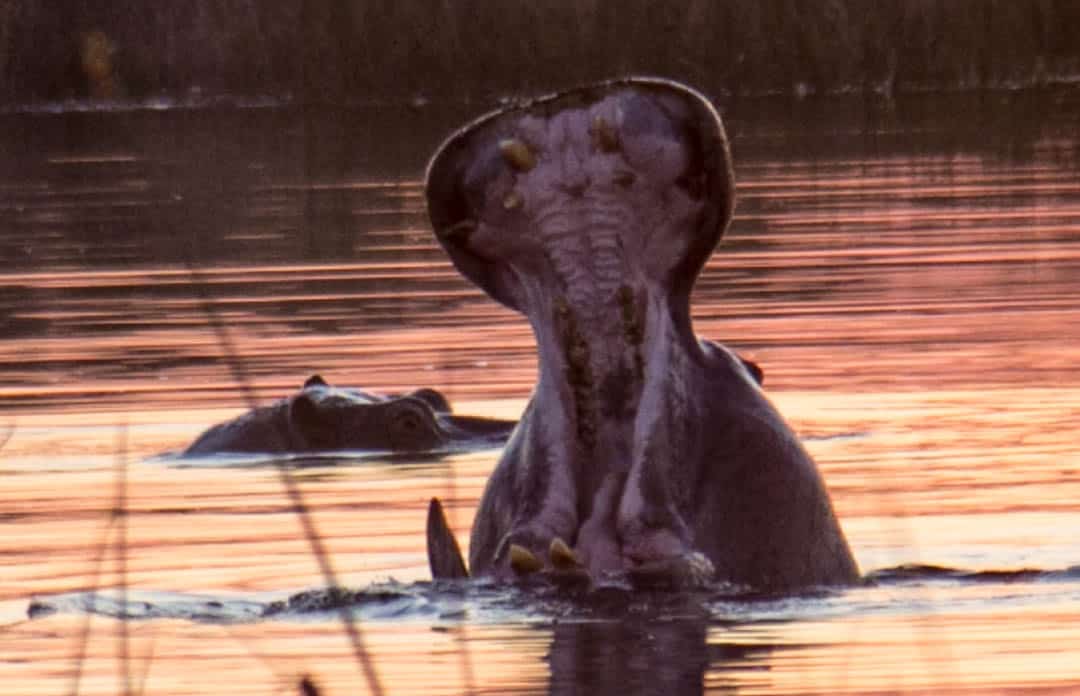 BOTSWANA
Botswana has long been one of the premier destinations on the continent for an African Safari because the vast national parks are teeming with wildlife. 17% of the country's landmass is preserved or protected, offering a haven for animals. 

Chobe National Park is one of the classic safari destinations, and here you can find enormous herds of elephants all along the Chobe River. In the Okavango Delta, you can take boat safaris in search of crocodiles and hippos living in the dense network of waterways, and forming one of the greenest parts of Africa.

For first-time safari-goers, Botswana is easily one of the best destinations, as you'll be able to spot all of the Big Five in high numbers across the country.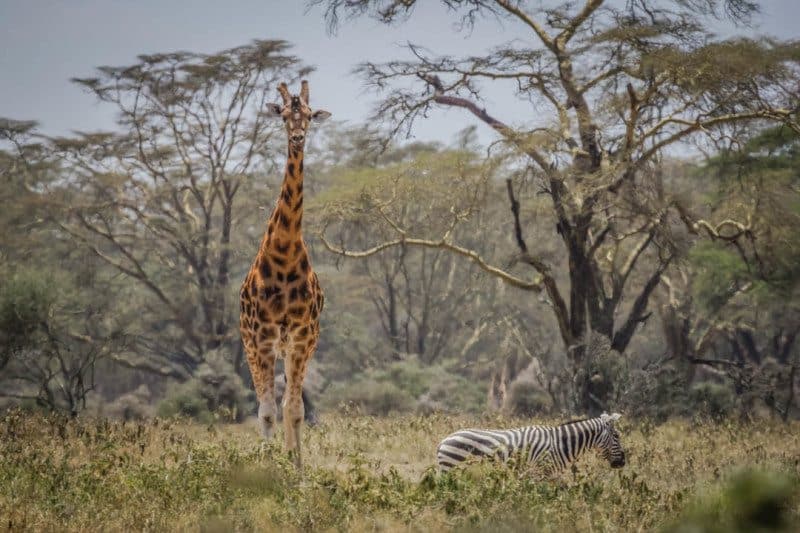 KENYA

To the north of Tanzania, Kenya is another enduring Africa travel destination. Many safari-goers will visit both Tanzania and Kenya on the same trip, as the vast Serengeti plains stretch across the borders of both countries.

Kenya is a great place to observe the Great Migration too, and the country's most famous reserve is the Masai Mara National Reserve, where you will find all the classic African animals. Other popular safari parks include Tsavo East and Tsavo West, which are both close to the Indian Ocean, as well as the beautiful scenes and vast numbers of flamingoes that you can find around Lake Nakuru.

It is also possible to go on safari in the Nairobi National Park where you can see safari animals with the skyline of the city in the distance. Beachgoers will waste no time heading to the white sand coastline of Mombasa where you can relax next to the teal waters of the Indian Ocean.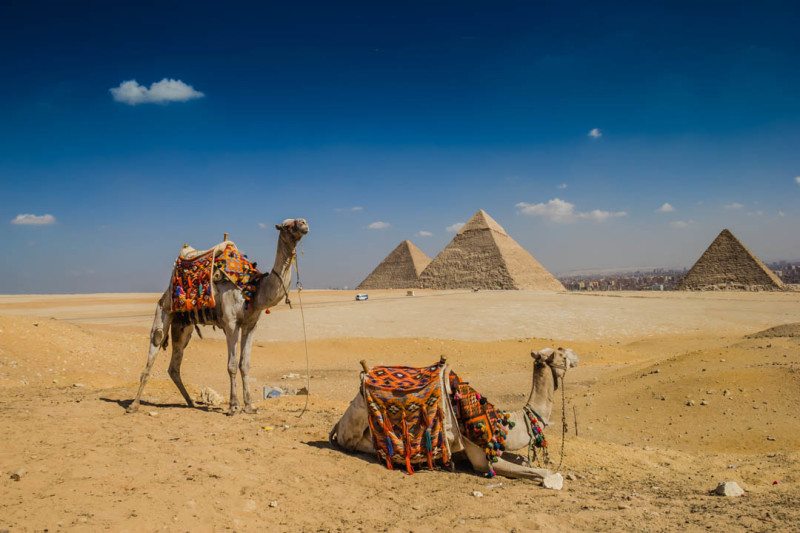 NORTH AFRICA

Again, not a part of the African continent you would visit for safari, but not mentioning incredible cultural and historical destinations like Morocco and Egypt would be wrong!

This region of Africa is defined by the Sahara Desert and is often included as part of the Middle East due to the predominantly Mulsim culture across the countries here.

In Egypt, you can admire the Great Pyramids of Giza and tour the Valley of the Kings. In Morocco, you can head into the desert on a Sahara desert camel safari.

AFRICA TRAVEL BUDGET
Setting a budget for Africa travel is highly dependent on your travel style. It is possible to visit just about anywhere across the continent on any budget and still have a great trip. That said, you can make your trip as basic or as luxurious as you desire.
To help you set your budget, we've included some base range price estimations. Of course, keep in mind that prices can fluctuate based on seasons, availability and festivals.
Travel costs also vary from country to country, and you can spend as little or as much as you desire on an African safari.
The cheapest safaris will generally cost around USD 150 per day, including your transport, basic accommodation and meals, while luxurious safaris can cost upwards of thousands of USD per day, for glamorous lodges and VIP service.
For a complete breakdown of our first trip to Africa, read Africa Overland Trip Budget (A Complete Breakdown). We traveled for 17 weeks overland from Cape Town to Cairo through 14 African countries.
ACCOMMODATION: Varies by type and rating. Generally, you can expect campgrounds and hostelsto be between 5 to 30 USD per night, mid-range hotels from 50 to 100 USD per night and higher-end hotels to be from 150 USD per night. Luxury safari lodges typically start at 500 USD per night and the sky is the limit on price.
ATTRACTIONS: Costs can vary immensely depending on the country. You'll find yourself springing for tours, park entrance fees, museums, activities and game drives.
TRANSPORTATION: The most popular method of travel around Africa is by overland safari truck tours, flights between countries or cars. The African continent is huge and even within countries, it can be a challenge to get around. Overland safaris can be booked for as little as 150 USD per day and operate on a point to point basis. Flights will start around 200 USD and go up depending on length and route. Car rental is possible within a country, but if you want to have a grand African adventure and country hop, you'll find you have to purchase a car and then plan to sell it when you're done.
FOOD: Food will vary widely depending on your tastes and what restaurants you choose to visit on your trip. Generally, though, you can expect to find fast food for around 5 to 15 USD per meal, take a meal in a mid-range restaurant for 10 to 25 USD per person and pay around 3 USD for a beer. Luxury safari lodges are typically all-inclusive with food costs included in the total package price.
BUDGET
---
150 USD PER DAY
African safaris are never cheap, but backpackers will find cheap ways to go on safari. South Africa and Botswana tend to be the cheapest destinations, and with better infrastructure, it's easier to get around on a budget, and you can find cheap accommodation and eats in the cities and main tourist destinations too. Camping, transport and cheap meals will be part of this budget.
MID-RANGE
---
350 USD PER DAY
Midrange travelers have many more options than budget travelers, and you can expect to pay anywhere from upwards of USD 150 per day, with a realistic spend for quality accommodation and several game drives a day being in the USD 350 per day region. This will also include smaller lodge packages, some of which may have all-inclusive options for you too.
LUXURY
---
1000 USD + PER DAY
Africa offers an amazing level of luxury on safari, but the best lodges and glamping sites can be booked out far in advance. Luxury travelers can expect to pay upwards of USD 1000 per day for an exceptionally glamourous lodge in the wilderness, flights into the reserve, an all-inclusive food and beverage package, and multiple private game drives per day.
HOW TO GET AROUND IN AFRICA
There are a few ways to get around Africa during a visit, including overland safaris, flights, buses, cars and cruises. Africa is huge and most of the countries lack serious infrastructure when it comes to transportation. No matter how you choose to move around, expect it to be slow.
OVERLAND SAFARI: One of the most popular and cost-effective ways to see large areas of the African continent is by joining an overland safari. Itineraries vary depending on the length of the trip but generally are found operating the trodden trail of Cape Town to Nairobi, including the 'gorilla loop' into Uganda and Rwanda. This popular route will take you through the best of southern Africa and include all the popular stops. A wide variety of companies operate these trips, including Oasis Overland, G Adventures and Acacia Africa, to name a few. Cape Town to Nairobi is around a 56-day trip, with the gorilla loop adding an additional 10 to 14 days. Oasis Overland also offers a 17 week Nile Trans from Cape Town to Cairo (we did this!) and a 42 week Trans Africa that starts in the UK and ends in Cairo, navigating the entirety of both the west and east coasts of the continent!
BUS: If you love a good adventure, then taking the local bus within each country you are visiting will give you just that. Expect to have run down, dusty, over-crowded and blistering hot rides if you choose this method of transport. The upside, however, is that the buses are cheap and available in most countries.
FLIGHTS: African capitals are all served by international flights from across the world and depending on your destination of choice, it's simple to fly in and fly out. Given the vastness of the continent, domestic flights, and flights between African countries are the most popular method of transport for travelers, particularly if you are on a tight schedule but want to see more than one safari destination. In many remote areas, lodges and parks can only be reached by light aircraft.
CRUISES: Plenty of cruise companies operate itineraries that ply the waters of both the West and East coasts of the African continent. Your immersion will be limited, but you'll be able to explore a variety of destinations with relative ease.
SELF-DRIVE: Driving is a challenge across Africa, as roads can be in dubious states of repair, and public transport can be crowded and outdated. In the rainy season, many places become inaccessible as roads can be washed away or flooded. If you choose to self-drive, you will want a four by four, and it will need to be purchased in Africa when you arrive. Be sure to do your research and make sure your purchased vehicle comes with a clean carnet to make border crossings slightly less of a headache.
WHEN TO VISIT AFRICA
Timing is everything when it comes to planning an African safari because the continent experiences vast seasonal differences when it comes to the weather. The wildlife moves with the changing seasons, and different times of the year can present better opportunities than others for finding the animals you are looking to see.
Broadly speaking the continent's seasons are divided between wet and dry periods.
The dry season is usually the best time to actually see the wildlife, particularly rarer animals, as when the water sources begin to dry up, animals congregate around particular watering holes and become easier to find. In the dry season, there's much less vegetation around too, meaning that there are fewer places for the wildlife to hide.
When it is the rainy season, it rains heavily, and roads can easily become washed away in national parks, while transport can become a logistical nightmare.
The seasons and best times to visit vary from one country to the next. The best time for southern Africa is May to September when it's the dry season. For areas further north, such as Tanzania and Uganda, the best time to visit is from October through to April, when it's the dry season here.
BE INSPIRED TO VISIT AFRICA!
SAFETY IN AFRICA
Africa travel can pose several dangers, not least of all the wild animals. There are very few incidents involving wildlife, and as long as you join a professionally run safari and follow their rules then you'll encounter few problems within national parks. This includes not venturing off into the wilderness on your own!
More common safety issues are likely to be found in the African cities, as many – such as Johannesburg or Nairobi – have notoriously high crime rates. Be aware of your belongings at all times, and don't head off into un-reputable parts of cities.
Don't carry a lot of money with you when you are out exploring and be sure to leave all valuables back in your room or hidden in your vehicle. Opportunistic theft is rife and sadly, violent robbery is not uncommon. Even in places like Cape Town in South Africa.
Be smart, know where you're going and walk with a purpose. Don't head out at night, in any city and certainly not alone. Tell the front desk or your traveling companions where you are going and for how long.
We traveled across the African continent for 5 straight months, through 14 countries, and while we experienced plenty of hiccups and questionable moments, we found Africans to be very friendly and curious people. Yes, crime happens across all African countries, but don't let that scare you from interacting with its wonderful people during your trip.
As with any destination, we recommend learning and adhering to certain safety practices when you travel. Be sure to read our personal travel safety tips, compiled from our travels across 7 continents.
AFRICA TRAVEL: BOOKING RESOURCES