Imagine standing next to the largest waterfall in the World, being showered with its mist like a rainy day while catching glimpses of the rainbows that often settle over top of it.
The falls are not only a natural wonder to be admired and photographed, but you can also find much adrenaline producing things to do in Victoria Falls.
Touted as the adventure capital of East Africa, it should come as no surprise that there is a wide array of adventures to get up to from the soft to the extreme. Here's a look at our recommendations to get your blood pumping and give you an adventure you won't soon forget from the mighty Victoria Falls.
We highly recommend you purchase a Victoria Falls Adventure Pass.
---
9 Adventurous Things to Do in Victoria Falls
1. Whitewater Rafting on the Zambezi River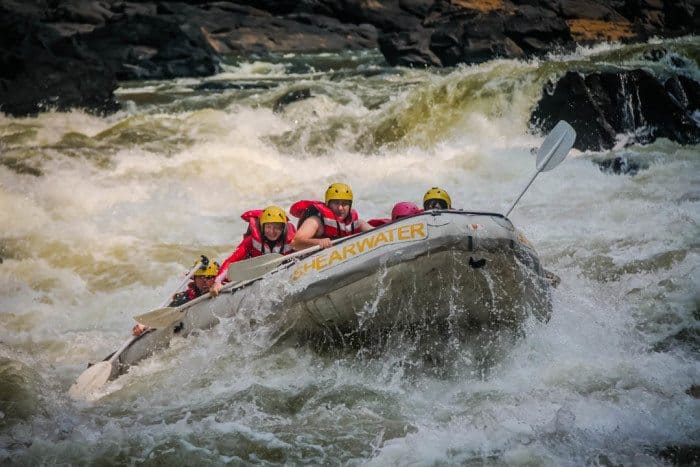 If jumping off things isn't for you but you still want an adrenaline rush, hop into a raft. The Zambezi River touts some of the best commercially rafted class IV & V rapids in the industry and can take you for a real ride depending on the season and water levels.
We timed our visit just right where the water was not too high but the river was still producing surges to class V. It was our best rafting trip to date and we even fell out a couple of times when the water got rough. This is hands down one of the best things to do in Victoria Falls.
Book you own rafting trip on the Zambezi River
2. Bungee Jumping
A proper visit to Victoria Falls wouldn't be complete unless you threw yourself off something. Why not bungee jump from the bridge that connects Zambia and Zimbabwe with a view of the world-famous falls?
It has often been said that the river at the bottom is full of crocodiles and they still offer the option of touching the water, despite this. If that isn't enough to get the heart racing, I don't know what is.
The jump here will find you at the end of one of the top 5 tallest bungee platforms in the World. Set inside a gorge, you get a day pass for a visit to Zambia and walk yourself right to the center of the bridge where you'll find the small platform that will send you plummeting towards the water below.
Feeling adventurous? Book your Bungee Jump!
3. Horse Safari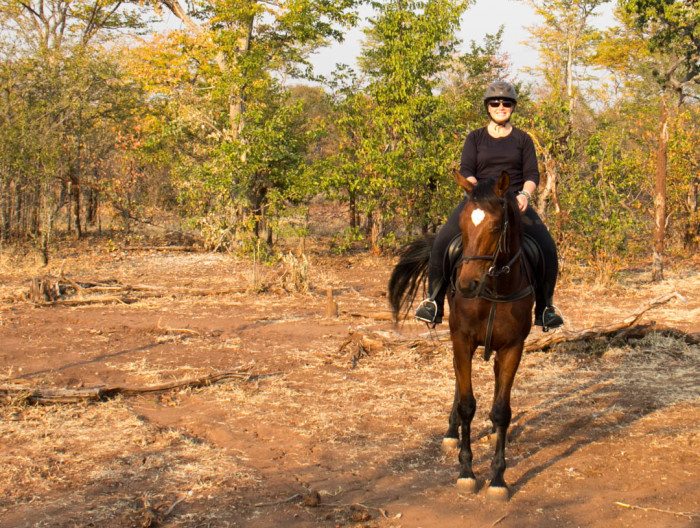 On the softer side of the adventures is an opportunity to go horseback riding within the National Park. Being on horseback allows you the chance to get up close to some of Africa's big game that you've been seeing from those safari vehicles.
We went out on a 3-hour safari that gave us an up-close look at the flora of the area and even found us riding among herds of Kudu within the park. Towards the end of the ride, we encountered a couple of elephants but maintained our distance.
It is a great way to experience Africa and I can recommend it for horse and non-horse people alike.
Book a horseback safari in Victoria Falls
4. Livingstone Island Tour- Devil's Pool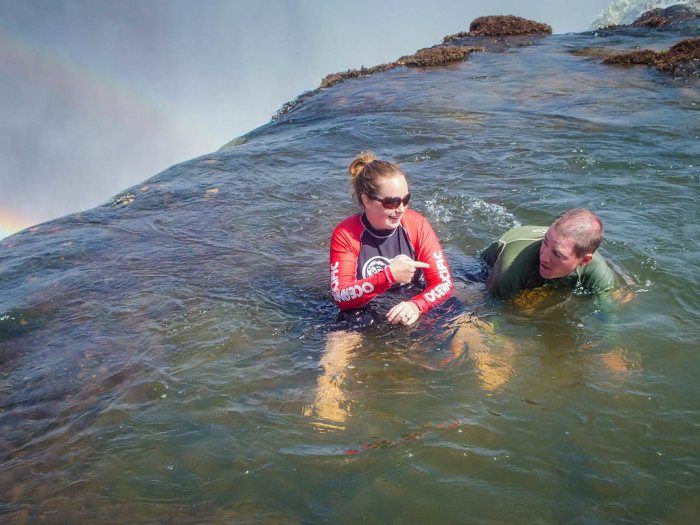 Aligning with the adrenaline theme is a visit to Livingstone Island on the Zambia side. It is the only place you can access the Devils' Pool and Angels Armchair. Both are small rock pools that have been naturally formed at the lip of Victoria Falls, just before the edge.
A trip out to the island gives you a chance to visit these pools and have your photos taken at the very edge of Victoria Falls with nothing separating you from the pool and a 128m drop.
The water levels will determine which of the two pools will be open during your visit but please note, during high water it is not possible to visit them at all.
Of all the things to do in Victoria Falls, we recommend you not miss this one. It is not for the faint of heart but is an incredible trip to sit on the edge of the largest waterfall in the world. It is also a Top 100 Travel Adventure.
Don't think, just book: Livingstone Island and Devils Pool Adventure
5. Helicopter Ride over Victoria Falls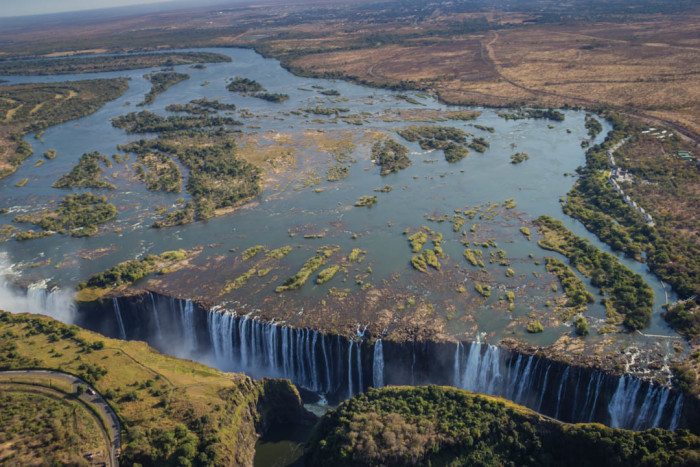 Hands down the best views you can have at Victoria Falls is by hopping into a helicopter for a birds-eye view. The experience will give you a whole new respect for the world's largest waterfall. In case that wasn't enough, you'll also get a great thrill from being inside a helicopter.
The helicopters used are posh with leather seats, legroom and large windows that open for clean views of the falls. See how the mighty Zambezi flows towards the falls and then widens before it gets there to spread the water over the massive area before dropping and continuing on through Batoka Gorge.
It's an experience not to be missed on your visit to Zimbabwe.
Book: an amazing helicopter flight over Victoria Falls
More Amazing Experiences You Shouldn't Miss
Victoria Falls is an amazing destination in that it combines the true grit of Africa with some amazing experiences. Be sure to plan enough days to not only discover the falls but enjoy the surrounding area and all the things to do in Victoria Falls.
6. Bouma Dinner & African Dance Show – for a fun night out, look no further. We spent one of our nights in town eating our weight in the African game, cooked over a fire grill while being endlessly entertained by local dancers. You can even visit a medicine man to have your future told.
7. Up Close Tour of the Falls – if you've traveled all the way to Zimbabwe you might as well get up close and personal with the largest waterfall in the world. This tour lasts 2 hours and takes you right up to the edge for some amazing views. You'll also learn the history of the area.
8. Sunset Cruise on the Zambezi – take it down a few notches and hop on a boat to cruise the Zambezi River and experience the sunset. This is a great way to relax and unwind after a day of adventure and is one of the most popular things to do in Victoria Falls.
9. Take a Village Tour – in this half-day local village tour, you'll get a chance to meet local Zimbabweans and learn about their culture. It's a great way to immerse yourself into something unfamiliar. Don't forget to smile.
Endless Adventure Options in Victoria Falls
Of course, the few we have named here are just the beginning of what is on offer here, these are just our favorites and the ones we feel you shouldn't miss! You can't really go wrong on your visit to Victoria Falls, so grab your bathing suit, your camera and get ready for the time of your life.
Need help figuring out what to do? Joy over at Backpackers Bazaar in downtown Vic Falls, Zimbabwe can get you set up with all the adventures you can think of and some of the tamer stuff too.
More on Zimbabwe:
Other Great Safari Destinations in Africa:
Did you like this story? Share it!