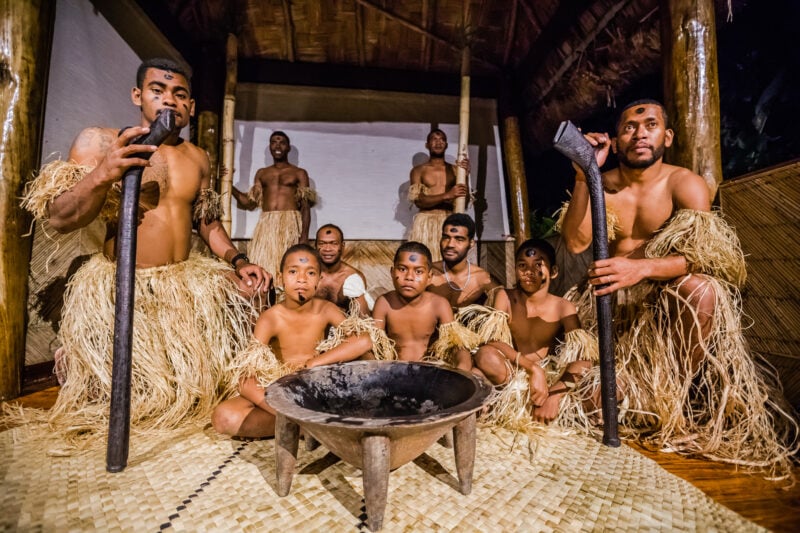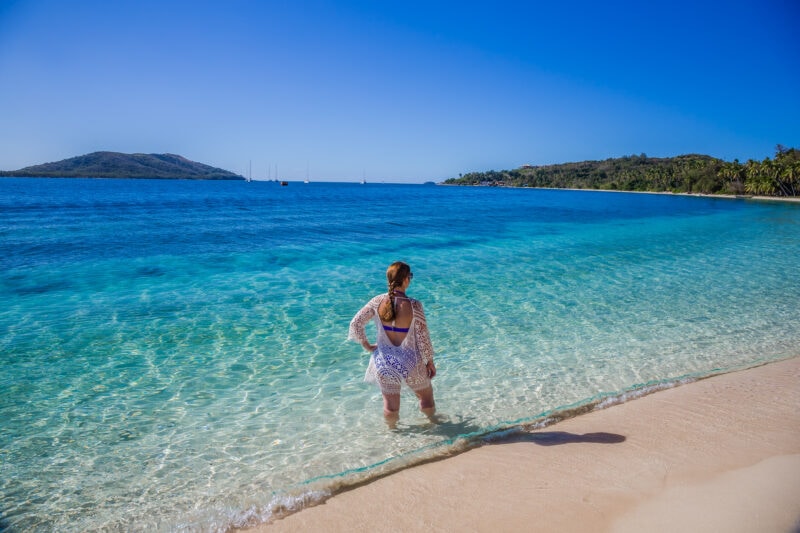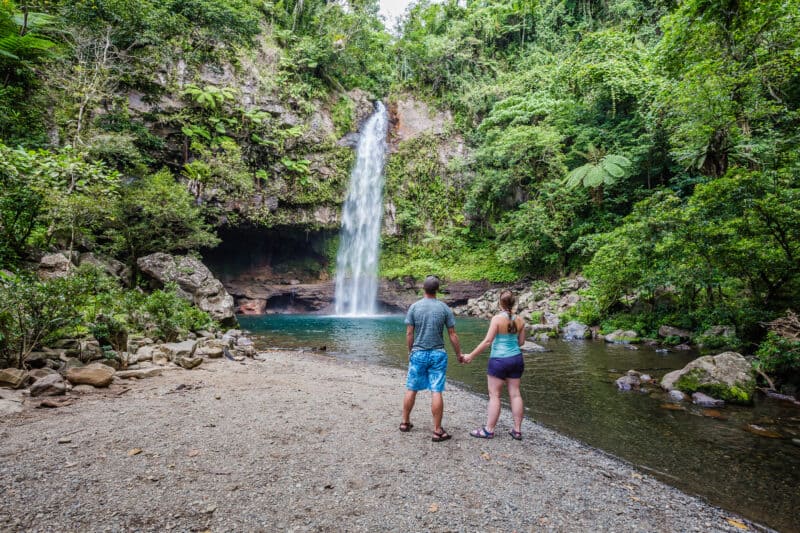 Ultimate FIJI Travel Guide
Fiji is a country located in South Pacific and is part of Melanesia. Suva is the capital, although most who travel to Fiji find themselves routing through Nadi (pronounced Nan-di), on the west coast of Viti Levu. This guide is chock full of our best Fiji travel tips and advice to plan your visit.
This island nation consists of 330 islands, of which 110 are inhabited, and more than 500 islets. This alone helps the nation live up to its accolades as a world-class scuba diving destination.
Most visitors to Fiji spend their time on or around Viti Levu in places like Nadi, Denarau, the Mamanuca Islands and the Yasawa Islands.
These areas offer some fantastic island vibes, particularly in the Mamanucas and Yasawas, however, some of the best that Fiji has to offer lies to the North on Vanua Levu and Taveuni.
FIJI TRAVEL: QUICK TIPS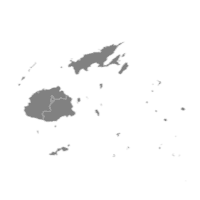 Don't Visit FIJI Without: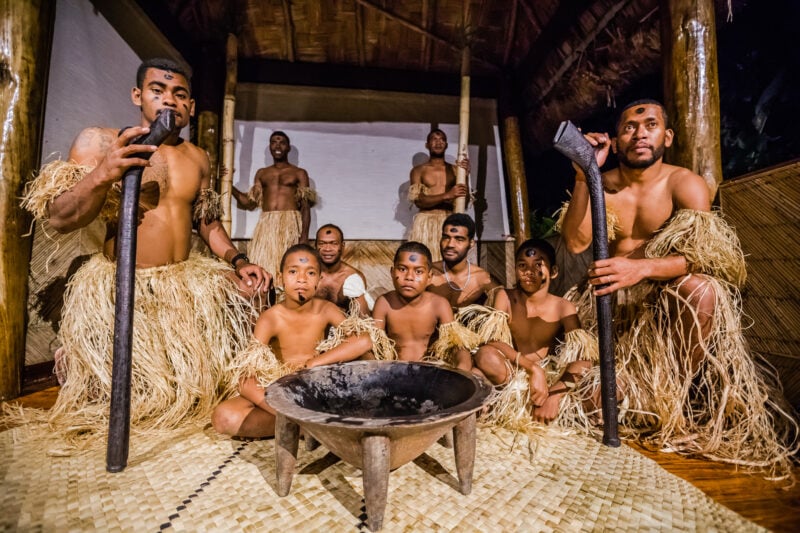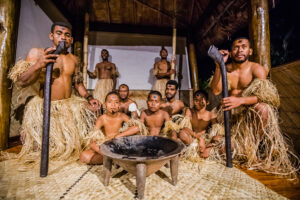 PARTAKE IN A KAVA CEREMONY
The national drink of Fiji is called Kava. It is derived from the roots of the kava plant, steeped in water, and then filtered. It possesses sedative properties, so be sure not to overdo it the first couple of times.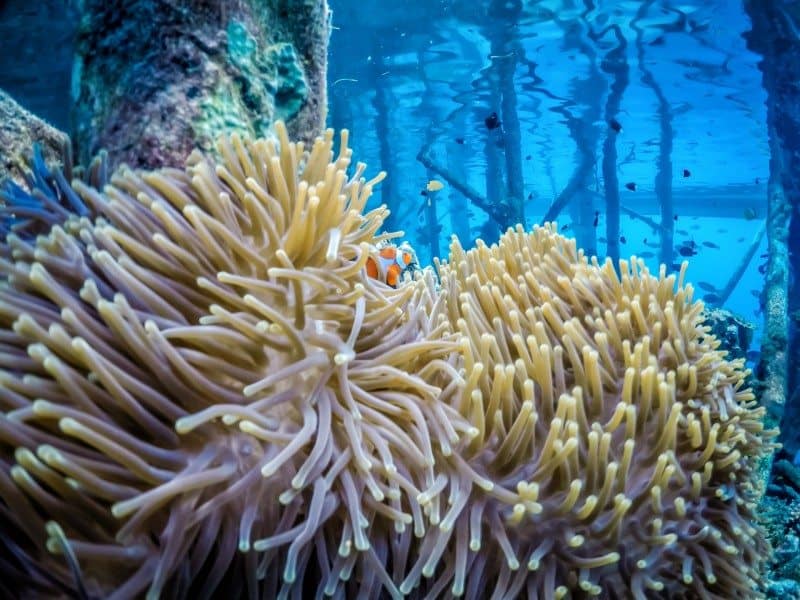 GO SCUBA DIVING
Fiji is famously known as the 'soft coral capital of the world'. This means you can expect some spectacular dive sites across the country. You can also dive with sharks, sans cage, near Beqa Island off Viti Levu.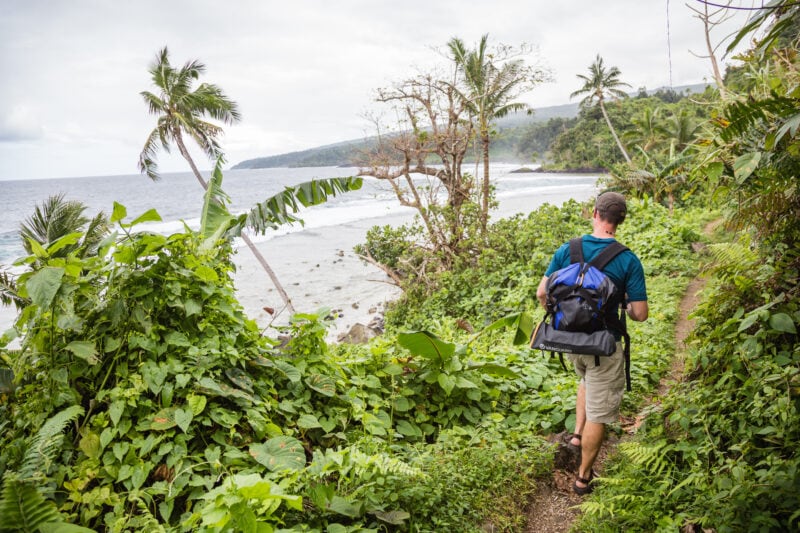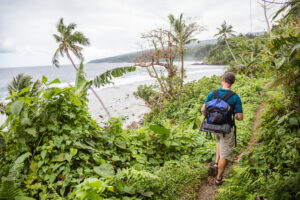 LAVENA COASTAL TRAIL
Located on Taveuni, the Lavena Coastal Trail is one of the best adventures you can have in Fiji. The trail takes you along the coast to remote beaches, through the rainforest, and ends at a double waterfall.
MORE THINGS TO TRY IN FIJI
There is no shortage of great things to do in Fiji during your visit and the biggest problem you'll face is fitting them all into your itinerary.
Each island has its own offering and unique things to check out during a visit, so be sure to look at our island guides once you decide where you're itinerary will take you.
BOUMA WATERFALLS IN TAVEUNI: One of the top reasons to make the beaten path deviation to Taveuni is to visit the Bouma Waterfalls. Set in a lush forest, you can spend an entire day swimming in natural pools and hiking to the 3 waterfalls here.
STAND ON THE INTERNATIONAL DATELINE: Fiji is one of only 3 places where you can physically stand on the International Dateline. You can do this on Vanua Levu and Taveuni, although Taveuni is the place where you'll be able to get a photo with the famed sign.
ATTEND A FIRE DANCING CEREMONY: Fire dancing is a long tradition in the Yasawa Islands of Fiji and one of the most fascinating cultural performances you can witness during your visit.
WHITE WATER RAFTING ON THE UPPER NAVUA RIVER: Yes, you can go white water rafting in Fiji. In fact, this unique stretch of water provides some epic views to go with its class II/III rapids. Booking a day of rafting here will also have you checking one of the Top 100 Travel Adventures in the world off your bucket list.
SHARK DIVING OFF BEQA ISLAND: Fiji is famous for its offering of non-caged shark diving with some of the most notorious predators of the sea. It requires an advanced open water certification and the ability to follow directions, but if you're willing and able, you can have the chance to dive in waters where Tiger and Bull sharks prowl.
VISIT THE SAWA I LAU CAVES: Located on Yasawa Island, the largest and most remote island in the Yasawas group, is a massive island cave that is fed by the sea. Crawling in from above, it is a cool place to snorkel and explore the cavern ecosystems.
RELAX AT THE BLUE LAGOON: This is probably the most beautiful beach we have ever seen in our travels. Famed for being used as the filming location for the movie Blue Lagoon, it is the perfect place to spend an afternoon beach walking, swimming and snorkeling.
JOIN A VILLAGE VISIT: Fijian hospitality is warm, welcoming and to visit Fiji without visiting a village would be a missed opportunity to connect with another culture. Learn how to cook local dishes, hear stories, listen to music and shop handmade artisan goods.
TAKE A SCENIC FLIGHT: As with most tropical places, some of the best views will come from above. This is no exception in Fiji. Get a taste for all the blues, greens and earth tones from the sky by booking a scenic flight. Hot tip, if this isn't in your budget, be sure to book a window seat on any inter-island flights you take!
SNORKEL WITH MANTA RAYS: Rich with coral gardens, walls, and nutrient-rich seas, it is not uncommon to spot Manta Rays while diving and snorkeling in the Mamanuca and Yasawa Islands. However, some islands offer snorkel trips to Manata cleaning stations, where you can observe large numbers of these awesome creatures in shallow water.
FOODIE BUCKET LIST
The Fiji islands are surrounded by the rich oceans of the Pacific, and with so much coastline, the country is of course known for its seafood.
You'll find plenty of fresh seafood for sale, especially in the hotels and resorts, and it's often grilled or served in a coconut cream sauce.
Rice and cassava are ubiquitous in Fiji and are often served as an accompaniment to the fish or meat, along with other more seasonal vegetables.
Fiji has a huge population of Indian descent so that means you can always find a great curry if you're hungry. In the towns and cities, there are curry houses everywhere, serving staples such as Daal, Naan and Tikka.
When you travel to Fiji, you can also try to find a Lovo, a traditional Fijian banquet ceremony where you gorge on food that's been prepared using an underground oven.
You can also try the local Kava, homebrewed alcohol that's imbibed after much ceremony.
FIJIAN FESTIVALS
Fiji is a very cultural place, and you can find traditional ceremonies and events throughout most of the year.
In towns with large Indian populations, such as Nadi, you can visit local temples and will often run into colorful parades in the streets.
Diwali and Holi are both celebrated passionately in Fiji.
If you're looking for indigenous celebrations though, then the best festival is the Bula Festival, a week-long event that involves dancing, singing, eating and drinking across the whole island.
If you are traveling in the Yasawa Islands, be sure to catch a fire tossing ceremony. During these performances, trained local dancers perform indigenous storytelling through dance and with live flames.
Additionally, on Viti Levu, seek out a similar yet different Fire Walking ceremony. This is when hot stones are placed in patterns, depending on the story, and then navigated barefoot.
PLAN THE PERFECT ISLAND HOPPING ITINERARY!
POPULAR REGIONS IN THE FIJI ISLANDS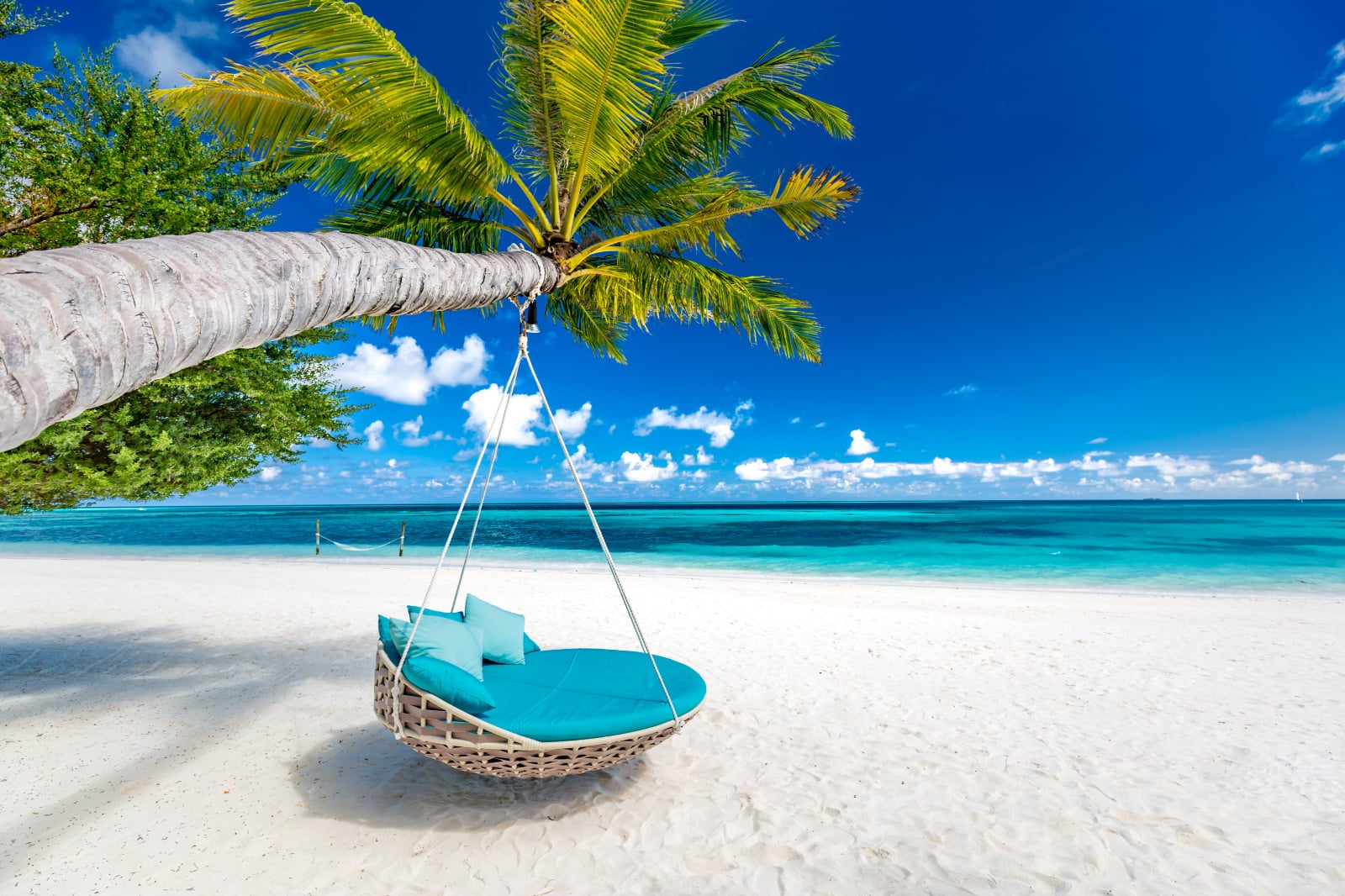 VITI LEVU
When you travel to Fiji, the first island you'll be visiting is Viti Levu. This is the largest of the Fiji islands, it's the transport hub and where you can find the capital, Suva.

Travelers will start in Nadi, where the country's international airport is, and from here you can explore nearby national parks, botanic gardens, colorful markets, and beautiful coastline.

Head to Denarau Island off the coast of Nadi for high-end resorts and hotels, or make the journey overland to Suva where you can find museums in the off-the-beaten-track capital city.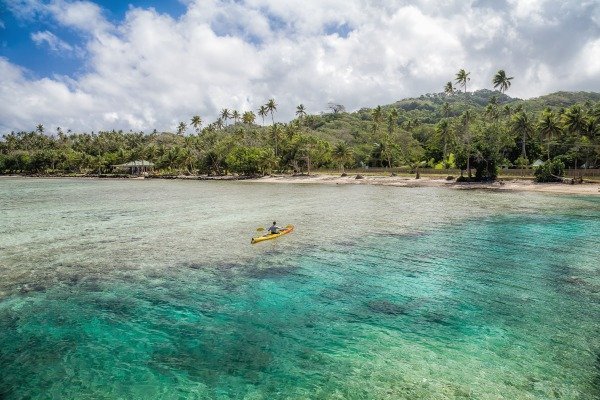 VANUA LEVU
Head north of Viti Levu and you can explore Fiji's second-largest island, Vanua Levu. Compared to Fiji travel destinations such as Nadi and the Mamanucas, Vanua Levu sees just a fraction of the tourist numbers, making this the perfect place to escape the crowds, especially in peak season.

Vanua Levu is known for its rugged, tropical beauty and pristine nature. Start your Fiji islands adventure in Savusavu, a laid-back harbor town where you can get a little culture.

Next, head into the jungle, before rounding off your trip by diving in the Namena Marine Park, one of the Pacific Ocean's most biodiverse areas.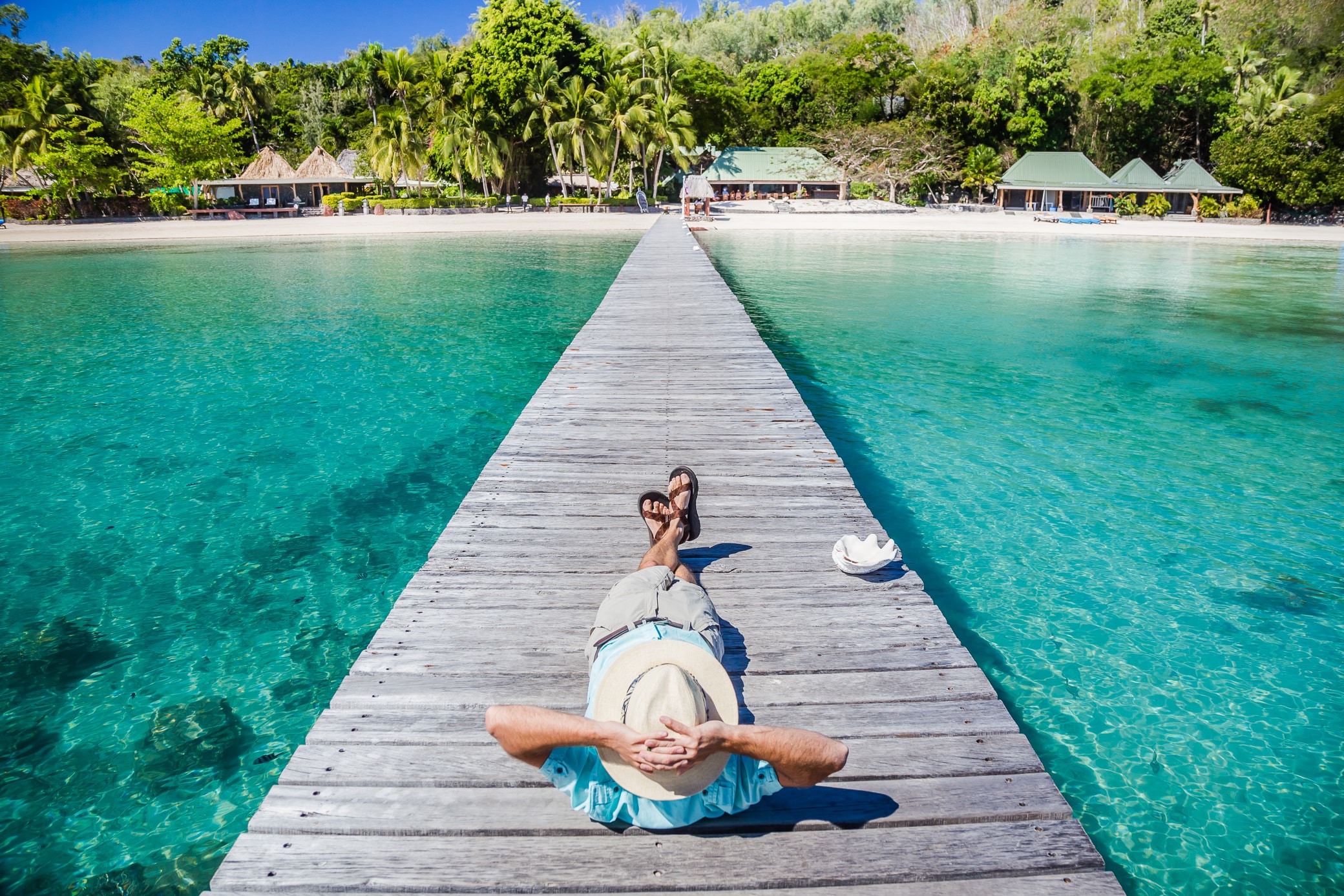 YASAWA ISLANDS
North of the Mamanuca Islands, you can find the equally beautiful yet much less developed Yasawa Islands.

This is the place to go if the Mamanucas are too busy for your liking because on the Yasawas you can find rustic homestays and guest houses overlooking the pristine coastline, and backed by verdant undisturbed jungle.

There's much to discover in the Yasawa Islands, from wonderful coral reefs, deep blue lagoons, and hidden underwater caves, to traditional Kava ceremonies and cultural encounters.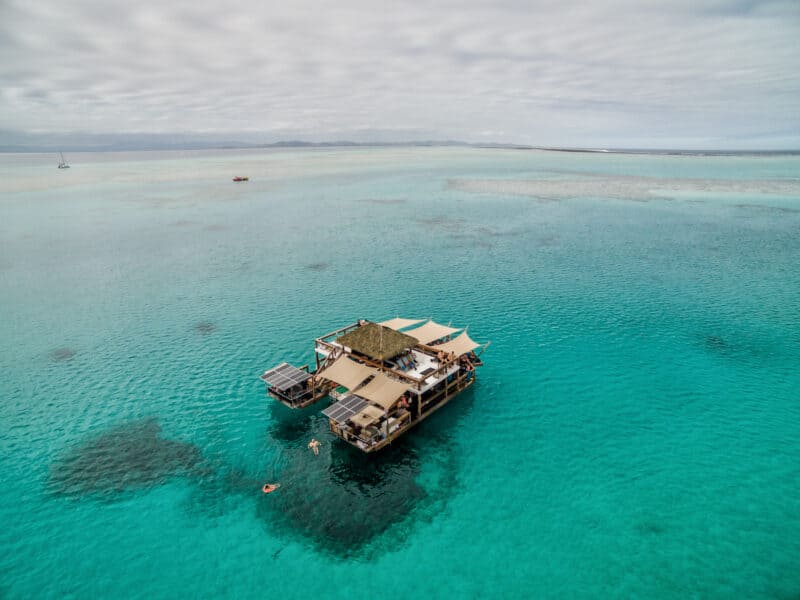 MAMANUCA ISLANDS
The Mamanuca Islands are just a quick boat ride away from Nadi, off the west coast of Nadi, and this small collection of Fiji islands makes up the center of tourism in the country.

No Fiji travel itinerary is complete without a few days here, as the Mamanuca Islands are the epitome of a tropical destination.
Hang out at resorts, party on Beachcomber Island, and discover the sheer natural beauty of these Pacific Islands.

The snorkeling is great, the diving is even better, or you can just sit around on the beach and do nothing at all.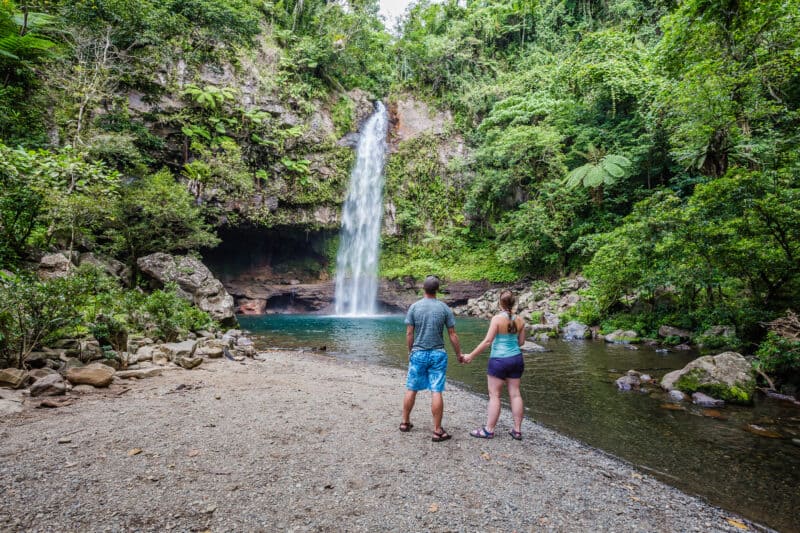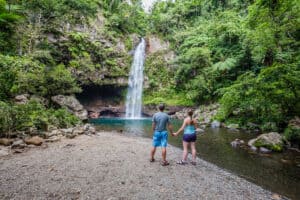 TAVEUNI
You'll also want to add Taveuni to your Fiji travel adventure because this is another area of outstanding natural beauty.

Taveuni is the third largest of the Fiji islands and it's home to crashing waterfalls and stunning coral reefs.

Tackle the Lavena Coastal Walk to enjoy the best of the rugged coastline and glorious beaches, before hiking into the jungle in search of the Tavoro Waterfall.

Taveuni also offers access to some of the best diving in Fiji on the Somosomo Strait.

FIJI TRAVEL BUDGET
Setting a budget for traveling around the Fiji Islands is highly dependent on your travel style. It is possible to visit just about anywhere in Fiji on any budget and still have a great trip. That said, you can make your trip as basic or as luxury as you desire.
To help you set your budget, we've included some base range price estimations for travel around Fiji. Of course, keep in mind that prices can fluctuate based on seasons, availability and festivals.
ACCOMMODATION: When you travel to Fiji, the accommodation can be as expensive or as cheap as you want it to be. You can spend hundreds of dollars a night on the honeymoon suite of a private resort on a deserted island, or you can spend 20 dollars a night for a dorm bed by the beach. Accommodation prices are always much higher in peak season.
FOOD: Meals can be good value, although always remember that costs inevitably are much higher on smaller islands and in resorts than in towns like Nadi. For a few dollars, you can pick up a big portion of curry in a local restaurant, while equally, you could spend a hundred dollars for a three-course meal in a resort overlooking the ocean.
TRANSPORT: Your transport options in the Fiji islands are generally good value. Local buses and boats have minimal costs, while you can save money on the touristy catamarans by buying a hop on hop off passes. Sea Plane transfers, while expensive, are still comparatively good value compared to other destinations in the world.
ACTIVITIES: Nature costs nothing to see, just your transport, while more expensive activities such as diving or sailing are the things that will start to set you back. You can usually get two dives for around 100 USD, for instance.
BUDGET
---
50 USD PER DAY
Staying in dorm beds, buying cheap local food, and using the hop on hop off, island hopping passes. No diving.
MID-RANGE
---
150 USD PER DAY
Staying in private rooms or guesthouses, having the odd restaurant meal, and enjoying a few day trips or dives.
LUXURY
---
300 USD + PER DAY
If you're looking for luxury, Fiji can provide it. Private resorts, Sea Plane transfers and endless restaurant meals and activities.
WHERE TO STAY IN FIJI
Below you will find some of the places we have stayed during our travels in Fiji. These are individual properties that we enjoyed and would recommend to other travelers.
HOW TO GET AROUND IN FIJI
When you're planning your Fiji travel itinerary, you'll need to factor in how to actually get around. Fiji is an archipelago, so at some point, you're going to have to take a boat.
If you're not short on cash then the quickest and most exciting way to travel around the Fiji islands is to take a Sea Plane or a helicopter.
If you're budgeting though, this won't be an option. Instead, you can make use of public transport and local tour companies.
In the touristy areas, predominantly Nadi and the Mamanuca and Yasawa Islands, you easily arrange boat transfers and transport with hotels, resorts and local tour providers.
From Nadi, you can take catamarans across to the Mamanuca and Yasawa Islands, and you can even purchase great value hop on hop off passes for island hopping.
To get to the more remote islands, such as Vanua Levu and Taveuni, you'll need to take the slow, public ferries. Across these islands, you can make use of public buses to get around cheaply, as you can on Viti Levu too.
FLIGHTS: Fiji Airways is the domestic carrier and they are responsible for connecting the islands with regular schedules. It is also possible to take private seaplanes or charter flights throughout the whole country, depending on your budget.
BUS: The islands in Fiji that are inhabited will have some sort of bus system in place for transport on that particular island. That said, don't expect anything fancy. These are local, well-worn, rickety buses with no air conditioning. Fares are cheap and they will get you to where you need to go, though. You also won't find traditional bus stops, instead, to catch the bus you just need to stand on the road along the route and flag one down.
FERRIES: If flying between islands is out of the questions, don't worry, ferries are common places in Fiji. Schedules, however, may make traveling solely by ferry a real challenge unless you have unlimited time during your visit. Ferries range from large, comfy boats to small runner types. Be sure to check with the locals about up to date schedules, as they change often.
CRUISING: It is possible to see some of the Fiji Islands on a cruise. This can be done on both small and large ships. It is also possible to take the catamaran-type multi-day cruises around the Mamanuca and Yasawa Islands. The best cruises in the Fiji Islands, however, are operated by Captain Cook Cruises out of Denarau.
WHEN TO VISIT FIJI
Fiji has two distinct seasons, a wet and a dry season, and due to its tropical location in the southern Pacific, it enjoys warm and generally consistent temperatures throughout the year.
The most popular time to travel to Fiji is between June and September and over the Christmas and New Year holidays. These dates coincide with holidays in Australia and New Zealand, where most tourists to the Fiji islands originate from.
The dry season, between April and October, sees the best weather but it's also when Fiji is at its busiest. The scuba diving is great, and there's no chance of rain or cyclones, but prices are definitely going to be at their peak, as are the crowds.
The rainy season runs from November through to March, but it can still be a good time to visit, just keep an eye on the weather and look out for cyclone warnings (which are rare). It's much more humid, and visibility in the water won't be as good, but the waterfalls and jungles will be at their finest after downpours while prices are much lower when you travel to Fiji in the wet season.
Plan your trip to Fiji like a pro: Best Time to Visit Fiji (Month by Month Breakdown)
ESCAPE TO PARADISE AS NEWLYWEDS!
SAFETY IN FIJI
The Fiji islands are very safe for tourists, and if you're staying in the resorts and on the touristy destinations, then you'll really have very little to worry about when it comes to your personal safety.
Fiji is a poor country, however, so always keep an eye out for your belongings, especially when you're on the beach. Incidents and thefts are very rare, however.
You need to be more careful in certain areas of the cities, such as Suva and Nadi, where it can be more dangerous late at night.
In the markets, watch out for pickpockets, but also be prepared to haggle with locals when you're buying souvenirs or booking onto tours, as you could be scammed. Generally, though, Fijians are welcoming and hospitable.
As with any destination, we recommend learning and adhering to certain safety practices when you travel. Be sure to read our personal travel safety tips, compiled from our travels across 7 continents.
FIJI TRAVEL: BOOKING RESOURCES
FIJI TRAVEL GUIDE: RELATED ARTICLES
Looking for more info? Check out all the articles we've written on travel to Fiji and start planning your dream trip.