WORLD'S TOP TRAVEL ADVENTURES
Are you searching for an adventure?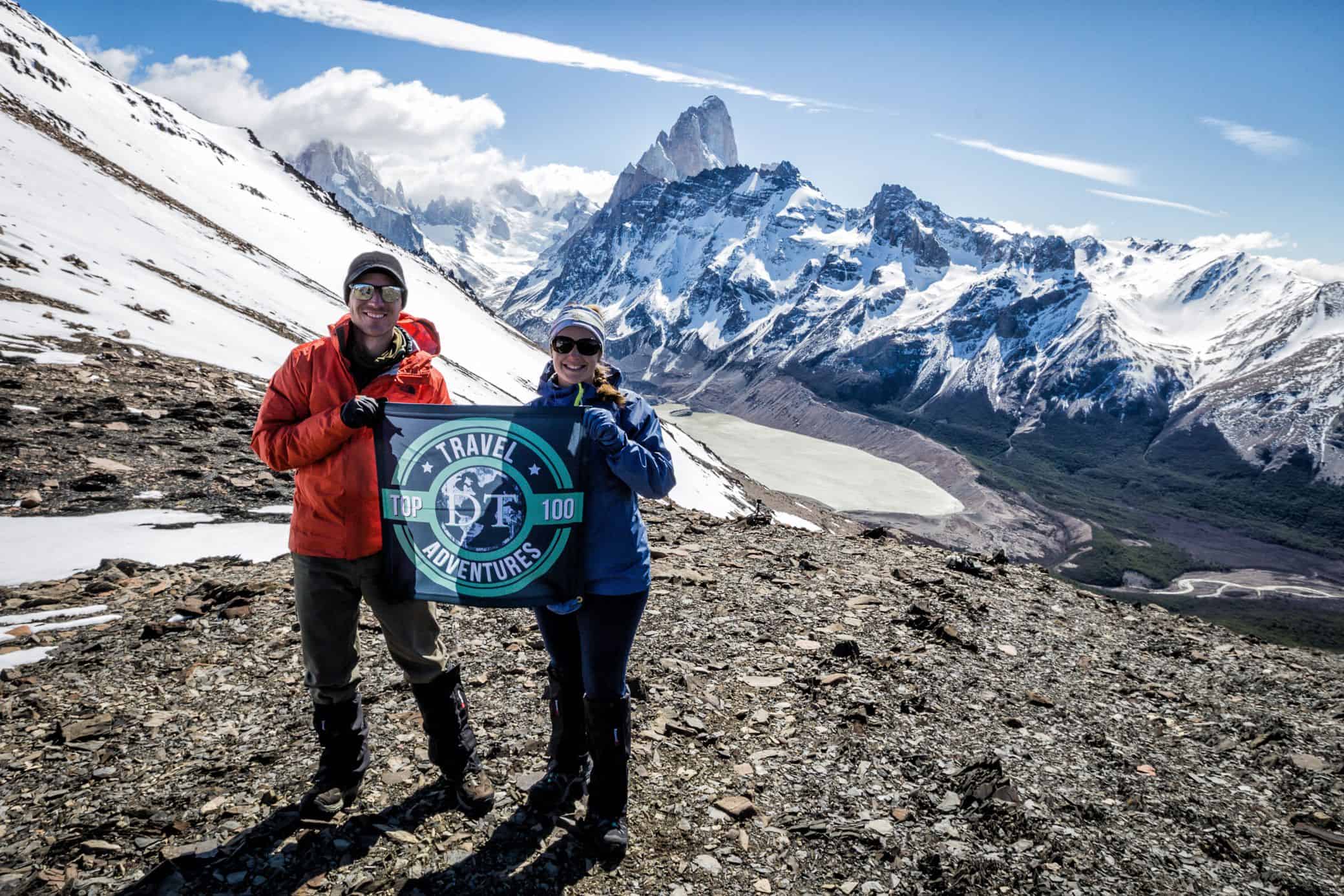 We've visited more than 100 countries on all 7 continents and learned a lot along the way about the things that make adventure travel itself, let alone the destinations, one of the last real wonders of the modern world.
It's no secret, we love travel adventures.
Over the years we have decided to curate a list of the top travel adventures on the planet. We wanted a list of adventures that anyone could do, from the weekend warrior to the multi-week adventurer.
These adventures are for you and we're doing the leg work (twist our arms!) so you can head out and enjoy.
World's Top 100 Travel Adventures
COMPLETED

|

UPCOMING
(TRACK OUR PROGRESS)
1. Hike Patagonia (Argentina/Chile)
2. Hike the Azores (Portugal)
3. Gorilla Trekking (Rwanda)
4. Snow Leopard Tracking (India)
5. Camp at the Gates of Hell (Turkmenistan)
6. White Water Raft Nile River (Uganda)
7. Wild Chimp Trek (Tanzania)
8. Husky Safari (Finland)
9. Soak in Devils Pools (Zambia)
10. Climb Nyiragongo Volcano (DR Congo)
11. Kayak Quirimbas (Mozambique)
12. Serengeti Safari (Tanzania)
13. Climb Kilimanjaro (Tanzania)
14. Multi-day Felucca trip Nile (Egypt)
15. Kruger NP Safari (South Africa)
16. Shark Cage Diving (South Africa)
17. Canoe Safari Okavango Delta (Botswana)
18. Sahara Camel Safari (Morocco)
19. Tongariro Crossing (New Zealand)
20. Celebrate Holi in the Streets (India)
21. Simien Mountains Trek (Ethiopia)
22. Great Wall of China Hike (China)
23. Climb Mt Kinabalu (Borneo)
24. Reindeer Horse Trek (Mongolia)
25. Everest Base Camp Trek (Nepal)
26. White Water Rafting (Costa Rica)
27. Kayak Sea Safari (Philippines)
28. Scuba Diving Sipadan (Borneo)
29. Orangutan Trek (Indonesia)
30. Son Doong Cave Expedition (Vietnam)
31. Horse Trek The Caucasus (Georgia)
32. Overland through Tibet (China)
33. The Druk Path (Bhutan)
34. Overland Track (Tasmania)
35. Bush Camp Fraser Island (Australia)
36. Scuba Great Barrier Reef (Australia)
37. Drive Australia's East Coast
38. Trolltunga Hike (Norway)
39. Raft the Upper Navua River (Fiji)
40. Kokoda Track Hike (Papua New Guinea)
41. Snorkel Jellyfish Lake (Palau)
42. Hike the Inca Trail (Peru)
43. Kayak San Juan Islands (USA)
44. Galapagos Islands Traverse (Ecuador)
45. Pantanal Expedition (Brazil)
46. Hike to Ciudad Perdida (Colombia)
47. Hike to Angel Falls (Venezuela)
48. Sail Komodo Islands (Indonesia)
49. Trek to Kaieteur Falls (Guyana)
50. Camp Uyuni Salt Flats (Bolivia)
51. Macaw Research Expedition (Peru)
52. Hang Gliding in Rio (Brazil)
53. Easter Island 3 Summits (Chile)
54. Raft the Zambezi River (Zimbabwe)
55. Ausangate Trek (Peru)
56. Churchill Polar Bear Expedition (Canada)
57. Kayaking Sea of Cortez (Mexico)
58. Wild West Cattle Drive (USA)
59. Hot Air Balloon Flight (Egypt)
60. Raft Shubenacadie Bore (Canada)
61. Kayak Clayoquot Sound (Canada)
62. Icefields Parkway Road Trip (Canada)
63. Spirit Bear Expedition (Canada)
64. See Narwhals in Nunavut (Canada)
65. Yukon Canoe Trip (Canada)
66. Chon Kyzyl Su Trek (Kyrgyzstan)
67. Hike Zion Narrows (USA)
68. Yosemite Grand Traverse (USA)
69. Alaska Bear Camp (USA)
70. Raft the Grand Canyon (USA)
71. Hike the Kalalau Trail (USA)
72. Bike Trip through Loire Valley (France)
73. Svalbard Expedition (Norway)
74. Great SW American Road Trip (USA)
75. Aerobatic Thrill Flight (USA)
76. Kayak the Apostle Islands (USA)
77. Camino de Santiago Hike (Spain)
78. Lemur Safari (Madagascar)
79. Sail the Coast of Croatia
80. Horse trekking (Ireland)
81. Trek the Tour du Mont Blanc (Switzerland)
82. Snorkel the Silfra Ridge (Iceland)
83. North Pole Expedition (Russia)
84. Andes Mountain Travesia (Argentina)
85. Fly a 1902 Wright Glider (USA)
86. Climb Skellig Michael (Ireland)
87. Arctic Circle Trail (Greenland)
88. Expedition to Antarctica
89. Expedition to South Georgia
90. Visit the Darien Gap (Panama)
91. Trek Petra Back Door (Jordan)
92. Franz Josef Islands Expedition (Russia)
93. Skydive Dubai (UAE)
94. Ring of Fire Trek (Guatemala)
95. Hike Dolomites Alta Via (Italy)
96. Northwest Passage Expedition
97. Hike the Milford Track (New Zealand)
98. Climb Mount Fuji (Japan)
99. Sail French Polynesia
100. Trans Siberian Train (Russia)
PICK & PLAN YOUR ADVENTURE BUCKET LIST
(CLICK TO SEE TOP ADVENTURES BY CONTINENT)
TOP AFRICA TRAVEL ADVENTURES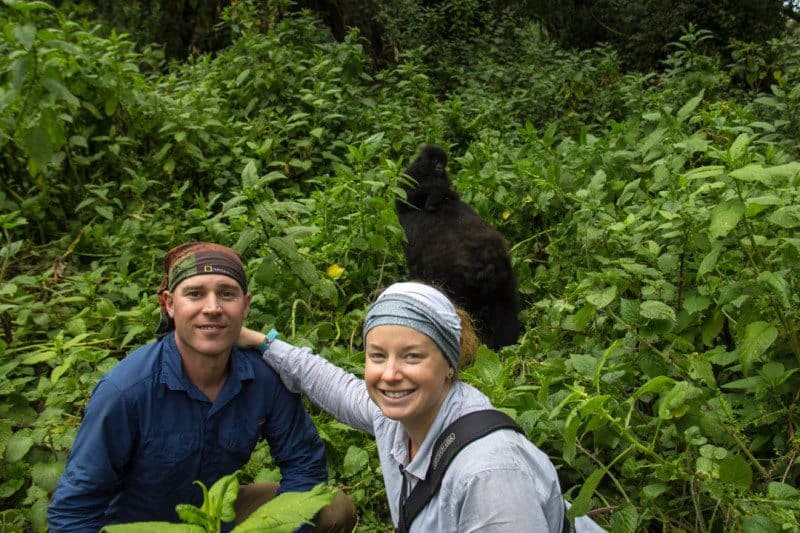 Gorilla trekking is one of the best travel adventures you can do. Not only do you get to experience the beauty of Africa, but also come face to face with the largest primate on the planet.
There are only around 800 gorillas left in the wild and it's possible to see them in 1 of 3 countries; Rwanda, Uganda and the Democratic Republic of the Congo.
We chose to go gorilla trekking in Rwanda because it is done in Volcanoes National Park. This is also the location of the Dian Fossey gorillas, so if you like history you'll want to consider this too.
Gorilla Trekking FAQ
Country: Rwanda
Adventure Type: Hiking & Wildlife Viewing
Start/End Location: Volcanoes National Park
Days Needed: 1 Day
Physical Difficulty: 4/5
Mental Difficulty: 3/5
The best time to go gorilla trekking in Rwanda is from mid-December to early February or over the long dry season months of June to September. This is when the hiking conditions are the best and the risk of malaria is low.
If you plan your visit during September, try to align it with the dates of the annual Kwitz Izina. A huge festival that celebrates the gorilla conservation efforts and names the previous years baby gorillas.
There are plenty of ways to approach booking your gorilla trekking trip, but the best way is by tour. This will ensure you get one of the highly sought after and limited permits.
We recommend the following tours: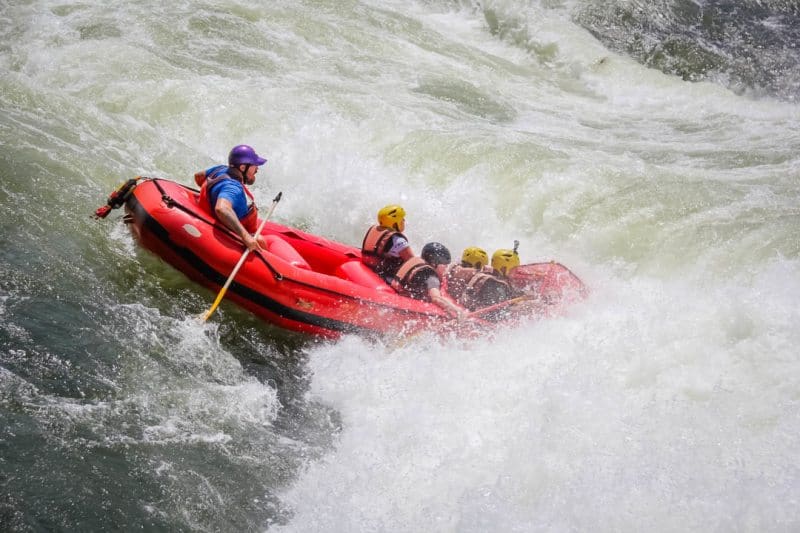 Africa is filled with many top travel adventures and there are few rivers in the world that rival the intensity of the mighty Nile River. As such, it's home to some of the best white water rafting in the world.
But we won't lie, rafting this river is intense. You'll face monster rapids, strong water and no sight of land. Never fear, though, the guides are experienced and ready to show you the adventure of a lifetime.
A successful run on the river will be completed in roughly 6 hours from your departure in Jinja.
Nile River White Water Rafting FAQ
Country: Uganda
Adventure Type: Rafting
Start/End Location: Jinja
Days Needed: 1 Day
Physical Difficulty: 4/5
Mental Difficulty: 5/5
The best time to raft the Nile River in Uganda is truly any time of the year. The water flow is controlled by a dam, so it's not affected by seasons or by rains.
That said, the rafting is particularly good during Uganda's dry season. This means that choosing to raft in January to February or June to September will offer warm temperatures and clear skies.
We recommend rafting with Nile River Explorers. They are one of the best rafting companies in Africa and they care about preserving this natural wonder for future generations to experience. They also participate in great outreaches all around Africa like saving the rhinos and additional conservation efforts.
We recommend the following tours: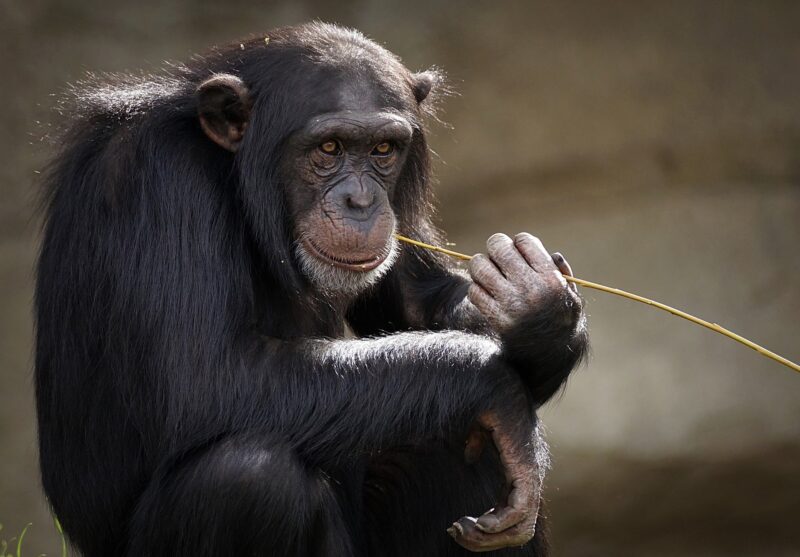 There are a few great places in the world to go wild chimp trekking but one of the most historical and famous locations is in the Gombe Stream National Park where Dr. Jane Goodall conducted her ground-breaking chimpanzee studies.
The park is home to one of the most important chimpanzee research centers in the world. Here visitors not only trek to view the wild chimps but also spend time learning about them ultimately becoming ambassadors of research and conservation.
Gombe Stream National Park is known for its challenging treks but also for its great sightings, which are almost certain.
Wild Chimp Trekking FAQ
Country: Tanzania
Adventure Type: Hiking & Wildlife Viewing
Start/End Location: Gombe Stream National Park
Days Needed: 3-7 days
Physical Difficulty: 4/5
Mental Difficulty: 3/5
The best time to go on a wild Chimpanzee trek is from July to October.
This is when the viewing is at its best and the possibilities of finding them are way higher since it's the dry season. The chimps also tend to live on the lower slopes of the mountain ridges during this time of the year.
Peak season runs from July to October. During the low season, April to May, most lodges are closed. The wet season runs from November to April and while it is still possible to trek, you'll want to manage your expectations.
There are plenty of companies that offer chimpanzee trekking in Tanzania but we recommend the outfitter that takes out photographers from National Geographic, Natural World Safaris. A company that is doing more than just pushing tourists to view the wild Chimpanzees.
We recommend the following tour with them: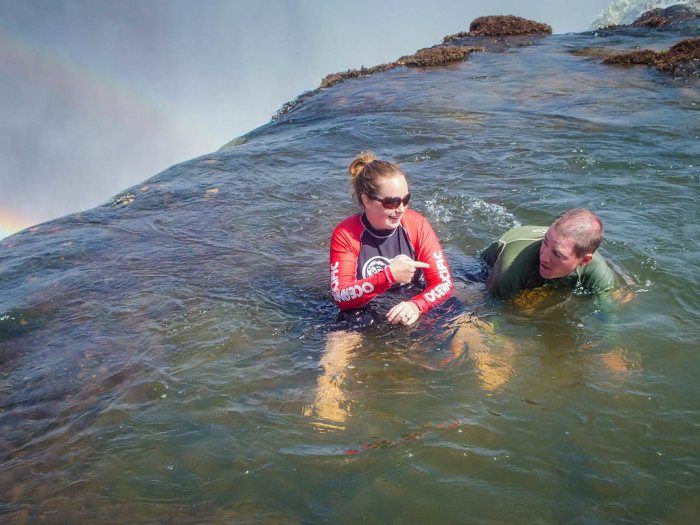 There are plenty of great locations in the world where you can enjoy a relaxing soak but there's only one place in the world where you can take a dip right on the edge of the tallest waterfall in the world.
Located right on the edge of the towering Victoria Falls is a naturally formed pool area where, during the right time of the year, visitors can scramble across a rocky wall and enjoy a heart-racing soak in the world's ultimate infinity pool.
It's one heck of a view as the mighty Zambezi crashes over the cliffs just feet away from where you are sitting.
Victoria Falls Devil Pools FAQ
Country: Zambia
Adventure Type: Adrenaline
Start/End Location: Victoria Falls & Livingstone Island
Days Needed: 1 Day
Physical Difficulty: 2/5
Mental Difficulty: 4/5
The best time to soak in the Victoria Falls Devil Pools is from November to December. This is when the falls are at their lowest and people can do the float of angels.
There have been times where the pools are open in early October and even September due to low water levels.
Just keep in mind if your visiting Zambia or Zimbabwe during the rainy season, Victoria Falls will be impressive but you will not be able to soak in Devil's Pools.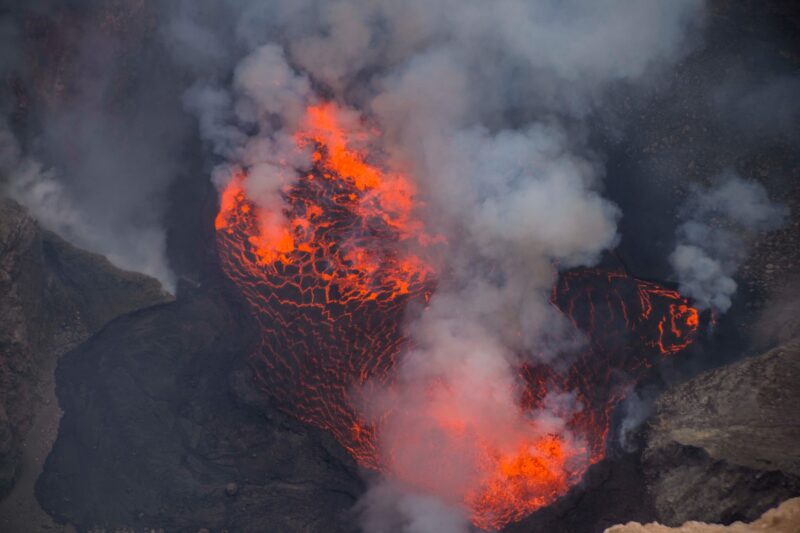 Adventure awaits on this thrilling travel adventure where hikers get the chance to trek to the world's most dangerous volcano. Mount Nyiragongo, also known as General Nyiragongo by the locals, is the world's most volatile volcano and has been showering the city of Goma with lava and ash for decades.
Your adventure begins early as you have to trek through the bright green jungle-covered mountainside to reach the waist land of lava covered rubble and rocks.
Standing at the rim, you'll feel mother nature's greatness as the hot air and gasses brush past you. You'll peer down into a boiling lava lake where the molten lava is hypnotizing.
Like all of our travel adventures you just don't get your Instagram photo and go, you spend the night camped out on the crater watching it boil and glow throughout the night. In the early morning you say goodbye and you hike back down into the jungle.
Climbing Nyiragongo Volcano FAQ
Country: Democratic Republic of Congo
Adventure Type: Hiking & Camping
Start/End Location: Goma
Days Needed: 2 Days
Physical Difficulty: 4/5
Mental Difficulty: 3/5
The best time to climb Nyiragongo Volcano is from May to September. July is known to be the driest month, followed by June in the Democratic Republic of Congo.
There's also a short dry period from January to February, which also makes for a great time to make the climb.
The higher regions are always cooler, and the skies are a little clearer than the normal overcast that the DRC sees every day.
Trekking to Nyiragongo Volcano is operated by the Virunga National Park service. It is not possible to take on this adventure independently.
To book this adventure: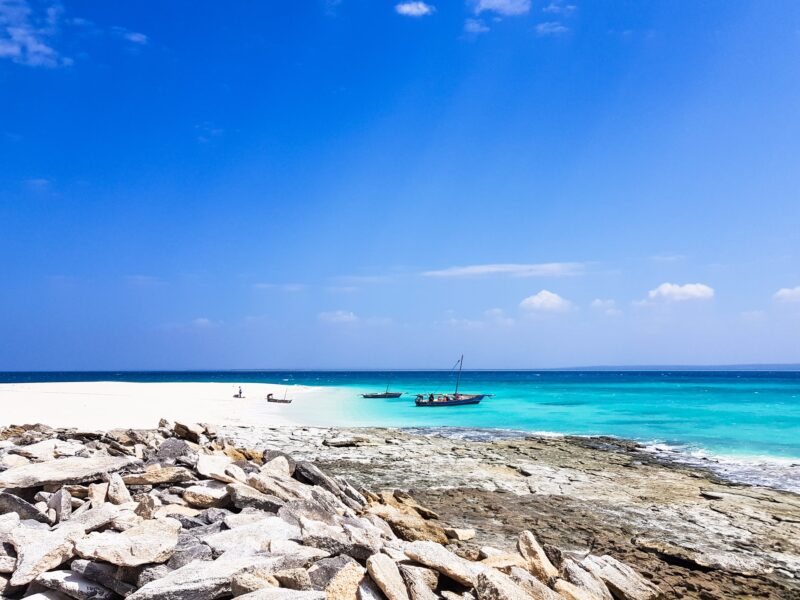 Discover the lesser visited wilderness of Quirimbas National Park and its surrounding islands in Mozambique.
The Quirimbas Islands lie off the North Eastern Mozambique edge located in the Indian Ocean. This archipelago is almost untouched to visitors and has only recently opened up to outside travelers.
Exploring by kayak is the best way to see this region. You'll wake up on an island every day and then see where turquoise waters take you each day.
Kayak to Quirimbas FAQ
Country: Mozambique
Adventure Type: Kayaking
Start/End Location: Pemba
Days Needed: 8-9 Days
Physical Difficulty: 4/5
Mental Difficulty: 4/5
The best time to kayak the Quirimbas Islands on a sea safari is from January to April based on the best weather and sea conditions for paddling.
May to December you have the least chance for rain, but paddling conditions are unpredictable during this time of year and trips are limited due to conditions.
For taking on this travel adventure we recommend going with a tour operator who not just operates amazing trips, but is eco-friendly and truly cares about preserving it for generations to come.
We recommend the following tour: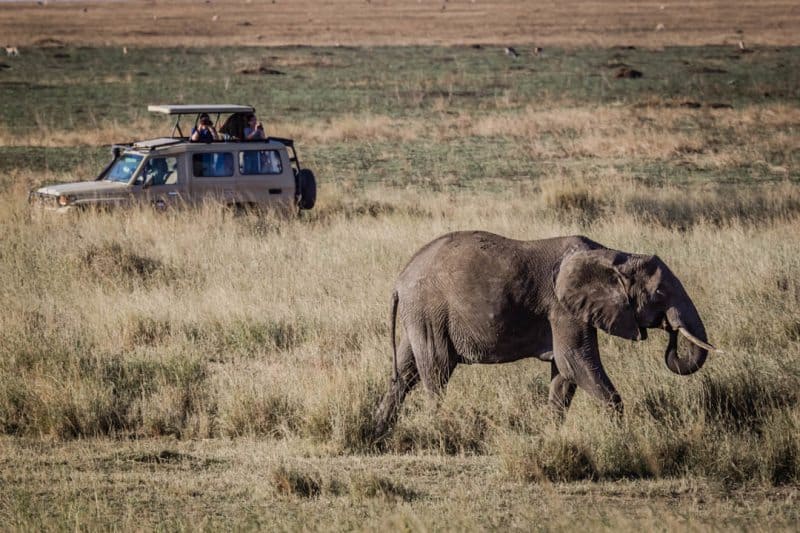 There's no other travel adventure like it on Earth, a Serengeti Safari in Tanzania is truly a bucket list adventure for anyone.
Known as one of the best wildlife-viewing destinations in the world, a Serengeti safari is filled with days in search of whatever you can find in the worlds most unspoiled wilderness. You never know what you'll come across.
Enjoy big cats sunning themselves, wildebeest roaming the plainlands, elephants and hippos playing in the wild rivers. It's the real world circle of life on display for you to be amazed by and enjoy.
Serengeti Safari FAQ
Country: Tanzania
Adventure Type: Safari
Start/End Location: Arusha
Days Needed: 1 to 4 Days
Physical Difficulty: 2/5
Mental Difficulty: 2/5
The Serengeti offers a year-round opportunity of amazing safaris. Many people have their sights on seeing the Great Migration and rightfully so but that isn't the best time to view all of the animals in the Serengeti. Most avoid the noisy crowds of wildebeest and zebras.
To get the most out of your visit, be sure to plan the right area for the time of your visit. We recommend:
December to March: Ndutu region for calving season and Seronera for big cats
April to May: Grumeti region for the Wildebeest Migration
June to July: Seronera region
July to October: Northern Serengeti
There're plenty of great safari operators out there but you want to go with one that not only cares about giving you the best possible adventure but also cares about the area and its wildlife.
We recommend the following tour: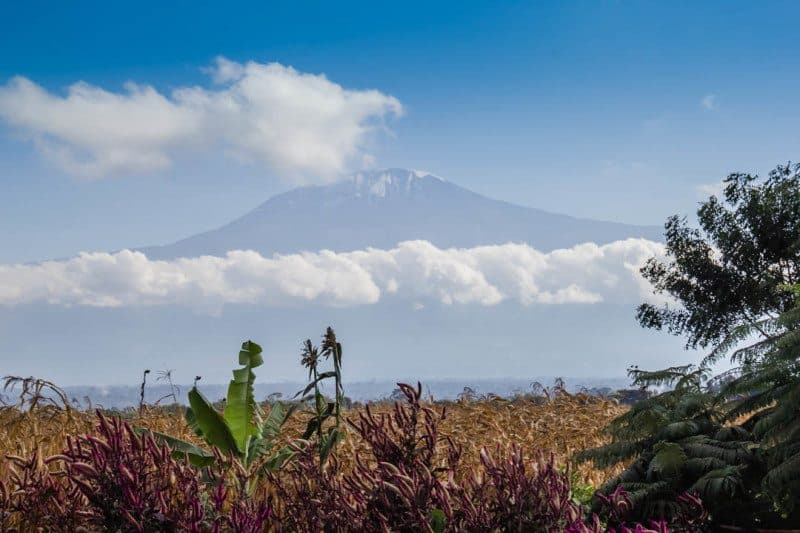 Climbing Kilimanjaro is a feat that is on many people's bucket list and rightfully so. It is Africa's highest mountain and unlike the tallest peaks on other continents, you don't need special training nor lots of money to conquer the summit.
Your adventure starts at the gates of Kilimanjaro National Park, where thousands of climbers attempt to reach the summit each year.
It is a journey of discovery as this mountain comes to life unlike you have expected nor seen before. You'll hike through five distinct climate zones that make you feel like you're traveling from the equator to the North Pole.
Climbing Kilimanjaro FAQ
Country: Tanzania
Adventure Type: Hiking
Start/End Location: Arusha
Days Needed: 5 to 10 Days
Physical Difficulty: 5/5
Mental Difficulty: 5/5
Due to Mount Kilimanjaro's location near the equator, it's an ideal location all year round to climb. However, we do suggest avoiding the rainy season that runs from March to May and November to December.
During this time, you can still attempt to climb Kilimanjaro but the trail conditions tend to be slippery and extremely muddy.
When looking for the best tour for climbing Kilimanjaro you want to look for a tour operator that offers an epic adventure but one that also cares about the locals. One that supports local guides, porters and camps. One that also leads the way in programs not just on the mountain but off the mountain too.
We recommend the following tours: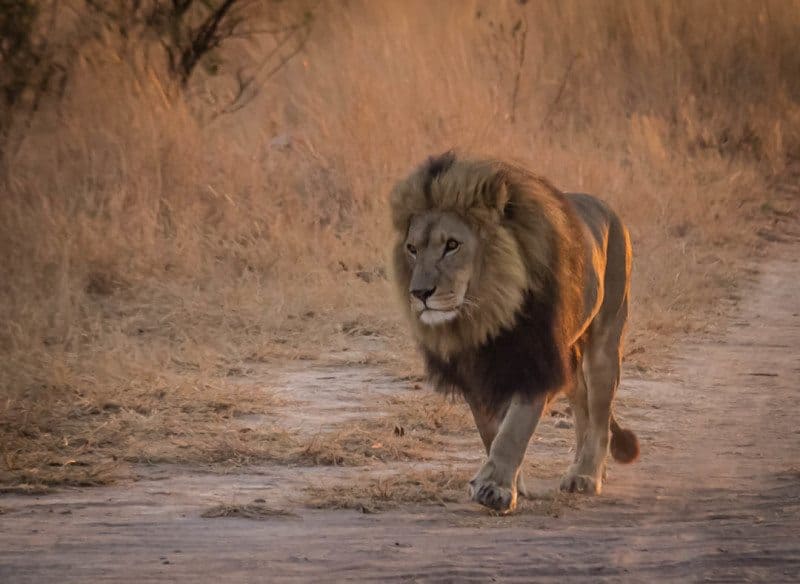 There are plenty of great places to go on a safari in Africa but one of the best for game viewing is in Kruger National Park located in South Africa.
There's no other park in Africa that offers the density of wildlife that Kruger does while also offering award-winning accommodation and Africa's best wild game trackers and local guides.
Kruger National Park is also known to be less crowded at sightings, making it more magical for you and those in your safari truck.
Kruger National Park Safari FAQ
Country: South Africa
Adventure Type: Safari
Start/End Location: Johannesburg
Days Needed: 3 to 5 Days
Physical Difficulty: 2/5
Mental Difficulty: 2/5
Kruger National Park in South Africa is considered a year-round destination, but it does have two distinct seasons for wildlife viewing.
The best time to go on a safari for wildlife viewing is from the end of September to October when the vegetation is low, making animals easier to spot and follow. On top of that, this is when the water sources provide rewarding game viewing.
November to April is another great time to visit Kruger since it's the rainy season. That means the landscape will be bright green. The wildlife may be harder to spot during this time of the year but the game viewing is still great with young summer-born animals around. It's also the best time to visit Kruger for bird watching.
For this travel adventure, we recommend going on the Explore Kruger National Park tour with G Adventures.
On this 7-day journey, you'll track elephants, lions and cheetahs but you will also go out with a researcher from the Cheetah Metapopulation Project that's part of National Geographic's Big Cats Initiative.
There's no other feeling in the world like being face to face with a Great White shark, or two or three, in the cool ocean waters.
Gansbaai, South Africa is known as the Great White shark capital of the world and in this marine wonderland, it's the safest place to see these apex predators in their natural environment by getting in a shark cage.
Researchers and travelers come to spend their days viewing sharks. If you're looking for a travel adventure that will get your heart beating, cage diving with these massive sharks is the adventure for you.
You'll also get an inside look at the conservation efforts and misconceptions about these feared sharks.
Great White Shark Diving FAQ
Country: South Africa
Adventure Type: Underwater & Wildlife Viewing
Start/End Location: Cape Town
Days Needed: 1 Day
Physical Difficulty: 3/5
Mental Difficulty: 4/5
The best time of the year to view the Great White Sharks in South Africa is between June and September.
This is when the water visibility is the best and it is also when migrating sharks come to spend a few months.
Keep in mind every trip is different, this is wildlife viewing and it is possible to have great viewing throughout the whole year.
For anyone who is looking at marking off this adventure, we recommend doing it with an outfitter who is also leading the way in Great White Shark research.
The White Shark Diving Company offers a premium shark cage diving experience where you can get into a cage, but also spend some time volunteering as a research assistant.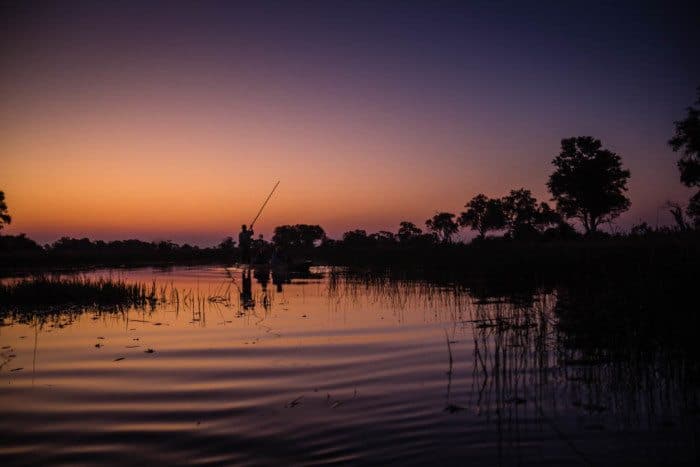 Jump aboard a traditional mokoro canoe and explore one of Africa's last great natural sanctuaries that's home to vast concentrations of wildlife.
The Okavango Delta located in Botswana is like no other place in the world. You can expect exciting hippo encounters and adrenaline safaris on foot all led by your local guide.
On a canoe safari in the Okavango, your days will be spent poling through the water and on safari while your nights will be camping under a blanket of intense African stars.
Okavango Delta Canoe Safari FAQ
Country: Botswana
Adventure Type: Safari
Start/End Location: Maun
Days Needed: 2 to 5 Days
Physical Difficulty: 3/5
Mental Difficulty: 3/5
The Okavango Delta is a great place to visit year-round and the best time to visit the region is from June to August.
This is when the water is at its highest making it easy to navigate. Many animals migrate to the delta during this time of the year which also makes for great wildlife viewing.
Another popular time of the year is from September to October. This is when it's considered the dry season and animals are easily sighted along its shorelines.
From November to April it's the rainy season and is considered the best time for bird viewing.
It is possible to experience an Okavango Delta canoe safari on a variety of budgets. You have the option to bush camp, stay at a posh resort and everything in between.
There's no right or wrong way, so make sure you book what is right for you. No matter what, you're in for a good adventure.
We recommend the following tours: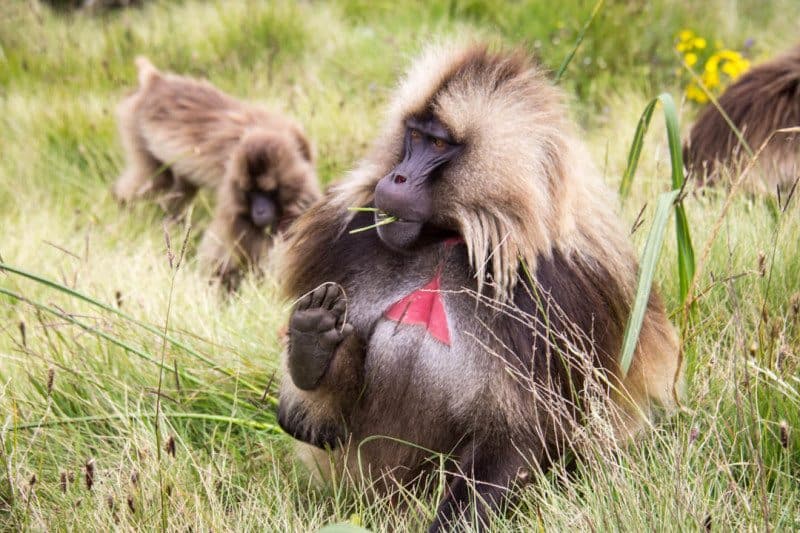 Discover one of the best hiking destinations in the world, with endless jaw-dropping views and rare wildlife including Gelada Baboons, Wallia lbex and Ethiopian Wolves.
The Simien Mountains National Park is a protected UNESCO World Heritage Site that sees few travelers due to its remoteness in northern Ethiopia.
For those travelers that do make it there, this travel adventure is truly amazing. There will be moments where you will be surrounded by 100's of wild Gelada Baboons and there will be plenty of rest spots where you'll say to yourself "the landscape looks to be taken right out of a painting".
Read about our time trekking in the Simien Mountains here.
Simien Mountains Trekking FAQ
Country: Ethiopia
Adventure Type: Hiking & Wildlife Viewing
Start/End Location: Gondor
Days Needed: 2 to 5 Days
Physical Difficulty: 4/5
Mental Difficulty: 3/5
The best time to visit the Simien Mountains is from October to March for the best trekking conditions. This is when the mountains are verdant and very colorful.
From September to November the flowers are in full bloom following the rainy season so the wildlife will be out in force snacking away and it will make for some amazing photos during this time of the year.
For those looking to trek in the Simien Mountains, we suggest joining a 4-day trekking adventure that will show you the best of this area and include the best trails.
For those who are looking to enjoy more of the wonders in Ethiopia, in addition to the Simien Mountains, we suggest the 10 Day Discover Ethiopia trip with G Adventures.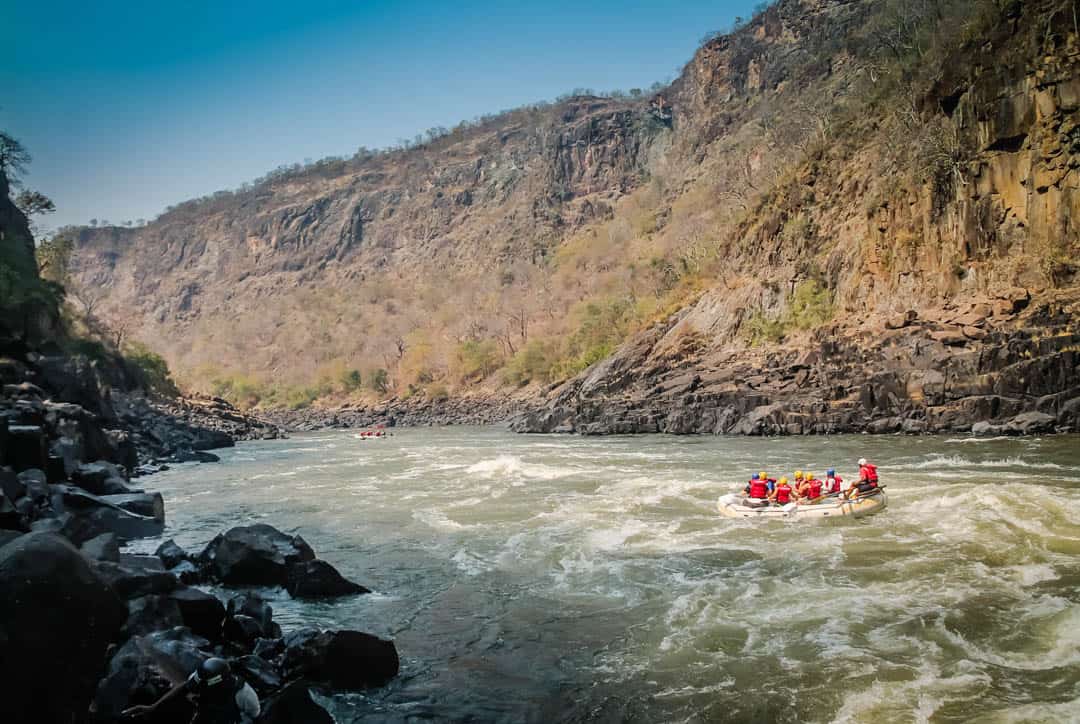 The mighty Zambezi River, located below Victoria Falls, is one of the best white water rafting rivers in the world.
Rafting the Zambezi River offers a thrilling ride down class 3-5 rapids that any traveler can take on if they dare. No previous rafting experience is required and you'll be accompanied by an experienced river guide.
On this day trip, you go with the flow as the Zambezi River snakes through a 100+ meter gorge where crocodiles are found sunbathing on the rocks.
You'll take on rapids called Three Ugly Sisters, The Mother Surge and The Washing Machine, to name a few. It will be a wet and wild trip and a travel adventure that anyone visiting Africa should take on.
Rafting the Zambezi River FAQ
Country: Zimbabwe
Adventure Type: Rafting
Start/End Location: Victoria Falls
Days Needed: 1 Day
Physical Difficulty: 4/5
Mental Difficulty: 4/5
The best time to go white water rafting down the Zambezi River is split into two times, low water and high water during the year.
High water runs from February to July when you can raft the river from rapids 11 to 23.
Low water runs from July to mid-February when you can run between rapids 1 to 18. This is the more aggressive route and is extremely fun.
There are a few options for rafting the Zambezi River. Most travelers go on a full-day adventure that consists of six hours on the river and ends with a BBQ overlooking the gorge.
For those looking for more of an experience on this travel adventure, we suggest taking an overnight trip that consists of paddling during the day and sleeping on the shoreline at night. Those trips can range from two days, five days and eight days.
We recommend the following tours: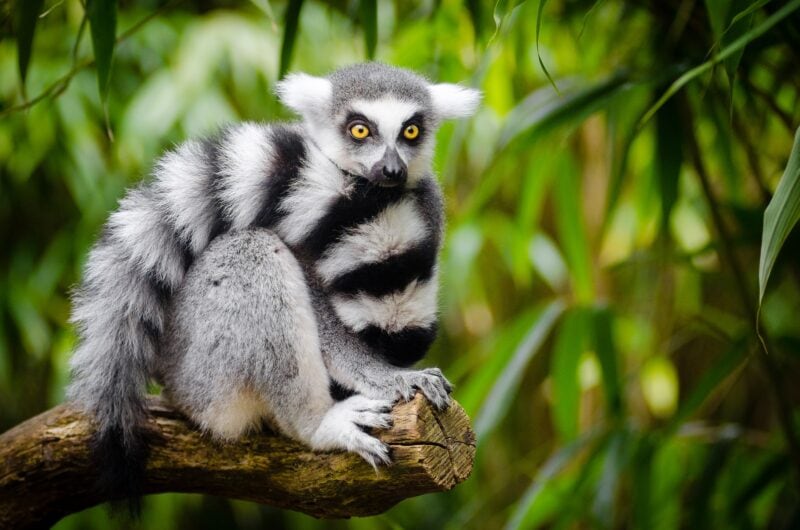 Madagascar is truly an amazing place to travel. This remote island offers a wide range of travel adventures from hiking through amazing landscapes to viewing its endemic wildlife.
One of the most popular animals in Madagascar is the wild Lemurs. Only found on this island, there is a wide variety of them to be found including Indri Lemurs, Borwn Lemurs, Lesser Bamboo Lemurs and even Dwarf Lemurs, to name a few.
Going on a wild Lemur safari is much more than just viewing them in the wild, you go out with an expert naturalist who teaches you about these amazing creatures and also shows you what life in Madagascar is really like.
Lemur Safari FAQ
Country: Madagascar
Adventure Type: Hiking & Wildlife Viewing
Start/End Location: Antananarivo
Days Needed: 9 to 21 Days
Physical Difficulty: 3/5
Mental Difficulty: 2/5
The best time to visit Madagascar is from April to mid-December but Madagascar is a year-round destination and you can view wild Lemurs year-round.
If you're looking to photograph and experience the Lemurs at their best, we suggest visiting from October to November. This is when there are baby Lemurs everywhere.
Madagascar is filled with many bucket list travel adventures from viewing Lemurs in the wild to amazing beaches and epic hiking trails.
If you're looking for a trip where you can experience the whole of Madagascar in addition to the lemurs, we suggest the 14 Day Highlights of Madagascar tour with G Adventures.
If your primary focus is only to view wildlife, we recommend a specialty tour that is wildlife focused. We recommend the Lemurs, Wildlife & Beaches Safari with Natural World Safaris.
TOP ASIA TRAVEL ADVENTURES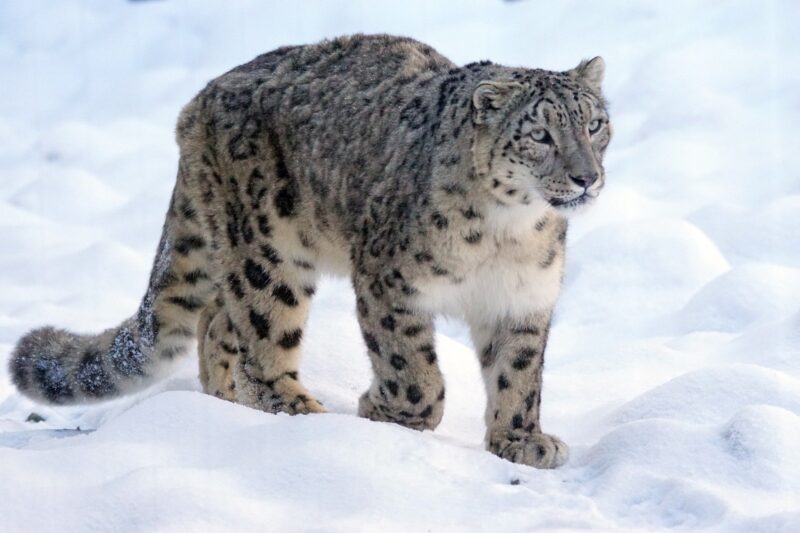 Snow Leopards are known as the Ghost of the Himalayas for a good reason. They're near impossible to spot and almost just as hard to locate. Embarking on a trip to track this elusive creature is an adventure in and of itself.
We won't lie, even with the employ of the best operators in India, you may still end up skunked. But don't let this deter you, the experience will be worth it.
These trips take place in the far reaches of North India where you'll spend 7-10 days in a high altitude, remote environment. You'll spend your days tracking leopards and your downtime learning about the region.
Snow Leopard Tracking FAQ
Country: India
Adventure Type: Hiking & Wildlife Viewing
Start/End Location: Ladakh
Days Needed: 7-10 Days
Physical Difficulty: 4/5
Mental Difficulty: 4/5
The best time to view wild snow leopards in India is from January to March.
This is when the snow leopard viewing is the best since the highest peaks tend to be warmer and the snow starts to melt or be free of snow at the elevations where the snow leopards live and hunt.
Just because there's no snow does not mean it won't be cold, though. Days during this period can be cold and nights can drop below -25C.
While in theory you could try to track snow leopards on your own, we strongly advise against this. The conditions are harsh and tracking elusive animals takes a lifetime of skill.
You should absolutely book a reputable company for this adventure.
We recommend the following tours: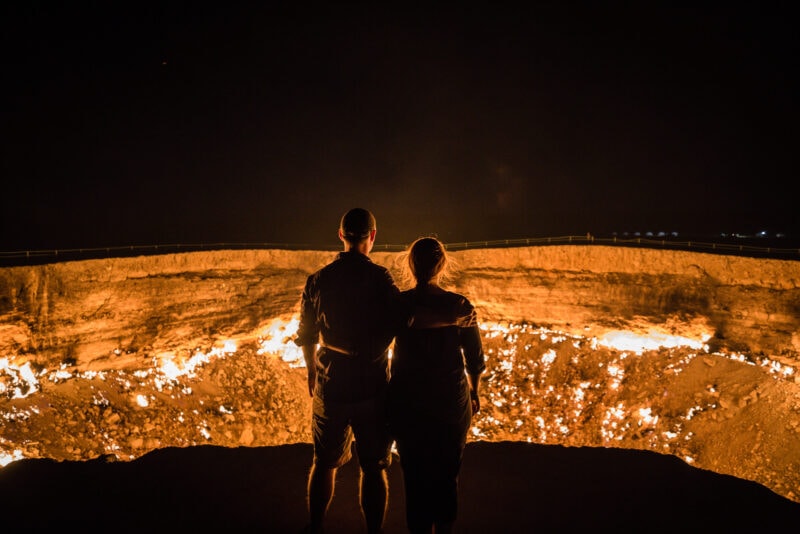 Turkmenistan is one of the most isolated nations in the world, second behind only North Korea. That said, it holds plenty of adventure for those that are willing to jump through the hoops to travel the country.
The best adventure is traveling deep into the Karakum Desert to be mesmerized by a massive gas spewing sink hole that was lit on fire by the Soviets in 1971 after a failed drilling operation.
There is a permanent yurt camp nearby operated by one of the top companies in the country. If you're traveling overland along the Silk Road, it's also possible to tent camp. Be sure to save some time to explore Ashgabat, the bizarre capital, during your trip too.
Gates of Hell FAQ
Country: Turkmenistan
Adventure Type: Camping/Glamping
Start/End Location: Ashgabat
Days Needed: 2 Days
Physical Difficulty: 1/5
Mental Difficulty: 3/5
The best time to camp at the Gates of Hell is during the spring months of April to May and the fall months of September to early November.
The Darvaza Gas Crater is located in the middle of a desert and the region can be uncomfortably hot.
From November – March, you can expect slightly cooler weather, clear skies and almost no other visitors.
It is not possible to visit the country of Turkmenistan without booking a tour with a government authorized operator. They will arrange your visas, documents and itinerary for your visit.
We recommend the following tours:
TOP EUROPE TRAVEL ADVENTURES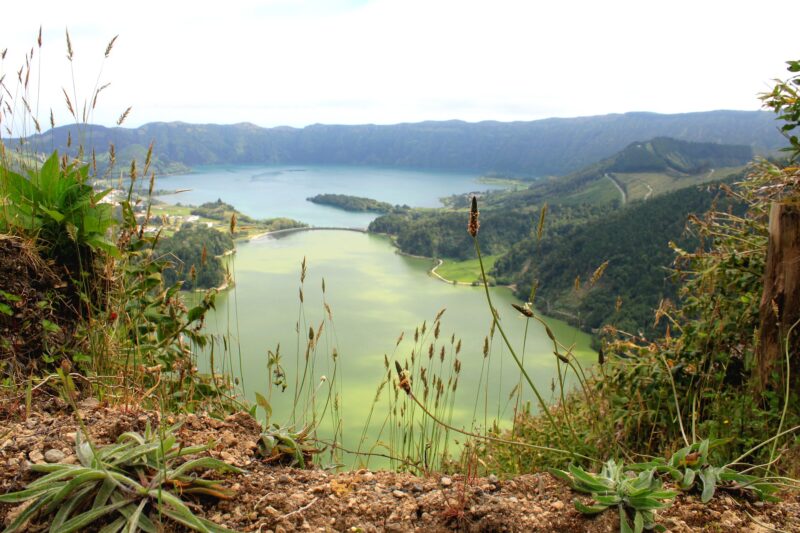 The Azores is an island group located in the Atlantic Ocean that is politically part of Portugal and Europe. Don't let that fool you though, these islands are rustic natural wonderlands.
The Azores offer 86 marked trails covering more than 800km on 9 islands. To get the most time on the trails, head to Sao Miguel as it offers 28 trails. It is popular, however, to plan your trip across a couple different islands too.
The ultimate adventure is the 78km Great Route of Santa Maria (GR01SMA). It's a medium-difficult hike that you'll need at least 4 days to complete.
Hiking the Azores FAQ
Country: Portugal
Adventure Type: Hiking
Start Location: Ponta Delgada
End Location: Angra do Heroísmo
Days Needed: 7 Days
Physical Difficulty: 3/5
Mental Difficulty: 3/5
The best time to hike in the Azores is June through August. During this time, temperatures are at their best, there are less cloudy days and fewer rain showers.
This is the only time you will get to experience the Azores at their finest with uninterrupted temperatures and views. Hikers can experience 70-degree daytime temps with little to no rain. This makes for comfortable hiking but also means it is the most popular time to visit the Azores.
Depending on the type of hiking and trip you are planning, you'll want to weigh the pros/cons of independent travel vs booking a tour. There is no right answer, you'll need to pick what is best for you.
For those looking to do a longer hike, independent is best. If you're short on time and/or like the company of other hikers, then booking a tour is best.
We recommend the following tours:
TOP MIDDLE EAST TRAVEL ADVENTURES
TOP SOUTH AMERICA TRAVEL ADVENTURES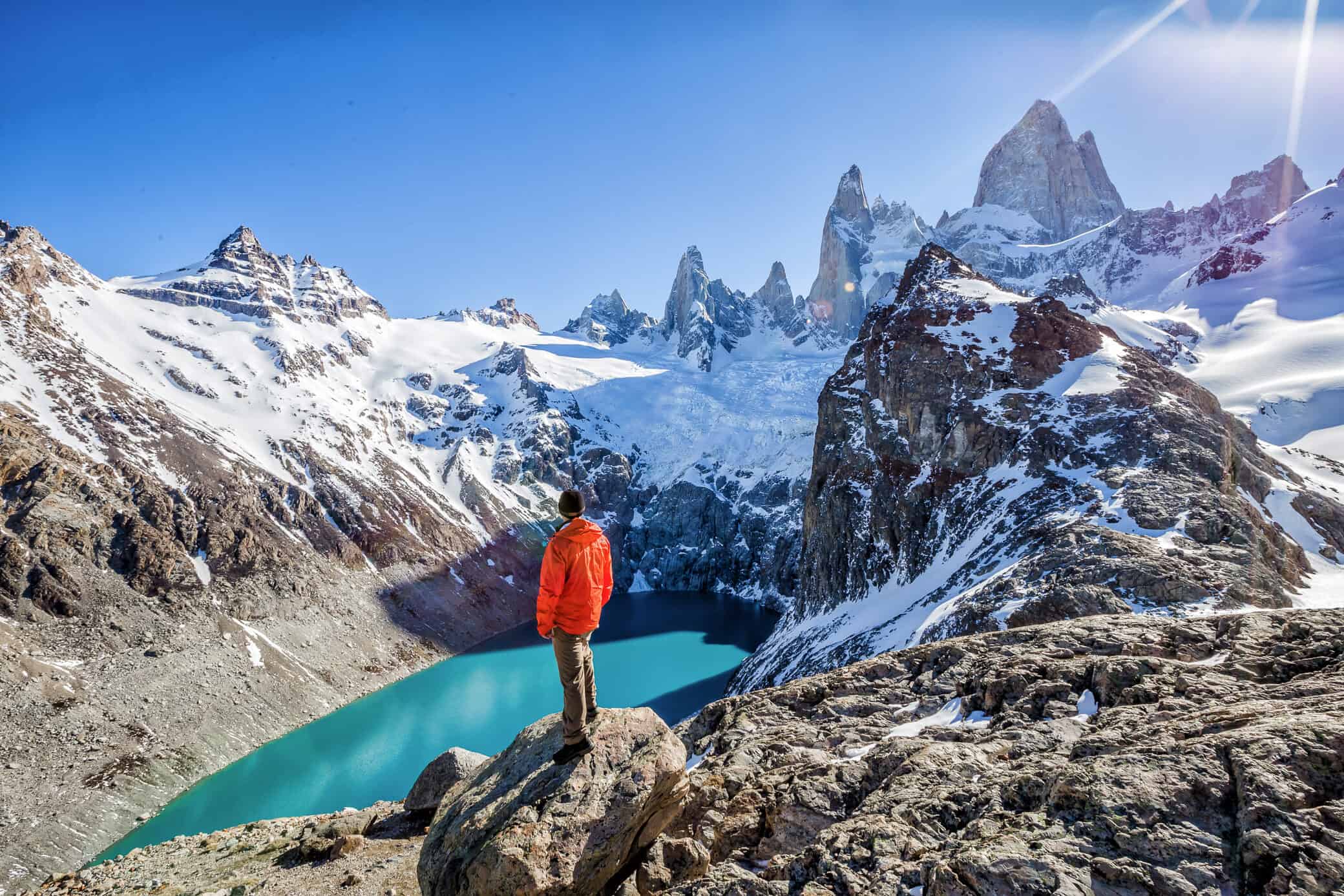 Located in the very southern part of South America, Patagonia is an adventurers paradise. Stretching across both Argentina and Chile, with the Andes Mountains splitting the region, you'll find some of the best hiking in the world here.
In Argentina, you'll want to head for El Chalten and set off on the Basecamps Trek. This hike offers the famed Fitz Roy, Cerro Torre and views of the Southern Patagonia Ice Field. You need a minimum of 5 days for this trek and can easily extend it to see more.
In Chile, you'll want to consider the famous W Trek or its big brother, the O Trek. The W requires 5 days and hits the major highlights of the area. The O trek offers the W with a 3-5 day extension into the backcountry.
Patagonia Trekking FAQ
Country: Argentina and Chile
Adventure Type: Hiking
Start/End Location: El Chalten or Puerto Natales
Days Needed: 5 – 12 Days
Physical Difficulty: 3/5
Mental Difficulty: 3/5
The best time to go hiking in Patagonia is from October to early March. That is when it is summer in the Southern Hemisphere. This is also the high season and hikers arrive in droves to take on this top travel adventure.
The shoulder seasons from September to November and March to May offer way fewer hikers and lower hotel rates but you'll need to be vigilant and well-prepared to enjoy your trip. You'll experience the notorious winds and temperamental weather.
It is winter from June to August in Patagonia and hiking during this time of the year is not recommended.
Plenty of people flock to both Argentina and Chile to hike independently. This can be a good option if you're going out for day hikes or shorter hikes near the front country. All camping arrangements should be made at least a season in advance.
For those looking to do a longer hike or wanting to head into the backcountry, you absolutely should hire an operator that offers a competent mountain guide.
We recommend the following tours: