Divergent Travelers is on a mission
to experience and document the Top 100 Travel Adventures
Top 100 Travel Adventures
Our personal picks and favorites from National Geographic, Travel+Leisure, Travel Channel, Lonely Planet and other top media networks
We've visited 75 countries on 6 continents and learned a lot along the way – about all of the things that make adventure travel itself, let alone the destinations, one of the last real wonders of the modern world.
It's no secret, we love adventure travel.
So this year and beyond we're raising the stakes and going in search of the Top 100 Travel Adventures in the world. Chase the adventure alongside us – watch our videos, follow our posts and updates – and get inspired yourself.
Follow our mission LIVE as we take on the Top 100 Travel Adventures
Align with the Top 100 Adventures
Show the world your adventures
Top 100 Travel Adventures Partners
OUR MISSION LIST
Top 100 Travel Adventures
Adventure Key
COMPLETED
UPCOMING
1. Hike Fitz Roy -ARGENTINA
2. Hike the Azores – PORTUGAL
3. Gorilla Trekking -RWANDA
4. Snow Leopard Trekking -INDIA
5. Camp Gates of hell – TURKMENISTAN
6. White Water Raft Nile River -UGANDA
7. Wild Chimp Trek -TANZANIA
8. Husky Safari -FINLAND
9. Soak in Devils Pools -ZAMBIA
10. Climb Nyiragongo Volcano -DRC
11. Kayak Quirimbas -MOZAMBIQUE
12. Serengeti Safari -TANZANIA
13. Climb Kilimanjaro -TANZANIA
14. Multi-day Felucca trip Nile Egypt
15. Sabi Sands & Kruger NP Safari -S AFRICA
16. Cage Diving Great Whites -S AFRICA
17. Camp Okavango Delta -BOTSWANA
18. Sahara Desert Camel Safari -MOROCCO
19. Tongariro Crossing – NEW ZEALAND
20. Danakil Depression -ETHIOPIA
21. Simien Mountains Trek -ETHIOPIA
22. 3 Day Great Wall of China Hike -CHINA
23. Climb Mt Kinabalu -BORNEO
24. Reindeer Horse Trek -MONGOLIA
25. Everest BC Trek -NEPAL
26. Canyoneer Arenal Volcano -COSTA RICA
27. Kayak Sea Safari -PHILIPPINES
28. Scuba Diving Sipadan- BORNEO
29. Orangutan Trek -INDONESIA
30. Son Doong Cave Expedition -VIETNAM
31. Horse Trek The Caucasus -GEORGIA
32. Everest North BC Tibet -CHINA
33. The Snowman Trek -BHUTAN
34. Overland Track -TASMANIA
35. Bush Camping Fraser Island -AUSTRALIA
36. Scuba Great Barrier Reef -AUSTRALIA
37. Larapinta Trek -AUSTRALIA
38. Tolltunga Hike -NORWAY
39. Raft the Upper Navua River -FIJI
40. Kokoda Track -PAPUA NEW GUINEA
41. Snorkel Jellyfish Lake -PALAU
42. Salkantay Hike to Machu Picchu -PERU
43. Trek the W in Torres del Paine -CHILE
44. Kayak Galapagos -ECUADOR
45. Amazon River Expedition -BRAZIL
46. Hiking to Ciudad Perdida -COLOMBIA
47. Hike to Angel Falls -VENEZUELA
48. Mountain Bike Death Road -BOLIVIA
49. Trek to Kaieteur Falls -GUYANA
50. Camp Uyuni Salt Flats -BOLIVIA
51. Macaw Research Expedition -PERU
52. Hang gliding in Rio de Janeiro -BRAZIL
53. Rano Kau Volcano Climb -CHILE
54. Rafting the Zambezi River -ZIMBABWE
55. The Ausangate Trek -PERU
56. Churchill Polar Bear Expedition -CANADA
57. Kayaking Sea of Cortez -MEXICO
58. Wildwest Cattle Drive -USA
59. Chiapas Land Expedition -MEXICO
60. Raft Shubenacadie Bore -CANADA
61. Kayak Clayoquot Sound -CANADA
62. Trek Willmore Wilderness -CANADA
63. Hike Skerwink Trail NL -CANADA
64. Kayaking Iceberg Alley -CANADA
65. Yukon mushing (Dog Sledding) -CANADA
66. Snowshoe trek Whistler -CANADA
67. Hike Zion Narrows -USA
68. Trek the Yosemite Grand Traverse -USA
69. Alaska Camping and Bear viewing -USA
70. Raft the Grand Canyon -USA
71. Kalalau Trail on Kauai -USA
72. Climbing Ancient Art -USA
73. Svalbard Polar Bear Expd -NORWAY
74. Native High Prairie Horse Trek -USA
75. Aerobatic Thrill Flight
76. Lake Superior Circle Tour by Boat -USA
77. Hike the Camino de Santiago -SPAIN
78. 4×4 Northern Lights Expd -ICELAND
79. Coastal Kayak Expedition -CROATIA
80. Horse trekking -IRELAND
81. Trek the Tour du Mont Blanc -EUROPE
82. Silfra Ridge -ICELAND
83. North Pole Expedition -RUSSIA
84. The Great Reindeer Migration -RUSSIA
85. Amur Leopard Expd -RUSSIA
86. Hike the West Highland Way -SCOTLAND
87. Arctic Circle Trail -GREENLAND
88. Antarctic Kayaking -ANTARCTICA
89. Falkland & S Georgia Expd -ANTARCTICA
90. Darien Gap Expedition -PANAMA
91. Trek Petra Back Door -JORDAN
92. Skydive Mt. Everest -NEPAL
93. Skydive Dubai -UAE
94. Ring of Fire Trek -GUATEMALA
95. Lava Kayaking in Hawaii -USA
96. Yasawa Kayak Expedition -FIJI
97. Milford Trek -NEW ZEALAND
98. Camp and Trek Mount Huashan -CHINA
99. Summit Mt Aorai -TAHITI
100. Abseil off Table Mountain -S AFRICA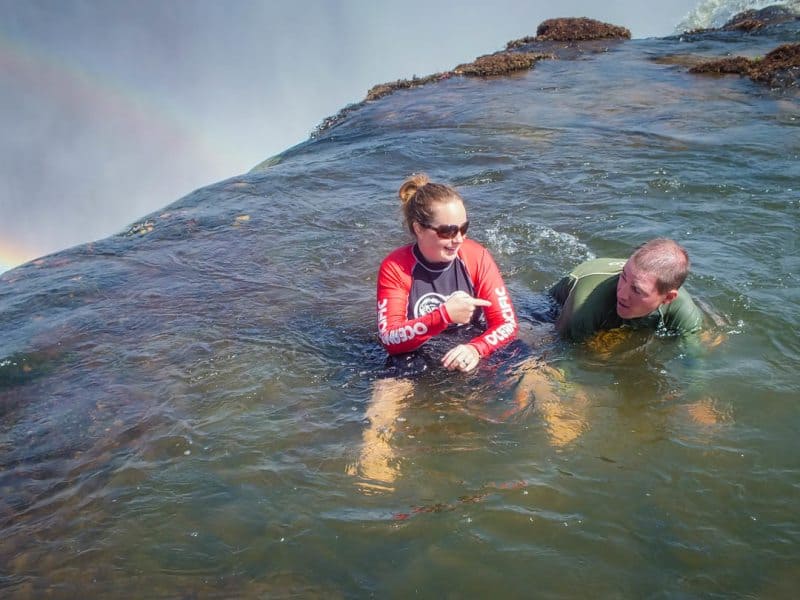 Swim in Devils Pool
– ZAMBIA –
Completed: September 2015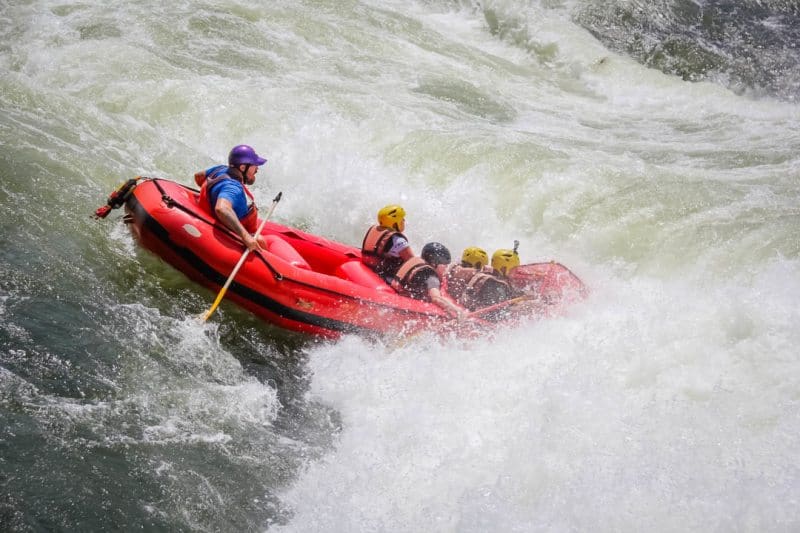 White Water Rafting Nile River
– UGANDA –
Completed: September 2015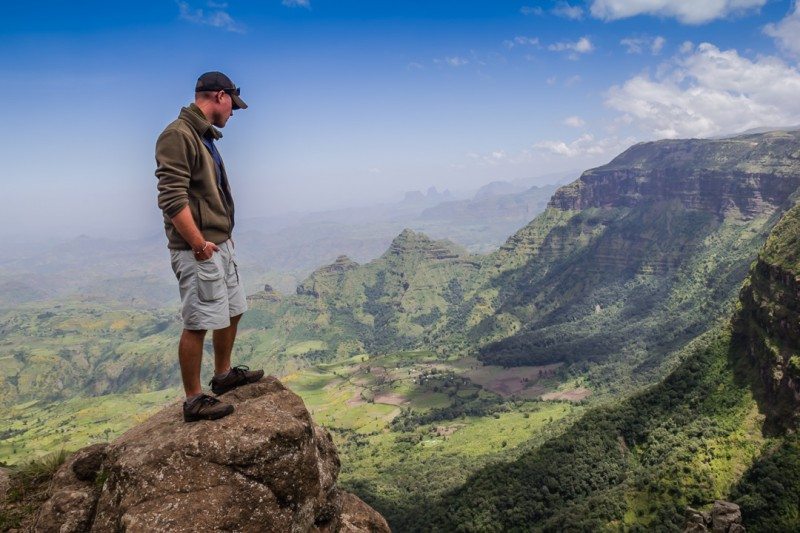 Simien Mountains Trek
– ETHIOPIA –
Completed: September 2015