It goes without saying that almost any adventurer you meet will have a dream to take on the mountains of Africa in search of the Mountain Gorillas. Gorilla trekking in Rwanda is one of the best ways to do it.
It's a dream trip and a thrilling endeavor for any traveler. Of course with great adventure, comes great responsibility.
You need to be prepared and this guide to preparation will ensure you are ready for this magical experience. We want you thinking about the gorillas, not wishing you had been better prepared for it all!
Preparation includes thinking about the different terrains ranging from tall bamboo forests with soggy clay footing to green vine-covered jungles with unforgiving stinging nettles.
Add to that the moving weather conditions where it can be rainy one moment and sunny the next.
Having trekked to the Susa group, the hardest group to reach in Volcano National Park Rwanda, we are prepared to help you get the best out of your gorilla trekking adventure in Africa.
Gorilla trekking in Rwanda is one of the Top 100 Travel Adventures in the world. View the list and follow our mission to complete them.
Read more Gorilla Safaris in Africa: Everything You Need to Know
---
How to Book a Gorilla Trekking in Rwanda Trip
---
The big question for anyone planning a trip to Africa is usually 'How do I get gorilla trekking permits?'
Gorilla trekking permits are in high demand, the experience is once in a lifetime and with the stableness of Rwanda more and more people are braving the interior of Africa.
This means more people are applying for Gorilla permits now than ever before. Gorilla trekking can be done in three countries in Africa, Rwanda, Uganda and the Democratic Republic of the Congo.
The existing Gorilla population lives in the Virunga Mountains and they know no borders.
Most accessible is either Rwanda or Uganda but we can tell you that the experience in Rwanda, albeit slightly more expensive, will be a much better experience.
In Rwanda, the Gorilla trekking is done in Volcanoes National Park, known locally as Parc Nationale du Volcanoes, and the Rwanda Tourism Office manages the permits.
Plan your own adventure in Africa with Oasis Overland
Rwanda Gorilla Permit Costs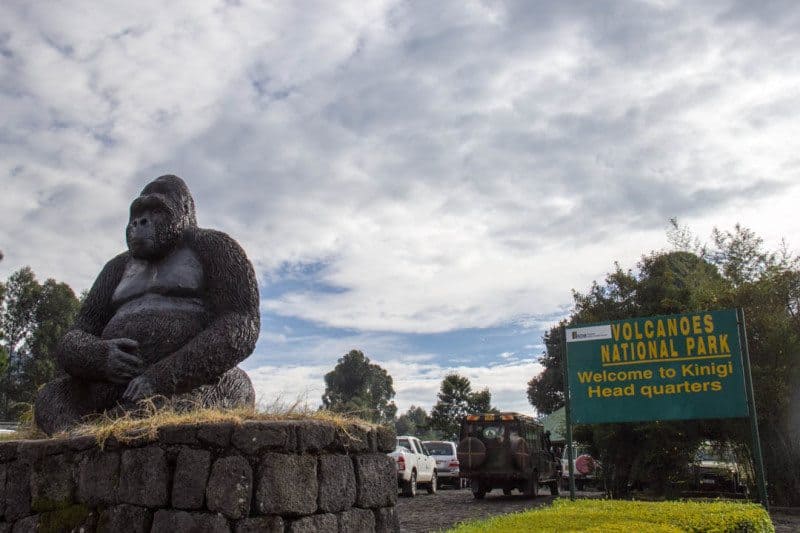 USD $1500 per person for non-nationals
USD $375 for foreign residents
30,000 Frw for Rwandan citizens
The fees are inclusive of park entry fees.
You are eligible for a 30% discount on the permit fee if you can prove you will stay in Rwanda for more than 3 days to visit other areas of the country.
Conference tourists in the country are also eligible to a 15% discount if they wish to trek gorillas earlier or after their conference in Rwanda
Each day around 56 people set out to visit the Rwanda gorilla groups, averaging around 8 people per gorilla group.
The permits are in high demand, as we mentioned before, and often sell out many months in advance.
Book early to avoid disappointment and ensure you will obtain a permit during your travel dates to Rwanda.
When To Book Your Permits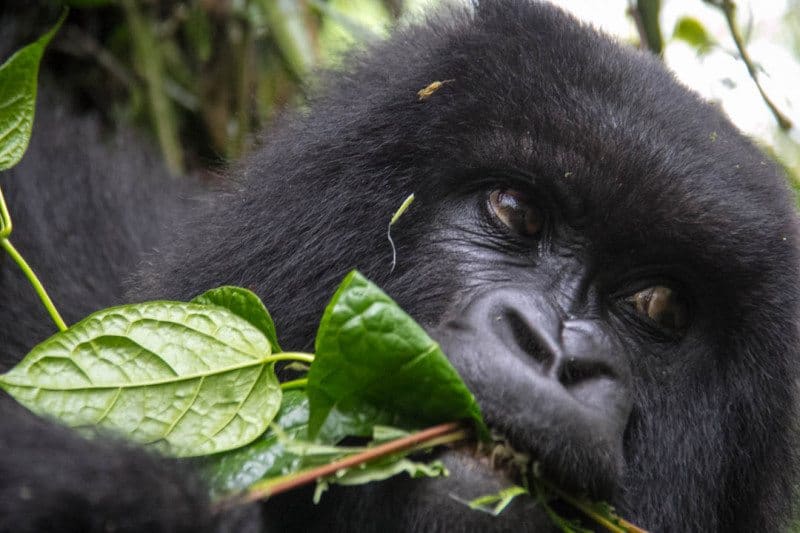 The Rwanda Tourism Office recommends booking your permits at least 6 months in advance for the high seasons of June through September and December through February.
Low season, also the rainy season, you should have no problems securing a permit 1-2 months in advance for October through November and March through May.
Gorilla trekking permits are booked on a first-come, first-served basis year-round and availability of permits for a required date is not guaranteed.
The permit must be paid for in advance, in full and any delay in confirmation or payment could cause a disruption in your booking, especially if you are applying for a specific date.
The best practice is to know your travel dates and the day you want to trek, then apply with all your information as soon as you can to ensure you will get a chance to gorilla trek on your trip.
Remember: Once you book and send your money for permits, the date cannot change. If you change a tracking date, you will be charged a cancellation fee. The Rwanda Tourism Office charges $100 for each permit date that is changed.
When booking outside of Rwanda you have 2 options, to book through the Rwanda Tourism Office or to book through a tour or travel agency.
Booking Gorilla Permits with the Rwanda Tourism Office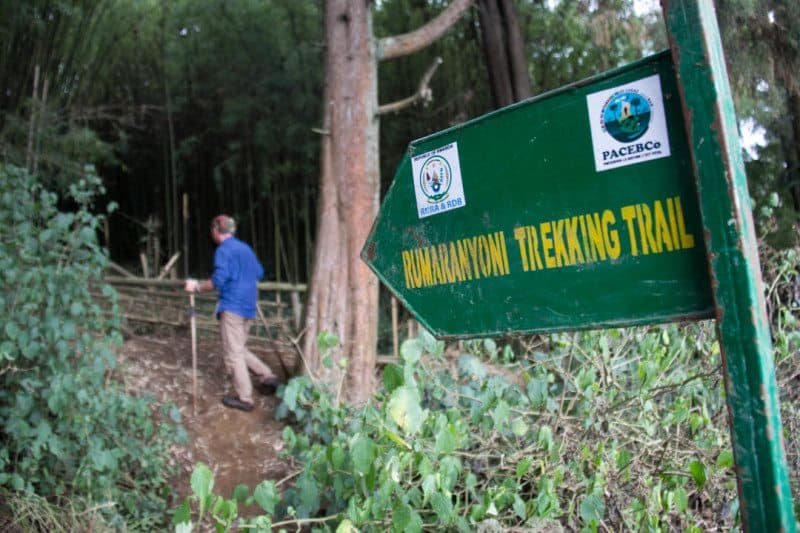 The first step is to contact the Rwanda Tourism Office reservation office by email to inquire about the availability of the dates you plan to do gorilla trekking in Rwanda.
If the exact dates you are requesting are unavailable, you can also request that they let you know of the nearest dates around your original request.
Once you have established availability and the date, reply to the Rwanda tourism Office expressing your intent to book those permits and request that they temporarily hold them so that you may make payment.
Payment for the gorilla permits is done via electronic money transfer and once you have confirmed the dates with them, they will provide you with their banking details.
When you have sent the money, remember to immediately send a copy of the transaction receipt by email or fax to the Rwanda Tourism Office.
These types of money transfers usually take no more than 3 days and the Rwanda Tourism Office will hold your tentative booking for at least 7 days to allow the transfer to come through to their account.
Also, remember to have your bank deduct the bank charges from you and not the tourism office. If you do not do this, the money that you send will not be enough to cover the cost of your permit and you may lose your permit.
Book your permit: Gorilla permits can be booked at the RDB Tourism and Conservation Reservation Office in person, by telephone (252 57 65 14) or via email: [email protected].
Booking Gorilla Permits with a Tour or Travel Agent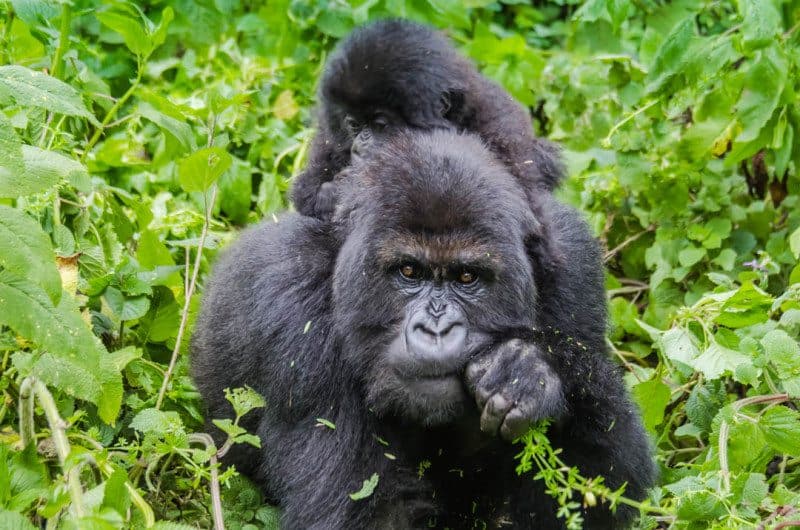 This is what we did. We were booked on an overland expedition with Oasis Overland and upon booking, we were given the option to apply for our gorilla permits during that trip.
Once we elected that option, we paid in full to the Oasis Overland and then they proceeded to make all the arrangements for booking the gorilla trekking permits with the Rwanda Tourism Office.
This can be a great option if you are already planning to travel with tour that is visiting Rwanda and offers the gorilla trekking option.
It is also a great option if you are traveling independently and are not able to go through the above process of booking directly with the Rwanda Tourism Office.
Most travel agents that specialize in Africa travel will be able to arrange the permit for you for a small additional fee.
The procedure for the tour operator or agent is similar to above, except that the tour agencies tend to speed-up the process and most you will find that you get your gorilla permit confirmation faster.
It may seem like a long, complicated and expensive process for some strenuous activity and 1 hour of gorilla viewing, but trust me, you will forget all about it when your eyes catch their first glimpse of a Mountain Gorilla in Africa.
When visiting Rwanda you must visit the Kigali Genocide museum. Experience how the genocide happened, what built up to it and how it has shaped Rwanda today.
We have been to some of the most famous genocide museums all around the world and the Kigali Genocide museum is one of the most humbling genocide museums you can visit.
This is 100% something you must do when visting Rwanda.
---
Rwanda Gorilla Trekking Preparation Tips
---
Bring a Day Pack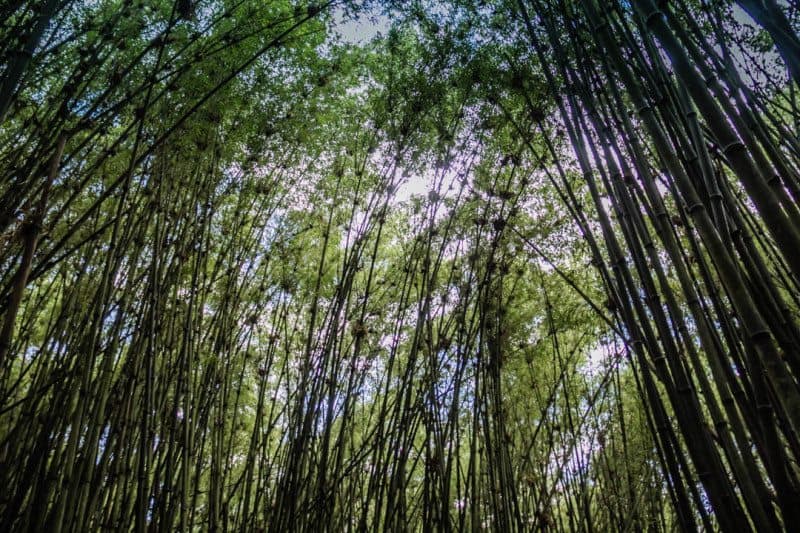 You will need to carry your lunch for the day and all the water you need for the trek. Once you are on the mountain, you will not have a chance to access water.
I recommend a water pouch if you have one for maximizing your space and weight distribution in your backpack.
Regardless of how you pack your bag, you must bring a minimum of 2L of water per person. Pack snacks that have a little sugar and high protein in them to keep you going on the trek.
You'll also need space to pack layers, camera gear and other things you need for the experience.
Recommended product: Outdoor Products Shasta 30L Waterproof Bag We LOVE this bag! We've carried it for the past 8 months of our travels and can't believe we went so long without it. You can read a review that we wrote about the Shasta backpack here.
Worried About Carrying A Pack?
Porters can be found at the start of any hike. These men are locals who live in the villages next to the entry point of every hike. These porters are registered and authorized to assist you on the gorilla trek.
Before you start the trek, your guide will ask about porters and you can then decide if you would like to pay the small extra fee to have someone not only carry your stuff but accompany you and help you if needed.
All the porters speak English.
I've always used the rule, I pack only what I can carry but for those who do not want to carry their day bag, you can hire a porter for about $10.00 USD for the whole trek.
They do this hike daily so they also know where to go and how to maneuver through the terrain.
We found the porters that our fellow group members hired to be great assistance to everyone in our group by helping us over large logs and reaching out to help when the ground was wet.
Walking Stick or Hiking Pole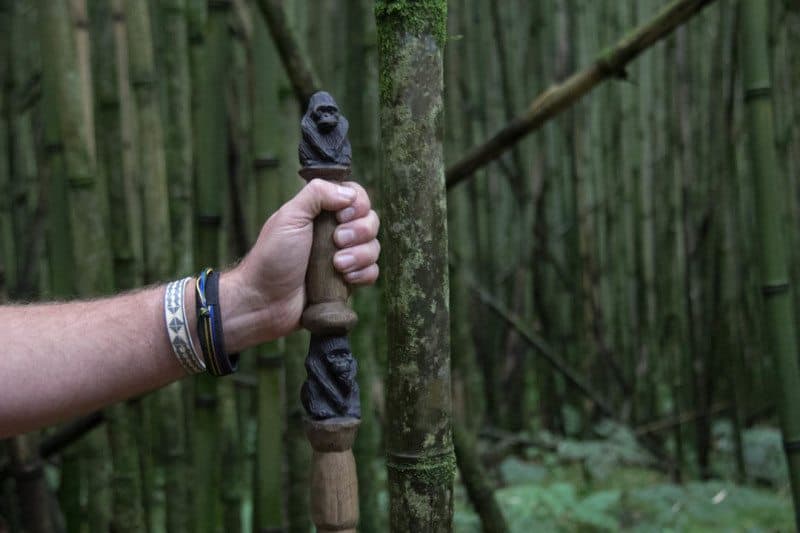 You should be prepared to walk over uneven terrain, slippery rocks and streams, stepping over thick vines and branches. I would not take on this type of trekking without a hiking pole.
You can bring your own if you are picky about design and comfort, or the trekking guides will have a big selection of hang made hiking poles with gorillas carved out of the top.
This is what we used and I can't tell you enough how thankful I was that I took one when it was offered. We were both saved many a time from falling when we slipped on wet bamboo or grass.
Bring Gloves
You will be pushing your way through large bushes of stinging nettles, fallen trees, and thorny branches. The ground is often slippery or unstable so you will find yourself reaching out often to support your steps or hold yourself up.
While a thicker glove will offer more protection, just basic hiking gloves or magic gloves will do to prevent your hand from landing on something you don't want to touch.
Wear Long Sleeve Shirt and Long Pants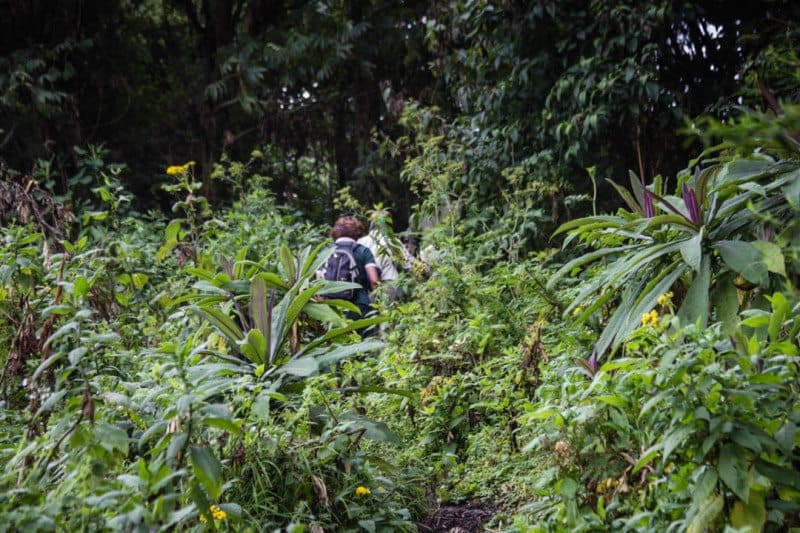 Again, the terrain varies wildly but a lot of your time will be spent forging a trail through the dense jungle just like in the photo above. This isn't a walk in the park and there is no true trail.
Each group blazes their own to the area the gorilla group has moved to for the day of your trek. You will be following rangers as they hack the jungle around you and make narrow openings.
You will be stung, repeatedly, by stinging nettles during this process. They are impossible to avoid, however wearing the proper clothing can reduce the impact this has on your trek.
I wore a light, tunic-style travel shirt and this was perfect for the climate and protecting my arms. Outdoor shirts that are designed for hiking, like those made by Columbia and North Face, are the best.
Pants are another story. Despite wearing long hiking pants, the nettles stung right through both of our lightweight outdoor pants. As odd as it sounds, jeans are the best type of material for this type of trek.
However, they do not breathe well, hold moisture and give no stretch for the rough terrain so we can't personally recommend them for you.
The best option would be to get a pair of those old fashioned type travel pants that are thicker but cut well for hiking. Otherwise, just be prepared for the stings.
Think About Bringing Hiking Gaiters
One way to keep the stinging nettles at bay is to add gaiters to your outfit. Even a cheap pair of nylon gaiters will stop the nettles from stinging from the knee down.
They also offer protection against branches, rocks, mud, moisture, and moss during your gorilla trek.
Rain Jacket & Rain Pants
Even if your day starts off sunny, bring a rain jacket. They don't call it Gorillas in the Mist for nothing! Your journey will start at the park office and you will then be shuttled to the base of the mountain for your trek.
The climate can change quickly and be temperamental. We experienced intense heat, humidity, sun, soft rain and one bout of heavy rain all in one trek.
You can always take them off, plus the stinging nettles cannot penetrate a rain jacket or rain pants.
Do not bring or wear bright colors on your gorilla trek. You want dark, natural colors so you blend in with the terrain. Bright colors will disturb the animals.
Hiking Boots or Shoes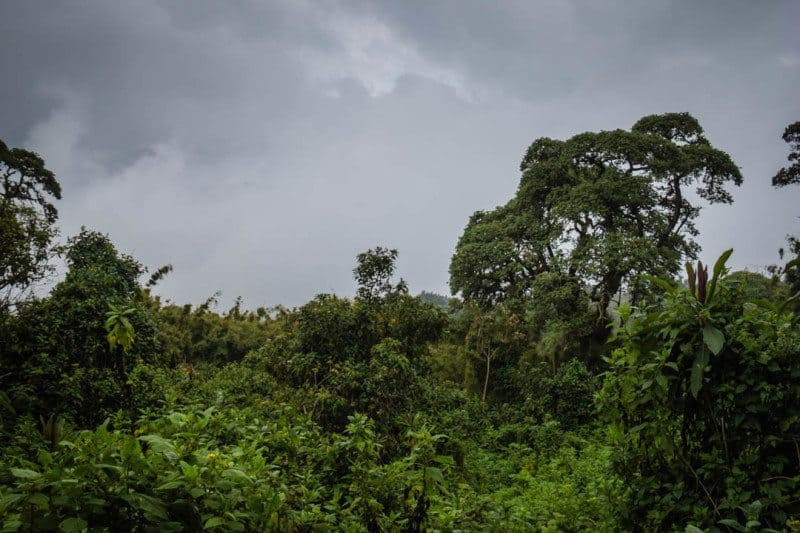 Even though we experienced a small amount of rain, we didn't end up needing major boots or waterproof boots to make the hike.
I think that drawing the Susa group, which tends to hang out in higher areas, worked in our favor and the ground was not as wet.
I hiked in my Asics trainers and David hiked in his Merrell hiking shoes. Our shoes got muddy and our socks got wet, but it wasn't torturous.
If we would have had the option, we would have rather hiked in proper hiking boots. Due to the rough, uneven terrain, some support would have been great and a Gortex type boot or shoe would have made a difference.
If you are not worried about luggage space, I would definitely recommend you bring a solid pair of hiking boots.
Long Socks
I don't particularly remember having any problems with leeches, but some of the areas can have leeches during the wet season.
Regardless, it is good practice to wear tall, comfy socks when hiking in the jungle to prevent plants and critters from making their way up to your pant legs.
I would recommend a pair of Merino wool socks to wick away moisture.
Pack Extra Socks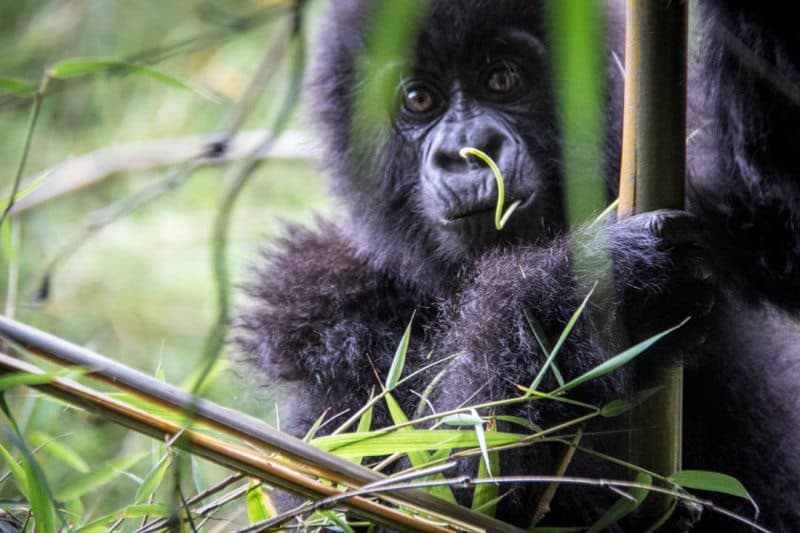 Since the Gorillas live on the side of the mountains, the ground is always damp. It is very likely that the pair of socks you are wearing when you start the trek will become wet, either from the conditions or from sweating.
After you visit the gorillas for an hour and sit down to eat lunch, this is a good time swap into a fresh pair of socks for the hike back to headquarters. It will feel amazing and your feet will thank you.
Headband & Hat
Anyone that does a fair bit of hiking will know that you should have some sort of headband or bandana to wick sweat, provide head warmth and use for a variety of other things during your adventure.
A hat can be useful also to block the sun or rain from your face and neck. We both carry Buff Headwear with us whenever we go hiking. They work well as headscarves, bandannas, headbands or neck gaiters.
Fitness Preparation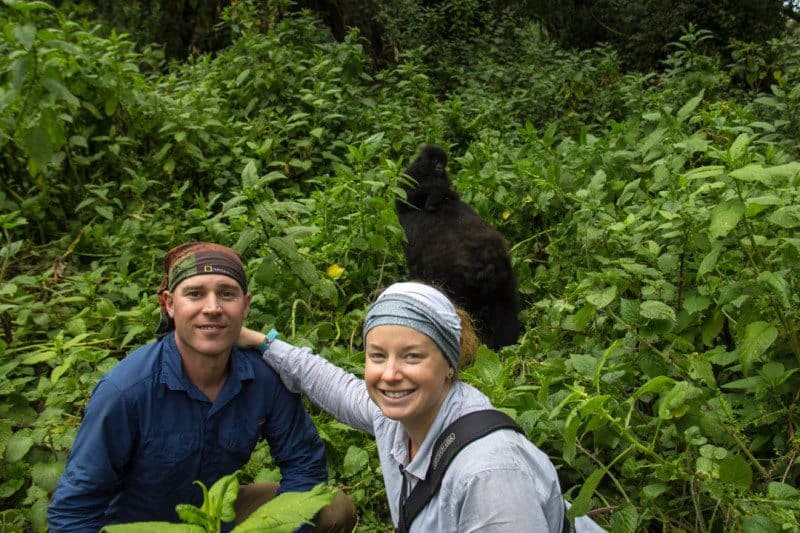 Preparing for an adventure like gorilla trekking has many elements. Gear is fun to think about and shop for and it will make your life a lot easier on the side of that mountain if you are prepared and have the right equipment.
However, there is an even bigger thing you should not overlook when preparing for a trek of this nature, your fitness. You will be trekking in climates that you are not used to and across terrain that can put a strain on parts of your body you are not used to working.
Do your part to prepare your body for this trek so you can enjoy it.
From the time you book your gorilla trekking permits, start preparing. Start walking daily and increasing your exercise.
Take the stairs, park in the far end of the parking lot, watch your diet and start drinking lots of water.
Think about your overall health and fitness. The last thing you want is to have a health problem on the side of a mountain in Rwanda, you will be in the middle of nowhere and it is not unheard of for people who are not physically prepared to have problems.
---
9 Tips For Capturing the Best Photos During your Gorilla Experience
---
The moment you have been waiting for, working for and taking stinging nettles for has finally arrived.
After an early morning departure and a long hike, you have finally reached the gorilla family you have drawn a permit to visit. You have exactly one hour with them, now what?
Firstly, take a few minutes to just revel in the moment, don't touch your camera, just watch in awe. There is nothing in the World, no animal experience that can compare, to the moment you see your first Mountain Gorilla in Africa.
You'll notice most of the people in the group are not doing this, they are wildly pushing each other and showing to the front, desperate for photos. Just take a step back and wait a moment.
1. Positioning Importance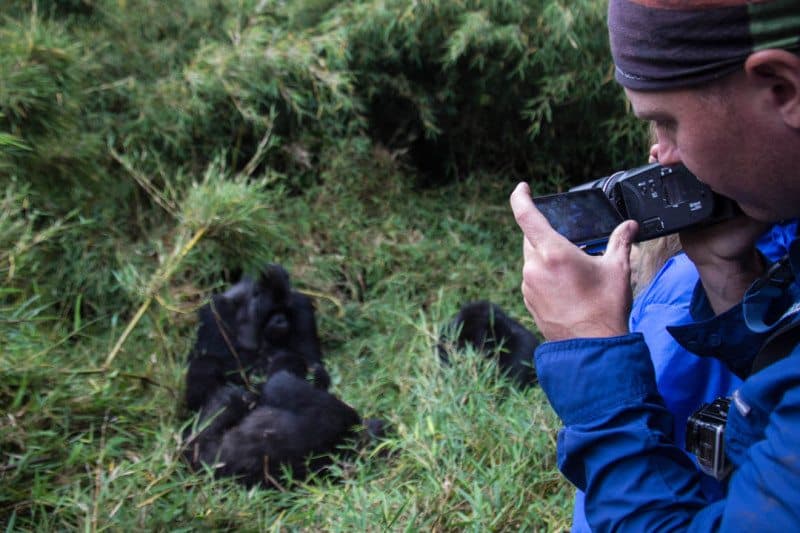 Now that you've had a moment to asses the situation and revel a bit, make your way to one side or the other of your hiking group.
Most people will be pushing to the middle and bumping everyone else in the process, you don't want to be part of this if you want good photos. Go to the edge of the group where you have some flexibility and space.
2. Use a Telephoto Lens
No matter how close you are to them, make sure you have your telephoto lens on for your first shots.
This will get you up close to the gorillas through your camera and you will be able to capture facial expressions and details this way.
You will not be allowed to use a tripod, so make sure that you have practiced handling your telephoto lens before you arrive at the gorilla trek in Africa.
I used my Canon 100-400mm telephoto lens to take most of my shots of the gorillas in Rwanda.
3. Camera Settings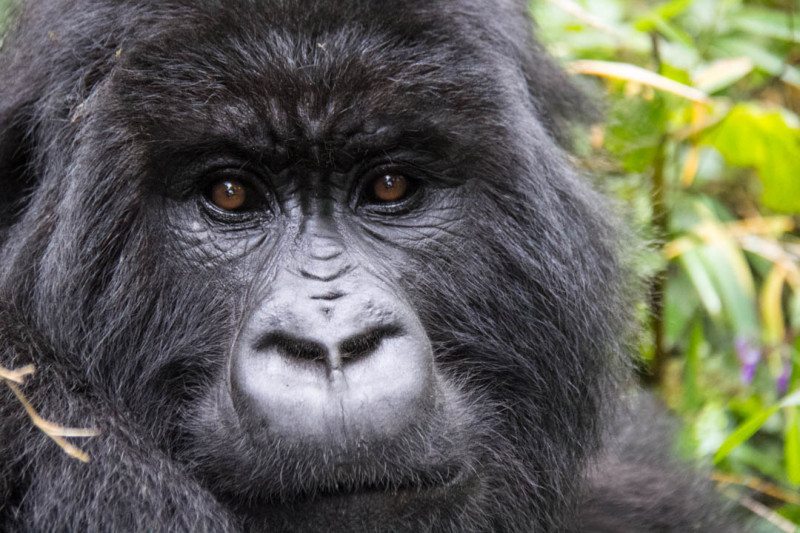 Be sure you have your camera set in TV Mode (Shutter priority) and adjusted to appropriate shutter speed for the lighting conditions you are shooting in.
You could start at 1/640 and adjust from there if it is an overcast day.
Increase this setting if you have more light (1/1250), decrease it is you have less (1/400). This way, you will be able to capture any motion that is happening without blur.
For those of you shooting on a non-manual camera or a point and shoot, set your camera to the Sport setting.
4. Slow Down
An hour can go by quickly and with the group moving about and being excited it is easy to get wrapped up in that and move quickly. Don't do it, take your time, linger when the group moves on.
The rangers will stay with you so that you can have a few extra moments to shoot photos without the group around.
5. Think About Composition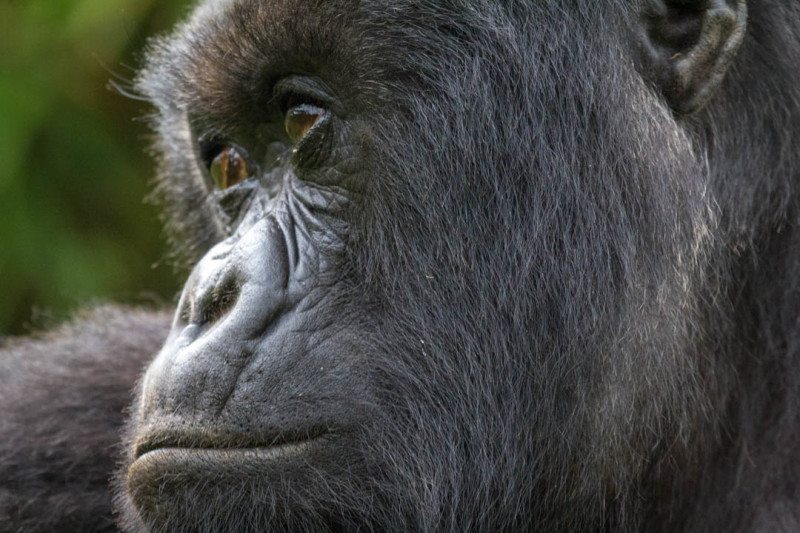 People can get so wrapped up at the moment that they forget to slow down, as I mentioned above, and think about what kind of shots they are taking.
Look for the different shots, think about how you are positioned to the gorilla and what the composition of your shot will be.
Use the rule of thirds as a base and work from there to give the shots your own personal flair. I can't stress enough the importance of this in your photos.
6. Look Around You
The gorillas in Rwanda have fairly large groups, especially the Susa group, so it is likely that while everyone's eyes are fixed on the gorillas in plain sight or in front of you, there are many others around you.
Take a look around, you may find an opportunity to step back and have a one-on-one with one of the gorillas.
7. Have Patience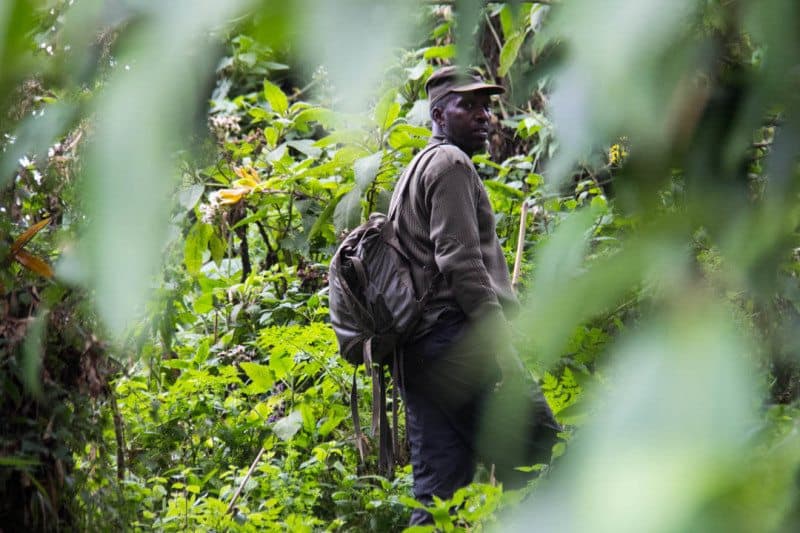 You are looking for those tender, quintessential moments from the gorillas. These types of shots take attentive patience. Be ready but not eager and just wait. Keep your eye to the camera and your finger on the shutter.
Watch them through the lens and wait for those moments like when they gaze at their baby or look directly at you. If you are patient and attentive, capturing these moments will come easy.
8. Switch Lenses or Carry A Second Camera
Once you have a taste for how the group behaves and how gorillas move around, swap over to a wider lens like my Canon 18-200mm lens and just capture the whole scene.
The jungle, the gorillas, the rangers, the people, the foliage; just capture everything.
It may not seem exciting in the moment but later when you are telling your stories or showing photos, you will be able to show people what those damn stinging nettles look like!
9. Bring Protective Gear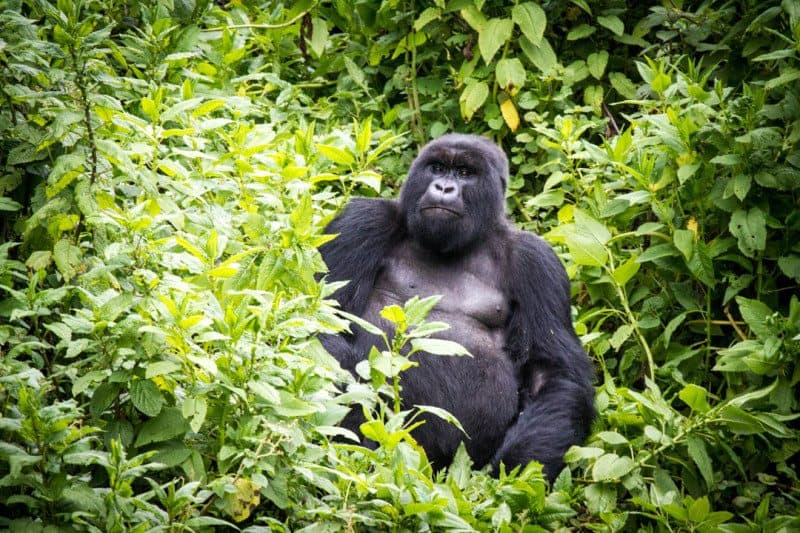 Make sure you bring protective covers for your camera equipment, just in case it starts raining when you are with the gorillas. I typically carry an Altura Professional rain cover and a couple of basic rain covers to combat moisture.
In addition to these covers that protect the body and lens, I carry a couple of plastic shower caps
to put over the end of the lens glass when I am in between shots. This keeps the lens glass clean and keeps water droplets off the glass.
---
Gorilla Trekking in Rwanda: Is It Worth It?
---
You are paying a lot of money to travel to Africa, obtain a permit and hike to the gorillas. If you prepare ahead of time, the hike will be an enjoyable experience for you and your fellow trekkers.
You may get stung by nettles, slip on the slopes and sometimes wish you could be airlifted off the mountain but I guarantee you that the minute you lay eyes on our closest primate relatives, all of that will slip away.
More on Africa:
Did you like this story? Share it!