Overlanding through Africa is trending and extremely popular way to see the continent of Africa. Some people choose to rent their own vehicles and set off on their own adventures, while some enjoy the comforts of the group experience.
While we can't talk about the renting side of things with you, we can talk to you about the Overlanding group experience with Oasis Overland. There are a lot of companies and routes on offer when it comes to choosing this type of African adventure but Oasis Overland offers some unique things that set them apart from the rest.
We are going to shed some light on these things but also stress why it is important that you evaluate your needs, wants and travel style before you start researching companies to travel within Africa. Each one will suit different people and it is crucial you understand that before you book. You have likely come to this article during your research phase and we want to make a case for why Oasis Overland is great, but also what you can expect should you book a trip with them.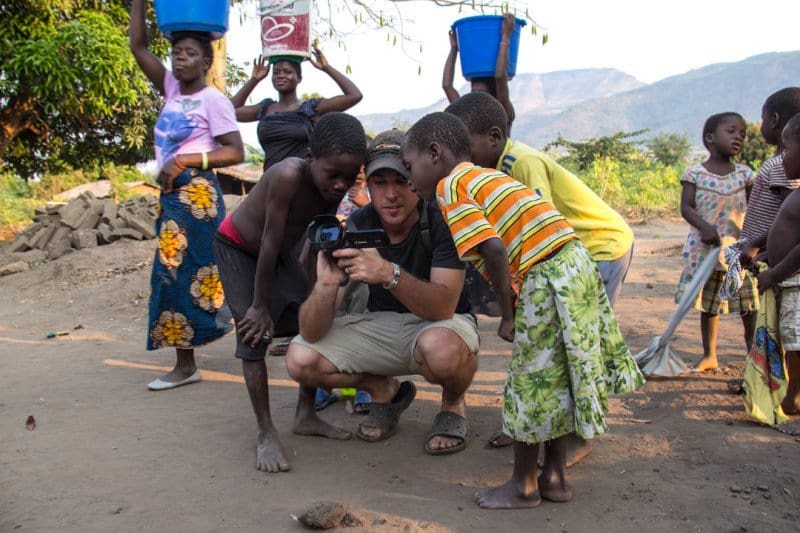 Why We Chose Oasis Overland
There are a couple of main reasons why we chose Oasis Overland for our African expedition. Firstly, they offered the route we wanted to travel from Cape Town to Cairo within the dates we were looking at. Secondly, we wanted to have a true, rough, off the beaten path adventure in Africa.
We wanted to shop in local markets, visit remote villages, sleep under the stars in the bush and really become one with the continent. Of all the companies you can book with for an overland trip, there are only two that offer bush camping and Oasis Overland was one of them.
Combining our wants with the offers of each company just kept bringing us back to Oasis Overland. Plus, they have a really great price point when it comes to getting the most bang for your buck on a long-term trip.
We traveled with Oasis Overland for 17 weeks on their Nile-Trans, Cape Town to Cairo route.

The Truck
No matter which itinerary you choose, the day before you set off you will be introduced to your mode of transportation and what will essentially become your home for the duration of your trip. Each truck will have a name and everyone will refer to the truck by said name throughout your trip. Our Oasis Overland home for 17 weeks? Meet The Beast.
The truck houses everything you need during your overland adventure. Your luggage is stored in locker compartments under your seat and your necessities in the overhead storage area. Everything you need to camp, including dishes, tents, stools, tables, cooktops, propane, wood and all other supplies are housed in outside compartments around the truck base.
Back inside, under your feet, you will find compartments that house spare truck parts and enormous storage of dry food to supplement your daily shopping budget. There is also a variety of books, games, and information that resides in the front of the truck near the Beach.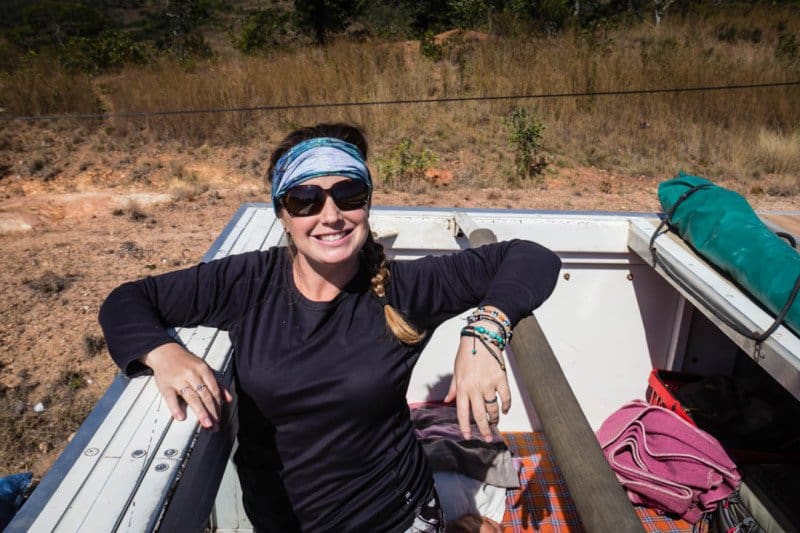 Yes, I said the beach. This is the chill-out area of the truck, a bed that allows you a chance to catch up on some sleep, relax, stretch out and sometimes catch a great view. The ceiling of the beach area can be removed on nice days for a clear view of the area you are driving through.
The seats on the oasis trucks run along the sides, meaning you face into the center of the truck. Being prone to motion sickness, I wasn't sure how riding like this would affect me but I found it to actually be a relief from the motion. The side flaps on the truck roll up, leaving the whole side of the truck open. When riding around, I could always look out and see the landscape which helped with my motion sickness.
Plan your own overland trip through Africa: Oasis Overland Africa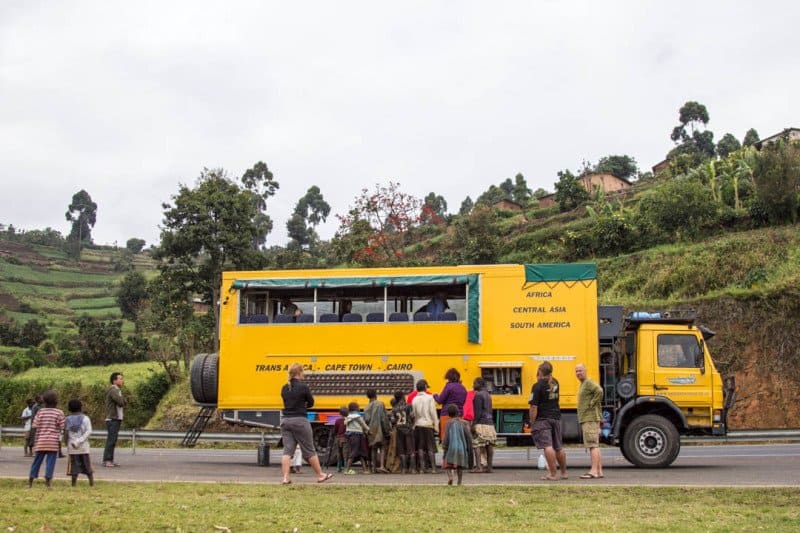 Interactive Group Travel
Oasis Overland runs interactive group expeditions through Africa. What does this mean? This means you will be expected to take part in all aspects of your trip. You will set up and take down your own tent. You will clean the truck, start the fire, do the dishes, cook the food and clean up when it is all said and done.
You will be split up into cook groups and have a rotating schedule for various duties each day of your overland safari. This is a great way to get to know your truck mates and be a real part of your trip, not just along for the ride. However, if you think you will sign up for this trip and then not have to participate, consider another overland option.
Working with your truck mates and having the option to experience more local life with your group duties can be a rewarding experience but it doesn't come without challenges. Trust me, sometimes the last thing you want to do when you've been in the truck all day arrives in a new campsite in the dark and then cook a meal for 16 people, but this is Overlanding in Africa. Knowing what you are getting into will help you to enjoy your time in Africa more.
Plan your own overland trip through Africa: Oasis Overland Africa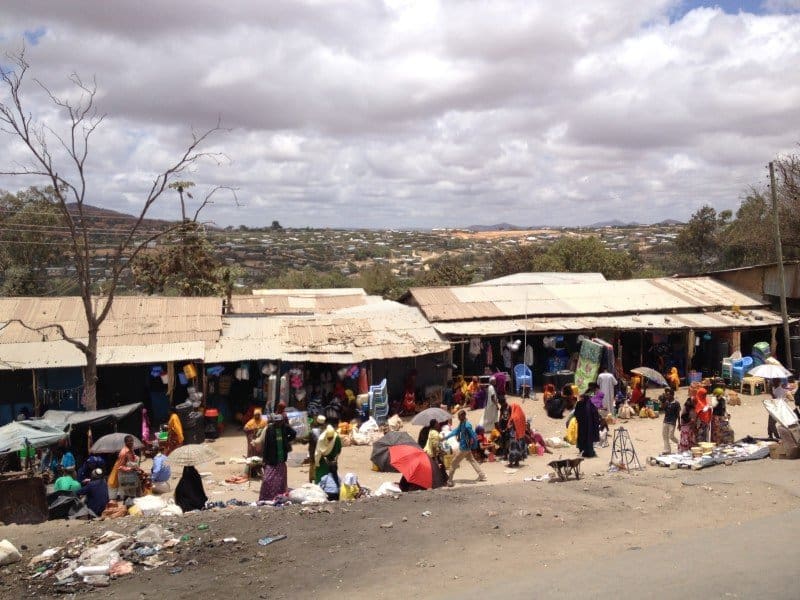 Food Shopping & Cooking
One of the best parts about being on an interactive trip is grocery shopping. We got to see a side of Africa most people only see on TV. As cook groups, we found ourselves in crazy African markets bartering for vegetables and buying meat that was butchered hours before. We joked, laughed and haggled with locals and got a chance to really feel what Africa is like. If we weren't cooking our own meals, we wouldn't have had these experiences.
When we weren't shopping in markets, we were checking out the inside of the grocery stores, which left us surprised at how developed some parts of the continent really are this day in age. It also gave us a chance to try local foods and experience cooking over a campfire. Yes, we prepared meals for 16+ people over campfires!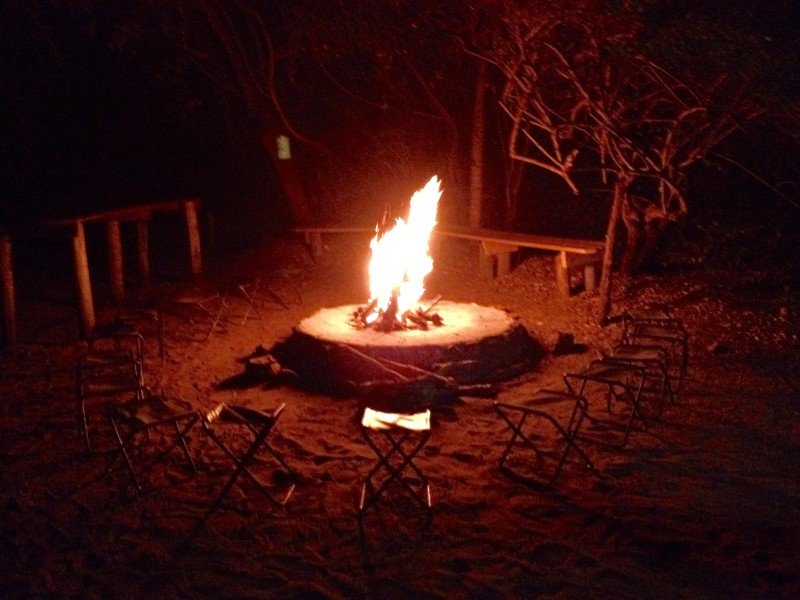 This is a Camping Trip
If you are booking a trip with Oasis Overland, you are basically signing up for a camping trip. While there are some nights you may sleep in group dorms (with everyone on the truck), I think it is safe to say that 98% of your trip will be camping. That means sleeping in a tent that you setup and take down every day on camping supplies you have brought from home.
Some campgrounds do offer the option to pay more to upgrade. This is not included in your trip price and there are no guarantees they will be available when you arrive. The biggest tip we can give you here is to:
A. Know what you are signing up for and
B. Invest in some quality camping equipment. Buy the quality sleeping bag and make sure you have a comfortable sleeping pad.
Related Article: Best Sleeping Bag for Cold Weather: From Africa to Greenland
Camping is a great way to experience Africa. It may take some adjusting at the start of your trip, and trust me, those 4 am mornings of tent tearing down are no fun, but you can't beat it. Some of the campgrounds you will experience are awesome and places that most people don't find when on their own.
Plan your own overland trip through Africa: Oasis Overland Africa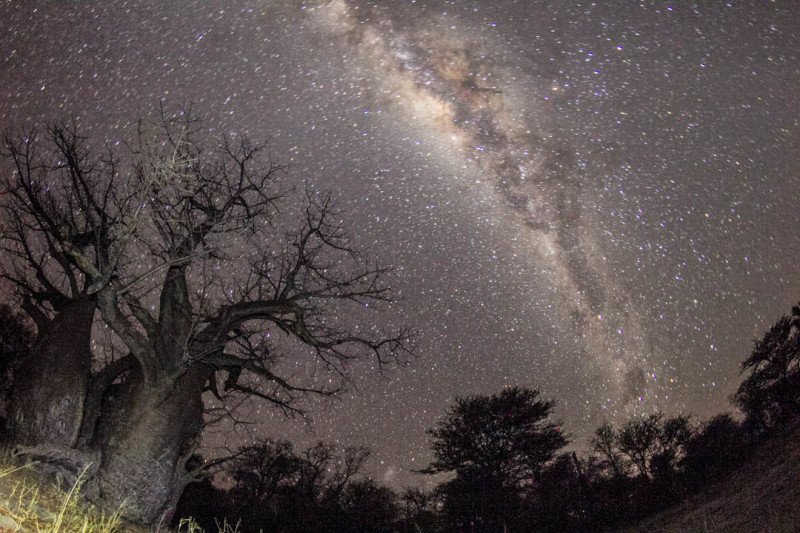 There Will Be Bush Camping
Oasis Overland bush camps. If you want to sign up for one of their trips and think there is a chance you will not bush camp, keep looking. One of the things that make Oasis Overland so great is the fact that they bush camp.
What does this mean exactly? This means you will spend some time camping in the middle of nowhere with no facilities and sometimes for multiple days at a time. You will be traveling into areas of Africa that are underdeveloped, meaning you can't just find a campground. No facilities mean no toilet and no running water.
Many people we know expressed concern about this type of camping in Africa. They assumed it would be unsafe and risky and couldn't understand why we would want to try it. I can tell you without a doubt that the days we spent bush camping were some of the best nights we had in Africa.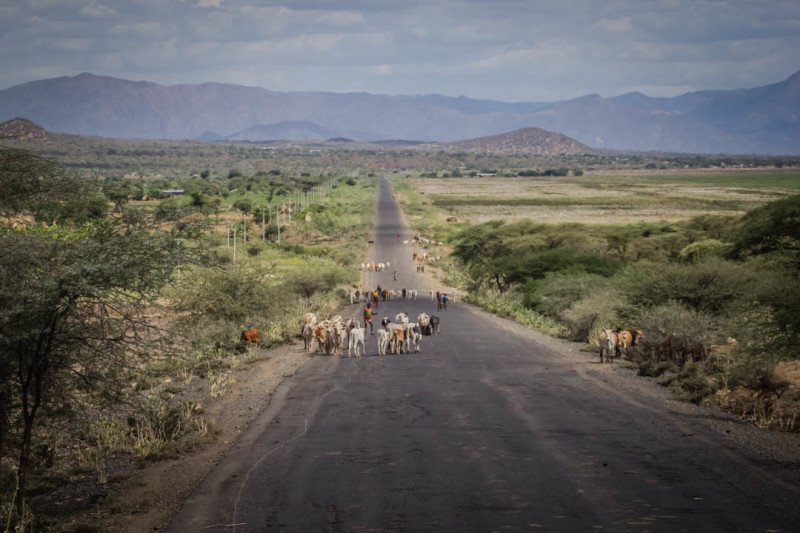 Drive Days
Overlanding in Africa can be an exhausting and slow process no matter what company you choose. The lack of infrastructure often means the roads are in poor condition, not paved and very bumpy. This makes it slow going at times and more often than not, extremely dusty. It is important to understand you are on an expedition, not a luxury tour.
There is going to be bumped. There is going to be dust. There is going to be some ridiculously long drive days, sometimes unexpectedly. It is all part of it. But on the other side, are the drive days that you come across giraffe or zebra on the side of the road and pull over for photos. Where you stop and race each other to the best bush toilet locales. Where you roll up in remote villages and go shopping in the markets. Experiencing Africa in this way is magical, even on the longest, most bumpy drive days.
Our post: Day in the Life of an Overland Trip Through Africa, talks about what those long drive days in Africa can be like.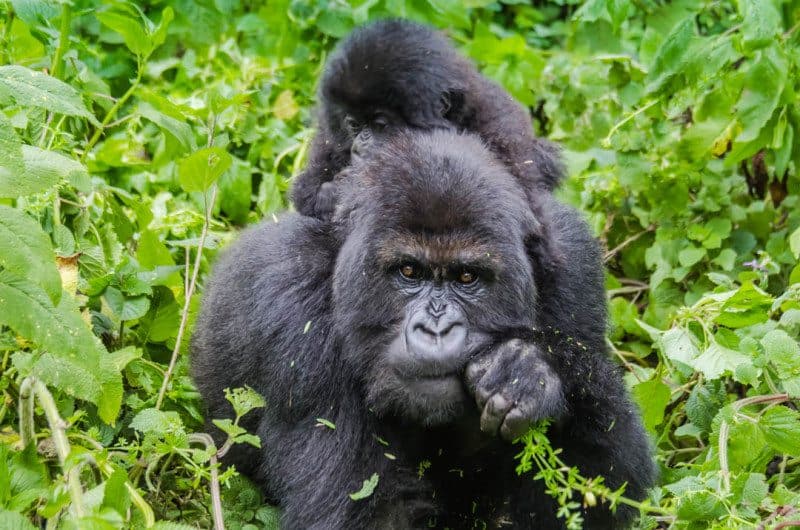 African Adventure Opportunities
Oasis Overland is going to make sure you roll up in all the most iconic, popular and must-see places along your itinerary. They're an experienced company that knows where all the good stuff is, how to get there and how best to experience it. For each place you stop off in, the crew will generally have a list of things organized for your participation.
This gives you maximum opportunity for adventure on the full spectrum. Village walks, extreme sports, wildlife safaris, scuba diving, tribes, you name it and it will be available. Of course, everyone has a different budget and needs on a trip of this scale. The best rule of thumb when it comes to choosing activities is that if it is multi-day, don't miss it.
If you are looking for cultural interaction, there will be some opportunity along the lines of village tours in some places and the interaction you get cook group shopping. But if you want more people's experiences, you'll want to plan time to walk around the villages and towns you end up in on your own. This is one area there is a lack, however, it can be done if you are not afraid to be away from the group.
Plan your own overland trip through Africa: Oasis Overland Africa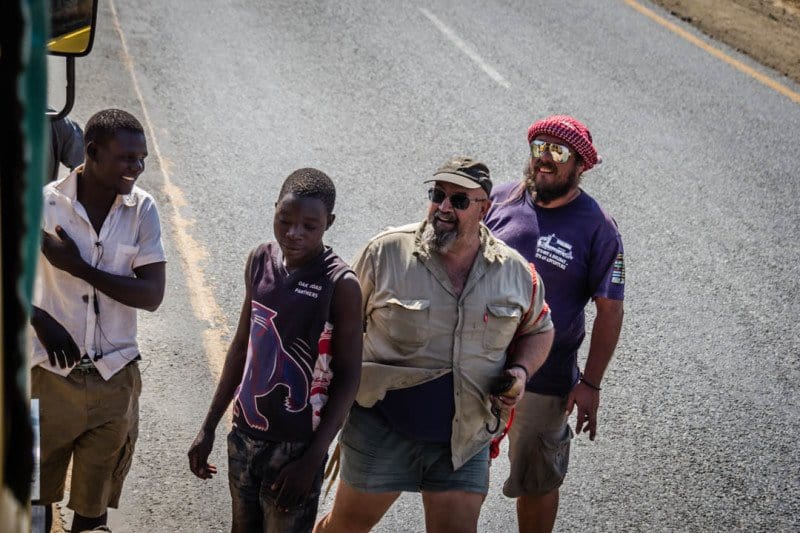 Oasis Overland Staff
Your trip will be run and organized by two members of Oasis Overland's staff. You will have a truck driver and a tour leader. Your truck driver is responsible for driving the truck, getting you from point A to point B and for maintaining the integrity of the overland truck.
The tour leader is there to make sure you have a smooth trip. They will oversee the daily activities, be there for questions, help make arrangements for tours and activities, be available to assist you for border crossings and at times, act as a liaison within the group as needed.
These people are going to be working long hours and enduring the brunt of any problems that may arise on your trip. Treat them kindly! Remember, they are not babysitters, chaperons or referees. Treat them as friends because they are working damn hard to ensure you have a great adventure in Africa.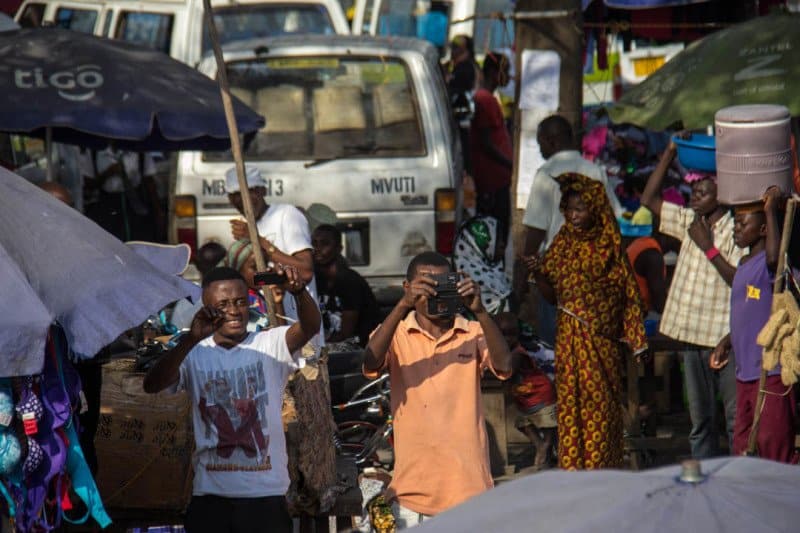 Still, Have Questions?
I am sure I didn't cover everything that may arise from your questions about what it is like to travel with Oasis Overland. That said, I welcome your questions in the comments below. We spent 4 months traveling with this company through 14 countries in Africa. We can answer any questions you may have about the experience.
More on Africa:
Did you like this story? Share it!