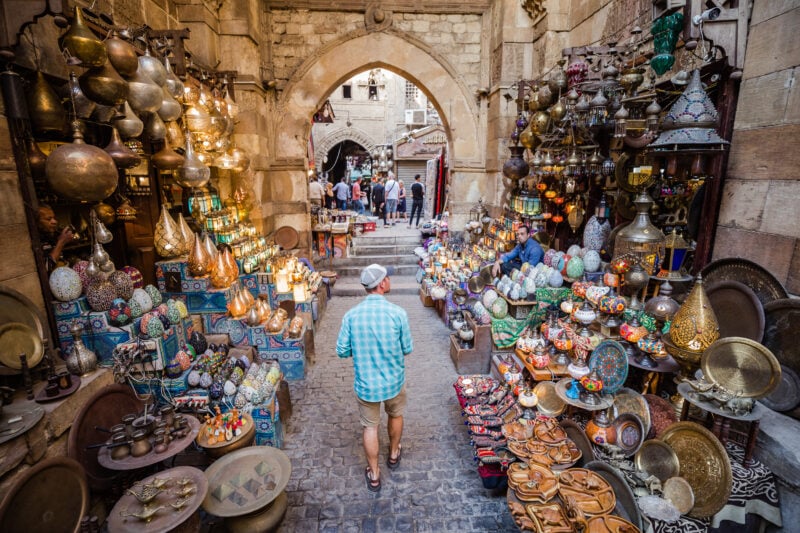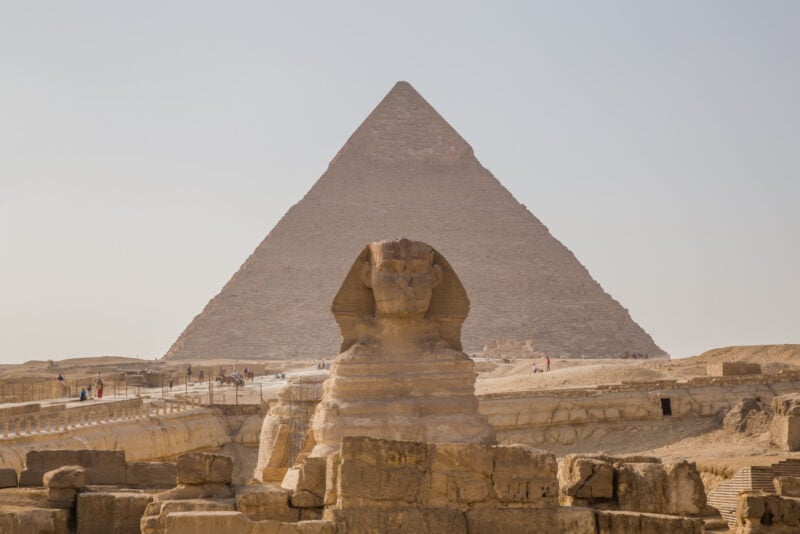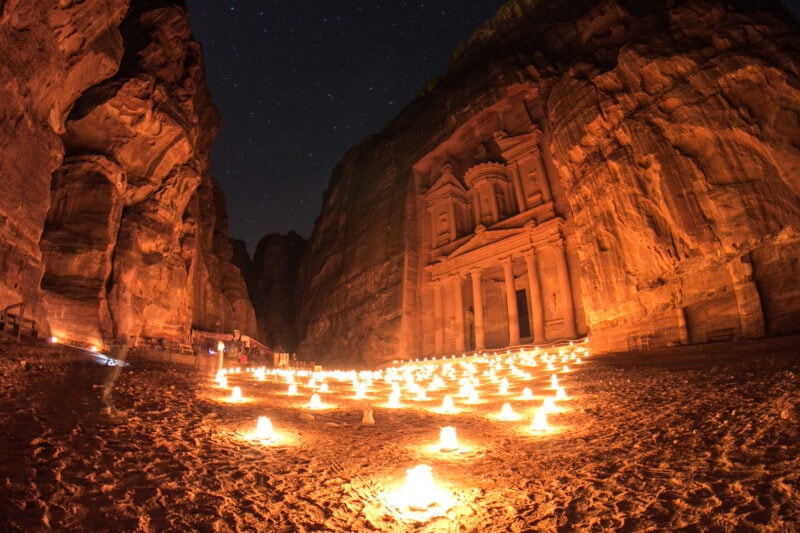 Ultimate MIDDLE EAST Travel Guide
The Middle East is one of the most notorious regions to visit on the planet. It gets a bad rap due to sensationalized media but the reality is that much of the reason is safe for travel. It's a region that provides fascinating culture, history and food to experience. The goal of our Middle East travel guide is to show you exactly why.
Geographically, the Middle East is comprised of 3 distinct regions broken down into North Africa, Western Asia and the Arabian Peninsula. This area covers a total of 20 countries.
North Africa includes the countries of Morocco, Algeria, Tunisia, Libya and Egypt.
Western Asia includes the countries of Turkey, Kuwait, Iran, Iraq, Syria, Jordan, Lebanon, Israel and Palestine.
The Arabian Peninsula includes the countries of Saudi Arabia, United Arab Emirates, Qatar, Oman, Bahrain and Yemen.
We've spent just over two months traveling in the countries of Morocco, Egypt and Jordan during our Middle East travels. We have seen the very best they have to offer and have a good pulse on what it's like to actually travel there.
MIDDLE EAST TRAVEL: QUICK TIPS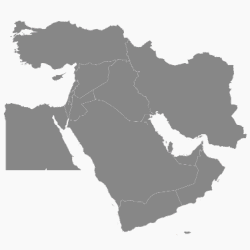 Don't Visit THE MIDDLE EAST Without: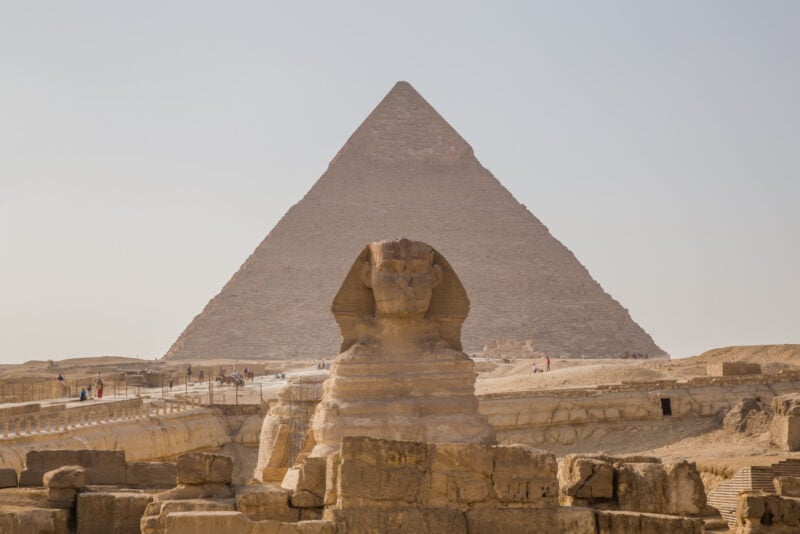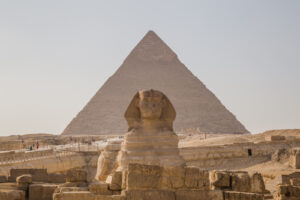 PYRAMIDS & TOMBS IN EGYPT
Egypt is a gem of the Middle East and for good reason! It is here that you can find massive pyramids and colorful tombs that stretch along the Nile. You can use the cities of Alexandria, Cairo, Luxor and Aswan to explore the wonders of Ancient Egypt.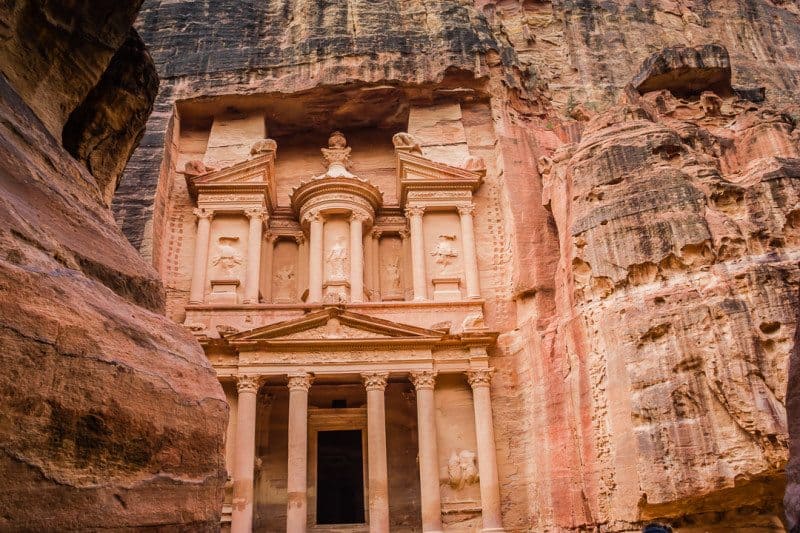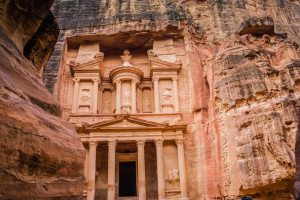 LOST CITY OF PETRA IN JORDAN
The Lost City of Petra is a highlight to any Jordan itinerary, featuring massive structures carved right into the side of the cliffs. During the day, the sight is lively with bedouin traders offering shopping and banter. When the sun sets, head to Petra by Night.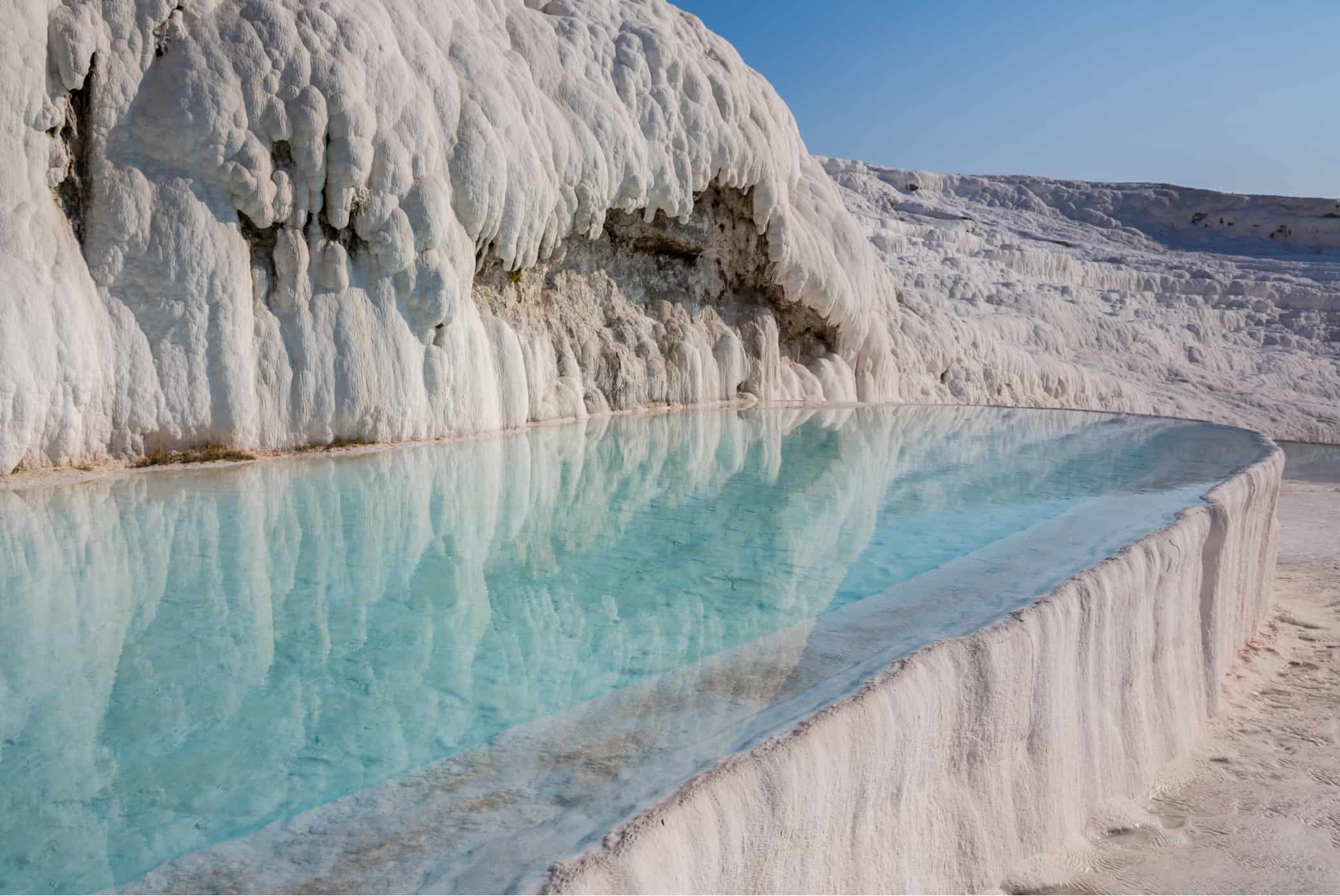 PAMUKKALE POOLS IN TURKEY
If your Turkey itinerary doesn't include Pamukkale, you'll be missing out! This natural wonder forms some stunningly beautiful geothermal travertine pools affectionately referred to as the cotton candy pools. They are best viewed at sunrise and sunset.
MORE THINGS TO TRY IN THE MIDDLE EAST
There is no shortage of great things to do in the Middle East during your visit and the biggest problem you'll face is fitting them all into your itinerary.
Each country has its own offering and unique things to check out during a visit, so be sure to look at our country guides once you decide where your itinerary will take you.
CAMEL SAFARI INTO THE SAHARA DESERT: (Morocco) Getting up close and personal with the mighty Sahara Desert is a rite of passage adventure in the Middle East. Taking a Merzouga Sahara desert tour will find you on camels, trekking a few hours across massive sand dunes before arriving at a desert camp for a spectacular sunset followed by campfire stories and some intense star gazing.
VISIT THE BLUE CITY OF CHEFCHAOUEN: (Morocco) One of the most beautiful cities you'll find in the Middle East is the blue city of Chefchaouen, located in the northern hills of Morocco. Here you'll spend your time wandering bright blue colored streets while popping into shops, markets and mingling with the locals.
SHOP AT THE MARRAKECH SOUK: (Morocco) If you seek a traditional Middle Eastern souk, then Marrakech certainly delivers. The medina harkens to the explorers of time gone by and you can shop the intimate alleys for spices and leatherwares or hang out in the central area. There you'll find great people watching and even snake charmers.
TOUR KING TUT'S TOMB: (Egypt) The most famous tomb in the world, that of King Tutankamun, can be toured when you visit the Valley of the Kings outside of Luxor, Egypt. Inside you'll find the actual mummy of the boy king along with beautiful wall paintings depicting his life.
SEE ABU SIMBEL: (Egypt) This is easily one of our favorite places to visit in Egypt as the ruins are large, ornate and very impressive. Overlooking the giant Lake Nassar, formed when the Aswan High Dam was constructed, these ruins were built for King Ramses II. The entire complex was once located further south, actually within the borders of Sudan, but the formation of the lake meant that it was moved to preserve the structure.
TAKE A NILE RIVER CRUISE: (Egypt) Taking a Nile River Cruise in Egypt will get you up close with the lifeblood of Africa and Egypt. Typically sailing from Aswan to Luxor, or reverse, you'll experience the mighty river, local life and have a chance to tour off some incredible temples. It's a great way to see the best sites without having to move hotels every few nights too.
VISIT THE ROMAN CITY OF JERASH: (Jordan) Located outside the capital city of Amman, Jerash is a massive ruined Roman city complex that blew our minds when we visited. It features a large amphitheater and plenty of intact roads lined with columns. If you visit after a rain, you may even find roman coins on the ground!
GLAMP IN THE WADI RUM DESERT: (Jordan) This is one of the most unique things to do in Jordan and was easily a highlight of our trip. The Jordanians stop at nothing to give you an authentic desert experience, complete with storytelling, activities and posh accommodation. One of the highlights was staying up all night to stargaze.
FLOAT IN THE DEAD SEA: When you think about swimming in the Dead Sea it's hard to imagine that you'll actually float. Well, let us tell you, it happens and it's a strange sensation! But of course, one that you cannot miss. It's possible to access the Dead Sea from both Israel and Jordan, with both offering posh resort experiences.
DISCOVER THE CITY OF ISTANBUL: (Turkey) The Turkish city of Istanbul is a melting pot of culture due to its location. It marries a little bit of Europe with a lot of the Middle East, making it one of the most fascinating places to visit in Turkey. Be sure to give yourself enough time to truly appreciate the city.
SEE CAPPADOCIA FROM THE AIR: (Turkey) Taking a hot air balloon ride in Cappadocia will show you an otherworldly landscape that you won't soon forget. You'll have an early start, but you'll forget all about that when the sun rises over the land below you, illuminating it in an array of pinks and oranges. Of course, there are other cool things to do in Cappadocia, but this one tops the list.
EXPLORE THE ANCIENT CITY OF EPHESUS: (Turkey) The very first place I ever visited in the Middle East was the Ancient City of Ephesus, Turkey and it was then that I knew I wanted to see more of what the region has to offer. At this site, you will see one of the largest Roman theaters to ever be discovered, along with the towering front of the once grand Library of Celsus. While in ruins, the city offers a fascinating look into life in Roman times and offers up stone streets, intact shopping huts, mosaic floor tilings and plenty of statues. When you finish touring this site, be sure to check our nearby Selcuk too.
FOODIE BUCKET LIST
The Middle East is one of the best destinations for foodies. Each country has its own national dish, but there are many staples that you'll find all over the region.
Kebabs and skewered meat (or vegetables) are incredibly popular, while rice dishes similar to Pilau (or Biyrinais) are hearty and filling.
Chickpeas are a staple and are often fried up into falafel, while hummus, pitta, and Kanafeh are ubiquitous across the Middle East.
MIDDLE EAST FESTIVALS
There are many festivals and events, both religious and cultural, to look out for when organizing your Middle East travel itinerary.
The biggest event in the region is Eid, which marks the end of Ramadan. It's celebrated with huge feasts and festivities.
The Prophet Mohammed's birthday is often observed, while many countries have parades to mark independence days or national holidays.
THINKING ABOUT VISITING JORDAN?
POPULAR REGIONS IN THE MIDDLE EAST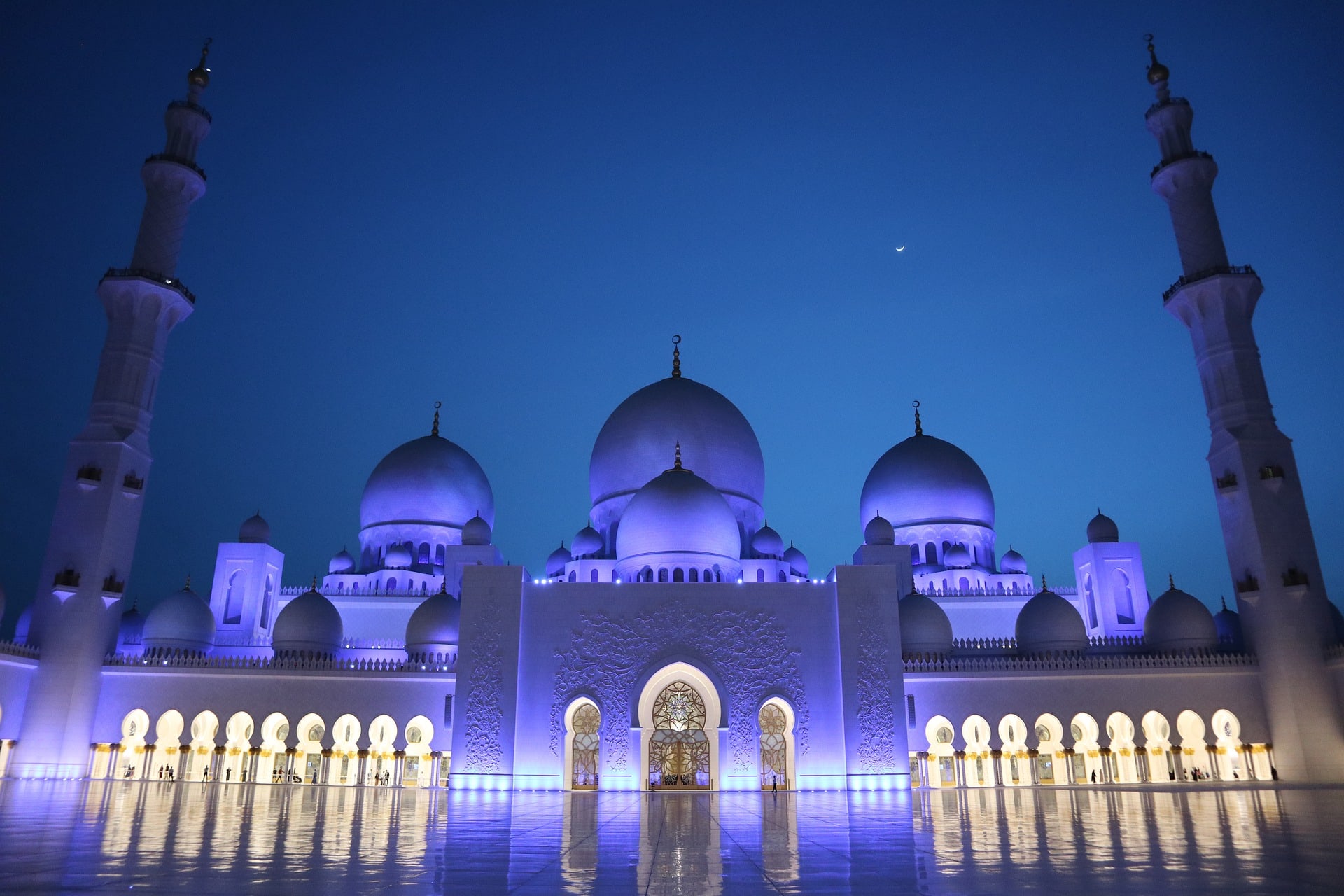 ARABIAN PENINSULA
When you envision the Middle East, you probably imagine the dusty deserts and mega-cities of the Arabian Peninsula. This is the classic Middle East region, where you can revel in the glitz and glamour of the Gulf States, including Dubai, Abu Dhabi, Bahrain, and Qatar.

But there's more to the region than this. You can explore the ancient ruins and diverse history of Jordan (a visit to Petra is a must!) or visit the authentically Arabian climes of Oman.

Off the beaten track travelers can head to 
Saudi Arabia, which is slowly becoming more welcoming to tourists. Or they could get really off the radar and join a tour to Socotra, the only part of Yemen that's been stable in recent years.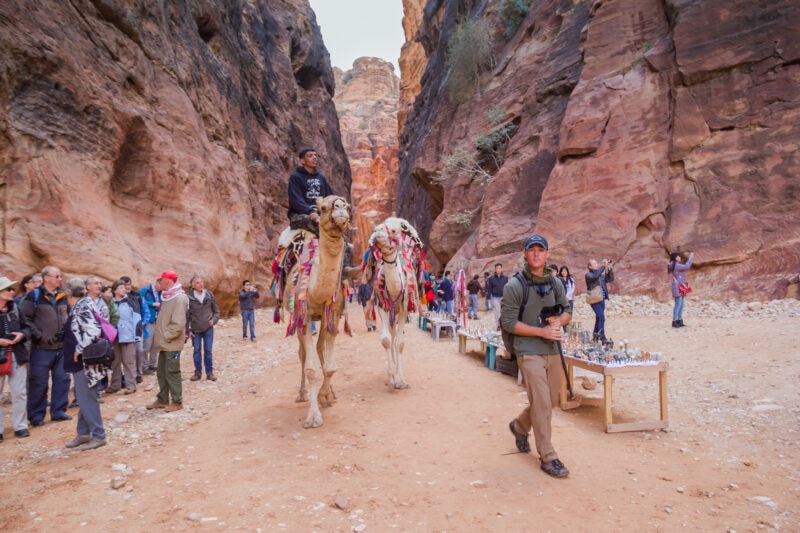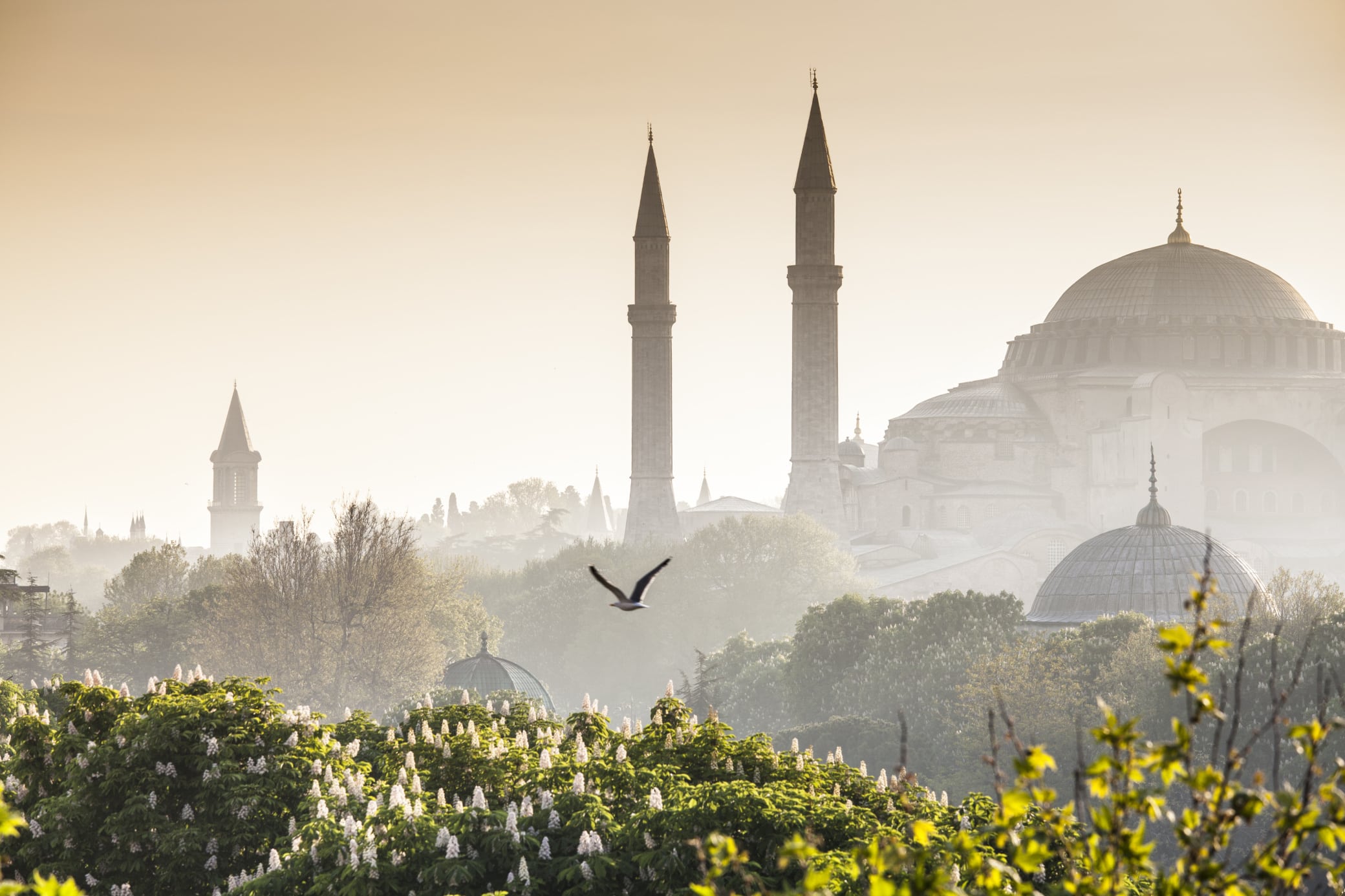 WESTERN ASIA
Western Asia is a roughly defined region, but it's where the Asian continent merges with the European, in Turkey, the Caucasus, and along the Mediterranean coastline.

Broadly speaking, Western Asia can include Turkey, Iran, Iraq, Syria, Lebanon, Israel, Kuwait, and Palestine. This is one of the most fascinating regions in the world, but it's not exactly an easy region to travel to the Middle East to explore.

In Turkey, you can cross from Asia into Europe if you visit Istanbul. Spend one day seeing ancient Roman ruins and the next sunning yourself at a beach resort.

Iraq and Syria are mostly off-limits, except to the hardiest travelers (there are more and more group tours heading to these well off-the-beaten-track destinations).

Iran is open to some nations and closed to others, but stay away from politics, and you'll enjoy supreme hospitality in a country like no other in the Middle East.

Lebanon, Israel, and Palestine often make the news for the wrong reasons, but there's so much to see in this compact part of the Middle East. This is the Holy Land; in Lebanon, you can marvel at crusader castles devoid of tourists.

In Israel, you can visit Jerusalem then head to the beaches of Tel Aviv. In Palestine, you can see first-hand one of the oldest parts of the world, a literally biblical place.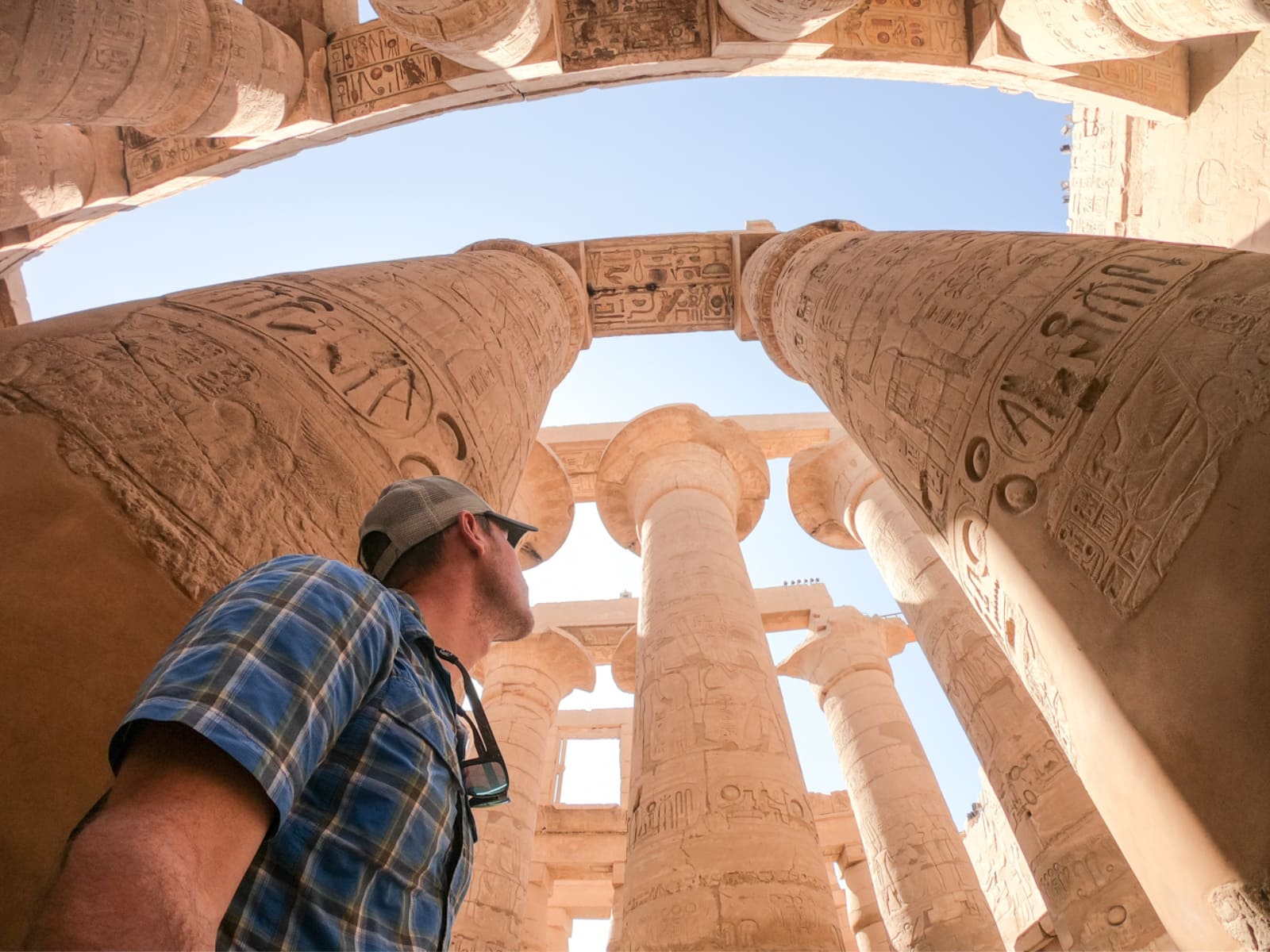 NORTH AFRICA
North Africa is culturally and religiously very similar to the Arabian Peninsula, but it can also be extremely different. North Africa roughly encompasses destinations such as Egypt, Morocco Tunisia, Libya, and Algeria.

North African cities are busy, bustling, and have a lot more life and history than you'll find in the Arabian metropolises. Cities like Marrakech, Casablanca, Algiers, Tunis, Cairo, and Alexandria are packed with ancient sites, but you can also become quickly overwhelmed in the markets and souks!

Explore the Sahara Desert in Morocco, stay at a beach resort in Tunisia or cruise down the Nile to see the ancient sites of Luxor in Egypt. North Africa offers some of the best wonders in the Middle East.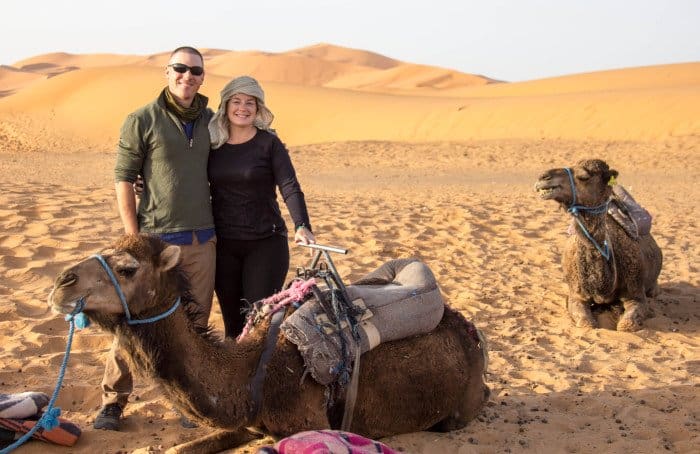 MIDDLE EAST TRAVEL BUDGET
Setting a budget for travel to the Middle East is highly dependent on your travel style. It is possible to visit just about anywhere on any budget and still have a great trip. That said, you can make your trip as basic or as luxurious as you desire.
To help you set your budget, we've included some base range price estimations for travel within the Middle East. Of course, keep in mind that prices can fluctuate based on seasons, availability and festivals.
Travel costs vary massively from one country to the next. While Turkey is inexpensive, Gulf State nations such as Qatar and UAE are some of the most expensive destinations to travel to the Middle East and visit.
ACCOMMODATION: Hostels (where they exist) and guesthouses are the cheapest options. They vary from USD 10 to USD 30 per night. Private rooms will start at USD 50 and go up to USD 100. In the Middle East, luxury accommodation really has no limits when it comes to price.
FOOD: Food can be inexpensive across the Middle East, as long as you stick to the local cafes, restaurants, and markets. Even in Dubai or Abu Dhabi, you can find great meals for as low as USD 5 per plate. Mid-range restaurants will be more in the region of USD 20 per person, while in the Gulf States, you can easily spend upwards of USD 100 on a meal if you desire!
TRANSPORT: Transport can be cost-effective if you stick to local routes. Local buses, trains, and boats can cost just a few dollars for a ride. In Turkey, you can cross the entire country by train for just USD 20. Flights are good value, too; the Middle East is the hub for the world's best airlines.
ACTIVITIES: The cost of activities when you travel to the Middle East varies dramatically from one country to the next. In Turkey, you can go diving for USD 50 a tank, but in Oman, it might cost you USD 150. A multi-day Nile cruise costs around USD 200 per day, while entry to Petra costs 70 USD.
BUDGET
---
50-100 USD PER DAY
You will only get away with a budget of USD 50 or less in destinations like Egypt and Turkey. For Gulf states, you'll need USD 100 per day. Stay in hostels, use public transport, and eat like a local to save on cash.
MID-RANGE
---
100-200 USD PER DAY
Depending on your destination. This will get you private rooms and restaurant meals, as well as plenty of day tours. You'll still use public transport. This budget will be more comfortable for the more expensive Gulf States.
LUXURY
---
400 USD + PER DAY
Luxury travelers will be able to live in supreme comfort in resorts in Turkey or North Africa, while a higher budget will be needed for true luxury in the Gulf States (where there is no limit to the luxury hotels you can stay at!).
WHERE TO STAY IN THE MIDDLE EAST
Below you will find some of the places we have stayed during our travels in the Middle East. These are individual properties that we enjoyed and would recommend to other travelers.
HOW TO GET AROUND IN THE MIDDLE EAST
There are a few ways to get around the Middle East during a visit, including cruises, buses, car rentals and flights. There are few railways outside of Egypt and Turkey. Plan ahead and be flexible.
CRUISES: In some destinations, boat travel is an option, particularly along the River Nile, where a cruise is one of the best experiences you could enjoy when you travel to the Middle East! There are also cruises that ply the waters of the Mediterranean stopping at ports in both North Africa and Western Asia.
BUS & TAXI: Most countries have efficient public transport systems that at least link major cities. Bus travel is the most common way to get around. Failing this, you'll often find shared taxis operating routes, or tourist buses heading to popular attractions (Petra, in Jordan, for instance).
FLIGHTS: The quickest way to travel between countries in the Middle East is to fly. The region is incredibly well connected by many different airlines, as many Middle Eastern cities serve as global hubs for air transport.
CAR RENTAL: Often, car hire can be the best way to get around the Middle East if you're short on time and want to see one specific region. Check out Discover Rental Cars for great deals.
WHEN TO VISIT THE MIDDLE EAST
Much of the Middle East is scorching throughout the year. If you're not used to extreme heat, you'll want to plan your Middle East travel itinerary to visit in winter.
The colder months of the year, between October and March, are the best times to travel to the Middle East if you're heading to the Arabian Peninsula or North Africa. Temperatures will still be hot, averaging around 20 degrees Celsius, but you'll be able to get out and about and enjoy hiking and sightseeing throughout the day.
Summers in the UAE, for instance, can often reach 50 degrees Celsius. On the plus side, flights and accommodation will be cheap!
For countries further north, such as Iran and Turkey, you'll want to visit in spring or fall. Winters in this part of the Middle East can be bitterly cold, especially at altitude. Summer in Turkey is a busy time to visit, while summer in Iran is scorching hot.
Before you plan your Middle East travel trip, consider important religious events, especially Ramadan, which can affect how and even where you might be able to travel.
For more specific information, check out:
PLAN YOUR MOROCCO ITINERARY!
SAFETY IN THE MIDDLE EAST
The Middle East is often seen as a hospitable and welcoming palace to visit, despite all the bad press. Locals will go out of their way to make you feel at home and show their culture. Strict laws ensure petty crimes such as theft are few and far between.
Women often have a different experience to men, however, when they travel to the Middle East. It's a very chauvinistic culture, and female travelers, unfortunately, can be victims of harassment or even assault.
The region does have significant political tensions. Border areas in hot zones such as Syria, Iraq, and Israel should be avoided. When you plan your Middle East travel itinerary, always keep one eye on the news, as things can flare up dramatically without warning.
Islam is the predominant religion of the region. The laws of many countries here can be very different from those in the west, and comparatively, the culture is incredibly conservative. What might be the cultural norm in your home country might be illegal in the Middle East.
Worthwhile reading if you're planning to visit the Middle East:
MIDDLE EAST TRAVEL: BOOKING RESOURCES