Planning a trip and building an itinerary can sometimes be a little daunting no matter what part of the world you go to. Which places should you visit? How long should you stay for? How do you get around? Putting together a Turkey itinerary is no exception to this.
These are all questions that may come to mind when daydreaming about your next destination. Turkey is one of my favorite countries that I have traveled through because it is so rich in culture and diverse in natural beauty.
My hope is that after reading this guide you will have a better understanding of the perfect itinerary when traveling through this amazing part of the world.
While it is completely possible to travel through Turkey on your own, I highly recommend taking a tour like I did. Turkey is a massive country that spans across both Europe and Asia.
Taking a tour helped me navigate my way around with easy transportation connections, all while taking in the most breathtaking sites in the most cost-effective ways.
I was able to leave most of the dirty work up to the tour company and was able to sit back and experience an itinerary that covered the most highlighted parts of this tremendous country.
Don't leave home without: Lonely Planet Turkey (Travel Guide)
---
The Perfect 10 Day Turkey Itinerary
---
Istanbul – 3 to 5 days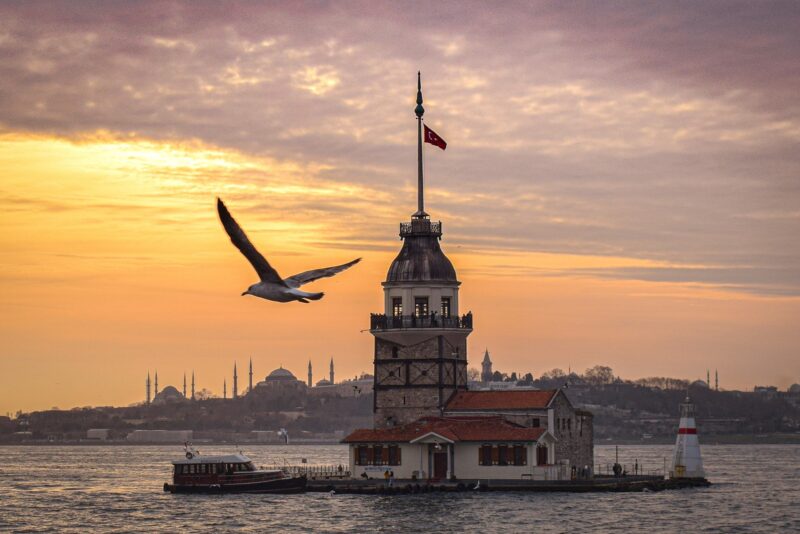 The best place to start is the iconic city of Istanbul. This itinerary takes you on a gigantic loop that starts and ends in Istanbul. I recommend spending 5-7 days in Istanbul if you can, but that will really depend on the amount of time you have for your Turkey itinerary.
When I went, I started with 4 days on my own before joining the tour and then once the tour ended I spent another 3 days exploring and covering sites that I had missed.
Istanbul truly is packed with an abundance of tourist attractions. It has an authentic exotic flavor mixed with a vibrant cosmopolitan flair. The most difficult thing is deciding what amazing sites top your Istanbul bucket list.
Top Istanbul Places to Add to Your Turkey Itinerary:
Hagia Sophia Museum: Built-in 537 AD, this museum that was once a Greek Orthodox Cathedral and then a mosque is now one of Istanbul's most iconic buildings.
Blue Mosque: Just steps away from the Hagia Sophia is perhaps Istanbul's most photographed monument. This massive blue-tiled mosque has 13 domes, 6 towering minarets and 200 amazing stained glass windows.
Basilica Cistern: Built-in 532 AD, this underground cistern was designed to service the Byzantine emperors at the Great Palace.
Istanbul Archaeology Museums: Located in the Eminonu District is a complex of 3 historical buildings that house artifacts from the Turkish, Hellenistic and Roman civilizations.
Topkapi Palace Museum: This immense palace was home to each of the sultans and their families between the 15th and 19th centuries. Today it is a maze of beautiful buildings housing phenomenal artifacts that are all centered around a series of tranquil courtyards.
Dolmabahce Palace: This European influenced palace is the largest in the country and is the place where Ataturk himself took his last breath.
The Grand Bazaar: Spend an afternoon shopping at one of the world's largest and oldest covered markets. The sheer size of the bazaar is unreal with over 60 streets and 4000 shops.
Galata Tower: Grab the perfect panoramic snapshot of Istanbul's skyline from the historical tower that was first erected in 1348.
Bosphorus Cruise: Take a cruise along the Bosphorus where you can revel in the phenomenal skyline and literally be sailing between two continents.
Princes' Islands: Approximately 12 miles from Istanbul lay 9 small islands. Explore the most popular called Buyukada, as it is full of character and doesn't have any motor vehicles.
Goreme – 2 to 4 days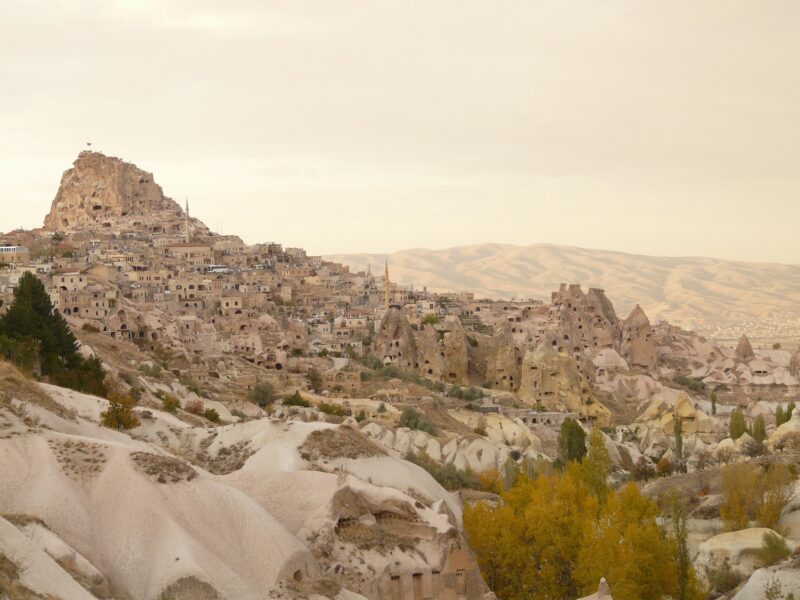 One of my favorite places in all of Turkey is the fairytale-like region of Cappadocia. This bizarre but captivating landscape of fairy chimneys and mushroom-shaped pinnacles is a photographer Mecca.
There is so much to see and do in Cappadocia, and the town of Goreme caters to its curious tourists. I only spent 3 days in Goreme but could have easily tacked on an extra day.
Top Goreme Places to Add to Your Turkey Itinerary:
Fly above the peculiar landscape in a hot air balloon: Hands down, Cappadocia's most popular activity would be its hot air balloon excursions. Hover as high as 1000 feet above the ground and gracefully maneuver through the pinnacles with an expert balloon pilot.
Visit the Goreme Open-Air Museum: This UNESCO World Heritage Site consists of a series of monasteries carved into rocks that date back to the 10th century.
Explore one of the amazing underground cities: Visit the UNESCO World Heritage Site of Kaymakli or Derinkuyu where you can explore the labyrinth of tunnels that stretch for miles.
Discover the Rose Valley or Red Valley: These beautiful valleys get their names because of the pinkish hue that the rocks turn throughout different times of the day. Hike the trails by foot or go horseback riding while soaking up this unforgettable landscape.
Experience a Turkish hammam: Get out of your comfort zone and strip down to experience a tradition that was adopted from the Romans and Byzantines. Although hammams still serve the purpose of bathing and purity, they have become more of a spa and are a great way for tourists to relax.
Shop for the finest Turkish handcrafts: Cappadocia is the perfect place to buy your souvenirs as there are so many cute, locally-owned shops.
Tantalize your taste buds: Try the Anatolian specialty of a pottery kebab, where your dish is cooked in a sealed pot. The only way to get into the clay pot is by smashing it with a mallet.
Cirali/Olympos – 2 days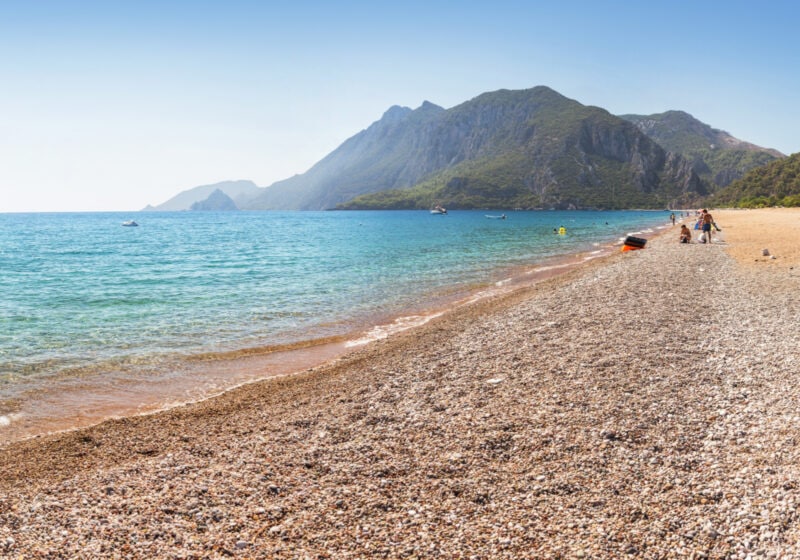 Located in the ancient Lycia region of Anatolia is the charming seaside town of Cirali. Cirali has not yet succumbed to mass tourism so it is the perfect place to relax and discover a few of its hidden treasures.
Top Cirali Places to Add to Your Turkey Itinerary:
Soak up the sun on Cirali Beach: Nestled among the lush mountainous landscapes is a 2 mile stretch of pebbled beach. The waters are crystal clear and there are very little crowds to contend with.
Discover the Ancient City of Olympos: Just a short walk down Cirali Beach is one of the six leading Lycian League cities that was founded during the Hellenistic period. Because of the dense forest and overgrowth, exploring Olympos is like walking through a set of a fantasy movie. It actually reminded me of Cambodia's Angkor Wat Temple, Ta Prohm where the movie Tomb Raider was filmed.
Explore the Ancient City of Phaselis: Just a 20-minute drive north of Cirali is another ancient city that is a little bigger and more well-preserved than Olympus. Founded by the Rhodians around 700 BC, this city is situated on a peninsula surrounded by three bays and protected within the grounds of a lush National Park.
Discover Yanartas or the Eternal Flames of Chimera: Hike up Mount Chimera at dusk so you can roast marshmallows on natural flames that have been emerging from cracks in the earth for thousands of years.
See the views from Mount Olympus: Approximately 15 miles away from Cirali is the towering Mount Olympus. This mountain stands nearly 8000 feet above sea level and can be ascended by either foot or cable car.
Pamukkale – 1 to 2 days
Pamukkale is another Turkish destination that should top everyone's list. It is located in the western part of the country and is known for its mineral-rich white limestone terraces.
Depending on how much time you want to spend at the historical site of Hierapolis, this destination could be seen in either one day or stretched into two.
Don't miss: Foolproof Guide to Pamukkale Turkey
Top Pamukkale Places to Add to Your Turkey Itinerary:
Visit Turkey's Cotton Castle: Recognized as a UNESCO World Heritage Site, these cascading white travertine terraces are a gorgeous natural wonder. Spending the day lounging in the vibrant blue pools and natural thermal springs truly is an amazing experience.
Discover Hierapolis: This ancient city is full of remains of the Greco-Roman period. Founded at the end of the 2nd century BC, you can marvel at what is left behind.
Swim in Cleopatra's Pool: This geothermal pool was man-made and said to have been a gift from Marc Anthony to Cleopatra. The minerality in the water has a champagne bubble effect and you can literally swim around Doric columns that fell into the pool during an earthquake in the 7th century.
Para-glide over Pamukkale: Catch a bird's eye view of the magnificent landscape while tandem paragliding with a trained instructor.
Experience a Whirling Dervish Show: One of Turkey's well-known religious ceremonies is the dance of the Whirling Dervish. Watch this mystical ceremony and gain a better understanding of how their practices take them on a spiritual journey.
Selcuk – 2 to 3 days
Known to be the gateway to Ephesus, Selcuk is a quaint town that is situated just a few miles inland from the Aegean coast. It has a laid back, friendly atmosphere and there are plenty of must-see sites that would keep any traveler busy.
Don't Miss: Ephesus, Turkey: Best Sites to Visit in the Ancient City
Top Selcuk Places to Add to Your Turkey Itinerary:
Explore the Ancient City of Ephesus: It is no secret that Ephesus is the most popular ancient city in all of Turkey. It's Greco-Roman ruins are among the biggest and most well-preserved in the world.
Visit the House of Virgin Mary: Just 5 miles from Ephesus is the House of the Virgin Mary. It is said that this is where Mary spent her last years and today is a chapel and pilgrimage for both Christians and Muslims alike.
Discover St. John's Basilica: Wander around this historically significant Basilica that is home to St. John's tomb.
Catch the stunning views from the Byzantine Castle of Ayasuluk: Although the castle itself is merely a skeleton of what it once was, standing atop of the hill will give you phenomenal panoramic views of the sites of Selcuk.
Revel in the beauty of the Isa Bey Mosque: Built in 1375, this mosque is unique in that it is asymmetrical and its columns were taken from the ruins of Ephesus City.
Visit the Temple of Artemis: Being one of the original Ancient 7 Wonders of the World, revel in history that dates back to 550 BC.
Relax on Pamucak Beach: Just 4 miles outside of Selcuk is the longest stretch of beach in the country.
Take a day trip to Sirince: Surrounded by orchards and vineyards, this Greek-influenced town has become a tourist hot spot as it boasts unbelievable views and a welcoming atmosphere.
---
Add on for 2 Week Turkey Itinerary
Kekova – 1 day
Kekova is a beautiful coastal village where I was able to board a boat and spend a night at sea.
Sleeping under the stars was unforgettable and having the opportunity to jump off the boat into turquoise blue water while swimming with sea turtles is something that forever will be embedded in my memory.
Dalyan – 2 days
Situated on the southwest coast is the picture-perfect town of Dalyan. Once an old fishing village, it is now part of an environmentally protected area that is home to a meandering river, golden beaches, beautiful lakes and towering mountains.
Top Dalyan Places to Add to Your Turkey Itinerary:
Spend the day at Iztuzu Beach: Known to be one of the most beautiful beaches in all of Turkey, Iztuzu is unique in that it stretches out like a long peninsula with a freshwater delta on one side and the Mediterranean on the other.
Visit the Sea Turtle Research Rescue Rehabilitation and Information Center: As this 2 and a half-mile stretch of beach is the nesting grounds for the endangered Caretta Caretta Sea Turtle, conservation efforts are heavily supported and monitored.
Capture a photograph of the Dalyan Rock Tombs: Catch a water taxi so that you can see one of Dalyan's most prominent features. Perched above the town are a group of 6 intricately carved tombs that date back to the 4th century BC.
Explore the Ancient City of Kaunos: Founded by the Caunos in the 10th century BC, this ancient city was once one of the most important port cities of the Ancient Age.
Take a boat ride to the Dalyan Mud Baths: Just a short boat trip from town are the spa-like thermal springs and mud baths. Popular since the Roman era, this is a unique way to pamper yourself Dalyan style.
Hike the Dalyan Eco-Trail: Dalyan has no shortage of amazing hiking trails that boast incredible views of the Dalyan vista.
Canakkale – 1 day
Located in the northwest part of Turkey, Canakkale is the perfect stopping point before heading back to Istanbul. Canakkale is a busy port city with a thriving student population. It is also a place of major significance in the battlefields of WWI.
Top Canakkale Places to Add to Your Turkey Itinerary:
Tour the Ancient City of Troy: Tour the city that was for many years thought of as just a myth. In the mid 19th century, its ruins were finally discovered. Don't miss the opportunity to take a photo with the Trojan horse that was made more famous during the movie with Orlando Bloom and Brad Pitt.
Pay your respects at Gallipoli: Either take a guided tour of the grounds where the Battle of Gallipoli was fought or explore the area on your own. Either way, it is a touching but beautiful site and a way for you to learn a bit more about the WWI battles.
---
Tips for Planning a Turkey Itinerary

Language
Turkish is the official language spoken in Turkey but most people, especially those in the hospitality industry speak English. I don't speak an ounce of Turkish and I never had a problem finding my way.
Best Time to Go to Turkey
The high season in Turkey runs from May through September. This is the time when temperatures top the thermostat as well as when the number of tourists peak.
Not only will you have more crowds to contend with but during the high season, you will likely have to deal with higher airfare prices as well as accommodation rates. This is why I suggest exploring Turkey during its shoulder seasons.
These seasons run on either side of the high season – April as well as October through mid-November. The shoulder seasons are perhaps a little more ideal as there are lesser crowds, moderate temperatures and discounts on accommodations and airfares.
One thing to make note of, however, is that some shops, restaurants, and accommodations close when high season is over so not everything will be open during this time.
Be sure to check out my comprehensive guide: Best Time to Visit Turkey: Month by Month Breakdown
Getting Around in Turkey
Like I mentioned above, the time I spent traveling around Turkey was on a tour with G Adventures. This tour included all transportation (excluding the time I spent alone in Istanbul).
There was a mix of overnight buses, vans and boats. If you are planning to travel around Turkey on your own you can get around the country in much of the same matter.
One of the great things about Turkey is its well-organized inter-city bus connections. You can find either overnight or day buses that run between every major city. The buses are clean and roomy and make it easy for backpackers to travel around the country.
Renting a car or flying are other options depending on your budget and length of stay. There are plenty of car rental companies to choose from and all you need is an International Drivers License.
There are also quite a few domestic airlines that fly within Turkey so sometimes doing a bit of research ahead of time will allow you to find great deals.
Costs and Budget
The official currency of Turkey is the Turkish Lira (TL). The exchange rate right now is pretty favorable at approximately 1 USD to 5.7 TL. Euros and US dollars are often accepted by major shops or tour companies.
I always find it easier to withdraw local currency from an ATM or use my credit card when needed. Although I myself have never used one I have also heard of pre-paid Visa cards for international travel.
This allows you to load the card before you leave and buy using the local currency without all the added exchange rates.
Getting a Visa
All travelers need a Visa to enter Turkey. Rates vary depending on your nationality but you can apply for your visa ahead of time on the official Turkish government e-visa website.
This Visa will allow you to stay in the country for up to three months with multiple entries. The application process is very simple and the approval is almost immediate. Download a copy of your visa and print out a copy to have when you enter the country.
More on Turkey:
Did you like this story? Share it!