A dream to travel Tibet can often be deemed elusive, as the region ebbs and flows based on its political situation.
It is not uncommon for it to just shut down to travelers for several months or years with no advanced notice. For us, we hadn't given much thought to a visit prior to entering China.
We didn't know a lot about the region or its history aside from the few things we had heard in the news over the years.
It wasn't until we started planning out our days in China that we realized traveling to Tibet was essential to our travels. The region was open and foreigners were allowed to visit.
As our excitement built, we came across a number of hurdles that made us realize our visit wouldn't be easy and that we would be required to book with a tour agency.
This made the decision process hard for us because visiting with a tour agency would put us well over our budget. In the end, though, we realized that missing it wasn't an option, how often are you in China with an opportunity to visit Tibet?
Don't leave home without: Lonely Planet Tibet (Travel Guide).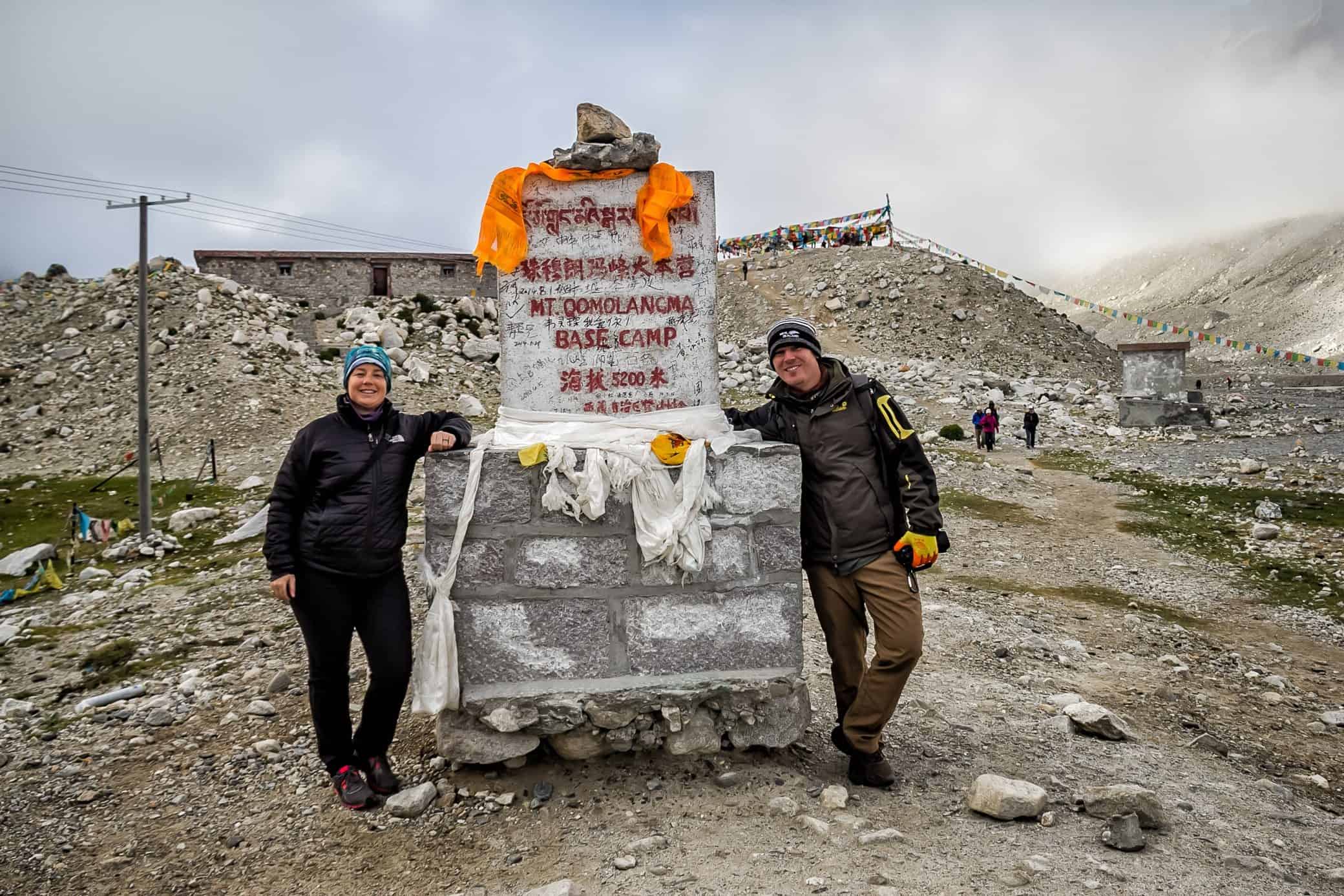 We signed up for the longest tour time we could, 8 days, and a full-on adventure that would take us to and through Tibet to Mount Everest and back.
Tibet blew our minds. It was jaw-droppingly beautiful and sacred. We have the ultimate respect for its land and people, truth be told, we would love to pay a return visit to some of the regions that we missed.
The Chinese presence in the Autonomous Region was strong, but the people went about their lives as if they weren't even there.
I can't even begin to understand everything that goes on behind the occupation of China, nor do I have an opinion on the political situation. I can speak only from my own experience of the short time I spent in Tibet.
Our experience was amazing, lovely, eye-opening, unique and memorable. If we ever get another opportunity to visit Tibet again, we will not even hesitate. It was that good.
So let's take a look at the details from spending 8 days in Tibet and be sure to check out our photos and other posts from our visit at the bottom of this post.
---
Travel Tibet Like A Pro: Essential Tibet Travel Guide
---
The Roof of the World is often thought of as a mysterious and inaccessible destination but there's no reason why you shouldn't be able to travel Tibet if you do your research and plan far enough in advance.
Housing the highest mountain on our planet at 8848 meters above sea level, Tibet is a wondrous adventure that requires a lot of planning.
Most people choose to commence their journey from Chengdu, China making their first stop in Tibet the city of Lhasa. They then drive the route to Everest Base Camp, seeing different sights along the way.
Tibet is not open year-round and even during their regular seasons, chances for trips are limited and dependent on conditions. Typically, travel to Tibet is closed February and March for the Tibet New Year and its high season is usually May to October.
Additionally, there are usually group minimums that must be met so check with local agencies to see the current laws in place for trekking visits. It is also not uncommon for Tibet to be randomly shut down to outside tourists without any warning.
Don't leave home without: Lonely Planet Tibet (Travel Guide).
---
How to Access Tibet
---
There are two main ways to enter Tibet: through Nepal or through various cities across mainland China. Acquiring the necessary visas and permits to travel to Tibet from either side must be done locally and can take some time, so please plan accordingly.
Both require visas and permits so let's take a look at what you'll need. We waited to make plans for traveling to Tibet until we had obtained our Chinese Visa and were already in China.
This worked for us because we were planning to be in China for 6 weeks. When we first landed in China, travel to Tibet was closed and it was August. 1 week later, it was open and we began the process for planning a trip there.
Luck was on our side and we managed to find a reputable company with spaces available, obtain the necessary permits we needed, find plane tickets and actually travel on the trip we planned without it being closed.
We will say though, Tibet remained open for just a short period of time when we were there and we learned later it closed again about a week after we had left.
Travel Tibet through Nepal
As Tibet's closest neighbor, Nepal is the nearest entry point for internationals and Nepali people to enter Tibet. You can only currently enter via plane.
A train is currently being constructed to connect Kathmandu and Lhasa but has not yet been completed, and the overland journey which typically takes between 3-5 days is currently unavailable due to a devastating earthquake that destroyed part of the China-Nepal highway which is still being renovated.
That leaves you with flying. There are about 8 flights per week from Nepal's Kathmandu to Tibet's Lhasa (where trips to Everest usually begin) run by Air China and Sichuan Airlines. But the great advantage of flying from Nepal to Tibet is the view.
If skies are clear, you can see a fabulous bird's eye view of the Himalayan range and the summit of Mt. Everest from the plane.
Chinese Tourist Visa- Since you are entering Tibet from Nepal, and Tibet is currently occupied by China, you must have a Chinese Tourist Visa in your passport prior to making the trip to Tibet from Nepal. It is not necessary to apply for a Chinese visa in your home country because you need to apply for a visa through the Chinese Embassy in Kathmandu. Whether you've already got a Chinese visa in your country or not, you must get a new one in Kathmandu, which is regulated in an official memo between China and Nepal. Once you get a Chinese visa in Nepal, your visa obtained before becomes invalid automatically. So be sure to plan in time to obtain the visa upon arrival in Kathmandu.
Tibet Travel Permit – For any travel to Tibet you will first need a Tibet Entry Visa which must be obtained with the help of a local travel agency. Your agency will confirm you're itinerary and then mail copies of your passport to the Tibet Tourism Bureau. It typically takes 5-7 business days to get the visa invitation letter from the Bureau but this step can be done before you arrive. After this step, you will need to physically be in Nepal (at least 2 business days in advance) to leave your passport with your agency, pay for the visa application and get the visa put in your passport.
If your goal is Mount Everest Base Camp, then additional permits are also required. Read about our experience at Everest Base Camp in Tibet.
Trekkers Information Management System (TIMS Card) – In order to trek to Everest from the Nepal side, it is mandatory to obtain a TIMS card. Two passport-sized photos, a filled out a form and a fee of $10-$20 is required depending on your travel arrangements. It's easiest to obtain in Kathmandu or through your travel agency.
Sagarmatha National Park Entry Permit – Mount Everest is found inside the Sagarmatha National Park, so you will need to acquire the park entry permit. This can be obtained at the Tourist Service Center, Bhrikutimandap, Kathmandu, or at the Monjo entry point. It is approximately $34 dollars for foreigners (or free for children under 10) no matter where you get it.
Gaurishankar Conservation Area Entry Permit – If you're going to Everest base camp through Jiri, you will also need this permit to cross the Gaurishankar Conservation Area. It is about $20 and easily obtained on the way to the base camp.
Check with your travel agency for any additional permits needed for specific activities on your tour. If you are actually climbing Mount Everest (which can costs $30,000-$60,000), you will additionally need a climbing permit which is fixed at $11,000 per climber from Nepal.
Something that is important to note- the fees listed above only pertain to the Nepal side of Everest. There are separate permits, fees, and rules that apply to visit Everest Base Camp on the Tibetan side, as well as climbing the North face.
Don't leave home without: Lonely Planet Tibet (Travel Guide).
Entering Tibet Through China
All travel to Tibet from China must be planned at least 20 days in advance and most booking must be done locally, which means you cannot acquire Tibetan visas prior to your entire trip.
We suggest planning some time in China prior to Tibet, this way you can land in China and start the Tibet paperwork process while enjoying iconic places like the Great Wall of China.
You will need to book with a registered tour company from China that specializes in travel to Tibet. Travelers must enter with a group – you cannot enter Tibet as an individual.
It usually takes 2-3 days to confirm hotel bookings, and approximately 10 days for the Tibet Tourism Bureau to issue an entry permit.
Check out: The Great Beijing to Lhasa Train Ride
There are two ways to travel to Tibet from China: flying or taking the train. Flying in and out is obviously the quickest way to travel but we suggest flying in and taking the Qinghai-Tibet Railway out.
Taking the train in is often a long journey and could tire you for the rest of the trip which you don't want to be amplified by the altitude, plus tickets are often very hard to come by as we found out when we were unable to get train tickets for this route and had to fly both in and out of Tibet for our visit.
If you still want to see the beautiful mountain scenery and save a bit of money, you can more easily take the train on your way out.
Chinese VISA – If entering Tibet through China, a valid Chinese VISA will be required. You can apply for this VISA through your local Chinese embassy in your home country.
Travel Tibet Permit – Similar to the process of entering via Nepal, a TTB (Tibet Tourism Bureau permit) is required no matter where you enter from. The entry VISA is issued by the Tibet Tourism Bureau and must be applied through a Tibetan travel agency. The application documents will depend on what kind of Chinese VISA you have and cost will vary depending on your departure city. It will take about 7 days to process but travel agencies typically need at least 20 days for the entire process. You will need to present a valid entry permit for both train and air travel to Tibet.
If your goal is Mount Everest, then additional permits are also required.
Frontier Pass – The Frontier Pass is required if you are entering Tibet through the Zhangmu border. This permit is required for visiting Mt. Everest, Mt. Everest Base Camp, Mt. Kailash, and for travel to Nepal via the Zhangmu Border.
Alien Travel Permit – The Alien's Travel Permit is necessary if you want to visit "unopened" areas of Tibet which include Everest base camp. It is issued by the Public Security Bureau and you can apply for this permit after entering Tibet (expect it to take about 1-2 hours and cost about $10).
Military Permit – This one will only be necessary if you are traveling to military sensitive areas of Tibet which include Ngari, Nyingchi, and Nagqu. It is issued by the Military office in Lhasa and you will need your passport and Tibet permit to get it. It typically takes 1-2 days to acquire and costs about $15.
If you're planning to climb Mount Everest, you will need a Mountaineering License issued by Tibet Mountaineering Association (TMA) and a professional climbing coordinator.
Travel Tibet Independently
As much as you might want to book a ticket to Lhasa and go it on your own, you just cannot do this. Travel to Tibet is highly regulated and it is actually illegal for foreigners to use public transportation outside of Lhasa.
Sure, you could hitchhike, but the road that leads from Lhasa to Everest is highly regulated with military guard stations every few hours.
We were stopped at every single one to have our documents examined so I don't see hitchhiking to be a viable option around this.
The good news is that not very many people are visiting Tibet, so the groups are quite small when it comes to booking on a tour and everyone you will be with has an adventurous spirit. You are, after all, traveling to a very remote place in the world.
The agencies that specialize in travel to Tibet will arrange your trip in a seamless way and besides organizing some documents and meeting a couple of deadlines, it will be very easy for you.
Our recommended Tibet travel agency: Tibet Vista
---
General Information About Tibet Travel
---
Sanitation
You should know before going to Tibet that facility standards are not the same for public restrooms or even hotels as they are in other parts of China. Not all facilities will have heating or hot water even in the frigid winters.
Sanitation is also not high on Tibetan priority lists so if you are a germaphobe, definitely take sanitary wipes, hand sanitizer, maybe some travel rolls of toilet paper, and definitely something that can cover your nose and mouth while using the restroom.
Most Tibetan bathrooms are literally just a hole in the ground that has never (and I mean NEVER) been cleaned out so the stench can be quite overwhelming.
Make sure you are in great health prior to your travels. A visit to Tibet is no easy feat and because of its high elevation, you need to be in great health to even enter.
Staying Healthy
Drink plenty of water, keep warm, and in general try to stay healthy because even a cold can feel like an awful bout of the flu with the pressure of high altitude.
Eat conservatively and safely while there; do not eat anything that you know will upset your stomach or anything you've never tried before; you do not want food poisoning on this trip and those who get a cold are advised not to enter Tibet at all.
Don't leave home without: Lonely Planet Tibet (Travel Guide).
AMS (Acute Mountain Sickness)
While we are not doctors, we advise that you see a travel doctor and bring a prescription for altitude sickness when you travel to Tibet. The first city you arrive in is Lhasa and the elevation is no walk in the park at 3,800 meters.
While you probably won't experience too many AMS (Acute Mountain Sickness) symptoms here, you will be out of breath and should not shower or lower your body temperature for the first few days after arrival.
Traveling overland to Mount Everest requires traveling on roads that cross several mountain passes at over 5,000 meters. It is inevitable that you will experience some form of AMS so it's good to be prepared.
If you stay the night at Everest Base Camp and Rongbuk Monastery, you will be spending the night at 5,000 meters and it's rough.
---
What Did We Spend? Setting a Tibet Travel Budget
---
We spent an average of $297USD per day for 2 people while traveling in Tibet. I know what you are thinking, WOW! I know that because we are too. Deciding to visit Tibet was a huge splurge for us but I can say without a doubt it is worth every single penny.
I am sure there are ways that Tibet could be more affordable, but due to the many restrictions imposed on foreign visitors to this region, your options are severely limited.
During the time of our visit, tourists can only visit Tibet when booked on a tour with a reputable travel agency.
Transportation: We had 2 options for getting to Tibet from mainland China, taking a 48-hour train ride or flying. We had originally chosen to take the train, but when it came time to make travel arrangements, there were no beds available.
Leaving our only option as flying. This was our most expensive flying leg to date. Round trip tickets from Chengdu to Lhasa were $970USD for both of us. This figure is included in the average.
Accommodation: For the most part, the accommodation was decent. This was included with the tour we booked, so we enjoyed private rooms with bathrooms at hotels that included large breakfasts. The exception is when we stayed at the Rongbuk 'guesthouse' at Everest Basecamp, which is very rustic and not much more than a building you camp in.
Activities: We did a lot of activities that included touring the monasteries, exploring Lhasa and Shigatse, overland traveling through the countryside and visiting Everest Basecamp. All of this was included in the tour price.
Food: The food is not great in Tibet. We did manage to have a couple of okay meals, but you had to be really careful. One of our friends on the tour ate a chicken curry at a local restaurant in Lhasa the day before we started our 2-day overland trip to Everest and was stricken with nasty food poisoning.
We basically ate rice and only rice, with the exception of sampling a few local dishes when they were presented to us. These dishes were quite good but we are both thankful we stuck with the rice and maintained our gut health.
Not all of the meals were included in the tour price, so we did spend an additional $159USD total on food during our visit.
---
Our Travels in Tibet
---
What We Loved
Tibet is hands down one of the most amazing places we have ever been to. From the moment you step off the plane until the moment you leave, you will be consumed with stunning scenery and intense culture.
Every time you leave your hotel room, it is there, waiting for you to discover it.
Adventure: Tibet is the quintessential adventure destination. When we first started looking at Tibet we weren't sure we wanted to visit Everest from that side. We had our hearts set on the Nepal trek, but seriously our over landing to base camp in Tibet has been one of the grandest adventures in our 13 years of World travel.
The people are incredible: They are so beautiful and genuine in their everyday interactions with you. Despite their country's turbulent history, these people are passionate about their way of life and their faith. It shows in the smiles that greet you around every corner, the dedication of the work they do and the children that play in the streets with their friends.
Eating out was insanely affordable: You could walk into just about any restaurant and have a meal for a couple of bucks. We didn't get too adventurous on the food for fear of getting sick and we needed our absolute health to combat the altitude of our trip and the 4 days we spent over landing between Lhasa, Everest and back.
What We Didn't Love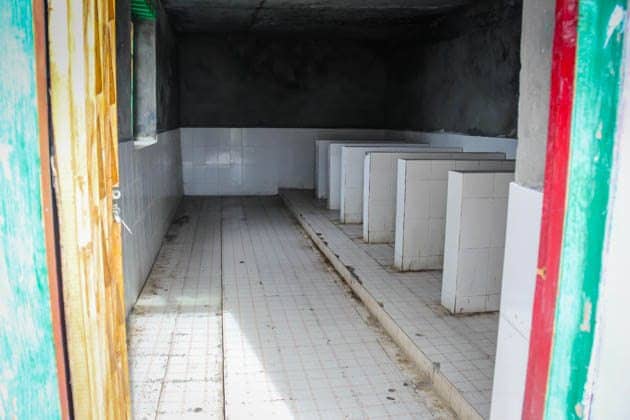 LACK OF SANITATION
The trip was hygienically challenged on an overwhelming level at times. Besides the hotels we stayed at in Lhasa and Shigatse, every single bathroom was a literal hole in the ground.
Said holes had never been cleaned out and there are no words to describe the smell that would accompany every visit to the bathroom.
This was worst outside of the cities, which is to be expected, but when you add the shortness of breath from the altitude to the need of using our Buffs to avoid passing out, the experience was draining.
Many times the stench was so strong the Buff face cover did little to combat the stench and let me tell you, holding your breath at 5,000m is not the best idea. Can you imagine passing out in one of those 'bathrooms'?!
MILITARY CHECKPOINTS
Traveling overland is a task in Tibet when you have to stop at military checkpoints pretty much every couple of hours.
Each time our driver and guide would spend 20 minutes or more in the checkpoints being questioned and having their documents checked.
We had to provide copies of our permits to each stop, which our guide took care of, and provide our passports most of the time as well.
LACK OF FOOD CHOICES
This was our personal choice, there were plenty of food choices, but due to the lack of sanitary conditions, we chose to play it safe. On our second day there, we went out on a limb and all ordered curry at a local restaurant.
One of the people in our group got severely ill from this meal and by some stroke of luck, neither David nor I became sick. After that day, we chose to play it safe and pretty much only eat rice.
It was a rather bland week, but our digestive health remained in check and we didn't get sick.
PAYING FOR PHOTOS AT MONASTERIES
This was sort of a racket. Admission to the monasteries was included with the tour we booked, but if you wanted to take photos you had to pay extra fees out of your pocket.
Normally this doesn't bother us, we're happy to pay for the chance at taking photos, but in Tibet, it has turned into a lucrative side business.
Not only do you have to pay, but they charge PER ROOM and the prices are quite steep considering the number of rooms you walk through in each monastery.
Given the number of monasteries and rooms, you could easily dole out $100USD or more on just camera fees on your day of touring.
Adding insult to injury were the groups of monks standing around while counting their bursting fists of cash right in front of everyone.
Our Tibet Highlights
Favorite Beach: The shore of Yamdrok Lake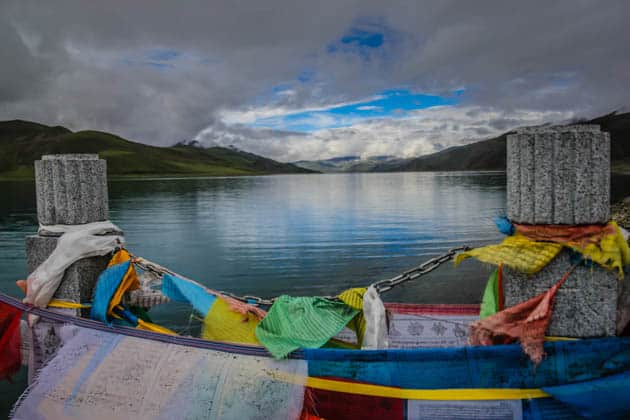 Like our photos? Check out our Ultimate Travel Photography Gear List
Favorite City: Lhasa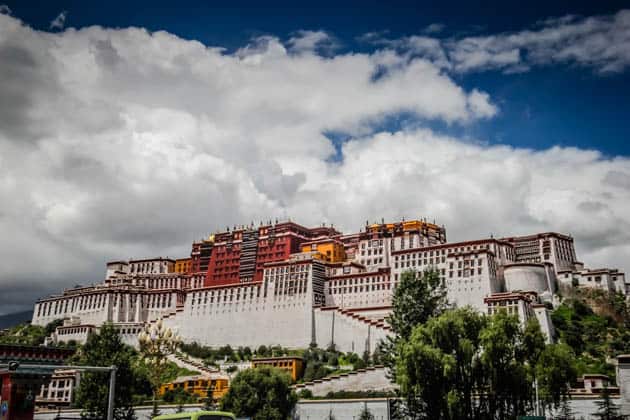 Favorite Activity: Overlanding through Tibet and Camping at Everest Base Camp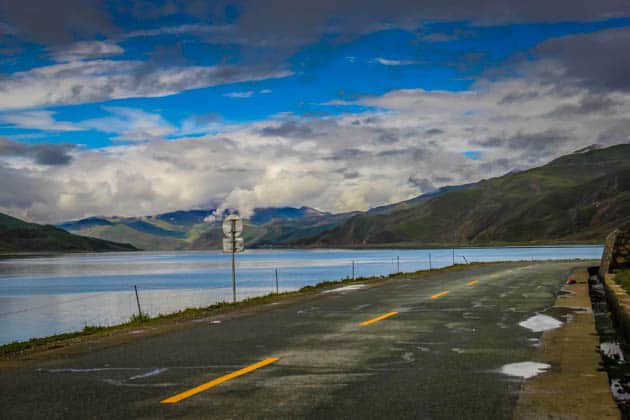 Favorite Meal: Thinly sliced yak cooked with vegetables and served with white rice. I didn't take a photo! But here's a pic of a Yak.
---
Top Tours We Recommend to Tibet
---
Discover amazing tours through Tibet visiting places like Lhasa and Gyantse. Most travelers enjoy exploring our Tibet trips in April, making it the most popular time of the year.
If you're interested in reading more about our time in Tibet, check out our other Tibet articles including great photography of the people and landscapes.
We made all of our arrangements for travel to Tibet after we landed in Beijing and in order to maximize our time and money spent, booked a tour that was 8 days in duration.
At the time, this was the longest available tour that involved travel to Mount Everest.
I can't say enough good things about Tibet Vista, the company that arranged our travel to Tibet. They have taken the lead in setting the standard for Tibet travel and we highly recommend them.
They are based in Chengdu and their website is a wealth of information for all the regions that you can visit while in Tibet. If you book with them, tell them we sent you.
More on Tibet & Central Asia:
Did you like this story? Share it!