After spending 3 days of acclimating to the altitude and exploring the best monasteries in Lhasa, we headed out into the countryside on the Friendship Highway headed for Western Tibet towards Yamdrok Lake.
The day was rainy and so foggy we could hardly see the road, yet we carried on in pursuit of better weather and rarely visited the scenery.
When we reached the Gampa La Pass, at a mere 4794m of altitude, we had a chance to take a break, stretch our legs, use the bathroom (or what they call a bathroom- meaning a hole in the ground) and check out an aerial view of the great Yamdrok Lake.
Despite the rain and fog that had greeted us at 5 AM that morning, the day was starting to clear off, leaving us a cloudy, yet bright sky to view one of Tibet's three sacred lakes.
---
Sacred Yamdrok Lake of Tibet
---

Now, we all love a clear day when taking photos, but I love the sultry look the darker clouds gave my photos and consider us lucky to have witnessed such a unique look to this scenery.
I wanted to put together a collection of photos from Yamdrok Lake that not only show you the beauty of the land but communicates the feeling of the sacredness. The entire area is adorned with prayer flags that exhibit the passion of the people.
They love their land and hold true to their beliefs. Beneath the subtle facade of a stop that is becoming commercialized with hawkers, men luring you over for photos with their large Tibetan Mastiffs or colorfully decorated Yaks is a rich culture and stunning land. We consider ourselves lucky to have had the chance to visit this part of the World.
Don't leave home without: Lonely Planet Tibet (Travel Guide).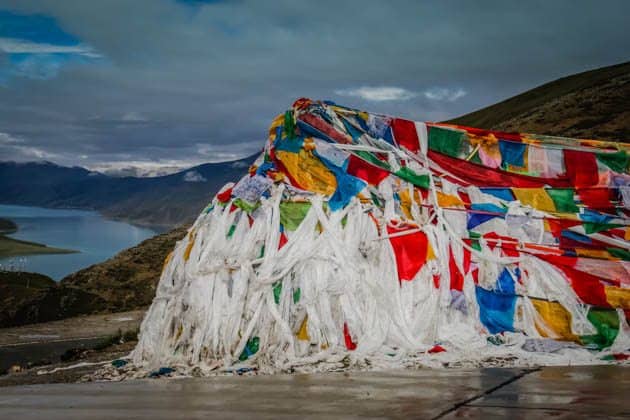 ~Yamdrok Lake viewed from Gampa La Pass with prayer flags. ~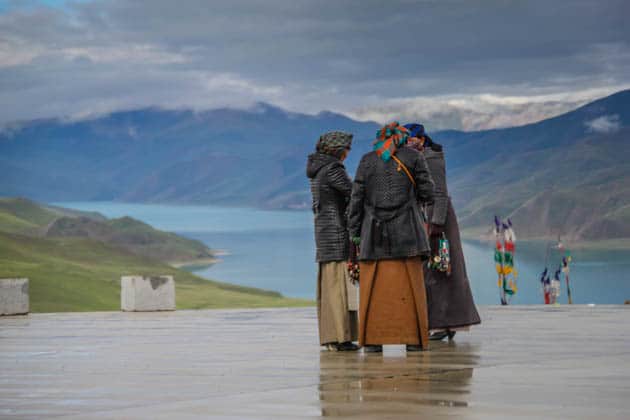 ~Tibetan women selling trinkets on the Gampa La Pass ~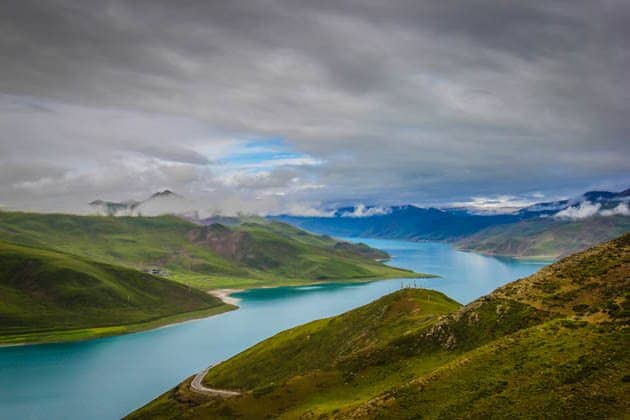 ~ Gampa La Pass view over Yamdrok Lake ~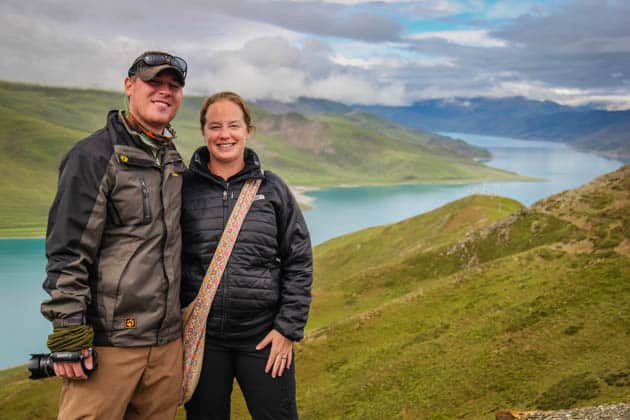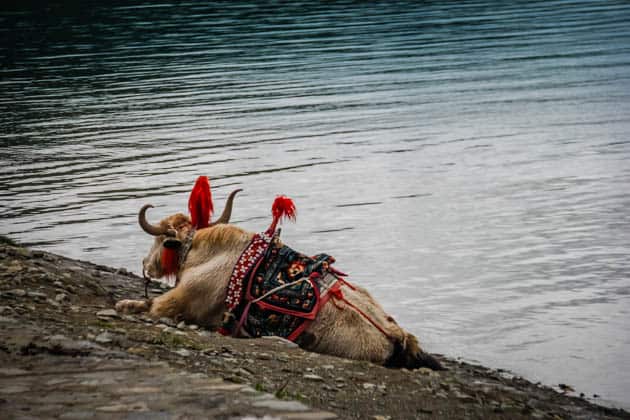 ~Yak on the shoreline ~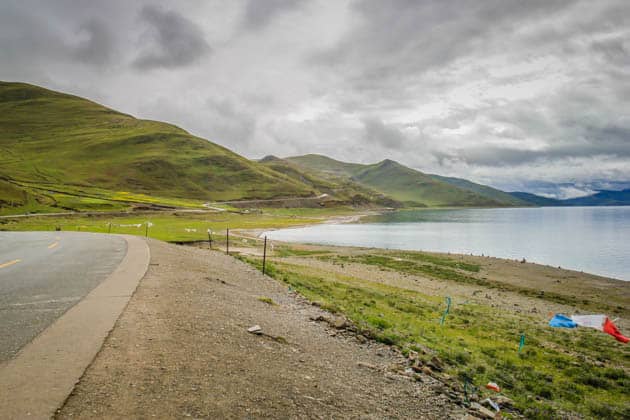 ~*~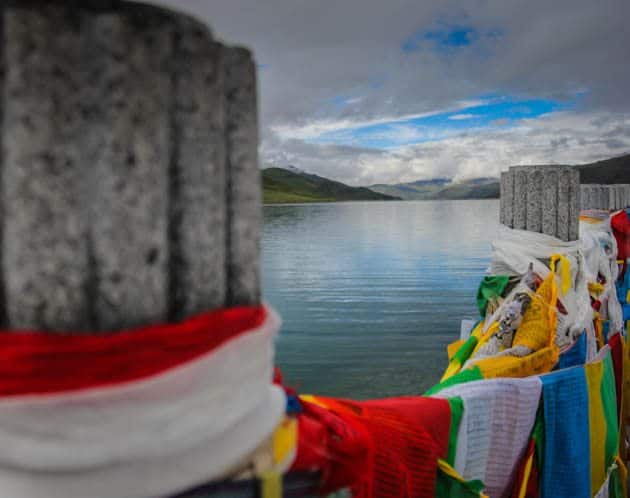 ~*~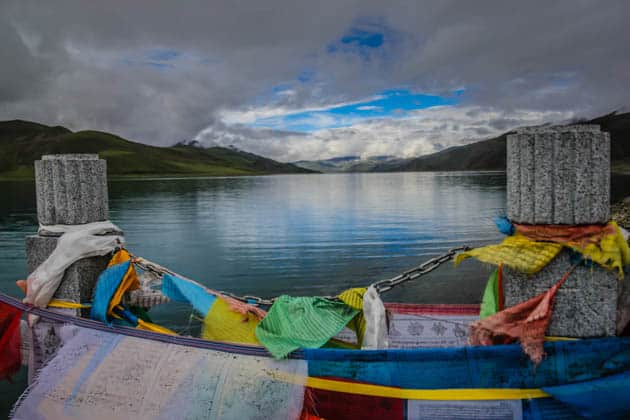 ~*~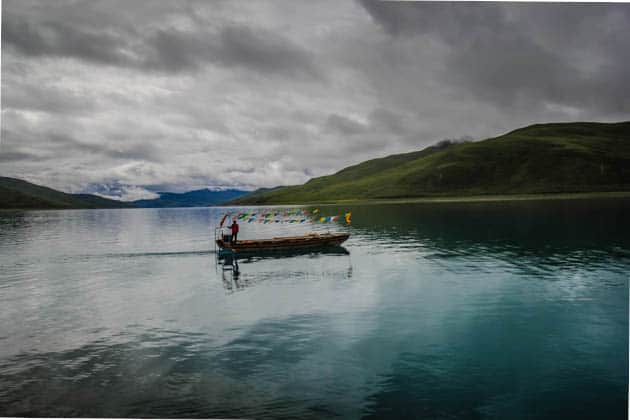 ~ Local crossing Yamdrok Lake ~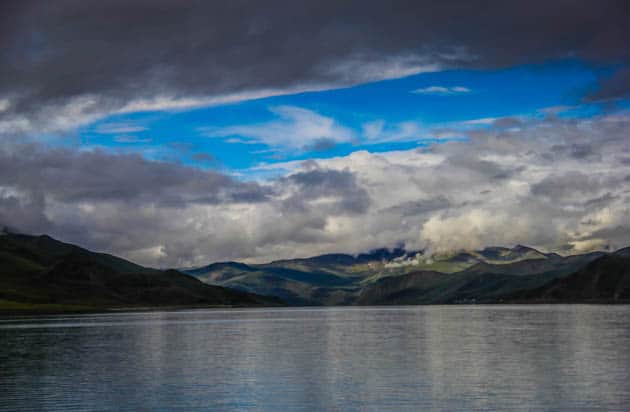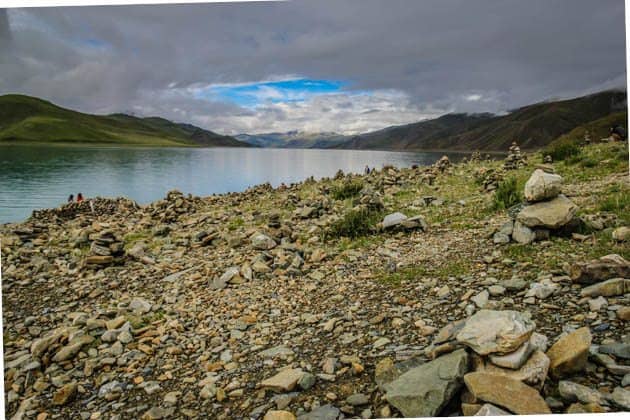 ~*~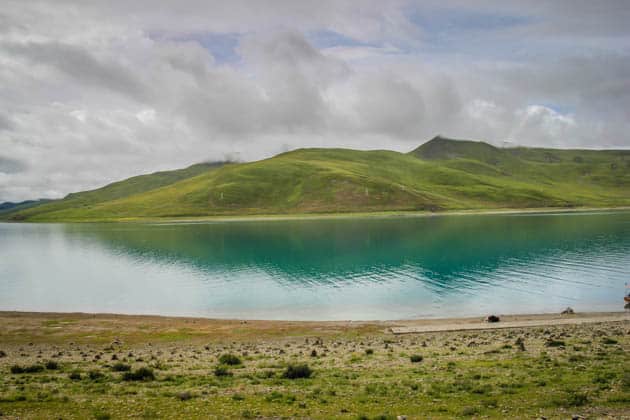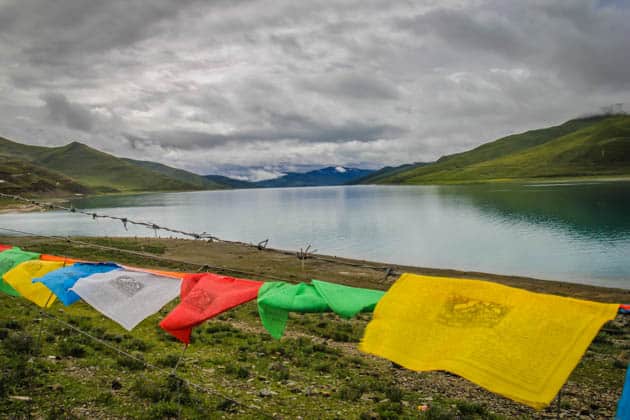 ~*~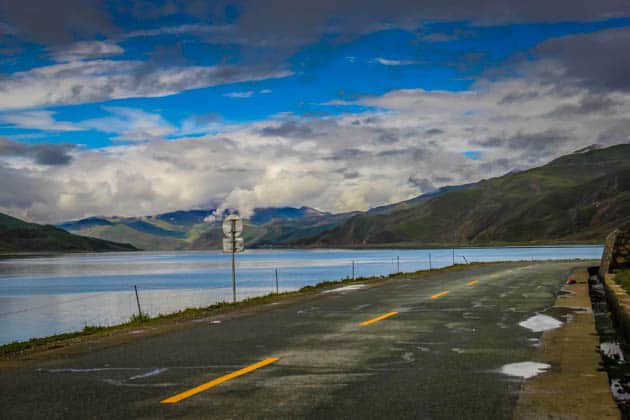 ~Road weaving around Yamdrok Lake in Western Tibet ~
---
Our Travels in Tibet
---
If you're interested in reading more about our time in Tibet, check out our other articles including great photography of the people and landscapes.
We made all of our arrangements for travel to Tibet after we landed in Beijing and in order to maximize our time and money spent, booked a tour that was 8 days in duration. At the time, this was the longest available tour that involved travel to Mount Everest.
I can't say enough good things about Tibet Vista, the company that arranged our travel to Tibet. They have taken the lead in setting the standard for Tibet travel and we highly recommend them.
They are based in Chengdu and their website is a wealth of information for all the regions that you can visit while in Tibet. If you book with them, tell them we sent you.
Top Tours we Recommend to Tibet
We have put together a list of top tours we recommend for Tibet. These are tours ran by top tour companies in the world like G Adventures, National Geographic Journeys, and TourRadar. Discover amazing tours through Tibet visiting places like Lhasa and Gyantse. Most travelers enjoy exploring our Tibet trips in April, making it the most popular time of the year.
More on Tibet:
Did you like this story? Share it!