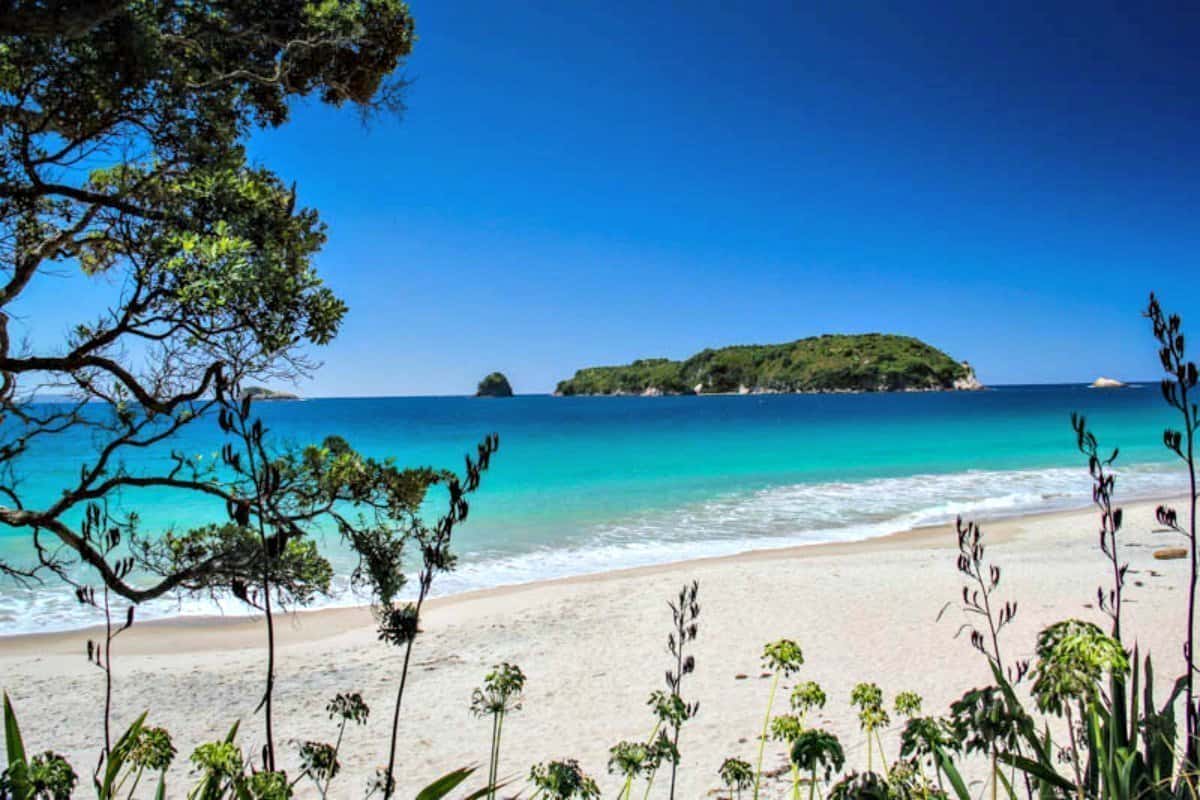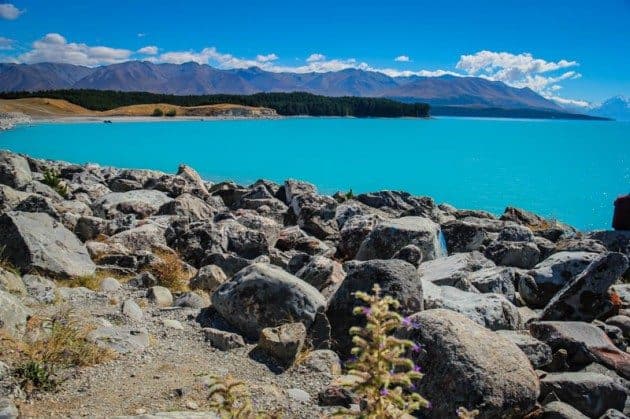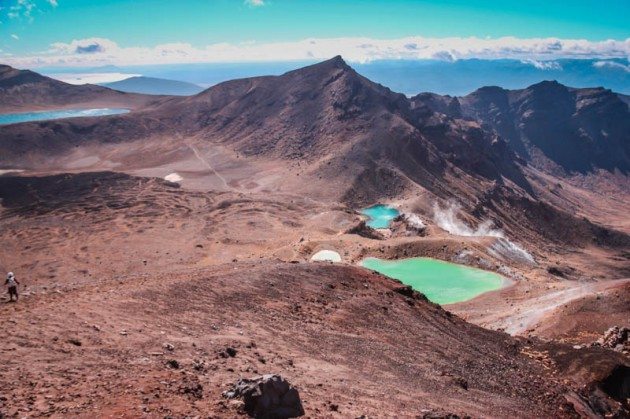 Ultimate NEW ZEALAND Travel Guide
New Zealand is an island nation located in the South Pacific Ocean and is part of Oceania. Oh New Zealand, how we love you, let us count the ways.
We are absolutely, unconditionally in love with this country. It has more natural beauty to deliver than most other places in the world combined.
Made up of two islands, referred to as North and South, New Zealand packs a huge punch in diversity. It is a place where you could be on the beach then up in the mountains in the span of an hour.
Each island offers you something new and this country deserves as much time as you can give it. We spent 5 weeks traveling all over the North and South islands and it was one of our most memorable trips to date.
This country easily tops our list of favorite places in the world.
NEW ZEALAND TRAVEL: QUICK TIPS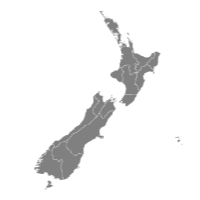 Don't Visit NEW ZEALAND Without: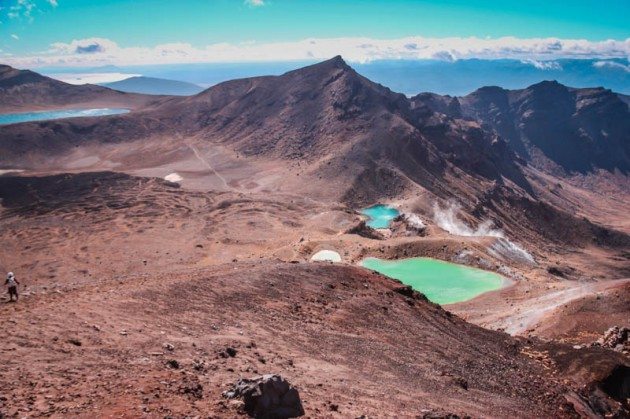 HIKE THE TONGARIRO CROSSING
Arguably the best day hike in the world, the Tongariro Crossing takes you directly through Middle Earth. You'll explore volcanic landscapes, bright-colored lakes, towering craters, and more.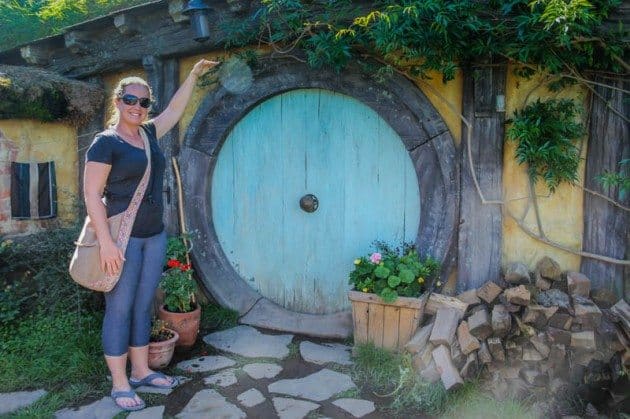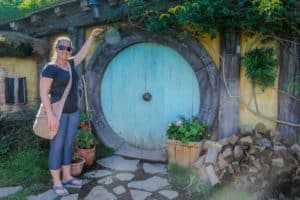 GO TO HOBBITON
If you're a Lord of the Rings fan, then a visit to Hobbiton is a must in New Zealand. Tour the film set and learn about the production of both the LOTR and Hobbit series.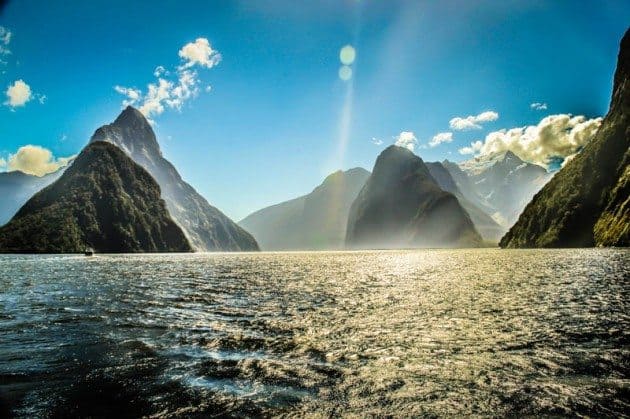 VISIT MILFORD SOUND
Located on the South Island, Milford Sound is one of New Zealand's most famous natural attractions. It is best explored by boat or kayak. It is also possible to hike the popular Milford Track here too.
MORE ADVENTURES IN NEW ZEALAND
There is no shortage of great things to do in New Zealand during your visit and the biggest problem you'll face is fitting them all into your itinerary.
Each part of the country has its own offering and unique things to check out during a visit, so be sure to look at our multiple city and regional guides once you decide where your itinerary will take you.
SKYDIVING OVER LAKE TAUPO: Adventure sports were basically invented in New Zealand, so you should be sure to jump out of an airplane while you're there! We decided to jump over Lake Taupo and the scenery was stunning. It is also possible to jump in Queenstown and Auckland.
ICE CLIMBING ON FRANZ JOSEF GLACIER: Take a helicopter flight and land on the Franz Josef glacier for an afternoon of ice climbing. It is both physically challenging and exciting, a great way to get up close with this stunning natural wonder.
CAVING IN WAITOMO: Famous for its glowworm caves, heading underground in Waitomo is a must when in New Zealand. There are multiple programs available depending on the fitness levels that will have you exploring caves, underground rivers and waterfalls.
WHALE WATCHING IN KAIKOURA: The best place to watch whales in New Zealand is from the sleepy seaside town of Kaikoura. There are resident gray whales, orcas and dolphins that are almost a guarantee to spot during a tour. It is also possible to see sea lions and sharks on a tour, along with several species of aquatic birds.
VISIT THE CATLINS: One of the least visited places, and best-kept secrets, in New Zealand, is the Catlins. Located on the far southwest tip of the South Island, this natural area is a wonderland of dramatic landscapes and unique wildlife. This includes penguins!
KAYAKING IN ABEL TASMAN: The most stunning place in the country to kayak is in Abel Tasman. The water here is crystal clear and bright turquoise. This is paired with white sand beached and lush forests. It is possible to do both day trips and multi-day adventures here.
WHITE WATER RAFTING IN ROTORUA: Jump in a raft on the Kaituna River and try your hand at navigating the world's largest commercially rafted waterfall! Not only is the scenery on this river gorgeous, but the rafting here is some of the best we have ever done in our travels.
LEARN ABOUT THE MAORI PEOPLE: Take some time to learn about the indigenous people that have lived in New Zealand for hundreds of years. The Tamaki Maori Village in Rotorua provides an interactive look at day to day life of the Maori people.
SOAK AT HOT WATER BEACH: On the North Island, head for the Coromandel Peninsula. During low tide, you can head to the main beach with a shovel, dig a hole in the tide line and enjoy a soak in the boiling hot waters of the volcanic beach.
TRY BUNGEE JUMPING: Invented in New Zealand, it is possible to jump from many different situations across the country. That is if you dare. Some of the most famous include the original Kawarau bridge jump outside of Queenstown, the Auckland Bridge and the 134m Nevis.
FOODIE BUCKET LIST
New Zealand has a diverse multicultural makeup, and the country's cuisine is characterized by a mix of Maori, European and Asian dishes, many of which are now beginning to fuse and merge, to produce a unique culinary scene.
HANGI: A Hangi is a traditional Maori cooking technique, where food is cooked using ovens dug into the ground. Food consists of vegetables and meat, and it's slowly roasted in the pits for hours, before being served at feasts.
FISH N CHIPS: A classic New Zealand dish popularised by British settlers and immigrants is Fish and Chips. With an abundance of coastline, fishing is a big industry, and battered fish served with fried chips has endured as a popular dish.
PAVLOVA: Popular in both Australia and New Zealand, Pavlova is a dessert that was dedicated to a Russian dancer, and which is beloved in both countries. This meringue-based cake is topped with whipped cream and generous servings of fruit.
NEW ZEALAND FESTIVALS
NEW YEAR: New Year is a great time to travel to New Zealand because the entire country celebrates in style. This is one of the first places in the world to ring in the New Year, and the best places to be are the cities. Head to Auckland, Wellington, or Christchurch for the biggest events and biggest parties.
ANZAC DAY: ANZAC Day is held on 25th April each year, and it's a commemoration of soldiers from both Australia and New Zealand who have been killed in wars and conflicts across the world. While it's a somber affair, it's also an important sign of national identity, as New Zealand's involvement in wars helped the country to assert its independence from Great Britain.
WAITANGI DAY: An equally important national holiday is Waitangi Day, which is held on 6th February each year. This commemorates the day that the Waitangi Treaty was signed between the Maori and British, and it marks the birth of what would become modern New Zealand. Celebrations and commemorations are primarily held in Waitangi, while other communities also host events too, with many using the day as an opportunity to educate people on Maori history.
PLAN YOUR TRIP LIKE A SEASONED PRO!
POPULAR REGIONS IN NEW ZEALAND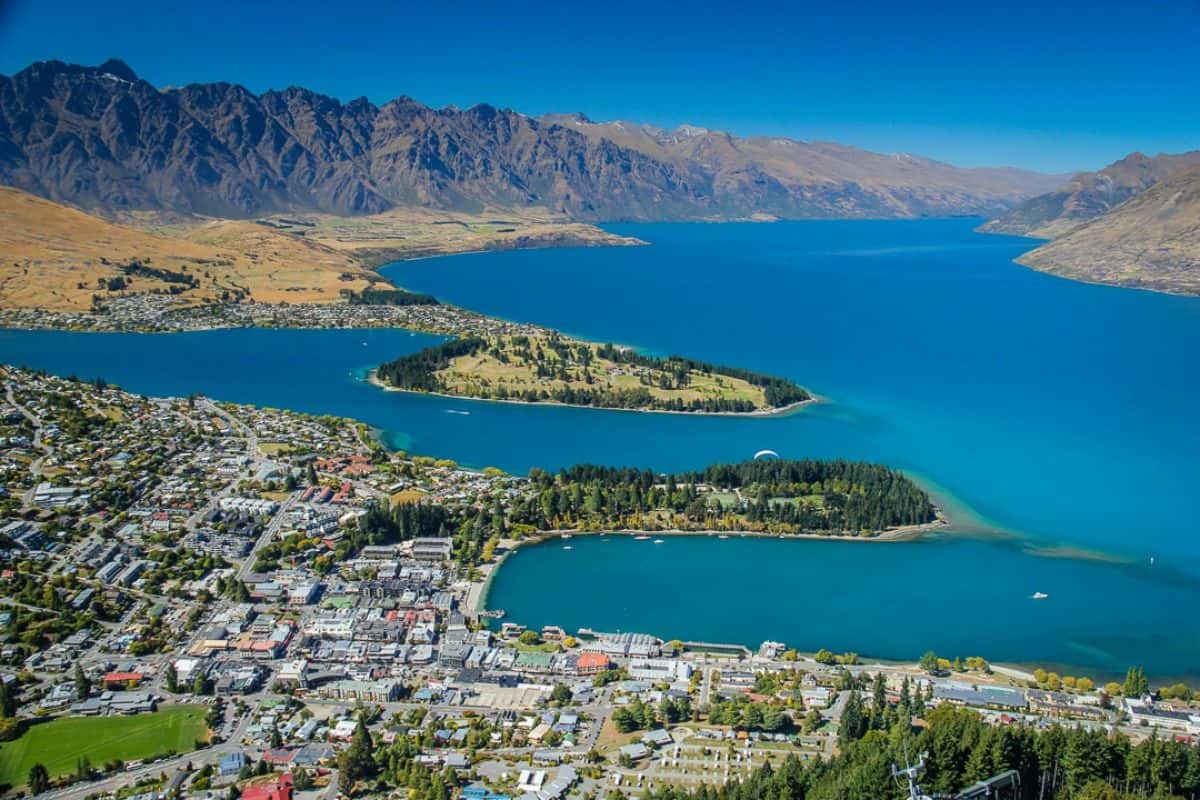 SOUTH ISLAND WEST COAST
The West Coast region of the South Island is one of the most dramatic and beautiful places in New Zealand.

Along the coast, you can find impressive natural sights such as Milford Sound, Mount Aspiring National Park, Abel Tasman, and the Franz Josef Glacier. To name a few.

The main hub is Queenstown, the country's extreme sports capital, a small city surrounded by mountains on the shores of Lake Wakatipu. In winter you can ski and snowboard, while all year round you can bungee jump and skydive.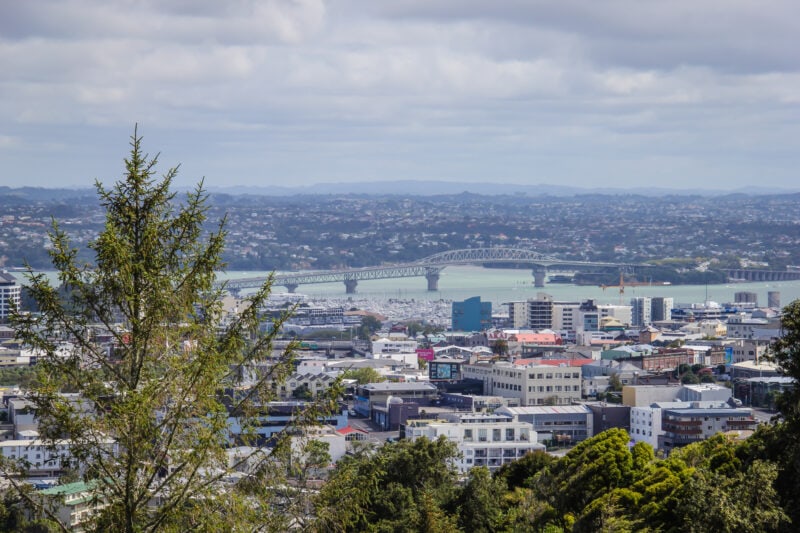 AUCKLAND
Found at the top of the North Island, Auckland is the most iconic city to visit when you travel to New Zealand.

This is the country's largest city, but as well as being full of museums, culture and great restaurants and bars, it's in the perfect location to explore nature.

With warmer weather than the rest of the country, you can visit the nearby beaches, travel across to the islands, and enjoy hiking spots and even volcanoes.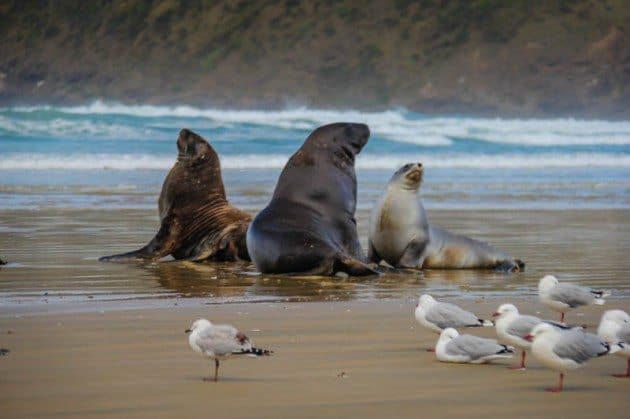 DEEP SOUTH
Located in the Southwest corner of the South Island, the towns of Dunedin and Invercargill anchor this area for exploration. It is a hotbed for wildlife lovers.

If you love penguins, you will have the chance to spot yellow-eyed, Fjordland, and blue penguins in this part of New Zealand. Be sure to head to the Catlins.

You can also enjoy a rugby game and the world's steepest street in Dunedin. The Mysterious Moeraki Boulders are also found in this part of the country.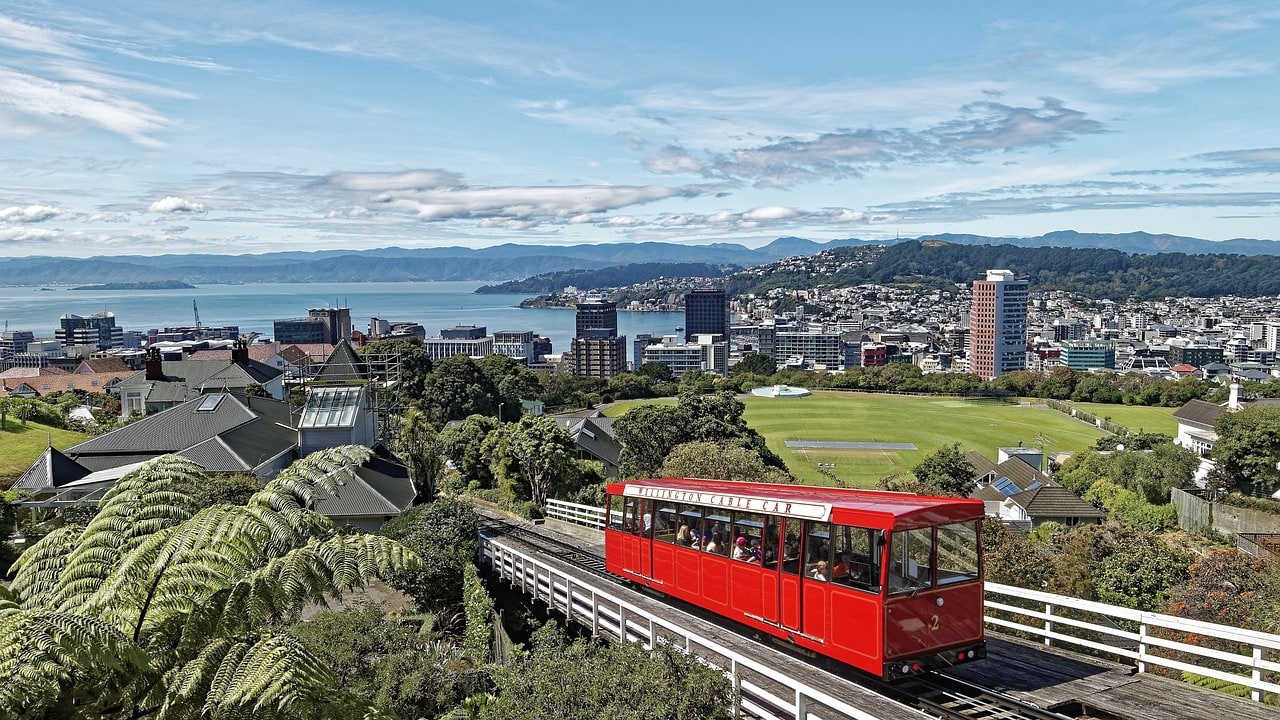 WELLINGTON
New Zealand's capital is found at the far southern end of the North Island, and it's the city to visit if you are interested in the country's history, heritage, and culture.

In Wellington, you'll find great museums but you'll also find excellent scenery, as the city overlooks the spectacular Cook Strait. 

It is a great base to see off the beaten path places like River Valley to the North. In Wellington, you can also access the South Island by ferry.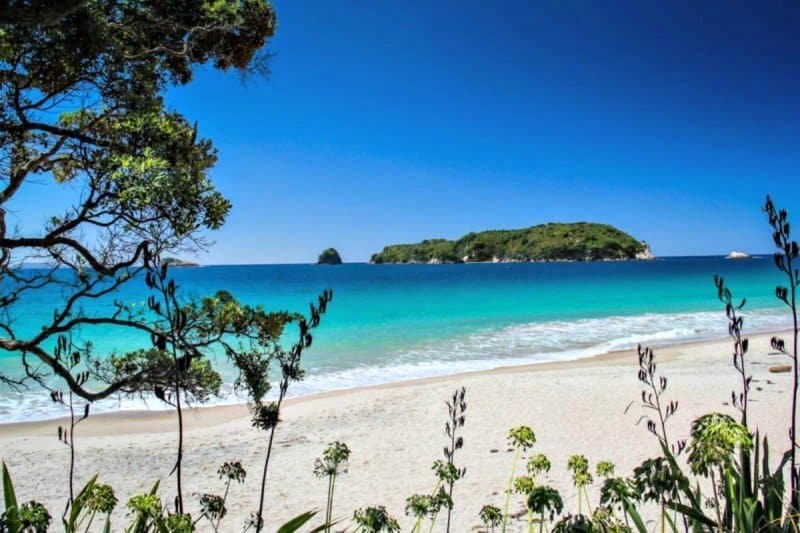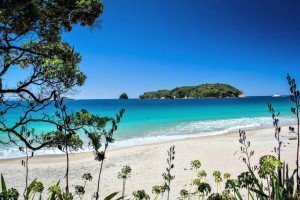 BAY OF PLENTY
Located along the northern coast of the North Island, the Bay of Plenty is one of the most beautiful places to visit when you travel to New Zealand.

The long coastline here is incredible, and you can base yourself in the city of Tauranga if you are looking to make the most of the beaches and the Pacific Ocean.

On the Western end, the Coromandel Peninsula offers you Cathedral Cove and Hot Water Beach.

To the south, you can enjoy the outdoor and cultural delights of Rotorua, where you will find geothermal spas, geysers, and volcanoes, as well as Maori villages.


NEW ZEALAND TRAVEL BUDGET
Setting a budget for travel to New Zealand is highly dependent on your travel style. While it is possible to travel on a small budget, it is good to know that New Zealand is not a cheap destination. That said, you can make your trip as basic or as luxury as you desire.
To help you set your budget, we've included some base range price estimations for travel within New Zealand. Of course, keep in mind that prices can fluctuate based on seasons, availability and festivals.
ACCOMMODATION: Varies by type and rating. Generally, you can expect camping to be free to NZD 20 per night, hostels to average NZD 40 per night, mid-range hotels to average NZD 75 per night and luxury hotels to be NZD 150 and up per night.
ATTRACTIONS: Costs vary. New Zealand is the place to do lots of activities, and these will add up to be the biggest expense. Skydiving costs NZD 500 and bungy jumping costs NZD 150, for example.
TRANSPORTATION: The most popular method of travel around New Zealand is by car or bus. Rental cars can be picked up for around NZD 20 per day, while campervans will cost closer to NZD 60 per day. You can expect a litre of Petrol to cost around NZD 2. Overnight Intercity Bus Fare will be approximately NZD 60 (Auckland to Wellington, for example).
FOOD: Food will vary widely depending on your tastes and what restaurants you choose to visit on your trip. Generally, though, you can expect to find fast food for around NZD 10 per meal, mid-range restaurant meals for NZD 25 per person and pay around NZD 10 for a pint of beer.
BUDGET
---
60 NZD PER DAY
Staying in hostels, or hiring a campervan, eating fast food or cooking own food, and a few activities.
MID-RANGE
---
150 NZD PER DAY
Private rooms. Restaurant meals. Several activities and day trips.
LUXURY
---
300 USD + PER DAY
Upscale hotels. Restaurant meals and bars. No limit on the number of activities undertaken.
WHERE TO STAY IN NEW ZEALAND
Below you will find some of the places we have stayed during our travels in New Zealand. These are individual properties that we enjoyed and would recommend to other travelers.
For more specific advice, check out The Best Queenstown Accommodation Guide Out There
HOW TO GET AROUND IN NEW ZEALAND
Despite New Zealand being diverse in topography, it is quite easy to get around. There is an extensive bus network that operates between just about every city and village on both of the islands. Multiple tours run, both in group and private scenarios offering good connectivity to most places.
That said, it is still possible to rent a car or campervan and get off the beaten path to enjoy the vast nature that this country has to offer. Don't be afraid to go out and explore.
FLIGHTS: The quickest way to travel around New Zealand is by flying, however, given the small number of airlines operating in the country, there's little competition and prices can be high. Air New Zealand is the best carrier, with the most extensive network.
BUS: Major cities are connected by long-distance bus routes, and this can be a cost-effective way to travel to New Zealand. Schedules though can be irregular, particularly the more rural you get, and if you have limited time then traveling by bus is not necessarily practical.
CAR/CAMPERVAN RENTAL: By far the best way to travel around New Zealand is by hiring a car or a campervan. The country is perfect for road tripping, and the winding roads and mountain passes are absolutely stunning. Many of New Zealand's best sights can be difficult to reach by public transport, and having your own vehicle will make exploring so much easier. If you want to save on accommodation costs, or just enjoy even more flexibility, then you can even rent a campervan to tour around New Zealand. Check out Discover Rental Cars for great deals.
TRAIN: New Zealand only has a very limited public rail network, and train travel is not the best way to get around. The only real services are tourist services, on routes such as the TranzAlpine or Coastal Pacific. While seen as classic rail journeys, they are holidays in themselves and not the best mode of getting from A to B.
CYCLING: Increasingly, long-distance cycling is becoming a popular way to see New Zealand. The country is well set up for cyclists, with cycle paths and lanes in cities and in the countryside.
FERRIES: Of course, having two major islands, means that when traveling overland from north to south, you will need to take a ferry. There are several sailings each day, between Wellington and Picton.
KIWI EXPERIENCE: We'd be remiss if we didn't mention the brilliant and somewhat famous backpacker buses that prowl the country. These tours are a great way to make new friends and see the best that New Zealand has to offer on both islands.
WHEN TO VISIT NEW ZEALAND
New Zealand, with its relatively southern location in the Pacific Ocean, experiences a generally temperate climate, with harsher weather in the South Island and hotter weather – verging on sub-tropical – in the North Island.
The weather can vary with the seasons, but in reality, there's not really a bad time to travel to New Zealand, as the country looks different and has different activities to offer in every season.
Seasons are reversed in comparison to the northern hemisphere of course, and the most popular months to travel to New Zealand are summer, between December and February, and in particular over the Christmas holidays.
Temperatures are hot, the skies are clear, the mountains are great for hiking and the lakes are perfect for swimming.
Spring and Fall can be quieter times to visit, in comparison to summer, and while the weather can be more unpredictable – this is New Zealand, and it's likely to rain at some point.
You can find prices are lower and the attractions aren't as crowded. The shoulder seasons are perfect for hiking when the weather isn't too hot.
Winter, between June and August, is perfect for winter sports, and in the mountains, you'll find ski resorts are packed out, while the snow-capped scenery looks incredible.
For more in-depth information, be sure to check out Best Time to Visit New Zealand: Month by Month Breakdown
LOOKING FOR SOME INSPIRATION?
SAFETY IN NEW ZEALAND
New Zealand could well be one of the safest countries in the world when it comes to crime. There are low crime rates, and while yes, in the cities you might be the victim of petty crime, there is little chance you will be involved in anything serious.
Rural New Zealand is even safer, and you'll find villages and towns to be hospitable and welcoming to tourists, particularly when they rely heavily on visitors for income.
New Zealand does have its dangers though, as the country sits on the Pacific Ring of Fire, and is prone to violent earthquakes.
There is little you can do to predict where and when an earthquake will strike, and you would have to be incredibly unlucky to be caught up in one if you are just visiting on a short vacation.
Perhaps the biggest dangers are posed by New Zealand's adventure sports and outdoor pursuits.
If you are looking to hike, ski or white water raft, then you should follow safety instructions and procedures and importantly, be aware of the weather.
As with any destination, we recommend learning and adhering to certain safety practices when you travel. Be sure to read our personal travel safety tips, compiled from our travels across 7 continents.
NEW ZEALAND TRAVEL: BOOKING RESOURCES