If you crave a touch of adventure and a spectacular view of Auckland then you definitely need to check out the Auckland Bridge Climb. Our day started with a pickup at the Maritime Museum and it was a short drive to the base of the bridge.
They have their base right next to the bridge and you will visit it before partaking in the bridge climb or bungy jumping. Yes, you can also Bungy jump with this company if you are into that sort of thing. I am not 100% sold on bungy jumping yet, although David gave it some serious thought while we were there.
Don't leave home without: Lonely Planet New Zealand (Travel Guide)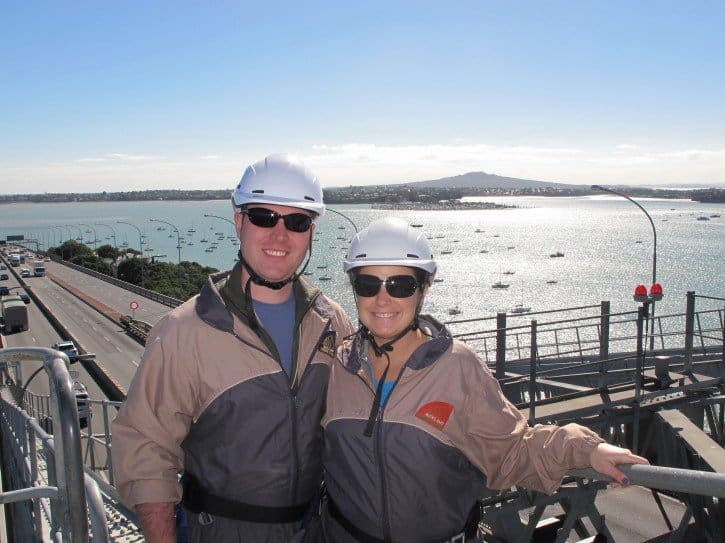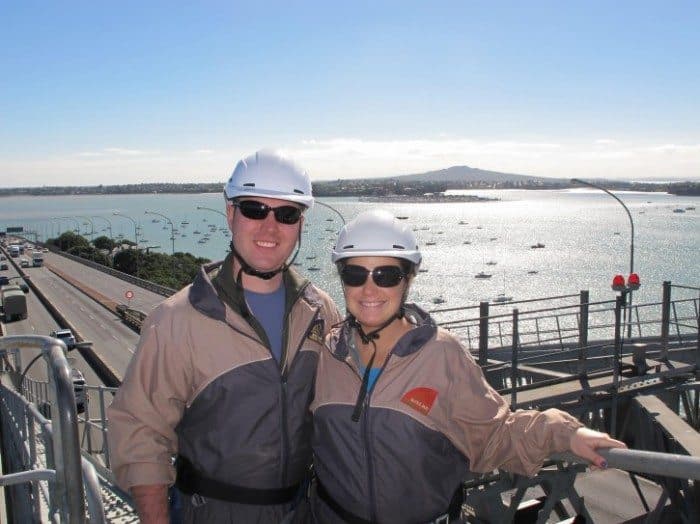 We were introduced to our bridge guide, the awesome Dennae, and were then suited up. Being suited up included a very sexy grey and beige jumpsuit, white hardhat and hip belt complete with a fastener so we would be secure on the bridge.
What came next was nothing short of sweet. We were told about the history of the bridge, when it was built, how long it took and the number of people that worked on it. Followed by the task of entering the bridge from the bottom. Attached to our hip belts were fobs with security access to the bridge. Our group entered the bridge one at a time.
Once through the security doors, we were latched one by one to the running tether system. The cables literally run the entire path you take around the bridge. Under, over, across, you name it. For the most part, they run smoothly as long as you are adamant about keeping your tether running like a dog leash.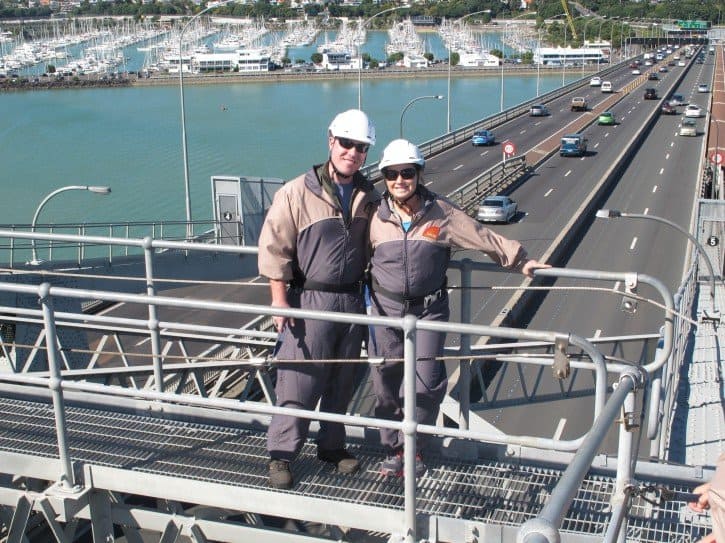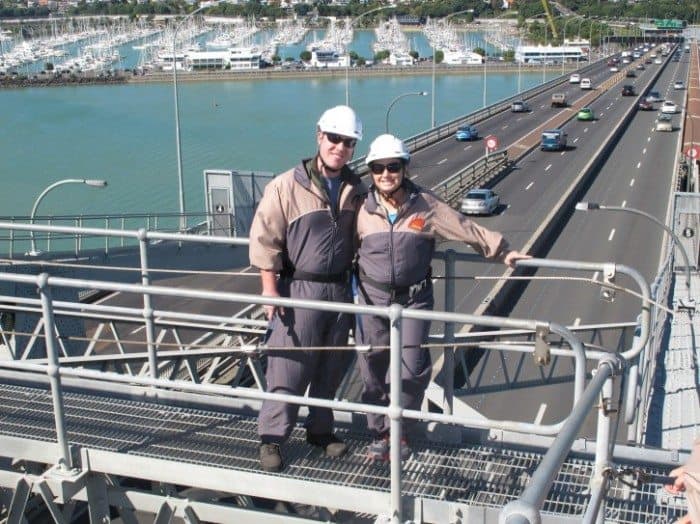 From this point, the real adventure began. Over the next 1.5 hours, 484 steps took us up, over, under and to the top of the Auckland Bridge. We also got a chance to stop off in the Bungy pod. This sits directly under the bridge and was placed specifically for bungy jumping. This jump is 40m and the only jump in New Zealand to offer a water touch if you chose to do so.
Just watching people jump gave me an adrenaline rush and it was a good way to see if bungy might be something I would consider doing some time. You do have the option of jumping should you decide it's for you at that moment. From the pod, you will literally climb to the top of the Auckland Bridge.
The paths you travel on to the top of the bridge are narrow, about the width of your body, but the railings are steady and the footing is pretty easy to navigate. You will come across some large bolts and beams once you reach the very top, so mind your step. You don't want to go tripping. There isn't a soft spot up there.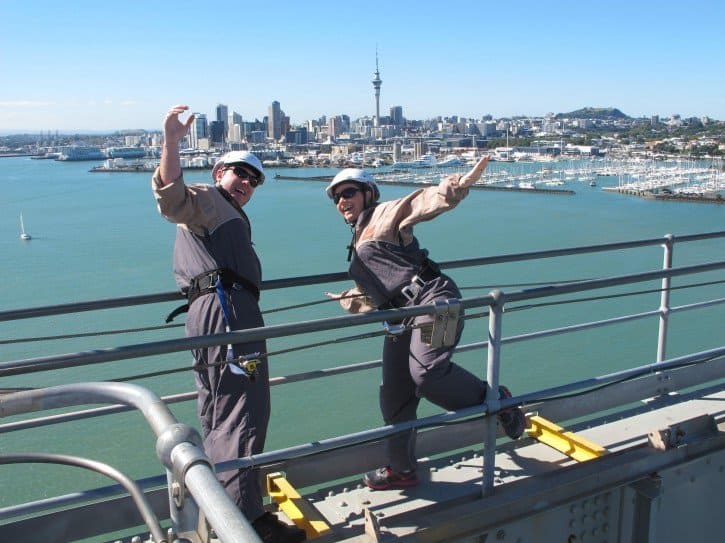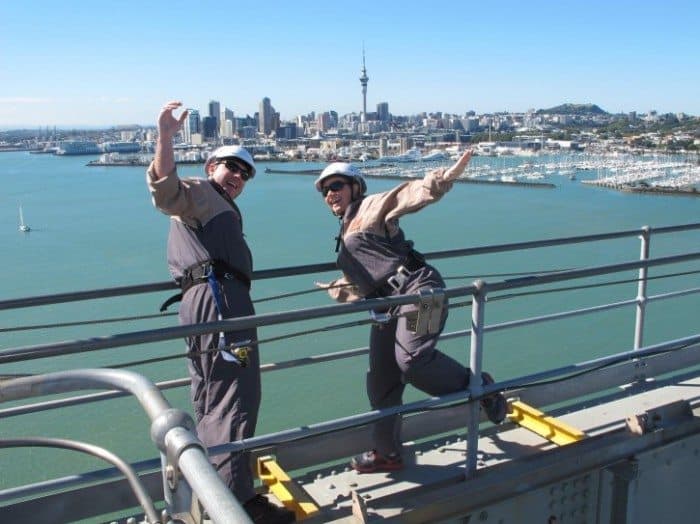 The views from the top are spectacular; showing views from coast to coast with bright blue water and of course the iconic sight of downtown Auckland. Our guide gave us plenty of time to check out the views while she took our photos with the different views.
We couldn't have asked for a more beautiful day. For a city known for its wind, we lucked out with a gorgeous sunny and still day to take in the views. If you are not afraid of heights and looking for a little thrill on your next visit to Auckland, don't miss a chance to check out the Auckland Bridge Climb.
More Adventure in Auckland
If you are looking for another adventure during your stay in Auckland, hop on a ferry to the beautiful, lesser known and certainly lesser visited Waiheke Island. It's located 17.7km from Auckland and is the second largest island in the Gulf. Waiheke Escapes will provide you with not only a comfortable place to rest your head but a variety of adventure activities for the duration of your stay.
More on New Zealand:
Did you like this story? Share it!
Disclosure: We were guests of Auckland Bridge Climb, however, all opinions are 100% mine.