Have you ever imagined waking up in a bungalow, opening the window with the sun beating on your face, only to see a blue immensity of the calm sea around you? Then planning a trip to Maldives should be on your bucket list!
It is no lie, the Maldives is an absolute paradise destination and we were lucky enough to spend two weeks exploring the very best it has to offer. From posh resorts to epic diving locations, this island paradise is a true tropical getaway.
We realize this destination is not an easy one to reach, but we promise it will be worth the trip. The Maldives travel planning guide shares with you the things we've learned so that you don't have to be surprised like we were.
Don't leave home without: Lonely Planet Maldives (Travel Guide)
---
Ultimate Trip to Maldives Travel Planning Guide
---
Where are the Maldives?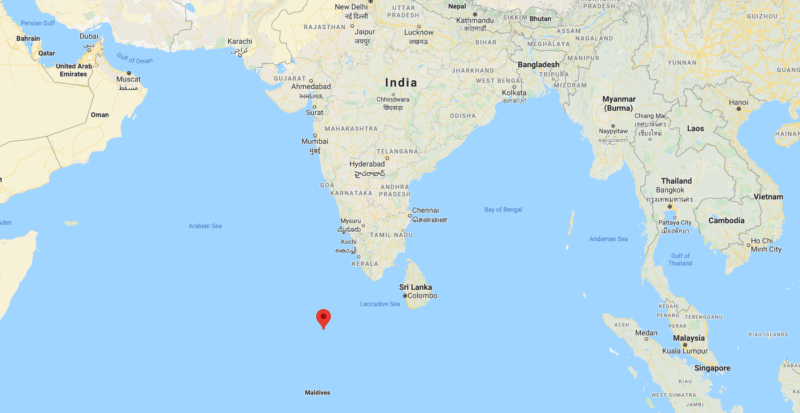 Comprised of more than 1,000 islands spread along two atoll lines, with about 200 inhabited, the Maldives is located in the Indian Ocean near India and Sri Lanka.
What makes an atoll so special is the fact that the islands are populated with lagoons of turquoise shallow waters, with coral reefs and brightly colored fish and fringed with clean sandy beaches.
How to Get to the Maldives
As it is an archipelago, the best way to get there is by airplane. International flights land on Hulhule Island, an area in the capital Male, in the North Atoll of Male. Several domestic airlines then have flights to take you to your Maldives vacation.
If you find yourself in Southeast Asia, there are several direct flights from major cities that will get you right into the Maldives. When we visited, we flew directly from Singapore.
We also saw flight options from Kuala Lumpur and Bangkok. It is also possible to reach the Maldives by flying through the United Arab Emirates. If you're flying from the UK or Europe, chances are that you will connect here.
For travelers coming from the United States, you'll really be able to fly either way. Either through Asia or the UAE, depending on what deals you can find when you search for your travel dates.
Find great travel deals: Priceline or Skyscanner
Useful Tips for Maldives Travel
The official language in the Maldives is Dhivehi but English is spoken in touristic areas and resorts. The local population is used to receiving foreign tourists and is super solicitous and helpful.
In order to visit the Maldives, it is recommended to take your international certificate of yellow fever vaccination. Other than that, they ask for a passport with an expiration date of at least six months beyond the end of the trip.
Here are some more useful tips to know before your trip to Maldives vacation:
Time: Maldives Standard Time (GMT/UTC plus five hours)
Electricity: 220v to 240V, 50Hz (Standard UK-style three-pin outlets)
Etiquette
Maldivians are very polite shy people if you meet them off resorts. While used to foreigners and their behavior, below are a few things that a local will appreciate when meeting you.
Greetings: Shake hands with men when you meet them right away. Give a nice firm shake, no one likes shaking a limp fish. Local women do not generally shake hands.
Eating: While off the resorts –Eat with your right hand only when dining. The left hand is considered unclean, and while it can be used to prepare food, it should not be used to move food to the mouth at all times.
Dress: Remember how conservative the islands are outside resorts. Men should not walk without a shirt on. Women should never be walking around in their bathing suit, they should wear long skirts and avoid low-cut tops.
Cultural Restrictions
The official religion of the Maldives is Islam, so they are conservative in regard to customs, following the principles of their religion is important. For example, it is not allowed to swim in bikinis on its urban beaches or to drink alcoholic beverages.
However, this does not apply to resorts. It is also strictly forbidden to enter the country with articles mentioning another religion, as well as openly practicing other religious cults.
Money Exchange
The local currency in the Maldives is the Rufiyaa (MRF). In tourist centers, it is customary to pay in US dollars. In hotels, it is possible to exchange currency.
Most establishments accept credit cards and if you intend on staying at a resort, chances are you will be paying for everything at the end of your Maldives vacation.
Communication
What appeals the most to a place like the Maldives is the feeling of being away from everything. Hotels have Wifi, but many encourage guests to limit their use in common areas.
Besides, not all resorts have a free Wifi connection and the signal hardly covers the entire extent of the island.
It is possible to buy a pre-paid sim card for your mobile phone as soon as you arrive at Male Airport. There are shops for Dhiraagu and Ooredoo, the only two telephone operators in the country.
Don't leave home without: Lonely Planet Maldives (Travel Guide)
When to Take a Trip to the Maldives
Being a place where beaches and lush landscapes are one of the main attractions, it is crucial to know the best time to visit the Maldives. Being close to the equator, the Maldives has a warm and stable climate.
In general, the archipelago presents two distinct seasons: one dry and more suitable for tourism and the other with strong winds and many rainy days.
The best time to visit the Maldives is between December and April when you can enjoy sunny days on its beautiful beaches. The temperature of the Maldives varies between 24°C and 33°C (75F and 91F) throughout the year.
Although the humidity is relatively high, the constant fresh sea breeze keeps the hot air moving.
Transport to the Resorts
Most tourists arriving in the Maldives do not stay in Male, but rather in a resort on one of the paradisiac islands. For this reason, it is necessary to take a boat or a seaplane to reach your island of choice.
Hotels usually make these transfers available at an additional cost or you can book them yourself. The cost of the transfer, depending on which island you stay at, can be very expensive and should be taken into consideration when booking your Maldives vacation.
The Best Resorts in the Maldives
When planning your vacation to the Maldives it can be had to pick exactly which island resort to stay on, there's just over two hundred to pick from.
All Islands and resorts in the Maldives are as amazing as the next with white sand beaches lightly shaded with tropical palm trees, atolls that seem to float on the turquoise ocean.
Below are the top five resorts in the Maldives based on the beach, location, things to do, amenities and customer reviews.
Resort Activity Considerations
Maldives resorts offer activities to suit all tastes and budgets. That said, you will want to look at what is offered to be sure that your interests are catered to. There are some places that are better for diving, for example, than others.
You can spend the whole day relaxing on a stunning beach (eating and drinking) or venture into other activities, such as tours to get to know the region's marine life, scuba diving, surfing, windsurfing, kitesurfing, parasailing, fishing, kayaking, jet-skiing, stand up paddleboarding, cultural excursions and much more.
In addition, some resorts often offer themed evening parties for their guests.
Cruises Around the Maldives
If you want to explore several islands, the best option is a cruise. Besides the huge flash cruises that travel around many countries at once, the Maldives have another great option to spend your Maldives vacation on the water. These are called Safari-Boats.
Liveaboards
For diving lovers, it is recommended to choose a liveaboard option because the prices are reasonable and it is the best way to see the most incredible dive sites in the country.
In this case, be sure to book a boat that offers a passage through South Ari Atoll, more specifically a site called Maamigili. It is a very famous place to see whale sharks.
These are our recommended cruise options in for a Maldives trip:
Maldives Dhoni Explorer 7 days, Male to Male – The extraordinary islands of the Maldives are the world's most spectacular and a multi-day cruise is the only way to take it all in. This seven-day cruise takes you to turquoise lagoons, perfect beaches, and isolated sandbars that might have only existed in your dreams until now.
Maldives Island Hopping 8 days, Hulhumale to Hulhumale – The Maldives has long been an underexplored tropical destination. Be among the first to discover its idyllic islands on this eight-day trip and hop around this archipelago.
Big Game Fishing Cruise
Cruise fishing boats offer the opportunity to spend a week in several different islands doing big game fishing. This is the term given to offshore fishing and it is a common activity in places such as Croatia and Seychelles.
Tuna and Marlin are the main targets for this sport. Best of all, you get to eat what you fish right there on the boat!
Reef or Shore fishing is not allowed in the Maldives and penalties can range from $500-$2000 to offenders. You might be thinking "What does this mean to me? "I'll just fish from my resort."
The problem is that most resorts want to protect their house reefs, and have secured a status of 'reserve' for their house reef in order to protect it, so no shore fishing is allowed there unless explicitly permitted by the resort management.
While there is no off-season, Big Game fishing is best November – March in the Maldives.
What kind of fish can I catch in the Maldives? The waters in the Maldives are home to an abundance of aquatic life and thousands of species of fish, ranging from small types of fish such as snapper, squirrelfish, and parrotfish to large fish like grouper, giant trevally, marlin, and tuna.
---
Things to Do and Activities for a Trip to the Maldives
---
For those who are passionate about marine sports, the best suggestion is to practice diving in the warm waters of the Indian Ocean.
Those who prefer more tranquil walks, it is worthwhile to schedule a boat trip through the islands of the archipelago and check out the beauty of the country's almost untouched nature.
But most popularly, a Maldives vacation is perfect for those who want to explore beautiful beaches.
Day Trip to Male
If you are relatively close to the capital, there are tours that allow you to explore Male. Male is the capital of the Maldives, with a population of about 158 thousand people.
The city has good infrastructure for basic services such as banks, shops, restaurants, supermarkets, and cheap hotels. Despite this, Male is not the most touristic and beautiful region of the Maldives.
If you want to get to know Male, one day is enough to explore its main attractions: Male Islamic Center, Hukuru Mosque, Sultan's Palace, Fish Market, Sultan's Park and National Museum of the Maldives.
If you are going to base yourself in Male, check out these top tours:
Picnic Safari
This boat tour, from South Male Atoll to Rihiveli, includes snorkeling at two distinct spots on the reefs in the South Male Atoll (with snorkel included), dolphin sighting, a sandbar for lunch and a visit to Guraidhoo Island, another island inhabited by the atoll.
This island is breathtaking, it has a beach with an extraordinary coral reef.
Snorkeling Trip
From Maafushi Island it is possible to go on a snorkeling day trip to explore a few coral reefs. The Biyadhoo Reef is magnificent, full of colorful corals and fish. It is even possible to see turtles swimming in the dark blue waters.
The Turtle Reef is another spot where you can swim among the turtles. Banana Reef is yet another beautiful site to explore reefs filled with biodiversity.
Staying in Malé? Check out this snorkeling tour
Surfing
There are also many safari boats for surfing. The best surf spots are in the North Male Atoll, which has waves for all kinds of surfers. These boats usually have good prices, great quality and you can surf the best waves on the different islands.
The prime surfing season is between April till September. The South Atolls have a more extended season from February till November. March and November can be considered transition months.
The best surf spots in the Malé Atolls of the Maldives are:
Chickens
Cokes
Honky's
Jailbreaks
Lohi's
Pasta Point
The best surf spots in the Central Atolls of the Maldives are:
Muli
Mulhaku
Veyvah
Adonis
Finnimas
Malik's
Mikado
Bedhuge
Isdhoo
Mada's
Mahibadhoo
Tsunami's
Yin Yang
The best surf spots in the South Atolls of the Maldives are:
Gaafu Dhaalu Atoll (also known as the Huvadhoo Atoll)
Antiques
Beacons
Voodoos or Blue Bowls
Castaways
Five Islands/Gani Point
Love Charms
Tiger Stripes or Rockets
Two Ways/Twin Peaks
Gaukendi Bridge
Shangri-la
The top surf resorts in the Maldives
---
Best Islands to Visit on a trip to the Maldives
---
To give you an idea of how amazing the Maldives is, 99% of the archipelago consists of water and only 1% of islands. As you can see, the formation of these islands has this incredible turquoise blue tone because of the coral reefs and visiting all of them is almost impossible.
Here are a few recommendations for some special islands you might want to visit during your Maldives vacation:
Maafushi
Maafushi is an island inhabited by local people and as such, you can only wear bikinis on the beach designated for foreigners. The beach is not big but it is very pretty with palm trees, coral sand and even a coffee shop with natural juices and fruit dishes.
Maafushi is well known for cheap guest houses, therefore, it is sought by backpackers in search of a more affordable Maldives vacation. This is the cheapest Island to visit in the Maldives and there tends to be a lot of backpackers.
Top places to stay on Maafushi Island, All are under $100 USD!
Top things to do in Maafushi, Maldives:
Enjoy the beaches
Go snorkeling
Go scuba diving
Go to Sandbank
Go on a Dolphin Safari
Explore Maafushi and Experience the Local Culture
Enjoy the water sports
Go fishing
Go on the Floating Bar and Safari
Enjoy the spa
Top Beaches on Maafushi, Maldives
Bikini Beach
Public Beach
Water Sports Beach
Coral Beach
Thinadhoo Island
Thinadhoo Island in Vaavu Atoll has beautiful beaches hidden by paths through the green forests. Also, in Vaavu Atoll, is the famous Alimatha Jetty, a diving site known for its night dives and snorkel adventures among hundreds of sharks.
Another site that offers the opportunity to swim with unique animals is Hanifaru Bay in Baa Atoll. There you can witness the amazing dynamics between hundreds of manta rays and whale sharks. Because it's a marine reserve you cannot dive there, only snorkeling is allowed.
Manta rays can also be observed on Hembadhu Island. In fact, there is a tour intended to give you the opportunity to swim alongside manta rays. The boat leaves when the manta rays enter the reef to feed.
Top things to do on Hembadhu Island:
Enjoy the beach
Swim with manta rays
Go snorkeling
Go scuba diving
Have a private picnic on a sandbank
Experience the local culture
Enjoy the spa
Enjoy the water sports
Go fishing
Top places to stay on Thinadhoo Island:
---
How safe are the Maldives for travelers?
The Maldives is a typical tropical island where chances are you are coming from somewhere far more dangerous than the Maldives. Do not be fooled by its relaxed atmosphere, here are a few things to keep in mind for your vacation in the Maldives.
Keep in mind the most likely dangers in the Maldives are getting sunburnt or grazing yourself on some coral while snorkeling. As a tourist staying on the resorts you probably will not encounter any of these.
Beach and bag safety: Crime rates are low in the Maldives and most crimes are petty thefts and happen on the beach or from hotel rooms. 99% of the time it's from someone who works at the hotel. It is best to use the safe-deposit boxes at the resort.
Islam is the law: No explosives, weapons, firearms, ammunition, and drugs are allowed in the Maldives. But in addition to those are pornography, pork/pork products, alcohol, idols for a warship, bibles or any non-Islamic text is also illegal. Most of those will not apply to you if you are staying at a resort. But do keep in mind alcohol is not to be taken off the resort island or the boat. Don't bring in liquor, they will take it away upon entering the Maldives.
There is on and off civil unrest in the Maldives: Since a terrorist bombing in 2007 where 12 tourists were injured, there have been isolated incidents in Male. Most travelers tend to arrive into Male and then travel onwards to the islands.
Maldivian Island Hopping: Tourists visiting the Maldives are generally discouraged from visiting non-resort islands. This is because they want to keep a tight grip on where tourist dollars are spent. This will make sure the non-resort islands are not corrupted by foreign influences.
Maldives Transport Safety: Travel to and from the different islands in the Maldives is by either boat or seaplane. Safety standards are high and many boats and planes are in good condition.
Don't buy coral or turtle shell souvenirs: You will see coral and turtle shell souvenirs for sale, do not buy them. It is illegal to export them so you can not take them off of the Maldives Islands.
Private means private: Keep in mind you can't go everywhere. This includes flying a drone. You could go to prison for flying or exploring someone's private bungalows.
More on the Maldives:
Did you like this story? Share it!