Within minutes of our first dive we had large manta rays swimming over us in some of the clearest water we have ever experienced. Their dark batman like shadows lurked over us for our whole dive.
One even swam inches right above Lina from behind and stretching easily two people lengths. They seamed to be playing along a deep shelf checking us out. This added immediate excitement to the first of our many dives in the Maldives.
Our next few dives were among large groups of tunas, snappers and many reef sharks of varying sizes. It's hard to not get wrapped up in simply the coral, as it is brightly colored, thick and the most healthy we have ever seen during our travels and diving.
The abundance and diversity of marine life is a testament to the reefs health and we were surrounded by thick schools of fish every time we hit the water.
There's no wonder why the Maldives has some of the worlds best scuba diving locations. The white sand beaches with swaying palm trees and rich colorful coral reefs. The crystal clear teal kissed waters are rich with marine life and they will not disappoint you.
Scuba diving in the Maldives has been on the top of our bucket list, so we were excited to join the Yasawa Princess for a week of exploring islands and scuba diving. Picking a live-aboard allowed us to explore more dive sites then being limited to dive sites at a dive resort.
Related Article: Guide to Visiting the Maldives on a Budget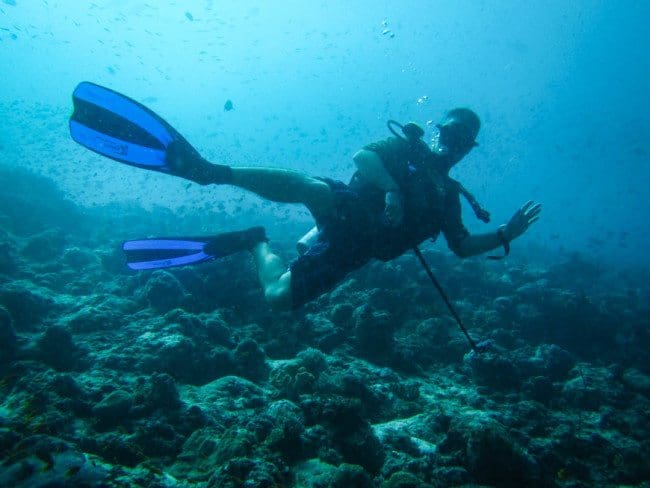 Currents
The biggest challenge to diving in the Maldives is the currents that moves around the islands. We encountered strong currents on all of our dives.
On one dive we were the last two into the water and as we submerged we could see all of the other divers landing like waterfalls 10 meters apart from each diver as they descended to depth. This ended up scattering our two groups across the bottom as we all tried to not get carried away by the current.
Some divers had to use hooks to hold on to the bottom and avoid being blasted away. Others just held on to little rocks as eels jumped out from within the reef biting them.
Being the last two divers into the water we were about 30 meters from our main guide and this created a pretty stressful situation for us. I was able to make eye contact with Lina to make sure she was ok and we both gripped onto the rocks waiting to catch our breath and figure out a plan to get our of the current.
She quickly signed back ok and we swam low and close to the rocks paddling as hard as we could and pulling ourselves across the bottom with our arms just to make it though the current.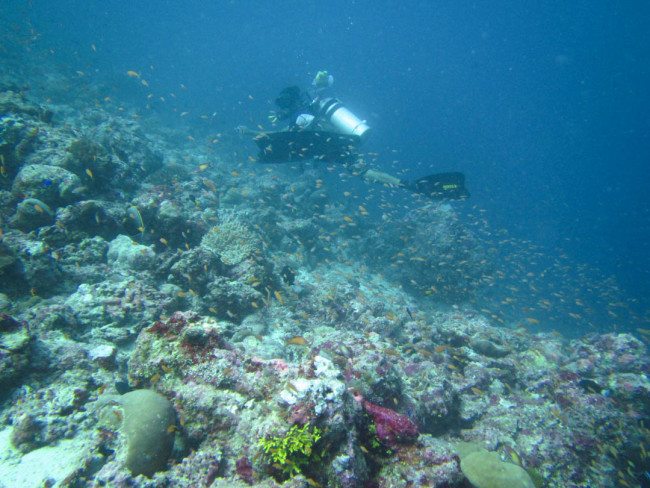 We weren't given many other options, as letting go would mean being swept off with the current and we needed to push forward and rejoin the group.
Unfortunately, dives like this result in quick loss of air from your tank and once we reached the edge of the reef and out of the current our entire group realized that we had used a lot of air during our descent and struggle with the monster current.
Low on air our group only got to explore for 35 minutes before surfacing.
Tip: With strong currents you can use up more air, your better to stay low. Currents tend to be weaker on the bottom, where you can gain protection from the seascape.
Water Temperatures and Visibility
The crystal clear water temperatures range from 26-30°C/80-86°F all year-round which feels like bath water. When diving in the Maldives you don't need to wear a wetsuit, as the water is comfortable.
At the very most a 3mm shorty will suffice for basic protection. We usually like to wear wetsuits but opted to just dive in our rash guards and shorts which was plenty of comfort and coverage for our needs.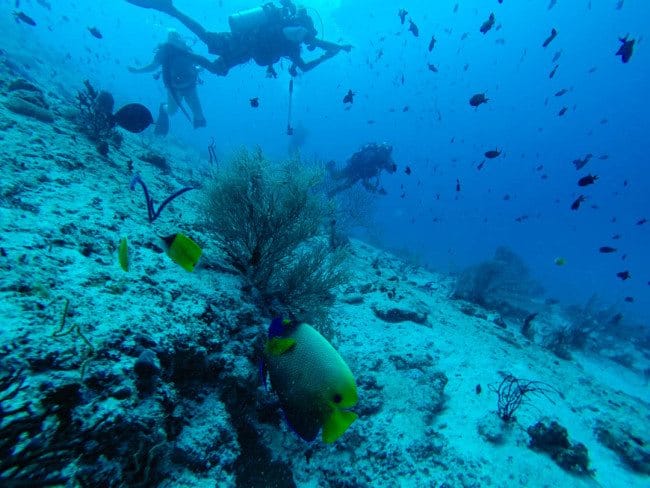 Of course with this temp and clear water comes outstanding visibility typically of 30-40 meters. At times the visibility may be reduced to 15-20 meters due to high plankton density.
However, don't fret, this can attract large whale sharks and manta rays which can make up for the lack of visibility in the end.
Tip: You should wait 24 hours before flying after diving.
You can dive in the Maldives all year around. The best season for scuba diving is from January to April with good visibility and excellent conditions. The wet season is from May to August.
The rain, wind, and waves can reduce the visibility. Most of the liveaboards operate from November to May and from June-December is when most liveaboards are docked and undergo maintenance.
Where Did We Dive?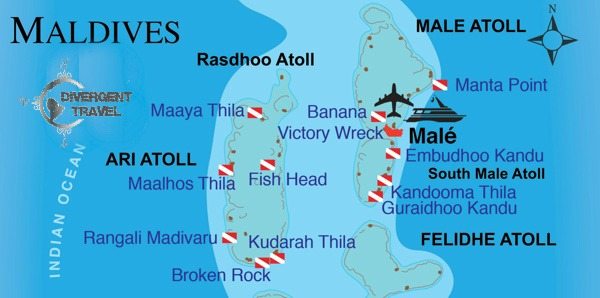 Rangali Madivaru (manta point): A beautiful dive site with stunning reef shelves and sandy bottom at 32m. Fabulous place to see giant Manta rays as they use this part of the reef as a cleaning station. It is not uncommon to see several of them while diving here.
Kalhahandni: Bright reefs on reef shelves at about 12m, dropping off to a slope at 30m. You can expect to see a wide variety of fish species, moray eels, giant morays, octopus and large amounts of sharks here.
Fish Head: Open water descent to a pinnacle dive with extremely strong currents wrapping around parts of the pinnacles. Be sure to wear gloves and bring hooks for this dive site as the current can be too strong to swim against at times and you may have to pull yourself along at some points. Vibrant coral reef and a large variety of fish species living under some overhead reef shelves. Maximum depth is a sandy bottom at 33m.
Maaya Thila: More beautiful coral reefs and less current to deal with. Lovely reef shelf at 12m with sloping reefs to around 30m maximum depths. Many varieties of fish and sharks can be see here, as well as turtles.
While there are hundreds of amazing dive sites in the Maldives, these were the ones that we spent our time exploring. Don't worry about finding a good place to dive, the reefs are untouched throughout most of the islands you can access by boat.
You will see loads of pristine coral and marine life. If you seek whale sharks, however, you need to head towards the very end of the South Ari Atoll.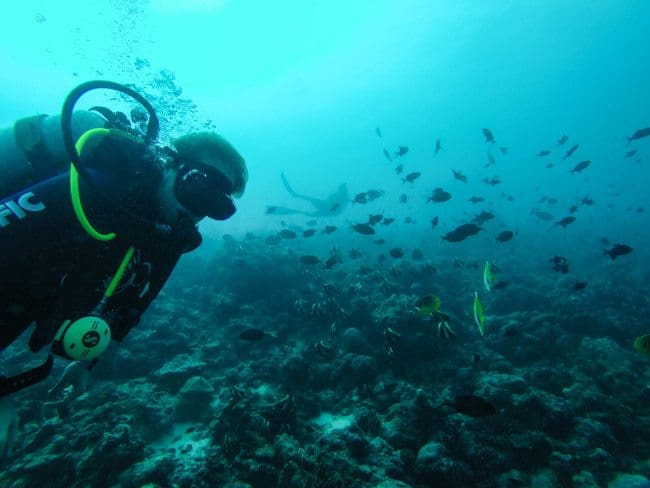 Prices
Diving in the Maldives is more expensive compared to Asia's normal dive pricing standards. In most of Asia you can find dives for $25-$35 per dive. In the Maldives, expect to pay at least $50 per dive.
You can reduce this number by booking dive packages for a small discount. You can pay per dive or as you dive more the prices per dive can go down.
Another thing to note is that most, if not all, dive shops in the Maldives DO NOT INCLUDE DIVE EQUIPMENT. So on top of the $50 per dive fee, expect to spend around $15-$20 per day on dive equipment.
Use of a dive computer is compulsory by all divers in the Maldives and if you don't bring one you will be required to rent one.
You can expect to dive 2-3 time per day and have one night dive offered. We explored for only a week and this allowed us just to explore dive sites from the Ari Atoll.
You could easily explore a wide variety of dive sites in the north and south in two weeks. This would allow you hit the best places for big fish, Manta rays and whale sharks.
Tip: The maximum depth for diving in the Maldives is 30 meters with an equally qualified guide. It is illegal to dive deeper than this while visiting the Maldives.

Diver observing a shark chasing a school of fish
Marine Life in the Maldives
Large Manta Rays, Eagle Rays, Tunas, Sharks (include large whale sharks), Sweet lips, Parrotfish, Groupers, Snappers, Turtles, Moray Eels
The day before our arrival a group spent the whole day swimming with whale sharks. We were not lucky enough to encounter them on our trip. These are just some of the many highlights and of course all the typical fish are abundant here.
We have never seen a more diverse underwater world in our diving experiences than what we experienced in the Maldives. Besides a large variety, you will see them in hoards as well. So many fish you often swim through groups to find them playing in your bubbles and completely surrounding people.
Scuba diving the Maldives was a dream come true for us. The Maldives are truly the tropics above surface and below the surface.
More on the Maldives:
Did you like this story? Share it!