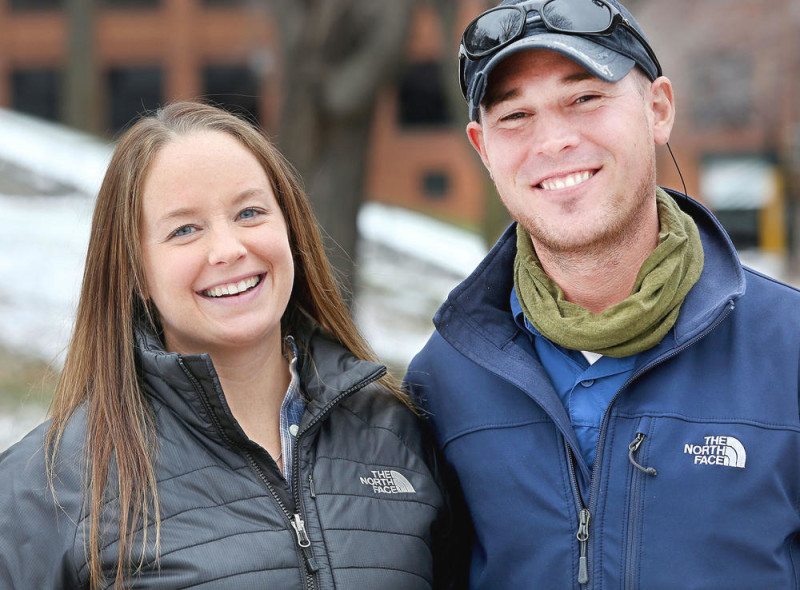 We're Lina and David Stock, professional travelers, adventure travel influencers and content producers for some of the world's most awesome adventure and travel brands. We're also prolific writers, award winning photographers, videographers, photo tour guides and all round adventure travel junkies. Watch our videos and see for yourself.
We specialize in adventure travel and believe that all destinations are created equal when it comes to finding an adventure to remember.
If you're looking for upbeat, professional and fun bloggers to work with, then you've come to the right place. Let us wow you with our perspective of your destination.
Divergent Travelers is an established brand that reaches more than 5 million people every month through our blog and social media accounts.
Our followers and fans are travel enthusiasts, adventure fanatics as well as regular people that dream of doing more and traveling wide. We have a connection with our readers that you can't get from traditional media; we interact with our readers. We understand what a traveler wants because we are travelers ourselves.
Our written, photo and video content is designed to engage millions of travel enthusiasts and adventure dreamers every time they visit our site. It's shared socially through reader networks and often featured in mainstream media outlets.
We're also obviously passionate about travel – and more importantly inspiring others to travel. So our content is equally about our far flung adventures as well as resources, brand product reviews, tips and ideas to get others started on their own journeys.
Our content is featured regularly by prominent mainstream brands in the travel industry.
We are one of the best in the industry.
Divergent Travelers has worked with destinations around the world showcasing their beauty and adventure to their readers. Each campaign is tailored to the destination and we work hard to build an itinerary that shows off the destination and appeals to our readers.
We've developed long term campaigns lasting several months, recurring campaigns where we revisit different destinations with the same company and have taken part in shorter one-off advertising initiatives to promote an event or activity.
We work with brands in several capacities from short one-off campaigns to ongoing partnerships. That said, we will partner with companies in all capacities. We believe in building relationships and will take occasional press trips and product sponsorship or travel in exchange for media coverage should the brand suit our niche.
Every campaign is designed to suit the company's needs and to optimize engagement and motivate readers to take action.
There is no one size fits all way to work with us.
We design and execute custom campaigns for brands, tourism boards, outdoor adventures, environmental initiatives and well, you name it.
We deliver exceptional quality no matter the size of campaign. Every campaign is unique, tailored to you and your goals and comes with the guarantee of real world authenticity. We work in many different ways. If you don't see what you need, just ask…
Want us to showcase your destination, company or property? Bring us to you and let us do what we do best.
We'll create personalized content of our experience with you and share it with our engaged social audiences across all of our high traffic channels.
From blogger conferences to individual trips for your brand or organization, we'll capture and record everything worth sharing and market it across our channels.
Writing Awards:
2018 TBCasia Best Writing in a Travel Blog – Gold Medal
2017 NATJA Best Transformative Travel Article – Silver Medal
Let Divergent Travelers put our social media and ready-made audience to work for your brand or organization.
We'll create custom, targeted social media campaigns, social media account takeovers, Twitter chats, Facebook Live videos, Pinterest, Instagram campaigns and more on both our channels and yours.
Every post is backed with high quality content, our award-winning photography and action videos created during our world travels.
As award-winning photographers, Lina & David capture the destinations they visit, products they use and everything in between in a professional way. 
They are available to be hired on assignment to capture your destination, product, tour, experience and more.
Photography Awards:
2018 NATJA Best Photo Essay Online – Gold Medal
2018 NATJA Best Architecture Photo Online – Gold Medal
2018 NATJA Best Portrait, People Photo Online – Silver Medal
2018 NATJA Best Landscape Photo Online - Bronze Medal
2018 NATJA Best Nature Photo Online – Honorable Mention
2018 NATJA Best Photo Essay Online – Honorable Mention
2018 NATJA Best Culture Photo Online – Honorable Mention
2018 SATW Bill Muster Photography Awards – Bronze Medal
2017 NATJA Best Architecture Photo Online – Gold Medal
2017 NATJA Overall Excellence in Photography Online - Finalist
2016 NATJA Best Portrait Photo Online – Gold Medal
2016 NATJA Best Nature Photo Online – Gold Medal
2016 NATJA Best Photo Essay Online – Gold Medal
Divergent Travelers is on a mission: to experience and catalog today's Top 100 Travel Adventures.
We've dreamed about this for years – and now are making it a reality. We've culled the very best from the very best: National Geographic, Travel+Leisure, Travel Channel and Lonely Planet, as well as some very top picks from our own wish list.
We've opened up our Top 100 Travel Adventures mission to brand sponsors and partners.
If you're interested in associating your brand with some of the last true adventures on the planet today – ones real people can dream of chasing themselves or tackling too – then we should talk.
We're shooting video, photography, writing great content and capturing everything on the road ahead.
Divergent Travelers specializes in long term brand ambassadorships with companies that mirror our values and are a good fit for the journey we're on.
We partner with all kinds of brands, outdoor organizations and initiatives large and small, domestic and international.
For each, we brainstorm and conceive custom engagement campaigns of real world product reviews, exotic photography from the road, brand-integrated video and anything else that helps to tell your story in real, authentic, engaging and highly shareable way.
Current Multi-Year Brand Ambassadorships:
G Adventures - official G Wanderer
Allianz Travel Insurance
We're also ready to travel on your behalf. If you're undertaking a trip, travel adventure, catalog shoot, product launch campaign in a far flung locale, we'll partner with you.
Divergent Travelers will capture content, report from the road and bring your brand experience to our audiences across the web and our social channels. And if you're at the planning stage, bring us on. We can help brainstorm and create one off, custom experiences for your brand.
With video taking the social media world by storm, it has become the platform of choice for communicating with the world.
Let Divergent Travelers experience what you have to offer and create stunning, engaging video of the experience to share on their channels and yours.
Video projects can be combined with other services for a complete exposure and promotional package.
Available for assignment work and projects.
We're experienced and accomplished speakers with plenty to say.
Behind the scenes educational break out sessions about the blogging industry, motivational adventure travel key note addresses or how we gave up the American Dream to pursue the dream of travel – we're ready to captivate, inform, educate and motivate your audience.
Inquire below to check our schedule.
Previous speaking engagements include:
2019 New York Times Travel Show - Consumer Global Stage
2019 New York Times Travel Show - Industry Panel
2018 TBCasia - Industry Panel
2018 NATJA Annual Conference - Industry Panel
2018 New York Times Travel Show - Industry Panel
2017 New York Times Travel Show - Industry Panel
TBEX Pacific Asia - Educational Workshop
Duluth Explorers Club - Inspirational Keynote



Ready to get started? Let's work together.