There's nothing quite like an island getaway, and the world's oceans are filled with exotic islands just waiting to be explored.
But deciding which exotic islands to visit is a challenge, given the sheer number and sheer diversity of the islands out there.
While the classic view of an exotic island might be white sand and swaying palm trees of the Maldives or Fiji, there's much more waiting to be discovered
You can explore the cold climes of Deception Island in Antarctica, or you can venture into the frozen wilderness of Greenland.
Sri Lanka is full of national parks and exotic wildlife while Penang is an island that's made for foodies.
There's an island out there for everyone though, and to inspire your next trip, here are our favorite exotic islands to visit!
---
16 Best Exotic Islands
---
1. Maldives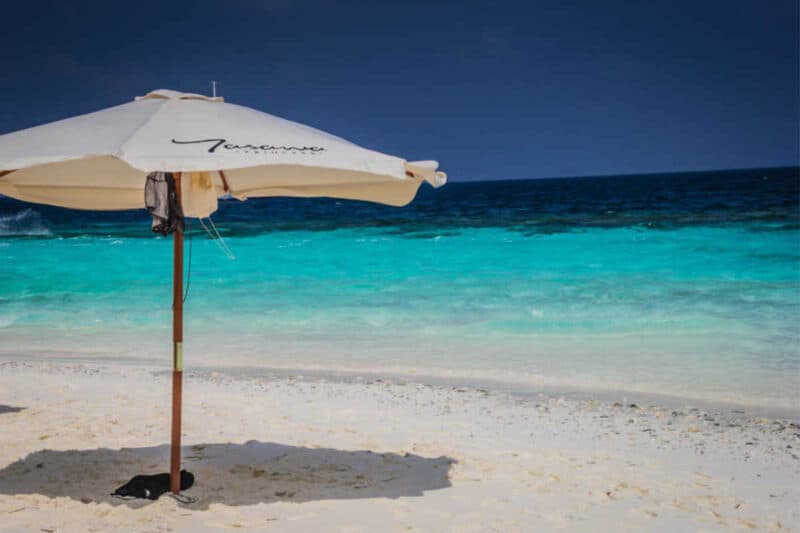 The Maldives is quite literally the definition of exotic islands, and this small archipelago in the Indian Ocean is often the first thing that comes to mind when you think tropical.
That's because the Maldives is beautifully photogenic. There are white-sand beaches fringed by palm trees and the water is wonderfully crystal clear.
You can also indulge and relax at some of the best hotels in the world, and you'll find that many are situated on private islands or beaches, and the only way to reach them is by boat or seaplane.
Alternatively, board a small dhoni cruise or liveaboard and explore a wide range of islands during your visit. This is the best option if you love to snorkel or scuba dive.
Our Top Recommended Tours:
2. Sri Lanka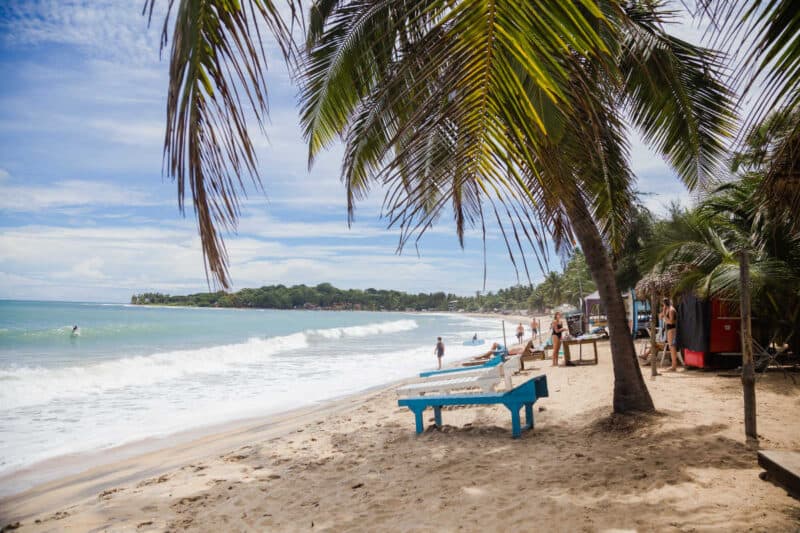 Sri Lanka is a great island destination for anyone looking for an adventure because the island nation is full of culture, history, wildlife, and scenery.
Sri Lanka has something for every style of traveler, be it luxury or budget backpacker, and there's so much to do in this compact country that you might keep returning time after time.
You can go on elephant safaris in the national parks, whale watching along the coast, relax on white-sand beaches or trek into the jungles or highlands in search of ancient cities and temples.
It is all these things that keep us coming back to Sri Lanka. We've spent more than a month traveling this country and constantly discover new things.
Our Top Recommended Tours:
3. Deception Island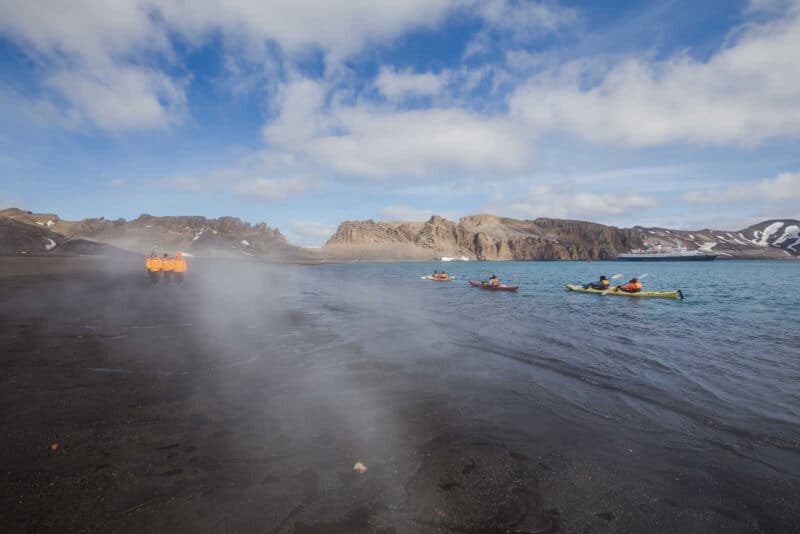 Deception Island might not be the traditional definition when you think of exotic islands, but it's certainly a raw and untraveled place.
In that sense, it's exotic, because few people ever make it to the Antarctic to set foot upon the black sand beaches of Deception Island.
This is a rugged and beautiful place, an island at the mercy of the extreme Antarctic weather. It is teeming with seals and penguins and is known for its dramatic harbor, formed from the caldera of a sunken volcano.
Add all that to the fact that the beach is a hot water beach. Boiling hot water bubbles up through the sand causing a steamy release at the top as it contrasts with the cold air.
Deception Island is as exotic as islands come.
Our Top Recommended Tours:
4. Greenland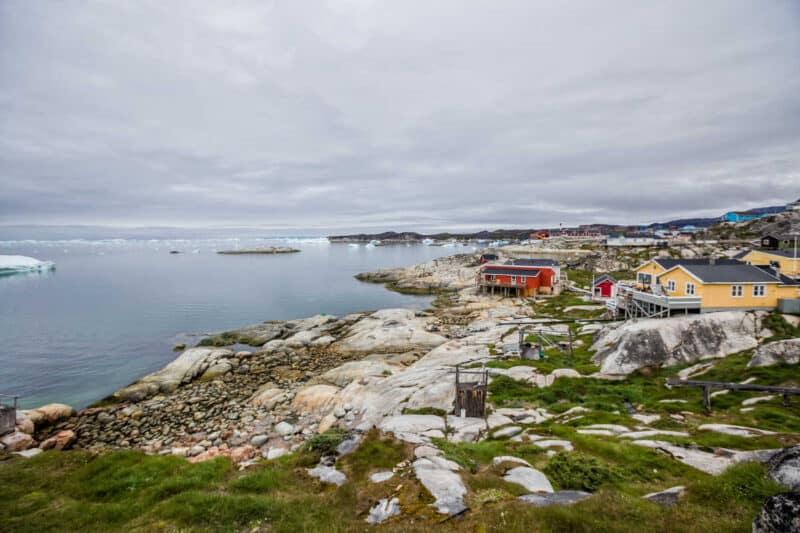 Another rugged and wild island to visit is Greenland, the largest island in the world.
Greenland is also at the mercy of extreme weather, as the island stretches deep into the Arctic Circle.
You're best visiting in summer when the snow has melted and there's a surprising abundance of wildlife. Brave the winter though and you can experience the northern lights and learn how to snowmobile or dog sled.
In Greenland, there are huge glaciers, endless stretches of wilderness and countless opportunities for adventure.
We spent 3 weeks exploring Greenland, visiting places like Ilulissat, Kangerlussuaq, Sisimiut, and Nuuk. We also walked the 100 mile Arctic Circle Trail.
5. Busuanga, Philippines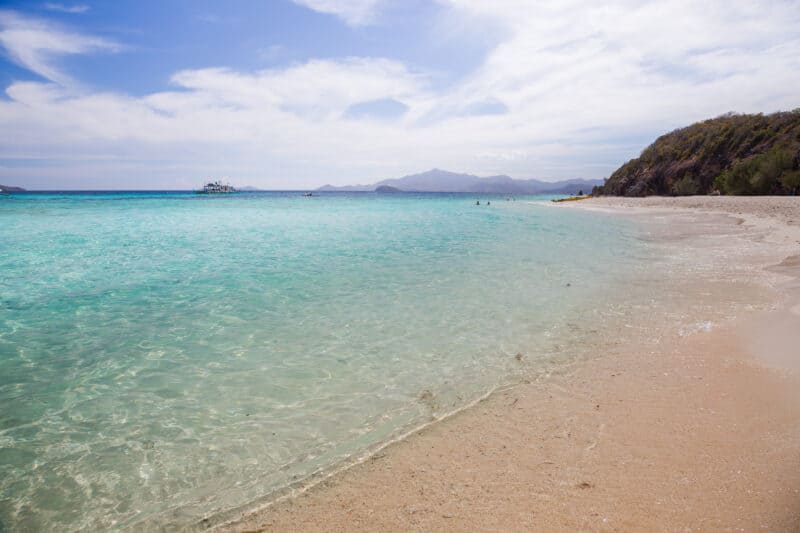 The Philippines is an archipelago that's composed of thousands of exotic islands, but one of the most outstanding is Busuanga.
Located north of Palawan and south of Manila, Busuanga is the jumping-off point for island hopping through the Calamianes Islands. 
Here you can find Coron, one of the most popular destinations in the Philippines, where there are freshwater lakes, tall limestone karst rocks, and endless snorkeling and diving opportunities in both wrecks and reefs.
Busuanga is an island that is largely undiscovered as most travelers do not venture beyond the popular Coron Town.
This is hands down one of our favorite places in the world. We've been multiple times since we first discovered this area in 2014.
Our Top Recommended Tours:
6. Cuba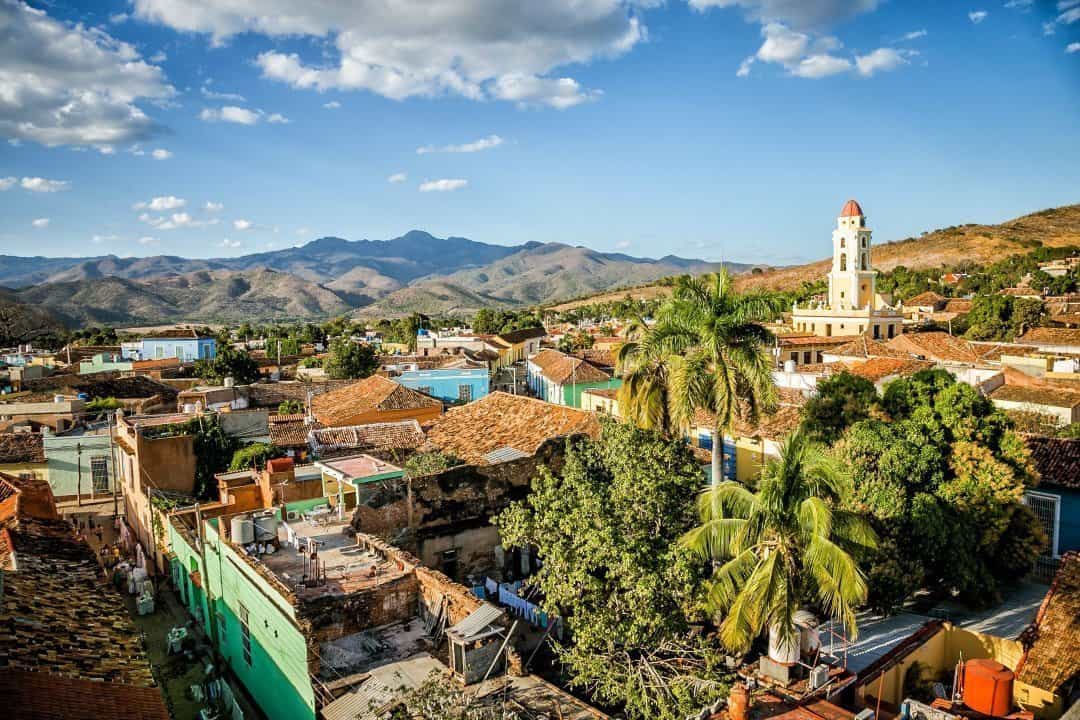 Cuba is one of the most exotic islands in the Caribbean because the large island nation is brimming with diversity.
In Havana, one of the oldest cities in the Americas, you can stroll through ramshackle streets as you search out the rich colonial history.
In the countryside of Vinales, you can hike and marvel at the beautiful scenery, and see where guerillas such as Che Guevara and Fidel Castro once waged war against the government.
Along the coast, you can enjoy classic Caribbean beach resorts at Varadero or you can enjoy some off the beaten track scuba diving in the Bay of Pigs.
Trinidad, a charming Spanish colonial city, is one of those gems that will leave you yearning for a return visit from the moment you arrive. It's also, arguably, our favorite place to visit in Cuba.
Our Top Recommended Tours:
7. Easter Island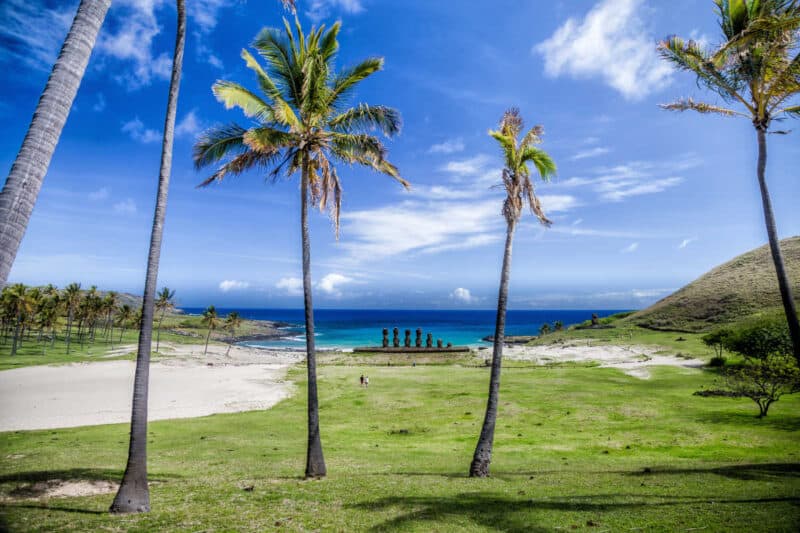 Easter Island is just about as exotic as it gets, especially if it's intrigue and isolation that draws you in.
First of all, Easter Island is incredibly remote, being found in the Pacific Ocean somewhere between Chile and New Zealand.
But most of all, this is a mysterious place, where the fascinating Easter Island Moai statues stand tall.
These are statues that have confused and baffled scholars for decades, and they truly add to the mystique of this rugged and raw destination.
Moai aside, this island is rich in natural beauty and pacific islander culture. It's a journey for the senses and we'd recommend you plan at least a week for a visit.
Our Top Recommended Tours:
8. Raja Ampat, Indonesia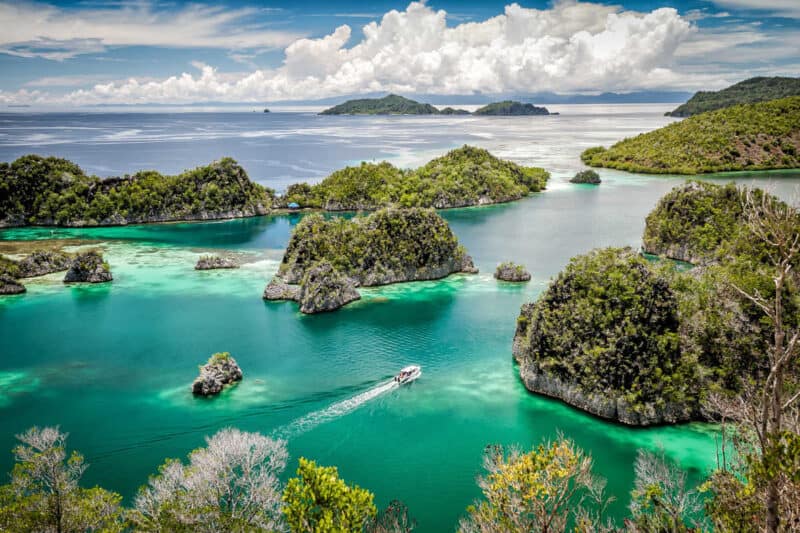 Located off the coast of New Guinea, the Raja Ampat islands are one of the best scuba diving destinations in the world.
This collection of well over 1000 small islands is remote, and it's still being discovered by tourists and travelers.
Marine life thrives in the waters here, and while the islands and beaches are themselves paradisiacal, it's what's beneath the waves that really draws people in.
This area is remote and expensive by typical Southeast Asia standards, but totally worth the money and effort to visit.
9. Islands of Fiji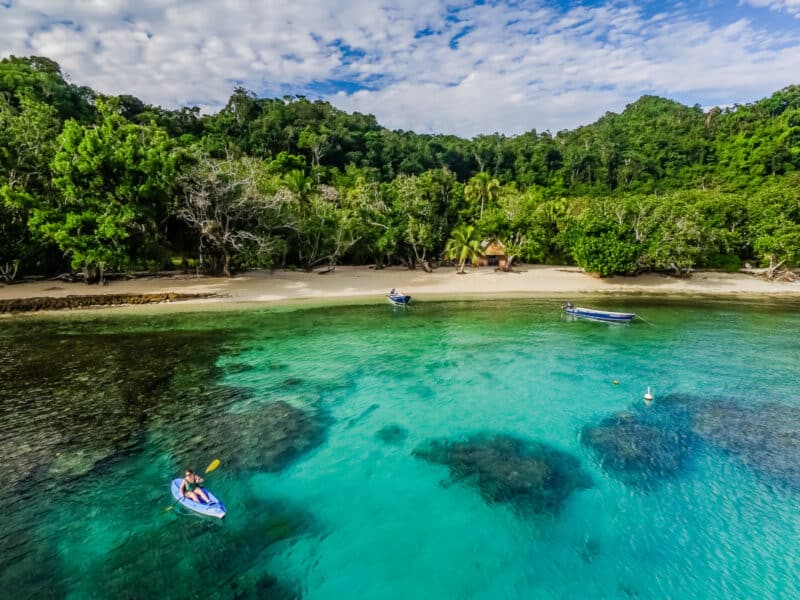 Fiji is a classic tropical getaway, and few other places in the world can be described as exotic islands, in the same easy manner that Fiji and its many islands can.
You can snorkel pristine coral reefs and scuba dive in one of the most biodiverse parts of the Pacific.
Chase waterfalls and uncover the wildlife within Fiji's rainforest, or simply sit back, relax and unwind in the sunshine on a white sand beach.
We spent a month traveling throughout Fiji and can personally attest that it is a place of rich culture and insane natural beauty.
Places like Vanua Levu, Taveuni, Qamea, Viti Levu, Pacific Harbour, the Mamanuca Islands, and the Yasawa Islands should not be missed.
Our Top Recommended Tours:
10. Borneo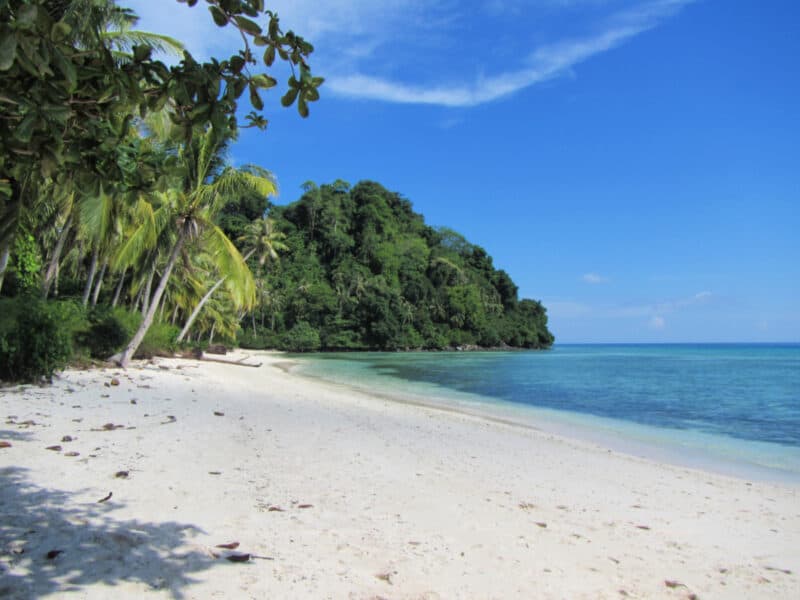 The enormous island of Borneo is one of the most exotic islands in the world because this is a destination teeming with wildlife and diversity.
Borneo is divided between Malaysia, Brunei, and Indonesia, and there are countless adventures awaiting you.
Marvel at the golden mosque and floating villages in Brunei, scale the peak of Mount Kinabalu, the highest mountain in Southeast Asia in Malaysia, or get off the beaten track and uncover Kalimantan, a rarely visited part of Indonesia.
It's also home to some of the best scuba diving in the world, the famed Sipadan. It's a chance to dive a massive underwater volcano with enticing wall drops, huge schools of fish, loads of turtles and more sharks than you can imagine.
Our Top Recommended Tours:
11. Dominica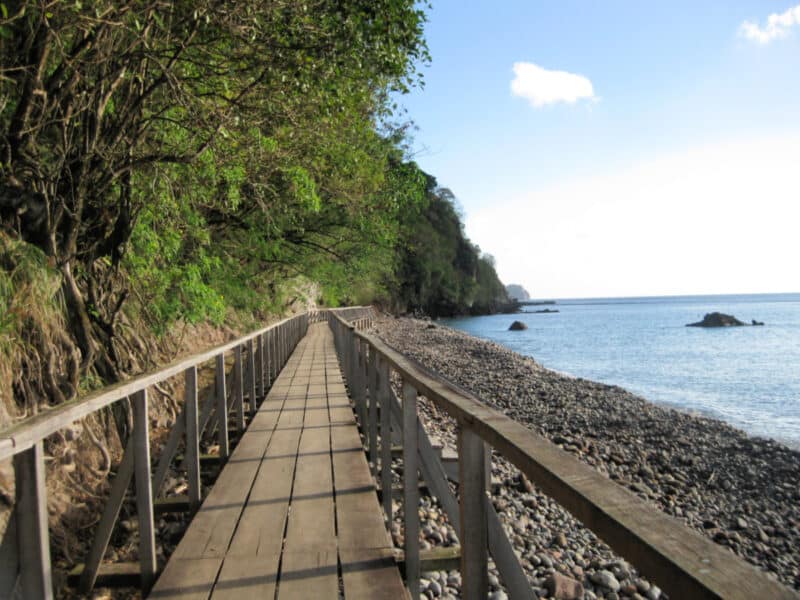 Located in the Caribbean, Dominica is one of the best islands to visit if you are looking for outdoor activities. 
This is a rugged, volcanic island, and you can hike through dense forest to reach bubbling hot springs or the crater of the tall volcano that stands over 1500 meters tall.
Unlike most islands in the Caribbean, you will not find white sand beaches in Dominica. This is the island of nature and rocky, black beaches paired with lush, dense rainforest are the flagship of this island.
You can adventure all day, then sit back and enjoy the comforts of the resorts in the evening, as you enjoy raw sunsets over the Caribbean.
12. Zanzibar, Tanzania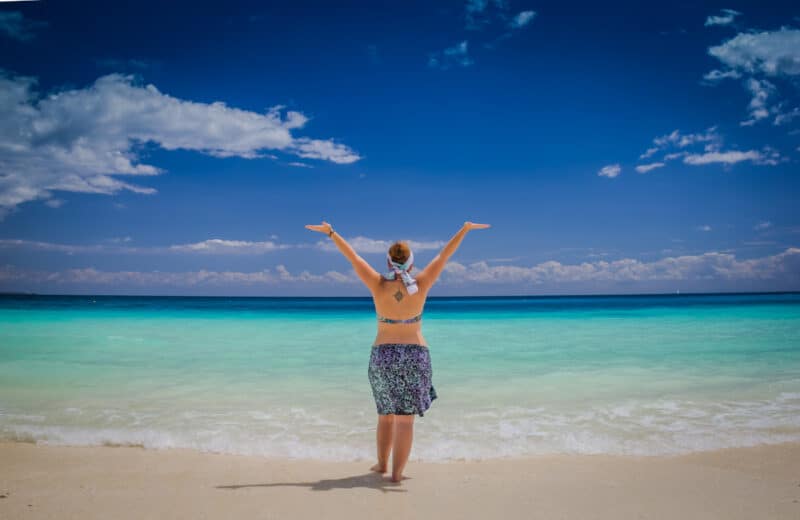 Located off the coast of Tanzania, Zanzibar is one of the most exotic islands to visit in Africa and the Indian Ocean.
Zanzibar is not just an island that's known for its white-sand beaches and crystal clear water – although there are plenty of both to enjoy – it's an island that's also renowned for its culture and history. 
You can uncover the best of the island's rich heritage and colonial history – be it African, Portuguese, Omani or British – in Stone Town, the UNESCO World Heritage-listed capital.
Our Top Recommended Tours:
13. Caye Caulker, Belize
Off the coast of mainland Belize, you can find Caye Caulker, one of the most exotic islands in Central America.
Surrounded by clear water that's perfect for snorkeling and diving, Caye Caulker is a perfect island retreat.
There's only one village on the entire island, and the rest of Caye Caulker is just sand and mangroves.
You can relax and unwind, and enjoy the famously slow pace of life that Caye Caulker and Belize are so famous for. Things happen slowly on Caye Caulker but that's just fine if you're on vacation.
Our Top Recommended Tours:
14. Galapagos Islands, Ecuador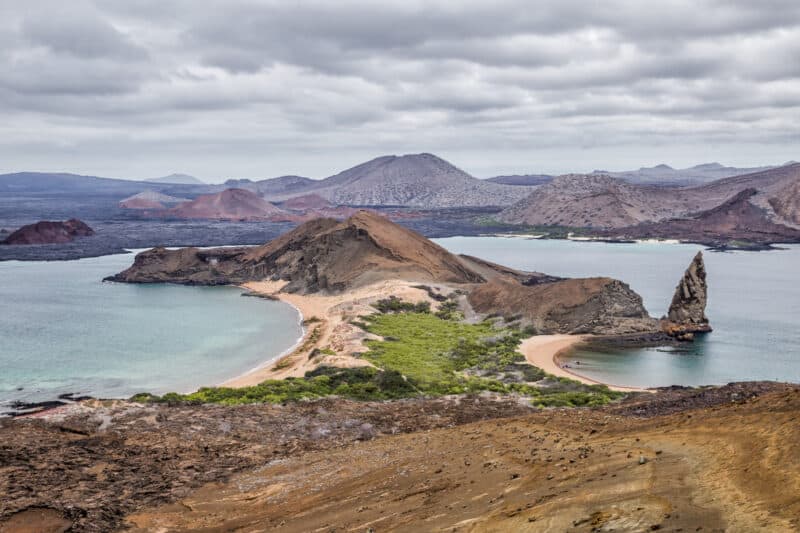 The Galápagos Islands are one of the most famed destinations on the planet because this is the place that helped Darwin to refine his theories of evolution and natural selection in the 19th century.
The Galápagos Islands can be reached from Ecuador, and visiting this unique part of the world is an unbelievable experience.
The Galápagos Islands are remote and isolated, being found several hundred miles away from the South American coastline.
That isolation is what led to the islands becoming so naturally distinct, and today, as it was in Darwin's day, the Galápagos is a haven for wildlife and birds.
Our Top Recommended Tours:
15. Samos, Greece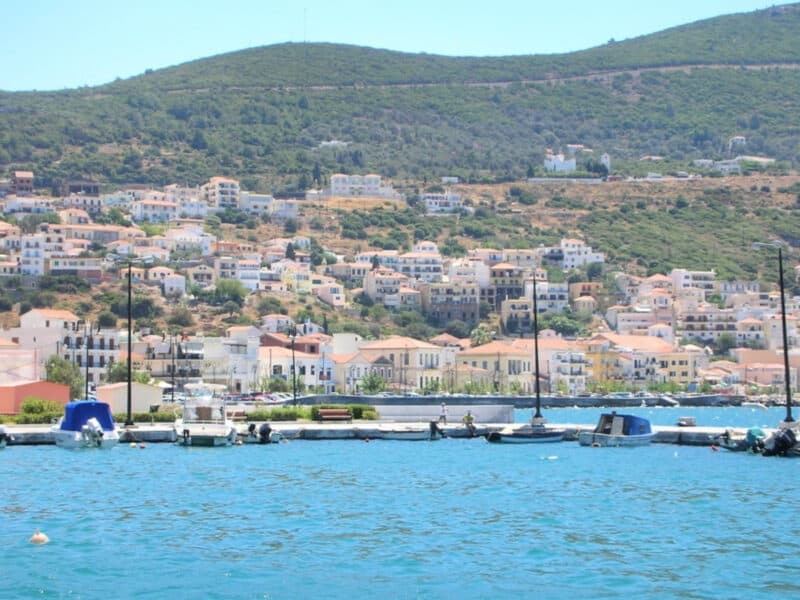 In Greece, one of the most exotic islands to visit is the beautiful island of Samos.
This is the Aegean at its best and you'll find a rugged coastline and charming Greek villages and towns to explore.
As well as being beautiful though, Samos is also a place of history. This is where the iconic Ancient Greek mathematician Pythagoras came from, as did many more ancient philosophers and writers too.
There are ruins across the island, from historic castles to ancient aqueducts, and it's a fantastic place to delve into.
Another great option to experience the most exotic islands in Greece is on a Greek Island Hopping tour. Discover the ancient history with spectacular beaches as you sail around the Greek archipelago.
Our Top Recommended Tours:
16. Penang, Malaysia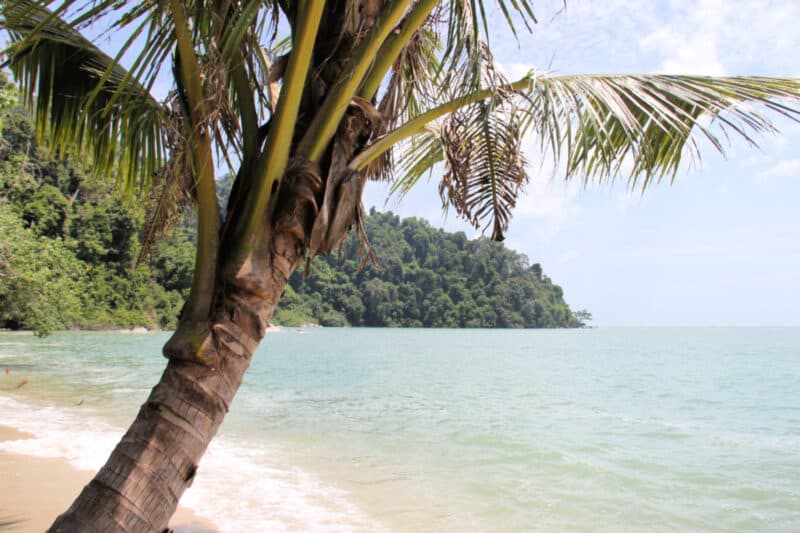 For food lovers, one of the most exotic islands in the world could easily be Penang.
Found on the northwest coast of Malaysia, Penang has some great beaches and a beautiful national park, but most travelers visit to dig deep into the culinary scene.
Georgetown is renowned for the quality of its food, and you can chow down on a range of local dishes, be they Malay, Chinese or Indian.
Whenever we think of our time spent in Penang, our mouths water at the thought of the street food.
Our Top Recommended Tours:
---
You might also like:
Did you like this story? Share it!