Picture a scene from an old western film, where the wary cowboy rolls up into a tiny town and the only thing you see rolling down the streets are tumbleweeds.
Now replace those tumbleweeds with classic cars and sun-kissed Cuban cowboys and you will have found yourself standing in Viñales. Better yet, you may be gearing up for some horseback riding in Viñales Valley.
Viñales, the tobacco soul of Western Cuba, sits in one of the lushest, green valleys we have ever seen. The tiny town has been built up with hundreds of Casa Particulars to house the never-ending stream of tourists that want a glimpse at the rural life in Cuba. The best way to do this is by going horseback riding in Viñales National Park.
Don't leave home without: Lonely Planet Cuba (Travel Guide)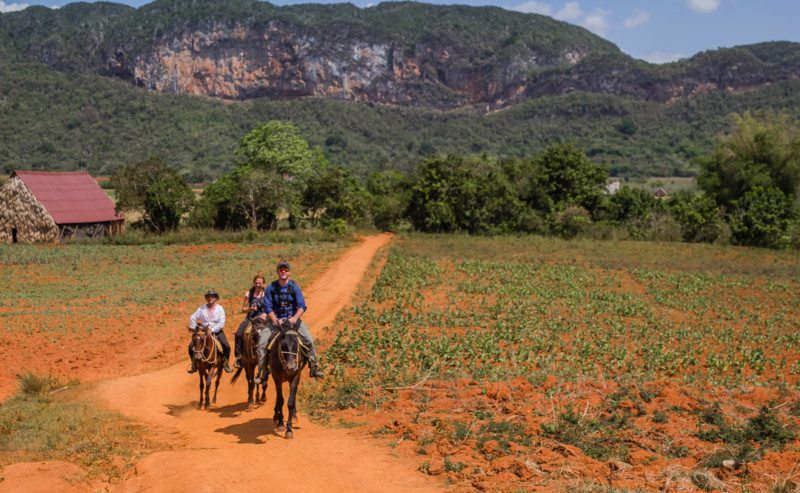 While most people tend to start their horse riding in Viñales between 9 am and 10 am, we opted for an 8 am start in an effort to capture some softer light on the first part of our trek.
We were delighted to find out that we had been booked into a group with only one other person, bringing our group to a total of 4 including our guide. The earlier start also gave us a head start on the bigger groups of people which made our day more pleasant.
Shortly after we walked from our casa to the ranch, we were assigned our horses for the day. I ended up with a feisty, flea-bitten grey horse named Morro. He would prove to be the leader of the group by always taking the lead and knowing exactly where to go on the trails.
David was assigned a stallion; yes a stallion, that was black in color with a white appaloosa blanket on his rump. He was named Peluche (like the gangster).
The horses were all well behaved and quiet, which made for an enjoyable ride. Even when we picked up the pace and trotted for short stints, the horses stuck to the trail, didn't get excited and never tried to rub anyone off on a tree along the way. Of all the horse treks we've done around the World, these were some of the best-behaved horses we have encountered.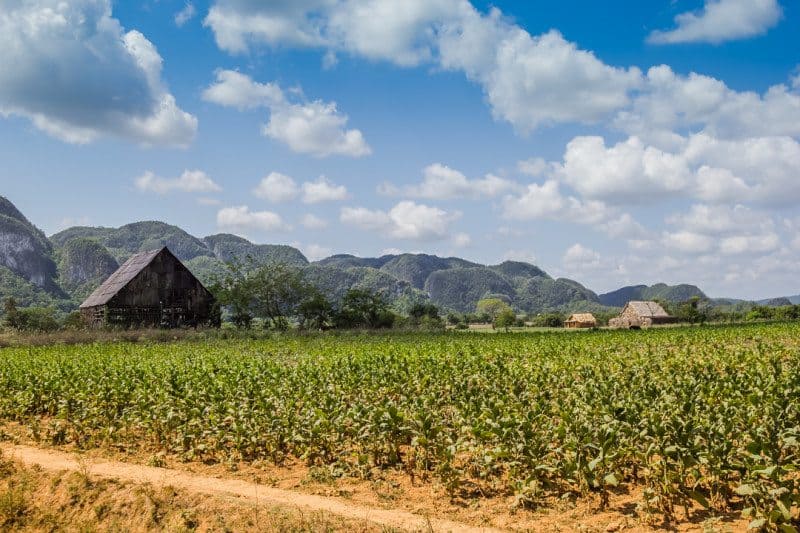 Tobacco Farms in Cuba
After spending 40 minutes horse riding from town into Viñales National Park, we detoured off the main trail and made our way towards a decrypt looking barn standing in the middle of a field of green. We rode the horses to the barn, dismounted and proceeded inside the building to find it was a drying shed for tobacco leaves.
It wasn't long before a young Cuban man appeared from the field and asked that we sit down at the table and smoke a Cuban Cigar with him.
We spent the better part of an hour with him as he showed us how his family produces some of the best natural cigars in Cuba. We talked about life as a farmer in Cuba, how the crops are distributed and what goes into rolling the perfect cigar.
He showed us a trick of dipping the cigar end into honey before lighting it so that the cigar will take on a sweet taste. Then educated us on how to tell if the cigar you are smoking is a good one or a bad one, "it's all about the ash and how it burns", he said. Based on the information he gave us, the cigars we held in our hands were of the premium type.
Cuba thrives as a nation that produces, sells and exports some of the finest cigars in the World. The farmers that tend these tobacco fields have been doing it for generations and take great pride in their ability to harvest the leaves to perfection for cigar production. Sitting with a family and discussing these things was a beautiful moment from our time in Cuba.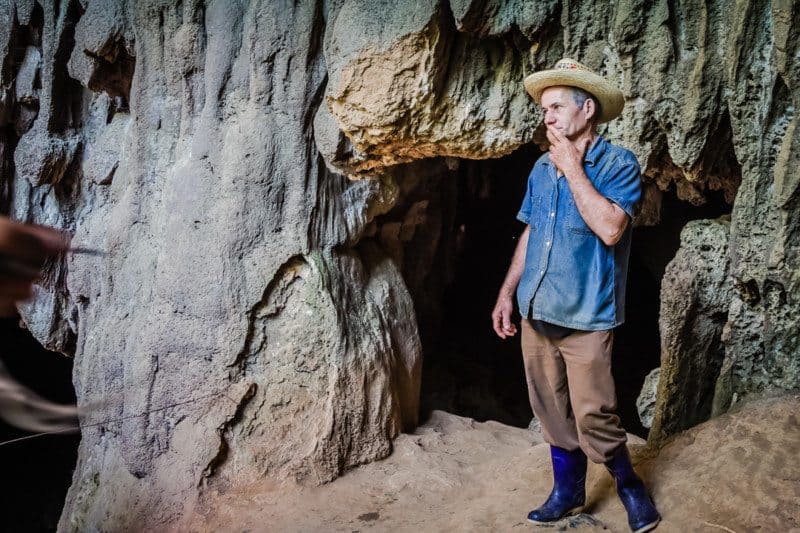 Viñales Valley Cave Visit
The brightness of the tobacco fields faded to black as we headed 250 meters underground to swim in a hidden cave pool. Our local guide, wearing the typical Cuban cowboy hat, walked us deep beneath the ground with no more than a lamp that lit only our feet.
After crossing over three narrow wooden bridges, we made it to the end of the walking path where we caught our first glimpses of the muddy cave pool.
The pool was no more than five feet deep and went 50 meters to the left ending at a great big wall. After a few minutes of playing around in the dark pool, it was time to make our way out of the cave and continue on our horse trekking adventure.
The admission cost to visit the cave is $2CUC per person and payable upon entrance. You have the option of paying the extra CUC to visit the cave or waiting for the other riders in your group just outside. Visiting this particular cave is popular and can get crowded at times because all hikers and horse trekkers go there.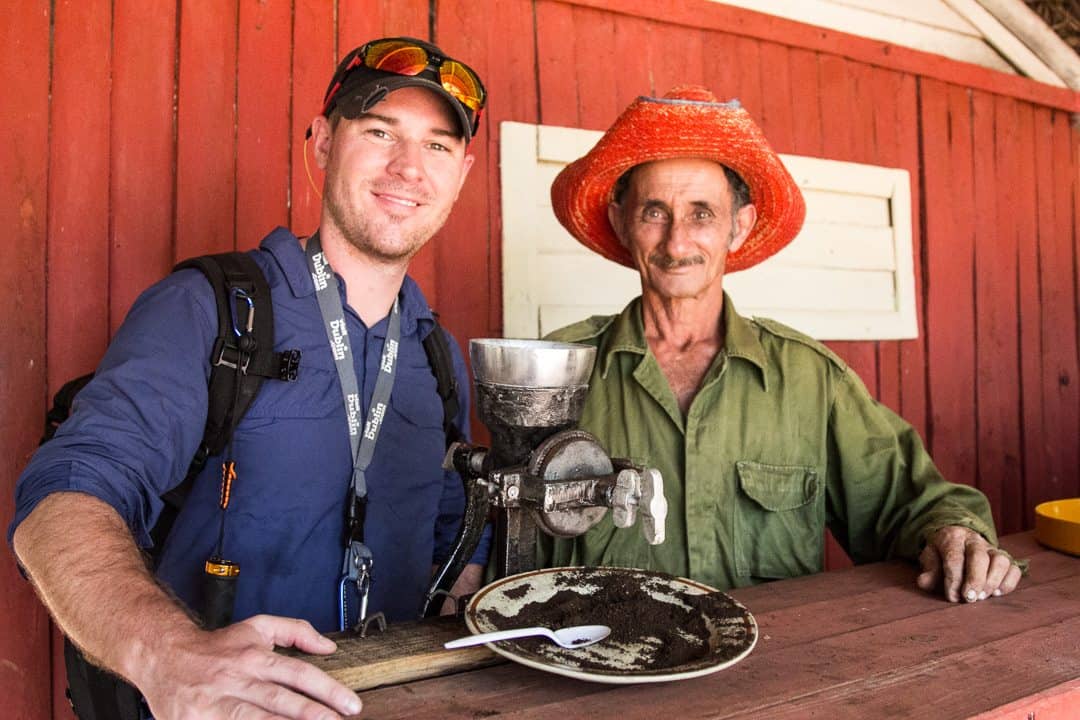 Cuban Coffee Plantation
This stop was a bit more commercial with a bar, covered seating and Cuban music. We headed across the road to a quitter building where a local farmer talked to us about growing coffee in the area, harvesting it and then producing ground roast coffee for the country.
He was the cutest old man we saw on our trek with a toothy grin, sun leathered skin and a well-worn cowboy hat. He smiled, joked, posed for photos and made us hold coffee beans. Then as quickly as he arrived, he jumped up into his bull driven cart and set off down the road with a cloud of dust swirling around him.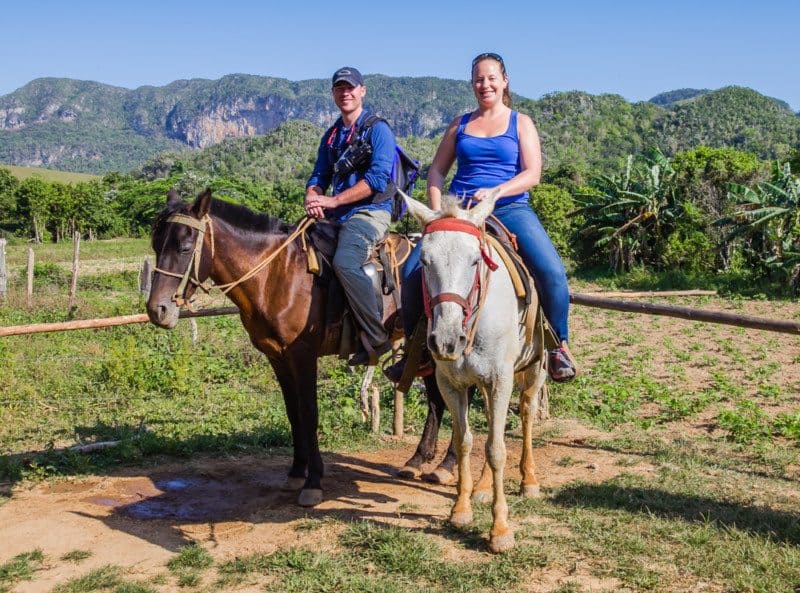 Plan Your Own Horseback Riding in Viñales Cuba
It goes without saying that hopping aboard a horse is the best way to really experience this part of Cuba.
Cost
Horseback riding is regulated all across Cuba, meaning that you will pay a set price of $5CUC per hour, per person. For a regular trek that includes all the steps mentioned above, plan on $20CUC per person for a 4-hour experience.
Time
We spent 4 hours trekking around Viñales National Park and it was just enough time to not feel rushed. The key is to not dawdle at the stops as this just creates urgency near the end of the ride to have your ride finished.
You have to remember that these horseback riding tours run AM and PM, so the horses need a few hours to rest during the hottest time of day before going out again in the afternoon.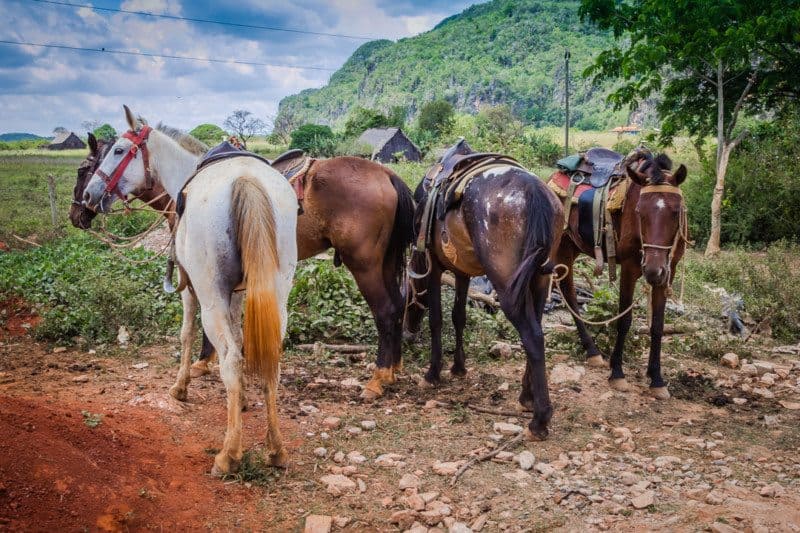 Experience Level
Worried you don't have enough experience with horses to do this trek? Don't be. These were some of the quietest, happiest, complacent horses we have come across in our travels.
They are respectful of even the most naïve riders, stick to the trails and have no interest in running off or misbehaving. Usually, when the guides tell me the horses are quiet, I just smirk knowing better. This time I was wrong, the horses were saints.
Horse Condition
I can't stress enough the importance of being responsible when it comes to animal-driven tourism. It is fine to go horseback riding in Viñales, but make sure that the horses you are riding have been cared for properly and enjoy their jobs. When you go to book your horse trek, request that you are assigned fat, healthy horses and make it clear that you will not pay for a skinny horse.
Skinny, unkempt horses indicate that the money being made is not being put back into the care of the horse. All that said, we only saw a couple of skinny horses during our time in Viñales. The Cubans take pride in their horses and despite the lack of pasture and grain feeds, most of the horses are in good condition, with well-kept feet and enjoy their jobs.
How to get to Vinales from Havana
It is possible to visit Vinales by bus, taxi or tour. We've visited both by bus in 2016 and by a tour in 2017. Not sure how to navigate the bus system? Check out our guide on traveling by Viazul bus in Cuba.
Our recommended Cuba Travel Guide: Lonely Planet Cuba
---
Are you an American looking to visit Cuba?
If you're looking for an experience unlike any other in Cuba, we can highly recommend booking a tour sold by or operated by the lovely folks at Your Cuba Travel.
We work closely with them to operate our photography tours and guarantee you'll have an unforgettable experience with them.
---
More on Cuba:
Did you like this story? Share it!