Within minutes of arriving in the airport we were swept away by a sea of over eager taxi drivers hoping in vain that we would book their service as the clock rang 4am. Stepping through the doors into the steamy air outside of Havana, Cuba awakened a lust for the tropics that had sat quiet for too long. I knew in an instant we would love Havana. -Lina Stock on arriving in Cuba
Havana tours by 1950's classic car are the only way to explore this colonial city in the Caribbean. See the sites that made us fall in love with this conflicted city that we now hold easily on our top 5 favorite cities in the World list.
Subscribe to our Youtube Channel for more travel videos.
Enjoy exploring Havana, Cuba with us.
Highlights of Havana Tours in Cuba
Explore Centro- the most densely populated district in the capital city. These streets come alive as the sun goes down. You will feel as if you stepped right onto the set of a 1950's movie. The life of Havana Centro is the pulse of Cuba.
The place where every day life goes on away from the tourist areas. The place to see and connect with the people of Havana in a neutral environment. Just next to Centro is El Barrio Chino, AKA Chinatown, with a unique mix of cultures that is immediately apparent in the restaurants and homes. Odd fact, however, there are no Chinese restaurants in Chinatown.
Heading over to Miramar and Siboney, Havana's upper class neighborhood, shows the faces of many summer homes and country clubs. The architecture is grand, the cars shiny and the streets spotless. The people that live in this area hold the wealth of this third world nation.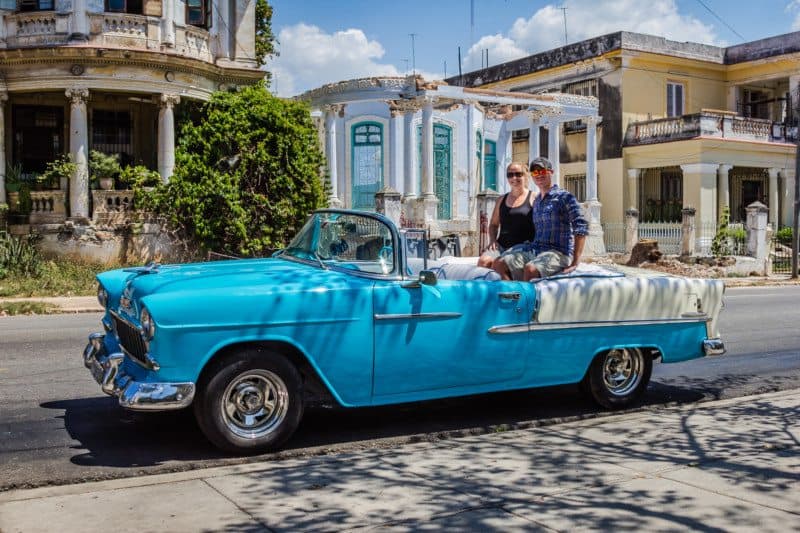 Malecon – No journey to Havana would be complete without a stroll along the Malecon, where you can walk along the sea wall. This coastal boardwalk is over 4 miles long and attracts young and old. Enjoy people watching and enjoy the ocean. You may even catch a glimpse of the locals fishing.
Old Havana Tours – an UNESCO World Heritage Site, Old Havana is the historic heart of the city. With old buildings, classic streets and rich culture, if you hit it at the right time you will see the street dancers on stills. This district is a great place to grab a bite to eat and sit in the central park where you can watch locals dancing to live Cuban music. This is also the place to scope out and hire a classic car for the ultimate tour of Havana.
---

Looking for more to read about Cuba?
---
Resources for Planning Your Trip to Cuba
Recommended Guide Books For Cuba: THE BEST ***** Lonely Planet Cuba (Travel Guide)
The Best Cuba Map: Cuba (National Geographic Adventure Map)
Why not learn to speak Spanish? Learn Spanish quick and easy with Rosetta Stone.
Search for Flights: We booked our flights to Cuba with CheapAir and can recommend. Check flight prices and schedules to Cuba.
Find Accommodation in Cuba: Read reviews and check prices for hotels in Cuba at TripAdvisor or AirBnB. (Book today at AirBnB and get $40 off!)
Travel Insurance: We use for Allianz for travel insurance and have since our first trip to Mexico in 2003. They've been there for us on our adventures – and many friends and readers – multiple times over! If you want to book with Allianz Travel Insurance, simply use this link to get their travel insurance!
Disclosure: This post contains affiliate links. When you click on the link and make a purchase, we receive a small commission at no extra cost to you. Thank you!