Booking Viazul bus tickets in Cuba can seem like a daunting task and I'd be lying if I said it won't consume some of your precious vacation time.
However, it is an affordable and efficient way to get around Cuba so it is worth the small amount of hassle you will encounter to purchase tickets for your routes.
Prior to leaving for our trip to Cuba, I scoured the internet trying to find a way to organize travel inside the country. I came up with a few things that looked promising but in the end, failed and we were forced to fly to Cuba without any plans.
While many forums told us this was just how Cuba works, I was nervous that we wouldn't be able to travel to the places we wanted, on the days we wanted.
Don't leave home without: Lonely Planet Cuba (Travel Guide).
---
Viazul vs Transtur: Bus Tickets in Cuba
---
While the bus ticket system that I found online for Viazul, Cuba's main bus company, leads you to believe that you can book your tickets online, every single route I tried to reserve said sold out.
You can imagine this sent me into a state of planning panic but decided to believe the many forums in that we could book things once we are on the Cuban ground.
All of that advice proved to be right. We had no problem booking bus tickets for our desired two week Cuba itinerary once we were in Cuba. Don't panic, just go with it because it's just the way it works in Cuba.
Planning a trip to Cuba? We booked our flights to Cuba with CheapAir and can recommend. Check flight prices and schedules to Cuba.
Booking Bus Tickets in Cuba on Viazul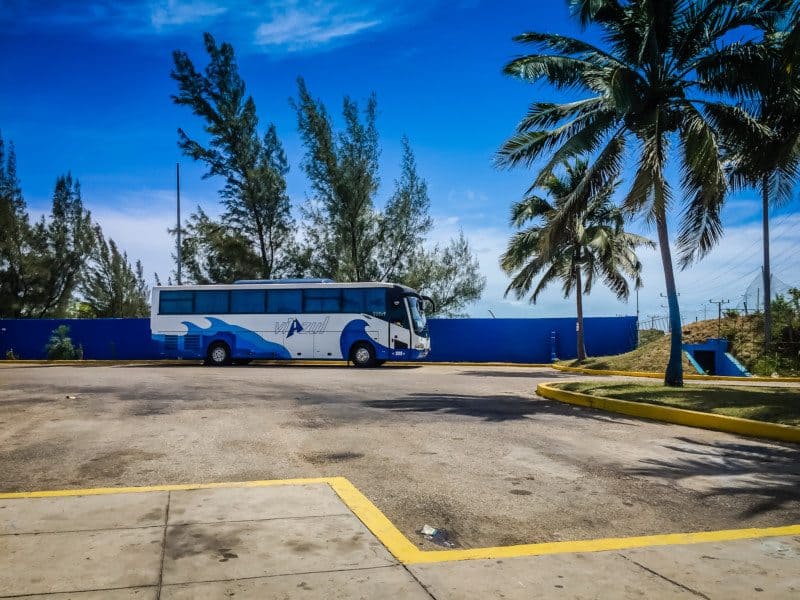 While not being able to book bus tickets in advance can be cumbersome and pain, the process of purchasing tickets at a physical location is pretty painless.
The first thing you want to do when you arrive in Havana (assuming you start your travels here) is ask about taking a taxi service to the Viazul bus station. From Centro Havana, a taxi cost us $12CUC round trip from our casa to the bus station.
Hot Tip: Ask your taxi driver to wait for you so you don't have to renegotiate with someone else.
Once you arrive, you will want to queue in the ticket purchase line. This will undoubtedly be the most frustrating part of the process as Cubans don't understand the concept of queuing and frequently cut the line and refuse to stand at the back.
You'll eventually get to the ticket counter. Be prepared in advance with your bus route, date and desired time written on a piece of paper in Spanish as most agents do not speak English. If you speak Spanish, then no need to worry.
Bus fares in Cuba (As of Jan 1, 2020)
Havana – Varadero $10 (3 hours)
Varadero – Santiago de Cuba $49 (15 hours)
Santiago de Cuba – Baracoa $15 (4 hours)
Santiago de Cuba – Trinidad $33 (11 hours)
Trinidad – Havana $24 (6 hours)
Havana – Viñales $12 (3.5 hours)
Viñales – Trinidad $37 (12 hours)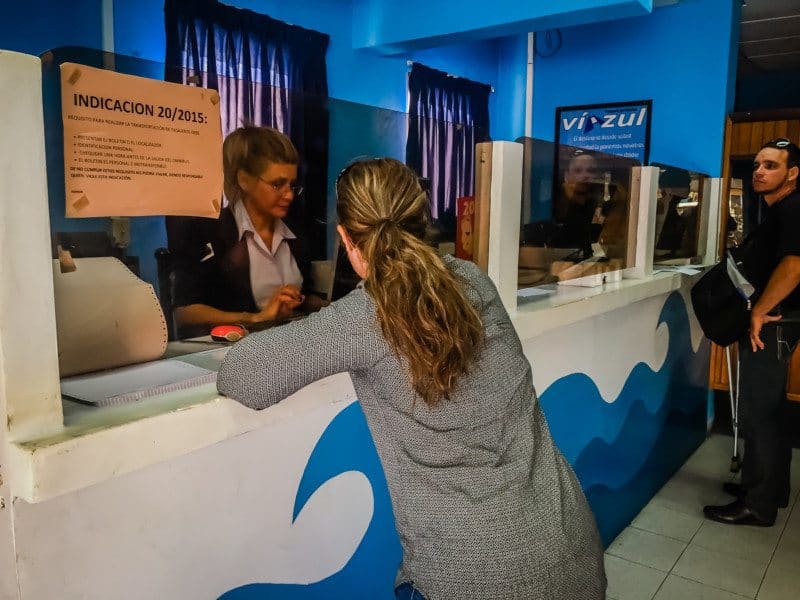 Present your passport and let the agent know the information on the bus trip you want. She will check availability and then book the ticket for you.
The tickets are printed on plain paper and are actually a receipt, not your boarding ticket. Do not lose this piece of paper; you need it to check-in the day of your bus trip when you receive your real ticket. Pay for your tickets with cash, only in CUC.
You're all set and just need to show up on the day of your Viazul bust trip at least 20 minutes in advance to check-in. This counter will generally be inside the station near the boarding gate.
The clerk will take your receipt and issue you an actual bus ticket. Once the bus arrives, be aware that there is no assigned seating and be on the ball if you are traveling with someone that you want to sit with. If you are not, you may have to ride separately.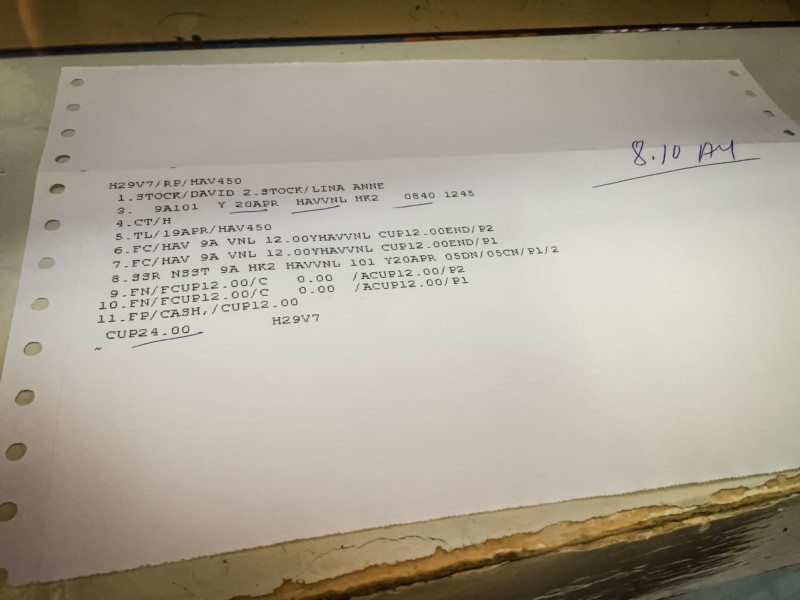 Despite not being able to book in advance, the process is quite simple. The worst part is taking the time to stand in line when purchasing the ticket but the ride is actually quite pleasant and easy.
Hot Tip: When you arrive in your new destination, hop right into the ticket purchase line and buy your ticket to the next destination. This will save you a return trip to the bus station and in most cases ensure that you will have a seat on your desired date.
Booking Bus Tickets in Cuba on Transtur
If you are looking to book a Viazul ticket and find your route is sold out for the date you want, it is worth looking into a possible Transtur route service before committing to an overpriced taxi collectivo.
Transtur is a viable, affordable option that offers some, not all, of the same routes that Viazul runs for the exact same price and usually in shorter completion time.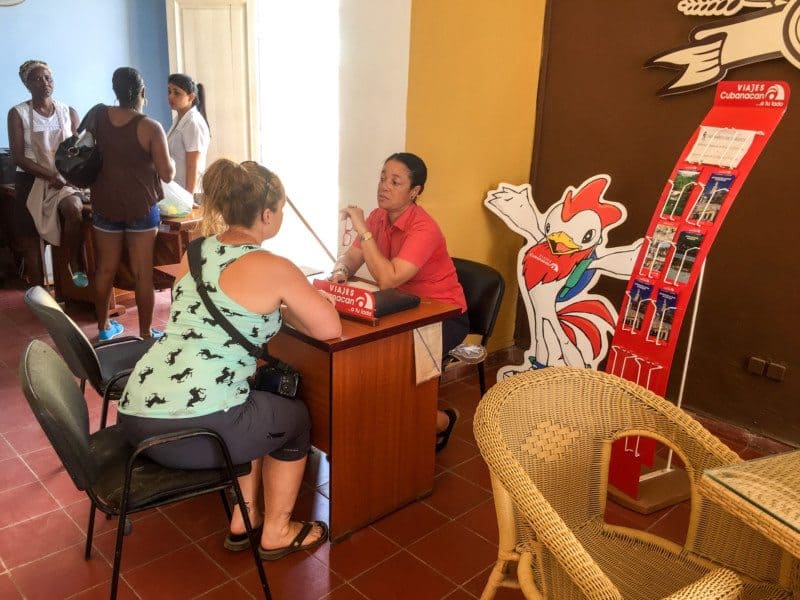 Transtur does not have a posted nor set schedule and they do not run out of every city or between all the popular routes like Viazul does.
However, when they do operate between a route the prices are equivalent to Viazul and the routes tend to be a bit shorter because they make fewer stops between destinations.
We used Transtur to travel from Viñales to Trinidad because it saved us 2 hours of travel time. The cost was the same ($37CUC) and the bus was of the exact same quality, a coach bus with air conditioning and reclining seats.
The bus made a potty stop 3 hours in and then a lunch stop around noon at a nice, affordable bus stop with a restaurant and a little park with many animals to look at.
Transtur buses can be booked through any Cubanacan Travel Agency office around Cuba. They will be able to tell you which routes are available, the cost of the tickets, travel time a ticket cost.
A Note About the Taxi Collectivo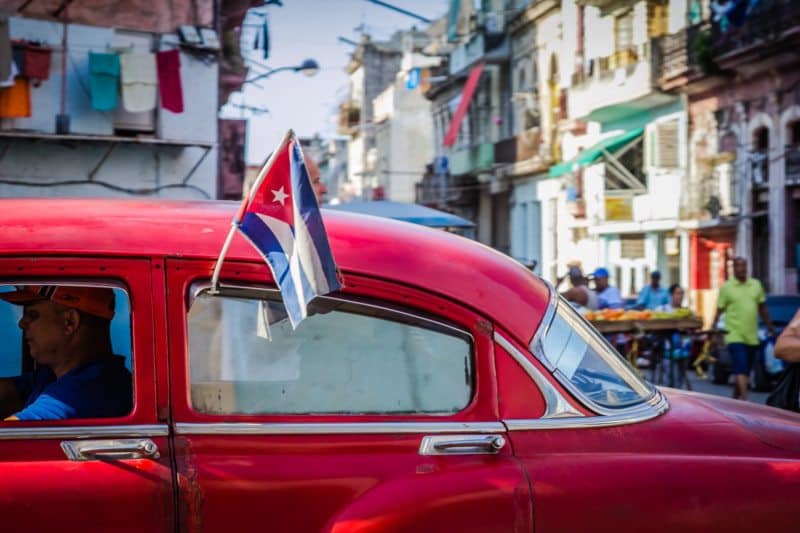 Every time you visit a travel agency or a Viazul bus station in Cuba you will be accosted, in a polite way, by many enthusiastic taxi collective drivers.
They have all the lines in the book and are very eager to tell unsuspecting tourists that they can take you to any of the most popular destinations, Havana, Cienfuegos, Viñales, Trinidad, Varadero, Havana…… for the same price as the bus and much faster.
Don't fall for this. Do your homework, check out the guidebooks as they all list bus prices and do the math. The taxi collective really only works out to be cheaper if you have a group of 4 and can split it.
The hard sell will involve telling you that taking Viazul is too much work and they drop you at the bus station that is so far away from things and you will have to take a taxi.
This is not the case in 90% of the cities and for us, we only had to take a taxi to our casa from the bus station in Havana.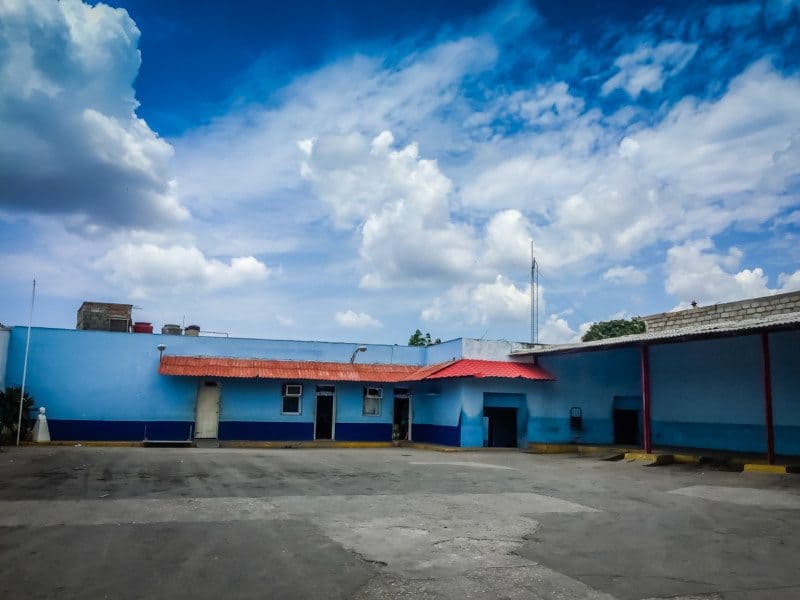 I am not saying you shouldn't use them, they will certainly be faster than taking the bus and offer you the chance to stop off when you want for bathroom breaks, lunch and photo stops but just be warned that the line they sell isn't entirely true.
If getting from point A to point B for the best price is your main goal, take the bus.
Want something other than Viazul?
A great company we use all the time is G Adventures. Below is a list of tours in Cuba you should check out. Take those tours your friends and family members will be jealous of.
Top Tours in Cuba
G Adventures – Cuba Libre 8 days, Havana to Havana. Walking through the pincushion hills, wandering amongst orchids and lush mountain coffee plantations—see another side of the island on this week-long tour through the 'Garden Province' of Cuba. Tour a tobacco plantation, snorkel crystal-clear waters full of colorful coral and search for the pirates of lore along the Guanahacabibes Peninsula. Soak up local culture in a homestay for an immersive experience that travelers rarely get to know. Let our experienced CEO lead you off the beaten path and discover the cultural treasures of Cuba.
G Adventures – Cuban Rhythms 8 days, Havana to Havana. For too many people, Cuba is nothing more than a beach resort. That's crazy; the island practically buzzes with energy and you should do likewise – get moving. Journey through the culture-soaked streets of Trinidad and Old Havana for your fill of drinking and dancing. The music here pours out of open windows. Hit the beach and explore the outdoors, then connect with the locals in homestays and make friends for life as you hit the sites with other young people like yourself. Boring? Impossible!
G Adventures – Cuba Explorer 9 days, Havana to Havana Explore a side of Cuba that few rarely get to experience on this nine-day adventure. Cruise Havana's history-infused streets in a classic car and stroll along Trinidad's cobblestone avenues to the rhythms of music floating from open windows. Tour a tobacco plantation for a taste of iconic Cuban culture and luxuriate in the view of the island's rolling western hills. Travel by private air-conditioned vehicle is well-paced, so you're refreshed and ready to explore the island's vibrant culture and tropical airs.
Check out all of Gadventures tours in Cuba today!
More on Cuba: