Cuba is a beautiful country that always leaves its mark on travelers. So much so that a lot of people keep going back for more. It just has anything a visitor may want: interesting and gorgeous historic cities, beautiful beaches, lush nature, fantastic culture, fun music, tasty food, and welcoming people. I surely appreciated all of it, but to me no trip is actually complete without a few good, exhausting hikes and the hiking in Cuba delivers.
Hiking is my favorite way of coming close to nature, of breathing clean air, of feeling at peace with myself and with the world surrounding me. It is like a cure to come to terms with the stress of my daily life. One can thus easily imagine that I was very glad to find some great hikes in Cuba.
So, here is my short guide to hiking in Cuba.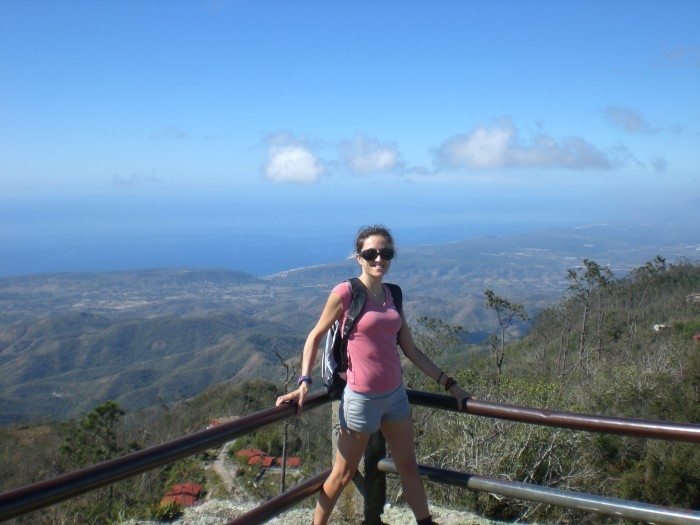 Hiking in Cuba- La Gran Piedra
Not far from Santiago de Cuba, La Gran Piedra is a huge rock weighting 63000 tons, on the peak of the greenest mountain range in Cuba at 1234 meters above sea level. Compared to the rest of the region, the area is pleasantly cool. The visitors center is reached via a very steep, 12 km road.
My recommendation is to hire a good taxi to get there, as no bus will ever make it though such a steep road. The Cuba hiking at La Gran Piedra is not difficult in terms of the trail, but it is breathtaking. Some 500 steps lead from the visitors center to the top, from where on clear days the view is simply spectacular. Going down, the trail leads to some of the oldest coffee plantations in the country.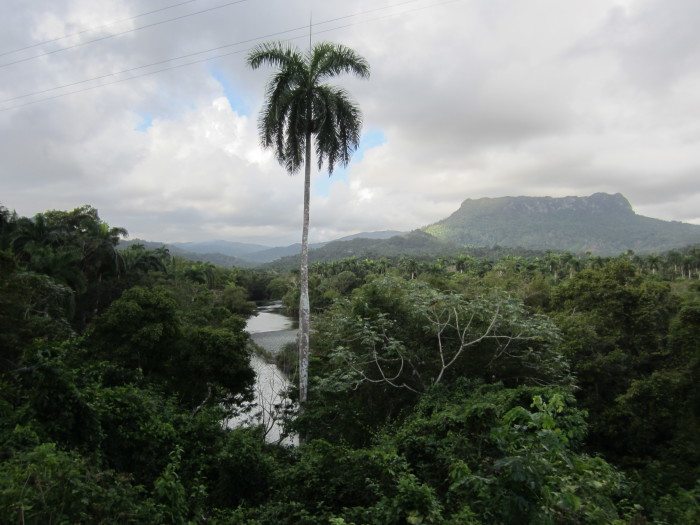 Cuba Hiking – El Yunque
Hiking El Yunque is literally a rite of passage for anybody visiting Baracoa, in the Guantanamo province. It simply is a must, for locals and for tourists alike. The area of El Yunque is very tropical and the vegetation so thick that access is only allowed with one of the guides of the park. Mine wasn't exactly the friendliest one, but I still had a good time.
The hike starts at the visitors center, and in order to reach the trail I had to cross a river. I was lucky to find a cayuca, but I saw others having to take their shoes off and cross on foot. The river, though, is so clean and inviting that I would not have minded that.
Hiking in Cuba in El Yunque is a difficult one, despite not being too long. It takes less than 2 hours to get to the top, and roughly the same amount of time to go back. The problem is that it is very humid, so the air is somewhat heavy to breathe; it is oppressively hot and it rains pretty much every day.
This means that the entire trail is very muddy and slippery. I had very good hiking boots on, yet this did not save me from slipping down a few times – worry not, this is also a rite of passage, apparently! My other tip is to wear a swimsuit, as on the way back there are some lovely natural pools where one can swim.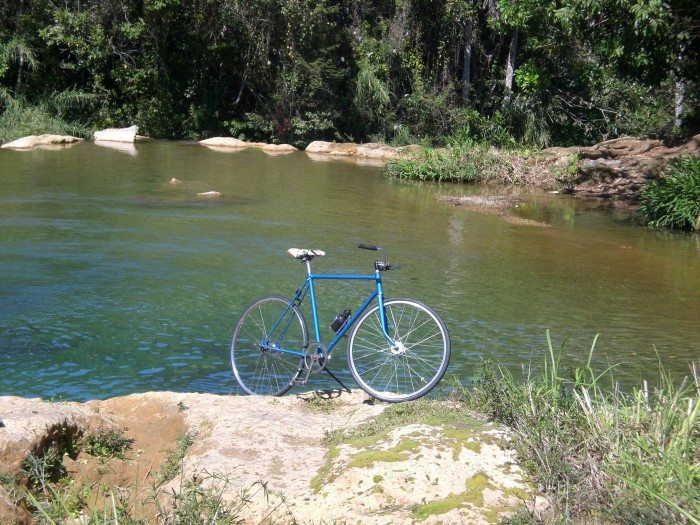 El Nicho
This actually is the name of a gorgeous system of waterfalls of the Rio Hanabanilla. However, there is a short hiking trail that offers the chance to do some excellent birdwatching, to explore some nice caves and eventually jump in the cold waters of the amazing natural pools.
Salto de Caburní
Not far from Trinidad, in the province of Sancti Spiritus, Topes de Collantes is a great natural park. My favorite trail here is that leading to the Salto de Caburní, where the Rio Caburní ends in a 62 meters high waterfall that drops directly into a lovely natural pool.
The trail is 5 km long, the first half of it is all downhill, until the Salto de Caburní. My tip is to wear a swimsuit and go swimming in the freezing waters before going back up as the heat is so strong that those cold waters will be regenerating.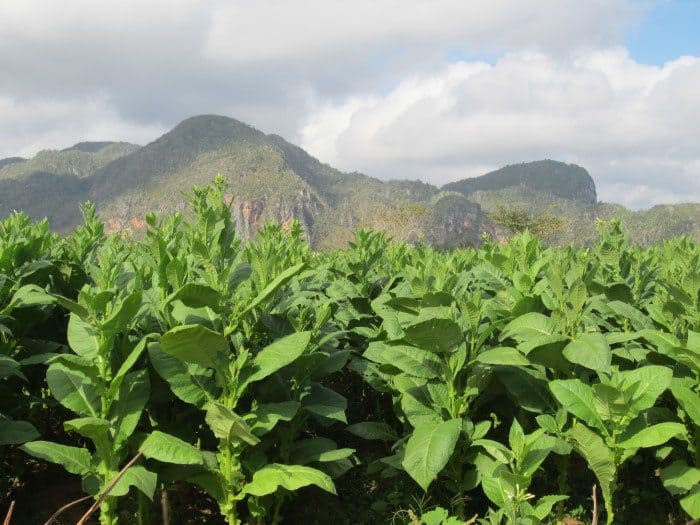 Valle de Viñales – Cuba Hiking
Viñales National Park, in the province of Pinar del Rio, the most Western province of Cuba, has some of the best hiking trails in the country. The unique environment of the Carsic mountains, known as "mogotes", are isolated steep-sided hills that have a rounded, tower-like shape, surrounded by flat alluvial plains. The tobacco plantations, the many caves in the area and the rich cultural heritage of the valley make it a perfect place to go hiking in Cuba.
Viñales Valley became a UNESCO World Heritage Site in 1999 and National Park in 2001. This is a day long hike, that goes near the mogotes, through the tobacco plantations, the caves and reaches places such as Los Aquaticos, a small community who believes in the healing power of water. The hike itself isn't hard, but the heat and the sun are very strong and there is little shade. I recommend carrying sunblock and lots of water.
More on Cuba:
---
Resources for Planning Your Trip to Cuba
Recommended Guide Books For Cuba: THE BEST ***** Lonely Planet Cuba (Travel Guide)
The Best Cuba Map: Cuba (National Geographic Adventure Map)
Why not learn to speak Spanish? Learn Spanish quick and easy with Rosetta Stone.
Search for Flights: We booked our flights to Cuba with CheapAir and can recommend. Check flight prices and schedules to Cuba.
Find Accommodation in Cuba: Read reviews and check prices for hotels in Cuba at TripAdvisor or AirBnB. (Book today at AirBnB and get $40 off!)
Travel Insurance: We use for Allianz for travel insurance and have since our first trip to Mexico in 2003. They've been there for us on our adventures – and many friends and readers – multiple times over! If you want to book with Allianz Travel Insurance, simply use this link to get their travel insurance!
---
About the Author:
Claudia Tavani is from Cagliari (Sardinia) and is obsessed with traveling. A former human rights lawyer and academic, after devoting her life to the protection of cultural identity, in November 2013 Claudia decided to give in to her biggest passion and started traveling around Latin America, and she has hardly stopped since. Blogging came as a natural consequence, for Claudia wanted to let her family and friends be updated with her adventures. You can follow her at:
My Adventures Across the World
,
Facebook
and Twitter @Claudioula