Diving Sipadan Island is one of the Top 100 Travel Adventures in the world. View the list and follow our mission to complete them.
There are only a few places on earth where you can see huge schools of whirling barracudas that engulf you, large sea turtles of different species, lurking sharks, and jammed-packed reef of angelfish, triggerfish, morays, and gobies all in just one dive.
During Sipadan diving, you will see this with every dive, many divers bring home stories of large turtles, bigger than a Volkswagen Beetle, or even stories of large groups of hammerhead sharks coming up from the deep blue depths.
There's no wonder why Sipadan Island is recognized as the best diving in Malaysia and amongst the best in the world.
---
Ultimate Sipadan Diving Guide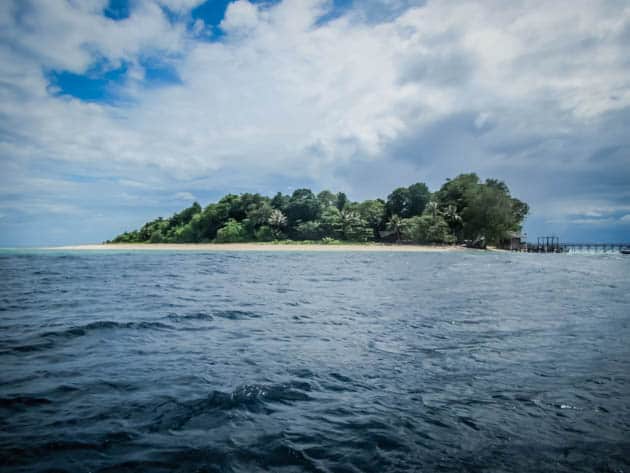 Sipadan Island
Sipadan Island is a marine paradise for divers tucked in the Celebes Sea, 35km south of Semporna off the coast of Sabah, Borneo, Malaysia and is internationally recognized amongst divers.
Unlike the other islands off Sabah's coast, Sipadan is an oceanic island and was formed by living corals growing on top of an extinct undersea volcano, which rises 600m from the seabed. The island itself is covered in dense tropical rainforest and rimmed with stunning white sand beaches.
The location of Sipadan makes it the center of the richest marine habitat in the world, the heart of the Indo-Pacific basin. More than 3000 species of fish and hundreds of coral species have been classified in this ecosystem.
Sipadan is well known for its unusually large numbers of green and hawksbill turtles and it is not unusual for a diver to see more than 20 turtles on each dive.
Related Article: The Best GoPro Accessories for Adventure Travel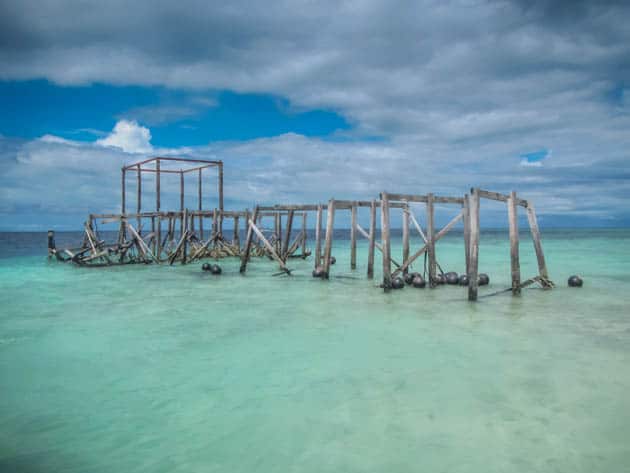 It also boasts a residential school of barracuda and big-eye trevally, which often gather in the thousands forming tornado-like formations, this being one of the highlights of every diver's Sipadan trip.
As if that is not enough, divers have the possibility of seeing pelagic species such as mantas, eagle rays, scalloped hammerhead sharks and whale shark; making each dive at Sipadan a thrilling event.
It is not only the big fish that amaze divers at Sipadan but the macro life is equally a highlight. Garden eels, leaf scorpion fish, mantis shrimps, fire gobies, and various pipefish are guaranteed at various dive sites.
This diversity and abundance of marine life gives Sipadan its reputation of being one of the top five dive locations in the world.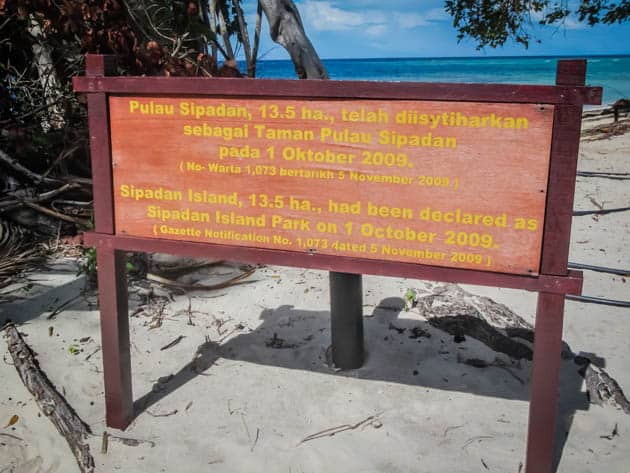 The diving wonders of Sipadan are easily accessed from Mabul and Kapalai Islands. You are no longer able to stay directly on Sipadan Island, so if you wish to dive there you must stay on either Kapalai or Mabul and visiting Sipadan Island requires a permit.
Since 2004 thee has been a daily limit on permits in an attempt to preserve and protect the island's fragile ecosystem.
Permits are limited to 120 permits per day in total, meaning you should make arrangements far in advance if you wish to dive at Sipadan during your visit. The application for permits is done on your behalf by the dive shop you choose to dive with.
The diving is quite good at the surrounding islands with more dive sites then you will be able to dive on a stay.
A recommended length of stay is 4-14 days and you may apply for multiple Sipadan permits, there is just no guarantee that you will get one. However, the minimum stay requirement for a chance to dive Sipadan is 4 days.
Permits issued are only for Sipadan Island and you do not need a permit to dive around the other islands in the area.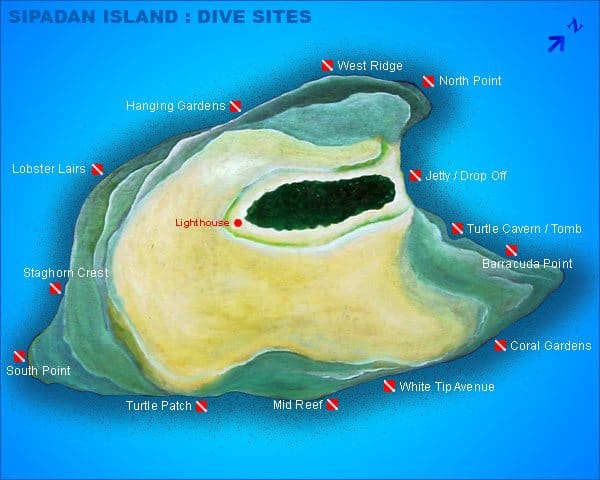 Sipadan Dive Sites
Overall, Sipadan has twelve dive sites and each has its own distinctive view of coral to aquatic life. Sites include the Coral Gardens, Turtle Cavern, Barracuda Point, Sipadan Jetty, South Point, White-tip Avenue, Turtle Patch, Staghorn Crest, Lobster Lair, Hanging Gardens, West Ridge and North Point.
The conditions at Sipadan are ever changing, so you do not get to select the sites you want to dive. Your dive sites are based off the currents that change frequently from day to day and hour-to-hour.
They can even change on your boat ride out from the island. So do not get your heart set on diving one site. Many of times you only can dive a few dive sites due to the overwhelming currents and conditions.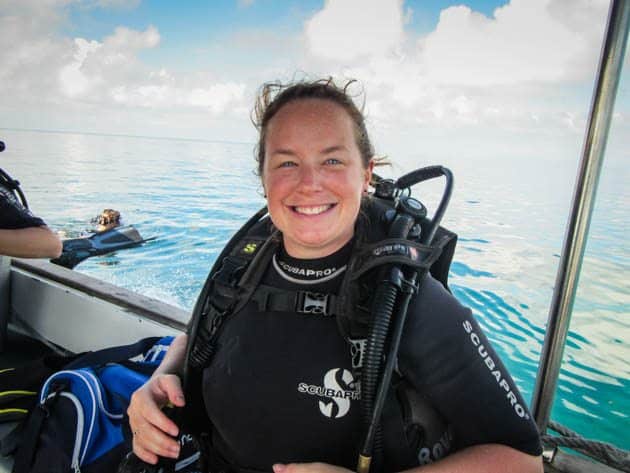 Our Dive Trip to Sipadan
With Sipadan permits being sought after and limited, the dive sites do their best in maximizing your opportunity for diving. This means you will likely have a four-dive day planned. It is a lot of diving and you should be prepared for it, as they are not laid-back recreational dives.
The currents are strong and require physical work at times but the diving is extremely rewarding. The dive masters are incredibly knowledgeable of the dive sites and have the dive plan for Sipadan days mapped out perfectly with adequate rest and surface intervals to make the day enjoyable.
The day of our permit was a current gamble day, where we literally would have currents change direction in between dives and have to scout other dive sites enroute.
This made for an interesting day but we saw some amazing things, even though we dove one site twice. It was different both times. Here is a breakdown of our day by dive site.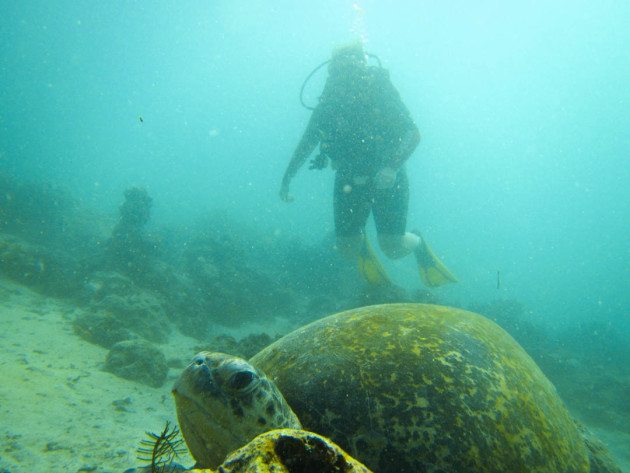 Dive 1- South Point:
South Point is famous for its colorful wall of coral formations and pelagics such as large manta rays and hammerhead sharks. The colorful wall drops straight down into the dark blue unknown.
What did we see? Grey reef sharks, Unicorn fish, White Tip reef sharks, large coral fans, Hawksbill turtles, Green turtles, several Napoleon Wrasse, Red Tooth Triggerfish, several Moorish Idols and a host of massive marine life.
This wall drop reaches maximum depths of 600 meters. We started our day with a 30-meter deep dive on this wall. Visibility was a moderate 10-15 meters with a snow-like look due to the currents.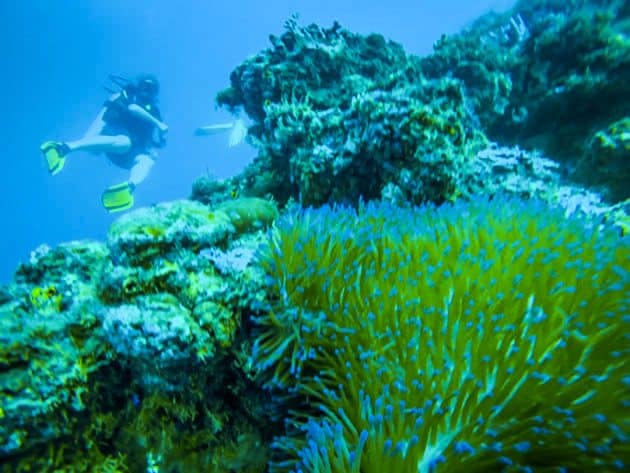 Dive 2- Hanging Garden:
Hanging Garden is one of the best dives of Sipadan Island. This endless reef wall is very colorful and is covered in soft corals, enormous sea fans and large barrel sponges.
What did we see? White tip reef sharks, more Napoleon Wrasse, loads of Hawksbill and Green Turtles, several varieties of box and puffer fish. We couldn't possibly list out everything we saw, just know it's good, very good, diving here.
Again, visibility was moderate with same conditions as the first site, 10-15 meters and snow-like. Our maximum depth was 25 meters.
Dive 3- Barracuda Point:
Barracuda Point is regularly ranked amongst the top 5 dive sites in the world. This top ranking dive site has a great barracuda shoal (thousands) often seen in a tornado-like formation.
What did we see? Jack Fish, Giant Trevally, Grey reef sharks, Unicorn fish, several White tip sharks, Bluefin Trevally, huge Parrot fish, huge Green and Hawksbill Turtles.
Portions of this dive involved navigating a strong channel current and at one point we all thought we would not make it across. The straight current pushed you towards a wall plunge where a notorious down current acts like a waterfall, pulling you into the depths.
It was very strong and took a lot of hard work to cross but we all made it and it was a great adventure. Visibility was better here once we got past the current channel to the reef and our max depth was 17 meters.
Dive 4- Barracuda Point:
Yes, we dove this site again due to the ever-changing currents. What did we see? We saw pretty much the same as the previous dive, but in different concentrations.
On this dive we encountered a group of thousands of Jack Fish that we spent time swimming through and playing with. It was one of the highlights of our day.
Visibility was the best on this dive as we stayed shallow and over the reef for the dive, no current crossing this time! Maximum depth was 16 meters.
Overall View on the Sipadan Diving
Four dives was a lot of diving in one day for us. However, the surface intervals were spent on the island and we had tea, water and food on offer between each dive. The island has a small area with facilities including bathrooms, picnic tables and beach chairs.
The rest of the island is a military base with armed men and machine guns.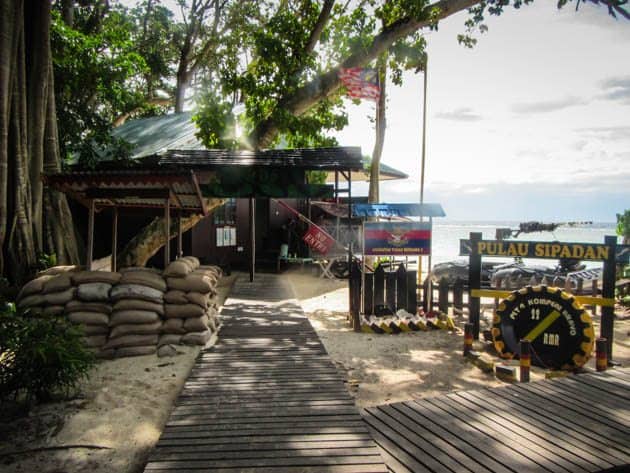 ~ Military base on Sipadan ~
Armed guards watch your every move from both sides. These are not guard guys with little guns, they are equipped with fully automatic machine guns making sure every boat and person is accounted for. When you first arrive on the island, all permits and identification is verified prior to your first dive.
Swimming with the large groups of Jackfish is like no other experience. You will get consumed in a large rotating fish tornado. Many people superman though them or try to do a special dive though the fish.
We even lost one of our divers for ten minutes in the large mess of fish. On our day the visibility was poor and the currents were strong due to a storm system that hovered in the area that day. Although we were told currents are always a challenge in this location.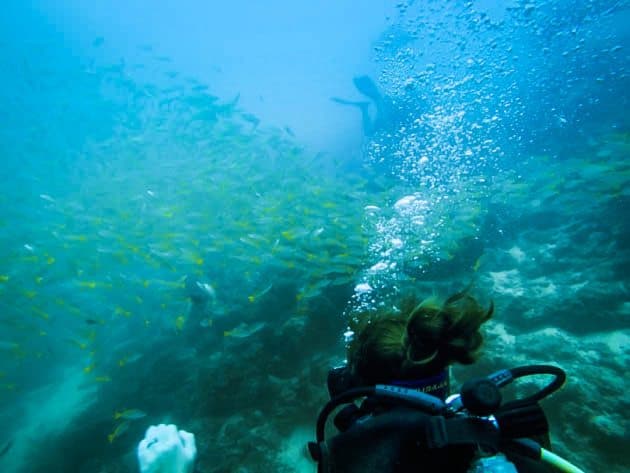 Best Time to Dive Sipidan
Always! Scuba diving Sipadan is year round with the best time being between April and December. You will enjoy the surface intervals as temperatures throughout the year range between 21c and 32c (70f-85f), it's like bath water.
Sipadan Island is not known for the clearest waters for visibility because of the currents. It can range from 5 meters to 50 meters, depending on the day.
Sipadan Island takes and never gives back…..
After diving for a couple days I had lost water weight in my fingers from the salt water. We were diving along a large wall that dropped off 600 meters into deep dark water, looking for aquatic life along the reef while keeping an eye out for hammerheads.
I noticed something floating near my hand and instinctively pulled my hand away. Within a second I realized what it was and I quickly made a grab at it with my hand but that only propelled it farther away.
As it flipped around in the water I realized it was my wedding band. As it sunk out of my reach, I gave a yell into my regulator to Lina, who was under me.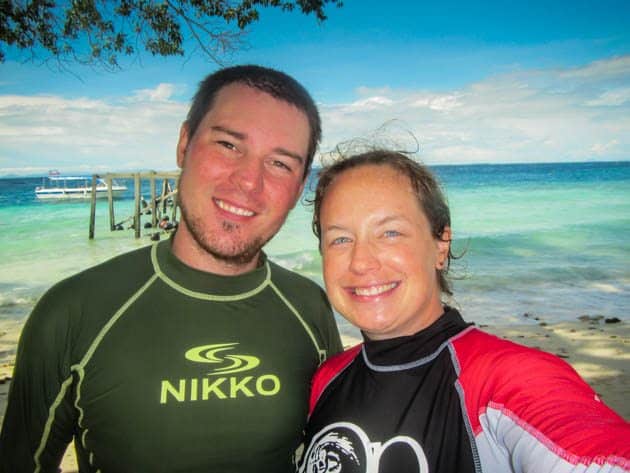 ~Still smiling, even though I lost my ring! ~
She looked up and saw the ring sinking past her. She didn't realize it was my wedding band, thinking it was a piece off the GoPro and by the time she realized, it was too far from her reach. We both watched it sink out of sight into the deep black depths of Sipadan.
Already being at a maximum depth of 30 meters for our dive, we knew there was no hope of recovering it. This is the second time I have lost my wedding ring and unfortunately for me, I won't be recovering it this time!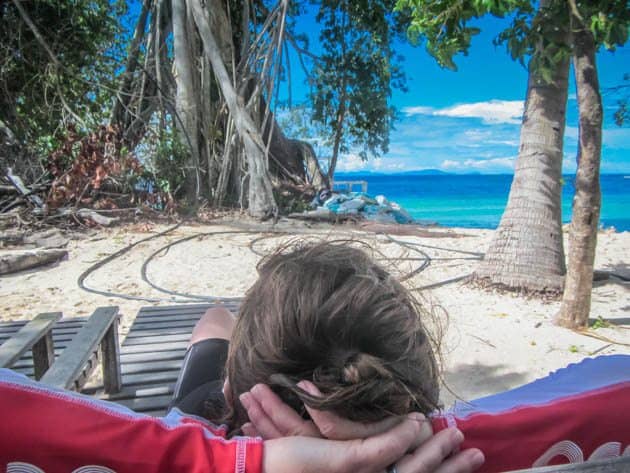 Planning to Dive Sipadan?
Most people will fly into Kota Kinabalu to begin their travels in Sabah. In order to dive Sipadan, you must make your way to Semporna. You can do this by bus from Kota Kinabalu, Sandakan or Tawau.
Local buses are cheap and easy to purchase tickets for a trip. You can also fly into Tawau and then take a shuttle to Semporna. You can fly to Tawau from Kuala Lumpur, Kota Kinabalu and Sandakan.
Prior to arriving in Borneo, be sure to pick a dive shop and contact them to secure permits for Sipadan, preferably months in advance as they sell out. The 120 available permits are distributed amongst all the dive shops; so if you can't secure a permit at one shop, then try contacting another.
There are a number of different dive shops, so do some homework and choose the one that suits your budget and style. We dove with Scuba Junkie and had a fantastic time.
We stayed in their divers lodge in Semporna, which is located near the jetty and then purchased a 4 day dive package out of their Mabul resort that included one permit each for Sipadan.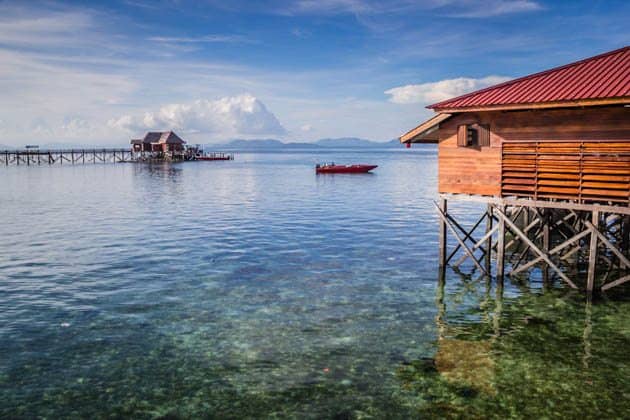 ~ Mabul Island, Scuba Junkie resort ~
Our dive package included lodging, all meals, dive equipment rental, 9 dives around Mabul and Kapalai, 4 dives at Sipadan and our Sipadan Permits. Once we arrived, we also got an added bonus of a day trip to dive Siamil, so we actually did 3 dives at Mabul, 3 dives at Kapalai, 3 dives at Siamil and 4 dives at Sipadan over 4 days.
The costs will vary depending on if you want a luxury, middle or budget experience. We opted for a budget option, although we found the accommodation more mid-range, and I won't lie, it was pricey, but how often do you have a chance to dive a World-class dive site? We don't regret it and thought it was worth every penny.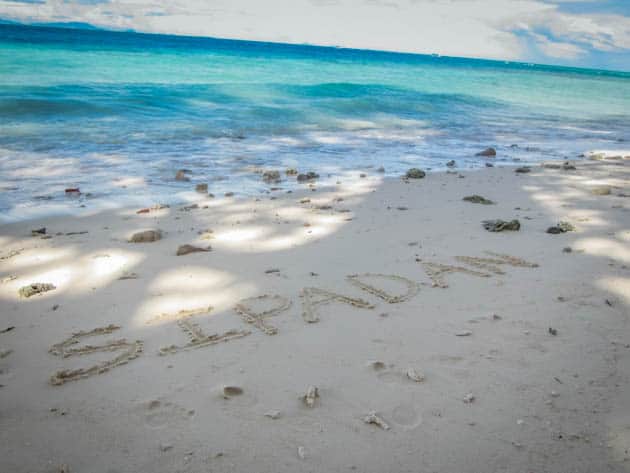 More on Borneo:
Did you like this story? Share it!