Borneo is a destination I have dreamed about visiting for many years. I am absolutely obsessed with rainforests and raw jungles, so when the opportunity came to spend 3 days in the Kinabatangan area with photographer Stephen Siaw and his company Borneo Nature Tours And Photography, we didn't even hesitate.
The Kinabatangan area of Sabah, Borneo is the largest swamp and riverine forest in Malaysia. The lifeblood of this region is the mighty Kinabatangan River that also holds the title of Malaysia's longest river. A visit to Sabah would not be complete without a visit to this region.
The Kinabatangan River
The Kinabatangan River is located approximately 560km, 2 hours of driving, from the city of Sandakan and once you reach the river, you take to the boats for the remainder of your stay. Lodging is available in a number of eco-friendly guest houses situated along the river that usually provide you some type of all-inclusive package for your stay.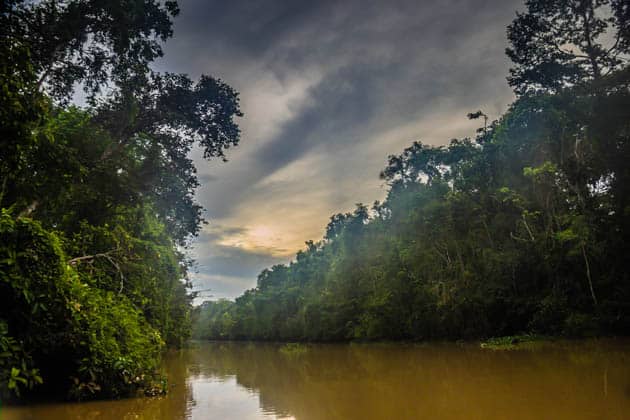 ~ Kinabatangan River at sunrise ~
This region is known for it's wildlife and even just a 1 hour cruise on the river will reward you if you know where to look for the wildlife. Our top priority during our time with Stephen was to locate the many varieties of birds and native animals as we could. Our quest over three days would involve 6 boat cruises at all hours of the day and night that would yield fantastic results.
The floodplain of the lower Kinabatangan River is a low-lying wilderness covered by a patchwork of natural rainforest and ever-encroaching oil-palm plantations. The whole area is dotted with oxbow lakes and limestone outcrops, and is home to a wealth of wildlife including, wild Orang-utans and the remarkable Proboscis Monkey.
Bird Lovers Paradise
With just the right composition, this area is a birders paradise and we were on the hunt for some of the most sought after birds in the World including the Storm's Stork (Kinabatangan River represents one of the most reliable sites for this endangered species anywhere), the Bornean Ground Cuckoo (rare endemic to Borneo), the Stork-billed, the Blue-eared and Oriental Dwarf Kingfishers, the Wallace's Hawk-eagle, the White-bellied Sea Eagle, the Lesser Fish Eagle, the Malaysian Flycatcher, the Bornean Falconet (the smallest raptor in the world with its superb mini size of 14cm), the Oriental Darter, Herons, the Rhinoceros Hornbill, the Asian Black Hornbill, the Oriental Pied Hornbill, the Bushy-crested Hornbill, the Wreathed and the Wrinkled Hornbills.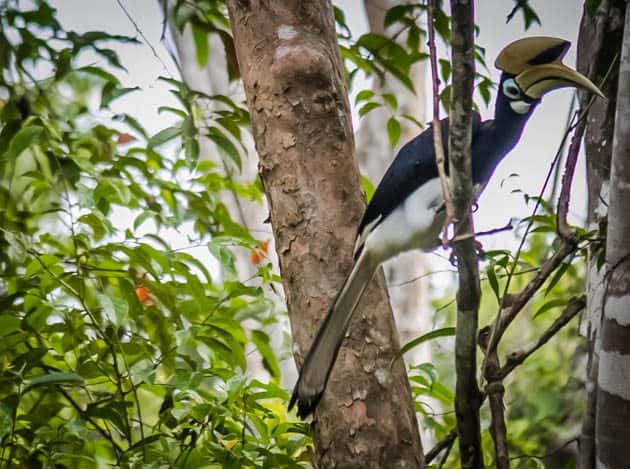 ~ Oriental Pied Hornbill spotted from the boat ~
That may seem a bit overwhelming to any of you that aren't into birding, I know it was for me at first, but let me tell you, this experience was a nature lovers dream. The birds are gorgeous and everywhere.
The amount of them we had the privilege of seeing is staggering and something I couldn't have imagined coming into this. Stephen is a skilled bird spotter and knows how to identify them within seconds.
In addition to keeping our eyes peeled for the most sought after birds, we were able to enjoy many smaller birds as well. Our night cruises afforded us opportunities to get up close to sleeping small birds and birding on our night cruises was one of the highlights of our trip.
We witnessed many more nocturnal birds resting on low hanging branches over the water which are not easy to get close to during day time. We were able to get in close to photograph a couple Blue-eared Kingfishers and Blue Malaysian Flycatchers.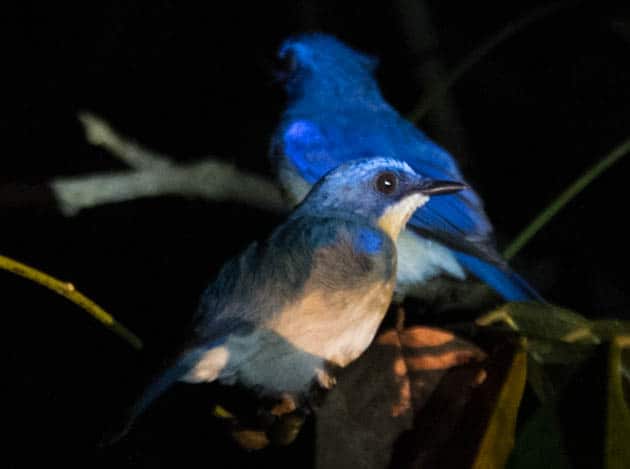 ~ Malaysian Flycatchers snoozing on a branch during night cruise ~
Bird lovers from all over the World often visit the Kinabatangan River in search of many endemic species to Borneo. In layman's terms, they can only be found on this one island in the World. That manes Borneo unique and prized amongst not only the Malaysians and local tribes people, but nature lovers all over the World.
During the 6 river cruises we participated on during our time here we had the privilege of getting good look at many, many birds and animals. For an idea of what this is like, here's our short list of birds spotted in our 3 short days: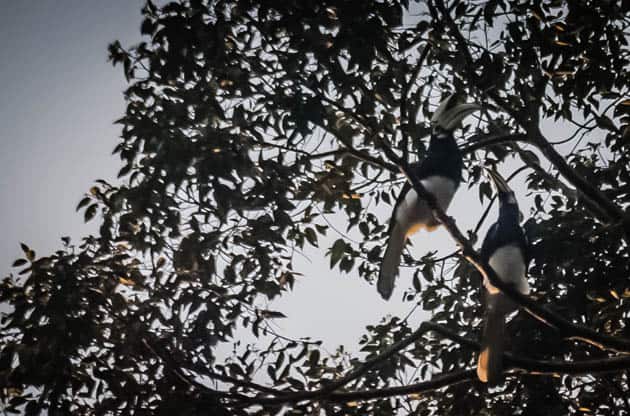 ~ Asian Black Hornbill ~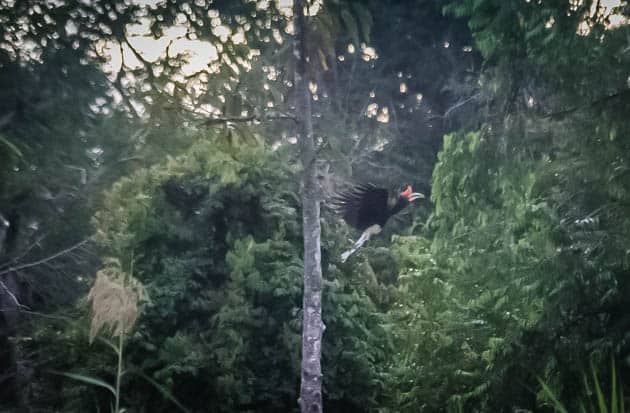 ~Rhinoceros Hornbill ~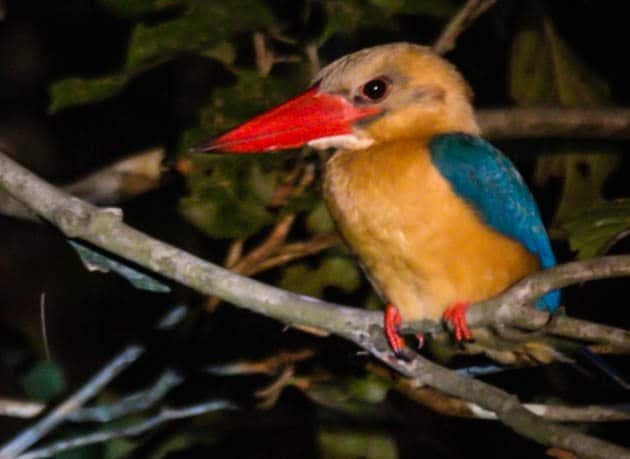 ~Blue Eared Kingfisher ~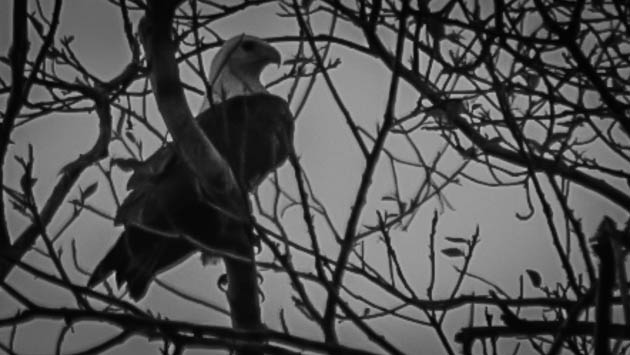 ~White Belly Sea Eagle ~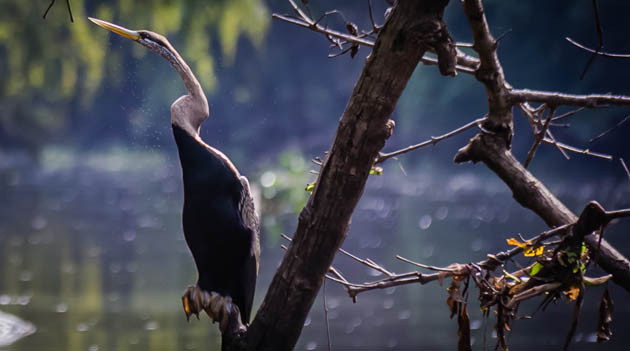 ~Oriental Darter ~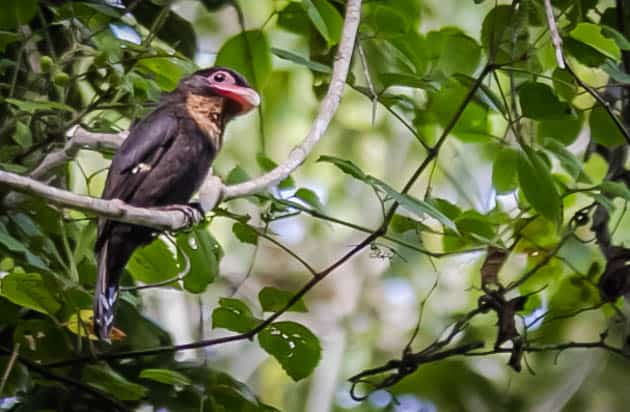 ~ Dusky Broadbill ~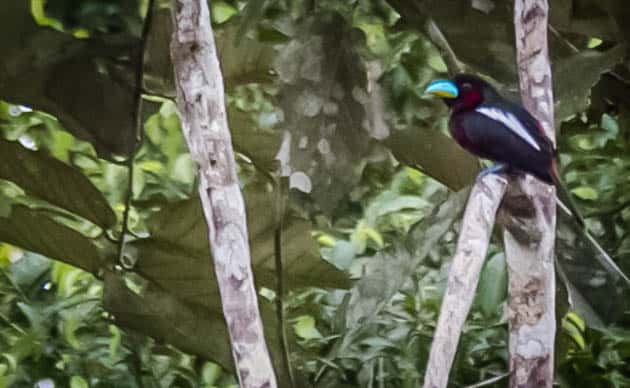 ~ Black-Red Broadbill ~
Additionally, we also spotted the Raffles Malkohla, White Belly Woodpecker, Chestnut Breasted Malkohla, Storm Stork, Brahminy Kite Eagle, Long Tail Parakeet, Pacific Swallow, Yellow Bittern, Little Heron, Little Egret, White Egret, Great Egret, Purple Heron, Wrinkle Hornbill, Oriental Pied Hornbill, Malaysian Blue Flycatcher, Stock Bill Kingfisher, Red Neped Trogan, Lesser Fish Eagle, Blyths Hawk Eagle, Crested Goose Hawk, Crested Serpent Eagle and Bornean White Fronted Falconette.
Yes, we saw every single one of these birds. I may not have photos of them all, but we saw them all very clearly during our boating expeditions. We even got out of the boat and hiked into the jungle to find a couple of them, of course this meant we had great adventures with the thriving leech population, but we saw those birds nonetheless.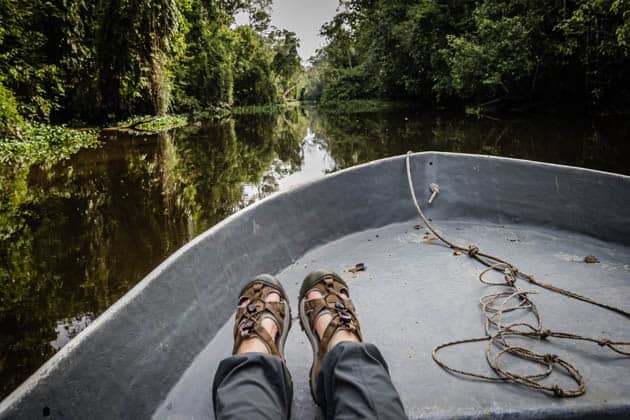 The Kinabatangan River is one of those special places you sometimes, not very often, come across while traveling. A place where, even though encroachment and enterprise and drawing closer, you can truly leave the beaten path and disconnect from the outside World. It is a place where you can see the power of nature in real time with no distractions.
There are not many places left in the World like this and I hope this region continues to act as a sanctuary for the beautiful animals that currently inhabit it. If you are into wildlife, photography, nature, rainforests or any of the above, head into the Kinabatangan region and see for yourself what it is like to have a true off the track adventure.
Are you a bird watcher? Is Borneo on your list?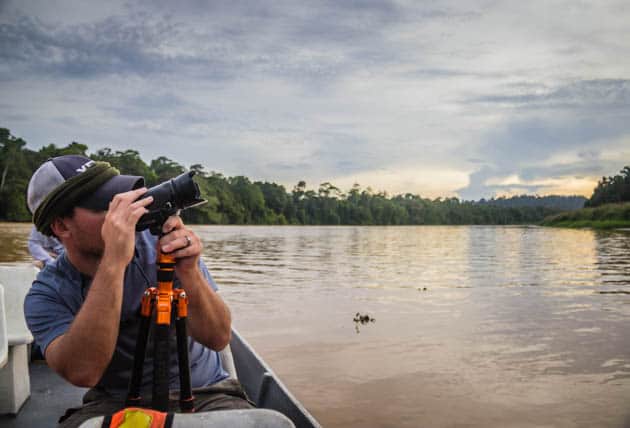 Disclosure: We partnered with Stephen Siaw and Borneo Nature and Photography Tours to bring you this amazing adventure. However, all opinions are 100% mine. All photos created and owned by Divergent Travelers.
More on Borneo:
Did you like this story? Share it!