It goes without saying that no visit to Borneo is complete without a visit to the famed Sepilok Orangutan Sanctuary Borneo. We have had the luck and privilege to visit the only two places on this planet where you have a chance to encounter and observe Orangutans in their natural habitat.
We visited Sumatra in June 2014, where we trekked for 2 days into the jungle and had several first hand encounters with the Sumatran Orangutan. More recently, we visited Malaysian Borneo in search of our second opportunity to see the great red apes.
Part of being a traveler that loves to observe wildlife is being a responsible and educated traveler.
Our first encounter happened while on our wildlife safari on the Kinabatangan River in Sukau, where we observed an adult Bornean Orangutan hanging high up in a tree.
We were not able to get close, but it was amazing to see this animal living peacefully in it's natural environment. After leaving the pristine rainforests, we headed to Sandakan where we stopped over for a few days and made a visit to the Sepilok Orangutan Sanctuary Borneo.
---
Visiting the Sepilok Orangutan Sanctuary Borneo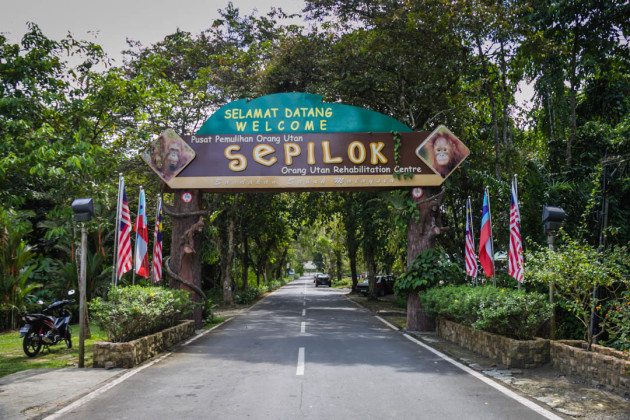 Sepilok Orangutan Rehabilitation Center
Having the opportunity to see Bornean Orangutans in their natural habitat is a special experience and one of the only places to do this in Sabah is at the Sepilok Orangutan Sanctuary Borneo.
This center is located outside of Sabah's second largest city, Sandakan. Animal lovers from all over the World travel to this remote region for the chance to see these endangered primates during two of the centers scheduled feeding times on platforms within the reserve.
Located on a 43sq km equatorial rainforest reserve, the rehabilitation center focuses their efforts on preserving the endangered populations of the Orangutans in this region.
The Orangutans are wild and free to come and go as they please. You will not see cages or enclosures during a visit here and you are permitted to follow marked paths to the various viewing areas at the front part of the reserve.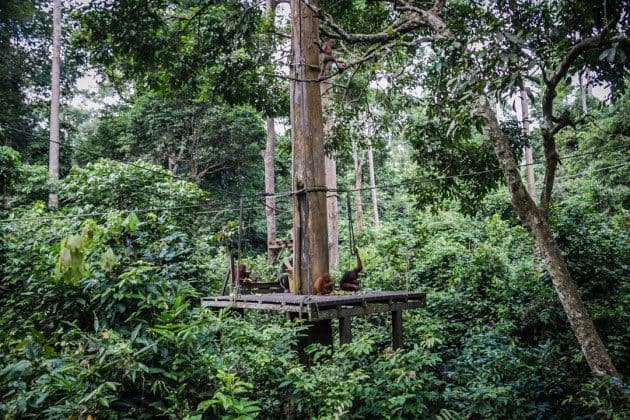 Understanding the Rehabilitation Center's Purpose
While you may see some adult Orangutans during a visit to the Sepilok Orangutan Sanctuary Borneo, the main purpose of the center is to rehabilitate young orangutans that have been orphaned due to illegal logging and deforestation and those who have been held illegally and kept as pets. The focus of this center is not tourism and there are some things your should understand about this before you make a visit.
This is not a zoo and sightings of the Orangutans is not guaranteed. While they do have specified feeding times, and it is likely that one or more Orangutans will show up for a brief visit, your visit could still be a gamble.
But this is the best part about the work that they are doing. As travelers and tourists, we need to understand the purpose of this facility and what the chances of not seeing them really means. For that, I will explain further.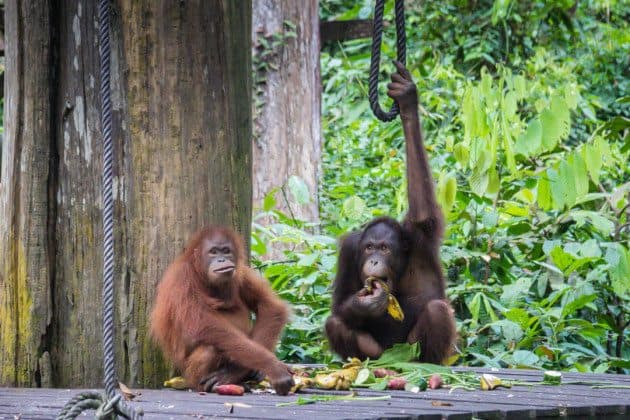 The young Orangutans that are taken into this center undergo complete health checks before being entered into the rehabilitation program. Once this process is completed, the long road to rehabilitation is started which can take up to seven years for each Orangutan that comes through the program.
Due to being separated from their mothers, they have not learned the necessary and vital skills of survival which requires 24 hour care from the staff at the rehabilitation center, much like that of a human child.
When they have learned enough skills and maintain stable health, they are introduced to their peers and begin learning about social interaction and acquiring physical skills, such as climbing, swinging and foraging.
When their skills have reached an acceptable level, they have free reign in the reserve, yet they still occasionally rely on the feeding schedules they are used to and return to the center for meals.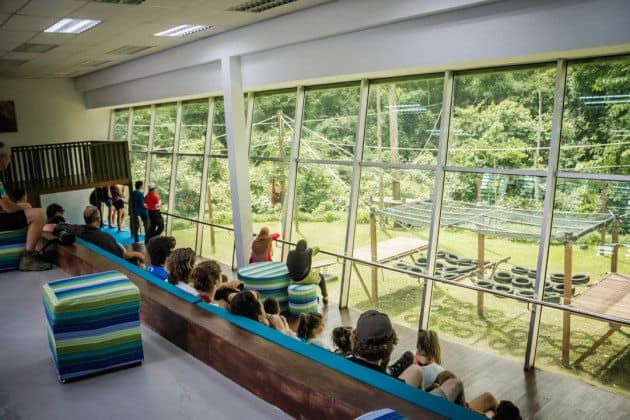 ~ Juvenile Viewing Area ~
The ultimate goal of the Sepilok Orangutan Rehabilitation Center is to successfully save and re-integrate the young Orangutans back into the wild so they may continue to help grow the endangered populations of Borneo.
So, why it is important to know all of this?
If you are someone that happens to pay a visit to the rehabilitation center during your travels and you do not see any Orangutans, you are witnessing the huge successes of the program at work.
This means the program is working and the Orangutans have been successfully re-integrated to the wild and no longer rely on the people or the centers schedule to survive on their own.
While it may be disappointing, it is actually a really beautiful thing and something that we kept in mind during our visit, despite the fact that we saw several young Orangutans during both feeding times.
After speaking to the Liason officer during feeding times, it was nice to have a background on what Orangutans we were seeing, how long ago they were released and how often they actually come in for the scheduled feedings.
After witnessing both feeding times, we were delighted to learn that we only saw one single Orangutan twice over the two scheduled times.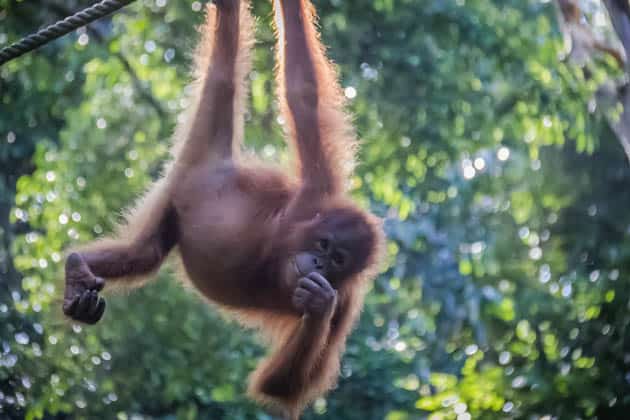 What You Can Do to Help
The Sepilok Orangutan Sanctuary Borneo is currently run by the Sabah Wildlife Department and does receives some funds from them but a large portion of funding comes from the entrance fees charged to the tourists who are allowed to visit the center and witness the feeding times.
Funds are limited and in past years the center has been unable to replace much of its outdated or overused equipment and staffing levels are often at a minimum.
The Orangutan Appeal UK, currently the only approved NGO (Non-Government Organization) approved to provide assistance to the rehabilitation center, has some great information on establishing fundraisers to help the cause and has ongoing projects that accept donations if you are looking to help.
Another popular way to help out and be interactive is to adopt a baby Orangutan. This route is more interactive, you can choose which baby Orangutan you wish to adopt based on their profiles.
Much like human babies, they all have different personalities and behaviors, so you can choose the one that you relate to best. With an adoption, you receive personal correspondence, updates on your Orangutan and many other bonuses.
It's a great way to donate to the cause and follow the progress on these little guys.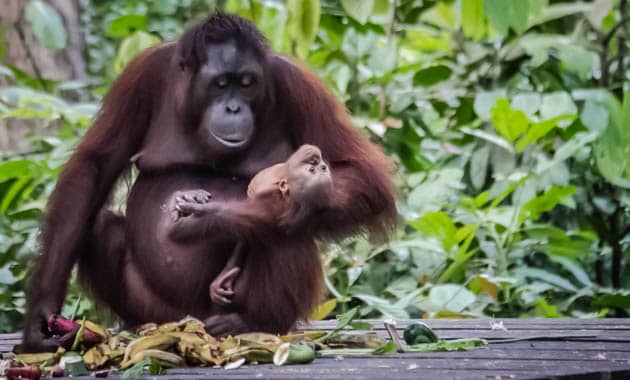 Planning a Visit of Your Own?
You certainly shouldn't miss a visit to Sepilok Orangutan Sanctuary Borneo if you are planning a trp to Borneo. Being able to catch a glimpse of these humble red apes is a special experience and by visiting the center, you are contributing to sustaining their species for future generations. Below is all the information you need to plan your own visit:
Location: Sepilok Orangutan Rehabilitation Center sits on the edge of the Kabili forest reserve, located 25km from the city of Sandakan where most people stay. Tours, buses and taxis make getting to Sepilok really easy.
Getting There: We took the local bus and made the visit on our own. There is a local bus that leaves from downtown Sandakan to Sepilok daily, this will drop you off right at the Sepilok Orangutan Rehabilitation Center. Be sure to catch Bus 14, which leaves hourly from the minibus station from 9:00 to 14:00. The last bus leaves the park at 16:oo, leaving you time to view both feedings if you catch the first and last bus. The bus costs 4MYR ($1.25USD) one way, per person.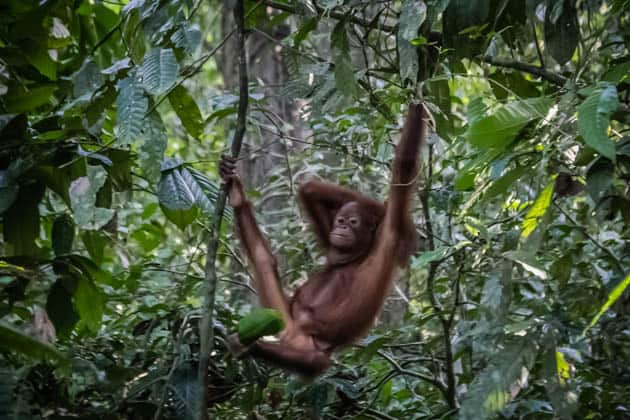 Public Center Hours: The Sepilok Orangutan Rehabilitation Center is open from 9am-4pm daily and tickets are valid for the whole day. This means you can see the morning feeding and then have time before the next feeding to check out the Bornean Sun Bear Conservation Center or the Rainforest Discovery Center that are both within walking distance.
Sepilok Orangutan Rehabilitation Center Admission Cost:
Non-Malaysian Adult: 30MYR ($9.50USD)
Non-Malaysian Child: 15MYR ($4.75USD)
Camera Fee: 10MYR ($3.00USD)
Ticket Office Hours: 9:00AM-12:00PM & 2:00-3:30PM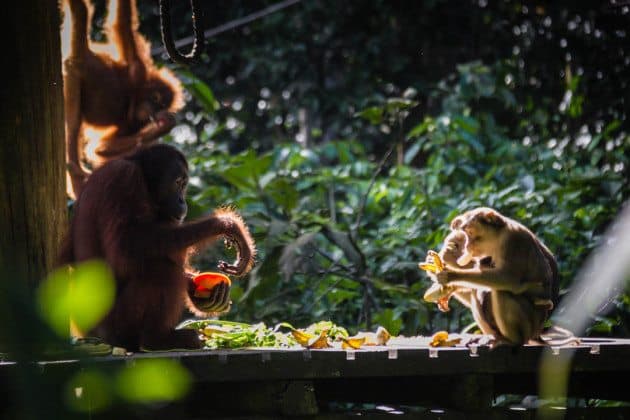 Feeding Times: These are at 10am and 3pm, make sure you get there 15mins before hand so you have time to walk along the boardwalk to feeding. You also want to be early if you are a photographer or videographer to ensure you get a good spot, with good light and no people in your frame.
Photography & Video Tips: The feeding platform gives you a wonderful opportunity to film these endangered primates. However, you won't be the only one there and if you are looking for an intimate experience with the red apes, think again. Here are some tips to help you capture better photos during your visit:
Be early- more than the recommended 15 minutes, you want to beat the crowds and get setup before they start arriving. There is plenty of room for everyone, but for clear shots, you need to be strategically placed.
Pack your lens hood and pay attention to the lighting conditions. Both the morning and afternoon feedings will give you different light conditions, both of which can be a challenge. Use the light to your advantage, but be sure you have setup in a place that will minimize glare and washout.
Bring a telephoto lens. They will be close, but not that close. You will need a minimum of 200m zoom to get decent photos.
Bring a tripod. Using a telephoto lens makes things more sensitive, so you want to be as still as possible and a tripod will allow you to capture clear photos when zoomed in further.
Shoot in Shutter Priority mode (TV) to start off, this way you will capture the movement when they climb down from the trees to the platform.

More Orangutan Sanctuary Borneo Tips
Being located in the rainforest, a visit to the center will not be without insects. Pack a strong insect repellent to avoid being bitten. Also, pack a poncho or rain jacket, the weather can often be unpredictable and there is no shelter once you leave the office.
DO NOT BRING AN UMBRELLA, the colors can scare the animals, block the views of others and act as a lightning rod if a storm crops up.
If you happen to come across an Orangutan while in the reserve, please do not try to touch it. Human disease and virus can be transmitted to them very easily and what is a common cold to you may cause death if contracted by an Orangutan.
Additionally, they are very strong, have sharp teeth and could cause you bodily harm if provoked. Always keep a safe distance if you encounter an Orangutan.
If you only have time for one feeding, we suggest the afternoon feeding. There will be less people and no tour groups at this time. The whole experience will be more peaceful and enjoyable if you have to choose between the two times.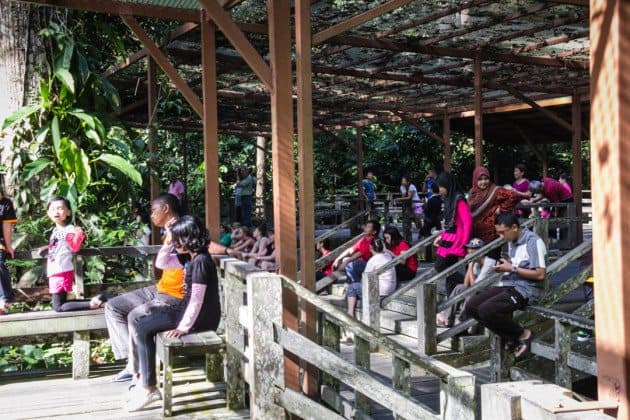 ~ Afternoon feeding crowd during our visit, half the size of morning time ~
More importantly, enjoy your time spent at the Sepilok Orangutan Rehabilitation Center, it is one of only two places in the World to see these primates in their natural habitat. Give yourself time to watch the DVD and learn about the programs at the center and the efforts that are put forth in conserving this beautiful species during your visit.
More on Borneo:
Did you like this story? Share it!